The 10 Best Apps to Sign PDFs Online in Canada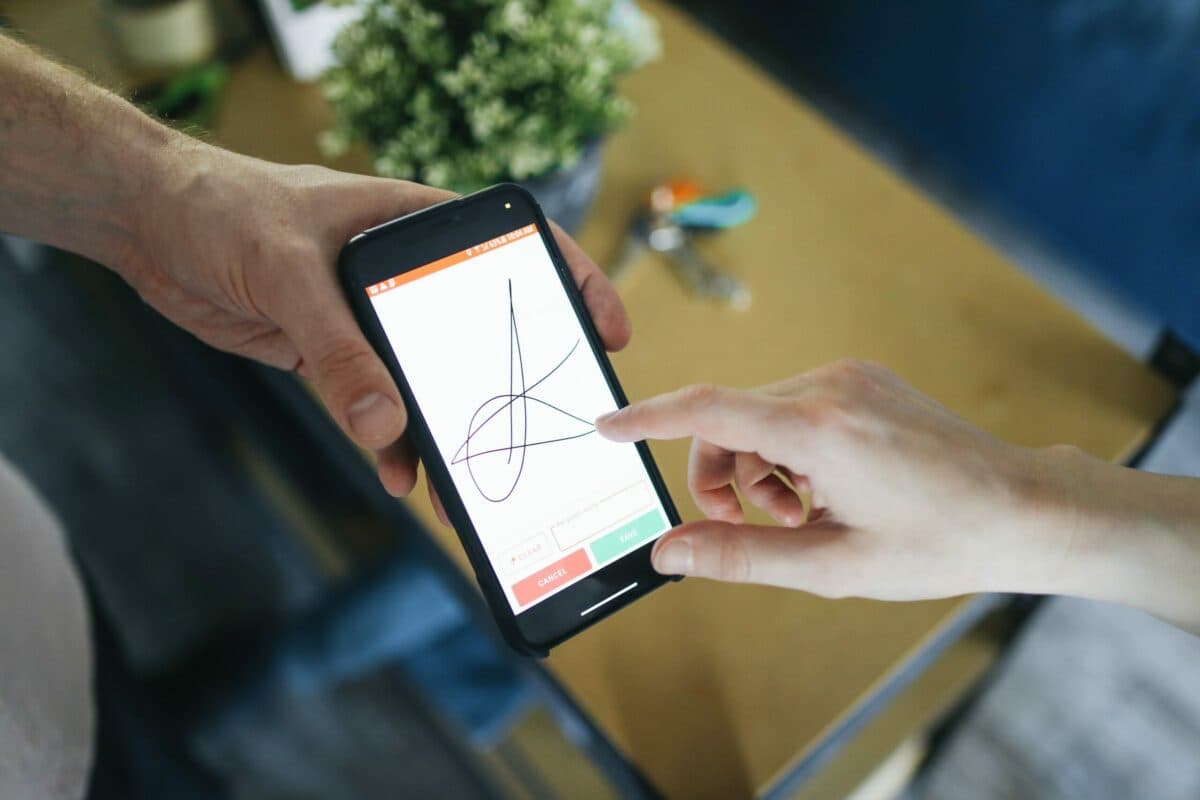 So many questions live rent-free in our head while picking a PDF-signing application for our business and individual needs. The most common one is "Will it fit my budget and business size?"
The good news is that, with the correct information, you can cofnidently pick the right e-sign tool for your business and professional needs in Canada. This article makes that simple for you by giving you the best apps for e-signature services and their key features, pros and cons, and pricing plans in Canada.
These softwares made the list because they have excellent customer reviews, and reputable clients such as LinkedIn and Salesforce use them for their signing services. Keep on reading!
How does an electronic signature compare to digital signature?
The two terms are often confusing because they sound similar and concern signatures. However, they imply separate things:
Electronic signatures refer to an electronic symbol, sound, or process that we attach or logically associate with a document or contract such that a person intending to sign it can adopt it
A digital signature is a technical term that defines the cryptographic procedure or mathematical algorithm we use to authenticate data sequences. It uses digital data to encrypt keys.
Think of it this way: to access your encrypted data like a crypto wallet or banking information you a digital signature. To confirm your agreement with a statement or docment, you sign it with your electronic signature.
What to look for when signing a PDF online
The e-signature industry continues to expand, making it extremely hard to determine the best PDF-signing apps. What is best for a big business is not necessarily best for a small sole proprietorship.
However, to help you decide, you can use the following factors:
Integration: With complex business structures, you might need to integrate your e-signature solution with other business applications like Google Drive, including your payment processing, contact centre and customer relationship management (CRM) tools for convenience. For individual needs, you might not need all that.
Device compatibility: If you use your phone for everyday tasks, like applying for jobs, you might want an e-sign solution that offers mobile compatibility. Check that your vendor has mobile compatibility . Otherwise, you might opt for the ones accessible from your desktop computer.
Support: Ensure that your preferred e-solution has a good support team for any problems in order to avoid delays and keep your business running.
Security: An excellent electronic signature solution is complete with necessary third-party certifications, including encryption. You should also access tamper-proof features that alert you should your information be tampered with.
Identity authentication: Your PDF-signing app should require recipients to verify their identities before they can sign. Documents should not be accessed without authentication, even after they're signed.
Team collaboration: It should contain collaborative features such as enabling users to make comments, sign multiple documents at once, tag other members, and clarify any issue. This will reduce misunderstandings, limit errors, and ensure smooth communication.
Pricing plans: Is it based on your budget?
When it comes to buying business software, a best practice is to use a business credit card. Keeping a record of business expenses, and more importantly keeping them apart form your personal expenses, will save you headaches at tax time.
[Offer productType="CreditCard" api_id="60dd2ebd378dfd0f231527b3″ id="146155″]
Below, you can find the best PDF-signing apps for your e-sign needs. However, before you give out your credit card details, you might need to take a preliminary check and decide based on your business size and services.
The 10 best e-sign apps in Canada
1. HelloSign
HelloSign is among the best PDF-signing options that give you a simple and intuitive e-signature platform to create multiple electronic signatures. You can integrate your signing services with Gmail, Google Drive, Google Workspace, Google Docs, and Dropbox to access and track all signed files faster. Moreover, you can further streamline your documentation process including contracts, non-disclosure agreements (NDAs), and other legal documentation.
Key features
Audit trails: In all of HelloSign's plans, you can access an audit trail to monitor changes made in the document by your team members for transparency and security
Simple and intuitive dashboard: All you need to do is drag, drop and relocate the contents of your contract, such as signer boxes and document texts
Multilingual support: HelloSign supports 22 languages to facilitate business with international clients
Software integrations: It's integrated with various third-party apps such as Google Drive and Dropbox
Mobile access: It's compatible with mobile applications.
HelloSign pricing plans
You have a 30-day free trial to try out each of HelloSign's plans below. Remember, the prices are in USD.
Essentials: $15 per month for 1 user, with 5 templates monthly
Dropbox Professional + e-sign: $24.99 for 1 user, allows 5 templates monthly
Standard: $25 per month for 2 to 4 users, allows up to 15 templates monthly
Premium: customizable with unlimited templates for 5 or more users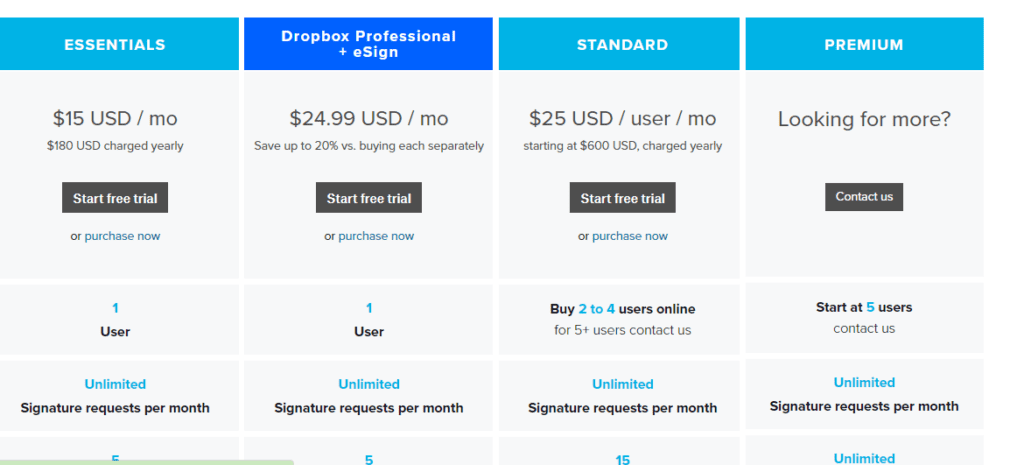 Prepare and send PDF documents for signing using HelloSign
You can easily prepare and send your document for signing from its dashboard. Just click "Sign or send" and follow the process to create and send it.
Pros & cons of HelloSign
Pros
Easy to use due to simple and intuitive UI
Excellent free version with which you can access a lot of apps and document designs
Excellent integration such as with Dropbox, Google Drive, etc.
Cons
Expensive: Some professional users find it quite expensive.
Limited templates: Even with a premium plan, there are a limited number of templates you can save.
2. SignNow
SignNow is perfect for your small business because of its affordable, intuitive, and user-friendly software. Furthermore, its SOC 2 Type II certified software, a malicious third party can't access your data in the SignNow database. You can rely on the Android and IOS apps from SignNow: they are trusted by 40% of fortune 1000 companies.
Key features
Flexible mobile applications: You can access PDF-signing services from your phone or tablet. The application is well-packaged, feature-rich, and allows you to convert your phone or tablet into signature kiosks for in-person signings
Team collaboration: To save time and improve your team communication, SignNow helps you create documents, sign them and work on them together. You can easily manage advanced workspace responsibilities with it
Automated reminders: An auto-reminder feature automatically reminds your recipients to sign when they take longer
Integrations and API: You can integrate your SignNow app with productivity apps and even CRMs.
SignNow pricing plans
The prices are in USD. Using its 7-day free trial, try out its 3-paid pricing plans:
Business: $8 per month per user
Business Premium: $15 per month per user
Enterprise: $30 per month per user
Each plan can buy up to 10 users. Contact their sales team for additional users.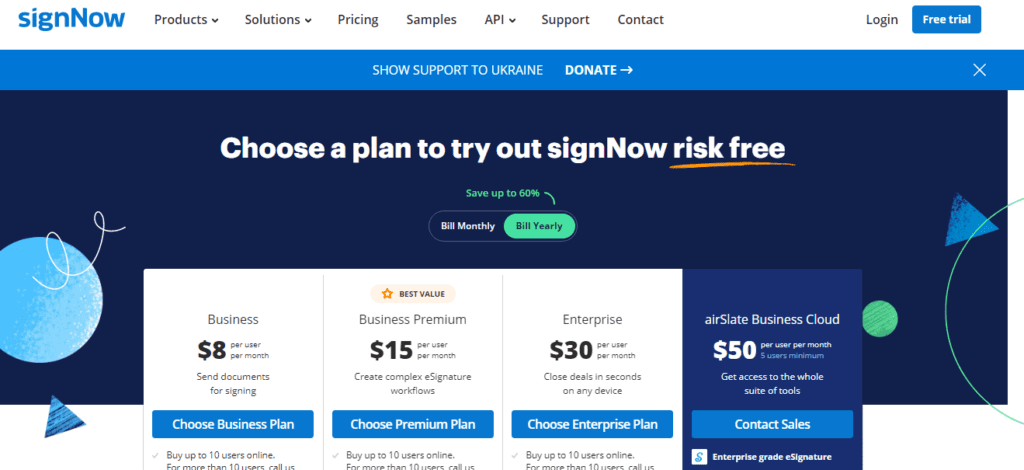 Use SignNow for team collaboration
You can create teams for your team collaboration. Creating a team generates a shared template option on your left sidebar where you can store templates for your team to access and use. From the team settings, create a shared document for your members to access completed documents.
Pros & cons of SignNow
Pros
Various integrations with customizable API
Affordability: Small businesses and individuals can leverage it.
Amazing applications: The mobile applications are especially reliable.
Cons
An ineffective search feature: It's difficult to use the search feature with documents and templates.
Uploading issues: Users complain of bugs while using templates and uploading documents.
3. DocuSign
DocuSign is among the best PDF-signing apps for your small, medium, and large enterprises. However, more than 225,000 companies leverage it, and it's available in 43 languages. With DocuSign, you have more control over your document because of its advanced online signature capabilities.
For example, using its quick-view sidebar, you can conveniently check the status of your documents.
Key features
Transaction room: You and your team members have a secure and shared space where you can review, comment and sign PDFs using the signature application. Highly regulated industries can therefore rely on it
Signing flexibility: There are various signing options, such as digital signatures or in-person signatures accessible from your Android and IOS
Recipient authentication: Several options for verifying the identity of the signatories are available for both the eSignature API and DocuSign SDKs
Retention policy management: Past documents will be retained and available to you as long as your account remains open.
DocuSign pricing plans
DocuSign has a 30-day free trial for each of the following pricing plans:
Personal: $10 per month per user
Standard: $25 per month per user; it's available for 5 users
Business Pro: $40 per month per user, you can buy for 5 users
Enhanced: contact their sales team for a custom quote
How to use DocuSign to sign PDFs
You can prepare and send a document for signing right from its dashboard. Click 'Start Now' and upload your document, add your recipients and their email addresses, customize it, and send it to your recipients.
Pros & cons of DocuSign
Pros
High-quality templates that are highly specialized for your specific personal needs
Notable reputation: Well-known companies such as Salesforce and LinkedIn use it, and DocuSign has been in business for over 15 years.
Highly compatible and powerful online app that can work with Windows 10, tablets, Android, and iOS
Highly Customizable: You can tweak your signature workflows to your needs using Application Programming Interface (API).
Cons
It's expensive: You can only access highly specialized features and fast support options in the most expensive plans.
4. PandaDoc
Available for Web, iOS, and Android, PandaDoc offers a very streamlined and user-friendly UI. It's an excellent tool for your large enterprise that authorizes payment collection when workers and other people sign.
Furthermore, you can integrate it with various payment gateways such as Square, Stripe, Paypal, and others. Once someone enters their credit card information, they get charged, and they can have their legally binding agreement and first payment at once.
Key features
Flexible document preparation and creation: You can choose their pre-designed templates or import your content in PDF form
Seamless team management: Your entire team can collaborate on document creation on PandaDoc
Effortless document management: You can download and save your documents on any device or share it with your team members through email or a document link.
PandaDoc pricing plans
The prices are in USD. With PandaDoc, you have the following plans:
Free with unlimited document creation
Essential: $19 per month per user
Business: $49 per month per user
Enterprise: contact their sales team for a custom quote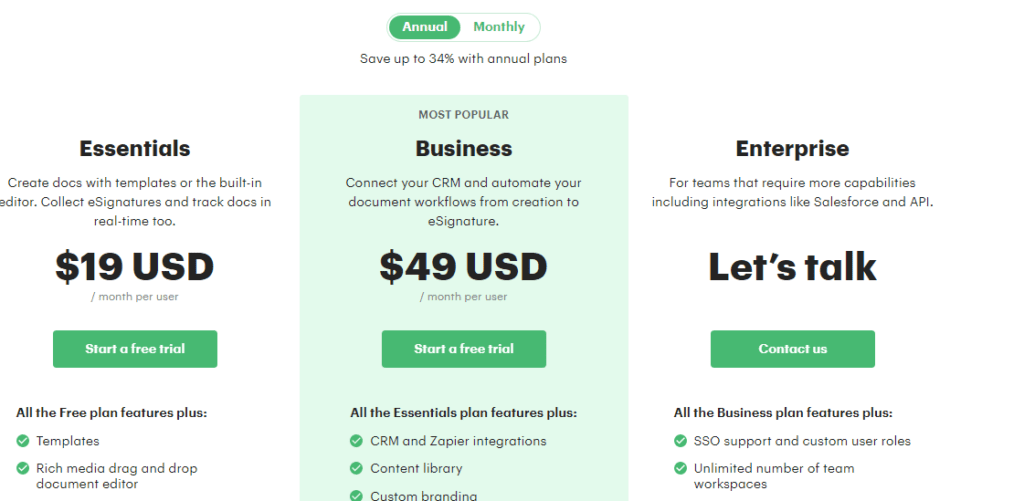 How to send a document to PandaDoc
After creating your document, you can send it using two options:
Using email: Your recipient gets an email from PandaDoc giving them access and requesting them to sign your document
Using the document link: You can share the link through text or any messaging app. However, this option is suitable when you want more flexibility when sending the document.
How to set up payments using PandaDoc
Ensure you have an account with the respective gateway. Next, go to settings, click integrations, select payment gateways, and enable it. Add your valid credit card information to any document in PandaDoc.
Pros & cons of PandaDoc
Pros
Powerful software integrations: You can integrate it with many Customer Relationship Management (CRM) systems such as Hubspot and Pipedrive
Easy document management: You can sign a PDF without switching across platforms
Streamlined UI for ease of use
Cons
Bugs and delivery problems: Some users have expressed concerns over bugs, and sent documents that ended up in the spam folder
Expensive: Its pricing is above the standards of the e-signature industry.
5. SignRequest
With SignRequest, expect simple and streamlined signing processes and top-notch integrations. SignRequest allows you to send bulk documents and even sign PDFs directly on M-files, Topdeck, Salesforce, etc. Additionally, it operates in 17 languages, and you can sign on any device, i.e. phone, tablet, or laptop.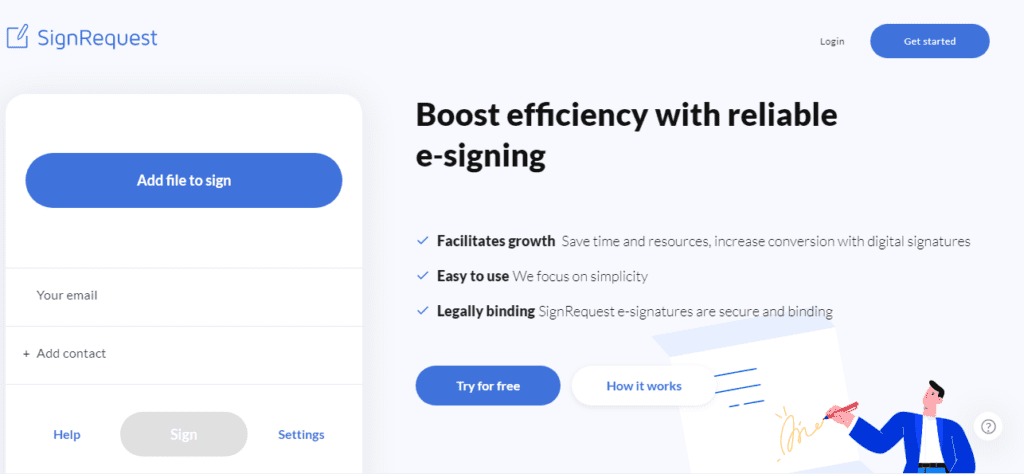 Key features
Integration and automation: Integrate your signing workflows with the most popular tools like Slack, including 2000+ integrations with Zapier
Team collaboration: Collaborate with your coworkers by creating separate teams
Secure audit trail: You can manage, track and store multiple documents from one place.
SignRequest pricing plans
The prices are in Euros. Sign request gives you a robust free plan for sending up to 10 documents per month. Using their 14-day free trial, try out their paid plans:
Professional: €9 per month per user
Business: €15 per month per user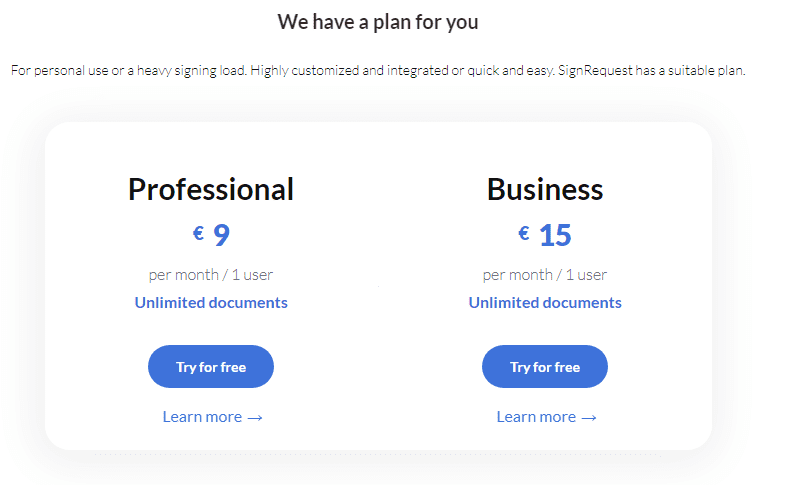 How to send and sign PDF documents using SignRequest
To prepare and send a document for signing,
Upload your document.
For multiple files, click the "add" option and add another document. Add all the recipients.
Choose a signing order.
Add passwords.
Prepare the document by clicking anywhere on the document. You can save the document for future use.
Click "send".
Pros & cons of SignRequest
Pros
Offers a free plan for up to 10 documents monthly
It's affordable: Its expensive plan is €15 monthly, but you can access unlimited templates and teams.
Cons
Their mobile experience doesn't offer the most intuitive experience.
You may find it hard to manage multiple clients, as the platform lacks many features to keep contracts organized.
6. OneSpan Sign
With OneSpan Sign, you can sign PDFs online and offline, and access its many integrations and features from your mobile and desktop devices. You can rely on it for your small and large-scale business e-signature services. In addition, it also gives you the power to share your PDF document on a public or private cloud, but within your computing infrastructure only.
Key features
Requires mandatory identity verification: Recipients verify their identities before accessing your document
Reliable mobile application: OneSpan Sign's mobile app lets you execute all your e-signing services
Visual audit trail: You can track your signings and invalidate signatures and documents when changes are attempted between signers
Intuitive user interface and advanced features: For flexibility and ease of use
OneSpan Sign pricing plans
The prices are in USD. You can subscribe to the following plans:
Free Developer Sandbox lets you test their API and SDKs for free
Professional: $20 per month per user
Enterprise: Cost depends on your transaction volume. Get a custom quote by contacting their sales team.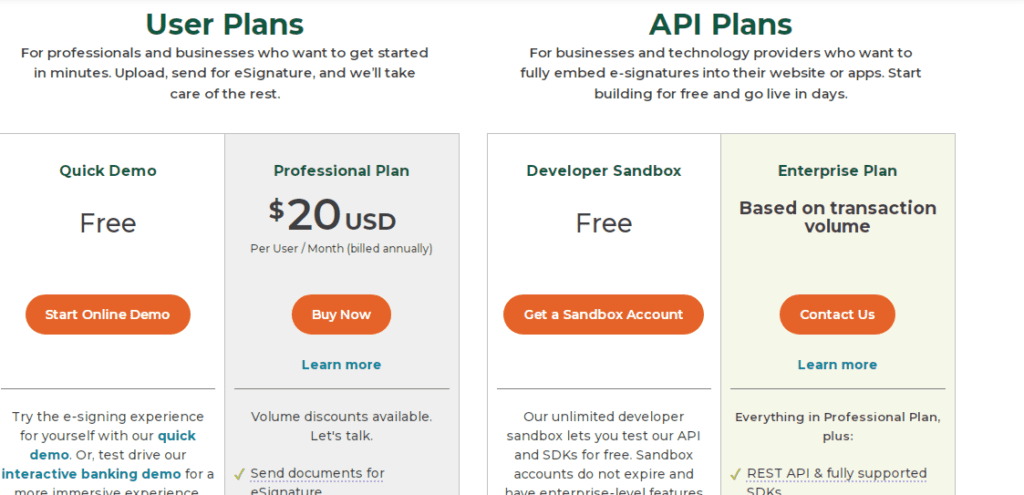 How to prepare and send a document for signing using OneSpan Sign
Upload your document from your files, add recipients with their email addresses, enforce your desired signing order and prepare it for signature. Prepare your document by adding signature and text fields through drag and drop. Once you've prepared your document, hit the send button to send it to your recipients.
Pros & cons of OneSpan Sign
Pros
Business oriented: Whether you're a small or large business, OneSpan Sign will cater to your business needs through its powerful CRM integrations and advanced features
Reliability: It has been in use for years and has reputable clients such as IBM and NASA
Top-notch security through its mandatory identity verification.
Cons
Its disadvantage is that it lacks a free plan. You can't access their services outside their free trial plan. You might also find it hard to locate your documents based on your signees' names through the search feature.
7. SignWell
Also known as Docsketch, it's an excellent free e-sign software for your flexible workflows and document tracking reminders. You can use it to customize your recipient's signing experience according to the PDF document they will sign. It also gives you approval options for your sales documents. It lets you know of completed documents through views and shares.
Key features
Blank line detection automatically detects missing fields and directs you to fill them
Approval options for sales documents: Your PDF sales documents will require the recipient to approve them before they can sign them for security purposes
Multi-user compatibility You can manage multiple signatures on the same document and monitor recipients sign PDF documents without any restriction.
SignWell pricing plans
You can pick a plan that works for you from here:
Free: accessible by 1 user and allows you to send up to 3 documents monthly
Personal: $10 per month. Paying on an annual basis will allow you to pay $8 per month.
Business: $30 per month. Paying on an annual basis will allow you to pay $24 per month.
API and Enterprise plan is customizable.
How to make a signature on SignWell
Open SignWell and click "New document" from your dashboard. Upload your document to the provided envelope. Of course, you can also use pre-designed templates. Add your recipients and their respective addresses. Add "Other" to the signature field. Turning on the "Suggest field" option will guide you to place the field on any blank lines in your PDF document. Click "Send".
Pros & cons of SignWell
Pros
Easy-to-use: Make the signing process easy for your signees by customizing it according to the document they will sign
Document tracking: You can identify when your document is viewed and signed
Easy-to-use templates: Save and reuse frequently used documents with pre-configured recipient tools and fields.
Cons
Lacks integrations: You can't automate your signature workflows using CRM
Lacks advanced options such as API
8. Adobe Sign
Adobe Sign took over EchoSign many years ago, and it has grown to become a benchmark for professional document and e-signing services. You can upload documents from Dropbox, Google Drive, and others and even sign them without an Adobe account. You can use nearly any device to access their friendly and intuitive UI, advanced integrations, and API.
Key features
Comprehensive and user-friendly UI: You can easily create, review, edit, and send documents
Mobile device compatibility: You can access their e-sign services using any mobile device
Guaranteed security: Adobe Sign adopts high-end security and authentication.
Adobe Sign pricing plans
The prices are in USD. Adobe Sign gives you a 7-day free trial for each of the following plans:
Acrobat Standard DC: $12.99 monthly, for Windows only
Acrobat Pro DC: $14.99 monthly, for Mac and Windows
How to create a template in Adobe Sign
To create a template, click "sign", and select "create a template" to enter a name for your template. Select a document and create a signature template. Drag and drop the file in the featured area. Click "preview and add fields". You can now add a field to your document.
Pros & cons of Adobe Sign
Pros
Highly functional: You can conveniently access the e-services to sign PDF and other documents
Reliable and trusted: It's backed by Adobe, a reputable company, and adopted by well-known clients
Advanced integrations and options such as Adobe's API, and for your advanced integration purposes
Cons
Users have complained about their unresponsive customer support and its UI may not be as simple as other e-sign options.
9. Preview
Having a Mac guarantees you E-sign services from Preview without installing any software or signing up for any signing service. Mac users have Preview as built-in software with Mac OSX, which they can use to sign PDF on iPhone and Mac.
Key features
Friendly signature capture app: You can use your trackpad to create a signature or use your camera to capture it.
Preview pricing plan
It comes free with your Mac or Apple computer.
How to sign a PDF on Mac
Ensure that you're using Mac OS Big Sur. To proceed:
1. Locate your PDF and open it using your preview app
2. Find the markup toolbar and click the sign button. Create your signature in three ways:
Using trackpad
Using Mac's camera
Using iPhone or iPad
3. After creating your signature, you can resize and position it on your page to sign PDF documents.
Pros & cons of Preview
Pros
It's free: It comes free with your Apple computer
Great editor: You can easily edit and sign PDFs.
Cons
It lacks accessibility: You can only access it from Apple computers
It lacks advanced features: This may be unsuitable for repetitive signature needs.
10. SignEasy
From its name, you can expect a streamlined signing process with SignEasy. You can access in-person signing and self-signing options. The drag-and-drop editor makes creating and modifying documents convenient. Moreover, you can further help your signatories know where to sign by annotating signature boxes.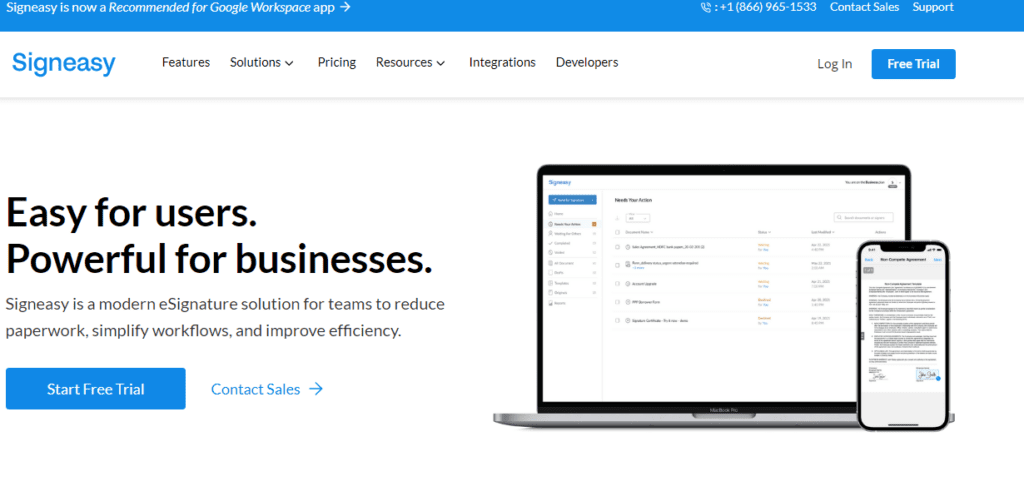 Key features
Signing options: You can choose between a sequential signing format and a parallel format for documents needing multiple signatures
Powerful integrations: You can integrate your SignEasy effortlessly with Dropbox, Google Drive, and other applications and reduce your need for uploads, sign-ins, and other activities
Signing completion notification: SignEasy will instantly inform you when your clients sign PDF documents
Monitor your signing process: From the SignEasy dashboard, you can identify whether your recipients have received the document, signed it, or not.
Sign Easy pricing plans
SignEasy has a 14-day free trial for each of the plans below:
Essential: $10 per month per user when billed yearly, or $15 per month per user when billed monthly
Team: $15 per month per user when billed yearly, or $25 per month per user when billed monthly; for 1 to 5 users
Business: $30 per month per user when billed yearly, or $40 per month per user when billed monthly; for unlimited users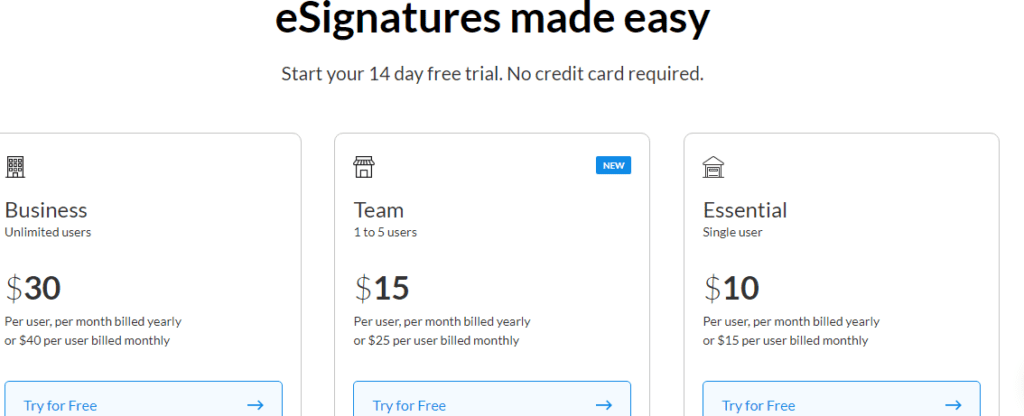 How to sign PDF using SignEasy
Upload your document and add the signatories' names and addresses, adding necessary fields through drag and drop. You can resize your fields as per your document's requirements. Click send once it's ready, and your recipients will receive an email containing your signature request.
Pros & cons of SignEasy
Pros
Very streamlined: It's an intuitive and user-friendly platform.
Excellent API: This will enable you to quickly set up signature workflows that originate from any of your integrations.
Cons
Visibility drawbacks: The dashboard contains sizing and visibility issues that may prevent you from accessing your signatories' information.
Expensive: The best option for larger companies is quite expensive, especially when adding extra users.
Picking the best PDF-signing app doesn't have to be complicated
After going through the above PDF-signing apps, you can find the best e-sign app for your business or individual needs. Remember that you don't have to pick an e-sign option based on what your friend's business uses. The best way is to find in-browser apps that won't store your data or intrude on your privacy.
Frequently asked questions about PDF signing apps
How to sign a PDF
You can use various PDF-signing apps to sign a PDF. Using DocuSign, prepare and send your PDF for signing as below:
1. Go to DocuSign and click "Start Now".
2. Upload your PDF document for signing. You can add more than one document. Click "next".
3. Add your recipients.
4. Add their names and email addresses.
5. Next to their names and email addresses, you can choose the actions you'd like them to take.
6. You can add an access code for verification.
7. Specify your signing order.
8. Through drag and drop, add signature fields and text fields for signature and other information such as date and names, respectively.
9. Customize your email before sending it to your recipients.
Can I sign a PDF on my iPhone?
Absolutely yes! Preview is pre-installed software with Mac OSX, which you can use to sign PDFs on your iPhone. Using preview, you can sign PDFs in three ways:
1. Sign through trackpad
2. Sign using Mac's camera
3. Sign through iPhone or iPad
How do you sign a fillable PDF form?
You can use Adobe Acrobat DC to sign a fillable PDF form online:
1. Open your Fillable PDF form in Acrobat DC.
2. Select the "fill and sign" tool from the right panel.
3. Fill out your form by clicking a text file and adding a text box.
4. Sign the form by clicking "sign" at the top of your page and then drawing, typing, or choosing an image for your signature. Click apply.
5. Send your signed form to others.
How to save a signed PDF
You can use Adobe Acrobat to save a signed PDF using the following steps:
1. Open your PDF file in Adobe acrobat.
2. Click the "file" option on the top left-hand side of your screen.
3. Choose "save as others".
4. Select "radar extended PDF".
5. Select "enable more tools" or "form fill in and sign" to edit and save your information. 
Compare Business Credit Cards