There is a reason that the HSBC +Rewards Mastercard made the list of the best low-interest credit cards in Canada. First, it is a unicorn: a low-interest credit card that also gives you reward points. Second, it has a one size-fits-all interest rate that falls below 12%. Third, it has no minimum income requirement. Is this low-interest credit card as great as it seems? Let's find out.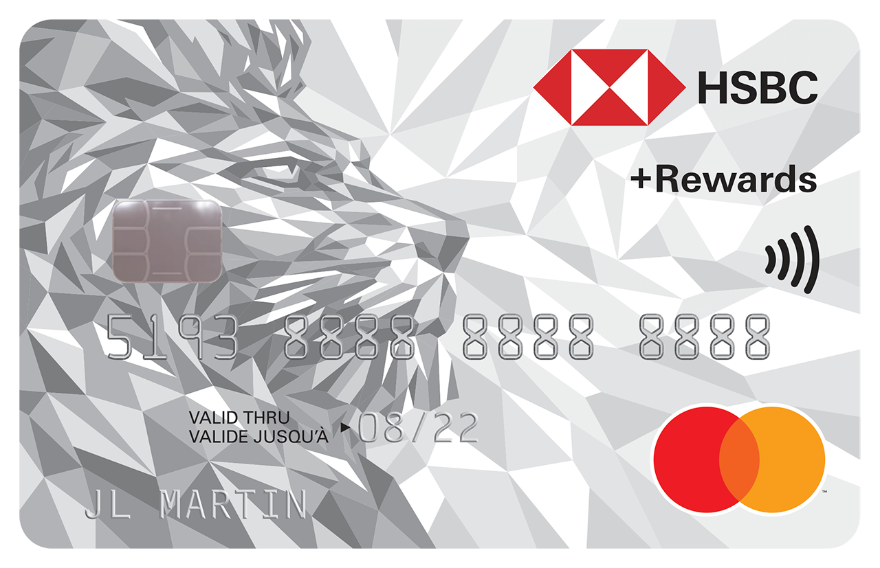 Low Interest rate: 11.9% APR and cash advance
Annual fee: $25, can be waived
Welcome Offer: Earn between 35,000 and 40,000 points in the first year. Must apply by October 31, 2022. Conditions apply.
The HSBC +Rewards Mastercard Welcome Offer
At the time of writing, the low-interest credit card HSBC +Rewards Mastercard comes with two Welcome Offers, depending on where you live. If you live in Quebec, you get up to 40,000 points and if you reside in the rest of Canada, you get up to 35,000 plus a rebate on the $25 annual fee for the primary cardholder for the first year.
Let's dive into this Welcome Offer a little bit more. In the Rest of Canada, you get the 30,000 points once you spend a net $2,000 in the first 180 days (6 months) that you have the card. If you reside in Quebec, you get 35,000 points if you keep your account open and active in the first 180 days. In both cases, you can earn an extra 5,000 points if you apply online.
Is the HSBC +Rewards Mastercard really a low-interest credit card?
Yes, the HSBC +Rewards is a low-interest credit card. At only 11.9% annual percentage rate (APR) and the same 11.9% for cash advances, this is a low rate card. Taking a look at other Canadian cards, APR interest rates are between 19.99% and 21.99%. It is worse when you look at the rates on cash advances. I've seen cash advance rates as high as 23.99%. A consistent 11.9% is quite low.
HSBC +Rewards Mastercard: earning points for things you like
A low-interest credit card usually means no frills and no fun. That is not the case with the low interest HSBC +Rewards Mastercard. This low-interest card lets you earn 2x the points for every $1 spent with your HSBC +Rewards Mastercard on dining or entertainment. Just to be clear, the 2x the points does not apply to groceries.
However, it does apply when you use the card at merchants classified as one of the following:
restaurant
bar
fast food restaurants
movie theatres
theatre producers
ticket agencies,
bands
orchestras
professional sports clubs
sports promoters
tourist attractions
aquariums
zoos
amusement parks,
video game arcades
billiards
bowling alleys
video entertainment rental stores
recreational services
Of course, like other Mastercards, you earn 1 point per $1 spent on every other category even if you buy groceries. If you are the average Canadian household, that means that you might end up with nearly 14,000 points at the end of the year thanks to inflation and your grocery bill.
Low interest but high rewards: redeem your rewards points for travel, personal finance, or retail products
A low-interest credit card usually doesn't have any travel perks. Even more rare is to have a way to turn your points into money to invest. It is just another benefit of the low-interest HSBC +Rewards Mastercard.
Using your points for your own personal financial goals
HSBC +Rewards Mastercard lets you convert your points into account credits for a mortgage, a credit card, or a savings account. The only catch is that you have to have an eligible product at HSBC and the account has to be in good standing. For instance, you can use your points toward an account credit for your HSBC +Rewards Mastercard. The amount of points you can use varies from product to product.
It is really interesting that, if you have a HSBC Bank Canada mortgage, you can pay down some of your mortgage with your points. You need to remember that it has to be a residential mortgage. Your points pay down the principal. Of course, there is a $25 fee to do it.
Using your HSBC +Rewards Mastercard points for shopping
There are 10 categories for rewards redemptions. The most intriguing are Donations and Student. You can turn your points into a $25 donation to either Breast Cancer Society of Canada, The Terry Fox Foundation, or Trees Canada.
What about a student in your life? You can exchange your points for electronics that every student wants. MacBook Air, Windows laptops,Bluetooth speakers, gamer headphones, and more tech are just a few clicks away.
The other 8 categories are standard crowd pleasers. You can shop for: electronics, gift cards, fashion accessories, health and beauty, kitchen, sports and leisure, travel, and home and garden. One curious new category is New to Canada. There you find a hodgepodge of things to set up your home.
Low interest but a lot of protections: HSBC +Reward Mastercard insurances
Insurance is important. While it used to be a unique feature, nearly every card on the market has extended warranty and purchase protection insurance. The HSBC +Reward Mastercard is no exception.
What is exceptional is that this low-interest credit card comes with a Price Protection Service. If within 60 days of purchasing something with your HSBC +Rewards Mastercard you find it for a lower price, you get reimbursed for the difference. There are limits though: up to $500 in difference and a maximum payout of $1000 per year per account.
The low-interest rate HSBC +Rewards Mastercard does not have travel insurance. They do offer optional travel and medical insurance. The cost is an extra $69 a year plus taxes. Of course you should read the terms and conditions. If you want, you can compare the offer with other travel insurances to make sure the $69 is worth it.
Should you get the low interest HSBC +Rewards Mastercard?
This low-interest credit card is absolutely worth your time and money. It has the standard zero liability you get with Mastercard, purchase and warranty insurance, as well a price protection feature. Sure, it has an annual fee for the primary card and supplementary ones as well. However, the card's low interest rate is under 12% and applies to APR and cash advances. Plus your points have impressive flexibility. You get 2x the points for dining and fun but also 1 point for every $1 spent on everything else. Your points can go as a payment against your credit card balance or your HSBC mortgage. They can also be a deposit in your HSBC savings account. The HSBC +Rewards Mastercard checks all of the boxes for being a great card with a low interest rate.
HSBC +Reward Mastercard Rating
| | |
| --- | --- |
| | 4/5 |
| Cash advance interest rate | 4/5 |
| Balance transfer rate | 4/5 |
| Annual Fee | 4/5 |
| Rewards | 4/5 |
| Cash back | NA |
| Welcome Offer | 4/5 |
| | 4/5 |
| Extended warranty insurance | 4/5 |
| Travel insurance | NA |
| Emergency medical travel insurance | NA |
| Other Perks | 4/5 |
| Rating | 4/5 |
Benefits and perks of the HSBC +Rewards Mastercard
Low interest rate of 11.9% APR and cash advance interest rate
Welcome offer of 30,000/35,000 points
$25 annual fee, waived the first year
$10 supplementary card annual fee
No minimum income requirement
Use points as credit card balance credits
Change points to mortgage principal payment
Convert points to savings account credit
Convert points toward charitable donations or shopping
Price Protection Plan
Product warranty and purchase protection insurance
Optional travel and medical insurance
2x the points on dining and entertainment
1 point per $1 spent on everything else