The Ultimate Guide to Condo Insurance in Edmonton
When protecting your home, condo insurance is an absolute must. In Alberta, the Condominium Property Act governs the management of condos. The Act covers all aspects of operating a condo in Alberta, including insurance for the corporation.
As a condo owner in Edmonton, it's essential to understand the ins and outs of condo insurance for both the corporation and you as an owner to ensure you have the right coverage in place. In this comprehensive guide, we'll walk you through everything you need to know about condo insurance in Edmonton. We'll look at what it is and why you need it, the different types of coverage available, how to determine the right amount of insurance for your condo, factors affecting insurance rates, and tips for choosing the right insurance provider. So, let's dive in and start our journey to becoming condo insurance experts!
Understanding Condo Insurance
Before we jump into the nitty-gritty details, let's start by gaining a clear understanding of what condo insurance is. Condo insurance is a type of insurance policy designed specifically for condo owners. Unlike renters insurance or homeowners insurance, condo insurance offers a blend of coverage that protects both your personal belongings and the physical structure of your condo.
When you own a condo, you have unique insurance needs. While the condo association's insurance typically covers the structure of the building and common areas, having your own condo insurance policy to protect your unit and personal possessions is essential. Condo insurance provides peace of mind, knowing that you have financial protection in case of unexpected events.
What is Condo Insurance?
Two types of insurance typically cover condo owners. The first is the master policy. The master policy insures the complex as a whole and can also be referred to as building insurance. The premiums for the master policy are usually part of your condo fees. The insurance policy covers damage to the building structure and common elements. It also offers liability protection if someone injures themselves in any areas covered by the master policy.
The master policy is sometimes called dwelling or building coverage. Building coverage helps cover the cost of repairing or rebuilding your unit if it's damaged or destroyed by a covered peril, such as a fire, storm, or vandalism. It typically includes your unit's walls, floors, ceilings, and built-in fixtures. Dwelling coverage is part of the coverage included in your condo corporation's master policy. It also covers damage and offers liability insurance for the common areas of the building.
Imagine a fire breaking out in a neighbouring unit and spreading to your condo, causing significant damage. Without building property protection, you would be burdened with repairing or rebuilding your condo out-of-pocket. However, with this coverage, you can rely on the building insurance to help cover the cost of repairs or rebuilding your condo in case of a covered loss.
Building property protection provides financial security and ensures you can enjoy your condo without worrying about the potential financial consequences of unforeseen events.
Why Do You Need Condo Insurance?
You might wonder why condo insurance is necessary when the association already has insurance. Since the condo association's insurance typically only covers the structure of the building and common areas, not your unit or personal belongings, you could be left paying out-of-pocket for repairs to your unit or replacing your possessions in the event of a covered loss, such as a fire, theft, or water damage.
There are six main reasons you need an individual policy:
The master policy doesn't insure your belongings. If, for example, there's a flood because a pipe burst, the master policy will cover the damage to the structure but not pay for your ruined furniture.
You don't have liability protection for any accidents or injuries that occur within your unit.
If there is damage to your unit from an event covered by the master policy, it will only pay to repair the standard finishings in your unit. If a flood ruins your hardwood floors, but the original unit had laminate flooring, the master policy only covers the cost of replacing the original flooring.
If you have a mortgage on your condo, the lender may not fund the loan if you don't have condo insurance.
You may be required to have condo insurance by the condo corporation's by-laws.
Your condo policy provides coverage for a special assessment you may need to pay if the condo corporation determines the damage came from your unit or a space you exclusively possess, like a storage area.
Condo insurance for condo owners differs from building insurance because it protects upgrades to your condo unit, your personal belongings and provides liability insurance. It also provides additional living expenses in case of a covered loss and special assessment coverage.
Types of Condo Insurance Coverage
So, let's take a closer look at what a personal condo insurance policy offers:
Personal Belongings Coverage: Your personal belongings, such as furniture, electronics, clothing, and appliances, are protected under this coverage. If they are damaged, destroyed, or stolen, your condo insurance will help cover the cost of replacing them.
Upgrades or improvements: The building policy will not pay to replace your upgrades, even if the damage results from a covered loss. If a fire from faulty wiring damages your high-end cabinets and appliances, the master policy will pay to replace the standard installations. Your condo insurance can cover the difference between the original items and the cost of your upgrades.
Liability Coverage: Accidents can happen, even in the safety of your condo. Liability coverage protects you financially if someone gets injured in your condo and sues you for damages. It helps cover legal fees, medical expenses, and any court-awarded damages.
Additional Living Expenses Coverage: If your condo becomes uninhabitable due to a covered loss, such as a fire, and you need to live elsewhere temporarily, this coverage will help cover the additional living expenses, such as hotel bills and meals.
Special assessments: Your condo corporation may want you to pay the deductible if the damage to the building or common areas occurred in your unit or a space you possess, like a storage locker. An example of this is a washer that overflowed and flooded several units. Your condo insurance policy can provide coverage for this expense. In Alberta, the maximum amount is $50,000. Special assessment coverage helps to offset the potential cost.
It's important to carefully review your condo insurance policy and understand the specific coverage, deductibles and limits your insurer provides. With the right condo insurance coverage in place, you can have peace of mind knowing you are protected against the unexpected.
How Much Condo Insurance Do You Need in Edmonton?
Now that you're familiar with the different types of coverage offered by condo insurance let's dive into determining the appropriate amount of insurance for your condo in Edmonton.
Assessing Your Condo's Value
When determining the appropriate amount of building property protection, it's essential to know the value of your condo. To assess your condo's value, consider factors such as the size of your unit, the quality of construction, and the current market value of similar properties in your area. Consulting with a professional appraiser can accurately estimate your condo's value.
Estimating Your Personal Property Worth
When calculating the value of your personal belongings, inventory all of your possessions. Document each item's purchase price, current value, and applicable receipts or appraisals. This will help you determine the right amount of condo insurance for your personal property coverage.
Factors Affecting Condo Insurance Rates in Edmonton
Let's explore some factors that can affect condo insurance rates in Edmonton.
Location of Your Condo
The location of your condo plays a significant role in determining your insurance rates. Factors such as the crime rate in your area, proximity to fire hydrants, and exposure to natural disasters can impact your premium. Condos in safer neighbourhoods with a lower risk of theft, fire, and other perils typically qualify for lower insurance rates.
Large cities in Alberta often have some neighbourhoods with lower crime rates and others with higher crime rates. Edmonton is one city with both. Six of the safest neighbourhoods are Garneau, Strathcona, Hazeldean, Windsor Park, Aspen Gardens and Belgravia. Condos in these neighbourhoods may have lower insurance premiums than those in less safe areas.
Condos in high-risk areas sometimes have difficulty finding an insurer or an insurer offering full coverage. Condos located near areas prone to forest fires, for example, or that have had large claims in the past may find it challenging to find an insurer. If they do, the premiums may be so high that many owners find them unaffordable. 
Age and Condition of the Building
The age and condition of your condo building can also affect your insurance rates. Older buildings with outdated electrical systems, plumbing, and roof structures may be considered a higher risk and result in higher premiums. On the other hand, newer buildings constructed with modern materials and safety features may qualify for lower insurance rates.
Safety Features in Your Condo
Safety features in your condo, such as smoke detectors, fire sprinklers, and security systems, can positively impact your insurance rates. These safety features reduce the risk of fire, theft, and other perils, making your condo a safer and more desirable risk for insurance providers.
How to Choose the Right Condo Insurance Provider
Now that you're well-versed in the ins and outs of condo insurance, let's look at how to choose the right insurance provider for your needs.
Comparing Quotes from Different Providers
When shopping for condo insurance, obtaining quotes from multiple insurance providers is essential. Comparing quotes allows you to find the most competitive prices and evaluate the extent of coverage offered and the deductibles associated with each policy. Remember to review the fine print and ask questions about any exclusions or limitations that may affect your coverage.
Evaluating the Provider's Reputation
In addition to comparing quotes, it's crucial to assess the reputation and financial stability of the insurance provider. Look for reviews and ratings from reliable sources to gain insights into their customer service, claims handling process, and overall satisfaction of policyholders. A reputable insurance provider with a solid financial standing will give you peace of mind, knowing they will support you in times of need.
Condo Insurance in Edmonton: The Bottom Line
By following the steps and tips outlined in this ultimate guide, you'll be well-equipped to navigate the world of condo insurance in Edmonton. Remember, each condo is unique, so it's essential to assess your needs and consult an insurance professional to tailor a policy that provides the best protection for your investment. With the right condo insurance coverage, you can enjoy your condo in Edmonton with the peace of mind of knowing you're protected.
FAQs About Condo Insurance in Edmonton
How much is condo insurance in Edmonton?
Your insurance premium will vary depending on how much coverage you want, your deductible, if you add extra insurance to your policy, such as sewer backup, and where your condo is located. On average, you can pay about $40 monthly for condo insurance, but it could be more or less, depending on several factors, such as the location of the condo, age of the building, amount of coverage, and previous claims history.
Is condo insurance mandatory in Edmonton?
Condo insurance is not mandatory in Edmonton. However, you may have to have condo insurance if the condo by-laws state it is necessary for unit owners. You may also have to have condo insurance if you have a mortgage on your condo, and it is a condition of the loan.
What does condo insurance usually cover in Edmonton?
Condo insurance usually covers personal property, upgrades and improvements, liability, special assessments and additional living expenses. It typically doesn't include possible hazards like sewer backup, flooding, earthquakes, damage from renters, damage from an avalanche, previous damage, and damage if you leave your property vacant for more than a short time.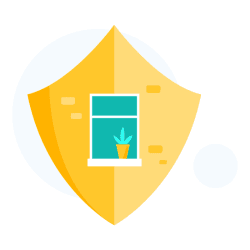 Compare Condo Insurance
You could save hundreds of dollars each year by getting multiple quotes on your condo insurance.