Our Review of Travel Search Engine Skyscanner in 2022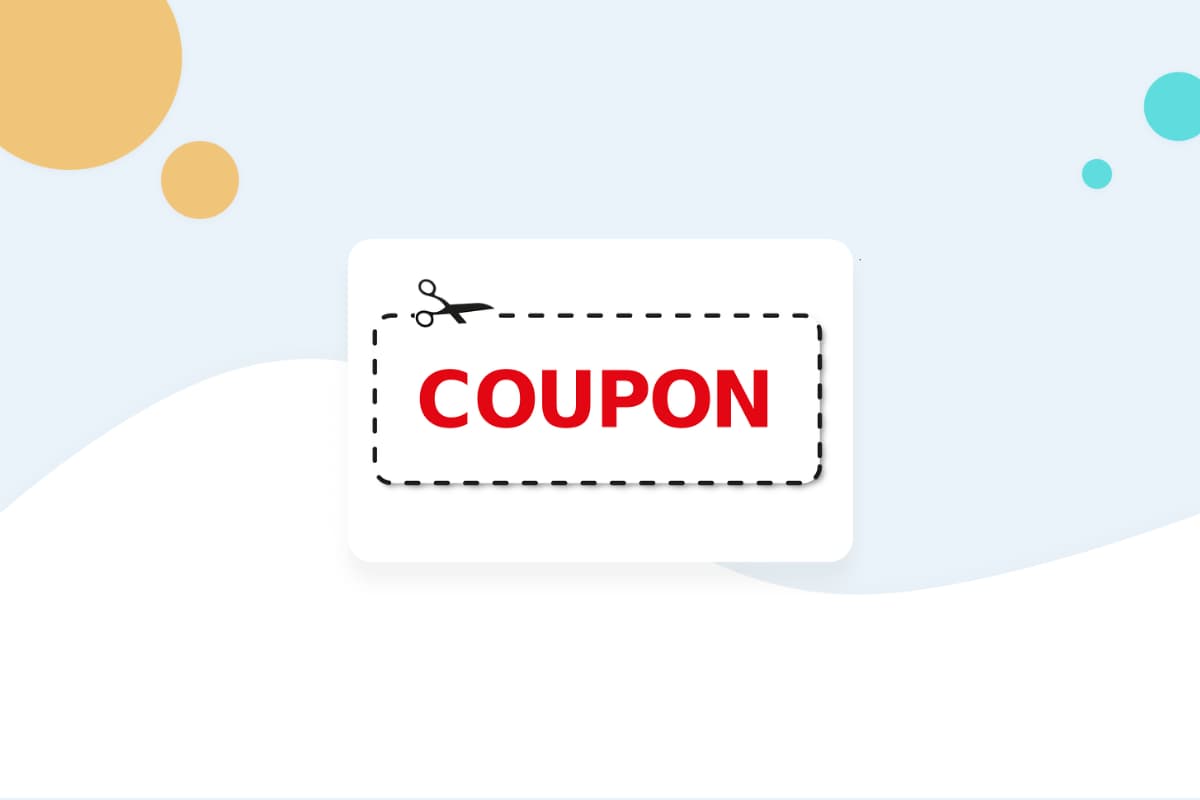 Table of Contents
[ Show ]
Travel search engines have become hugely popular in recent years, offering a quick and easy way for users to compare flights and travel packages to find the very best deals. And when it comes to travel search engines, Skyscanner is one of the biggest and best-known names in the business. Read our Skyscanner review for 2022 to see how well this travel search engine compares to the competition.
An overview of Skyscanner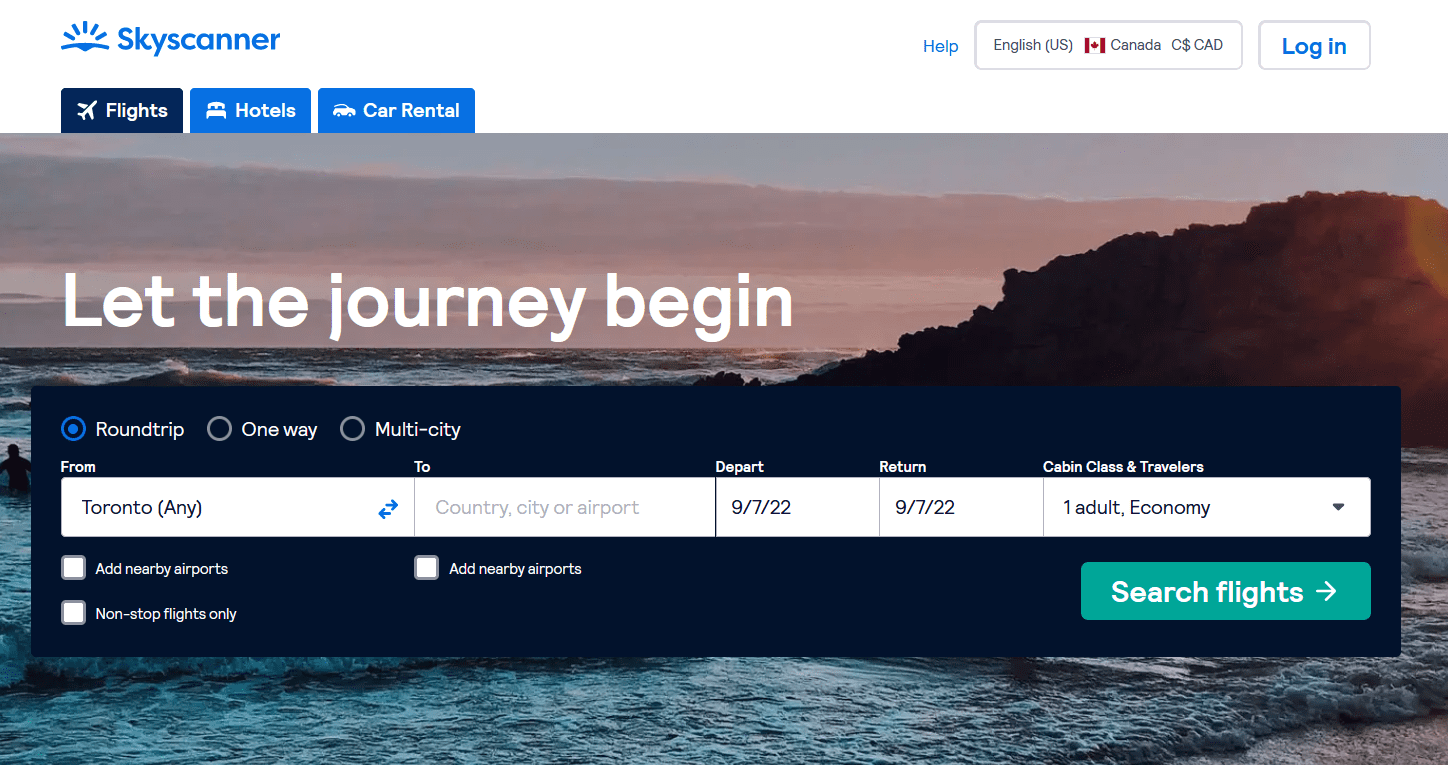 Let's start off with a brief introduction. What is Skyscanner? Well, Skyscanner is one of the world's leading flight, hotel, and car rental search engines. It allows users to search for journeys and vacations all over the globe. You enter your chosen dates, locations, and passengers to find the most interesting and attractive deals for you.
The company first got started back in 2003. It was founded by a trio of IT professionals named Gareth Williams, Barry Smith, and Bonamy Grimes. They decided to team up to create a modern travel search engine to make it easier for travelers to find the cheapest flights. Since then, the company has grown exponentially, growing from its humble beginnings in Edinburgh, Scotland to become a globally-known brand, used by 100 million people a month.
The Skyscanner interface
So, how well does Skyscanner live up to the hype? How easy does it make it to find flights, hotels, and car deals on your travels? Well, one of the first things to focus on in our Skyscanner review is the interface.
This is one of the most important aspects of any travel search engine. After all, the interface really can make or break the experience. No one has patience for anything clunky and complicated.
Skyscanner has a really clean and minimalistic interface that you can notice immediuately. It features a beautiful image of some exotic location in the background and three tabs at the top labeled Flights, Hotels, and Car Rental.

Users can switch between languages, locations, and currencies using the button in the top right. Logging into their own personal account is easy and users can save searches for easier access. It's also possible to simply click on one of the Flights, Hotels, or Car Rental buttons to instantly access the search engine for that particular category.
Skyscanner gives personalized suggestions
As you scroll down the home page, Skyscanner provides you with relevant, personalized information. It is based on based on your current location or last-known search. For example, if we're looking for Toronto flights on the Flights tab, Skyscanner will show us some of the latest and most interesting deals for TO.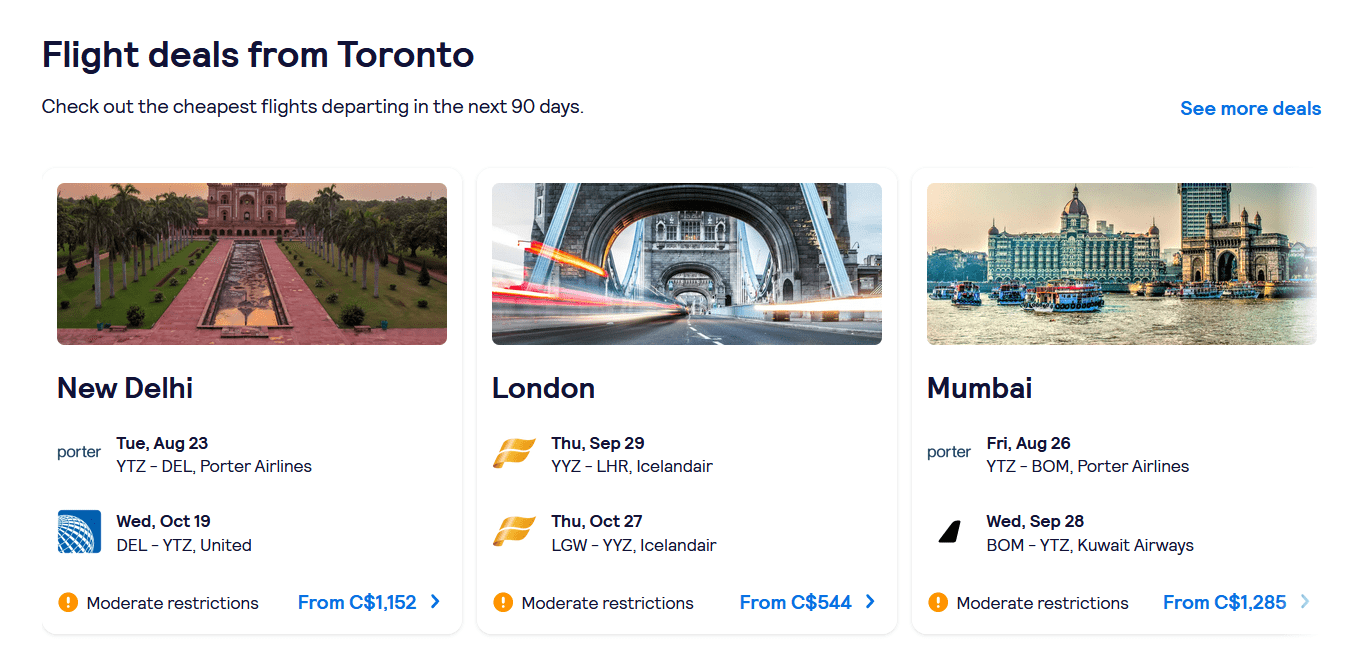 Over on the Hotels tab, the site also proposes relevant hotels to our location. Seeing that we're visiting from Canada, Skyscanner recommended some popular hotels in places like Vancouver and Toronto for a staycation.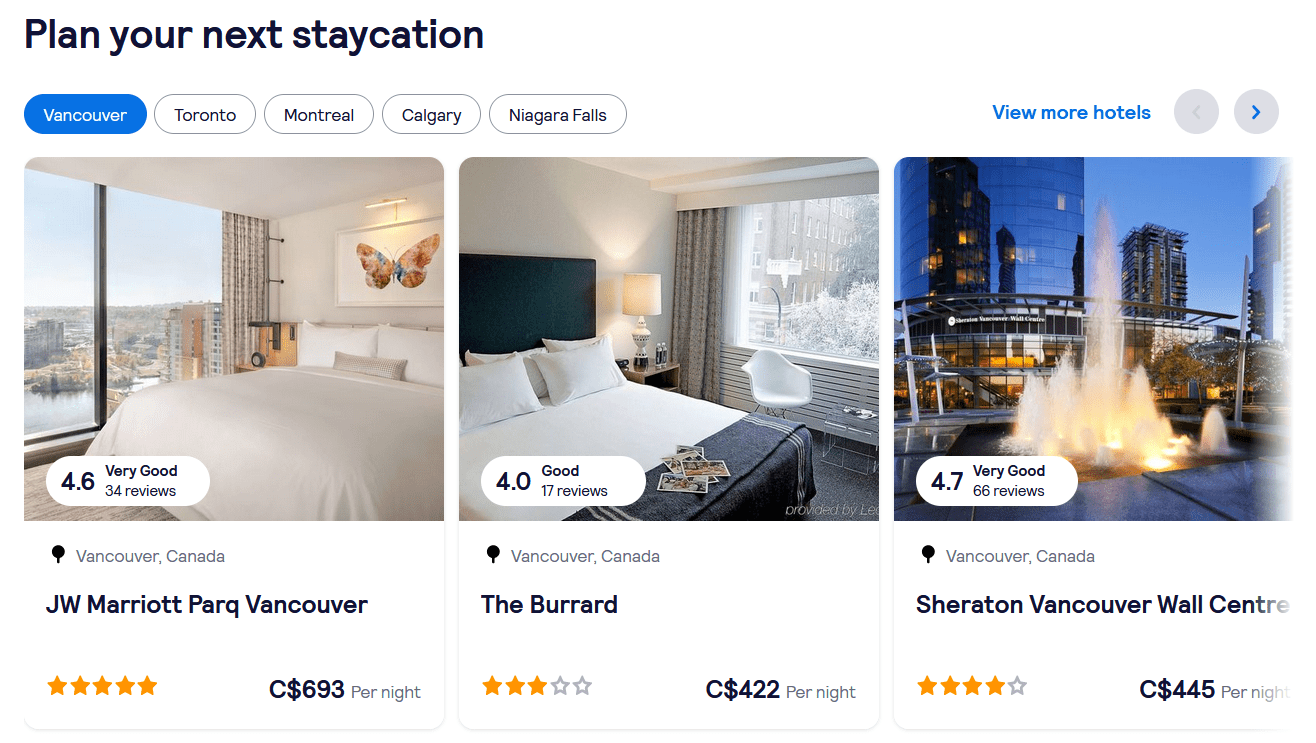 Even the Car Rental tab is personalized, based on your location, showing off popular car hire spots near where you live or where you're looking to travel to.

This personal approach demonstrates Skyscanner's industry-leading ability to provide relevant, customized content for each user. Without even needing to click a single button or enter any information, you can instantly access relevant flights, hotels, and car hire for your location.
Clean and tidy aesthetic
Another aspect that stands out about the Skyscanner interface is its clean and seamless sense of style. Nothing overloads the user. There aren't any complicated menus, filters, and categories. Skyscanner elects to keep things simple, and a lot of the screen real estate is simply left blank or taken up with the aforementioned photos of destinations around the world.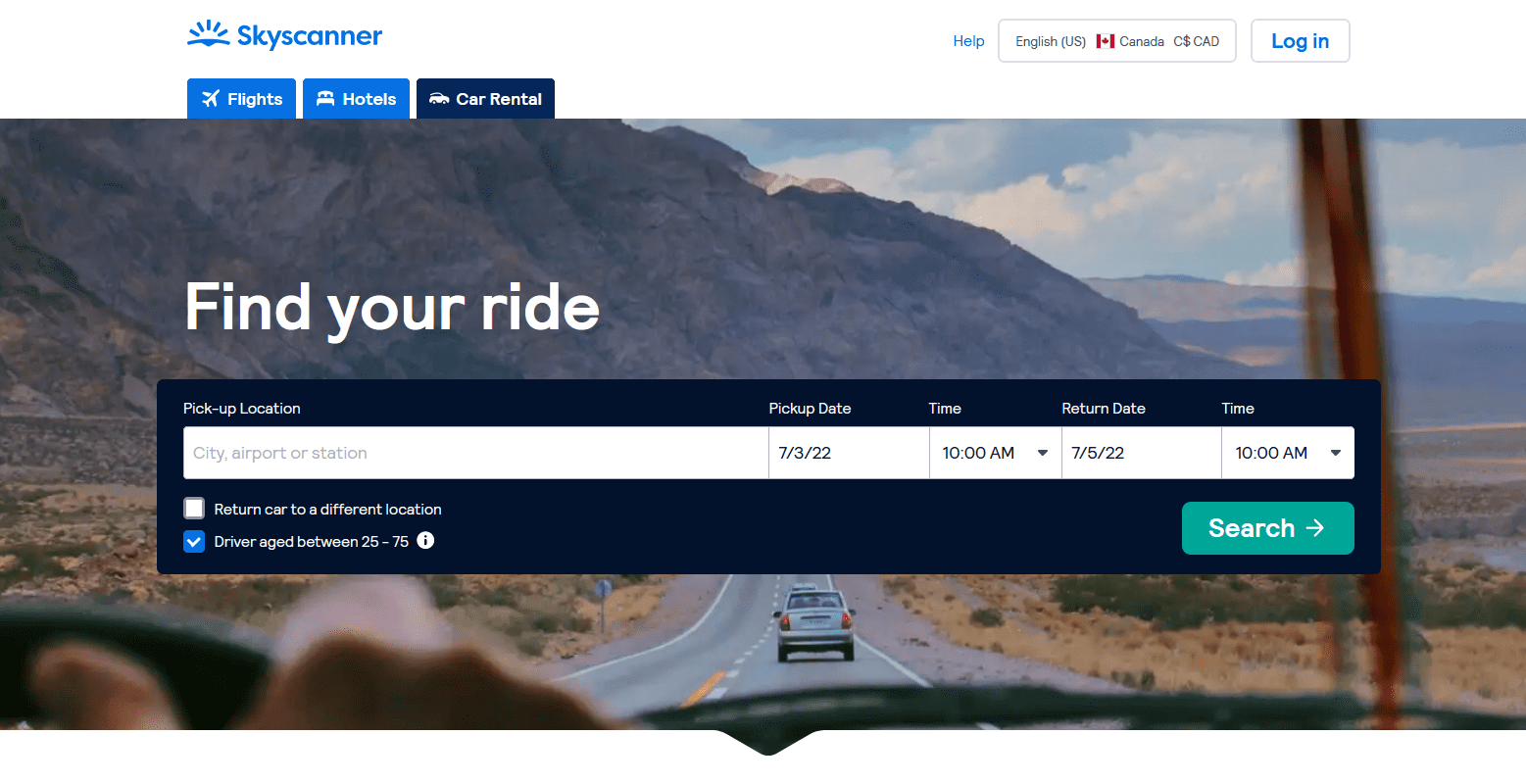 It's a very attractive and intuitive interface, and even if you've never used this travel search engine before, it won't take you too long to get your bearings and figure out the basics. But don't let the simple design fool you; there's plenty of powerful technology and a lot of advanced search options hiding under the hood.
Using Skyscanner
Next, let's take a look at how well Skyscanner stands up to actual testing. As stated, the site has three main functions: it can search for flights, hotels, and car hire in destinations all over the world, searching with more than 1,000 airfare providers, thousands of hotels, and dozens of leading car rental brands.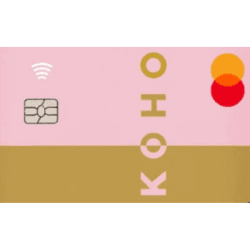 KOHO Travel Prepaid Mastercard
Get $20 with the HARDBACON code when you sign up for a free KOHO account and make your first purchase!
1% for transportation and groceries (or up to 2% depending on the chosen package)
0.5% for the rest.
Get $20 with the promocode HARDBACON
Searching for flights with Skyscanner
One of the main reasons why people use Skyscanner is for flight comparisons, and before you start looking at things like travel credit cards or hotels, it's usually best to start off by booking your flights. 
So let's see how well this flight search engine works in action. Firstly, let's look at the numbers. Skyscanner claims to compare prices with over 1,000 providers, and it will allow you to search for flights from pretty much any destination in the world.
On the flight search screen, you've got a few options to start off with, including one-way journeys, roundtrips, and multi-city breaks. 

You've also got boxes to enter your destinations and dates, as well as the number of passengers and class of travel. 

There are also handy boxes to tick if you want to search for other nearby airports near your point of departure or arrival (or both), as well as a box if you want to look for non-stop flights only.

The whole layout is really simple and convenient. One of the best things about Skyscanner is that it's very intuitive, showing you a list of potential matches as soon as you start typing into the box. For instance, simply type "Par" and instantly get a range of possible matches, like the various airports of Paris, Parma in Italy, and Paros in Greece.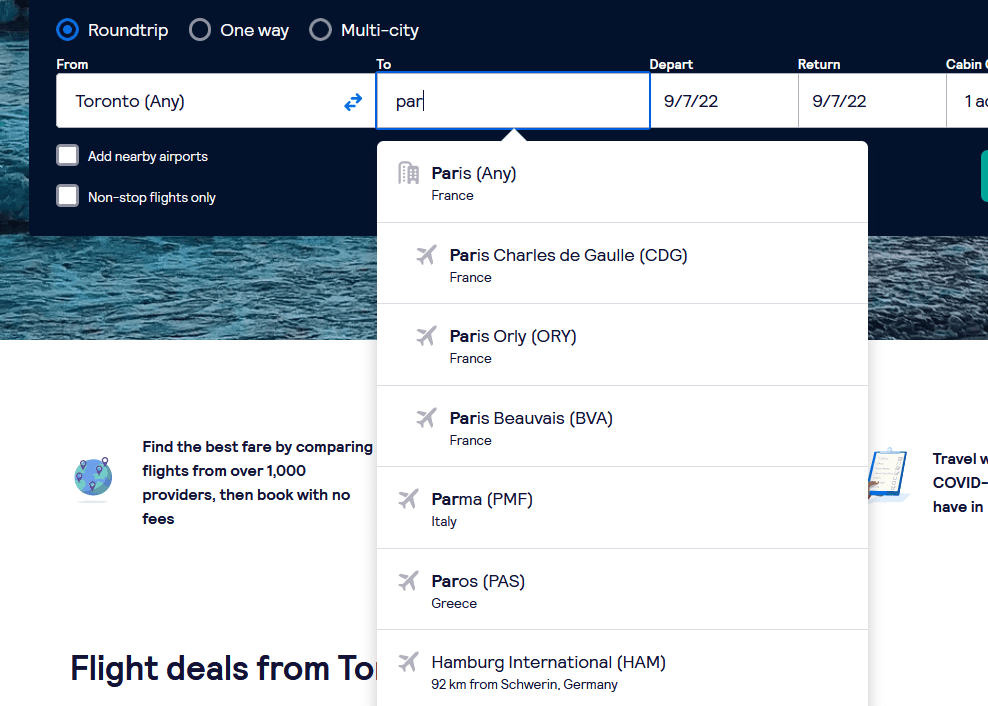 If you're not quite sure where you want to go, Skyscanner allows you to search for airports across an entire country. Why? That is a good way to get the best prices. And there's even a button to press marked "Everywhere" which allows you to search all flights from any airport. This is really interesting. You can potentially find a great deal to a location you might not have visited otherwise.

Let's use Skyscanner to book a trip from Toronto the U.S.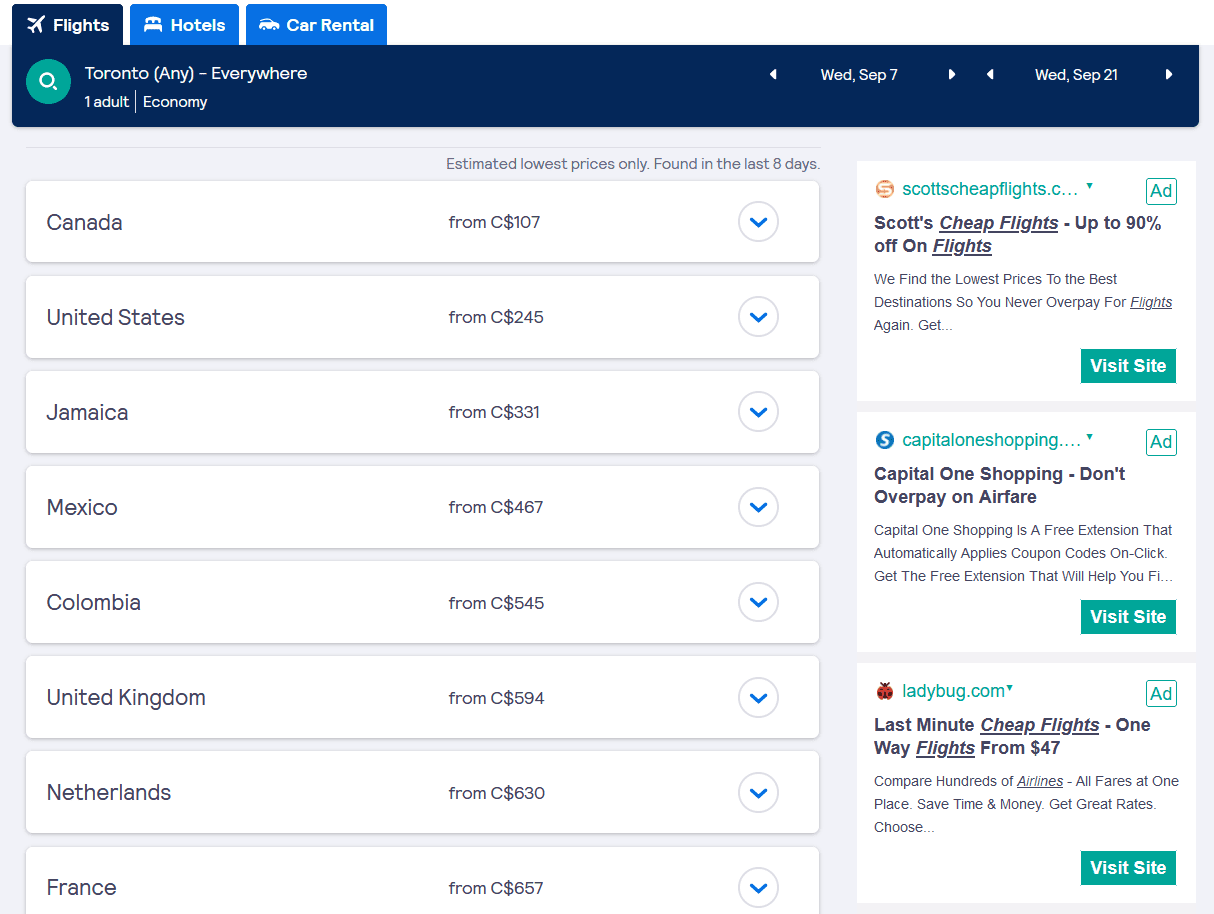 As you can see, Skyscanner provides us with a list of possible locations and starting prices for each one. This is a handy way to compare a huge range of flights. You can easily adjust your search by using the arrows in the top right to change the date. You can also click on your locations to change them.
Here's a similar search, but this time from Toronto to anywhere in the United States.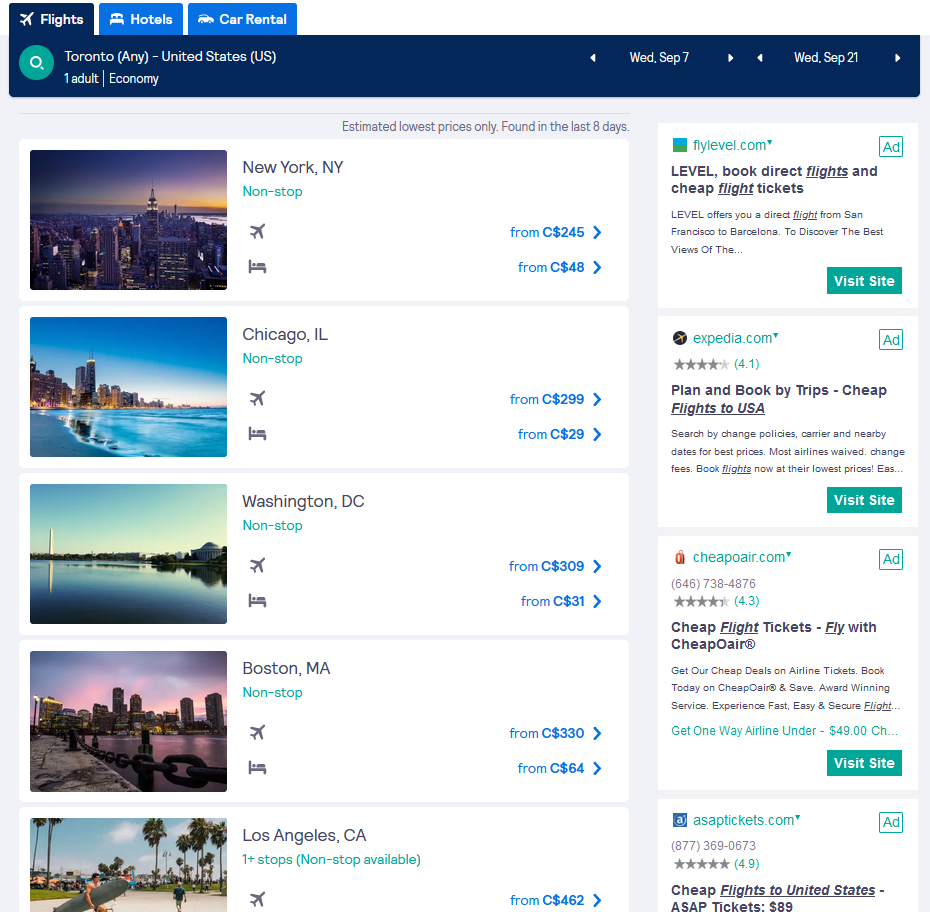 And here's what the search looks like if we choose a specific destination, like New York City.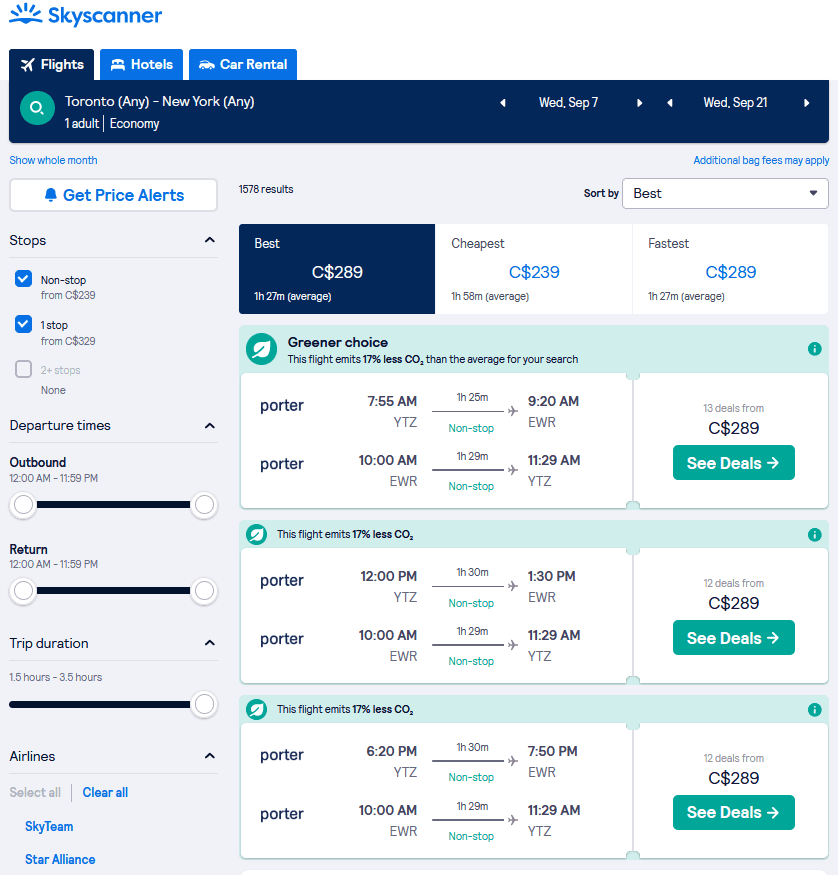 Once you select a specific location, Skyscanner quickly and efficiently scans lots of different airlines and providers, comparing prices and listing them all for you to read through. You can then click on the various tabs at the top of the page to see Skyscanner's "Best" flights, the cheapest flights, or the fastest flights.
There are also several filters along the left hand side where you can adjust your outbound and return times, select the number of stops you're willing to make, adjust the maximum trip duration, and add or remove different airlines. There's even a box to tick if you want a greener flight that uses the lowest possible CO2 emissions for eco-conscious travelers.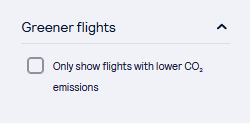 All in all, the flight search engine with Skyscanner is really effective and well laid-out. It's simple to enter your search terms and compare flights, and the filters provided are useful for narrowing down your search.
Searching for hotels with Skyscanner
Skyscanner is also a useful site to use for comparing hotel deals and prices all over the globe. It searches on many of the top sites, like Expedia, Trip.com, and Booking.com. Skyscanner tries to give you the best deals. You can even get exclusive rates and savings at certain big brand hotels.
Read more about Expedia for TD
The search screen lets you enter your chosen location, dates, and number of guests and rooms required. There are also sometick boxes for 3-star and 4-star hotels, as well as those with free cancellations.

Once you click the search button, Skyscanner gets to work scanning your chosen area for hotels.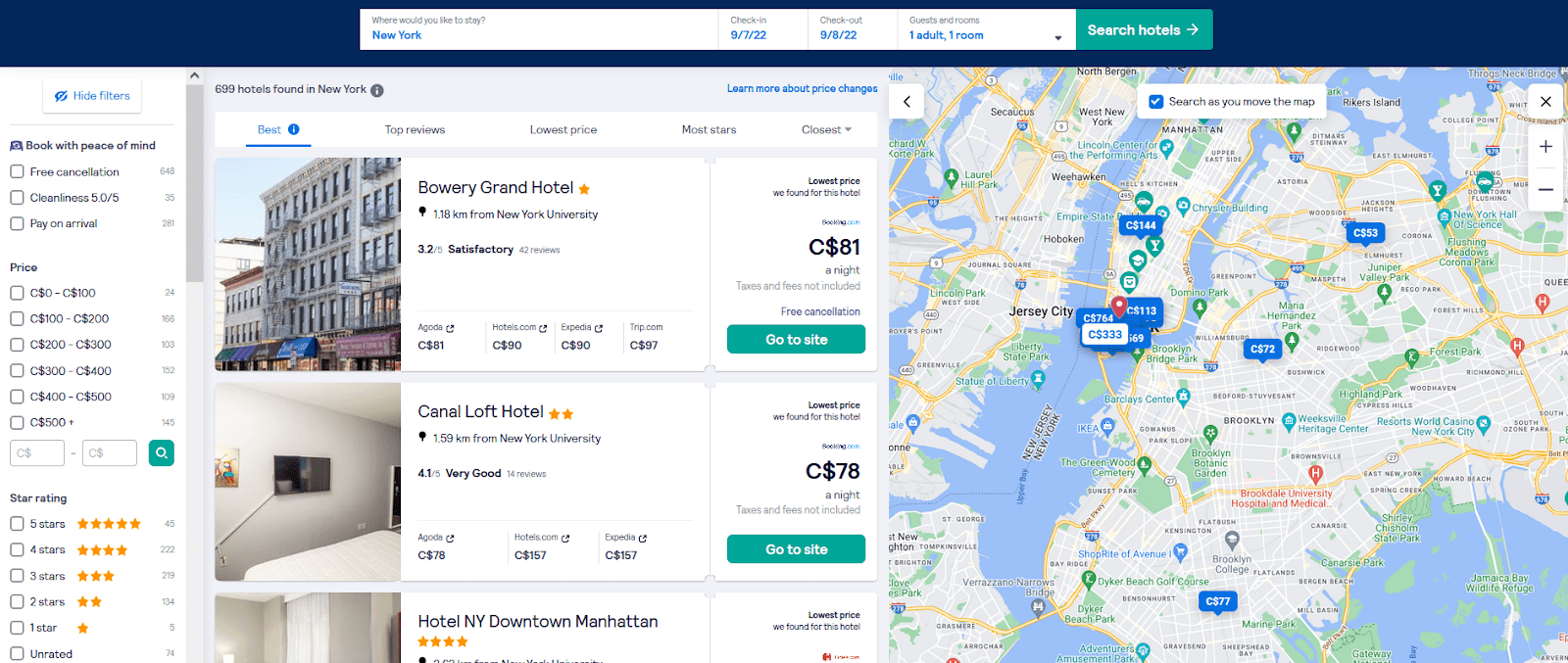 Once the search is complete, you'll get a screen like the one above. It shows a map of your destination on the right, a list of found hotels and prices, and some filters. You can sort your hotels according to price and popularity. There is also filters to adjust the results to your needs.
Searching for rental cars with Skyscanner
The last big feature of Skyscanner is car rental comparison. The site searches for car rentals from major brands, including the following:

Again, you can input your location, dates, pick-up and drop-off times, and tick some filter boxes to get started.

Skyscanner shows you a list of cars that you can sort by price. There are filters on the side for selecting car sizes, car types, pickup locations, specific policies, and more.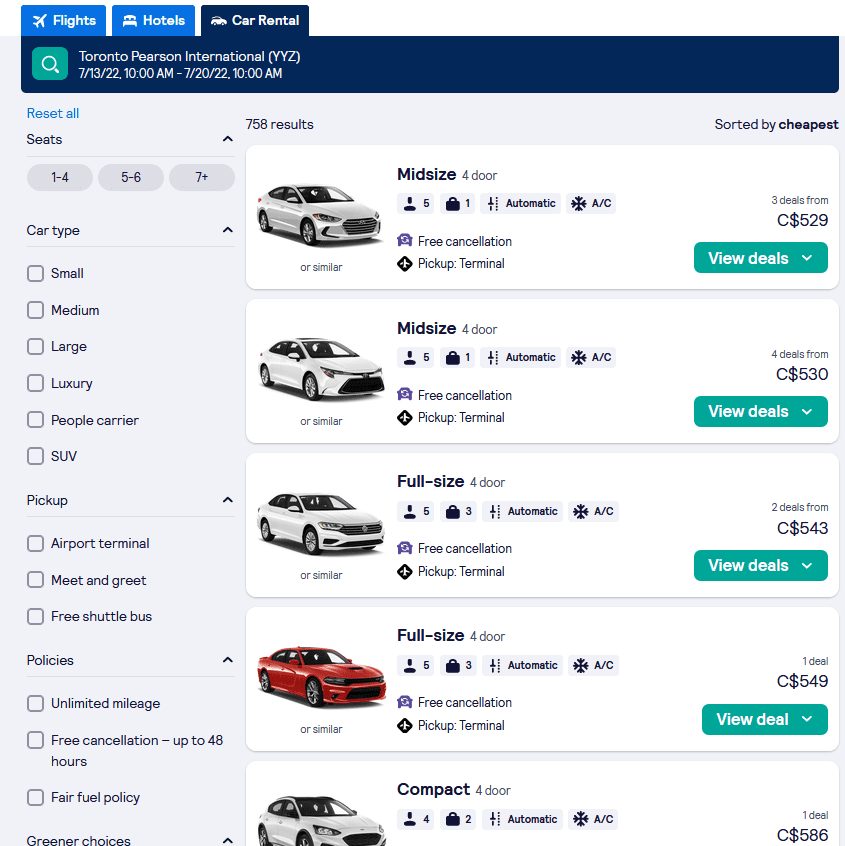 Once again, this search tool is clean and easy to use. It offers plenty of useful filters and search options.
Skyscanner pros and cons
As you can see, Skyscanner is a very functional and well-designed travel search engine. It lets you search for all of the key elements of your next journey. But, in addition to its advantages, it also has some downsides. Here are some of the big pros and cons of this site.
Pros
Minimalistic Interface – As stated earlier on, the interface of Skyscanner is definitely one of its strongest points. It's really clean, clear, and modern, without any unnecessary clutter.
Rapid – Another big benefit of Skyscanner is its speed. Even though it searches from hundreds of providers, it can find a list of flights or hotels for you in a matter of seconds, so you won't have to wait around to get results.
Effective – Skyscanner is a very effective travel search engine, more than capable of helping users find the cheapest possible flights and best hotels and car deals for their future journeys.
Versatile – We also can't understate the versatility of this site. From its "Everywhere" flight search feature to its huge lists of filters and search tools, it really allows you to customize your search in a way that suits your specific needs.
All-in-One – Another advantage is the all-in-one nature of Skyscanner. Some travel search engines focus on a specific product, like flights or credit cards, but Skyscanner covers flights, hotels, and car hire in one easy-to-use package.
Cons
Not Comprehensive – Even though Skyscanner searches with a lot of airlines and hotel brands, it is not comprehensive. There are some airlines and hotel chains missing from the database, so you could miss out on certain deals if you exclusively use this service.
Ads – Skyscanner is free to use, but it relies on ads to generate income and profit for the company. So, unless you're using an ad-blocker of some kind, you'll have to deal with multiple ads on most pages of the site.
Won't Work Offline – Obviously, Skyscanner is an online-only service, so you'll need an internet connection to use it and there aren't any offline features whatsoever, even on the Skyscanner mobile app.
Skyscanner review: the takeaways
Overall, it's easy to see why Skyscanner is one of the most-used travel search engines around. This site is a joy to use and has many advantages. However, it's not perfect and there are a few drawbacks. It's a good idea to use at least one or two other comparison sites to find what you're looking for. This way you make sure you get the best deals every time.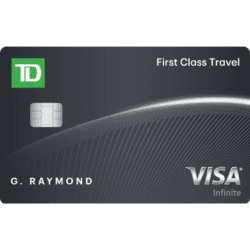 TD First Class Travel® Visa Infinite* Card
Special Offer: Earn up to $1,000 in value†, including up to 115,000 TD Rewards Points† and no Annual Fee for the first year†. Conditions Apply. Account must be approved by January 3, 2024.