The 10 Best Banks & Credit Unions in Ontario
Table of Contents
[ Show ]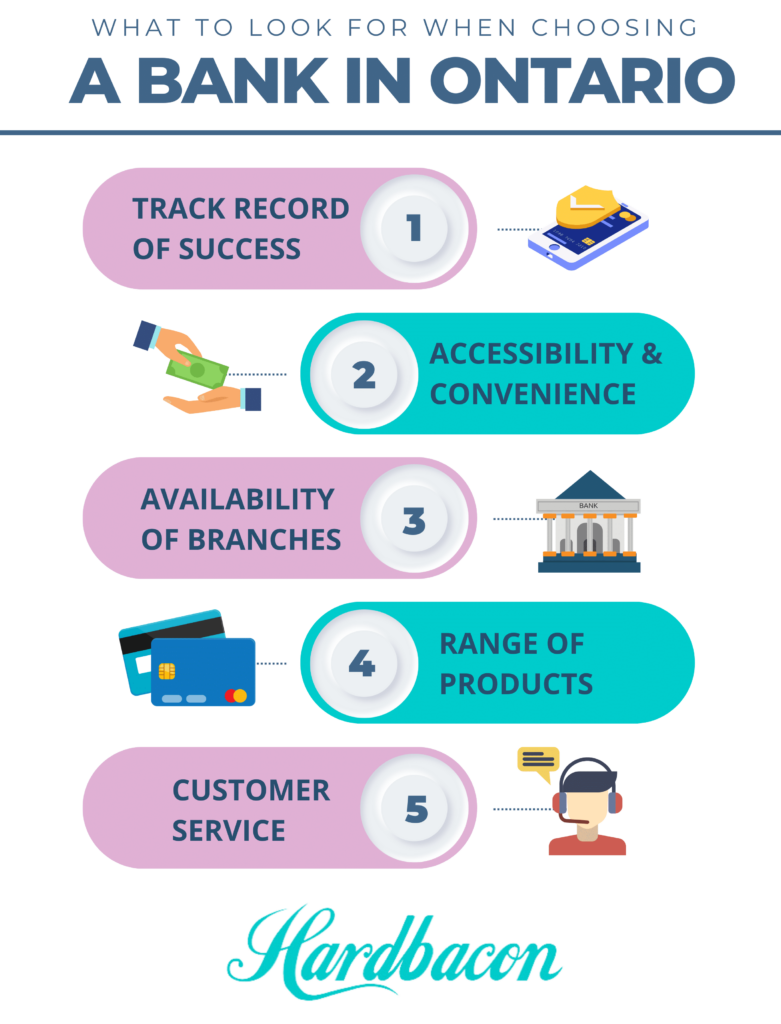 When it comes to choosing who to bank with, picking the right one can be challenging. If you're looking for a comprehensive banking solution that covers chequing, savings, investments, and credit cards, the decision can become even more complex. That's where our review comes in.
Hardbacon has meticulously compared most of the available banks in Ontario, looking at a combination of factors including product offerings, rates, and customer service. In our search for the best bank in Ontario overall, we have included three of Canada's Big Banks and a few exciting picks that may be unfamiliar to you. 
Factors to consider when choosing a credit union or bank in Ontario
When picking the perfect financial institution, you want to ensure you choose a winner. Here are some key factors to remember when you're searching for your money's perfect match. 
The first is reputation and trustworthiness. Look for institutions with a strong track record and a trusted name in the industry, indicating reliability and integrity. Accessibility and convenience are also important factors to consider. 
Evaluate the availability of branches and the user-friendliness of their digital banking platforms. Another good idea is to research the range of products offered, including interest rates, loans, mortgages, and investment options. Consider the institution's fee structure to avoid unexpected charges. Lastly, prioritize customer service and support. Look for institutions with responsive and knowledgeable staff who can assist you quickly through various channels such as phone, live chat, or email. 
The Best Credit Unions and Banks in Ontario
Now that we've covered what you should be looking out for when choosing your next bank or credit union in Ontario, let's go ahead and cover the options at your disposal. Please note that the list of banks and credit unions mentioned is for illustrative purposes only and not an endorsement of any specific institution. Furthermore, the options are listed in no particular order. Conduct your own research and consider your individual financial needs before making a decision.
1. EQ Bank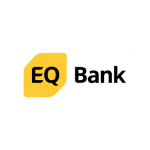 EQ Bank is a digital bank in Canada that challenges traditional brick-and-mortar banking models by offering no-fee accounts and high interest rates. Although they do not provide a true chequing account, their non-registered savings accounts comes with a prepaid Mastercard and offer unlimited free withdrawals from any ATM in Canada, resembling the features of a chequing account. With a focus on transforming traditional banking, EQ Bank offers a range of savings accounts, including their popular Savings Plus Account with no minimum balance requirement and a competitive interest rate of 2.5%. 
They also offer joint savings accounts, TFSA and RSP savings accounts with impressive interest rates, and a USD Account for Canadians with U.S. funds. Additionally, EQ Bank provides guaranteed investment certificates (GICs) with attractive returns of up to 5.50% on a one-year term. The bank provides a mobile app for convenient account management, enabling customers to view their accounts, purchase GICs, deposit cheques, transfer funds, and more. Their customer service is accessible through a virtual assistant or helpline.
EQ Bank Card
Benefit from 0.5% cash back on purchases
This 100% free prepaid Mastercard also offers free ATM withdrawals in Canada, no FX fees, and up to 3% interest on deposits.
Get 3.00%* on everyday banking with EQ Bank
2. NEO Financial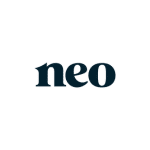 Neo Financial is a new platform that partners with reputable institutions like Concentra Bank and OneVest to offer a range of unique financial products. Deposits made into Neo's online bank accounts are insured by CDIC, providing security for your funds. Starting with the pros, Neo stands out with its attractive cashback rewards with a handful of merchant partners. Their Neo money account can also be used as a high-interest savings account, which consistently adjusts to market conditions. 
Sounds great, right? It is – but it's important to note that their cash back rewards vary based on their partners, and they will offer between 0.5% and 15%, depending on the specific offer. It also offers competitive mortgage rates, making it an appealing choice for those seeking financing. Neo's app provides convenient features like auto deposits, auto-pay, and auto savings, allowing for seamless banking experiences.
While their cashback credit card shows promise, other platforms like KOHO excel in banking and saving alternatives, while Wealthsimple trade dominates in investing. Neo's savings accounts lack robust features compared to other platforms. When it comes to their credit card offerings, Neo provides customizable options with attractive cashback rates. Overall, Neo Financial presents a range of products and features that cater to different, specific financial needs. 
Neo Secured Credit
None with Neo Standard plan
No annual fee
Guaranteed approval
No credit check
Get up to 15% cash back on your first purchase at a Neo partner, plus a $25 Welcome Bonus when you apply through Hardbacon.
3. Scotiabank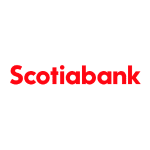 Scotiabank, has over 900 branches and a strong digital presence in Canada. The bank's online banking portal and mobile app provide convenient access to various banking functions, including bill payments, money transfers, credit score monitoring, and investment tracking. Scotiabank's acquisition of Tangerine in 2012 further expanded its digital offerings, catering to customers looking for fully online banking options. 
They offer a diverse range of account types, including savings accounts with competitive interest rates and chequing accounts with various fee structures and benefits. Scotiabank's eHOME mortgage also stands out due to its flexible payback rules. The mortgage has unique features such as miss-a-payment and match-a-payment programs. Overall, Scotiabank's diverse range of products and services make it a great choice for Ontarians seeking a globally recognized banking institution.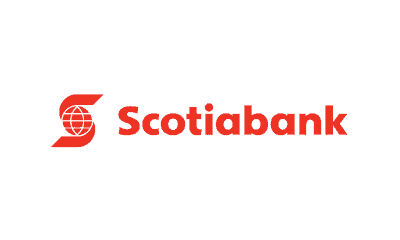 4. Meridian Credit Union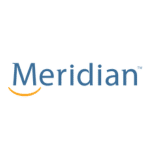 Meridian Credit Union, the largest credit union in Ontario and the second largest in Canada, offers a comprehensive range of products and services to cater to the diverse needs of Canadians. With offerings that include Visa credit cards, competitive mortgage rates, wealth management, and various bank accounts, Meridian stands out as an appealing choice. What sets Meridian apart is its commitment to providing competitive rates and attractive products, making it a compelling alternative to traditional banks and other competitors. 
As a Meridian member, you have the flexibility to bank anytime, anywhere, and on any device. Whether it's online banking, phone assistance, or mobile banking, you can access your accounts with ease. For those who prefer a more conventional approach, Meridian's 89 branches and Phone Contact Centre are available to serve your needs. While Meridian primarily operates in Ontario, their subsidiary, motusbank, extends their services to the rest of Canada (excluding Quebec). Meridian also offers a range of business Visa credit cards with cash back rewards and various benefits, including fraud monitoring and comprehensive insurance coverage. It's also worth mentioning that Meridian is protected by provincial credit union deposit insurance rather than federal CDIC.
5. BMO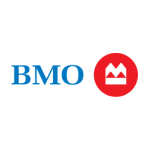 BMO caters to both newcomers and long-term Ontarians with a wide array of financial services. Their NewStart program offers benefits like a year's free banking, a free safety deposit box, and no-cost international transfers. This program, open to foreign workers, permanent residents, and students, also provides varied credit card options without needing credit history. Additionally, BMO offers occasional sign-up bonuses.
For all Ontarians, BMO offers competitive products such as the BMO InvestorLine, a self-directed investment platform for savvy investors and a suit of credit cards that include both Mastercard and Visa cards. Their mortgage products are also highly competitive, featuring diverse options to suit different needs. Their robust, user-friendly digital banking platforms ensure a secure experience for all customers, irrespective of their digital proficiency. All funds, including those in NewStart, are CDIC insured.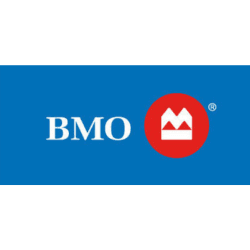 Performance Chequing Account - BMO NewStart® Program
Free during the first year*,
Then free with a $4,000 balance.
Earn up to $450* Welcome Bonus. No monthly plan fees for one year, send Unlimited BMO Global Money Transfers with no fee for one year, and get $60 cash bonus with rental of a safety deposit box*. Offer ends in October 31,2023. *Conditions apply.
6. Alterna Savings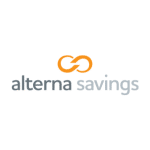 Alterna Bank is a prominent digital bank in Canada, providing a range of financial services that include savings, chequing, investments, and mortgages. While Alterna Bank primarily operates online, customers can also access face-to-face service through Alterna Savings branch locations in Ontario. This hybrid approach ensures that you can enjoy the convenience of digital banking while still having the option for in-person support when needed.
It's important to note that while Alterna Bank provides a comprehensive range of banking services, including savings and chequing accounts, it currently does not offer a credit card. However, the bank excels in providing $0 fees for its eChequing account, high-interest savings account options, and a CDIC-insured environment for enhanced security.
7. KOHO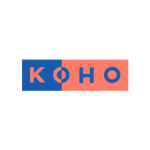 KOHO is a prepaid card service that offers an alternative to traditional banking. With the KOHO Mastercard Prepaid Card, you can spend only what you have in your account, preventing overspending and maintaining control of your finances. It functions like a debit card but also offers cashback rewards and savings features typically associated with credit cards. Banking with KOHO can be especially helpful for those with bad credit or those looking to build their credit history. 
KOHO offers different plans with varying benefits, such as cashback on purchases and interest on your balance. The Easy plan has no annual fee and provides 1% cashback on groceries and transportation, while the Essential and Extra plans offer additional perks for a monthly fee. KOHO also emphasizes savings through features like RoundUps, which allows you to round up purchases and save the difference, and the Vault, which helps you set aside money for future use. 
The KOHO app complements the prepaid card by providing real-time spending overviews and categorization of purchases. The bank is a great option for those who want to stay within their budget, earn cashback rewards, and have control over their spending. However, it may not be the best fit for those anyone who already has a bank account with premium features or extensive investment and retirement planning needs.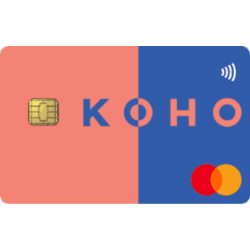 KOHO Prepaid Mastercard Easy
Get $20 when you sign up for a free KOHO account with code HARDBACON and enjoy 3 months of KOHO Extra to unlock up to 4.5% savings interest!* Conditions apply.
Get $20 with the promocode HARDBACON
8. Toronto-Dominion Bank (TD Bank)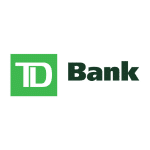 TD Bank, also known as Toronto-Dominion Bank, is one of Canada's leading financial institutions and a member of the Big Six banks. With a national customer base of over 13.5 million, TD Bank offers a comprehensive range of banking products and services for both individuals and businesses. Its extensive network includes branches and ATMs across Canada, except for Nunavut, and a user-friendly digital banking platform called EasyWeb.
The app has received extremely positive reviews from both Android and Apple users, emphasizing its convenience and ease of use. TD offers a wide range of account options, including savings and chequing accounts, credit cards, investment accounts, mortgages, and loans. Despite this, TD Bank remains a popular choice for Canadians who prefer a well-established institution that provides both in-person and online banking services.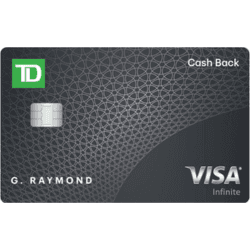 TD Cash Back Visa Infinite* Card
Special Offer: Earn up to $500 in value†, including 10% in Cash Back Dollars in the first 3 months on Bonus Eligible Purchases up to a total spend of $3,500†. Conditions apply. Account must be approved by March 4, 2024
9. Tangerine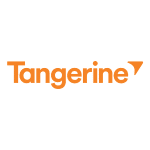 Tangerine Bank is an ideal choice for Ontarians seeking a flexible and no-fee digital banking solution. With a wide range of account options, including chequing accounts with no monthly transaction fees, Tangerine is particularly well-suited for individuals who conduct frequent banking transactions. The bank's digital approach makes it appealing to those who value the convenience of online banking and may not require the services of traditional brick-and-mortar branches. 
When considering Tangerine Bank, it's essential to weigh the pros and cons. On the positive side, Tangerine provides a fully digital banking experience, offering convenience and flexibility. The bank offers a good selection of accounts and does not charge fees for daily chequing transactions or for using Scotiabank's network of ABMs. However, it's important to note that being an online-only bank means that customers cannot seek in-person assistance at branch locations. As a leading digital bank in Canada, Tangerine has a reputable history and significant influence on the digital banking landscape. 
Money-Back Credit Card
Apply for a Tangerine Money-Back Credit Card or Tangerine World Mastercard by October 31, 2023 and earn an extra 10% back on up to $1,000 in everyday purchases made within your first 2 months. Afterwards, receive up to 2% cash back on purchases in 2 categories of your choice and 0.5% on everything else. Conditions apply.
Limited time offer of 10% cash back!
10. Simplii Financial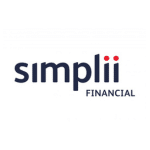 Simplii Financial is an online-only bank that offers a wide range of financial products and services with a no-fee structure. While it provides full-service banking, including mortgages, lines of credit, and GICs, its interest rates are not as competitive as those of its competitors. One of the major advantages of Simplii Financial is the no monthly fee policy, allowing clients to enjoy unlimited transactions without incurring additional charges. The bank also provides attractive promotional offers, such as cash bonuses for new clients. Additionally, Simplii Financial offers a diverse selection of financial products to cater to various needs.
Clients of Simplii Financial have access to CIBC's extensive ATM network, providing convenient cash withdrawal and deposit options. However, the bank falls short in terms of interest rates on savings accounts, offering lower to moderate rates compared to other digital banks. Simplii Financial may appeal to people who prioritize no-fee banking and value the convenience of an online-only bank. However, those seeking higher interest rates on savings accounts may find better options with other digital banks. 
The Best Banks in Ontario: The Bottom Line
Choosing the best bank in Ontario, just like choosing the best bank in Canada, requires careful consideration of various factors such as reputation, accessibility, product offerings, fees, and customer service. Based on our analysis, the ten institutions that stand out as the best in Ontario include Tangerine, EQ Bank, Neo, Koho, Simplii Financial, Meridian Credit Union, Alterna Savings, TD Bank, CIBC, and Scotiabank.
Ultimately, the best bank or credit union for you will depend on your specific preferences, needs, and financial goals. It is essential to conduct thorough research, compare the features and fees of different institutions, and consider your individual circumstances before making a decision on who to bank with.
FAQs About Banks in Ontario 
What is the best bank in Ontario?
The best bank in Ontario can vary depending on individual preferences and needs. RBC is the largest big bank in Ontario with $1.9T under management, closely followed by TD and BMO. You should research and compare the features, services, and fees of different banks to find the one that aligns with your specific requirements.
Which bank has the best mortgage rates in Ontario?
Currently, out of the Big 5 Banks, TD has the lowest five-year fixed mortgage rates at 5.09%, and BMO has the lowest variable rate at 6.67%. When it comes to alternative lenders, Pine has the lowest fixed rate at 5.04%. It is important to note mortgage rates can vary among banks and are subject to market conditions, and will vary based on the structure of your loan. Rates can change regularly, so it's important to stay updated and consult with a mortgage specialist or use an online comparison tool for the most accurate and up-to-date information.
How to set up an estate bank account in Ontario?
To set up an estate bank account in Ontario, gather necessary documents, including the death certificate, will, and legal estate documents. Contact the bank, provide the required identification and legal documents, and complete the application form. Transfer funds from the estate's assets into the newly opened account, which you, as the executor or administrator, will manage for estate-related transactions.
How to become an investment banker in Ontario?
To become an investment banker, you need to start by earning a relevant bachelor's degree in STEM, finance, or a related field. Gain work experience through internships or entry-level positions in the finance industry, and consider pursuing advanced education with a master's degree. Build a strong network, attend industry events, and continue developing analytical and financial skills through courses and certifications.
How to open a bank account in Ontario?
To open a bank account in Ontario, choose a bank, gather the required documents (ID, proof of address, SIN), and apply either in person or online. Complete the application form, submit it along with the necessary documents, and follow the bank's instructions to activate your account and access its features.

How to open a business bank account in Ontario?
To open a business bank account in Ontario, choose a bank and account type that suits your business needs. Gather required documents such as identification for yourself and authorized signatories, proof of business registration, and your business number. From there, you should contact the bank to schedule an appointment to open an account, or complete the process online, if it's an option.