EQ Bank Savings Plus Account Review for 2023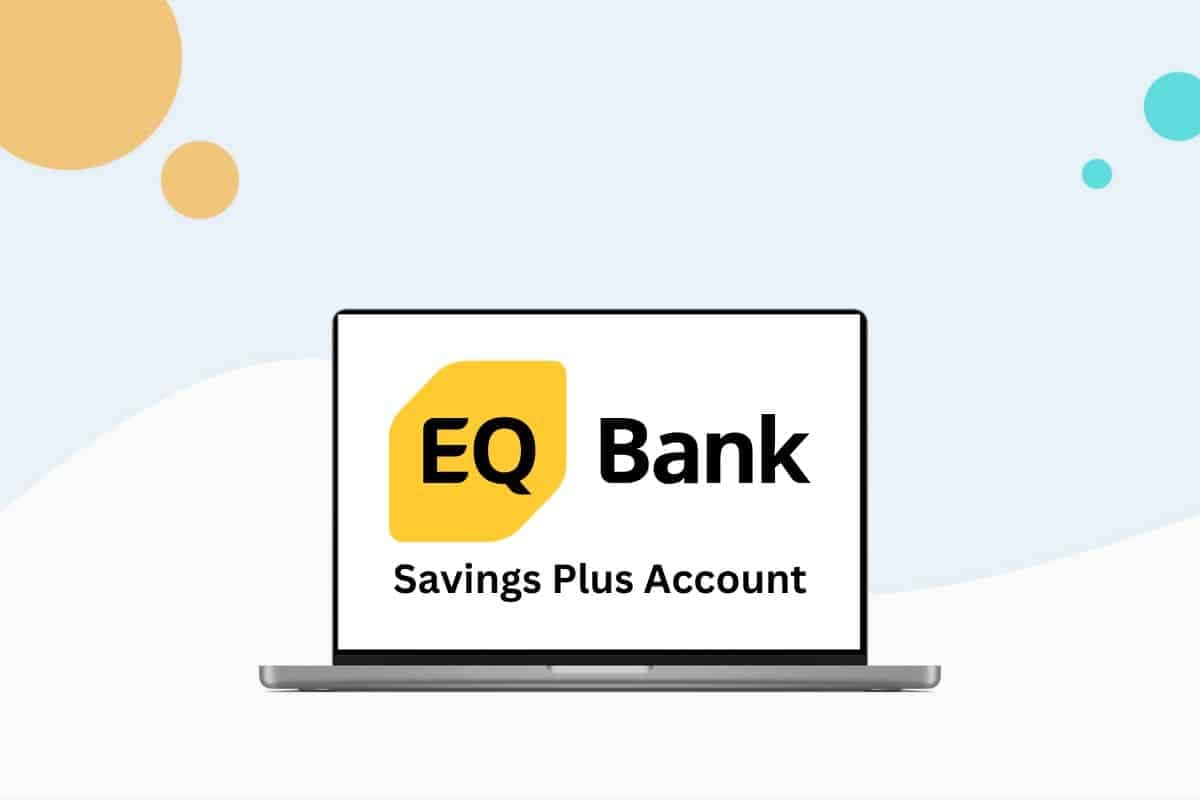 Remember when we thought "banking" meant standing in line at the ATM with a hangover? Well, hold on to your egg McMuffin, because the EQ Bank Savings Plus Account just made managing your money hella easier. This popular digital bank offers free accounts with some of the highest interest rates in Canada, unlimited free daily transactions, and a bank card that earns cash back on every purchase. Are you ready to put your hard-earned bacon to work without breaking a sweat? Here's everything you need to know about the EQ Bank Savings Plus Account.
What is EQ Bank?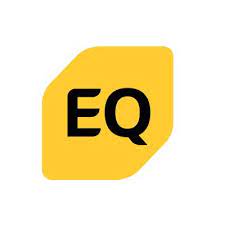 EQ Bank is one of Canada's best digital-only neobanks, which means there are no brick-and-mortar branches. That allows them to cut overhead costs and pass those savings onto us. With competitive interest rates, low-to-no fees, and a user-friendly mobile app, EQ Bank is like the ultimate adulting hack.
They've been around since 2016, offering the same bank-level protection you're used to and CDIC insurance on your eligible deposits. From EQ's humble beginnings offering just a high-interest savings account, it's grown into one of the most prominent institutions in the digital-banking space. EQ Bank now offers the following products and services:
Savings Plus Account
Joint Savings Plus Account
EQ Bank Card
TFSA Savings Account
US Dollar Account
RSP savings Account
GICs
International Money Transfers
Mortgage Marketplace
Who can join EQ Bank?
To open an EQ Bank account, you must be a Canadian resident with a social insurance number and be the age of majority in your province or territory. If you live in Quebec, you can join EQ Bank but the following products are not yet available in your province:
EQ Bank Card
US Dollar Account
International Money Transfers
RSP Savings Accounts
RSP GICs
Transfers between EQ customers
What is the EQ Bank Savings Plus Account?
The EQ Bank Savings Plus Account is what you get if a traditional chequing and savings account had a baby. It's free with no monthly fee and offers unlimited transactions, super high-interest rates on deposits, a bank card that earns cash back on purchases, and mobile cheque deposits through the app. Here's what to expect from your new digital-only account.
Features & benefits
This no-fee account packs quite a punch. Let's break down the top perks of the EQ Bank Savings Plus Account, like free transactions, high-interest rates, and cash back on purchases to show how it can level up your money.
Free daily banking
Hands down one of the best features is the ability to instantly access your cash without getting nailed with charges. Free and unlimited transactions include:
EQ Bank Card Purchases
eTransfers
Mobile Cheque Deposits
Bill Payments
Pre-authorized Debits (PADs)
Electronic Funds Transfers (ETFs) between EQ Bank accounts, linked external accounts, and recurring transfers
Transfers between EQ Customers
Transactions through the Customer Care Centre
Unlike most banks, EQ Bank does not charge penalty fees for rejected transactions due to Non-Sufficient Funds (NSF), like a bounced cheque for example. On the downside, there is no overdraft protection available on the EQ Bank Savings Plus Account. But with no fees on returned items, you probably don't even need it.
On the downside, if you need physical cheques drawn on your account, you should consider other digital banks like Tangerine or Simplii Financial.
High interest on deposits
Here's where EQ really gives away the farm. Every dollar in your account earns 2.50% annual interest until the second you spend it. That's about 250x more interest than the Big Banks give you. With your EQ Bank Savings Plus Account, you don't have to choose between the accessibility of a chequing account or crushing your savings goals – do both! Every dollar earns bank-beating interest without having to move money around from a chequing to a savings account.
Better yet, there's no minimum balance required to earn that juicy rate. Interest is calculated daily on your total closing balance and the funds are deposited into your account monthly. Keep in mind that rates are subject to change without notice. For the most up-to-date info, visit the EQ Bank website.
While this rate certainly is aggressive compared to the big brick-and-mortar banks, it's certainly not the highest rate among digital-only banks. Tangerine often runs limited-time interest rate promotions. At the time of writing, Tangerine is offering 5% interest on savings for 5 months if you open an account before July 17, 2023.
The downside is that this is a promotional rate and will revert back to their standard rate of 1% when the promotional period ends. For EQ Bank, however, the elevated rate of 2.50% is the standard rate, which is much higher than Tangerine's standard rate. Neo Financial comes close with a standard rate of 2.25% but EQ Bank is still higher.
EQ Bank Card
[Offer productType="CreditCard" api_id="63d2cb6a18196b6d2e1928c2″ id="198047″]
Until recently, one of the major drawbacks of the EQ Bank Savings Plus Account was the inability to access your money with a bank card. They finally solved that pain point with the launch of the EQ Bank Card in early 2023. It's a reloaded prepaid Mastercard that works everywhere Mastercard is accepted – online, in store, and abroad. Unfortunately, it's not currently available to Quebec residents.
The downside of the EQ Bank card is that you have to load it by transferring money from your Savings Plus Account to a separate account linked to the card. So while your money is now more accessible, it still requires money management to use the card.
Cash back
For the rest of Canada, the EQ Bank Card comes with some juicy perks. You get 0.5% cash back on almost all card transactions, both in Canada and abroad. There are no specific spending categories to worry about and there is no cap on the amount of cash back you can earn. Earned cash back is deposited monthly into your EQ Bank Savings Plus Account.
EQ Bank's major competitor, Tangerine, falls short with no cash back offered at all on its Visa-Debit card. Neo Financial, on the other hand, provides what is likely the best cash back feature in Canada, guaranteeing at least 0.5% cash back on every purchase.
Thanks to partnerships with thousands of retailers across Canada, the average cash back rate on your Neo Money card is 5%, with up to 15% cash back for each first purchase from a Neo partner. EQ Bank has no such partnerships with Canadian retailers, and so, pales in comparison to the cash back potential of the Neo Money Card.
ATM & foreign transaction fees
And the best part? You can use any ATM in Canada for free! Not only does EQ not charge ATM fees, but they'll actually reimburse you for any fees charged by Canadian ATM providers. You'll see that money hit your account within 10 business days of the transaction.
But that's not all. You won't be charged additional foreign transaction fees either, which saves you even more money when spending abroad or shopping online with non-Canadian merchants. Your transactions are still subject to Mastercard's currency conversion rate, but EQ won't charge you the additional 2.5-3% fee that most other banks charge.
Getting & using your EQ Bank Card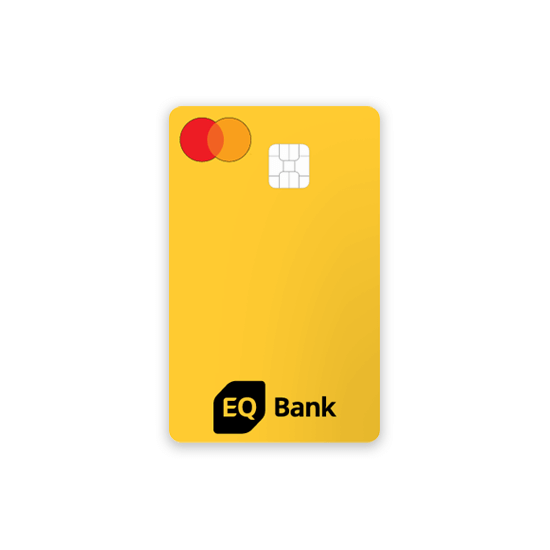 To get your free EQ Bank Card, you'll need to open an EQ Bank Savings Plus Account. With a few taps of a button, you can add funds to the account and order your free EQ Bank Card from your dashboard. When your card arrives in the mail, log into your account to activate it and set your PIN.
You can start using the card once you transfer money from your EQ Bank Savings Plus Account to your EQ Bank Card account. This might seem like an unnecessary extra step, but it's actually a blessing in disguise. By separating the card from your main account, you can't accidentally overspend and blow your budget.
You can instantly reload your card at any time, or move funds from the card back into your main account. Once a month, your cash back rewards will be deposited into your main EQ Bank Savings Plus Account, not the card account.
Depositing to your EQ Bank Savings Plus Account
Depositing money to your account is a breeze and you have a few options available to you. You can eTrasnfer funds from another account to your EQ Bank Savings Plus Account, deposit a cheque through the app, or connect an external bank account to move money between your financial institutions. You can link up to 10 external accounts and all deposits are free.
To set up a direct deposit, like your paycheque for example, you can print off a void cheque that will have all the banking information the depositing party will need. Select the account you want the money to go into, then click "More Options." From the drop-down menu, select "set up direct deposit." A void cheque will populate which you can either download as a PDF or print off.
Withdrawing from your EQ Bank Savings Plus Account
Again, you have several options to access your cash quickly and easily. For instant daily access, you can use your EQ Bank Card to make purchases and withdraw money from ATMs. You can also eTransfer or link external bank accounts to move money to other financial institutions.
Unfortunately, EQ does not provide chequebooks. But if you're a millennial or younger, you've probably never needed to write one anyway.
If you need to provide banking information for pre-authorized payments, you can print or download a void cheque. Select the account you want the money to be debited from, then click "More Options." From the drop-down menu, select "Set up direct deposit." Then choose either "Download as PDF" or "Print."
What if I want to send money abroad?
No problem! EQ Bank offers effortless International Money Transfers powered by Wise. You can send over 40 currencies to over 160 countries. While EQ does not charge any fees for international transfers, Wise will charge its own fee for processing the transaction.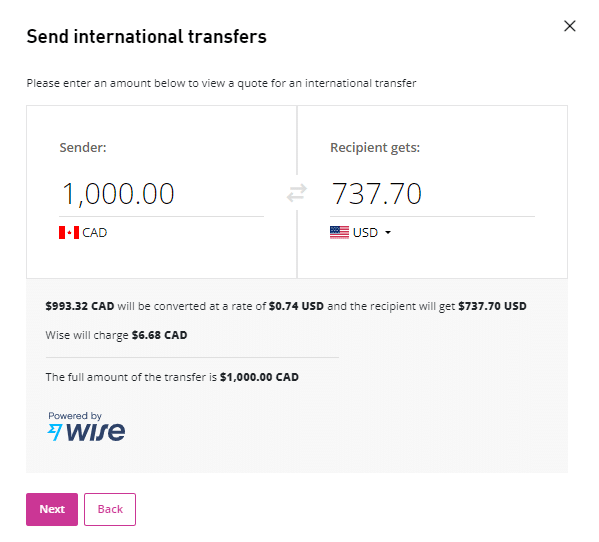 From your dashboard, select "Transfers" followed by "Send International Transfer." Type in the amount you want to send and your recipient's currency. You'll instantly see the exchange rate, the fee, and how much your recipient will receive. Then click on "Next," follow the prompts and fill in the necessary info.
Does EQ offer joint accounts?
Yes! If you want to blend finances or share expenses with someone, you can easily open a Joint EQ Bank Savings Plus Account or invite someone to become a co-holder on an existing account. I speak from experience when I say that EQ has one of the easiest joint account opening processes among its digital bank contenders.
You can share an account with up to two other people, so 3 account holders total. And you don't all have to be together at the same time to open a joint account. One person can start the process and fill out the necessary information about themselves. Just add the contact information of the other person/people you want to share the account with, and EQ will email an invitation link from them to finish the process.
If you already have an EQ Bank Savings Plus Account and want to make it joint, select "More Options," then select "add co-holder(s)" from the drop-down menu. If they're already an EQ Bank customer, make sure to use the email address linked to their existing account. Otherwise, provide the email address they plan to use when registering with EQ Bank. They'll get an invitation email with a link to finish the process.
Tangerine also offers joint accounts, but the process is overly complicated. It requires both you and the other user to be present at the same time and you have to call the customer care centre – you can't open a joint Tangerine account yourself online like you can with EQ. And while Neo Money offers better cash back on their prepaid Mastercard, they do not currently offer joint accounts.
Who is the EQ Bank Savings Plus Account for?
The EQ Bank Savings Plus Account is a great choice for anyone who wants to spend less and save more. Sure, that sounds like literally everyone but this account is best suited for people who are very comfortable doing all their banking online because there are no physical branches available for in-person services. Not to mention, if you want to earn high interest on every dollar without having to money between a chequing and savings account, EQ Bank is the way to go.
So, if you're tech-savvy, grossed out by the cost to access your own money, and the interest rate is underwhelming, the EQ Bank Savings Plus Account is both simple and rewarding. But EQ is not a one-trick pony. They offer tons of other services to meet your investing, borrowing, and payment needs, too.
Even if EQ Bank doesn't have what you need to replace your current financial institution, it's a great option to complement your current banking and kick your savings into hyperdrive.
Remember, it's not all or nothing. When it comes to your money, flexibility pays off.
[Offer productType="CreditCard" api_id="63d2cb6a18196b6d2e1928c2″ id="198047″]
FAQs
What is EQ Savings Plus Account?
The EQ Savings Plus Account is a high-interest, digital-only hybrid account offered by EQ Bank in Canada. It boasts features such as no monthly fees, free unlimited transactions, a competitive annual interest rate, and a cash back prepaid Mastercard. This account is a great option if you're looking to grow your savings faster with instant access to your cash.
Is the EQ Savings Plus Account tax-free?
No, the EQ Savings Plus Account is not tax-free. Interest earned on this account is considered taxable income, and you will need to report it on your income tax return. However, EQ Bank does a offer Tax-Free Savings Account (TFSA) as well.
How much can I withdraw from my EQ Bank savings account?
With the EQ Bank Savings Plus Account, you get unlimited free transactions, which include withdrawals. There is no specific limit on how much you can withdraw from the account, but daily limits may apply to certain transaction types like eTransfers, interbank transfers, bank card transactions, and ATM withdrawals. Always check your account terms and conditions for the most up-to-date information on any applicable withdrawal limits.