Compare

Disability Insurance

You could save thousands of dollars by comparing prices before you buy disability insurance policies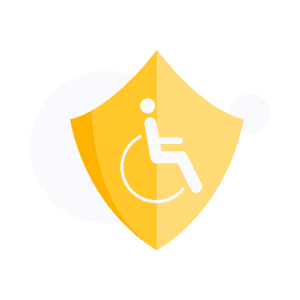 What is Disability Insurance?
Disability insurance is also called income protection insurance because that is what this insurance it is meant to do. It covers you when you are unable to work. Much like Critical Illness as well as Mortgage Insurance, it protects your income when you are disabled due to sickness or accident.
Some tips for saving money on your next disability insurance policy in Canada
Choose your type of disability insurance policy carefully
Several types of contracts are available. With those that guarantee a guaranteed premium and renewal, the cost of your insurance is fixed and the insurer cannot change the terms. If you choose a non-guaranteed premium and guaranteed renewal instead, the cost of your insurance may increase in the future. When neither the premium nor the renewal is guaranteed, both the cost and the terms may change. Pay attention to your policy: is there any mechanism, such as a cap, that controls the increase for non-guaranteed premiums? A very aggressive offer at the beginning could go up and be much less attractive than at first glance.
Extend the time between your claim and when you receive your benefits
Following an accident or illness, a doctor will confirm your disability. The period of time between that time and the time you begin receiving benefits is called the elimination period. It can be 30 days, 60 days, 90 days or even 120 days. This is the period during which you must support yourself from your personal savings. When you sign your contract, you choose the period that suits you. A shorter waiting period will result in higher premiums, and a longer waiting period will result in lower premiums. So if you have enough savings to support your lifestyle for 90 days, you'll pay less than if you choose a 30-day waiting period.
Select a short benefit period
Disability insurance provides you with temporary income replacement. Short-term disability insurance covers up to 6 months, and then long-term insurance can take over if you are still not able to return to work. The shorter the duration you want to insure, the better your premium will be. For example, if you want to receive benefits for 2 years in case of illness, your premium will be less expensive than if you want to insure yourself for a disability that would last 5 or 10 years.
Make sure that your benefits are properly indexe
It's important, especially if you're young, to look at benefit indexing. Indexing refers to an automatic change in the value of a benefit based on changes in certain economic data, such as the cost of living. It's what makes your benefits work for you 10 or 15 years from now! Indexed benefits will increase over the years and allow you to maintain your purchasing power. If not, inflation may get ahead of you and what you receive will seem lacking compared to the cost of living!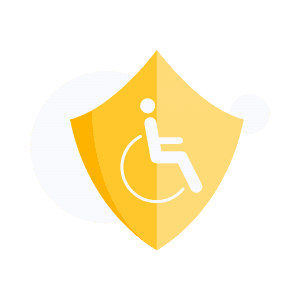 Frequently asked questions about disability insurance
What is disability insurance?
Disability insurance, often called disability income insurance, is a form of income protection for a beneficiary. This beneficiary is yourself from the moment you sign up. In the event of disability, such as when an illness or accident prevents you from performing your job duties, the beneficiary can receive benefits. In other words, it is what allows you to have the necessary money to cover your usual expenses: rent or mortgage, car payment, food, leisure, savings, etc. This insurance can pay you up to 85% of your usual income.
Is disability insurance tax deductible in Canada?
Is disability insurance worth it?
What is covered by disability insurance?
Are disability insurance payments taxable in Canada?
Can you buy short term disability insurance?
Does disability insurance cover cancer?
How does disability insurance work?
What is long term disability insurance?
Does disability insurance cover mental health?
How long does disability insurance last?
Do I need disability insurance if I already have critical illness insurance?
Hardbacon users are 100% satisfied
Nice app! Helps me plan and achieve my goals
I was able to compare mortgages on HardBacon when going through the purchasing process of our new house - very helpful. Went back to compare bank accounts - I've had the same bank account for over 20 years. I've now just signed up for a new account with a lucrative offer. Highly recommend taking the time to search all products to compare on the HardBacon site!
Hardbacon has great financial tools to make the best decision for your financial life. Plus they have a pretty neat app to handle all your finances and budgets ! 100% recommended
Great site/app for everything about your personal finance!
Excellent app !! Centralize all your finance in one place ! So easy to comprehend your financial situation ! 100% would recommend
Great tool that gives you many interesting alternatives to financial products!
Stephanie I
August 18, 2021
Awesome! Really helped me make the right choices for my finances.
Great information to learn about personal finance. Also makes me hungry for bacon
Awesome application and service. A must have for budgeting and keeping track of your personal finances.
Trustindex rating score: 4.9 of 5, based on 107 reviews