Neo Financial Review: What You Need to Know About the Fastest-Growing Canadian Neobank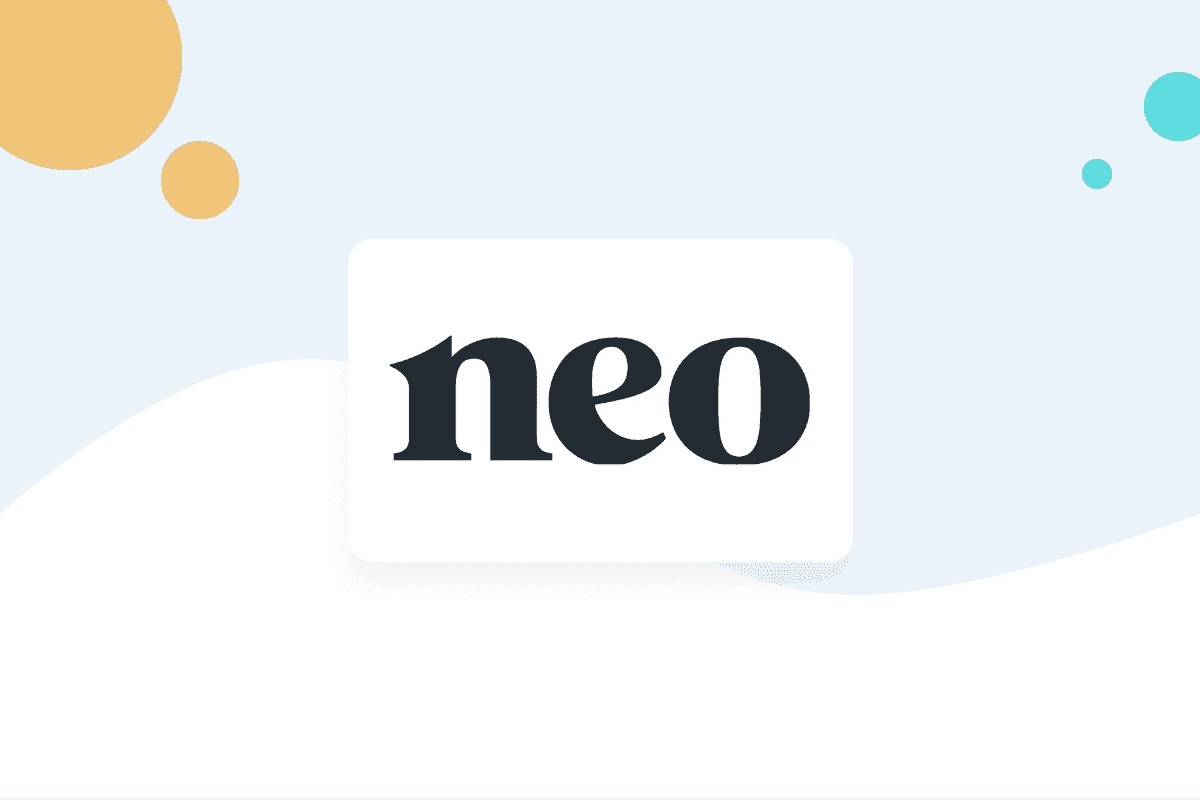 Whether you are looking for a new credit card, bank account, or investment management service, you may have come across Neo Financial, one of Canada's best neobanks. As a fintech company, Neo Financial is able to save a lot of money on operating costs in comparison to traditional brick-and-mortar banks, which in turn leads to better rates and rewards for customers.
But since neobanks are not as well known as traditional big Canadian banks, it is all the more important to check that a company is trustworthy — and that they offer competitive rates — before opening an account. Here's everything you need to know in our complete Neo Financial Review.
[Offer productType="SavingsAccount" api_id="65496a205095a94f68b0f812″]
Is Neo Financial legit?
In terms of legitimacy, Neo Financial is in the clear. Rather than creating their financial products from scratch, they generally partner with larger, reputable, and regulated institutions. For instance, their online bank account product is provided by Concentra Bank, a CDIC-insured institution, which means that your deposits are legally insured up to $100,000 in the event that Neo Financial (or Concentra) shuts down.
Likewise, their investment accounts are managed by CI Investment Services (CIIS), which is regulated by the Investment Industry Regulatory Organization of Canada (IIROC), and their Neo Mastercards are issued by ATB Financial. While Neo does provide its own mortgage brokerage service in-house, Neo Mortgage is licensed in all Canadian provinces except Manitoba, Prince Edward Island, and Quebec. Although, their licenses are allegedly pending in the remaining provinces.
Of course, it is also important to ensure that you choose financial products which offer competitive rates, whether that translates to low fees or impressive rewards. Fortunately, Neo Financial has a pretty strong product roster. However, their products do have a couple of drawbacks, so it is best to do some research before opening any accounts.
Neo Credit
[Offer productType="CreditCard" api_id="60fed96813fd2f260ff90748″]
Occasional users may opt to avoid a monthly fee and enjoy a 4% cash back rate when shopping at Neo partners, whereas heavier shoppers may decide to pay a little extra and enjoy 5% or 6% cash back at partnered businesses. Regardless of tier, all cardholders receive 1% cashback elsewhere. Some businesses may also offer higher one-time cash back rates.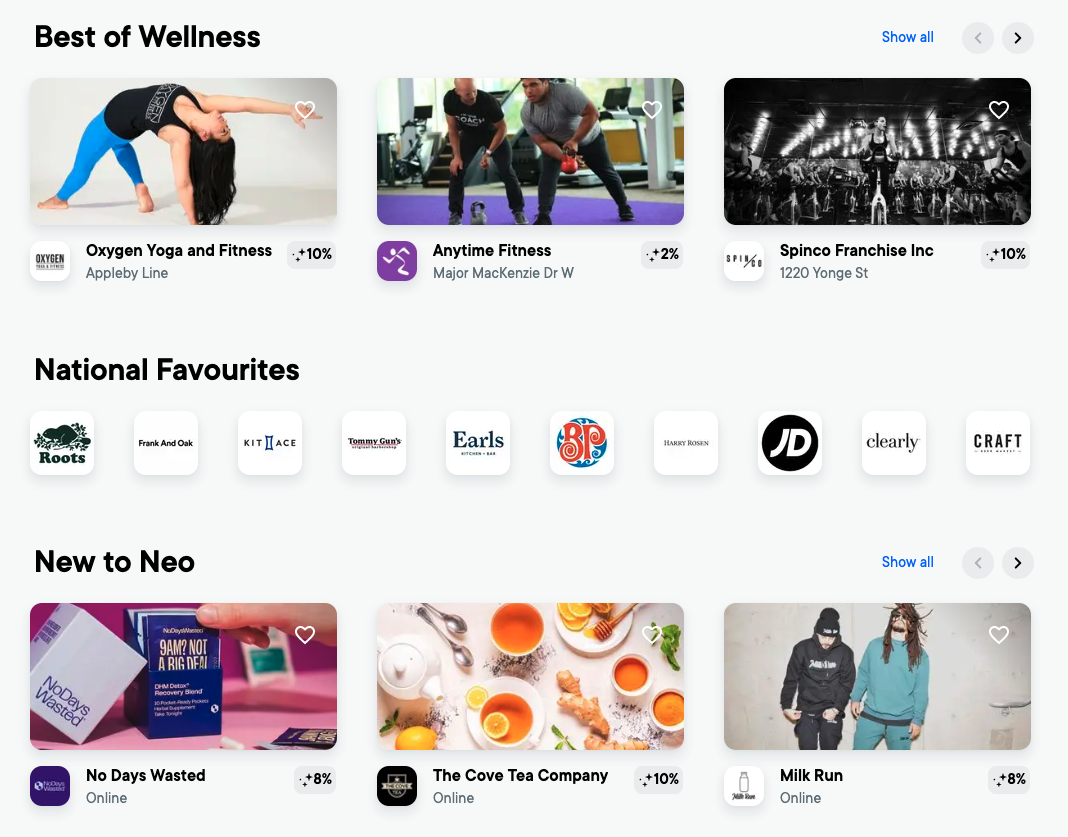 However, even if the rewards are impressive, the Neo Credit is not for everyone. If you typically carry a balance, you may be better off with a low-interest credit card: the Neo Credit's annual interest rates range between 19.99-26.99% for purchases and 22.99-28.99% for cash advances.
Neo Secured Credit
If you have a poor credit score, the Neo Secured Credit is an excellent tool to rebuild your credit profile. The card requires an upfront deposit but comes with a wide range of perks: there are no monthly fees, approval is guaranteed, Neo only requires a minimum deposit of $50, and the application does not involve a credit check (which would otherwise count against your credit score for 1-2 years). Plus, the Neo Secured Credit is one of the few secured credit cards that offers rewards.
[Offer productType="CreditCard" api_id="6209e06d9c5f4c05c0de0111″ id="171391″]
The Neo Secured Credit's rewards structure is relatively similar to a standard Neo Credit. Notably, cardholders receive cashback and reward bonuses. Exact cashback rates vary by business, but Neo promises to ensure that your monthly cashback is always at least 0.5% of your statement, up to $50.
Also, cardholders can pay a small monthly fee to fall under a higher cashback tier. However, borrowers should still make an effort to pay the card off in full each month: in the event that they carry a balance, the annual purchase rate is between 19.99%-24.99%. Cash advances have an annual interest rate of 22.99-26.99%.
Despite the card's many perks, there is a major caveat to the Neo Secured Credit: Neo does not currently report to Equifax, one of Canada's two credit bureaus. However, Neo Financial is now reporting live secured card transactions to TransUnion and all previous transactional history has been retroactively captured. While the card can help to improve your TransUnion credit history, your Equifax profile will not be affected. 
Hudson's Bay Mastercard
In addition to their own Neo Cards, Neo has also partnered with Hudson's Bay to create the department store's latest Mastercard. Cardholders will be able to earn 2 Hudson's Bay loyalty points per dollar spent at the retailer.
Plus, they will qualify for increased cashback when shopping at Neo partners and can add on Rewards Bundles to make the card more flexible (more on the Bundles below). Like Neo's other credit cards, the Hudson's Bay Mastercard has an annual interest rate of 19.99-24.99% for purchases and 22.99-26.99% for cash advances.
Rewards Bundles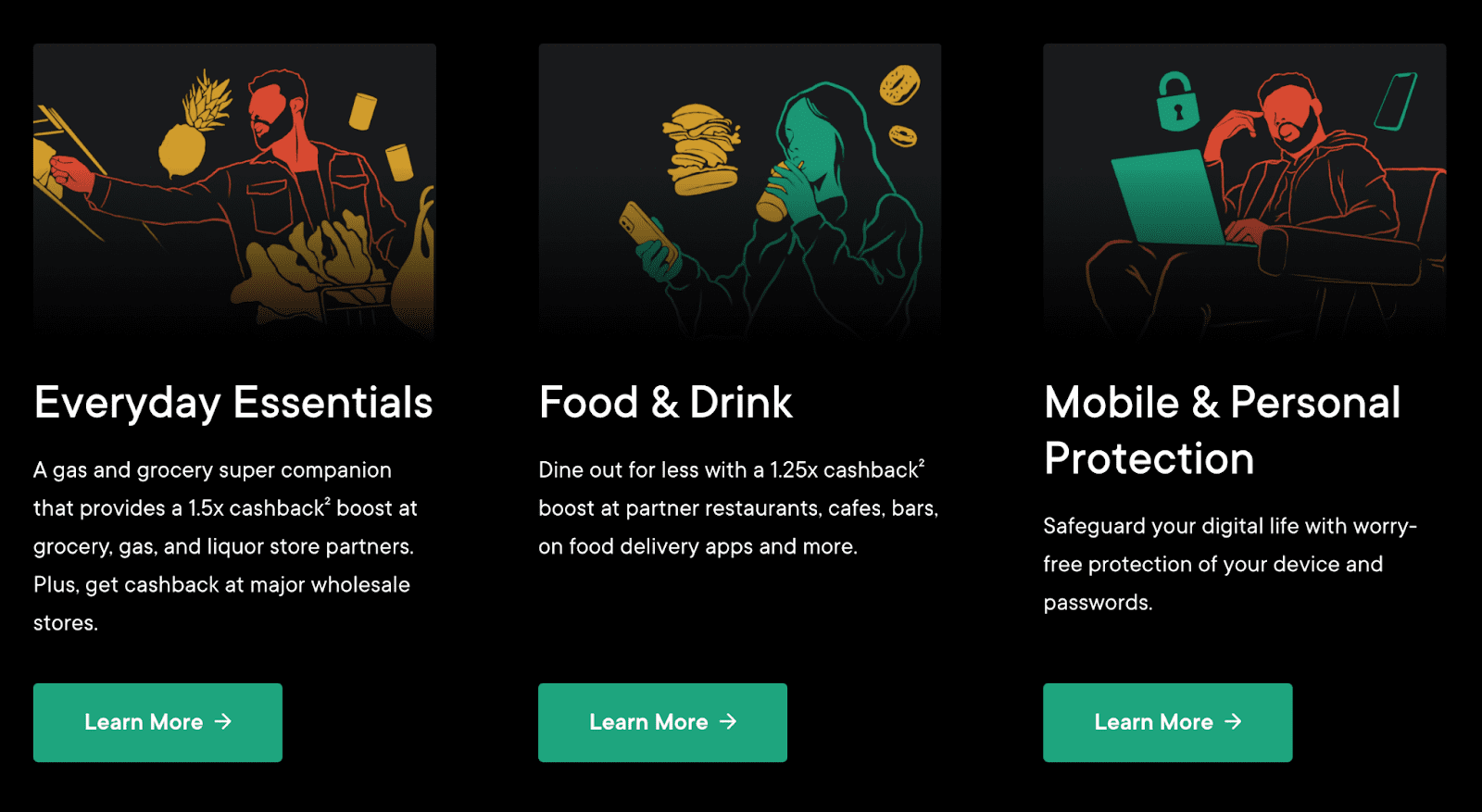 At first glance, the Neo Card perks may not seem too impressive. After all, it isn't too hard to find a no-fee credit card with better perks. However, Neo also allows customers to add on Rewards Bundles, which can increase cashback across certain categories, provide insurance, and allow users to access partnered subscriptions (for example, their wellness-themed bundle provides access to online workouts).
In theory, Rewards Bundles can allow you to customize your Neo Card precisely to your liking. However, there are a few drawbacks. These bundles can cost a pretty penny, ranging from $1.99-9.99/month ($47.76-$239.76 per year).
Likewise, some of these benefits fall short—it is frustrating that you have to pay extra to receive 1.25% cashback on takeout purchases or qualify for travel insurance, especially when some cards offer the same (or better) perks for a lower monthly fee. Ultimately though, if you are willing to do the math, you may be able to find a Neo Card tier and Rewards Bundle combination that is worth it given your own personal financial situation.
Neo Insights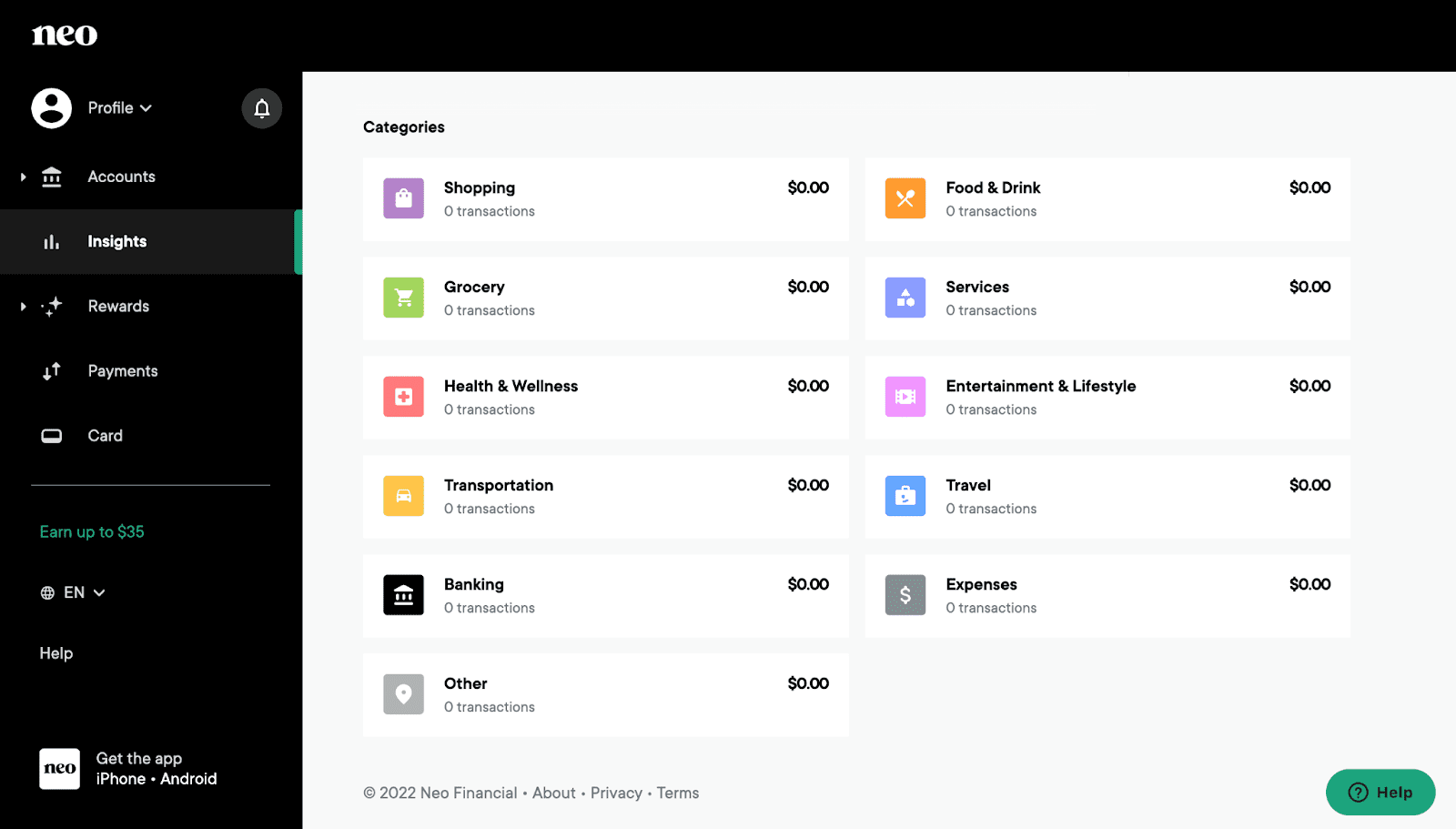 While it might seem tedious to track every single purchase to make sure that your Rewards Bundles are worth it, Neo offers a helpful tool that will streamline the process. All purchases made on your Neo Card are tracked according to the category under the Neo Insights tab, which even offers a month-by-month graph to help monitor your spending over time. While you can use external software to replicate the tracking with a non-Neo credit card, the feature is nevertheless convenient and can even help to cut down on unnecessary spending.
Building credit (or not)
Unfortunately, while Neo's credit cards are highly customizable, they have a major drawback: they are not always ideal for those seeking to improve their credit score. Neo Financial does not currently report repayment history to Equifax, but they do report to TransUnion. In other words, if you open a Neo Card in hopes of increasing your credit score, months of careful repayment will not budge your score as calculated through Equifax's model.
If you are in a position where your credit score is so low that you will not qualify for most credit cards, the Neo Secured Card may still be of some help. After all, some positive credit history on your TransUnion profile is better than none at all.
However, if you want to build credit and qualify for a card that will report your payment history to both Equifax and TransUnion, you would likely be better off avoiding Neo's offerings (just keep in mind that most credit cards will request a hard credit pull when processing your application). If you are unsure of where to start, check out our list of credit cards ideal for rebuilding credit.
Neo Money
Neo Money is Neo's bank account, though the company does not want to identify it as either a chequing or savings account. They frame the account as the best of both worlds, but that can be confusing—instead, it is easiest to think of Neo Money as a high interest chequing account with unlimited transactions. Currently, the account has an annual interest rate of 2.25%, a figure which outperforms many of our top picks for high interest savings accounts. Plus, as we mentioned above, the funds are CDIC-insured up to $100,000, so you do not have to worry about losing your cash.
[Offer productType="SavingsAccount" api_id="60fee79313fd2f260ff90749″ id="173809″]
Fortunately, Neo Money will not put a dent in your wallet, either. The account does not have a minimum account balance or a monthly fee (nor do they charge for Interac e-Transfers). The only catch—and it really is a small catch—is that you will not have access to a physical debit card. For most people, this will not be a problem. Even if you generally prefer in-person banking, the remarkably high interest rate makes Neo Money such a strong option that you should think twice before passing it up. However, if you rely on having a physical debit card (or frequently find yourself withdrawing cash from ATMs), you may want to look for a different account.
Neo Invest
If you are interested in opening up an investment account, Neo Invest might be a tempting option. The platform supports RRSP, TFSA, and personal accounts, so users have some flexibility when it comes to tax implications. Unfortunately, Neo Invest accounts are fully managed, so you cannot buy or sell specific investments.
That being said, Neo Invest does have a number of advantages over similar traditional investment accounts. Whereas a bank may charge you a ~2% investment management fee, Neo Invest only charges 0.75%. Similarly, the minimum deposit is $1, so it is incredibly easy to start investing.
These perks are a welcomed change from traditional portfolio management, especially if you prefer to take a hands-off approach to investing. However, if you would like more information about your portfolio, Neo Invest simply is not the right tool for the job.
Neo Mortgage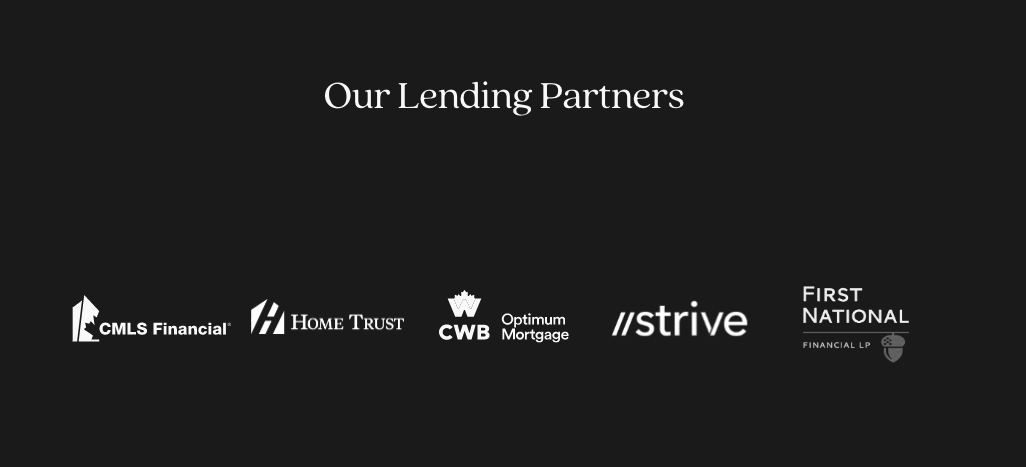 Given how straightforward Neo's product names generally are, the term 'Neo Mortgage' might be misleading. Rather than Neo managing the loan itself, Neo Mortgage refers to the company's mortgage brokerage service.
Ultimately, the service helps borrowers pre-qualify, compares different mortgage providers' rates, and allows prospective homeowners to secure the best deal available. According to their website, Neo Mortgage will also eventually allow borrowers to make extra mortgage payments and manage renewals online.
While this is all helpful, the most intriguing part about Neo Mortgage is the payment structure. The service is free for borrowers, allowing prospective homeowners to save some cash just as money will become tighter.
Instead, Neo Mortgage is funded through standard lump-sum payments from mortgage providers (rather than commission). In other words, the company has no incentive to nudge users towards signing up for a mortgage with a higher interest rate.
Unfortunately though, Neo Mortgage does have a few downsides. Neo explicitly lists five lending partners on their website, and while the transparency is appreciated, it is a sign that the digital brokerage would not notify users of lower rates offered by other providers.
Since a mortgage involves such a big sum of money, signing up for an unnecessarily high interest rate is an extremely expensive mistake. Plus, the application is 100% digital (in supported provinces), so you may miss the chance to talk with a brokerage employee about your situation and receive personalized advice. While Neo Mortgage may be a useful starting point, we would recommend doing additional research before taking out your loan.
Frequently Asked Questions
If you still have some questions about Neo Financial or any of their products, please feel free to check out our list of frequently asked questions below.
What is Neo Financial?
Neo Financial is a fully-digital Canadian bank that offers several financial products, including a high-interest bank account, credit cards, investment portfolio management, and mortgage brokerage services.
Is Neo Financial legit?
Yes, Neo Financial is legit. The company has partnered with various established, regulated financial institutions to provide its various products:
Neo Money bank accounts are provided by Concentra Bank, which is CDIC insured.
The Neo Card and Hudson's Bay Mastercards are both issued through ATB Financial, which is owned by the Government of Alberta.
Neo Invest portfolios are managed by CI Investment Services, which is subject to the Investment Industry Regulatory Organization of Canada (IROC)
Who owns Neo Financial?
Neo Financial was founded by Andrew Chau, Jeff Adamson, Chris Simair, and Kris Read. Since then, it has gone through several rounds of funding, with prominent investors including Valar Ventures, Tribe Capital, Greenoaks Capital, and Tobi Lutke.
Is Neo Financial safe?
Yes, Neo Financial is safe both in terms of its credibility and its security measures. While certain Neo products may come with their own inherent risks (for instance, no investment is guaranteed to retain its value), Neo's offerings are subject to the same regulations as other Canadian financial products. For more information, see the question "Is Neo Financial legit?" above.

Likewise, with regards to security, no digital system is completely resistant to hacking, but Neo makes it possible to keep your account relatively safe. Users can set up two-factor authentication (i.e. requiring a code delivered via phone, text, or email upon login) to minimize the chance that their account will be compromised. Similarly, biometrics can be used to log in conveniently without jeopardizing security. Neo also allows users to freeze and unfreeze their account, cutting down on the risk of unauthorized purchases. 
Does Neo Financial report to the credit bureaus?
Unfortunately, Neo Financial does not report to all credit bureaus at the moment. While Neo reports Neo Card repayment behaviour to TransUnion, they currently do not report to Equifax. However, credit bureaus may find out about defaulted loans regardless of whether or not the lender reports general loan repayment history to them. Likewise, since Neo Financial's terms and conditions state that they may share your information with credit bureaus, the company may start to pass repayment history along to Equifax in the future. At the end of the day, the Neo Card may not be best for those who are looking to build their credit history, but you should still make payments on time to prevent dips in your score.
Where is Neo Financial located?
Neo Financial's headquarters are located in Calgary, Alberta. The neobank does not have any in-person branches, but since it is fully digital, urban and rural customers alike can access its services.
Is Neo Financial publicly traded?
No. As of right now, Neo Financial is not a publicly traded company.
How does Neo Financial make money?
Since Neo Financial is not a publicly traded company, we do not know exactly where their revenue comes from (or how much they make from each revenue stream). However, Neo does state that they receive a flat rate payment for each mortgage customer that they refer to an issuer. Likewise, we know that they make money from Neo Rewards bundle subscriptions, Neo Card interest rates and processing fees, optional Neo Card monthly fees, and Neo Invest management fees.