Ipsos iSay Review: Can Canadians Really Make Money?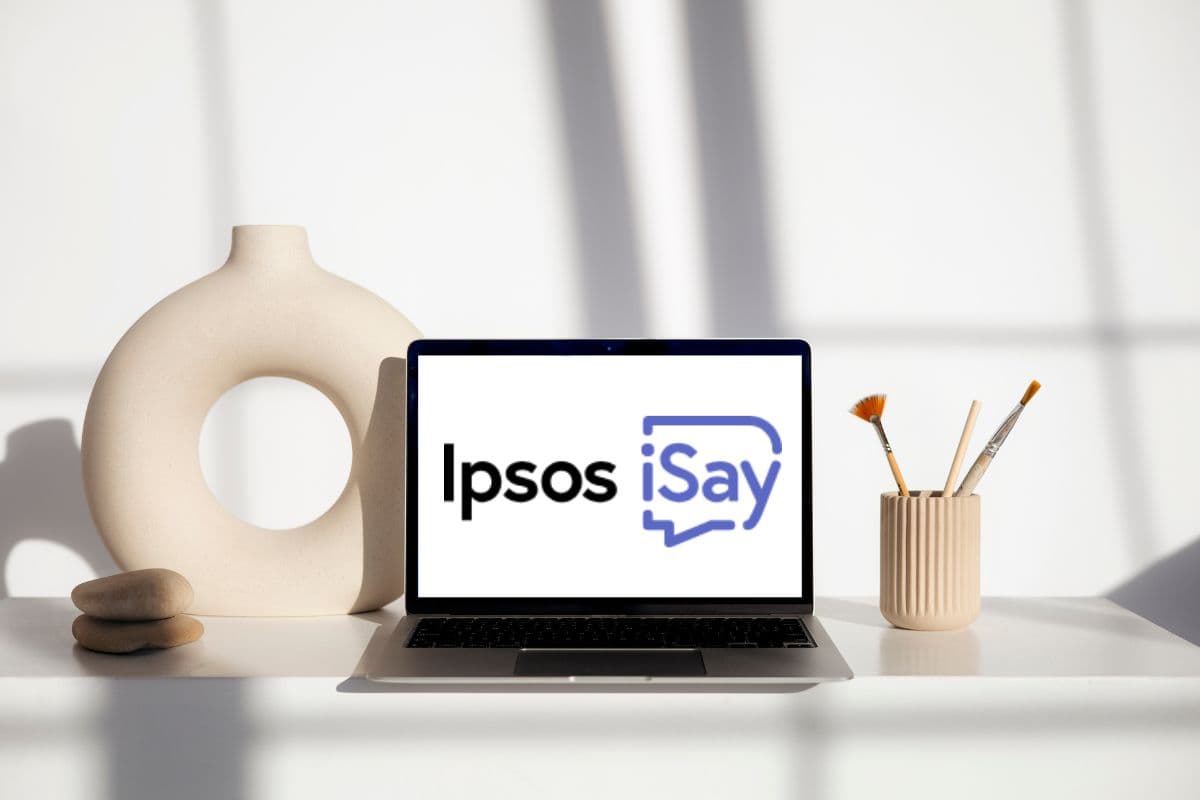 There is no denying the myriad of content online promoting opportunities to make supplemental income outside of a traditional full time "9-5" although not everyone is aware of the side hustles possible to create financial freedom or at the very least provide a little extra cash. Digital surveys are not a novelty, and many people are unaware of survey sites and their genuine potential to line your pockets. At least some of them.
The question is, is Ispos iSay one of those high-earning sites? To find out, I signed up for Ipsos iSay surveys in the hopes to clear the confusions on the process and discover exactly how much my time is worth. Here are my findings.
Ipsos' iSay Review: What is Ipsos iSay?
My personal experience with a survey site that pays its users begins with Ipsos iSay. Ipsos is the overarching market research company that has seen success throughout the globe and iSay is the specific survey site for the company, which is why it might be referenced individually. The company then provides that information to their clientele which ranges from private to public sectors with the primary goal of helping their clients better understand specific demographic needs, goals, patterns, views and experiences. Payment from Ipsos iSay is in exchange for your time and information.
Is My Information Protected?
Ipsos is backed by the Market Research Society and follows the Data Protection Act of 1998. Details of the information to be collected are always stated, especially if it is objectively personal information, and the company clearly indicates that there is no obligation to reply to any question that makes you uncomfortable to answer. Any and all information is collected professionally. There are no annoying junk emails when signing up with Ipsos iSay because they protect your information.
Getting Started with Ipsos iSay
The registration process proved to be remarkably straightforward. Upon signing up with your email and establishing a login, the platform will promptly guide you to verify your email. Once your email verification is complete, I suggest closing the newly opened tab and accessing the site via the homepage for a swifter experience. It's worth noting that the company provides an app version as well, giving you the option to download it and log in seamlessly from there.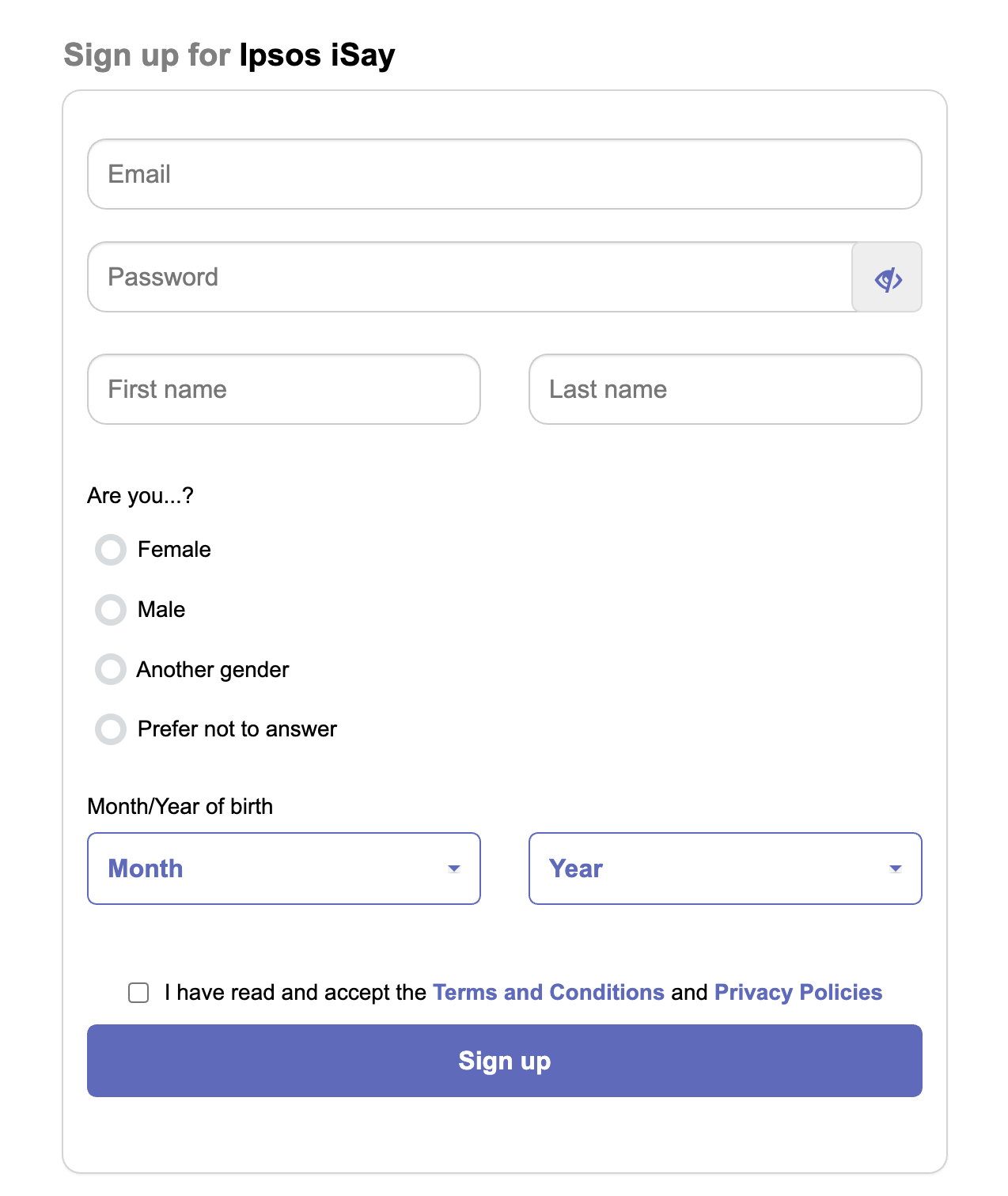 Your Profile
Upon email verification and logging in, the platform will prompt you to provide a phone number for enhanced security measures. Simultaneously, you'll be guided through a series of questions aimed at shaping your profile. This profile is significant within Ipsos iSay's program because it is foundational for ensuring the precision and pertinence of the data they curate for you and their clients. Your homepage will display your profile's completion progress through a percentage bar, a visual indicator of the remaining information awaiting your attention. A crucial stipulation: these profile details must be completed prior to access to surveys that contribute to your points tally, but these profile questions will not pay anything.
Allow Notifications for Ipsos iSay
Ipsos iSay will notify you of pertinent surveys through two channels: the web browser homepage or email. Enabling notifications is advisable to ensure you never overlook any questionnaires. The site's setting functions are both accessible and intuitive, a rarity that allows you to modify or update preferences whenever needed or desired with little hassle.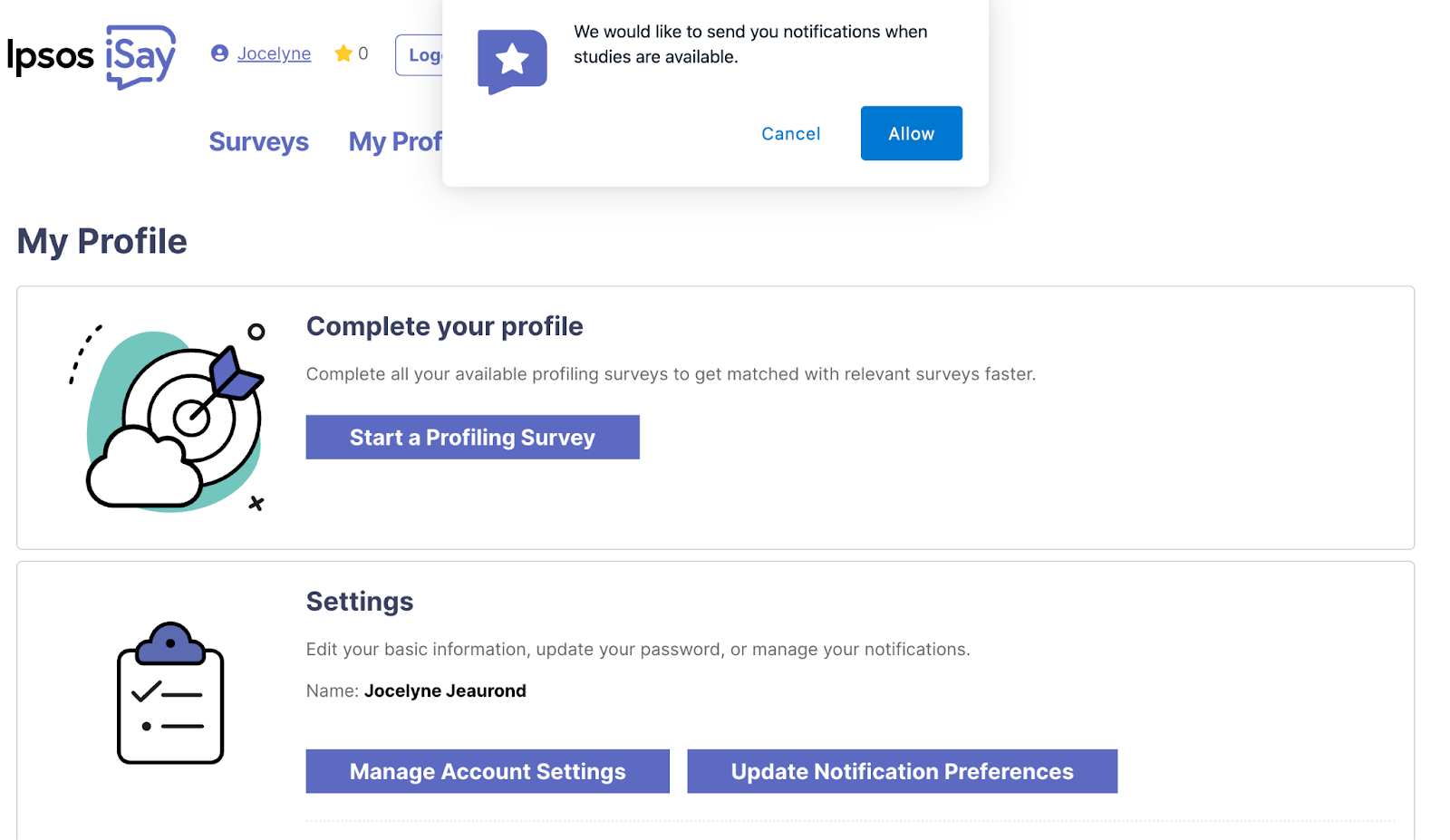 Surveys on Ipsos iSay
Getting started is a relatively seamless process and took about a half hour of my time from registration to being able to complete my first survey. The Ipsos iSay interface stands out for its exceptional user-friendliness and intuitive design. You'll conveniently find the repository of available surveys nestled under the conspicuous "Surveys" button situated at the top of your homepage.
Upon entering the survey page, available surveys are directly showcased on the screen. The points assigned to each survey are conspicuously displayed, fostering transparency right from the outset. I was unable to undertake my first survey immediately, as the webpage explained to check in later, but when I logged in the next day my first survey awaited, valued at 100 points.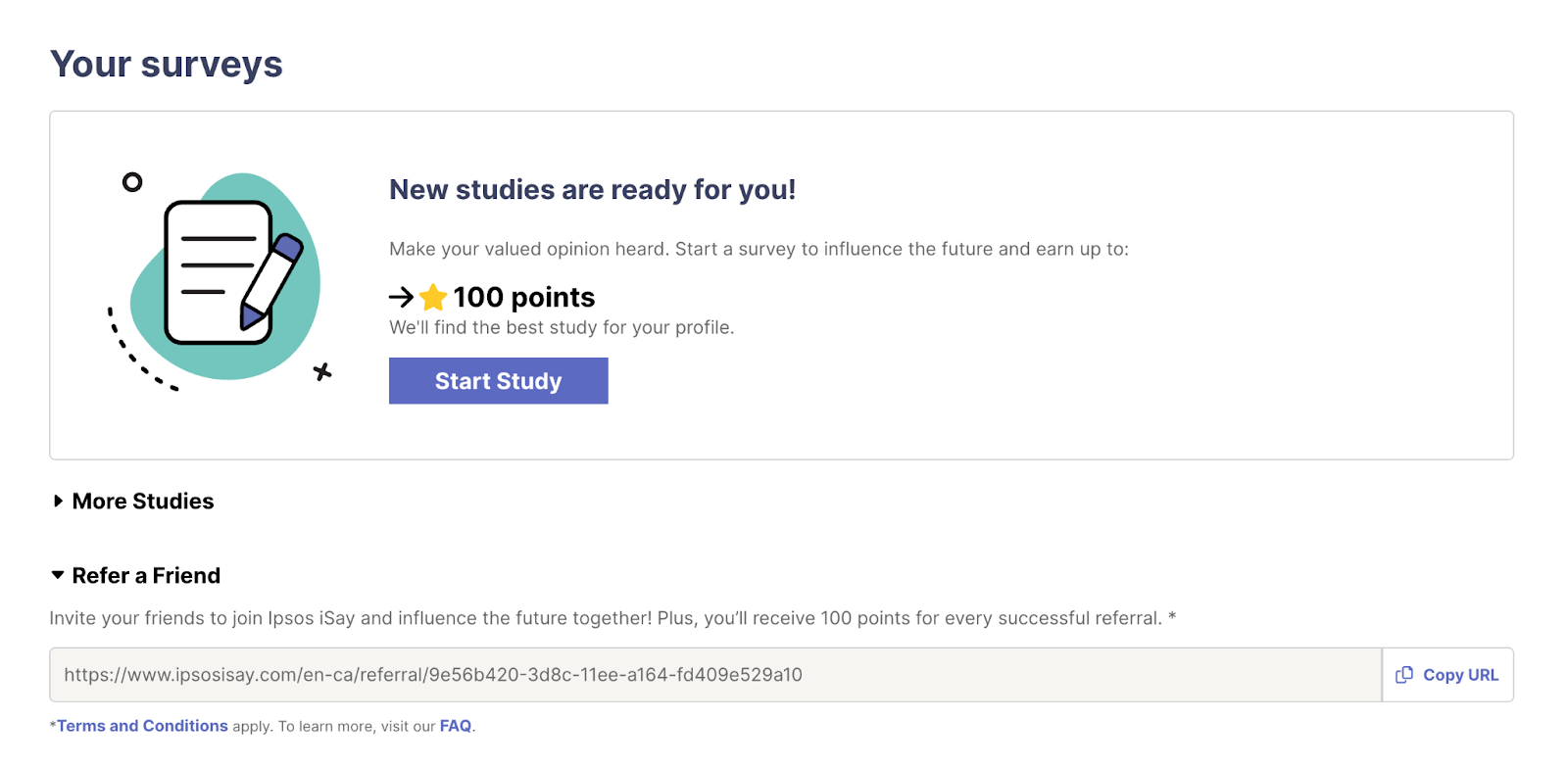 How Long Do Surveys Take, What Are They Like?
Ipsos iSay surveys vary in duration, spanning from 5 minutes to over 60 minutes, contingent upon the complexity and length of the questions posed. The site will denote the expected timeframe expected for completing a questionnaire.
My initial questionnaire was centred around food consumption for a specific date (the day before I took the questionnaire). The survey solicited details about the food type, time of consumption, presence of labels, and whether it was pre-planned or impromptu.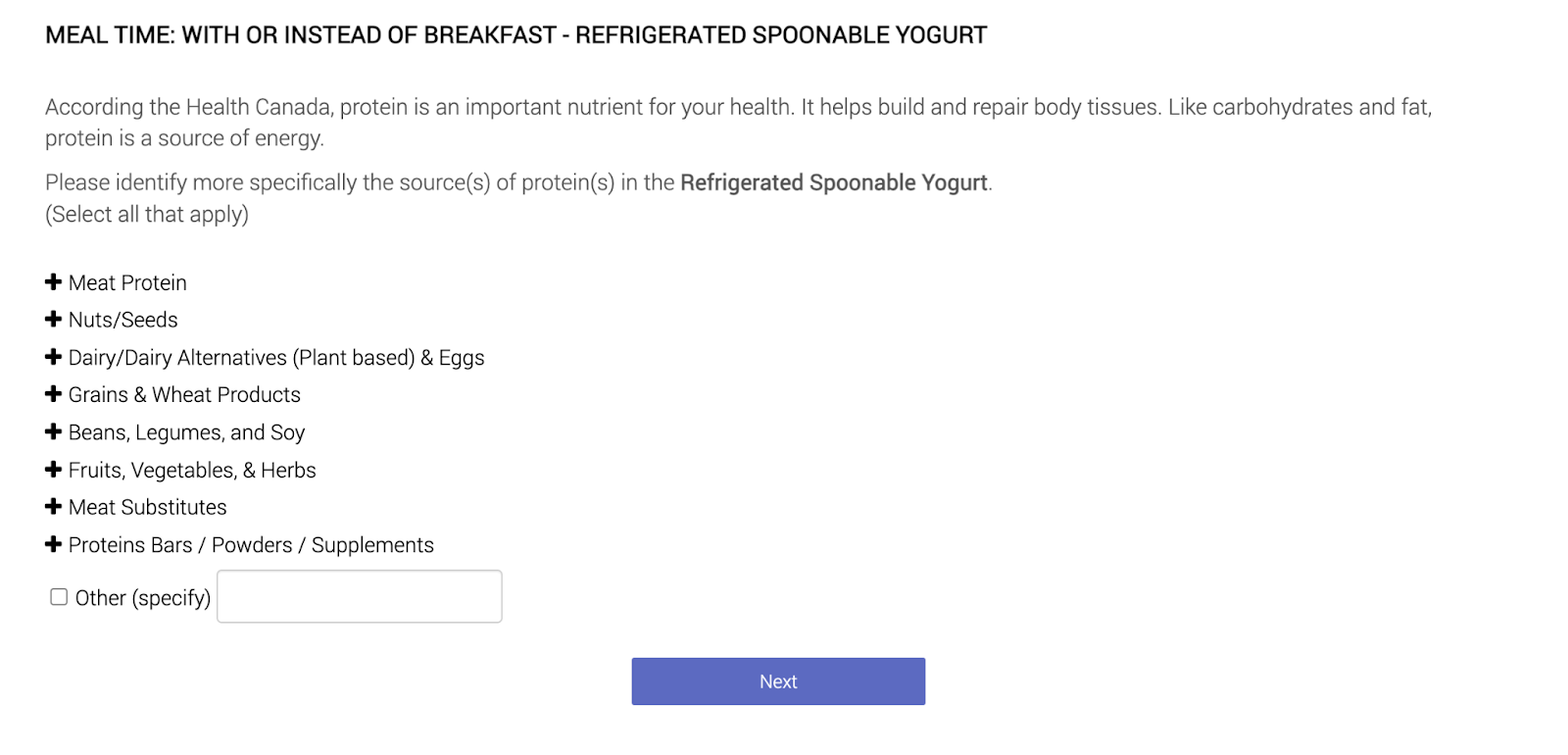 In this scenario, I denoted yogurt as my breakfast choice, leading to a subsequent question prompting me to identify the protein source of the yogurt. This specific survey demanded approximately 30 minutes for completion. However, the time investment would have been more substantial had I catalogued all the foods I consumed throughout the day, as the questionnaire meticulously addressed each food group. To streamline the process, I opted to provide details for only a handful of foods, yet the completion process remained quite time-consuming. The reward for successfully concluding this survey was a commendable 150 points.
Taking surveys on Ipsos iSay proved to be an engaging experience. The surveys were well-designed, featuring clear and concise questions. I appreciated the logical flow of the surveys, which made it easy to provide thoughtful responses.
Point Equivalency for Completed Surveys
Surveys typically hold a valuation of 100-150 points. It's crucial to acknowledge that not all surveys may deem you eligible, potentially leading to disqualification. In such instances, Ipsos iSay compensates you for your exertion and input, although disqualification results in a lower point value compared to completing a qualified survey.
Based on my experience with the site, Ipsos iSay predominantly presents surveys you meet the criteria for before extending them to you; however, occasional oversights may occur. Fingers crossed you see the "you qualify" notification upon completing a survey. You can verify the points you have accumulated by clicking the star at the top of the page.

How many surveys can you take?
This constitutes "the catch": Ipsos iSay generally furnishes users with approximately 4-8 surveys monthly. In the past, the site included member perks and alternative mechanisms for accumulating points. However, with site updates, these features have been discarded, leaving friend referrals as the sole remaining avenue. Patience becomes a virtue within this domain, given the absence of an inexhaustible reservoir of surveys. It's crucial to recognize that if your objective involves undertaking a plethora of surveys, this website may not align with your goals.
Ipsos iSay Rewards and Payment
As mentioned earlier, the essence of Ipsos iSay lies in the incentives it offers to survey participants. These incentives are dispensed in the form of points, which act as a direct reflection of the time and effort you invest in completing surveys. The more surveys you engage with, the more points you accumulate, bringing you closer to the threshold where rewards become accessible.
Redeeming Points
So, how does the process of redeeming these hard-earned points for rewards actually unfold? Once you've reached a specific accumulation of points, Ipsos iSay opens the door for you to claim your chosen rewards. The exact number of points required can vary depending on the particular reward you're eyeing. It's noteworthy that Ipsos iSay has tailored their rewards range to cater to a diverse array of preferences and needs.
The rewards palette on Ipsos iSay offers a comprehensive selection, spanning the spectrum from 500 to 2500 points. This range ensures there's something to suit the tastes and aspirations of every participant. The rewards aren't limited solely to material acquisitions; if you're inclined to make a positive impact, you can channel your points towards charitable donations.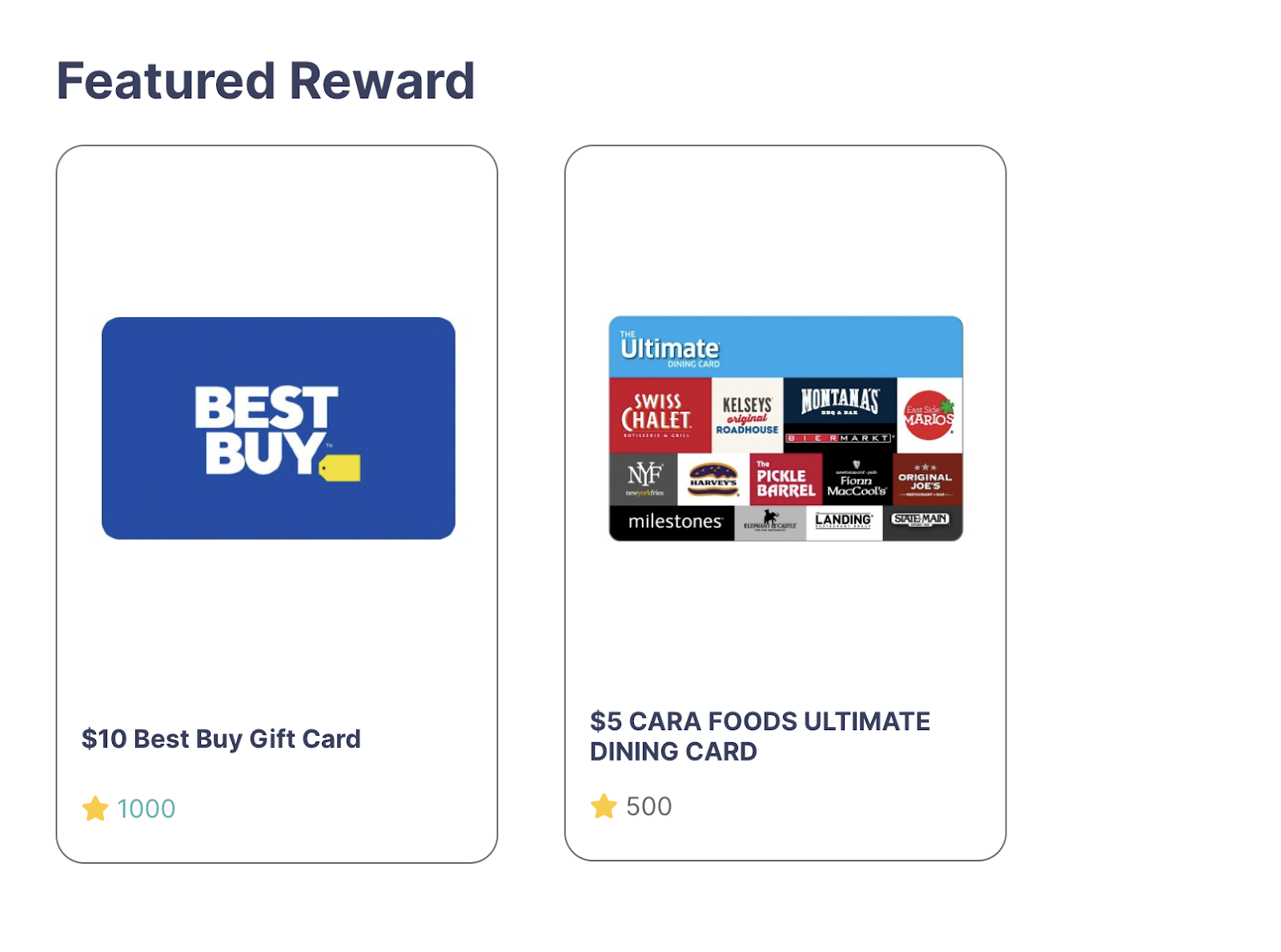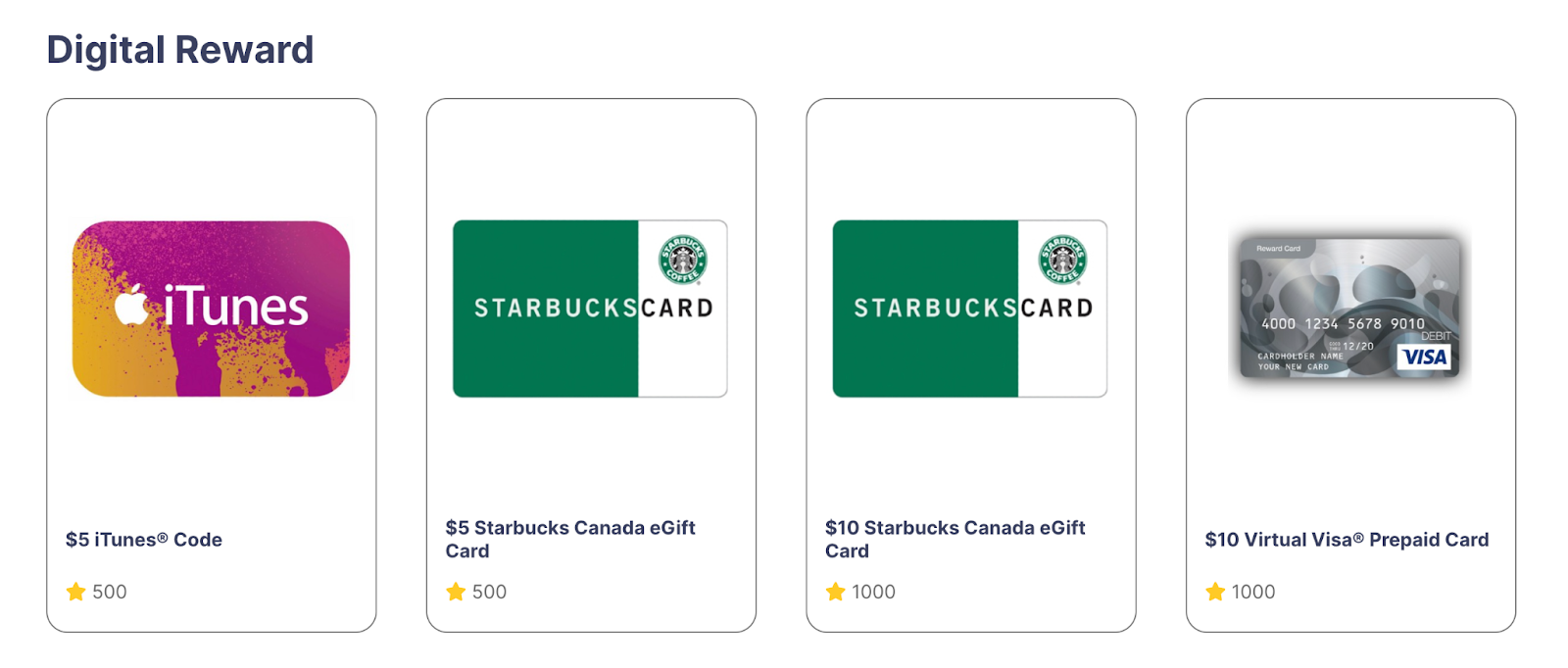 An important aspect to bear in mind is the conversion of points into currency. Each point is equivalent to 0.01 USD, or 100 points = $1, offering a straightforward calculation of the monetary value associated with your accumulated points. You can expect your gift card immediately by email and paypal payments within 3-4 weeks.
The Final Breakdown
There should be zero expectation that this will make you rich- it will not. Using Ipsos iSay is perfect for those who want a little bonus for a little effort. It's important to remember that Ipsos iSay does not provide unlimited surveys and so there are limited opportunities for points and rewards.
The following is what to expect when using Ipsos iSay:
30-60 minutes per survey on average
100-150 points awarded per survey
500-2500 points required to claim a reward
Not including the time to sign up, which was relatively streamlined, to claim the minimum 500 points, or 5 USD, it will be a minimum of 3 hours if not more. It truly comes to personal preference and individual circumstances if this is of value. The bottomline is that Ipsos iSay is 100% legit and actually pays its users. There are little to no extra hoops to jump through to use the site, and everything from registration to the questionnaires are streamlined and easy to follow.
Refer a Friend
An additional noteworthy feature, particularly advantageous if you possess a network of contacts, is Ipsos iSay's referral program. This initiative rewards you with 100 points for every successful friend who registers using your unique code. The process is straightforward: navigate to the "Refer a Friend" section, copy the provided code, and share it with your acquaintances. Each individual who signs up through your referral link contributes to your points tally. For instance, if five friends successfully register, that translates to a substantial $5 worth of points in your account.
Frequently Asked
One feature of Ipsos iSay that is beneficial to users is their transparent FAQ's page. This page serves as a hub of information, addressing crucial technical inquiries, presenting effective solutions, and furnishing contact details for users requiring further assistance. Here are some other frequently asked questions below.
How long does it take to get started with Ipsos iSay?
Getting started with Ipsos iSay is a straightforward process that typically takes around 15-30 minutes to register. It requires some time for iSay to connect you with your first questionnaire.
Are all surveys on Ipsos iSay of the same duration?
No, the duration of surveys on Ipsos iSay varies. Surveys can range from 15 minutes to over 60 minutes, contingent upon the complexity and length of the questions posed. The time commitment required for each survey is transparently provided before you begin.
How many surveys are available on Ipsos iSay?
There are only a few surveys available per month, ranging from 4-8.
Is Ipsos iSay a primary source of income?
No, it can not supplement full time work. Ipsos iSay is best suited as a supplementary source of income rather than a primary revenue stream.
How can I track my accumulated points?
You can easily monitor the points you've earned by clicking the star icon located at the top of the Ipsos iSay webpage. This feature provides a clear view of your progress towards redeemable rewards.
Is Ipsos iSay Safe and Legit?
Yes, it is a safe and credible site. Doing surveys through Ipsos iSay is profitable through redeemable gift cards.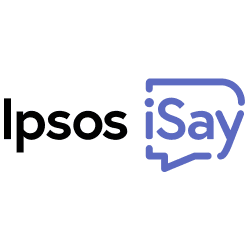 Ipsos iSay
Discover the difference you will make. Ipsos iSay offers exciting and exclusive offers for Canadians who join and participate in surveys. Earn rewards with Ipsos iSay! JOIN NOW!