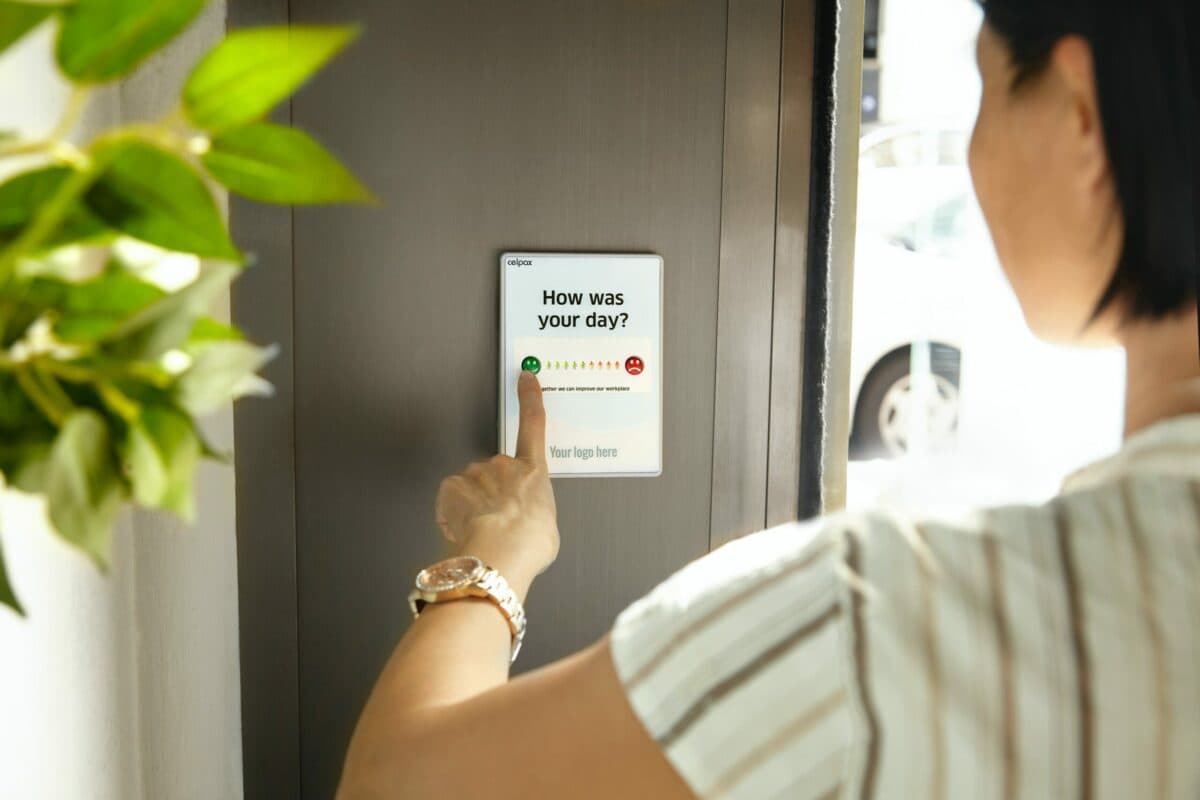 Paid survey sites in Canada can help everyone make some extra cash these days. Having 24/7 access to the internet makes earning side money online easier than ever when you know how to do it. Do you?
Paid survey basics
Maybe you've heard of online surveys, maybe not. Either way, if you could use a bit of side money, then signing up for a few paid survey sites in Canada will put that extra cash in your pocket. You don't have to be a computer whiz or even tech-savvy to take online surveys. You just need to know which sites are the real deal so you don't get scammed. That way, you'll realistically know how much money you can make.
After all, you're likely on your phone often anyway. Why not make some extra cash while browsing your social media feed, watching those cute cat videos or perusing through recipes for dinner tonight? Surveys for money, sounds simple enough.
In this article, you'll discover the best paid survey sites in Canada. You'll learn which ones are legit and what type of rewards they offer. Not all paid surveys pay in cash. For example, some compensate you in gift cards and others offer points you can redeem later for gift cards, merchandise, or sweepstakes. We also cover what you have to do to earn these perks.
How much can you earn by doing paid online surveys in Canada?
The honest answer is – not much. Like mentioned above, don't quit your day job. Truly, it depends on how many paid survey sites you sign up for and which surveys you do. In all, they could give you some extra spending money to use for a night out or to pay some extra bills. Keep in mind you don't always have a choice in which surveys get assigned to you and they aren't always readily available.
The best strategy for making money by taking part in paid online surveys is to register for several of them. Make sure they're legitimate, give them all a fair shot, and then narrow them down to the five or so that you like best. Make the most of your time by choosing ones that offer the lowest "minimum payout threshold," the amount you must earn before they'll release payment.
Now the good part: compensation. Most legit sites offer between 50 cents and $10 per paid survey. On average, they take about 10 to 30 minutes to complete. Some offer bonuses for friend referrals. Meanwhile, some pay you to take surveys while others award you for watching videos, playing games, reading emails, browsing the internet, testing products, or online shopping. This doesn't even sound like "work," yet you get paid to do it! Sounds like a fun way to make some extra cash, doesn't it?
So, how much money you earn will depend on how much you put into it. On average, expect to make anywhere from a few dollars up to around $500.00 per month.
1. Branded Surveys
Formerly known as MintVine, Branded Surveys has many Fortune 500 companies as clientele. They work with some of the most valued research firms like Harris Interactive, Nielsen, Hall & Partners, Forrester, GFK and more. Branded Surveys has been in play since 2012 and have given their users more than $20 million in cash.
Connect with Branded Surveys for daily challenges, polls, and surveys. We reviewed this website and we liked its simplicity. It gives out points just to hear your opinion. You can get bonuses based on the number of surveys you take. So, you can easily redeem those points for gift cards or cash paid through PayPal or Branded Pay. Users say their surveys are easy to navigate and they offer prompt payment. Their minimum payout amount is $5.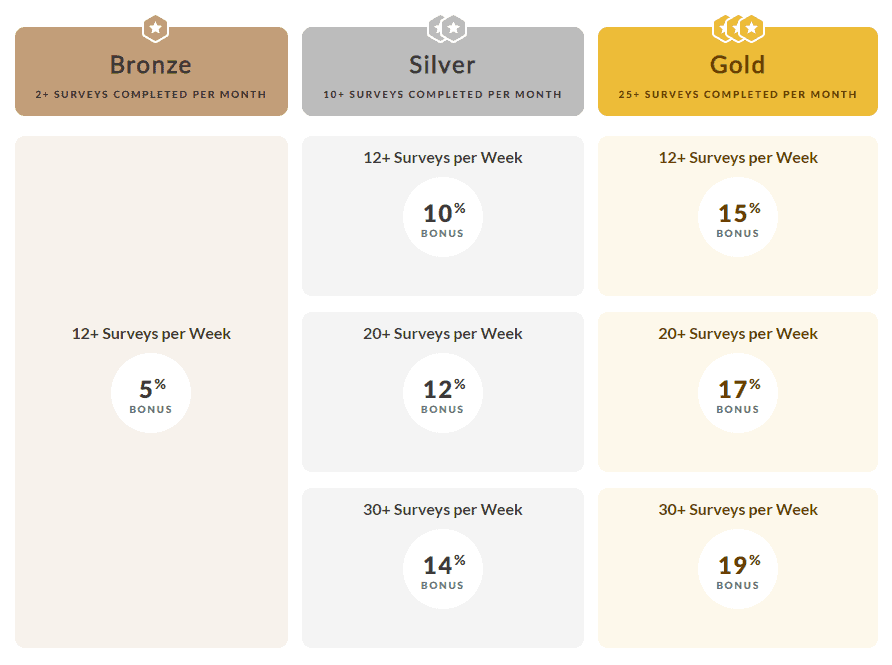 2. Survey Junkie
This company's process is simple: take surveys, earn rewards, then get paid. According to our review of Survey Junkie, you will only qualify for about 1 in 4 surveys. You will have to spend time going through survey questions before your know, so there's risk of wasting your time.
With more than 20 million members to date, Survey Junkie is always looking for influencers. One of the top-paying Canadian survey sites around, their minimum payout threshold is only $5 and is made via PayPal. Survey Junkie pays out $1 million each month to its members.
After signing up, build your profile so Survey Junkie can match you up with tasks. For instance, you can share your views through attitude-based market research by taking surveys or participating in focus groups. Or you can take part in behavioral market research while securely sharing your digital browsing activity.
3. Ipsos iSay
Ipsos iSay isn't your ordinary paid survey site. They're keeping Canadians informed about their own mental state. For instance, they showed that personal finance is putting a strain on most of us. They offer a unique experience every day for their millions of users worldwide. Have a say on global brands and make an impact. You'll complete surveys for a company who really values your opinion. So far, Ipsos iSay has conducted more than 25 million studies. In other words, you're in good hands! It's not the highest paying site but it's not the worst either.
For instance, earn points for gift cards from retailers like Amazon, iTunes, Starbucks, Cineplex, TJX or even a lottery gift card. Prefer to donate your earnings? Convert your points into cash and give to the Canadian Red Cross, Doctors Without Borders, Habitat For Humanity, Heart and Stroke Foundation, UNICEF, Ronald McDonald House or The Nature Conservancy Canada. And if you seek cash, they pay out directly through PayPal.
4. Leger Opinion (LEO)
LEO, powered by Leger is an established paid survey site across Canada and the United States. It offers paid surveys and weekly and monthly contests to its members. Overall, LEO operates the largest Canadian-owned proprietary panel with more than 600 employees and more than 400,000 active members. If you want to learn more about Millenials and Gen Z concerns over personal finance, they often present their survey results on their website.
Download its mobile app and start collecting LEO points by completing surveys, referring friends and taking part in various weekly and monthly contests. Members can redeem their LEO points for Paypal transfers, Uber/Uber Eats, Amazon, Starbucks gift cards, and much more.
Don't forget to use your chances to bid on their weekly and monthly contest for a chance to win gift cards, various bundles and free merchandise. LEO surveys pay according to the amount of time it takes to complete the task. You can expect to be paid in points the equivalent of 50 cents to $35 on average.
You can register through their web browser or the free LEO mobile app on Android and iOS.
5. Swagbucks
One of the better-known Canadian survey sites, Swagbucks, has appeared on BuzzFeed, The National Post, ABC, The Penny Hoarder and more. They offer you sweet perks like cash and gift cards for all things you can do online—watch a few fun videos, surf the web, answer surveys, refer friends, shop online, or find great deals to earn your points. Its minimum payout threshold is just $5. 
Swagbucks have paid their members a whopping $631 million in combined rewards and give out more than 7,000 free gift cards every day. For example, you can use them at favourite retailers like Walmart, Amazon, Starbucks, Best Buy, Macys, Nike and more.
6. Opinion Outpost
Available on desktop, mobile, and laptop, Opinion Outpost currently has more than two million happy earners with 95,000-plus earning more than 50 points per survey. With an average payout of more than $520,000 CAD dollars monthly and 3 million-plus survey starts every month, Opinion Outpost awaits to hear from you.
This paid survey site is U.S.-based but has a dedicated Canadian variant. Each survey can take anywhere from 5 to 25 minutes, with longer surveys offering more incentives. Earn yourself approximately 5 points for shorter surveys and up to 50 points for the longer ones.
Ready to redeem? Browse through their collection of sweet gift cards to swap your points, or cash in for cash rewards paid directly through PayPal. One Opinion Outpost point equals 10 cents. Keep your profile up-to-date to continue receiving relevant surveys.
Most survey takers seem satisfied as they have 4 stars on Trust Pilot. However, when we reviewed Opinion Outpost, we realised you need to invest a lot of time to get surveys tailored to your profile.
7. Pawns.app
Have you thought of sharing your internet connection while you are responding to a survey? It's possible with Pawns.app. Its short surveys pay an average of $1 each. With a low payout threshold of $5, you can easily reach it within a few minutes.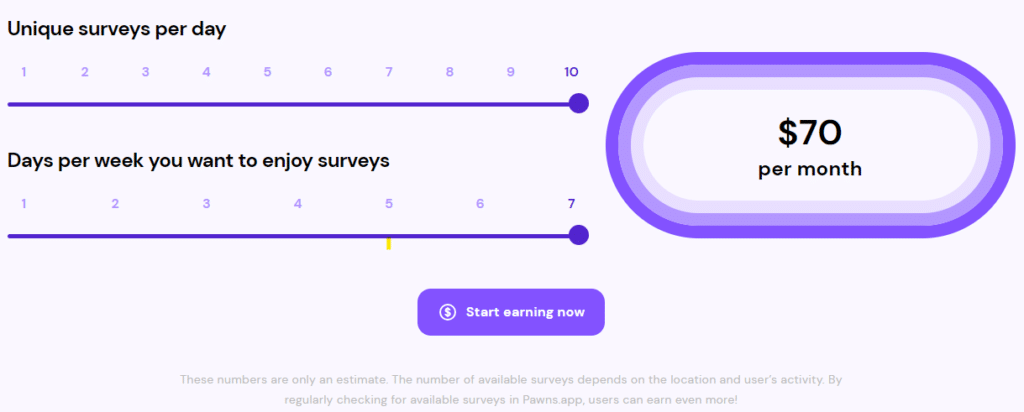 On top of that, you can share your bandwidth with other internet users for additional money. You will earn 20 cents for 1 GB of data you share. But if you let Pawns.app run continuously for several hours, you'll get an extra 20 cents per GB.
To cash out your earnings, you can withdraw via PayPal, Bitcoin or virtual gift cards. Our reviewer for Pawns.app particularly appreciated redeeming in bitcoins as you can send it to any platform and cash out to your bank from there.
8. SuperPay.Me
SuperPay.Me has a neat concept. It gives you access to the best money-making online surveys and a guaranteed eight-hour price promise. Further, it offers members a free sign-up bonus and different payout options. Thanks to its super power, you can cash out quickly and easily. Our reviewer liked the many payment options offered as well as the low threshold of $1.
That's not all! SuperPay.Me surveys pay an average of $1 to $1.50 per survey, but some surveys pay up to $10. You can earn money watching videos, playing games and referring your friends. The minimum age requirement is 18.
9. MyPoints
MyPoints is a US based company available to Canadians. They've been around since 1996 making them one of the oldest market survey panels around!
Get paid for answering surveys and shopping at all your favorite stores. There are also many ways to earn extra points. MyPoints members can get up to 40 percent back on every purchase at more than 2,000 big name retailers like Walmart, Best Buy, Home Depot, Target, Macy's and Amazon.

Receive more points by answering surveys and sharing your opinion, interests, and buying habits with leading companies and merchants. Cash in your points to spoil yourself on your favorite treats from Olive Garden, TGI Friday's, Domino's Pizza, Red Lobster, Burger King, Bath and Body Works, Sephora, Groupon and more. In total, 700 points equals $5.00.
Sign up now and receive $10 in free points. Their minimum payout threshold stands at just $5.
10. PrizeRebel
Trusted by over 12 million users, PrizeRebel started out in 2007 and has paid its users more than $20 million in rewards. Whether you're looking to earn extra income from home or on a quick coffee break, PrizeRebel will get you there. PrizeRebel's minimum payout amount is $2.
Get paid to watch videos, refer friends or complete online surveys. Choose from hundreds of popular gift cards like Amazon, Google Play, iTunes, Roblox, Playstation, Nintendo, Apple, Roots, Tim Hortons, Esso and many more. Instead, you could redeem those points for prepaid Visa gift cards or cash paid directly through PayPal or bank deposit.
11. Maru Voice Canada
Launched in 2006, Maru Voice's online survey site focuses on Canadian opinions. This online market research community gives you the chance to influence brands, products and services Canadians use every day.
Each of their surveys pays between 50 cents and $5 and each friend referral gets you $2. Using a point system, they convert points into cash, gift cards, entries into a monthly sweepstakes draw. Alternativley, put points on a prepaid Visa card. They pay cash incentives directly through PayPal.
In September alone, they gave away $64,202 to Canadian members!
12. LifePoints
With members from more than 40 countries, LifePoints is one of the most popular survey panels in Canada. And they help you get free stuff fast. Simply, earn cash and gift cards through their LifePoints program by completing various online surveys.
They offer members other community benefits like having special non-survey opportunities for a chance to win points and prizes. Expect to see random points giveaways, games and quick polls.
Bonus: Upon joining their community, they give you 10 free LifePoints as a welcome offer.
They also offer convenience—just download their app from Google Play or the App Store, then sign up, verify your email, complete your profile, check your inbox for the first survey, complete other available surveys, then get rewarded. Choose from a variety of gift cards or get paid through Paypal.
LifePoint's minimum payout threshold is $5.00.
13. American Consumer Opinion Panel (ACOP)
American Consumer Opinion Panel originally started out in early 1986 by Decision Analyst as a small mail survey panel. At that time, members participated in surveys over the phone and through the mail.
Don't let the name fool you. ACOP has gladly welcomed Canadian consumers to join its community since it went live on the internet in 1996. Now, more than seven million members worldwide take part in paid surveys, research projects, evaluate new products and product ideas. Additionally, they vote for products and services that they'd like to see in the future. Some even optimize existing products and package designs.
Its average survey takes about 10 minutes to answer and ACOP keeps the user experience simple. They use a point system that ranges between 5 and 5,000 points per survey or research project. Instead, you can choose to enter its monthly sweepstakes program rather than collect points.
In Canada, once you reach 1,000 points, you can redeem them for cash, Paypal funds or Hyperwallet. You can also donate your points to charities. American Consumer Opinion® has paid out more than $30 million dollars for more than 20 million surveys. Its minimum payout amount is $10.
14. Harris Poll Online
Harris Poll Online seeks people with unique insights to help make important decisions in politics, businesses and non-profit organizations. This distinguished survey panel is the oldest in the world, issuing surveys to communities since 1963.
Harris Poll Online is a paid survey site offering rewards for every survey submitted. Using a point system called HIpoints, members can convert their earned points into gift cards from favorite brands like Amazon, iTunes or Starbucks. On the flip side, choose from a multitude of merchandise options or sweepstakes entries. Redeem points as soon as you reach a minimum redemption level or keep saving for something greater.
15. Daily Rewards
Daily Rewards is a surveys for money site that skips the point system and offers cash incentives paid directly through PayPal. Having a running cash balance, you'll always know exactly how much you've earned, plus they give you a free $5 bonus after signing up.
Above all, it offers so many ways to earn cash: complete surveys, watch videos, go shopping or refer your friends. It has an added incentive for bringing your friends on board – receive 10 percent of whatever your friends earn after signing up!
With such a high profile, Daily Rewards has collaborated with famous brands like comScore, JustFab and Rosetta Stone to bring you sweet rewards.
However, it comes with one downfall. Its minimum payout threshold stands much higher than others we've seen. With Daily Rewards, prepare to have a minimum of $30 accumulated before withdrawing your cash. This could take a while to build, as payouts per task are quite low.
16. Qbord
As a paid survey company based in Toronto, Qbord goes beyond about taking surveys. Earn points by taking part in focus groups, answer and share poll results, rate ads or take surveys. Ultimately, 100 earned points equals $1. With its loyalty incentive, the more friends you bring on board, the more bonus points you receive!
Qbord pays cash for users to participate in focus groups throughout Canada. You can also redeem points for gift cards to your favourite places, like Amazon, Groupon, Cineplex, Best Buy, Bass Pro Shops, Roots, Footlocker and more. You can also cash in your points for a prepaid Visa card.
17. NielsenIQ Homescan
Your opinion can influence the products being sold in stores thanks to the Nielsen Corporation! Scan your purchases. Get rewarded. As a NielsenIQ panel member, you'll receive a free scanner that you can use at home to scan the barcodes on everyday items purchased. Send them in once per week, along with the prices you paid and the number of items you bought, then get rewarded. It's that simple.
You can also earn points by completing surveys and keeping diaries that provide crucial information about the items you use and your shopping habits. When you're ready to redeem your points, choose from a catalogue of free merchandise. Alternatively, pick from a variety of gift cards or swap your points for entries to win their sweepstakes prizes.
18. Web Perspectives
Become part of a leading online community by taking part in paid surveys through Web Perspectives.
For example, get points for prizes with every survey you complete. Next, earn between 100 and 500 points per survey and redeem them for things like Air Miles, gift cards, or charitable donations to UNICEF or the Canadian Cancer Society. Inthe end, you'll get a tax receipt for all donations made.
Want a break from doing surveys? Try out its product and packaging testing or how about giving a review on its current advertising campaigns? The opportunities to earn through Web Perspectives are endless.
They also enter all new members into a draw to win prizes from cash to electronics.
19. Angus Reid Forum
Share your views and opinions on topics that matter across Canada. Angus Reid offers quick, and longform surveys that earn you great perks. How much you garner will depend on whether you choose short fun surveys or longer better paying ones. Earn extra rewards by entering contests associated with specific surveys.
Access your points balance anytime by logging into your account and accessing your My Points page. Points never expire as long as you remain an active member of the Angus Reid Forum. Cash in points to receive prepaid credit cards, gift cards, merchandise prizes, and more.
The minimum payout amount is $25 based on collecting 2,500 points.
20. Survey Club
Paying their members for taking surveys for more than 15 years now, Survey Club has 16 million-plus members on six continents. After signing up, they'll ask you to complete a detailed profile so they can match you up with the surveys that best apply to you. You'll also need to fill out a pre-survey questionnaire.
Get compensated for taking part in online surveys, online bulletin boards, clinical trials, private panels, in-home usage tests, taste tests and mystery shopping studies. Afterward, redeem your rewards for Amazon gift cards. By the way, its minimum payout amount is $25.
21. Caddle
Caddle offers a slightly different way of earning extra cash. First, download its app and browse through ads and surveys. Then, buy their promoted products from any Canadian store and earn even more. Simply make the purchase, and upload photos of your receipts. Every receipt goes towards your cashback credit. One you reach $20 cash out your earnings and receive a cheque in the mail!
Here's great news if you shop often from Amazon. You can include purchases of Caddle's promoted products towards your earnings as long as you can provide proof of delivery. Further, expect to earn about $10 to $15 per week in cashbacks.
22. Permission Research
More than two million people have joined the panel at Permission Research with a goal to improve the internet. Choose between allowing the group to follow you around by installing their monitoring app or avoid that step and stick to taking surveys. In the end, the choice is yours.
The main benefit you'll receive for helping out here is having a tree planted in your name. They'll also enter you into their sweepstake contests to have a chance at winning cash prizes in amounts of $100, $2,500, $5,000 or $100,000.
At times, Permission Research will reach out to you for specific surveys and will pay in cash or gift cards for completing them.
23. Opinion Inn
Opinion Inn gives you $10 when you sign up – not bad for two minutes of work from your computer. Each time you take a survey, you earn money that is deposited to your Opinion Inn account. Once you reach $25 dollars earned, you can cash out via PayPal.
Like iSurveyWorld, your profile has to match what the survey sponsors want. If you match, Opinion Inn sends you a survey invitation. The surveys pay between 50 cents and $100 each. You can also enter the monthly draw for $500. All you have to do is attempt to complete at least five surveys that month, making you an active member.
24. SaskWatch
SaskWatch's paid survey site in Canada pays out rewards in cash or in donations to a charity. Exclusively for Saskatchewan residents, SaskWatch wants you to have your say in matters that affect you, your community and your province directly. Its minimum payout amount is $15 based on 150 points.
Additionally, you can refer friends and family to also join SaskWatch and earn points of their own. Every Saskatchewan resident who completes the profile survey and signs up will earn you an additional 30 points. Simply use the "invite" tab to get your special referral link to send out to others.
Even if you don't qualify for every SaskWatch survey, you can enter a monthly prize draw for $100. If you refer new panelists or promote them on social media, you can get into a bi-annual draw for tickets to NHL game tickets or Saskatchewan Rush games, concerts or an all-expense paid trip to see a live event.
How to spot scam sites and choose legit ones
Scam paid survey sites in Canada will promise you the moon. They work like this: get you to sign up, you do the work, and you never hear from them again, including being paid. Here are some things to look out for to avoid financial scams from paid survey sites in Canada:
If they ask you to pay to join, avoid them. This is a major red flag. Trusted sites will always be free to sign up;
If they ask for personal information like your SIN number or credit card number, this is red flag #2. Legitimate sites won't need any of this information because they're not out to scam you;
They make it sound like you'll make tons and tons of cash. There aren't any survey sites that will pay enough to make you rich. Red flag #3 is empty promises;
Red flag #4, they have an absurd minimum payout threshold. Most sites listed below will have their minimum payouts listed anywhere between $2.00-$25.00, making earnings very attainable.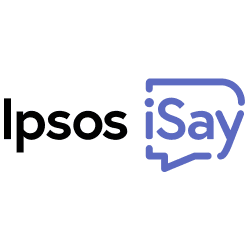 Ipsos iSay
Discover the difference you will make. Ipsos iSay offers exciting and exclusive offers for Canadians who join and participate in surveys. Earn rewards with Ipsos iSay! JOIN NOW!