Survey Junkie Review: Is it worth it for Canadians?
There are cool ways to make some extra cash, especially when you can make it from the comfort of your home. But are online surveys actually worth investing your time into? How much money can you make? Survey Junkie is a popular online survey platform that gives users points for filling out online surveys and providing their opinions on various products and services. These points can then be redeemed for gift cards or cash.
You won't make a living by filling out surveys on Survey Junkie, nor would we even call it a side hustle. But if you find yourself with some downtime, why not add a few dollars to your bank account? In this review, we will be taking an in-depth look at Survey Junkie, how it works and whether or not it's a worthwhile time investment for Canadians.
How to make an account on Survey Junkie
Survey Junkie is one of the many paid survey sites in Canada. To get started, you need to head to surveyjunkie.com and click 'Join Now' to make an account. When setting up your account, you'll be asked to enter your postal code, birthday, and gender so that surveys are tailored according to your demographic. Once you've signed up, you'll automatically receive 25 points. To continue, you'll need to verify your email address, which will give you another 25 points.
Then you'll go on to complete your profile more thoroughly to tailor your demographic even further. There are 17 sections to fill out, and once you're done, you'll get an additional 50 points. This section includes questions like "Do you have pets?" and "How much of your household's grocery shopping do you do yourself?"
You can then earn additional points by taking the survey tutorial and filling out your technology, shopping, health, household, interests and travel profiles for 10 points each! Once you've completed all these steps, you'll already have 170 points before taking a single survey.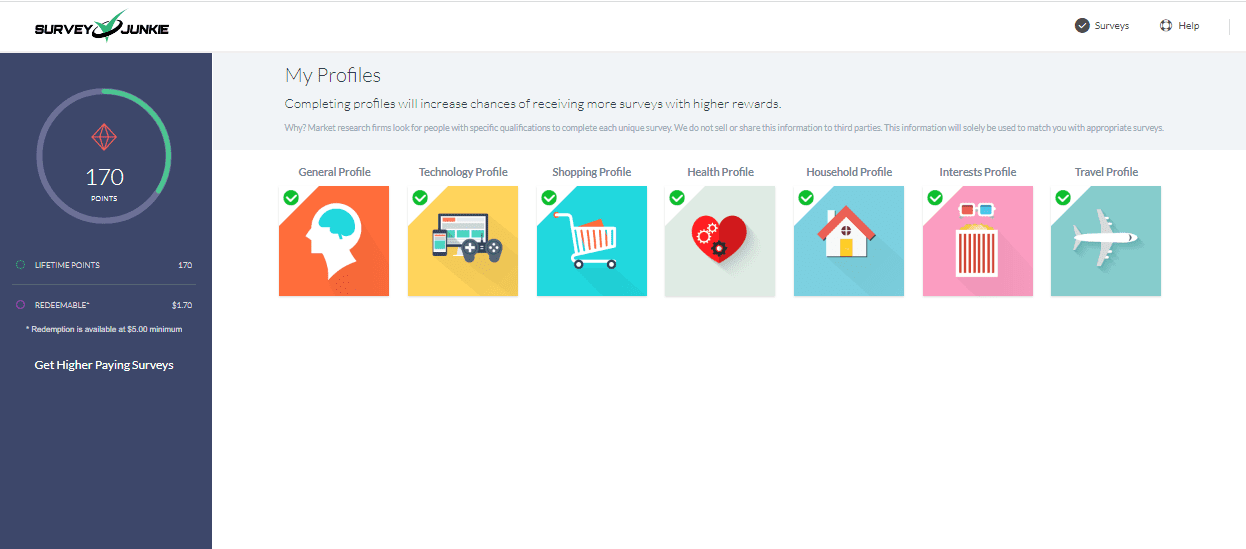 How much are points worth on Survey Junkie?
Each point is worth 1 cent. So just by signing up and completing your profile, you'll already have $1.70 in your account. You won't be able to redeem any of your points until you reach 500 points, which is $5.00.
You can click on your name in the top right corner and choose the "My Points" option to find out how many points you have. It will then tell you how many points you have and how many you still need before you can redeem them.
Read More: Reward Points Value in Canada: How Much Are They Worth
How to take surveys
Heads up! You won't qualify for every survey on the platform. For each survey, you will answer some preliminary questions to determine if you are in the demographic required for the survey. On average, 1 in 4 people will qualify for each survey.
Survey Junkie will calculate approximately how many surveys you'll qualify for based on your profile. It will also use its algorithm to put the surveys you're most likely to qualify for at the top of the page.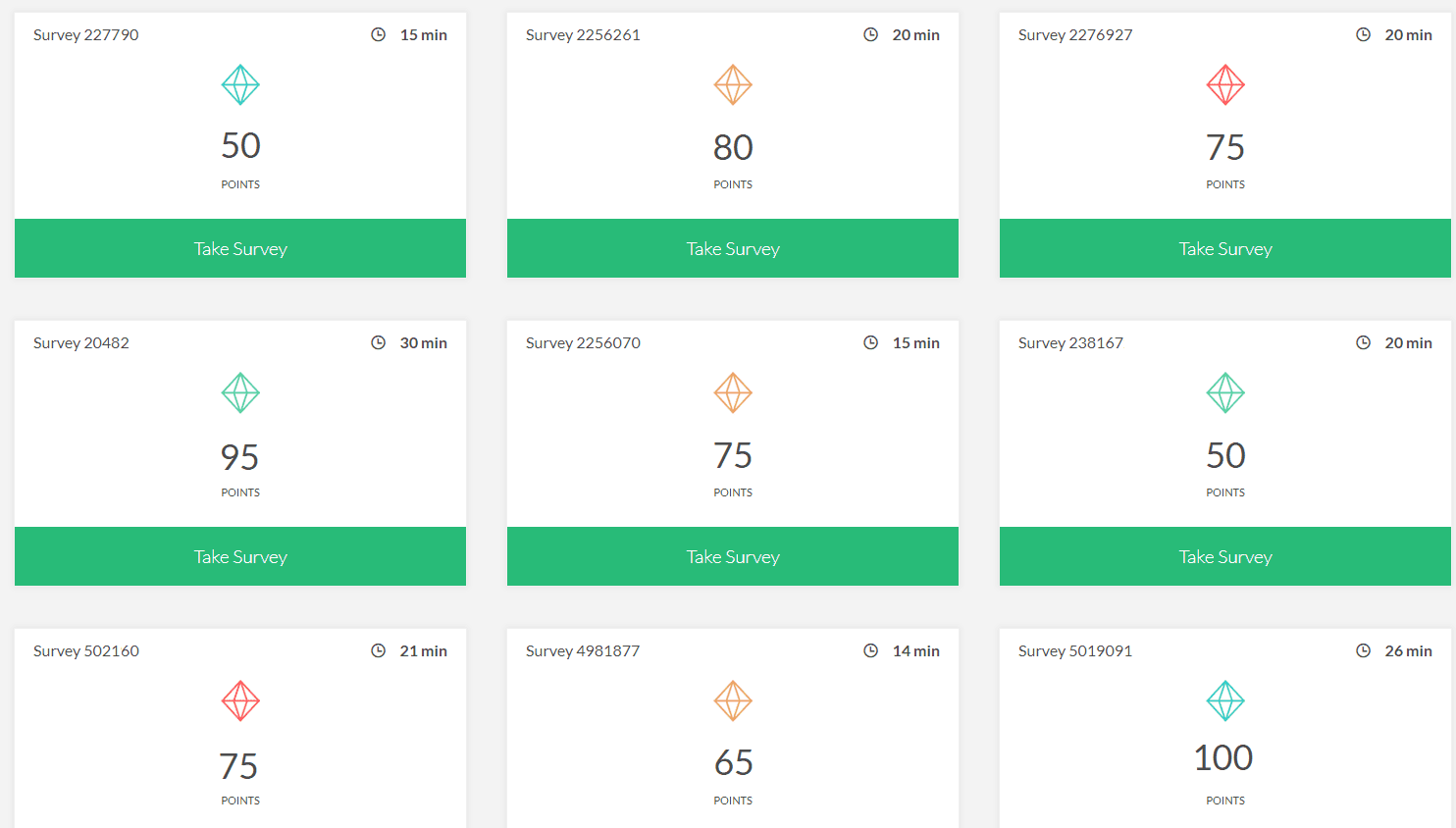 When you first sign up, you won't see any surveys on your account dashboard, but new ones will appear frequently. The surveys that appear are tailored to you based on the information you filled out in your profile.
Each survey listed will tell you approximately how long it will take to complete and how many points you'll receive when you're finished. They will typically take anywhere between 4 minutes and 30 minutes to complete.
But just because a survey is available on your dashboard does not mean you automatically qualify to complete it. You will answer some preliminary questions to determine your suitability for the survey, and you may be disqualified if you don't fit the correct demographic. That said, if you are disqualified mid-survey, Survey Junkie will still give you 3 points.
Read More: Surveys for Money: The 25 Best Paid Survey Sites in Canada
How much can you make per hour on Survey Junkie?
The amount of money you will make per survey on Survey Junkie varies, but you'll typically earn between 50 to 300 points each. Longer surveys are typically worth more points.
On average, a survey of 10 minutes is worth between 40 and 45 points. That means in 60 minutes you could make around 270 points, or $2.70 an hour. Some surveys may be worth more points, so you could potentially make up to $5 an hour. This may be a bit unproductive, but it's adding up like a reward credit card!
That said, there needs to be enough surveys on your dashboard to allow you to keep filling them out in the first place. Some days you may only get one or two new surveys, which means you won't be able to make as much.
Read More: 31 Ideas to Get Free Money in Canada in 2022
Testing products
Survey Junkie also gives you the option to participate in product testing, where you can provide opinions on products based on first-hand experience. They require you to take a brief survey, and then the product will be shipped to your house so you can try it out.
You get to keep the product and can make between $5 and $50 by participating. Users are selected at random for product testing, and it's only available once per month or less.
Focus groups
Another research activity available on Survey Junkie is focus groups. You can be selected to participate in either online or in-person sessions where you share your opinions about a product or service in a group setting.
You can make between $25 and $100 to participate in an online focus group or $25 to $150 for in-person. Participants are randomly chosen, and focus groups are only available once a month or less per user.
Lastly, there is the option to take phone surveys. Survey Junkie will invite you to participate in a short online survey, followed by a phone call to discuss the product or service in more detail. You can make between $5 and $100 to participate, and it's available once a month or less.
Redeeming your points for cash
Survey Junkie has only one option for Canadians to redeem their points, and that is via PayPal. Members in the United States can receive funds via bank transfer or a gift card, but these options are not available to Canadians. PayPal also charges a service fee for each transaction.
To redeem your points, click on "My Points" in the navigation menu, or click on your points on the side panel. As long as you've reached the minimum number of points, which is 500, you'll be able to send funds directly to your PayPal account.
Pros and cons of Survey Junkie
Pros
Only need 500 points ($5) to redeem your points
Easy to set up your account
A great way to make free money in Canada
Safe and legitimate platform to use (4.5 rating on TrustPilot)
Cons
Points expire
You will only qualify for about 1 in 4 surveys, but you won't know until you have already spent time going through survey questions. This can end up being a big waste of time.
Canadians can only redeem points via PayPal
Is Survey Junkie worth it for Canadians?
If you're looking for a get-rich-quick scheme, then Survey Junkie isn't it. Even their website says you will NOT get rich by taking surveys, and we appreciate the transparency. But if you find yourself with gaps in your day, downtime on your commute, or a few extra hours on the weekend, then even $10 a week might be worth it for you. For others, the time commitment required to even make $10 may not be a worthwhile investment of your time.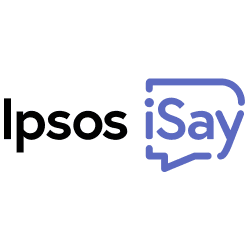 Ipsos iSay
Discover the difference you will make. Ipsos iSay offers exciting and exclusive offers for Canadians who join and participate in surveys. Earn rewards with Ipsos iSay! JOIN NOW!