We've seen a growth in popularity for prepaid credit cards over the last couple of years. From low fees to foreign currencies exchange, prepaid credit cards are a nice alternative to traditional credit cards as we know them. You can also use our credit card comparator for any advance search by filtering among hundreds of options available now.
A prepaid credit works like a debit card but with the benefits of a credit card. You can't spend more than your available funds (unlike a credit card) while still being able to book a hotel night, rent a car, or shop online with it. A prepaid credit card is more flexible than a regular credit card because it works independently from a bank. You don't need to have a credit file or have any credit history, which makes it an accessible method of payment.
You can add money to your prepaid credit card at any moment using an Interac e-Transfer, bank transfer, or by making a bill payment using your bank account. Prepaid credit cards are great for individuals who don't have access to a "traditional" credit card due to bad credit history or who simply want to spend their money more wisely and use it as a budgeting tool. All prepaid credit cards mentioned here can be used anywhere where Visa or Mastercard is accepted.
Not having to provide a credit report or credit history makes it an accessible method of payment for those with bad credit history, or those who simply don't have a credit history. Please note that prepaid credit cards should not be confused with secured credit cards such as the Refresh Financial secured card, which are real credit cards but require a security deposit. While prepaid cards can be useful for those who are unable to access a credit card, they don't rebuild their credit rating, since no amount is actually loaned to the user.
KOHO Visa
KOHO offers one of the best credit cards on the market now. It combines all the advantages of a typical credit card with no interest fees. You can use your credit card everywhere Visa is accepted. You can add the amount of funds you like directly using the Koho app or through e-transfers. KOHO offers 3 different prepaid credit card plans: the "KOHO," the "KOHO Premium," and the "KOHO Join."
The "KOHO" plan has no annual fee or account fees. It offers 0.5% cashback on all purchases, plus some extra cashback with some selected merchants.
The "KOHO Premium" plan has an annual fee of $84, or $9 monthly, with a 30-dayfree trial. It offers a 2% cash back on restaurants, groceries, and transportation. This is a great prepaid credit card for travelers as it has no foreign fees and provides one free international ATM transaction per month. One other great feature this plan offers is price matching. KOHO will pay you the difference between the product you purchase and the cheaper rival alternative. Lastly, the "KOHO Premium" comes with a financial coach when you need more personalized financial advice.
The third plan is the "KOHO Join" which has no annual fee. It's the perfect plan to share your finances and savings goals with a member of your family. It offers a 0.5% cashback on all purchases, plus some extra cashback with selected merchants. You can be instantly notified every time your partner spends. The prepaid credit card helps you earn more money and save it by rounding up your purchases and putting the difference directly into an automated savings account. The KOHO prepaid credit card comes in a virtual format, perfect for online shopping. Lastly, the KOHO app acts as a budgeting tool. It allows you to easily track your income and expenses and provides a balance update all in the same place.
Stack Prepaid Mastercard
The Stack Prepaid Mastercard provides you with instant rewards and tools to help you manage your money with no fees and debt. It lets you spend your money anywhere in the world and gain instant cashback across more than 140 retailers. You can enjoy exclusive offers and promotions on everyday purchases. Regardless of where you travel, you'll receive the best rate in over 150 currencies with no foreign exchange fees or ATM withdrawal fees. By using your STACK Finance app, you can see your weekly spending habits, and get a clear snapshot of your finances. The app also provides instant notifications anytime you spend, send, save, or receive money with STACK. A roundup feature helps you save more money to achieve your savings goal faster. Zero liability protection is available with your prepaid credit card with the ability to freeze your account at any time.
Mogo Visa Platinum Prepaid Card
The Mogo Visa Platinum Prepaid card offers you better control over your spending. It has a unique feature that also helps you reduce your carbon footprint. Mogo helps you reduce your carbon footprint automatically when you spend. One pound of CO2 will be offset for every Canadian dollar you spend on MogoSpend.
In fact, just like any other prepaid credit card, you spend your money instead of using credit, so it helps you spend only what you can afford. This card charges zero monthly interest, zero interest on purchase transactions or initial card purchase. It does, nonetheless, charge for domestic ATM transactions ($1.50) and international ATM transactions ($3).
The card's maximum balance is $10,000 with a maximum single purchase amount of $5,000. You can do up to 10 money transfers in a period of 24 hours. You can fund your Mogo Card through the app or at a Canada Post store. Get balance updates through the app and receive notifications every time you spend money. An auto-transfer feature is available to help you define how much you want to spend, and for how long. This card offers a Visa zero liability feature to protect you from unauthorized use. You can freeze your card at any time and you can also order a new one directly through the app. One interesting feature of Mogo is its "MoneyClass." This provides tips and tricks to help you make the best moves with your money.
Desjardins Visa
Desjardins also has its version of a prepaid credit card. The Desjardins Prepaid Credit Card Visa has to be connected via a prepaid credit card account used to add your funds directly to your credit card. You can reload your card in three ways. You can transfer funds through AccèsD, which can be accessed by your phone or computer, at one of the Desjardins branches or ATMs, as well as by paying a bill from an account at another financial institution.
This card is a useful tool to track your expenses and create a budget accordingly. You can also schedule money transfers through AccèsD to have full control over your expenses. Are you planning on going a trip? This credit card is the perfect tool to help you not overspend. Deposit the amount necessary for your trip into your credit card account and it will help you stick to a strict budget.
Do you want to teach your kids how to manage a budget while still having some control over it? You can request an additional card for $4.95 annually, which is perfect for your kids' allowance purposes. This card also comes with a mobile payment option, zero liability in the event of fraud, purchase protection and an extended warranty. The Desjardins Prepaid Credit Card Visa is $6.95 annually with no transaction or withdrawal fees. No minimum balance or reload amount is required. A maximum amount of $5,000 can be transferred to the prepaid card. You must be 16 or older to apply for this credit card.
BMO Prepaid Travel Mastercard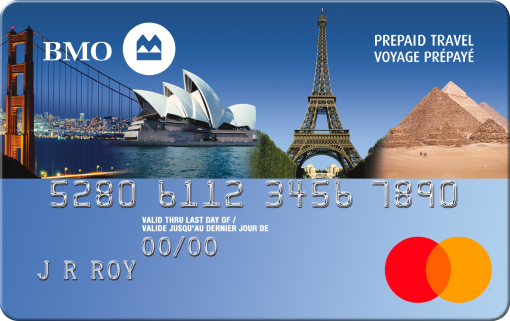 The BMO Prepaid Travel Mastercard is a secured payment card loaded with your money. It allows you to reload and make purchases anywhere Mastercard is accepted while still being protected against unauthorized use. This card is a safer option than carrying cash when traveling. The BMO Prepaid Travel secured Mastercard features include zero liability for unauthorized use. You can transfer any amount between $100 and $10,000 CAD. This card has a $6.95 annual fee, with no interest rate for purchases and cash advances.
Scotiabank SCENE Prepaid Reloadable Visa Card
The Scotiabank SCENE Prepaid Reloadable Visa card lets you load funds anytime and choose how you want to spend them. This card is accepted worldwide for retail or online purchases. Zero liability is included, which protects you from unauthorized use. One unique feature is this card's reward point system. For every $5 spent, you'll receive 1 SCENE point. This card can be used as a great budgeting tool. It provides peace of mind when you travel or with young family members. This prepaid credit card has a $10 annual fee, which is deducted a year after the activation date. This card can have a maximum balance of $2,400.
CIBC Smart Prepaid Visa Card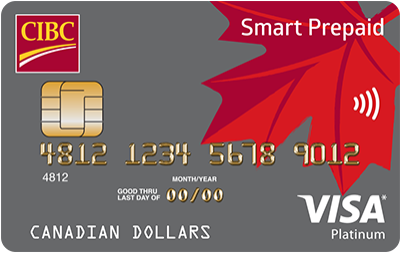 The CIBC Smart Prepaid Visa Card is a great solution to manage your spending and set a budget while loading your card wherever you go. Load your prepaid card with Canadian dollars from your CIBC chequing, saving, or personal line of credit accounts. Reload it online anytime using the CIBC Banking Centre. You can spend on your terms, using only the money you already have.
You can withdraw cash from ATMs all around the world that display the VISA or Plus symbol. You have access to payWave for any small purchases. Receive account details online using the app or by login into your account. This prepaid credit card allows you to shop through a secure payment system using Verified by Visa. It gives you another layer of protection when shopping online. Active fraud monitoring is also available which helps you detect any possible fraudulent activity.
CIBC Smart Prepaid Travel Visa Card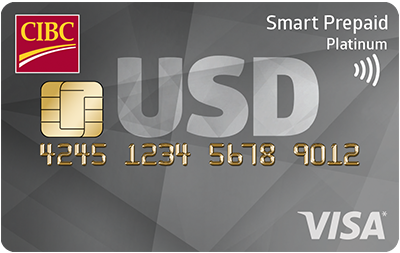 The CIBC Smart Prepaid Travel Visa Card acts as a foreign currency exchange on the go. Just pick a currency and load your card online, through mobile banking, or at any CIBC Banking Centre. You will then receive a fixed exchange rate and help you avoid foreign exchange surprises. The currencies available are USD, Euro, British Pounds, and finally Mexican Pesos.
The whole purpose of this is to load foreign currency only, so CAD won't be accepted on this prepaid card. Additionally, the minimum loan amount and maximum balance vary between currencies. We advise you to look on the CIBC website for the amount you can load onto your card based on the currency of your choice. Access your account details online at any time. This prepaid credit card gives you peace of mind when you travel with its chip technology that is recognized around the world as a standard of safety and security. Active fraud monitoring is also available, which helps you detect any possible fraudulent activity.
Canada Post Prepaid Reloadable Visa and Mastercard
The Canada Post Prepaid Reloadable Visa and Mastercard is the ideal card to use for travelling or everyday use like online or in-store shopping. You can purchase it at any Canada Post office and it can be accessed with no credit history or banking information. This card secures your money with a chip and a PIN that isn't linked to your bank account. You can load your card with funds and use it right away.
This prepaid card is offered in either Mastercard or Visa format. Some benefits and fees between the two may vary. For example, the Mastercard is great for shopping on US and international websites in their local currency. It allows you to choose between 7 different currencies. The Visa, on the other hand, is perfect for in-store and secure online shopping in CAD. Both, Mastercard and Visa, charge the same purchase cost of $15 and the same reload cost of $3. Their monthly fees vary. Mastercard charges a $2.80 monthly inactivity fee (if the card is not used after 12 months) and Visa charges a $3 monthly service fee. As for the transaction fees, Mastercard charges 1.5% on domestic purchases only, and Visa doesn't charge any rate.
To access a Canada Post prepaid credit card all you need to do is go to your post office with a valid photo ID. To first fund a Visa prepaid card, you'll have to call to activate it. As for the Mastercard prepaid card, customers can load CAD and lock in their exchange rate. You can reload your card at any Canada Post near you using cash or debit.
Vanilla Prepaid Mastercard Visa Card
The Vanilla Prepaid Mastercard & Visa card works the same way as a gift card. No PIN is required and the funds inside the card will never expire. The prepaid amount can differ between Mastercard and Visa (Mastercard is available in $25, $50, $60 [3x $20], $100, and $200 denominations, and Visa is available in $25, $50, $75, $150, and $250 denominations). The activation fee varies based on the denomination and the card provider. Refer to the tables below to know the exact activation fee for each card. The Vanilla prepaid cards are available at any Walmart Canada location. Your card will be activated by the cashier during purchase.
This top 10 best prepaid credit card was compiled by Hardbacon, which has designed a credit card comparator listing hundreds of Canadian credit cards. Hardbacon also helps you save on savings accounts, chequing accounts, online brokers, robo-advisors, life insurance, mortgages and personal loans. If you want to go one step further and take control of your finances, you should download Hardbacon's mobile app, which links to your bank and investing accounts, helps you plan for your financial goals, create a budget and invest better.
How would you like to earn hundreds of dollars in rewards?
Find the best credit card for your needs
Find the best card