How to Choose a Credit Card in Canada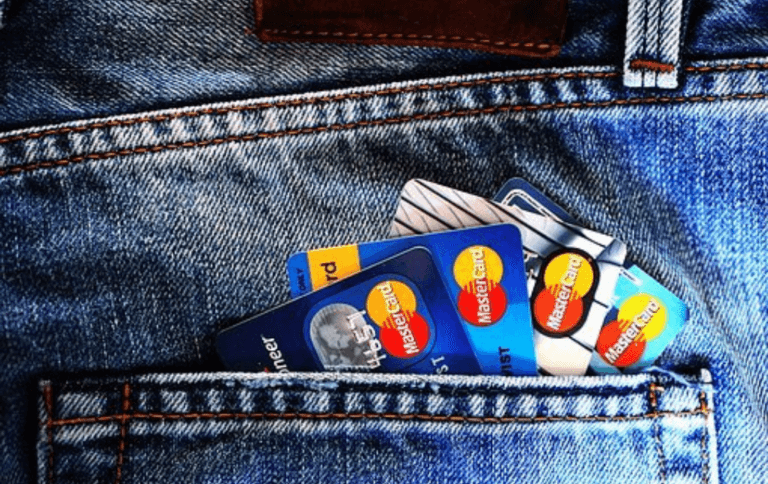 Table of Contents
[ Show ]
Are you looking for a new credit card or your first credit card? Before using Hardbacon's credit card comparator to choose a card, consider these questions so that you choose one that best meets your needs.
Do you/will you pay off your credit card balance religiously?  
There are several things to consider in your research, but the most important question is, do you pay your balance in full at the end of each month?
If you pay off your balance each month, you won't have to pay interest. If this is your case, it would be wise to choose a card with perks that match your consumer profile. We will come back to these perks a little later.
If, on the contrary, like most Canadians, you don't pay off your full card balance each month, the most important thing you should look for is a low interest rate. While the interest rate on a typical credit card in Canada is 20%, lower interest rate cards charge between 10% and 12% interest.
Is it worth having a credit card with an annual fee? 
Typically, annual fee credit cards provide either lower interest rates or better reward programs. These fees can vary widely.
Even though many cards have a $0 annual fee, it's a good idea to do the math to compare the benefits and the interest rate.
Take the example of two cards: one with a reduced interest rate of 10.90%, and the other with a regular interest rate of 19.90%. Assume a balance of $500 is carried over each month.
| | | | | |
| --- | --- | --- | --- | --- |
| Card | Interest Rate | Interest | Annual Fee | Annual Total Cost |
| Desjardins Modulo Visa | 10.90% | $54.50 | $50 | $104.50 |
| Desjardins Cash Back Visa | 19.90% | $99.50 | $0 | $99.50 |
Here, the low-interest card is ultimately more expensive. Let's try again with a $1000 balance carried over each month.
| | | | | |
| --- | --- | --- | --- | --- |
| Card | Interest Rate | Interest | Annual Fee | Total Annual Cost |
| Desjardins Modulo Visa | 10.90% | $109 | $50 | $159 |
| Desjardins Cash Back Visa | 19.90% | $199 | $0 | $199 |
With a carry-over balance of $1000, the card with a reduced interest rate becomes less expensive.
If you're paying an annual fee to have a more lucrative reward program, there is also a calculation you should perform. Consider again the following two cards with different attributes, with the cardholder spending $10,000 per year on the card, including $ 3000 on groceries.
Card
Minimum Income
Annual Fee
% Cash Back
Total Cash Back
BMO CashBack World MasterCard
$60,000
$79
1.25%
$125 cash back– $79 fee =

 $

46 cash back
RBC Cash Back MasterCard
$0
$0
2% on groceries
$60 cash back
In this case, even though the RBC MasterCard only provides cash back on groceries, it is more profitable because the cardholder has no fees to pay.
Be careful with credit cards with attractive perks. Often, these cards require a minimum individual or household income to obtain them. In addition, they must be used for a lot of expenses. It is important to always read the cards' terms and conditions, because sometimes the perks are capped and ultimately the card is less beneficial than expected.
How to choose a credit card rewards program
The majority of cards offer cash back or point programs that are usually a percentage of spending or eligible expenses. These amounts are given in the form of cash back or in the form of a gift certificate. These gift certificates can be on the online store or valid towards expenses such as your travel insurance or on the card provider's financial products.
Here is an example of two cards, one with a reward program and the other with a cash back program.
National Bank Elite World MasterCard

(Rewards card)

Scotia Momentum Visa Infinite

(Cash back card)

Annual fee:
$150
Annual fee:

$120

Minimum income:

$80,000

Minimum income:

$60,000

Interest rate:

20.99%

Interest rate:

20.99%

Up to 2 points per dollar spent


·      From $0 to $40,000 = 1.5 points per dollar spent·      From $40,001 to $80,000 = 2 points per dollar spent·      $80,001 or more = 1.5 points per dollar spent

4% cash back on


·       Groceries




·       Bill payment




·       Expenditures

2% cash back on




·       Fuel




·       Public transportation

1% cash back on all other purchases.

·      Access to the airport's VIP lounge
·      Travel expenses reimbursed
·      Points can be redeemed on a dedicated online store
·      Points can be redeemed for discounted financial products (Investments & mortgage discounts)
·      Full travel insurance·      Extended warranty
·  

 

    

 

Travel perks (concierge service, discounted hotel reservations, participation in culinary events)

·        Vehicle rental discounts




·      Insurance on new mobile devices




·      Full travel insurance




·      Public transportation insurance




·      Purchase insurance and extended warranty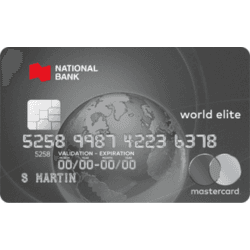 The way to select the best program is to calculate which gives the best rewards based on our buying habits.
Let's take an example of two people: Stephanie is an accountant with a fixed work schedule. Simon is a businessman who often has to fly on business trips. Both have the same monthly expenses with their credit card:
 

Groceries: $300

 

Gas station: $150

 

Public transportation: $150

 

Pharmacy: $45

 

Periodic payments and expenditures: $225

 

Other: $630
Total: $1500/month
In this situation, it is more beneficial for Stephanie to take the Scotia Momentum Visa Infinite Card, as her cash back at the end of the year would be $405. Stephanie would therefore have saved, thanks to her credit card, an amount of $285 ($405 in rewards less the $120 annual fee).
For Simon, who travels regularly, the travel benefits provided by the National Bank MasterCard Elite World card represent great value to him. Having his travel expenses discounted, full travel insurance and access to VIP lounges, he calculates that this card can save him around $500 per year (because these are amounts he won't have to pay). In addition, he will receive $108 to exchange (so $108 in savings) on the online store where he can invest it. Simon therefore saves $458 per year ($500 in reduced fees, plus $108 in rewards, less $150 in annual fees).
Choosing a reward program therefore depends on your spending habits. The value of a card is different from person to person. Take the time to calculate which card gives you the most bang for your buck.
What are the best perks for you from certain credit cards? 
As mentioned earlier, credit cards provide a variety of perks. Depending on your consumer profile, these can have significant value. If you're planning incur expenses that are covered by your credit card, it adds value. For example, if you were going to purchase a warranty on your mobile device and you make your monthly cell phone plan payments on your credit card, you don't need to pay an additional amount to be covered. You've already saved a lot.
For example, Desjardins' mobile insurance will reimburse the cost of replacement or the cost of repair, without exceeding the depreciated value of your mobile device at the time of the loss, less the deductible, up to a maximum of $1000. For example, if you buy a new mobile device on May 1 with a purchase price of $ 800 (i.e. $700 + $100 in applicable taxes), and you submit a claim on January 21 of the year next, the reimbursement will be calculated as follows:
Mobile device depreciation calculation:
Purchase price                                  $800
Less depreciation              – $128 (2% X 8 months X $800)
Depreciated value                        $672
Maximum reimbursement calculation:
Depreciated value                        $672
Less deductible                         – $100
Maximum reimbursement     $572
Bell Canada offers similar insurance (with a $150 deductible) at a cost of $11 per month. Choosing a credit card that offers mobile phone insurance can potentially save you $132 per year.
To properly choose your credit card based on its perks, calculate all the expenses you will avoid by using it in order to see your savings in concrete terms.
Do you really need a credit card?
Remember that a credit card can lead to debt if misused. If you know you'll have a hard time saying no to overspending with a credit card, or if you're struggling to pay off your entire card balance each month, a credit card might not be a valuable tool for you. If so, the best credit card for you is probably no credit card. Also, even if you have a poor credit score or no credit history, you should know that you can still get a credit card.
If you want a credit card just because they make it easier to shop online or use apps like Uber, you should probably turn to prepaid credit cards like those from KOHO or Wealthsimple. KOHO offers an account in the form of a reloadable prepaid Mastercard. You have to deposit funds in order to use it – in fact, it works more like a debit card than a traditional credit card. Unlike a debit card, on the other hand, you get cash back on some of your purchases and can use your KOHO card anywhere Mastercard is accepted (online or in stores, worldwide). In addition, the basic plan has no monthly fee!
Visa debit cards can be another good alternative. They enable you to make online purchases and the amount will be deducted from your bank account automatically.
Why is it important to choose the right credit card? 
Choosing a credit card is a process to be taken seriously and should not be underestimated. You are not required to take out a credit card with your financial institution and you are not required to open a bank account with the financial institution issuing the credit card. With hundreds of card choices across Canada, you'll find what you're looking for. In order to choose your credit card, use a credit card comparison toolson tool to help you, carefully read the legal terms and you will certainly find a card that will help you keep the most money in your pocket.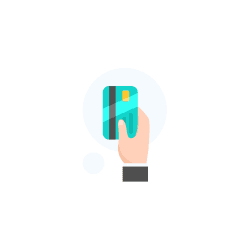 Find the best credit card for your needs