The 20 Best Business Bank Accounts in Canada for 2023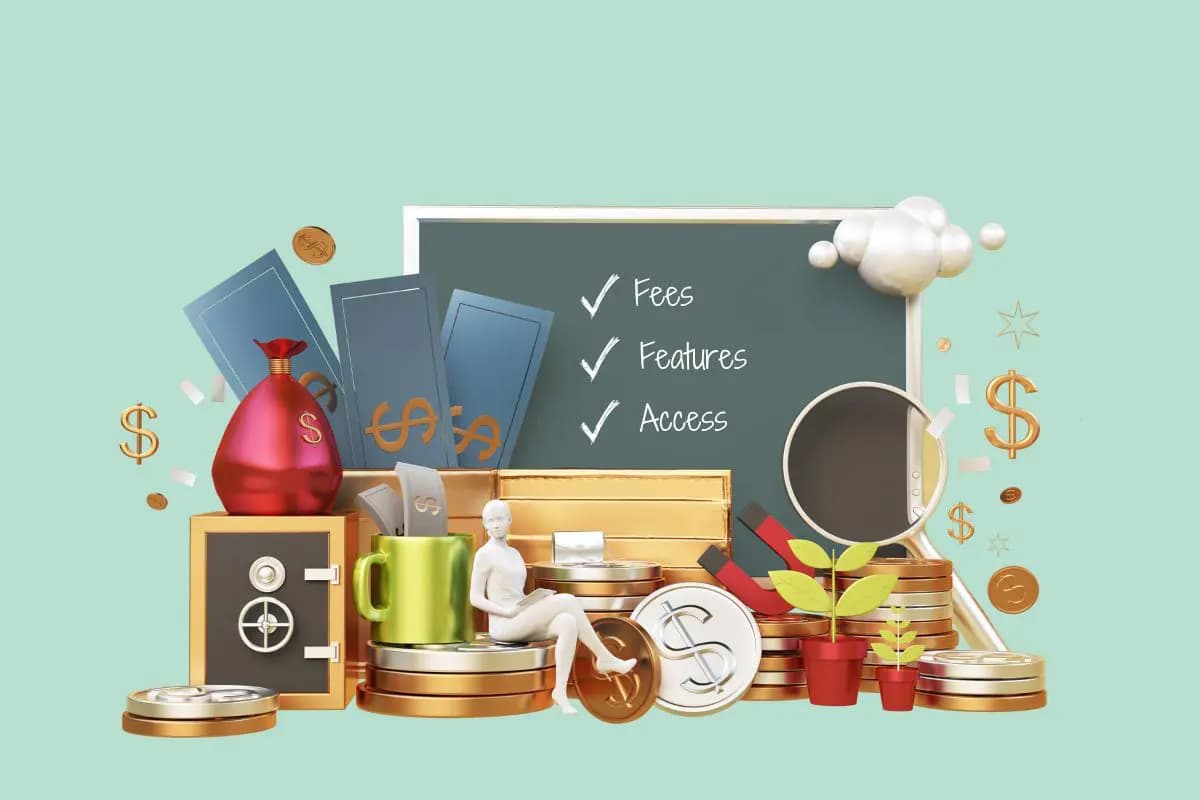 The right business bank account is essential to your bottom line. Ideally, you want low fees and robust features that make life easier. But trying to compare all the different features, benefits, costs, and potential pitfalls can be an overwhelming struggle. The wrong one could cost you hundreds of dollars or more in fees for things you don't need. To help you make sense of it all, we've rounded up the best business bank accounts in Canada.
Best Digital Business Bank Accounts
Let's start with the best digital-only business bank accounts tailored for the modern entrepreneur. These innovative accounts streamline banking processes through user-friendly online platforms, without the need for physical branches. They deliver enhanced efficiency, cost savings, and advanced features designed specifically for business banking in the digital age.
Vault: Best for cross-border payments
[Offer productType="CheckingAccount" api_id="64c7c534de42697859c584e6″]
Vault is Canada's newest all-in-one digital business banking platform that's reinventing the standard for seamless financial management. You can open a new account in just 5 minutes – no fuss, no delay, no fees. Ditch expensive domestic and international transfers because it's all included.
Vault's unique value prop is hassle-free multi-currency bank accounts. Need a local account in CAD, USD, GBP, or EUR? No problem, and no need to visit a branch either. You can set up as many sub-accounts in each currency as you need to streamline operations
Now you can collect payments from customers worldwide in their preferred currency in just a few clicks. And when it comes to converting between accounts, Vault guarantees the best FX rates in Canada starting as low as 0.35%, no matter how much you're converting.
Plus, your money doesn't just sit there – it works for you. Take advantage of their Guaranteed Investment Certificates (GICs) to earn up to a 5.30% return, providing your business with an additional income stream. It's eligible for insurance with the Canada Deposit Insurance Corporation (CDIC), making it a secure and rewarding option to grow your business savings.
You also have the option to issue physical and virtual prepaid Mastercard Corporate Cards that earn 1% cash back. With Vault's innovative routing system, each transaction currency matches your different balances, making purchases in foreign currencies without any FX fees a breeze. You also get access to customizable control features that make spend management effortless for any sized team.
Wise Business: Best for multi-currency accounts
[Offer productType="OtherProduct" api_id="64e51b789905dd7e92abe7de"]
Monthly Fee: None
Supported Currencies: CAD, USD, EUR, GBP, AUD, HUF, NZD, RON, SGD
Currency Conversion Fee: 0.43%
This innovative account eliminates the costs associated with a traditional business bank account like pricey conversion rates, surprise charges, and monthly fees. It also streamlines cash flow management, employee payments, and international transactions. You can collect payments in multiple currencies, create professional invoices, and integrate with QuickBooks for real-time financial data and faster reconciliation.
The Wise Business account offers batch payment capabilities for efficient transactions and full control over cash flow and expenses. It's an ideal alternative to traditional business banking, providing essentials like sort codes, IBANs, and routing numbers.
Plus, the multi-currency debit card allows you to make online and in-store payments without foreign transaction fees. Wise Business is a solid choice for small business owners who want to simplify and optimize their banking experience.
Caary Mastercard: Best for expense management tools
[Offer productType="CreditCard" api_id="6478a29a39c919058f3ec5f4″]
The Caary Mastercard is an innovative new product that can also be used as a pseudo-business bank account. It's a new business credit card created to provide small and medium-sized businesses with effortless access to credit. It also addresses your unique financial needs with a robust platform that gives you tools to manage all business expenditures with minimal effort. Plus, you earn 1% unlimited cash back on all card transactions, allowing you to earn as you spend.
Caary's stand-out benefits are the currency management tools and features that give you total control over employee spending. The clean, simple interface makes managing multiple currencies easier than ever. What about those pesky foreign exchange fees? There are none. So if you've got international business on your plate, this is a real game-changer.
Next, Caary gives you iron-clad control over employee spending. You can dole out virtual credit cards and set custom spend limits faster than you can say 'expense report'. It puts you firmly in the driver's seat, steering clear of overspending and keeping your accounts clean and tidy.
To cut down the time you spend on financial management, Caary integrates smoothly with QuickBooks and Xero. Caary might not be the traditional business bank you're looking for. But what it does offer is a suite of tailored solutions to make financial management less like climbing a mountain and more like a walk in the park. Just keep in mind, if you're based in Quebec, Caary's not available there yet.
Loop: Best for eCommerce
[Offer productType="CreditCard" api_id="636d34efa62e7d17aa73f09e"]
Loop is a one-stop solution for small and medium eCommerce businesses looking for a convenient, cost-effective banking solution. It's a digital platform that offers multi-currency accounts with market-leading FX rates, giving you the flexibility to receive payouts in USD from marketplaces like Shopify, Amazon, PayPal, Etsy, and Stripe. Then conveniently convert your money into Canadian Dollars. Plus, you can easily pay your US suppliers in just seconds for free.
Loop offers two types of accounts. Loop Currency Accounts let you hold money in different currencies, convert funds to other currencies, and make payments worldwide. Loop Bank Accounts offer all the Currency Account features, plus local bank account details for receiving payments locally. The sign-up process is entirely digital and free, with no minimum deposit or mandatory monthly fees.
Loop also has a special Corporate Card for international businesses that want a card with four currencies – CAD, USD, GBP, and EUR. It offers zero FX fees, zero annual fees, and 55 days of interest-free purchasing. This card also offers real-time balance visibility through the Loop dashboard, helping you track your spending per currency. It is also flexible, allowing you to repay your owing amount in the currency you purchased in and earn reward points with each dollar spent.
PayPal for Business: Best for chargeback protection
Monthly Fee: None
Transaction fees: as low as 0.80%
Interest: None
Rewards: None
PayPal for Business won't replace the need for a business bank account, but it comes damn close. It can hold funds and it provides special tools that are ideal for eCommerce businesses, but businesses of all kinds will benefit. This all-in-one payments platform allows you to accept payments from customers in over 200 markets and 100 different currencies and you can securely link your bank account to your PayPal Business account.
You can make purchases, pay business expenses online and in person, and send money to vendors electronically, simplifying your operations. Instantly transfer funds to an eligible bank account or debit card using the Instant Transfer feature, saving time and avoiding standard transfer wait times. Benefit from Funds Now, which grants you fast access to your daily sales balance, even during disputes, without holds or reserves.
Protect your Advanced Credit and Debit Card transactions with Chargeback Protection, ensuring you're covered against "unauthorized" or "item not received" chargebacks. With PayPal's account reserves, a portion of your PayPal balance is set aside, giving you peace of mind and providing an extra layer of protection.
Motusbank chequing account: Best for sole proprietors
Monthly Fee: None
Interest: 0.15%
Rewards: None
This account is actually a personal account, but you can use it as a business bank account. As a sole proprietor, you can open a Motusbank chequing account and exclusively use it for your business to keep finances separate. On top of unlimited deposits and withdrawals, you'll have free unlimited access to Motusbank's Price Drop program.
As part of the program, you'll email the bank your receipts and they will scour the net for deals on the items you've purchased. That way you can request cash back! This can be a great way to save on business expenses when starting a new business.
If you like getting cash back, read more about the best cash back credit cards
Float Card: Best for teams
[Offer productType="CreditCard" api_id="636d3ef84106580ea0b71d76″]
Float Card is a prepaid corporate card designed for businesses looking for easier and more efficient expense management. There are no personal guarantees, credit checks, or tracking down physical receipts with Float Card's integrated smart spend management software.
Monitor team expenses in real-time and enjoy 1% cash back on all your spending and exclusive discounts from partner merchants. Simply link the Float Card to your business bank account and transfer money over to fund it and start tracking all your business expenses.
Create physical or virtual cards for your team and start benefiting from easy budget creation, spending limits, purchase authorizations, instant transaction notifications, digital receipts, and more. Float Card simplifies expense reconciliation by connecting with software like QuickBooks, Netsuite, and Xero.
Best Digital Business Savings Accounts
Dive into the best digital-only business savings accounts that often provide higher interest rates due to their reduced overhead expenses. These online-only providers deliver exceptional value by maximizing your savings growth while maintaining the convenience and accessibility you expect in the digital era. Grow your business funds effortlessly with these innovative, high-yield savings solutions.
Tangerine Business Savings: Best interest rate
Monthly Fee: None
Interest: up to 3.25%
Rewards: None
The Tangerine Business Savings is a free account that offers generous interest rates to help grow your business savings faster. Rates are tiered depending on your account balance and range from 2.60% to 3.25% as your balance grows and qualifies for the next highest rate.
To open this account, you need to already have a business bank account open at another financial institution and provide proof. While you can move money easily between this account and your business banking account elsewhere, you won't have access to it via debit card. Most common account transactions are free. If you need a non-standard transaction, like a bank draft, for example, fees may apply.
Wealthsimple Save for Business: Best for incorporated businesses
Monthly Fee: None
Interest: 1.1%
Rewards: None
The Wealthsimple Save for Business account is a no-brainer if you have a smaller business and are looking for a savings account. There's no minimum balance either, so you won't have to worry if you suddenly need to spend the cash. The account is free and Wealthsimple offers impressive features with a reasonable 1.10% interest rate on deposits.
You'll also have next-day withdrawals, making it easy to transfer money around. If your business just has a simple, low-interest chequing account, this could be a good supplement to park any extra cash that you'd like to keep liquid.
*This account is reserved for incorporated businesses only.
Best Unlimited Business Bank Account Packages
Below are the best business bank accounts with unlimited account packages designed to provide flexibility and convenience. These packages feature unlimited everyday banking transactions, impressive cash deposit limits, and often waive monthly fees when maintaining a minimum balance. Enjoy hassle-free business banking and focus on your goals with these comprehensive account solutions.
CIBC Unlimited Business Operating Account: Best for low-volume cash deposits
Monthly Fee: $65
Perk: Fee waived with $45,000 minimum balance
CIBC's Unlimited Business Operating Account offers unlimited transactions, a major perk if you own a medium or large business. Plus, the monthly deposit limits are very generous, making this a strong account option:
$15,000 cash deposit
$1,000 coin deposit
100 cheques
The monthly fee is waived if you maintain a minimum balance of $45,000. Plus, enjoy unlimited withdrawals, eTransfers, bill payments, deposits, and more. Plus, get free global transfers of up to $100,000 to over 120 countries.
Scotiabank Unlimited Account: best for high-volume cash deposits
Monthly Fee: $120
Perk: Fee waived with $75,000 minimum balance
If you're managing lots of incoming payments (especially if you have an online store), then Scotiabank's Unlimited Business Bank Account might be worth the fee. You'll have unlimited transactions and deposits, and will only have to worry about a modest surcharge if you deposit over $30k per month. The account also comes with software that helps you manage company finances, pay stubs, and taxes, potentially saving money on other expenses.
TD Unlimited Business Plan: Best for unlimited transactions
Monthly Fee: $125
Perk: Fee waived with $65,000 minimum balance
While the TD Unlimited Business Plan has slightly lower limits than the Scotiabank Unlimited Account, TD will wave merchant service account fees and provide a $149 rebate on the TD Business Aeroplan Visa Card or the TD Business Travel Visa Card, which can lead to even more savings.
Plus, enjoy up to $25,000 in free cash deposits each month. If you're already sticking with TD and managing a large company, this account is a good contender.
Best Low-Fee Business Bank Accounts
Explore the best low monthly fee account packages, perfect for businesses with low transaction volumes or tight budgets. These accounts cater to small businesses that have outgrown free basic accounts but aren't quite ready for a pricy unlimited package. These accounts provide essential features and services at a reduced cost. Balance affordability and functionality with these tailored banking solutions.
ICICI Business Chequing Premium
Monthly Fee: $5
Includes: unlimited day-to-day transactions.
While ICICI doesn't have the same name recognition that Canada's Big Six banks do, its Business Chequing Premium account is still a solid pick with extremely low fees. The account is available in CAD and USD. You'll save money with free and unlimited:
In-branch deposits & withdrawals
Bill payments
Direct deposits & PADs
Online transfers
Plus, ICICI is Canadian Deposit Insurance Corporation (CDIC) insured, so you won't have to worry about losing out on your money. All in all, the Business Chequing Premium account is a great pick for most small or midsize businesses that have outgrown completely free options.
RBC Digital Choice Business Account
Monthly Fee: $6
Includes: unlimited day-to-day digital transactions
The RBC Digital Choice Business Account is good for business owners that bank online or on their phones. For only $6/month you can send and receive online payments, deposit cheques using your mobile device or ATM, pay vendors and suppliers with 10 free Interac eTransfers, and much more.
Plus, cash deposits are relatively affordable. However, if your business bank primarily in-person or receives most payments via cash, you may want to keep looking at other options.
TD Basic Business Plan
Monthly Fee: $5
Includes: 5 transactions/month
TD's Basic Business Plan is a solid option for a side hustle business if you already bank with TD. You get 5 free transactions per month, and then you'll pay $1.25 per transaction after that and $2.50 per $1.000 in cash deposits. The account automatically archives all of your cheques for seven years, making it easy to keep records.
Plus, the fees are relatively affordable. That being said, if you're hoping to grow your business, the restrictive limits may force you to switch accounts down the line.
RBC Flex Choice Business Account
Monthly Fee: $7
Includes: unlimited eligible deposits & Moneris deposits
While the RBC Flex Choice Business Account is slightly more expensive than its Digital Choice Business Account, it's well worth it if you're planning on occasionally depositing cash in-branch. This account will save $2.50 per in-branch cash deposit.
One interesting perk is that you save 3¢/L on fuel and earn 20% more Petro-Points at Petro-Canada locations when you pay with your linked RBC card.
You also won't have to worry about transaction limits, so you can go about your business without having to strategically plan payments to fall in the next month's billing cycle.
Best Limited Package Business Bank Accounts
Below are the best accounts with low additional transaction fees, ideal for growing businesses or those with fluctuating transaction volumes. These accounts provide competitive pricing on individual transactions beyond your package limits, ensuring cost-effective banking as your needs evolve. Manage your finances efficiently and adapt to changing business demands with these versatile account options.
Scotiabank Basic Business Account
Monthly Fee: $10.95
Includes: 1 free transaction per $1,500 in the account
Perk: Fee waived with $8,000 minimum balance. Available in CAD & USD
Scotiabank's Basic Business account includes a lot of small fees, but it comes with a major perk, too: charities receive a 50% discount on all fees, while some community groups get 35% off fees. You'll need to register in person to qualify for the deal, but depending on the nature of your business, the Basic Business Account may end up being significantly cheaper than expected.
BMO Business Builder 1
Monthly Fee: $22.50
Includes: 35 transactions., 2 eTransfers, and unlimited Moneris transactions per month
Perk: Save on fees with online banking
If you'd rather pay a flat rate every month for a certain number of transactions (rather than paying for each individual transaction), you may want to look into BMO's Business Builder accounts. Business Builder 1 comes with 35 transactions per month and allows up to $2,500 in cash deposits, but you can always select a higher tier if the limit feels restrictive. Depending on your business's financial habits, a flat-rate account like BMO's Business Builder plans can be a great way to save money.
Best Traditional Business Savings Accounts
At the time of writing, these traditional business savings accounts provide higher interest rates compared to their digital-only competitors and a range of convenient spending features at a cost for swift access to funds. These brick-and-mortar providers combine the security and familiarity of conventional banking with competitive savings opportunities, making them an attractive choice for businesses seeking stability and easy fund access.
TD Business Savings Account: Best for balances over $500K
Rate: 2.55% – 4.05%
Includes: Free transfers between TD accounts
If your business's chequing account is at TD, the Business Savings Account may be a good supplement. The interest rate is tiered depending on your balance, with the lowest rate of 2.55% on balances under $10K, and ranging up to 4.05% on balances over $5M.
Manulife Business Savings Account: Best for balances under $500K
Rate: 2.85%
Includes: Free deposits, pre-authorized withdrawals, and transfers to other Canadian accounts
Manulife's Business Savings Account is another great savings solution to complement your business chequing account. The 2.85% interest rate is very impressive, though Manulife's website does not say how long transfers take.
In a pinch, you may be able to eTransfer the money to yourself, but this would cost $1. Since the account has very few transaction fees, it's a great way to earn some extra cash if your business has liquid funds that aren't immediately needed.
Do You Need a Business Bank Account?
In Canada, there isn't a federal law that requires you to have a business bank account. But if you own your own business, then yes, you should have one. It's best practice to have a business bank account in order to manage your company's finances effectively. There are practical and legal reasons that make having a business bank account necessary or, at the very least, highly beneficial in many situations, such as:
Corporate Structure: If you operate a corporation in Canada, it's legally distinct from its shareholders. This means that the corporation's finances must be kept separate from personal finances. In such cases, a business bank account is required to maintain this distinction.
Tax Reporting and Auditing: For tax purposes, the Canada Revenue Agency (CRA) requires clear and accurate financial records. Mixing personal and business finances can complicate this process. While sole proprietors and partnerships might technically use personal accounts, having a business bank account simplifies bookkeeping, reporting, and any potential audits. Without a business bank account, you could unwittingly commit tax fraud – that's a serious mistake you never want to make!
GST/HST Registration: Businesses that sell over a certain total value of goods and services must register for, collect, and remit the Goods and Services Tax (GST) or the Harmonized Sales Tax (HST). Having a business bank account can simplify the process of managing and remitting these taxes.
Employment: If you hire employees, you'll likely need a system to manage payroll. A business bank account facilitates this and helps maintain clear records for both payroll and related taxes.
Business Licenses and Permits: Some municipalities or provinces might require proof of a business bank account before issuing certain business licenses or permits.
Contracts and Agreements: If you're entering into contracts or agreements, especially with larger corporations or government entities, they might require you to have a business bank account for payments or other financial transactions.
Business Loans and Credit: If you're seeking business financing or credit, most financial institutions will require you to have a business bank account. If you're considering getting a business credit card, a business bank account gives lenders better insight into your regular income and expenses, helping them determine whether your business can handle credit.
Professional Appearance: If you're dealing with suppliers, vendors, or customers, having payments made to a personal name can appear unprofessional. At the very least, a business bank account helps establish credibility.
What documents do I need to open a business bank account?
When opening a business bank account, the exact documents that you'll need vary from institution to institution. You'll also need different supporting documents based on your business structure. t's essential to contact the specific bank or credit union directly to get a definitive list of required documents. Each financial institution can have its own unique requirements, and being prepared will help ensure the process is smooth and efficient. Be prepared to provide the following:
Personal Identification
Most banks will require personal identification from all owners, directors, and any other key personnel associated with the account. This can include:
A valid passport.
Driver's license.
Other government-issued photo ID.
Business Registration Documents
Depending on your business structure, this could be:
Sole Proprietorship: Business registration or trade name registration document. You get this when you register a business.
Partnership: Partnership agreement and a business or trade name registration document (if applicable).
Corporation: Articles of Incorporation or a Certificate of Incorporation.
Business Number (BN): Issued by the Canada Revenue Agency (CRA), the BN is needed if you're registered for the GST/HST.
Other Licenses and Permits
Any municipal or provincial licenses or permits you have that demonstrate you're authorized to operate your business.
Partnership Agreement
If you're operating a partnership, the bank may require a copy of your partnership agreement to determine the authority of each partner regarding the bank account.
Corporate Resolution
If operating a corporation, a corporate resolution (or a similar document) might be required. This document identifies the individuals within the corporation who have the authority to act on its behalf regarding banking transactions.
Financial Statements or Business Plan
Some banks may request a copy of recent financial statements or a business plan, especially if you're interested in securing additional banking products, like loans or credit lines.
Other Information
Depending on the bank, they may ask for details like:
Estimated account activity (e.g., monthly deposits, number of transactions).
Purpose of the account.
Expected sources of deposits (e.g., point-of-sale, online sales, B2B services).
Information on any foreign transactions or business dealings.
For Non-Resident Owners/Directors: Additional documentation might be needed for business owners or directors who are not residents of Canada.
Trust or Association
If you're setting up an account for a trust or association, you might need to provide the trust agreement or the association's governing documents.
Best business bank accounts: the takeaway
Business is never one-size-fits-all, and the same can be said of business bank accounts. All of the major brick-and-mortar Canadian banks offer several business bank accounts, each with its own requirements and perks.
You need to pick the plan that best suits your needs. Many online banks also offer business bank accounts, making it tough to choose the right plan.
FAQs About Business Bank Accounts in Canada
Still have questions about business bank accounts? Check out our most frequently asked questions for more help:
How to open a business bank account?
To open a business bank account, you need to provide proof of identity, proof of your full name and address, and your social insurance number. Depending on your business type, you'll also need certain supporting documents like a trade name registration certificate or Articles of Incorporation.
Which bank is best for business accounts in Canada?
The bank with the best business bank account is the one that offers the most useful features for a reasonable price. Since each business is different, every business owner must find a bank account that fits their needs. While we can't tell you which bank account is the best match, we can point you in the direction by highlighting various business bank accounts that are particularly impressive, such as: Wise Business, Loop, Motusbank chequing account, CIBC Unlimited Business Operating Account, Scotiabank Basic Business Account, and Tangerine Business Savings, among others.
Can I use my personal bank account for business?
If you operate a sole proprietorship, you can use your personal bank account for business. However, you'll find it much harder to track business expenses and file taxes. You'll likely find yourself staring at spreadsheets for hours while trying to determine who—you or your business—is responsible for each purchase. Unless your business is just starting out or you operate a sole proprietorship with 0 expenses, chances are that it's much simpler to open a business bank account.

For all other types of businesses, you must open a separate business account.
Can you have 2 business bank accounts?
Yes, you can open as many business bank accounts as you'd like. Some accounts—like those offered by Tangerine—are even intended to function as a supplement to your primary business bank account. However, to keep your finances easily manageable, we'd caution against opening too many bank accounts, especially if you don't have a specific purpose for each additional account.
Do business bank accounts cost money?
Yes, business bank accounts typically come with associated costs that range from This can include monthly fees, transaction fees, and other charges that can range from $5 – $125 per month or more. However, some banks offer packages with unlimited transactions and deposits or waive the monthly fees if you maintain a certain minimum balance. Accounts that offer low or no monthly fees may charge you to deposit cash, receive online payments, pay bills, and more.

With so many variables, you'll need to carefully compare fee structure against your business's monthly finances to figure out how much it'll ultimately cost. You should also plan for occasional outlier months where you receive more payments than expected or do not meet your account's minimum balance requirement, resulting in an unexpectedly higher bill.
Can you open a business bank account online in Canada?
Yes, most banks allow you to open a business bank account online. However, this may come with a slight delay depending on how busy the bank is, whereas opening a bank account in person is relatively instant once you gain access to the right employee. Think of the longer delay as the equivalent of waiting in line in-person before an employee can help you. That being said, some brick-and-mortar banks may require you to submit your application in-person.
Can I close my business bank account online?
Most banks allow you to close your business bank account online, especially if you opened it online, but the process can vary. Generally, you'll need to contact your bank's customer service or visit their website for specific instructions.
Can a business use a personal bank account?
That depends on the legal structure of your business. Sole proprietorships can use a personal account, but it's not recommended as it can create confusion and complications, especially during tax time. By law, non-sole proprietorships need a separate business bank account.

Can a minor open a business bank account?
Depending on the structure of the business, a minor may be able to open a business bank account. For example, Scotiabank allows customers as young as 16 open a business bank account. Other banks may have age restrictions, but allow a parent or guardian to open a business bank account on behalf of a minor-owned business.
Can a sole proprietor have a business bank account? 
Yes, a sole proprietor can and should have a business bank account to keep business and personal finances separate.
Can I add someone to my business bank account?
Yes, you can add someone to your business bank account. The process will depend on your bank's specific procedures and the legal structure of your business.
Can I have one bank account for multiple businesses? 
While it's technically possible to use one bank account for multiple businesses, it's not at all recommended due to the potential for significant confusion and complications, especially with taxes and accounting.
How long does it take to open a business bank account?
The time it takes to open a business bank account can vary. If you apply online, there may be a delay. If you apply in person, the process can usually be completed on the same day.
How many bank accounts should a business have?
This depends on how much cash the business wants or needs to keep in its account. If it's consistently more than $100,00, a business should have multiple accounts to qualify for as much CDIC coverage as possible.
What to ask when opening a business bank account?
When opening a business bank account, you should ask about the fees associated with the account, transaction limits, minimum balance requirements, interest rates, and any additional features or services that may be beneficial to your business.
Can I use PayPal as my business bank account?
While PayPal can't replace a traditional business bank account, it does offer PayPal for Business which is a platform that allows businesses to accept payments from customers, make purchases, and send money to vendors. It can be used in conjunction with a business bank account for enhanced financial management.
Compare Business Credit Cards