The 15 Best Business Computers in Canada for 2023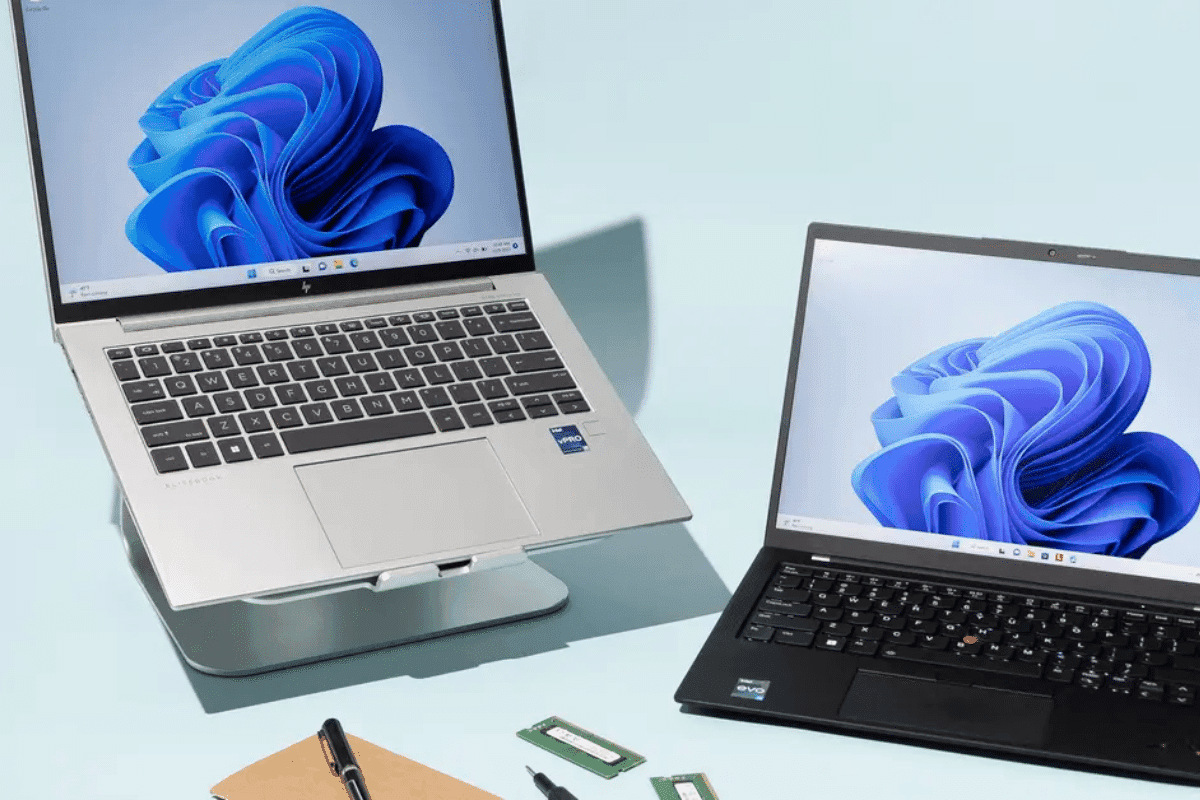 Searching for the ideal business computer can be a daunting challenge. With so many options on the market, each offering its own set of features and capabilities, it's hard to know where to start. You need something reliable that packs enough power to handle everyday tasks with ease – all without breaking the bank.
Considering that 92% of businesses in Canada are using some form of cloud computing, you don't need an extremely powerful business computer. Instead, you almost certainly need a machine that can perform basic business-related tasks, such as sending emails, browsing the web, or hosting video meetings. So while the hardware is not the most important factor to consider nowadays, at least for most businesses, you should pay attention to other details, such as computer type or portability.
Keeping the abovementioned things in mind, we've compiled a list of the best business computers in Canada for 2023. Investing in these devices now will pay off in the long run, with their wealth of features and functionality that can take care of any business-related need.
What are the most popular types of business computers in Canada?
Desktop PCs in Canada are quickly becoming a thing of the past as laptops, tablets, and other mobile devices continue to gain traction. Laptops remain by far the most popular choice for businesses in Canada, while thin-lightweight tablets and hybrid computers are also widely used by professionals and business owners. Mini PCs provide another viable alternative that can fit into tight spaces without compromising performance – making them an attractive option in today's business world.
In general, desktop PCs are cheaper than other computer types. They have more powerful hardware for a lower price compared to laptops and laptop-tablet hybrid computers. However, most businesses in Canada don't need high computing power for performing business-related tasks unless they are dealing with 3D and graphic design, game development, or video editing.
Best laptop computers for businesses
When we were selecting the best laptop computers in Canada for business in 2023, we considered a number of factors, including price, hardware, software, and user feedback. Here is our list of the best laptop computers for business:
Microsoft Surface Laptop Go 2 for Business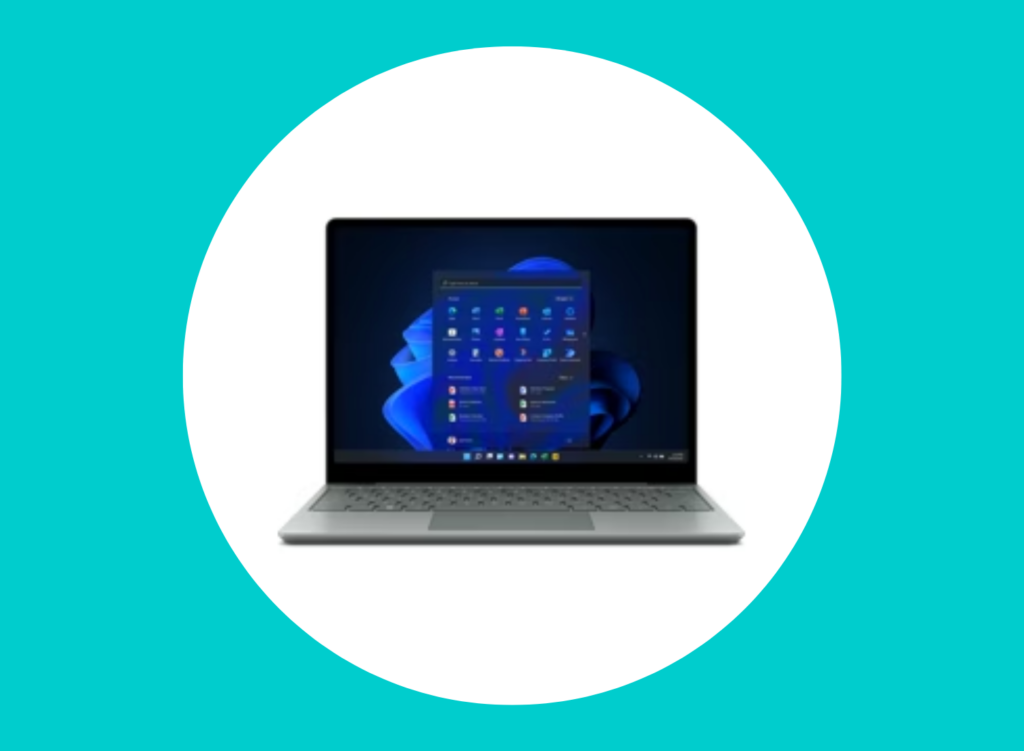 The Microsoft Surface Laptop Go 2 for Business is the perfect choice for busy Canadian business professionals who need a lightweight laptop with powerful performance. Its 12.4″ PixelSense™ Display, optimized for Windows 11 touch, allows you to quickly and efficiently maneuver through documents and applications – ideal when working on the go. With its touchscreen capabilities, it's designed to make your work life easier so you can get things done in no time at all. This laptop is extremely light and weighs only 1.1kg, so you can easily take it anywhere you want. Pay attention that many users online complain about the performance of Windows 11, and in some cases, installing an older Windows version may significantly improve your laptop's performance.
Acer Aspire 5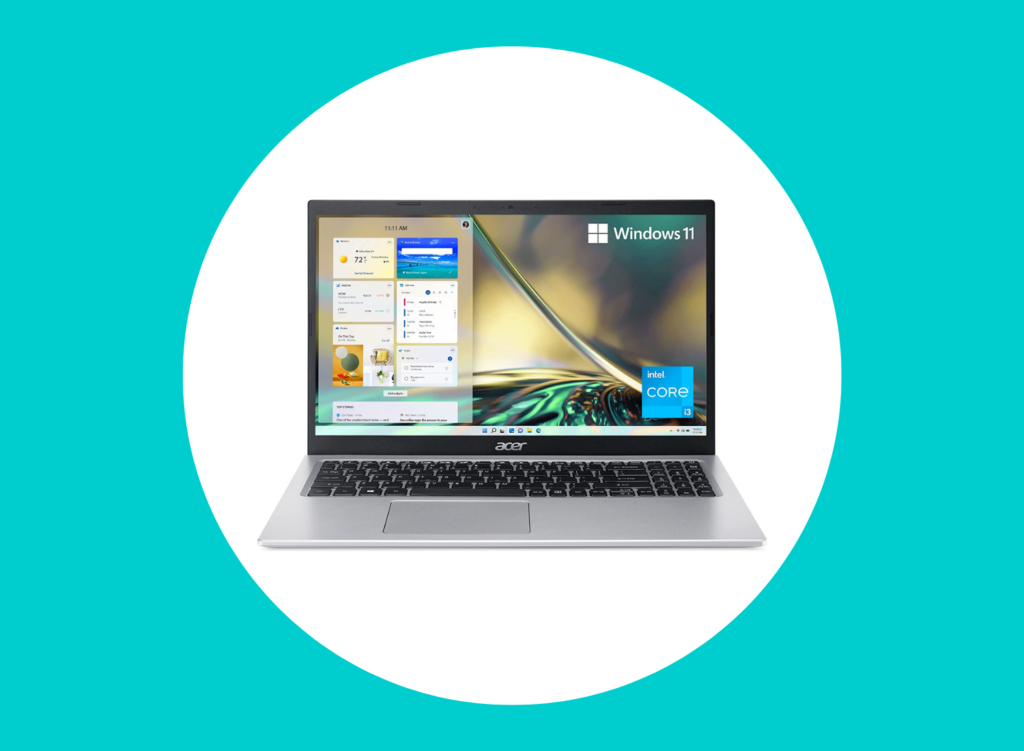 The Acer Aspire 5 A515-56-32DK Slim Laptop is an outstanding choice for Canadian businesses. Not only does it boast a sleek and stylish design, but its powerful 11th Generation Intel Core i3 processor coupled with 4GB DDR4 RAM, 128GB NVMe SSD storage, 15.6″ Full HD IPS Display, and WiFi 6 provides great performance at an unbeatable value! While the Intel i3 processor is not as powerful as the i5, which other models on our list have, it still provides a smooth experience and sufficient power for most tasks. With a price under C$500, this laptop offers great value for small businesses in Canada.
Lenovo IdeaPad 1i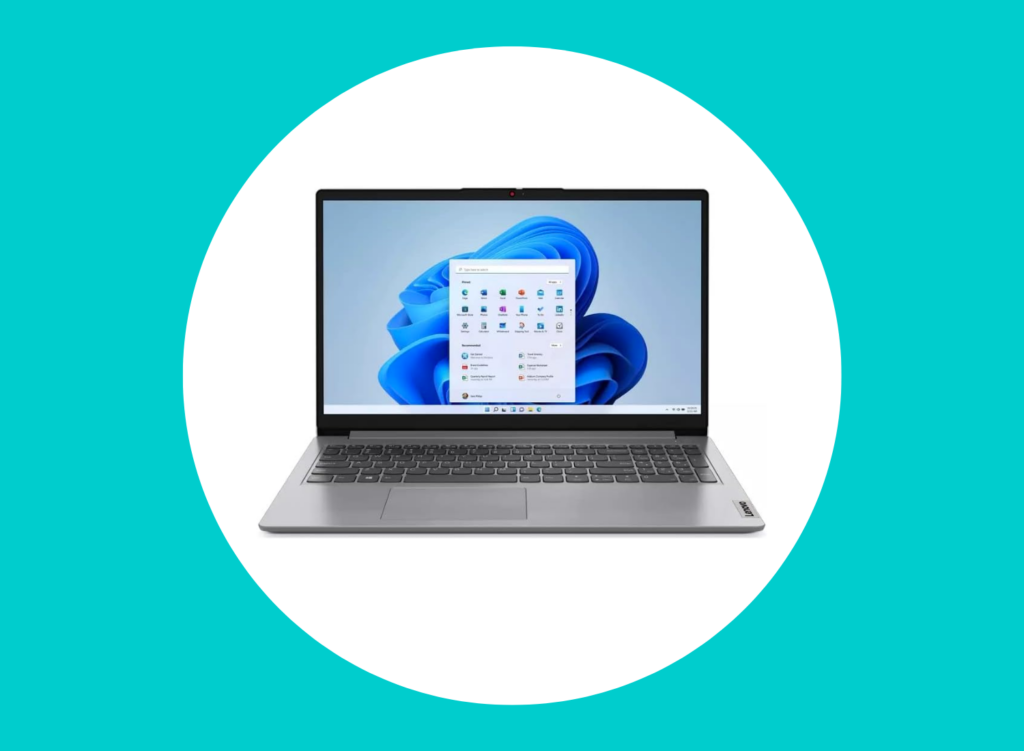 The Lenovo IdeaPad 1i is another great option for businesses in Canada. With its 14″ FHD frameless display, Intel Core i5 processor, and 8GB of RAM, you can stay productive by multitasking and easily running multiple applications. Plus, it offers 256GB of SDD storage so that all your critical files and documents are safely tucked away. The specs of this laptop will allow you to perform a wide range of business-related functions, and it is powerful enough for graphic design software, such as Photoshop or Adobe Illustrator. Plus, you can make an upgrade to 16GB RAM to make this laptop even faster.
Dell Inspiron 3511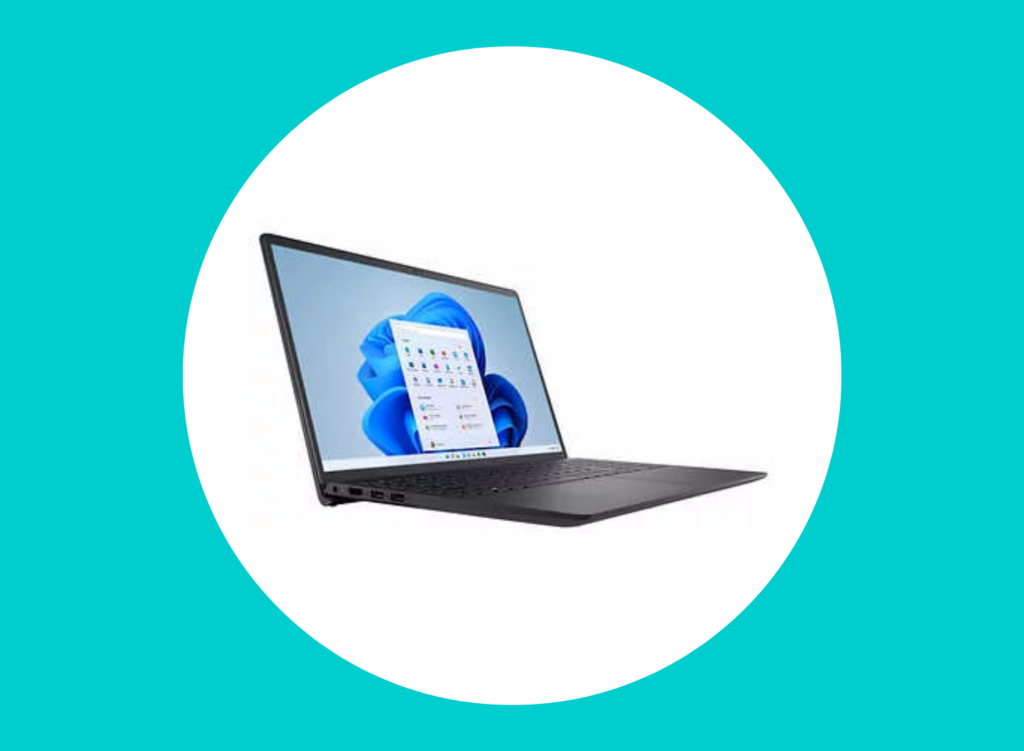 For Canadian businesses seeking a dependable yet powerful laptop to tackle various business tasks, the Dell Inspiron 3511 15.6″ FHD Touchscreen Laptop is an excellent choice. Its intel core i5 processor is what you need for a smooth multitasking experience. The Intel UHD Graphics card ensures vivid visuals whether you're creating presentations or streaming videos, while its ample 8GB RAM allows lag-free multitasking without any stuttering. And, of course, there's the intuitive touch screen which lets users be more efficient in their work on this model too.
HP 14″ Touchscreen Chromebook
This is one of Amazon's top-selling Chromebooks, which is unsurprising as the HP 14″ Touchscreen Chromebook has been created to maximize business efficiency and cost-effectiveness. It runs on Chrome OS, renowned for its lightning-fast startup speeds and minimal maintenance requirements, all the while offering a remarkable 10-hour battery life – allowing users to remain productive from dawn 'til dusk without having their productivity hindered by needing regular recharges. Chromebooks are so good for offices because each employee can use their email address to access their files, ensuring that data remains safe and secure. Remember that the cloud-based version of Excel (Google Sheets), Word (Google Docs), and other applications may have limited features. Plus, potential issues may arise with compatibility when you import files from Excel to Google Sheets. Nevertheless, this laptop can handle a variety of tasks, which is why it is so popular among business users.
Best desktop computers for businesses
Desktop models offer a wide range of advantages as business computers in Canada. You can easily upgrade them, they have more powerful hardware than laptops, and their price is usually lower. So here is the list of the best desktop business computers in Canada for 2023:
HP Pavilion Desktop TP01-2009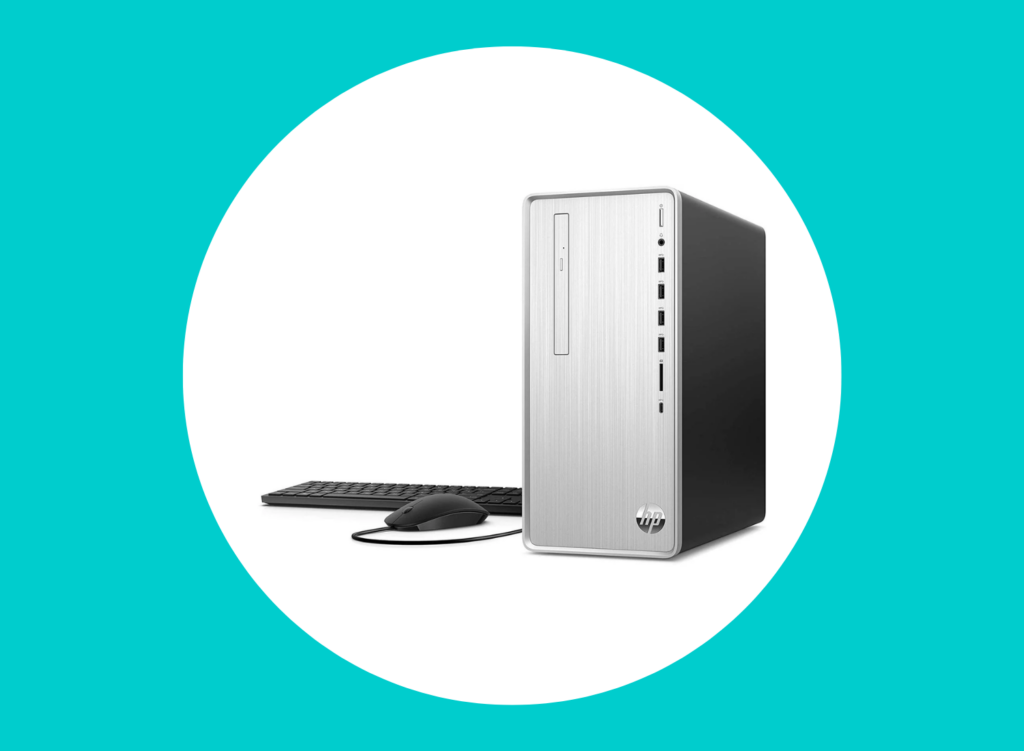 The HP Pavilion Desktop TP01-2009 is a great desktop computer for Canadian businesses, boasting compatibility with many software programs such as analytics tools, development, and design suites. This desktop is powered by AMD Radeon Graphics, with 8GB DDR4 RAM for maximum performance. There's plenty of storage, too – 256GB SSD comes pre-installed. Its powerful AMD Ryzen 3 5300G processor makes multitasking effortless – perfect for the busy professional. With a price under C$700, it is an affordable option for small businesses in Canada.
ACER C27-1700-EA91 AIO Desktop PC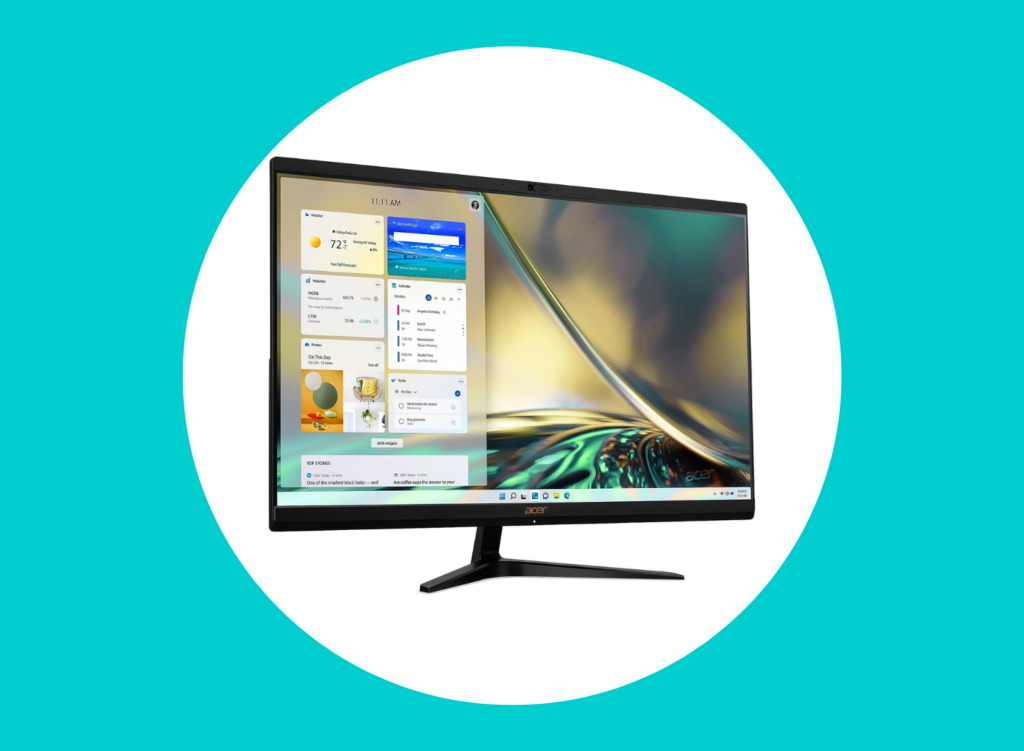 The Acer Aspire C27-1700-EA91 is the perfect all-inclusive desktop for Canadian businesses. This powerful system comes packed with a mobile Core i5 processor, Intel Iris XE graphics card, 8GB of RAM, and 256GB SSD – plus an expansive 27" Full HD IPS display that provides incredible visibility and can be easily tilted to suit your needs. The Acer Aspire C27 is an outstanding choice for companies seeking a potent all-in-one desktop computer that won't hog up much desk or office space. Its powerful performance, competitive price point, and vast array of features make it the perfect fit for most businesses needs.
Apple 2023 Mac Mini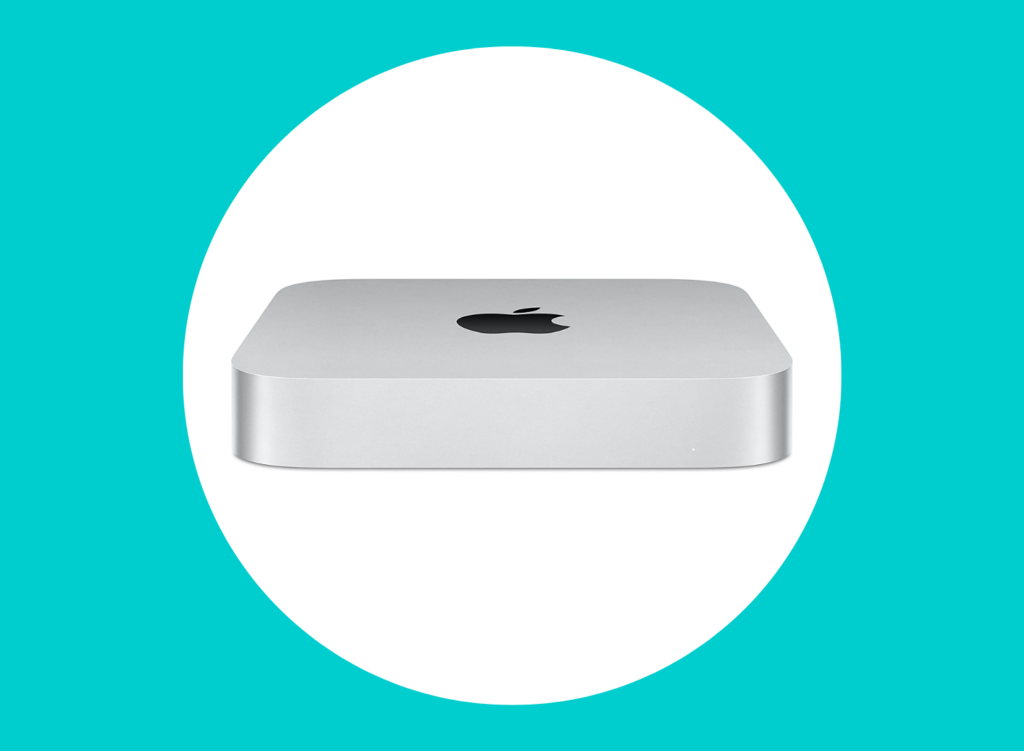 Probably there is no "the best computers" list existing on the internet nowadays without Apple products. Apple 2023 Mac Mini is a powerful alternative to Windows desktop computers. The M2 chip is the driving force behind this device, delivering impressive 8-core CPU and 10-core GPU performance, as well as a whopping 16-core Neural Engine. The Mac Mini has impressive performance, features, and price. Not only that but its integration with other Apple products like iPhones and iPads makes sharing data between devices effortless. Moreover, the built-in security measures such as FileVault encryption and secure boot technology provide an extra layer of protection against malicious threats – something you won't find in most Windows machines.
ASUS S500SC Desktop PC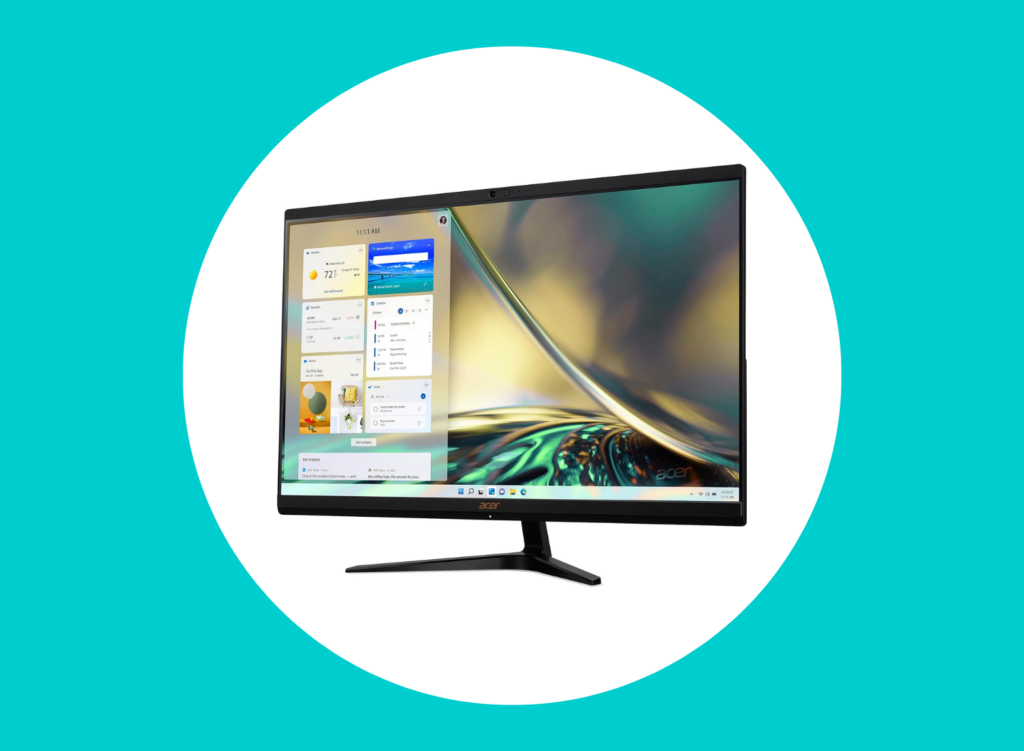 The ASUS S500SC Desktop PC with Intel Pentium® Gold G6405 processor is ideal for Canadian small businesses. It offers immense power and dependability in a compact package, allowing you to achieve more while using less space. It also features a 512GB PCIe SSD that ensures ample storage capacity and lightning-fast boot times. Moreover, ASUS's comprehensive technical support team guarantees peace of mind. Remember that you can modify desktop PCs easier and upgrade them if needed. You can add more storage or buy a new processor or graphics card. However, the computing power of the ASUS S500SC will be enough to meet your business needs for years to come.
HP 23.8 inch All-in-One Desktop PC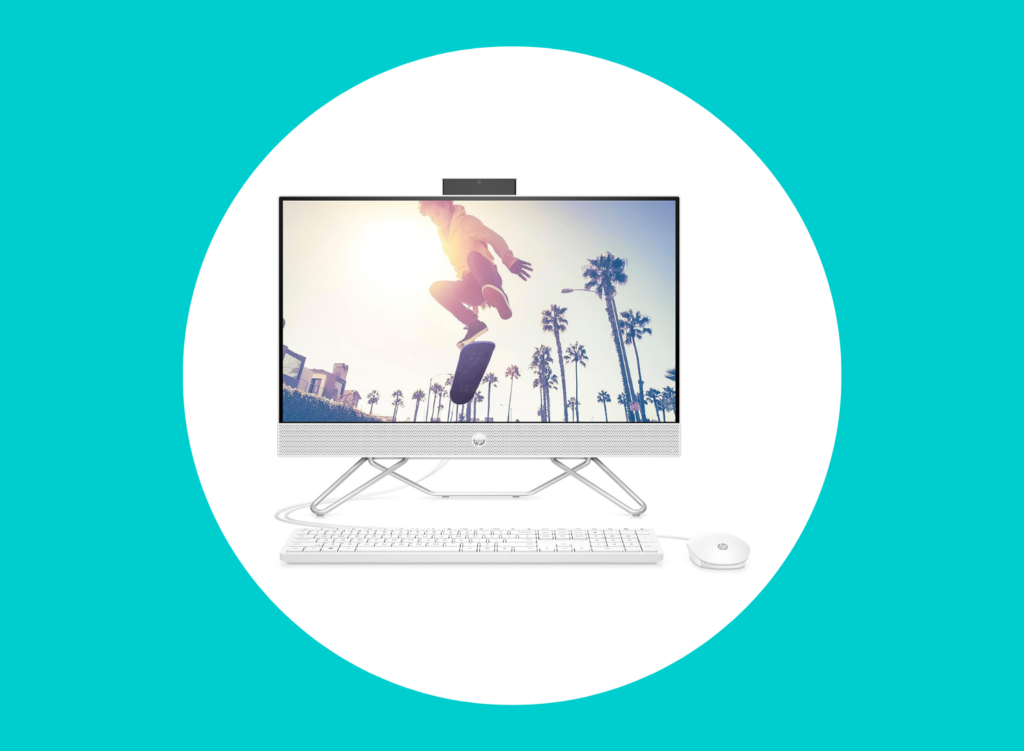 This is the most powerful AIO PC on our list. While its price may be higher, but considering its spec sheet, it is more than reasonable. HP 23.8 inch All-in-One Desktop PC is a great choice for businesses in Canada, boasting AMD Ryzen 3 5300U processor, 8GB of SDRAM, 256GB SSD storage capacity, and a 23.8″ full HD display. It also provides enhanced connectivity options with dual-band WiFi and Bluetooth and compatibility with today's most widely used software systems. Plus, it has a sleek, modern look that will surely fit any workspace or office environment thanks to its slim profile and white finish.
Best laptop-tablet hybrid for businesses
As technology evolves, more and more tech companies are creating hybrid laptop-tablet computers. These gadgets blend the best of both worlds—laptops and tablets. These devices are much lighter in weight, which translates into increased portability. Therefore, here is a list of top-notch hybrids perfect for businesses based in Canada:
Lenovo Yoga 7i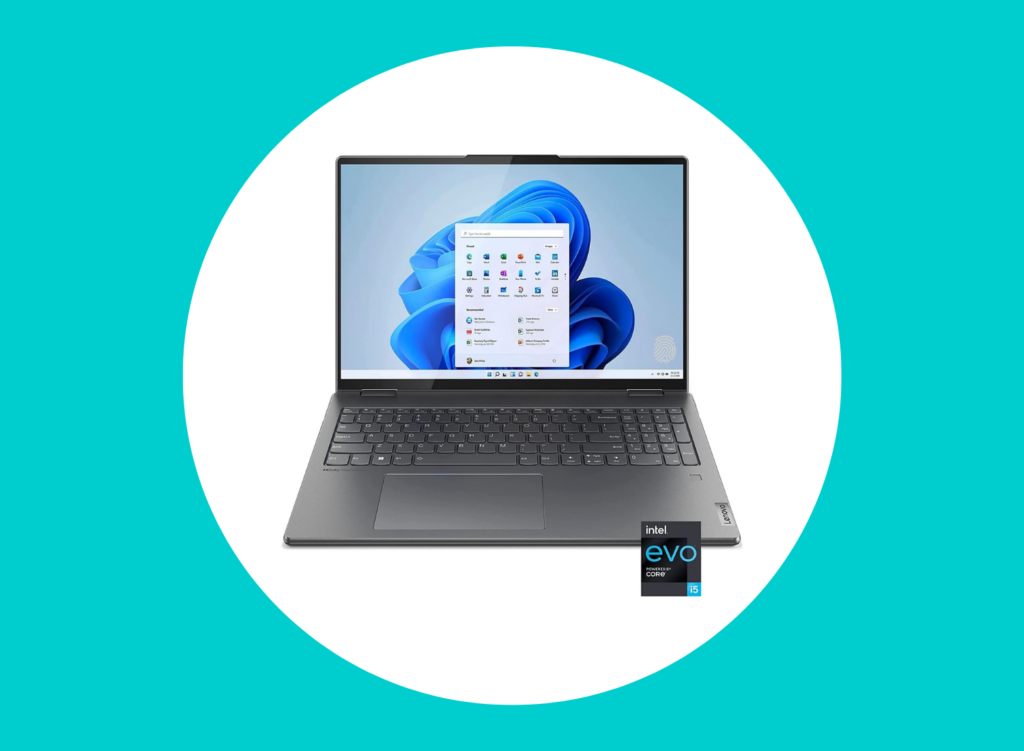 The Lenovo Yoga 7i Touch Laptop is perfect for the busy professional on the go. Its lightweight, portable design makes it a breeze to take with you wherever life takes you – be it business trips or meetings. And its long battery life ensures your productivity remains uninterrupted even when away from the desk. Moreover, its 2-in-1 versatility offers unparalleled convenience in settings such as presentations and video conferencing; just flip between tent/tablet mode, and voilà! If you find the price too high, we recommend you pay attention to Lenovo Yoga 6. This laptop is cheaper, has smaller dimensions, and is also a 2-in-1 convertible. While it has a weaker processor, it is also perfectly suitable for business-related needs.
Lenovo Flex 5 Chromebook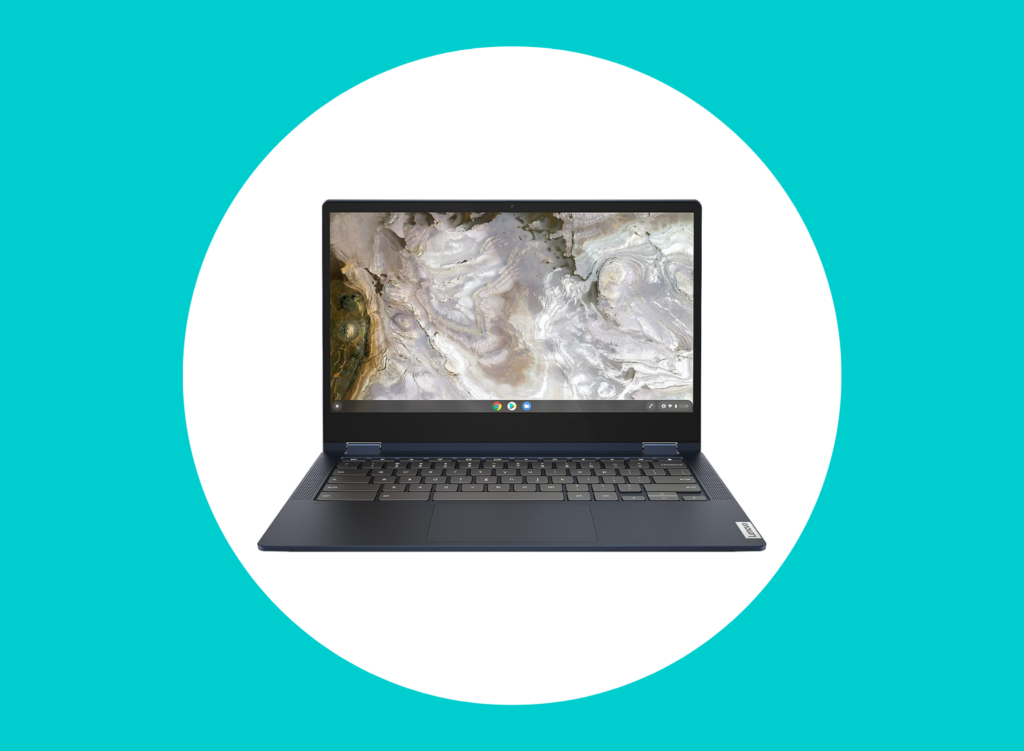 The Lenovo Flex 5 Chromebook is fast becoming the laptop of choice for Canadian businesses. And it's no surprise – Chromebooks have several advantages over traditional laptops, from their lightweight portability and long-lasting battery life to an attractive price tag. Although Chromebooks can be great for business tasks, they have a few drawbacks. Chief among them is the limited access to software programs compared to traditional laptops. If you need specialized apps or programs related to your job, it's likely that they won't be available on your device. Still, a Chromebook can be an excellent choice if you perform most of your tasks online. You can access your documents and notes from any device with cloud services like Google Drive, Google Sheets, and Google Keep.
Samsung Galaxy Book Pro 360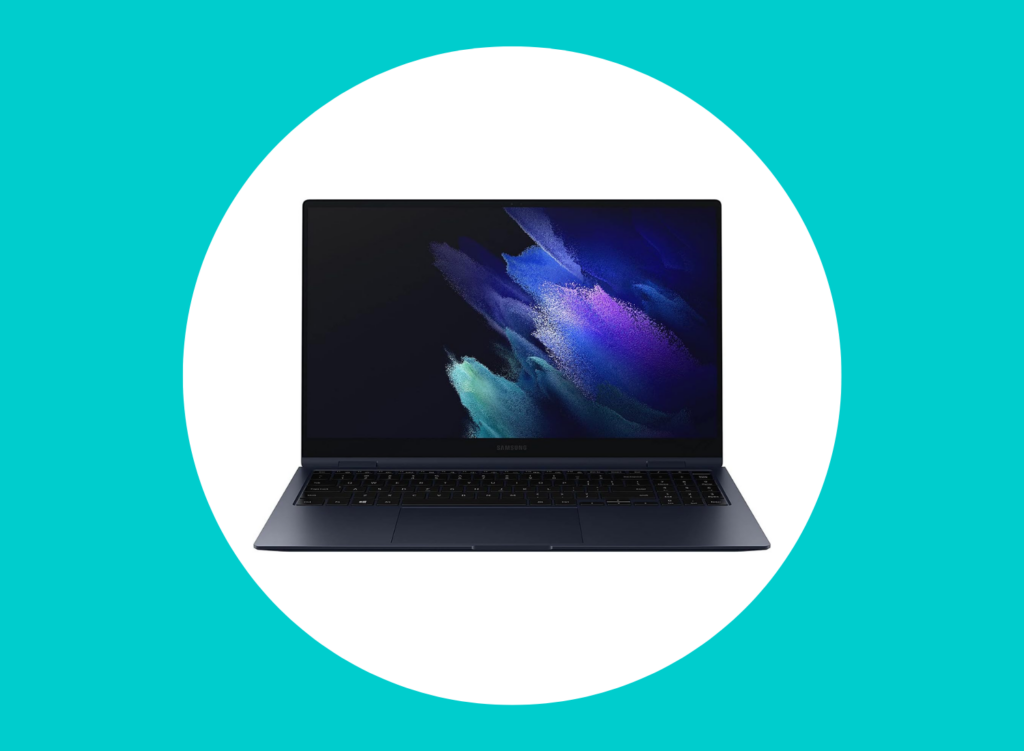 The Samsung Galaxy Book Pro 360 is designed to deliver peak performance, boasting a powerful Intel 12-Core i5-1240P processor, Intel Iris Xe Graphics, and 8GB DDR4 RAM – an impressive combination that enables users to take on complex tasks like video editing with ease while multitasking without experiencing any slowdowns or hiccups in performance. Boasting a fingerprint reader and TPM chip, this laptop ensures top-notch security. Your business-related data is protected from any unauthorized access with the help of these two features.
Microsoft Surface Pro 9 – Platinum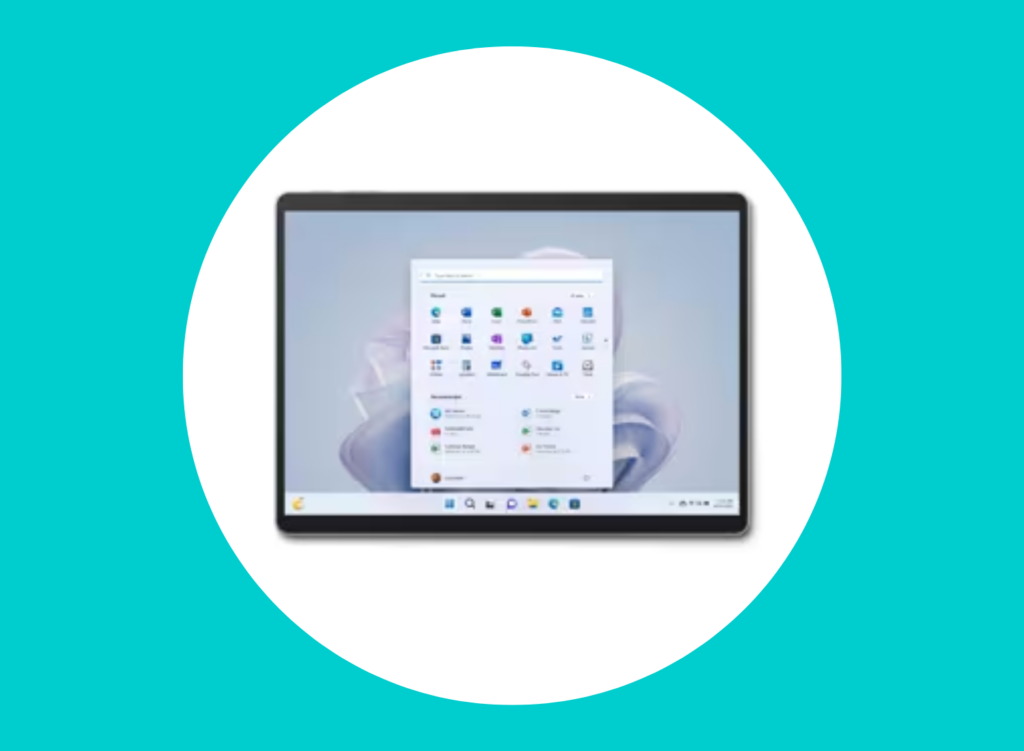 While this particular laptop-tablet hybrid is quite pricey, it is totally worth every penny. The Microsoft Surface Pro 9 – Platinum combines a tablet's convenience and a laptop's performance. Boasting a 12th Gen Intel i5 processor plus a 13″ touchscreen, it provides you with flexibility beyond imaginable. Plus, with optional 5G connectivity, you can stay connected wherever life takes you! Not to mention its impressive 16GB RAM and 1TB SSD storage that ensures plenty of space to store your documents and programs. You can buy a physical keyboard for higher convenience, and you won't see any difference between this hybrid and any traditional Windows 11 laptop. This laptop-tablet hybrid is great for business owners, managers, and freelancers.
Dell Inspiron 16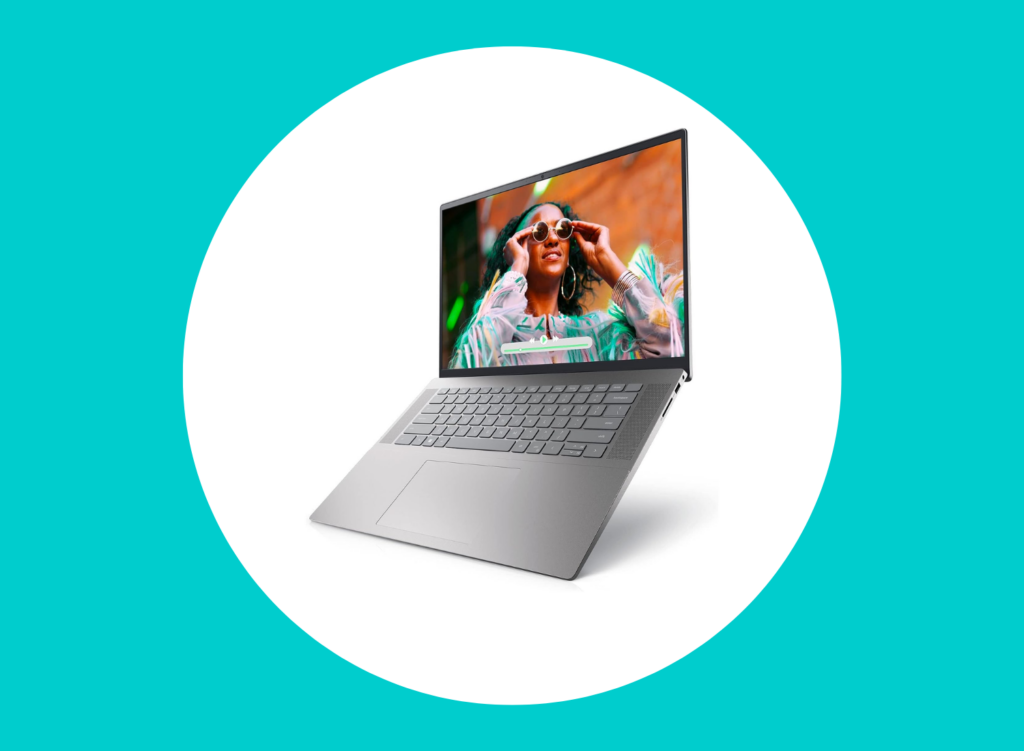 The Dell Inspiron 16 is a powerful laptop-tablet hybrid that can meet almost every business need. The Dell Inspiron 16 boasts high performance, thanks to its 12th Gen Intel® Core™ processor. Moreover, this laptop is built for the long haul with an aluminum chassis construction and reinforced corners. Plus, you can comfortably type in low light conditions due to the convenient backlit keyboard or keep your data secure with a fingerprint reader. Lastly, enjoy visuals on its 3K IPS display – perfect for work projects or streaming movies alike.
When selecting a business computer in Canada, make sure to identify the tasks you intend on executing with it. Pick an option that satisfies your requirements, and don't overlook important elements such as size, portability, battery life, and security features. For simple office tasks, we recommend buying a Chromebook or a budget laptop, while for more complex ones, make sure you buy a laptop or desktop PC with an Intel i5 or similar processor and at least 8GB RAM. Get your credit card ready and take your time to explore which option best suits your budget and needs.
FAQs about the Best Business Computers in Canada for 2023
Can I claim a computer as a business expense in Canada?
As a business registered in Canada, you can deduct computers as a business expense and amortize it over a few years. As an employee earning commissions, however, you can only deduct part of the cost of computers if you lease it.
How to create a small business computer network?
Investing in the right hardware is essential to create a small business computer network. Consider routers, switches, firewalls, and WAPs that are designed to accommodate changing needs over time. After you have all the necessary devices, plug all computers and servers into the main network switch, then connect any other devices like Wireless Access Points (WAPs). Finally – configure each device as per individual requirements.
Are all-in-one computers good for businesses?
All-in-one computers (AIOs) generally provide a great balance of convenience, space efficiency, and hardware for performing business tasks. They don't require as much space as tower desktops. However, they can be more expensive than desktop PCs or laptops.
Compare Business Credit Cards