The Ultimate Guide to Intuit QuickBooks Accounting Software for Canadians
QuickBooks is an expense management and accounting solution offered by Intuit. QuickBooks services are used by millions of subscribers in North America each year. This tool is primarily designed for small and medium-sized businesses (SMBs). The main goal of the service is to simplify bookkeeping and daily management of your company's accounting and finances.
Regardless of whether you're using a Mac or a PC, the online version of QuickBooks is easily accessible from your web browser. The information is stored in the cloud using cloud computing technology. Updates are made instantly and the service is accessible from anywhere.
To subscribe to QuickBooks, you'll need to choose the package that suits you best. After that, you simply record your sales and expenses on the site as you go along. Even without accounting knowledge, users can easily track their sales and expenses as well as consult various financial reports.
Which version of Intuit's online QuickBooks is right for you?
Intuit's QuickBooks offers the following four packages, tailored to everyone's needs.
Easy Start
This package is suitable for self-employed entrepreneurs and small businesses. It grants access to a single user. The range of services offered includes everything needed to track revenue and expenses, generate financial reports, and send invoices and quotes. Plus, you will have access to track your vehicle mileage if applicable, as well as maximize tax deductions.
This package costs $24 per month with a free 30-day trial, or at a 75% discount for the first six months without a free trial, starting at $6 per month.
Essentials
In addition to the services available with the Easy Start package, the Essentials package offers you invoice and payment management, multi-currency transaction support, and tracking hours worked. At this level, there is the possibility to register up to three users. This package is perfectly suited to a small or medium-sized business.
This package costs $48 per month with a 30-day free trial, or at a 75% discount for the first six months without a free trial, starting at $12 per month.
Plus
The Plus package is better suited to medium-sized businesses. With this option, you have inventory management and project profitability tracking included. This comes on top of what is offered with the Easy Start package. Also, with the Plus package, you are entitled to five users.
This package costs $72 per month with a 30-day free trial, or at a 75% discount for the first six months without a free trial, starting at $18 per month.
Advanced
This package is better suited to medium-sized businesses with more specific needs. With this one, it is possible to have up to 25 users, create different roles for each of them, and customize their access. It is also possible to generate custom reports and manage employee expenses. Access to premium support service is also included.
This package costs $140 per month with a 30-day free trial, or at a 75% discount for the first six months without a free trial, starting at $35 per month.
Please note that you can add the QuickBooks Payroll module to your package for an additional $25. You can also change your package at any time without penalty.
What are the main advantages of Intuit's QuickBooks?
Intuit's QuickBooks includes numerous benefits that make it an indispensable tool for managing your business finances. Here are a few.
Easy to set up
In the beginning, you'll need to fill in the required information in the Settings section, including basic details such as the company's contact information, type of business, legal structure, and tax information.
Then, you can connect your business bank accounts and create records of your customers and suppliers. These records are saved, so there is no need to re-enter the information each time.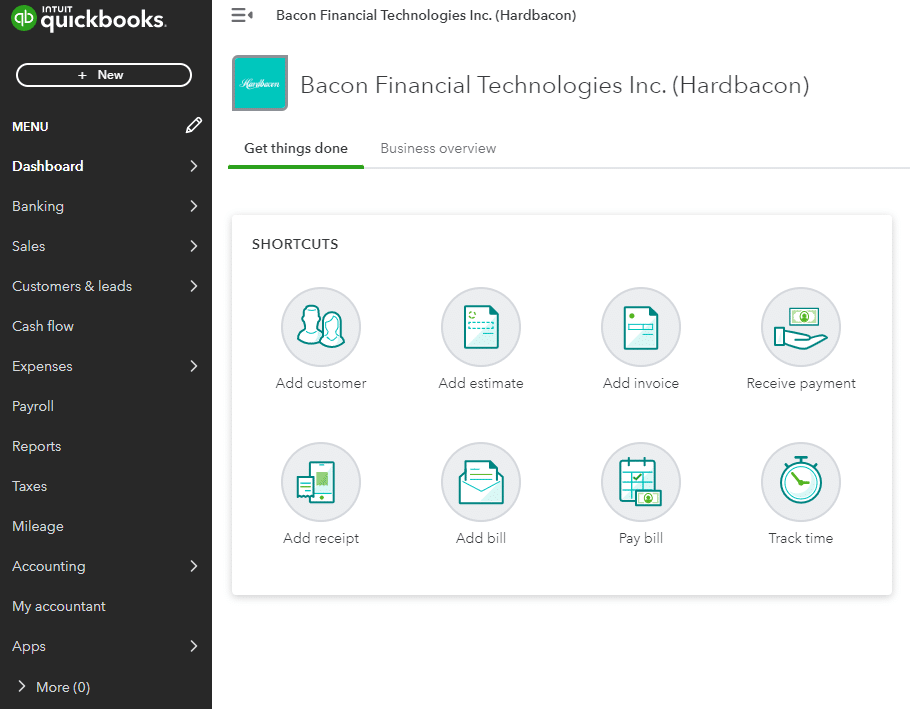 Intuitive dashboard
QuickBooks displays information on an easy-to-understand dashboard. From here, you will find:
Paid & upcoming invoices
Categorized expenses
Bank account information
Up-to-date income statements
Sales history in graph format
The left section of the screen includes the most popular links, for example: entering a new expense or invoice to be paid, taxes, vehicle mileage, etc.
The layout of the dashboard is user-friendly and allows for a quick overview of your company's financial situation. The "Privacy" button, at the top right of your screen, allows you to quickly hide your company's private information if you are in a public place.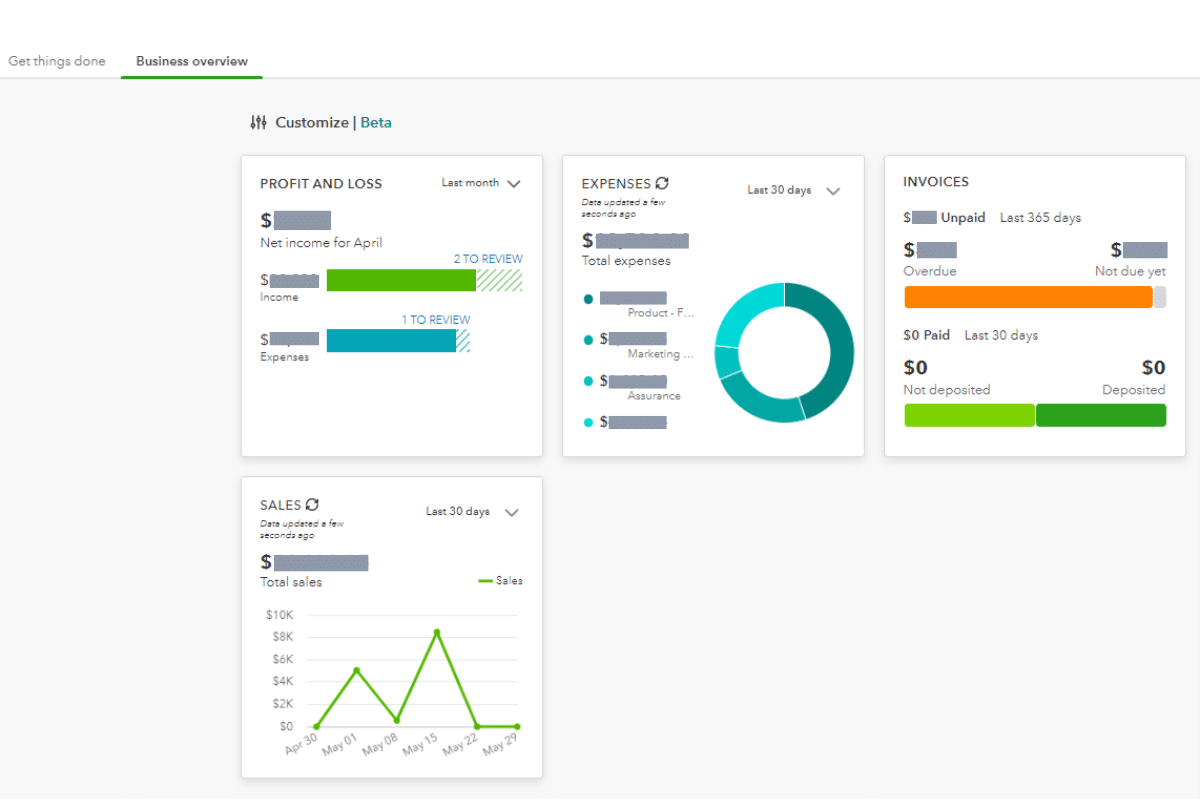 Easy to connect your bank accounts
This is one of the features best features for SMBs. By adding your banking information, QuickBooks will automatically import your transactions. Then, it will assign each transaction to the appropriate expense category. Transactions that the software is unable to categorize are flagged for the user to categorize manually. To reduce the number of transactions that have to be manually processed, you can create rules that tell the software what to do with certain transactions. For example, if you use an account for a specific type of transaction, you can create a rule so that all transactions through that account are categorized the same way.
Note: it is possible to upload your financial operations using an Excel file.
You can add as many bank accounts as you want, including your business credit cards. The information is saved securely so you can easily get an overview of your financial situation. Only the accounts used for business expenses should be linked.
Simplified expense management
QuickBooks allows you to easily enter your supplier invoices and saves their information as well as the payment terms associated with each of them. As soon as you tell QuickBooks that a payment has been made, the software matches it with your bank transactions. This simplifies the bank reconciliation process and allows you to have an accurate picture of your finances. If it is an invoice to be paid, QuickBooks will send you a reminder when the invoice is due.
You can also attach supporting documents to your transactions to keep track of them.
Automatically tracks customer invoices
Tracking your customer's invoices with QuickBooks is simple. Select the "Sales" tab and then "Customers," and a list of your customers will automatically appear along with the balances for each of them. QuickBooks also indicates unpaid invoices and unbilled activities. You can ask QuickBooks to send a reminder email to late-paying customers.
To create a new invoice for an existing customer, simply click on "New." Then, select your customer's name and their details will automatically be added to your invoice. Your products and services are available in a drop-down menu. You just need to select the appropriate information. You can add new products or services at any time.
The invoices and emails generated by the software look professional and can be customized as needed.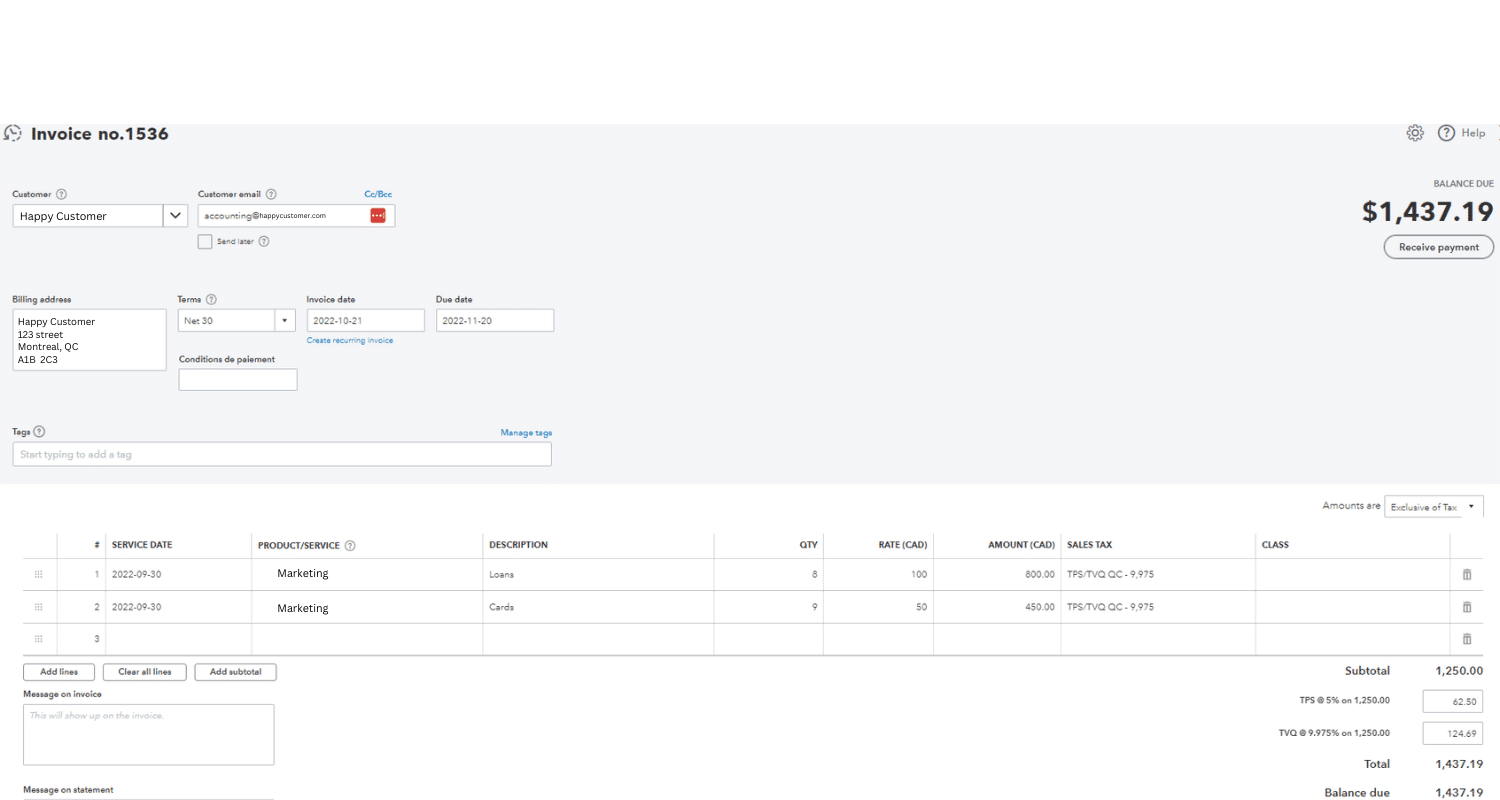 Detailed Reports & summary reports
With the Plus version of QuickBooks, you can generate about sixty different reports, while the Easy Start Package includes more than twenty. There are summary and detailed reports according to your preference. Summary reports present the information to give you an overview with key indicators to monitor.
Among the most popular reports, you'll find:
Balance Sheet: This is a "snapshot" of your company that shows its complete financial situation at the moment. The balance sheet presents the assets and liabilities of your business
Summary customer accounts: This report makes it easy to find outstanding amounts, i.e., customers late on their payments.
Income Statement: This report provides an overview of all your current transactions (income less expenses). It allows you to assess the profitability of your business.
Detailed reports display all existing transactions for your accounts, and the reports can be exported to Excel or saved in PDF format.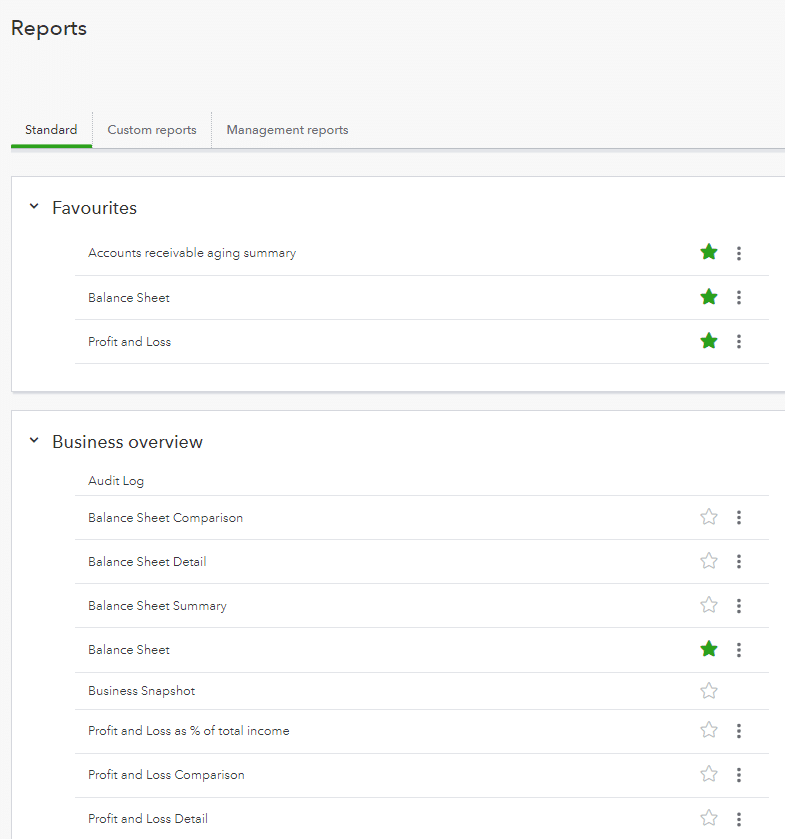 Sales & income tax
QuickBooks calculates the amounts due for you, such as employer withholdings and federal and provincial taxes. This information appears on the dashboard and is updated as you go.
It's easy to set up your sales tax needs. Simply answer basic questions about your obligations and indicate your province of residence. QuickBooks then takes care of tracking and notifying you when it's time to make your return.
Inventory management
If you opt for the "Plus" or "Advanced" packages, you will have access to the "Inventory" module. This is an essential service if you have to manage a significant physical inventory. The software will track your cost of goods sold and available stocks for you.
If a particular product drops in stock, the software can send you alerts according to the notification terms you have defined. It is also possible to synchronize QuickBooks with online sales platforms, such as Amazon, to make your inventory tracking even more efficient.
Invite your accountant!
From QuickBooks, you can give your accountant access to your books! They can view your transactions and use that information to advise you or answer your questions more easily. This option will make end-of-year work easier for your accountant, such as closing the books and preparing tax statements. Given the popularity of QuickBooks, most accountants are very familiar with the software, which reduces the risk of errors.
If you do not yet have an accountant, QuickBooks has a search tool to find a professional in your area.
QuickBooks payroll
QuickBooks gives you the option to add a payroll solution for an additional $25 per month plus $4 per employee per month. The module is powerful and can suit a small or medium-sized business. Here are the included options:
Automatic calculation of contributions to things like government pension plans, employment insurance, etc., and the ability to submit them directly to federal & provincial authorities
Direct deposit from QuickBooks is possible
Establish multiple calendars and payment frequencies
Input work hours into timesheets, which automatically updates your employees' payroll
Assistance in preparing tax forms
QuickBooks cash flow planner from Intuit
By selecting the "Cash Flow" tab followed by the "Planner" option, you can access a very interesting budget planning tool. It is a cash flow statement that includes past and future transactions. Thanks to the information entered into the software and your banking data, QuickBooks generates a current and projected cash flow statement. What is attractive is the possibility of adding events to see the impact they can have on your future cash flow.
Save your receipts easily
QuickBooks allows you to save your receipts easily and thus facilitate your year-end. You just need to take a photo of your receipts and the software takes care of saving them. The photos can be imported from your computer, phone, tablet or emails. In addition, the "Match" function immediately finds the bank transaction associated with this receipt.
The QuickBooks app on your smartphone
The application is free for anyone subscribed to QuickBooks. It is available both in the App Store and on Google Play.
From the app, you can send invoices, track your expenses and much more. The information is automatically updated on all your work tools. The application has already been downloaded by millions of users from the App Store and has a rating of 4.7/5, with over 100,000 reviews.
Free trial period
There is a 30-day free trial period with no commitment. During this period, you can test the features offered by QuickBooks to determine if the product suits your needs.
User support
If you have any questions about the software, it is possible to join the QuickBooks community from Intuit. This is an open forum that allows you to communicate with QuickBooks experts and other service subscribers. You can consult already-asked questions or ask new ones. The questions are categorized to help speed up your search.
You can also chat online with a member of the Intuit QuickBooks support team.
The QuickBooks site also contains several relevant articles and tutorial videos covering all modules of the application from startup to billing, inventory management, payroll, and more.
QuickBooks desktop vs QuickBooks online
The desktop version, called QuickBooks Desktop, is accessible only from your desktop computer. The data from your business is saved on your PC only. It is also your responsibility to protect your data and create backup copies. Updates are also done manually and the interface on the desktop software is less intuitive than QuickBooks Online.
The "Desktop" option has been less and less popular since the advent of QuickBooks Online.
Frequently Asked Questions about QuickBooks
Can I use Intuit's QuickBooks for free?
Yes, there is a 30-day free trial period with no commitment. During this period, it's possible for you to test the features to determine if the product suits your needs.
Can I cancel my QuickBooks subscription without penalty?
Yes. You can stop your subscription at any time without any penalties.
How do I use QuickBooks with my accountant?
You can invite your accountant to view your books. It only takes a few clicks to give them access.
How do I use Intuit's QuickBooks Online for my business?
Here is a quick list of steps:
1. Visit the QuickBooks Online website
2. Choose the plan that suits you
3. Answer the questions about your business in the "Settings" tab
4. Connect your bank data
5. Customize your invoices and quotes
6. Set up the sales tax applicable to your activity
Can I create a budget in QuickBooks?
Yes, by selecting the "Cash Flow" tab and then the "Planner" option, you access a budget planning tool.
Compare Business Credit Cards