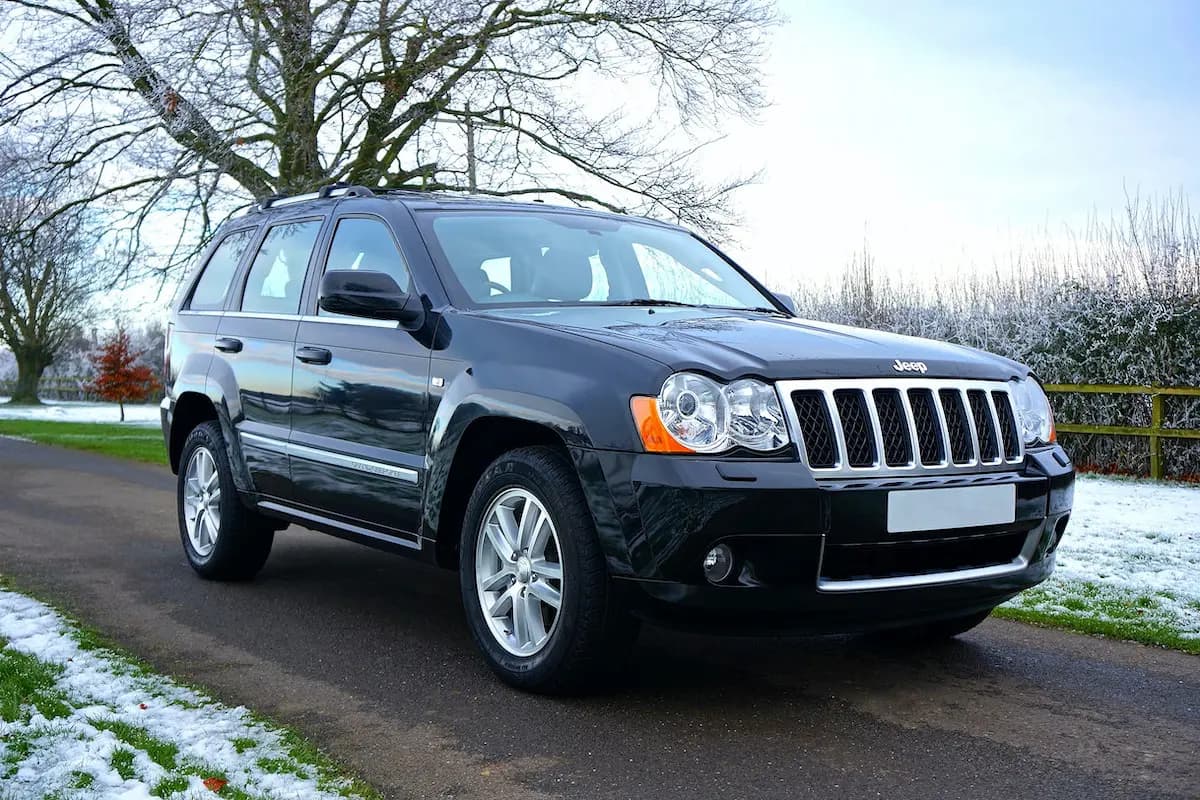 Canada's best SUVs have a significant presence on our roads. Their versatility makes them perfect for various uses, from large family trips to solo voyages. But with so many options, how do you pick one that offers the best value for your money?
Beyond the sticker price, you need to account for the total cost of ownership which includes car insurance, gas and maintenance. We've delved into the data to present you with a comprehensive guide to finding the best financial fit for your vehicle needs. Ultimately, we've dug up the 10 best SUVs in Canada – with tips to prepare for your purchase and protect your investment.
The Best SUVs in Canada: How We Estimated The Costs & Ranking
As you work through our list of the best SUVs in Canada, you'll notice some important numbers. We calculated the ownership costs to help inform your decision about your purchase and the long-term impact on your budget.
Starting Price: Car prices can vary significantly depending on the region or specific dealership. The prices in this article arise primarily from Ontario dealerships and pertain to the base models of the respective vehicles.
Cost of Gas: We calculated the average cost to fill up using the vehicle's specific fuel-tank capacity and estimated combined city/highway fuel economy. Further, we priced gas at the Costco in Winnipeg on the morning of Oct. 4, 2023. Therefore, please note that these qualify as average estimations and real-world conditions may yield different results.
Average Cost to Insure: The indicated average cost of car insurance for each model comes from national averages. Actual insurance costs vary substantially based on numerous factors unique to each person such as age, gender and geographical location. Further, they reflect your driving record, intended use of the vehicle, type of coverage chosen, and more. Therefore, always shop around and compare car insurance quotes to find the best price for your coverage needs.
Ranking: We ranked these SUVs based on the "value for money" principle. Overall, it takes into account factors such as base price, fuel economy, safety, longevity and other attributes. The list's order does not reflect which stands out as best overall, since each has its own positives.
1. Mazda CX-30: Best Crossover SUV
Why we picked it: Low price tag, solid safety features and AWD in all models.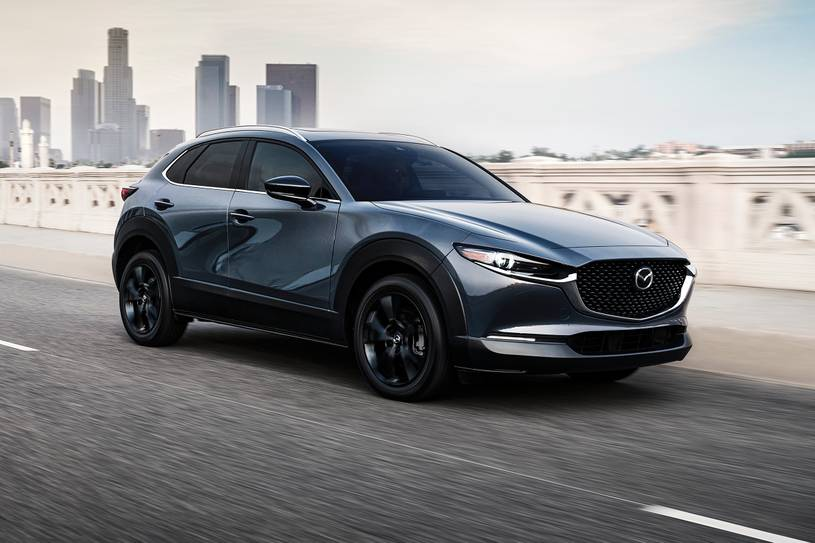 Base Model Price: $30,869
Fuel Economy (combined city & highway): 8.2 L/100 km
Safety Rating: 5 stars
Average Cost to Fill Tank: $69.55
Average Cost of Insurance: $140/month
The Mazda CX-30 is the best crossover SUV in Canada due to its low price tag and rich safety features. It starts as low as $30,869. However, the more expensive versions, which can cost up to $40,700, feature the 250-HP GT Turbo engine. All models come with a six-speed automatic transmission and all-wheel drive.
This car offers good fuel economy and lots of excellent safety features. These include rear cross-traffic alerts, blind-spot monitoring, adaptive cruise control, automatic emergency front braking, pedestrian detection and lane-keep assist. Moreover, drivers also appreciate automatic high-beam control, driver attention alert and lane departure warning. Unfortunately, the Mazda CX-30 doesn't offer as much space or comfort as some other SUVs on this list.
2. Hyundai Kona: Best Small SUV
Why we picked it: The most affordable SUV on the list with decent safety and fuel efficiency.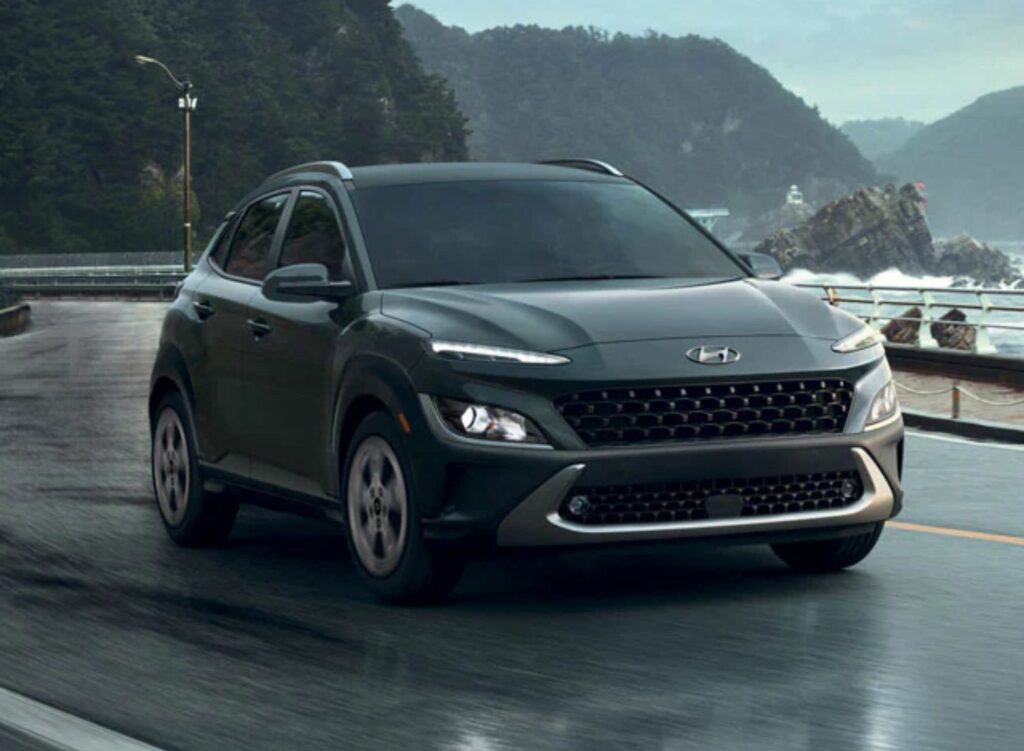 Base Model Price: $28,656
Fuel Economy (combined city & highway): 87.5 L/100 km
Safety Rating: 4 stars
Average Cost to Fill Tank: $68.10
Average Cost of Insurance: $235/month
Marketed as the SUV for the city, the 2023 Hyundai Kona ranks as one of the best SUVs. Its 18-inch alloy wheels make it comfortable to drive, with the power sunroof allowing for more fun. The car starts at a modest $28,656 with an option to purchase upgraded versions ranging from $31,156 to $38,156. The cheaper version features a 2.0L Atkinson DOHC multi-point injection engine. The more expensive version features a 1.6L Turbo-GDI 4-cylinder engine, with 195 horsepower and 195 lb./ft. of torque.
This small car has standard features, such as automated emergency braking, a lane-departure warning system, and LED lights. Although it isn't cargo-friendly, it offers decent legroom.
3. Subaru Crosstrek: Most Reliable SUV
Why we picked it: Affordable, strong reputation for reliability, good for rough terrain.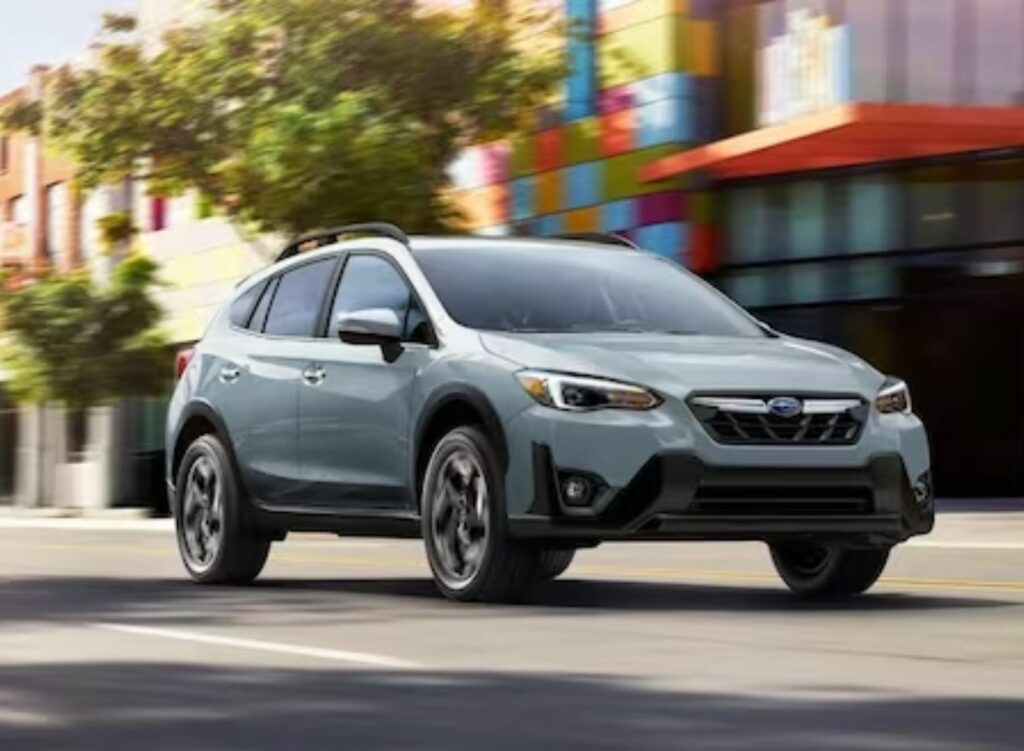 Base Model Price: $31,572
Fuel Economy (combined city & highway): 10.5 L/100 km
Safety Rating: 5 stars
Average Cost to Fill Tank: $86.94
Average Cost of Insurance: $139/month
First, the 2023 Subaru Crosstrek stands out one of the best SUVs in Canada for its impressive features. Second, its low starting price of $31,572 makes it affordable compared to other models. Features include multiple airbags, driving assist systems, such as traction control, vehicle dynamic control and impact-absorbing footrests. Even better, this car offers a smooth drive even on rough terrain as it comes with a double-wishbone rear suspension system. It also features a spacious cargo area, although leg space remains limited.
Buyers can choose from two SUBARU BOXER® engines. For starters, the 2.0L, 4-cylinder engine offers a maximum of 152 horsepower at 6000 RPM. Further, its fuel economy depends on whether you choose a manual or automatic transmission. You'd get 10.5 L/100km in the city on manual and 8.5 L/100km with automatic. Overall, this makes the Crosstrek one of the most fuel-efficient vehicles in Canada. Alternatively, the 2.5L 4-cylinder engine provides up to 182 horsepower at 5800 RPM.
4. Toyota Rav4: Most Popular SUV
Why we picked it: A higher price tag but the most popular choice in Canada, offers both standard and hybrid fuel-efficiency options.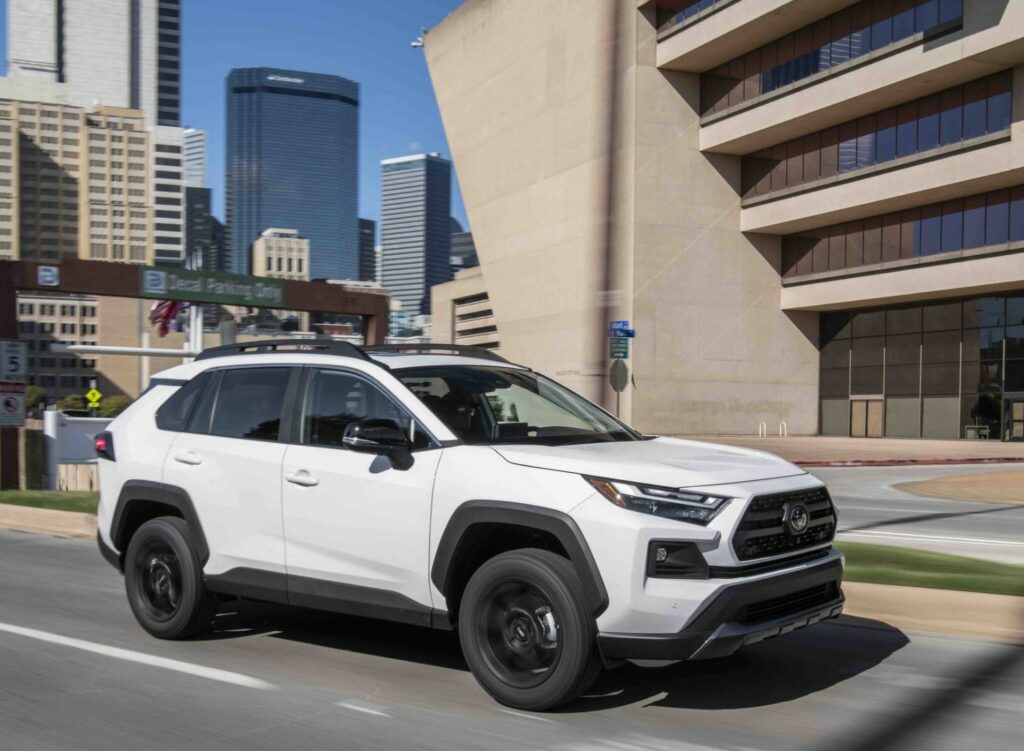 Base Model Price: $36,235
Fuel Economy (combined city & highway): 8.5 L/100 km
Safety Rating: 5 stars
Average Cost to Fill Tank: $79.70
Average Cost of Insurance: $262/month
The RAV4, which starts at $36,235, has the distinction as one of the most popular and best SUVs in Canada. Overall, Toyota sold 55,291 units in 2022 alone. These days, the hybrid version starts at $39,035.
The base model of the LE AWD has heated front seats and an eight-speed automatic transmission. Further, it offers a 2.5 Litre, four-cylinder, dual variable valve timing with intelligence (VVT-i) engine with 203 horsepower.
The car offers a fuel efficiency of 8.7 L/100km in the city, making it one of the most economical SUVs in Canada. On the other hand, the hybrid 's synergy drive engine delivers great fuel economy. For instance, you get 5.8 L/100km in the city, with 210 net horsepower. Of course, Toyota heavily markets its hybrid model. After all, the company calls it the best hybrid SUV in Canada due to its low price tag and comfortable interior.
5. Kia Seltos: Best Feature-Packed SUV For The Price Point
Why we picked it: An impressive range of features for its competitive price.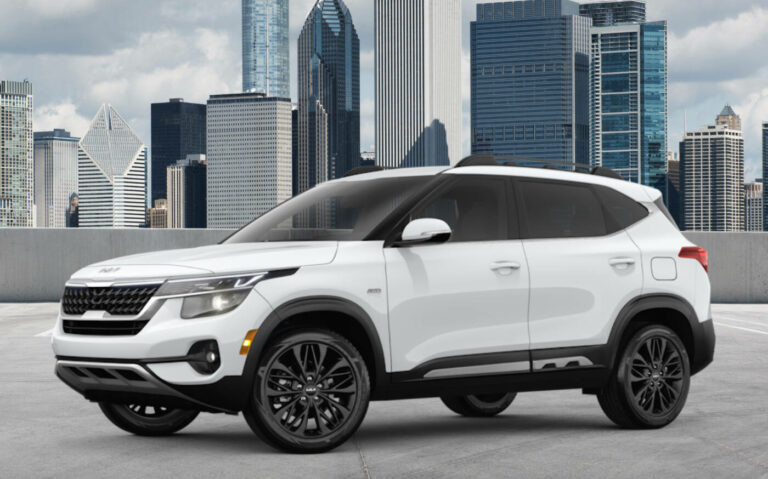 Base Model Price: $27,833
Fuel Economy (combined city & highway): 8.7 L/100 km
Safety Rating: 4 stars
Average Cost to Fill Tank: $72.45
Average Cost of Insurance: $187/month
The 2024 Kia Seltos starts as low as $27,833 and has some impressive features. First, consider its steering wheel-mounted audio controls, a height-adjustable driver's seat, heated front seats, alloy wheels and touchscreen infotainment. Generally, this car impresses in the safety department as well thanks to six airbags, a central door lock and immobilizer. It even comes with a blind-spot collision warning. It offers a luxurious experience with comfortable seats and 38 inches of rear legroom.
The cost of car insurance creates another interesting advantage of this vehicle. On average, you'd pay around $187 per month in Canada. Naturally, always make sure to compare car insurance policies to get the best premium. Also, look at the cost of energy and maintenance if you're looking for the most economical car.
The car offers peak horsepower of 146 lb./ft. at 6,200 RPM, and a fuel economy of 8.2 L/100km in the city. The intelligent variable transmission offers a smooth drive. Meanwhile, the 2.0L multi-point injection engine provides a torque of 132 lb./ft. at 4,500 RPM. However, the handling isn't very efficient.
6. Jeep Wrangler: Best Low-Maintenance SUV
Why we picked it: Built for rugged terrains with a strong reputation for low maintenance.
Base Model Price: $46,660
Fuel Economy (combined city & highway): 11.8 L/100 km
Safety Rating: Not rated
Average Cost to Fill Tank: $95.64
Average Cost of Insurance: $233/month
The Jeep Wrangler delivers a body-on-frame SUV starting as low as $46,660. Typically, this vehicle traverses difficult terrains and rides comfortably on rocky paths. Moreover, you can buy also packages to boost performance and get more out of the vehicle. The most popular model, the Wrangler Xtreme Recon Package, features 35-inch tires, wheel flare extensions, modified shocks and water-fording capacity.
However, even the basic version of this SUV impresses. For instance, the Wrangler Sport features a 3.6L V6 Pentastar Engine with a 6-speed manual transmission. Not surprisingly, this spacious car has decent leg space and a variety of available add-ons. Safety features include a parking assistance system, forward collision warning, adaptive cruise control and a forward-facing camera. Above all, this car is known for being easy to maintain.
7. Volvo XC40 Recharge: Best Electric SUV
Why we picked it: A higher upfront cost but offers fuel savings over the long run thanks to electric power with considerable range.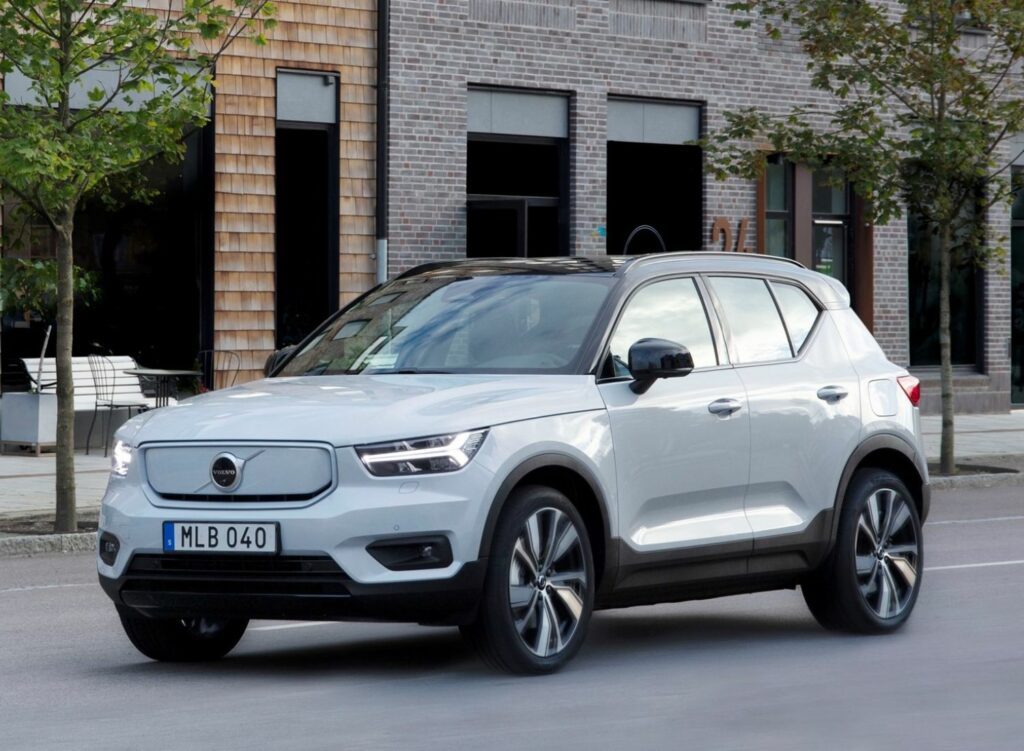 Base Model Price: $60,650
Electric Range: up to 472 km
Safety Rating: Not rated
Average Cost to Fill Tank: N/A
Average Cost of Insurance: $157/month
Those looking for a compact SUV in Canada should consider the Volvo XC40 Recharge, whose base model starts at $60,650. Principally, the Recharge TWIN Core AWD model runs as fully electric. However, it also comes in hybrid version for individuals who do not want an electric car. For examples, the hybrid has a fuel economy of 7.6 L/100km in the city and a powerful engine that goes up to 402 horsepower. The battery takes about 37 minutes to reach 80-percent capacity. Meanwhile, the twin motor can reach 100km/hr in just 4.8 seconds, which makes it one of the best SUVs.
Chiefly, this is one of the safest and most technologically advanced SUVs in Canada. In short, it comes with an advanced air-purifier system, driver-assistance technology, pixel lights and an updating digital service package. Finally, a leather-free interior gives the car a unique look. Also, there's a small but efficient smart storage compartment.
8. GMC Yukon: Best Customizable Full-Size SUV
Why we picked it: Spacious with a wide array of configurations and trim levels to tailor your driving experience.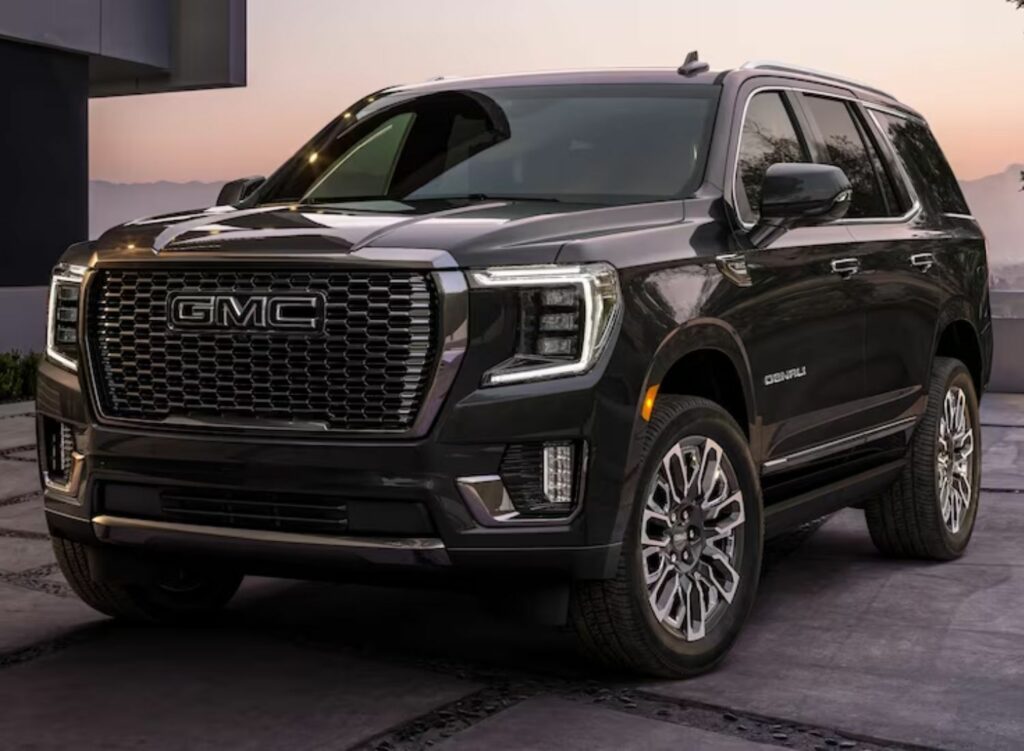 Base Model Price: $77,429
Fuel Economy (combined city & highway): 16.6 L/100 km
Safety Rating: 4 stars
Average Cost to Fill Tank: $131.86
Average Cost of Insurance: $153/month
The 2023 GMC Yukon full-size SUV comes in different variations. As a result, it became one of the best SUVs in Canada because of how easily you can customize it. The SLE & SLT models can accommodate up to 9 people, whereas the AT4 model can accommodate up to 8. However, the AT4 is the more expensive option, starting at $93,817 while the base model costs $77,429. Its safety features include forward collision alerts, automatic emergency braking and front pedestrian braking. You also get airbags and a parking assistance system.
Those who want luxury can choose the Yukon Denali Ultimate. The price for this model opens at $103,361, but features a 6.2L V8 engine with 420 horsepower and 460 lb./ft. of torque. It has very comfortable seats and a luxurious alpine umber interior.
The SLE & SLT feature a 5.3L V8 engine with 355 horsepower and 383 lb./ft. of torque. The AT4 delivers more power with a 5.3L V8 engine with 355 horsepower and 383 lb./ft. of torque. Both models offer about 36.7 inches of legroom. All variations also feature a 10-speed automatic transmission. Safety features include rear cross-traffic alerts and blind spot monitoring. Plus, drivers can change the terrain to enjoy a comfortable ride on all kinds of roads.
9. Chevrolet Suburban: Best Full-Sized SUV for Seating Capacity
Why we picked it: Maximizes comfort with its generous second and third-row legroom.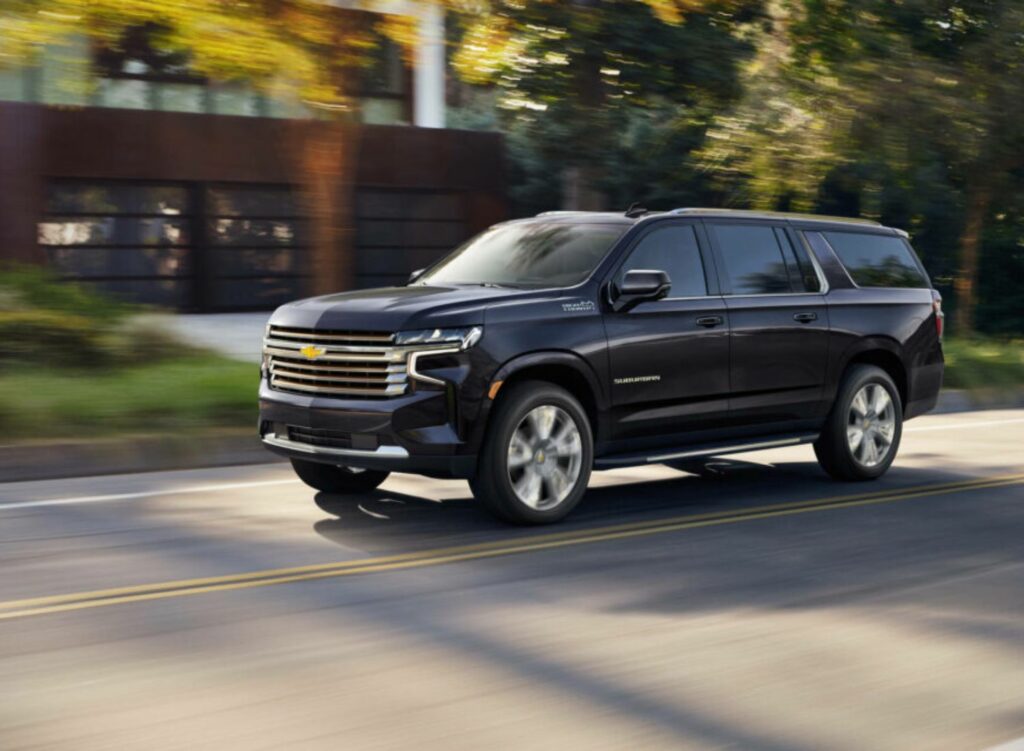 Base Model Price: $77,029
Fuel Economy (combined city & highway): 13.2 L/100 km
Safety Rating: 4 stars
Average Cost to Fill Tank: $153.60
Average Cost of Insurance: $314/month
The large, rugged, and durable 2023 Chevrolet Suburban made our list as one of the best SUVs in Canada. It comes in 10 colours and has generous second and third-row legroom. The car can seat up to 9 individuals and rolls up on massive 22-inch wheels. One of the largest SUVs in Canada, the Suburban starts at $77,029 and is available in different variations. This includes the High Country, which costs over $107,441 and offers a 420 HP 6.2L EcoTec3 V8 engine with direct injection, variable valve timing, and dynamic fuel management.
Even the cheapest version impresses. It features a 5.3L V8 engine and a 10-speed automatic transmission. Seats on all models are comfortable, and buyers can choose to purchase a variety of add-ons, including heated seats and memory settings.
10. BMW X3: Best Luxury SUV
Why we picked it: Premium luxury experience, combines power, style and advanced safety features.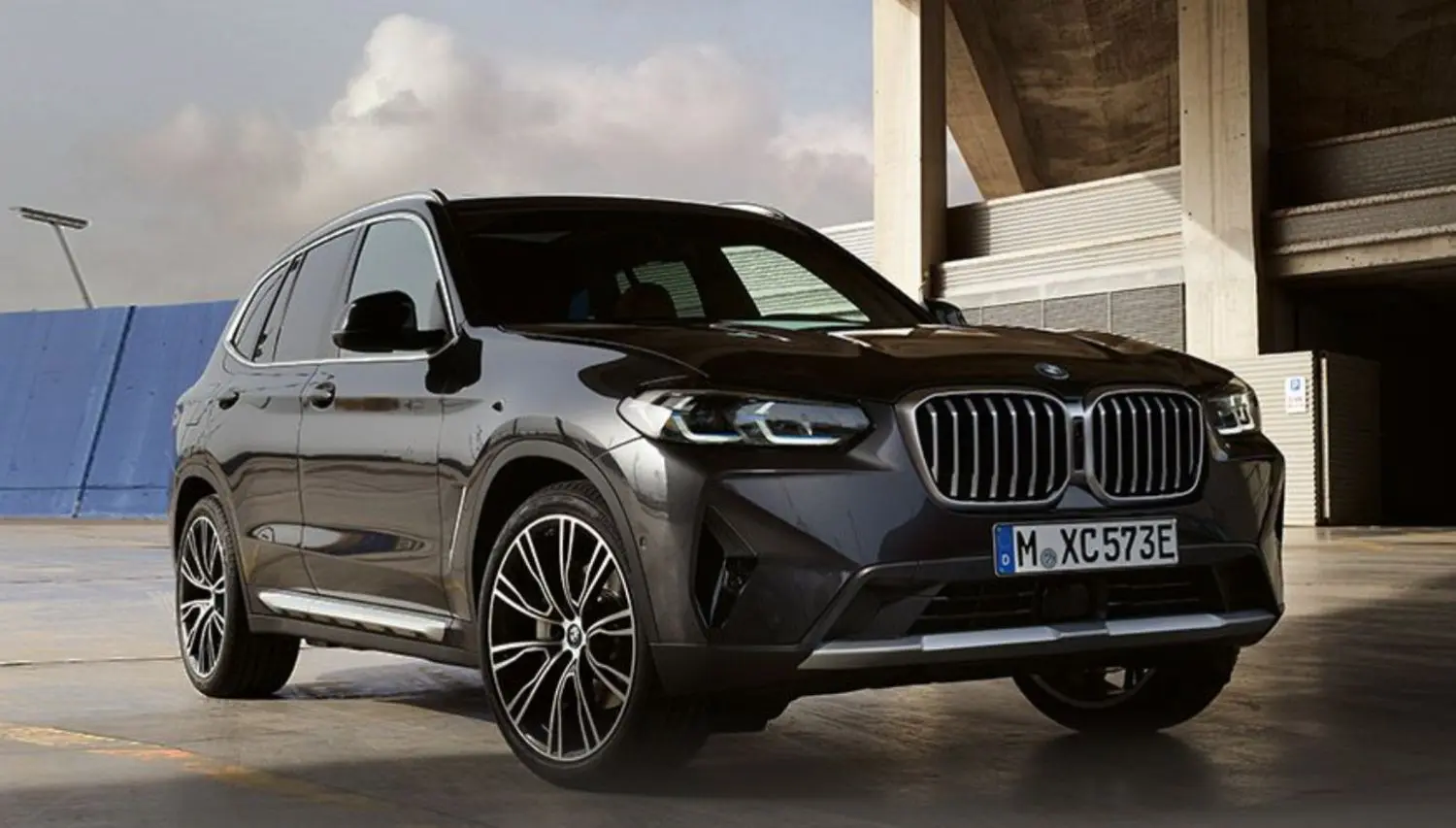 Base Model Price: $56,700
Fuel Economy (combined city & highway): 9.3 L/100 km
Safety Rating: 5 stars
Average Cost to Fill Tank: $94.19
Average Cost of Insurance: $330/month
Those who want luxury can opt for the BMW X3. Starting at $56,700, this family car has an outstanding design. It is fun to drive and features spacious seats, good cargo space and refreshed styling. Style aside, the car packs a powerful engine as well.
The BMW X3 features TwinPower turbo engines that offer up to 473 horsepower. The car can accommodate five individuals and has very comfortable seats with generous leg space. It is considered a safe car thanks to features such as lane-keeping, blind-spot monitoring, and adaptive cruise control. Updating to higher versions will cost $64,990 and $72,300.
Ready to Buy? Understand the Real Cost of SUV Ownership
For many Canadians, owning an SUV reflects both a practical choice and a status symbol. The spacious interiors, the capability to handle diverse terrains, and the safety features make them an attractive option – especially on Canada's rough roads in harsh winters. However, beyond the initial price tag, you'll face several other costs associated with ownership if you want to buy the best SUV without sacrificing long-term financial wellness.
Upfront Cost
Purchase Price: Depending on the brand and model, as well as any added features or trim packages, the price of an SUV can vary widely. Additionally, if you're considering financing the vehicle, interest rates and loan terms can significantly impact the overall amount you end up paying.
It's important to understand how car loans work in Canada and whether you should buy or lease. Even dealership promotions may not turn into all they're cracked up to be. Deals like zero-percent financing offer absolutely no benefit for most people and come with hidden costs.
Most importantly, try to drive down the purchase price as much as possible because it has the biggest impact on your wallet and long-term financial wellness. Sharpening your negotiating skills and controlling the car-buying process will save you the most amount of money on your purchase.
Insurance
In Canada, you cannot legally drive without car insurance, making this the second most important cost to consider. Insuring an SUV gets influenced by several factors, including the vehicle's safety features, its likelihood of theft and its repair costs. Historically, certain SUV models might have higher insurance premiums in Canada due to a higher probability of theft or costly parts. When it comes to choosing the best SUV for your needs and budget, the following features can help reduce your car insurance premiums:
Repair costs (high-end and/or imported cars tend to be more expensive to repair than standard and/or domestic)
But it doesn't stop there. Certainly, shop around for car insurance and compare quotes. This ensures you get the best possible price so you don't end up overpaying to protect your investment.
Fuel Economy
With gas prices on the rise, considering the fuel efficiency of your SUV matters more important than ever. The cost of fuel can add up, especially for larger, less efficient models. Always consider the SUV's litres per 100km (L/100km) rating, fuel tank capacity and the current cost of gas to estimate your monthly and yearly fuel expenses.
This is especially important if you need to drive often, or over considerable distances. In some cases, a hybrid or Electric Vehicle (EV) may be more appropriate based on long-term savings.
A quick and easy way to save on fuel is to pay for it with one of the best credit cards for gas. Just make sure to pay the balance off in full each month so interest charges don't negate your savings.
Licensing and Registration
In Canada, the cost to license and register a vehicle can vary by province. Some provinces, like Quebec, have higher registration fees for larger vehicles like SUVs. If you buy a vehicle from out of province, you'll likely have to pay a five to 13-percent tax when it comes time to register it in your home province. This can be a significant expense that most buyers do not prepare for. You also need to consider the cost of a safety inspection to register and insure your vehicle, which can range from $100 to $300.
Maintenance and Repairs
Vehicle owners should expect regular maintenance, including oil changes, tire rotations, and brake inspections. However, with generally larger SUVs, some parts might cost more to replace or service. Additionally, depending on the brand, certain SUVs might have pricier parts or more expensive service fees.
Beyond regular maintenance, you may also face costs related to protecting your own safety and that of others. Winter tires can be a considerable expense but significantly reduce the likelihood of collisions, getting stuck or hitting the ditch. Some insurance companies even offer rebate programs and payment plans to incentivize drivers to buy proper winter tires since these tires reduce the number of claims.
Depreciation
Even the best SUVs start to lose value as soon as you drive them off the lot. On average, a new vehicle in Canada can lose anywhere from 20 to 30 percent of its value in the first year alone. By the time it's five years old, it might retain only about 60 percent of its initial value. If you plan to own the SUV until it is no longer driveable, then this isn't really an issue. But if you plan to trade in or sell the car, then choosing an SUV that retains its value should stay top of mind.
I Have Bad Credit, Are The Best SUVs in Canada Off Limits to Me?
No problem, some lenders out there will finance car loans for people with all kinds of credit scores. So don't despair, you might still be able to buy one of the best SUVs. For instance, Car Loans Canada's  online platform can help you secure a car loan from various lenders across the country, regardless of your credit history. From perfect credit scores to big blemishes like bankruptcy, they'll help you find the right lender and the lowest rate.
After your quick two-minute application, you'll receive personalized recommendations based on your financial situation and car needs. With no SIN number or down payment required Car Loans Canada makes it easy for you to get pre-approved. Then you can shop confidently within your budget, avoiding uncomfortable rejections.
FAQs About the Best SUVs in Canada