There are Air Miles, and then there are World Elite Air Miles. The BMO Air Miles World Elite Mastercard has one of the best Air Miles earn rates of all the credit cards in Canada and offers all the exclusive VIP travel perks you'd expect from an elite credit card. This card offers great flexibility to those who love to travel and shop. Additional perks and benefits ensure all your bases are covered whether your shopping, travelling, or both.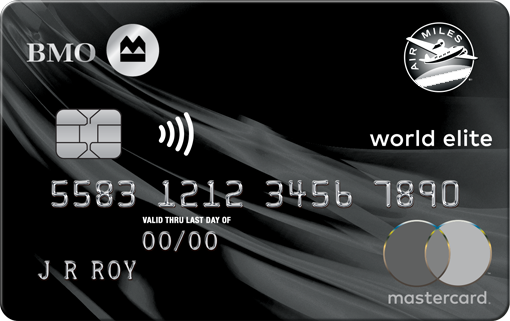 Annual Fee: $120, waived the first year
Welcome Offer: 2,000 bonus Air Miles when you spend $3,000 in the first 3 months
Interest Rates: 20.99%, Cash advances 23.99%, Quebec Residents 21.99%
Air Miles Earn Rate: 1 mile for every $12 spent on every card purchase
Additional Card: $50
Min. Income Required: $80,000 annual personal income or $150,000 annual household income
BMO Air Miles World Elite Mastercard Welcome Offer
Travel credit card lovers are welcomed to BMO with up to 2,000 bonus Air Miles when you sign up and spend $3,000 in the first 3 months. They'll also waive the annual fee of $120 for your first year. New and returning cardholders also get a special offer for Apple Music.
Elite Travel Benefits at a Glance
The BMO Air Miles World Elite Mastercard is loaded with travel perks and benefits, and with bmorewards.com you can easily cash out your rewards or book and redeem travel, anytime, anywhere without restrictions. You can also book discount flights, hotels, and rental cars, or even plan your entire vacation from the website. Other travel benefits include, but are not limited to:
Earn a 15% flight discount on all AIR MILES flights in North America with no blackout periods

Earn 2X the reward miles at National Car Rental

Complimentary MasterCard Airport Experiences with access to over 850 VIP lounges

Two annual complementary LoungeKey passes

Earn up to a 25% discount at participating National Car Rental and Alamo Car Rental locations

Free trip cancellation insurance

Free purchase protection against theft or damage for 90 days
Earning Air Miles at a Glance
BMO offers one of the largest loyalty programs in Canada, and that means you earn more miles on everyday purchases at national retailers such as Costco, Staples, Transat, and Shell. You can also earn miles at participating grocery stores. Here's the numbers on your Air Miles rewards:
Earn 1 mile for every $12 in credit card purchases

Earn 3x the miles when you use your card at participating Air Miles partners

Earn additional Air Miles for purchases charged to Supplementary Cards.

Earn more Air Miles when retailers run Mega Miles promotions
Double dip Air Miles rewards when you use your BMO Air Miles World Elite Mastercard and show your Air Miles membership card
Air Miles Reward Flexibility
The Air Miles program is one of Canada's biggest and most loved rewards programs. Not only does the BMO Air Miles World Elite Mastercard help you earn them faster, Air Miles can be redeem in different ways based on your preferences. If you're an avid traveler, you'll want to focus on earning Dream Miles that can be redeemed for travel expenses like flights, hotels, car rentals as well as merchandise and gift cards. If you're less into travel and more into free stuff and discounts, you'll want to focus on earning Cash Miles that can be used for in-store purchases at Air Miles partner retailers, as well as travel.
Be careful though, when a reward is earned in one category, like Dream Miles, you can't transfer it to the other category, like Cash Miles. When you get your BMO Air Miles World Elite Mastercard, make sure you also set up an Air Miles account on the airmiles.ca website. There, you can choose how you earn miles in each category, like splitting them equally or something like 75% to one category and 25% to the other. You have a lot of flexibility to decide what's more important to you here: discount travel, or discount stuff. Keep in mind that Dream Miles have a higher conversion value when you redeem them to book flights and eligible travel expenses.
Additional Travel Perks of the BMO Air Miles World Elite Mastercard
BMO Air Miles World Elite Mastercard offers travel insurance and medical protection insurance on bookings are made with the card. Customers under 65 will automatically get emergency medical protection up to $2 million when they travel of the province or country for 15 days. You'll also get a Collision Damage Waiver when you rent a car with your BMO Air Miles World Elite Mastercard. You'll also get access to Trip Assistance Services like emergency cash transfers, lost document and ticket replacement, help with lost luggage, and pre-trip information.
Additional travel benefits include trip cancellation, interruption, and delay coverage, benefits for delayed or lost baggage, coverage for damage to qualified personal effects from theft or damage to your rental car, legal assistance, and more.
When you book flights with your BMO Air Miles World Elite Mastercard you'll get a complimentary Mastercard Airport Experiences membership provided by LoungeKey, which gives you access to air port lounges. You'll also get a complimentary Boingo account giving you free access to over a million Wi-Fi Hotspots around the world.
BMO Air Miles World Elite Mastercard also offers cardholders exclusive cash back offers when they shop with partners around the world. You'll continue to earn Air Miles rewards anywhere in the world when you use your card to shop, dine, and unwind with their partner merchants while travelling abroad.
New BMO Air Miles World Elite Mastercard customers get will get Apple Music free for the first 4 months. Return customers will get 3 months free, but current cardholders are not eligible for this offer. Apple Music gives you access to 90 million songs that you can listen to across all your devices.
Available Add-ons for your BMO Air Miles World Elite Mastercard
Customize the card to fit your needs. The BMO Air Miles World Elite Mastercard offer a la carte add-on's to added security and to help you get the most of your card. There are 4 additional features you can add to your card, each for a monthly subscription fee:
Credit Alert costs $19.99 a month to help protect you against identity theft and fraud. You'll get quarterly credit report summaries, an update credit score every month, alerts when there is activity on your report, and additional support.


BMO Roadside Assistance is $69 per year for the basic package or $98 per year for the enhanced package. You'll get access to free emergency calls and tow truck services anywhere in North America for non-commercial passenger cars.


InfoProtector360 is $9.99 and protects all your personal information and important documents whether you're home or traveling abroad. Lost Wallet Protection will cancel all your cards and offer identity fraud support. Information Protection backs up your important personal information and documents so they can be accessed from anywhere in the event of an emergency. It also monitors and sends alerts if your information is being used in the public domain. Travel Protection provides resources and alerts about your travel destinations.


Balance Protection costs $1 per $100 of your credit card balance. Covers your balance up to $20,000 and protects your credit in the event you are unable to work from a job loss, disability, or death.
Digital Features and Security
Use the BMO mobile app to have full control over your BMO Air Miles World Elite Mastercard. From the app, you can report your card lost or stolen, lock it, unlock it, and even reset your Personal Identification Number (PIN). Keep track of your spending, balance, dispute a transaction, and even get 24/7 access to your credit score through CreditView.
The BMO Air Miles World Elite Mastercard offers zero liability protection if you suffer a monetary loss from the unauthorized use of your card. Online purchases include an identity check. You'll also get alerts on suspicious activity and large purchases.
BMO Air Miles World Elite Mastercard: Who is This Mastercard for?
Anyone who loves to travel! This is probably one of the best Air Miles cards in Canada right now. With it's attractive welcome offer, ways to earn Air Miles, and redemption flexibility you'll never be boxed in. The BMO Air Miles World Elite Mastercard allows you to travel and save on your terms based on what's the most important to you. It has some of the most extensive insurance coverage ranging from emergency medical and trip cancellation to purchase protection, rental car, personal belonging coverage and more. Travel assistance, legal services, and additional perks for spending abroad makes travelling virtually stress free for those with a wicked case of wanderlust. It does take some planning ahead to get the most out of your Air Miles rewards be choosing how you earn Dream Miles versus Cash Miles, but it pays off if you take the time to asses your plans and your needs.
BMO Air Miles World Elite Mastercard Rating
| | |
| --- | --- |
| Introductory Offer: | 4/5 |
| Rewards: | 5/5 |
| Rates and Fees: | 2.5/5 |
| Perks and Features: | 4.5/5 |
| Total: | 4/5 |
Benefits and Perks
15% flight discount when you book with Air Miles
Air Miles can book any flight(s) in North America with no blackout periods
Air Miles high conversion rate when redeemed for flights
Earn 1 mile for every $12 in credit card purchases
Earn 2X the rewards at select car rental companies
Earn 3X the rewards at Air Miles partner retailer
Double dip rewards with BMO Air Miles World Elite Mastercard and your Air Miles membership card
Stack Air Miles rewards with Mega Miles events
Earn additional AIR MILES points for purchases charged to Supplementary Cards
Free 24/7 BMO Concierge Service
Complimentary MasterCard Airport Experiences with access to over 850 VIP lounges
Two annual complementary LoungeKey passes
2 Complimentary Lounge Passes
Earn up to a 25% discount at participating National Car Rental and Alamo Car Rental locations
Free trip cancellation insurance
Free purchase protection against theft or damage for 90 days
12 other insurance coverage benefits and protections
Discounts and exclusive offers on dining & entertainment
Access to over 1 million Wi-Fi hotspots around the world
Apple Music free for 4 months
App with self-serve security features
Customize card to your needs with optional add-ons
Find the best credit card for your needs