Chexy Review 2023: Convert Rent Into Credit Card Rewards?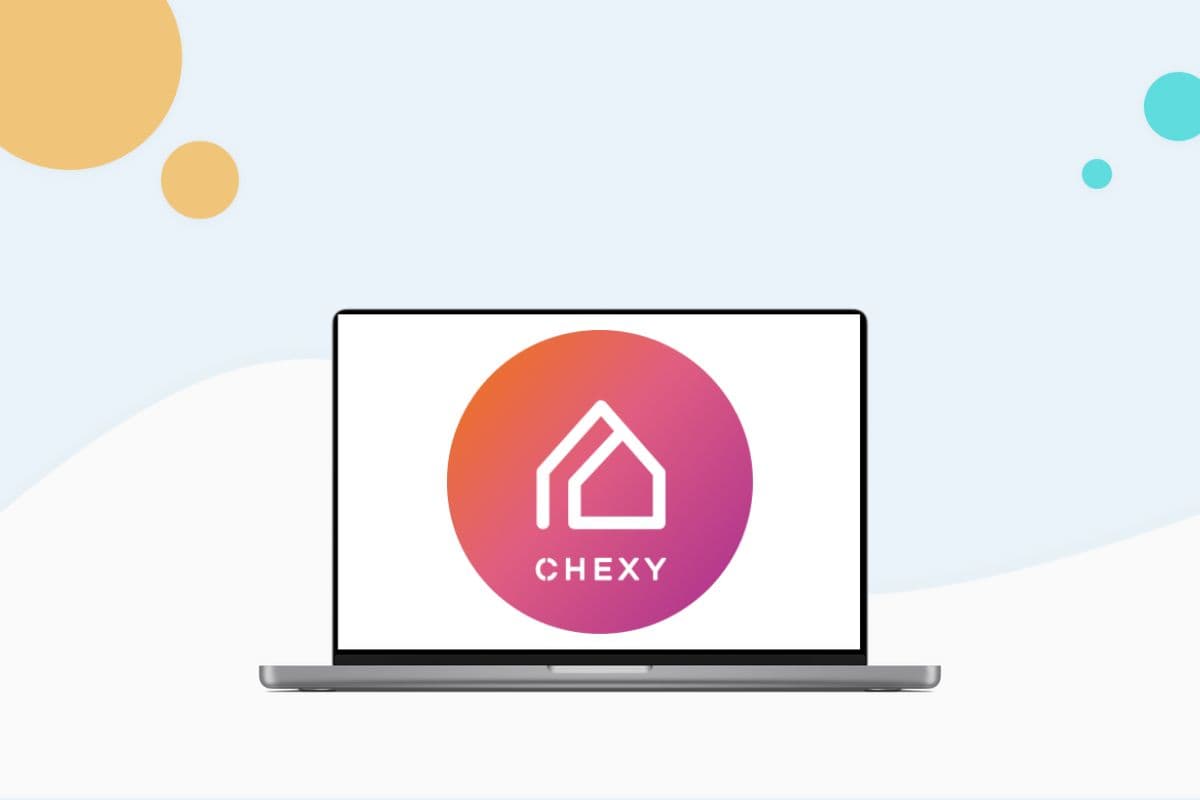 Wouldn't it be fabulous if you could earn credit card rewards on that massive monthly expense? Enter Chexy, the new kid on the block in the world of rent payments. This digital platform lets you pay rent with a credit card. Your landlord doesn't have to accept credit cards or even deal with Chexy. With the average cost of a 2-bedroom apartment tipping the scales at $2,200 per month, that's a lot of missed points, miles, and cash back. Not to mention, it's a great hack to build your credit score. But it can also be risky. If the math doesn't work, you could end up in the hole. Here's everything you need to know about Chexy and whether or not it's a smart money move. 
What Is Chexy?
Born and bred in Canada, Chexy is a Toronto-based fintech company that provides a rent payment platform designed for renters and landlords. It bridges the gap between tenants who want to pay with a credit card and landlords who want reliable rent payments. In the process, you can rake in some sweet rewards. It really is an elegant financial solution for people who like to give every penny a purpose.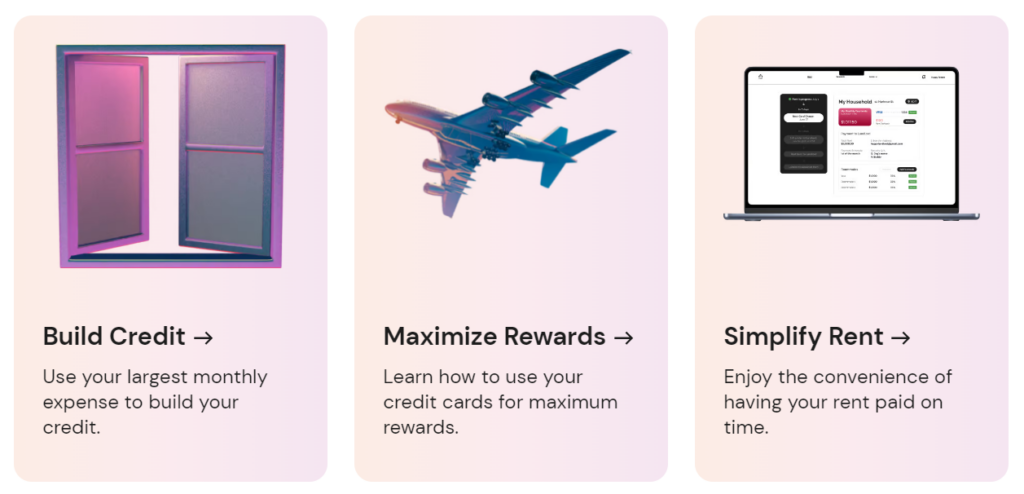 How Does Chexy Work?
If you love to automate all the things, Chexy is for you. Once you've entered your rental details and linked your preferred credit card, the platform will charge it automatically every month and eTrasnfer the money to your landlord. No more reminders, no more late payments. Neat, right?
eTransfers are sent out by 12 PM EST on Rent Day, and most of them are delivered to landlords by 5 PM EST that night. Worried about that pesky security question? Don't be. If your landlord doesn't have auto-deposit, you can have Chexy create one for you or do it yourself.
Now you can pay rent and bank rewards without even thinking about it. Plus, you're not pigeonholed to just credit cards. You can also pay by debit card and foreign-issued credit cards as well.
Whatever credit or debit card you choose, it's not set in stone. You can change your payment method anytime. Just make sure you do it at least 5 days before rent is due.
However, renter beware: Your card will always be charged 4 days before rent is due to ensure the transaction settles and your landlord gets paid on time.
What Payment Methods Are Accepted?
Chexy accepts the three major credit card providers: Visa, Mastercard, and American Express. You can also pay with your Canadian-issued debit card or with your non-Canadian credit card.
How Much Does Chexy Cost?
Chexy charges a 1.75% transaction fee per credit card payment, and just $1 per debit card transaction. If you pay with a non-Canadian credit card, it jumps to 2.5%. To be fair, Chexy is significantly cheaper than its main competitors who charge upwards of 3%. Still, that's a hefty price – especially if your rent is expensive (cough * Toronto* cough). Let's break it down:
The average cost of rent in Canada is about $2,200. If you pay rent with Chexy, the transaction fee will cost you $38.50. If you did this every month for a year, you'd paid a total of $462 in fees. Ouch!
Before you even think about using Chexy to rake in more credit card rewards, you have to carefully crunch the numbers. Not just any ol' rewards card will do. But we'll get to that later, so keep reading if you don't want to get screwed with fees.
Chexy Features
Chexy stands out from similar platforms because it's not a one-trick pony. Sure, getting rewarded for paying rent is its own reward. But more than that, you can earn discounts on rent, build your credit score, and make bank with referral bonuses. Here are the cool extras that Chexy has to offer:
Rent CashBack
The Rent CashBack program is Chexy's way of giving back to you. Think of it as a loyalty program, but instead of earning points for flights or hotel stays, you're earning cash that can be directly applied to your rent. Plus, there's the added bonus of double-dipping rewards from your credit card and directly from Chexy. How does it work?
Chexy provides a digital marketplace where you can shop from various online retailers. This isn't a new concept—many reward programs offer similar shopping portals. The difference is that with Chexy, any cash back you earn is specifically designated to offset your rent payments. Basically, you can shop your way to affordable housing.
Whenever you make a purchase through the portal, you earn a percentage of that purchase as cash back. The cash back rate varies by retailer but generally ranges from 1% to as high as 10% or more.
Once you've accumulated enough cash back, you can apply this amount directly to your rent payment through Chexy. Essentially, if you've earned $50 in cash back and your rent is $1,000, you'd only pay $950 for that month.
There's no limit on the amount of cash back you can earn, so the more you shop through Chexy's portal, the more you can potentially reduce your rent. Here are just a few of their partner retailers:
Walmart
Apple
Nike
Clearly
DAVID's Tea
Sephora
Referral Bonuses
Yay for another referral program! Every successful referral can earn you and the other person $5 each, plus any bonus rewards you qualify for. Once you have an account with Chexy, you'll get a unique referral link and code. This link is your ticket to bank even more rewards from Chexy.
When someone signs up using your referral link and connects a payment method to their new Chexy account, both you and your referred friend receive $5 each. But it doesn't end there.
Chexy takes referrals to the next level by offering tiered bonuses. Beyond the standard reward for each referral, you can earn additional bonuses when you hit certain referral milestones.
For example, after referring 5 friends, you'll get a $50 gift card for UberEats and DoorDash. At 10 referrals, your Chexy fees are waived for 2 months, and at 100 referrals Chexy will pay 1 month of rent for you!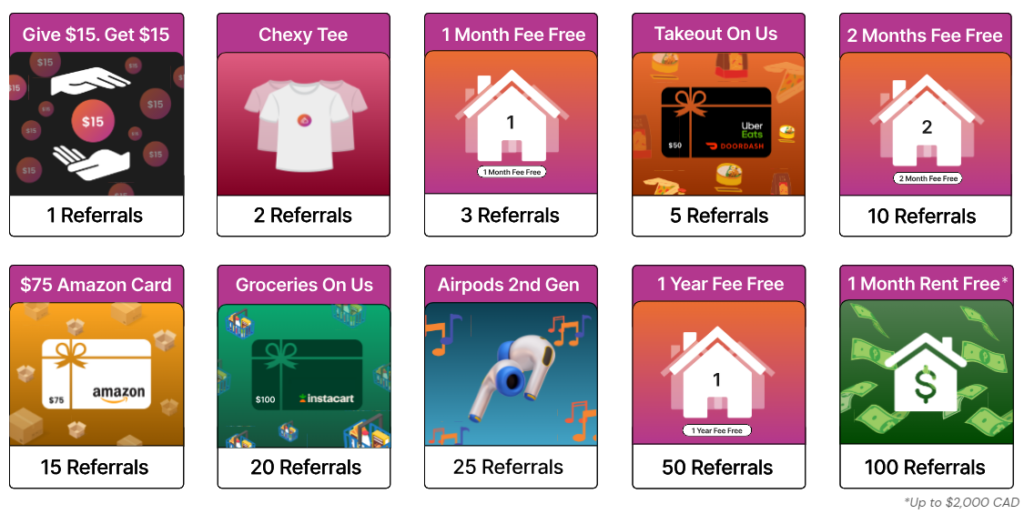 Credit Builder
Historically, mortgage payments impact credit scores, but rent payments do not. So millions of Canadian renters have been shut out from leveraging rent to build credit. Chexy is just one more fintech offering innovative tools to convert major expenses into credit-boosting opportunities. Here's how:
Once you're a Chexy user, you have the option to enroll in the Credit Builder program for $9.99 per month. However, your landlord has to be involved. They'll receive an invitation to verify their identity. This is required in order to prove your landlord is a real person.
After that, your rent payments are reported to Equifax. With each on-time payment, you build a positive payment history. Over time, this can improve your credit score.
[Offer productType="OtherProduct" api_id="651675efb5d3ec71388a7920″]
Chexy Credit Builder vs. Borrowell Rent Advantage
While both Chexy Credit Builder and Borrowell Rent Advantage have the same end goal, the route they take and the features they offer differ. Chexy integrates rent payment and credit building into a seamless process. Borrowell allows you to self-report your rent payments to Equifax, but you can't actually pay rent through the platform. As always, the best choice depends on your individual needs, budget, and rental circumstances. Let's compare the two side-by-side:
Chexy Credit Builder
Borrowell Rent Advantage
Purpose
Help renters build credit through on-time rent payments.
Help renters build credit through self-reported rent payments.
Fees
$9.99/month
$8.00/month
Reporting
– Automatically reports your Chexy rent payments to Equifax each month.
– Must upload your lease.
– Your landlord must verify their identity.
– Sign into the app to self-report your rent payment each month.
– Must connect your bank account to verify rent payment transactions.
– Does not require a lease.
– Does not involve your landlord at all.
Accessibility
Available everywhere in Canada.
Not available in Quebec
Integration
Integrated with the Chexy rent payment process.
Can be used independently of other Borrowell services.
Additional Features
Offers rewards through the Rent CashBack program and a referral program.
Does not earn rewards.
Ease of Set-up
Requires creating an account, lease & landlord details, and making rent payments through the platform.
Requires creating an account, downloading the app, and connecting your bank account.
Watch Out: Chexy Fees Could Obliterate Your Rewards
While Chexy offers a way to make rent a rewarding experience, it could actually do the opposite if you're not careful. To protect your bacon, it's crucial to approach this with a discerning financial lens. Not all rewards credit cards will be beneficial when used with Chexy. Let's break down why and guide you on how to calculate the net benefit accurately.
Understanding the Dynamics
When you use Chexy to pay rent with a credit card, you'll be charged a 1.75% transaction fee. This fee compensates for the processing costs incurred by Chexy. Now, if your credit card rewards you at a rate that's less than or equal to this transaction fee, there's a potential for a net financial loss. If you don't love spreadsheets and calculators, I don't care. You have to use them if you don't want to light your money on fire.
The Calculation: Finding the Net Benefit
Determine The Reward Rate: This could be in the form of points, miles, or cash back. For instance, if your credit card offers 2% cash back on all transactions, your reward rate is 2%.
Factor in Chexy's Fee: Subtract the Chexy fee of 1.75% from your reward rate.
2% (cash back rate) – 1.75% (Chexy fee) = 0.25% net benefit on the transaction.
Calculate the Actual Benefit: Multiply the net benefit percentage by your rent amount. Suppose your rent is $2,200:
$2,200 x 0.0025% = $5.50
In this case, by paying your rent through Chexy with this particular cash back credit card, you'd have a net gain of $5.50 each month. Do this every month for a year and you'll earn $66 back from your total rent payments.
When Does It Not Make Sense?
If the rewards rate of your card is equal to or less than Chexy's fee, the math just doesn't matter anymore. For example, if your card has a 1% cash back rate:
1% (cash back rate) – 1.75% (Chexy fee) = -0.75%
Here, you're at a net loss. That means if you use Chexy with this card, it actually costs you an additional $16.50 per month. In a year, you'd be out a total of $198. Ouch!
Other Factors to Consider
Minimum Spend Bonuses: Some cards offer substantial bonuses if you spend a certain amount in the initial months. If using Chexy helps you achieve this, the calculation will more likely tilt in favour of using the card, at least temporarily.
Tiered Rewards: Some cards offer higher rewards for certain categories and lower for others. Double-check that you're looking at the correct rate for the category Chexy transactions fall under.
Reward Redemption Value: Points and miles from different cards have varying redemption values. A card might give more points per dollar but might also require more points for a similar reward compared to another card. Always factor in the redemption value.
Best Credit Cards to Use With Chexy
Not every credit card is the right fit for Chexy, but which ones are? The devil is in the details. If you're planning on leveraging Chexy to maximize rewards, it's crucial to ensure the value of rewards earned outweighs the fees. The wrong card could end up using your cash as kindling for a dumpster fire. Avoid that, and consider using one of these top cards to pay your rent on Chexy:
American Express Platinum Card
[Offer productType="CreditCard" api_id="5f46c3834726ce7207266a78″]
Earn 2 points for every dollar spent on dining & food delivery, 2 points on travel,3 points on eligible travel booked through the Amex Travel Online portal, and 1 point on everything else.
The substantial welcome bonus, combined with an array of travel benefits, makes this card a top contender. Even with Chexy's fee, the value of Membership Rewards points can exceed the costs for avid travellers.
For example: if your rent is $2000, you could net $108 worth of rewards each year.
Scotiabank Momentum Visa Infinite Card
[Offer productType="CreditCard" api_id="5f32a25c92ec22115033b2cf"]
Earn 4% cash back on groceries and recurring bill payments, 2% on gas and daily transit, and 1% on all other purchases.
Assuming Chexy is coded as a recurring bill payment, this card could be a goldmine. The 4% cash back on recurring bills can easily counterbalance the 1.75% fee. Watch out though, if it falls into the "1% on everything else" category, you'll lose money.
For example: if your rent is $2,000, you could net $540 in cash back each year (assuming Chexy is coded as a recurring bill payment).
American Express Cobalt Card
[Offer productType="CreditCard" api_id="5f46aebc4726ce7207266a75″]
Earn 5 points per dollar spent on eligible food & drinks, 3 points on streaming subscriptions, 2 points on travel & transit, and 1 point on everything else.
If combined with other spending, using this card for rent payments has the potential to bank lucrative returns in Membership Rewards points.
For example: if your rent is $2,000, you could earn $108 worth of points each year.
Play Before You Pay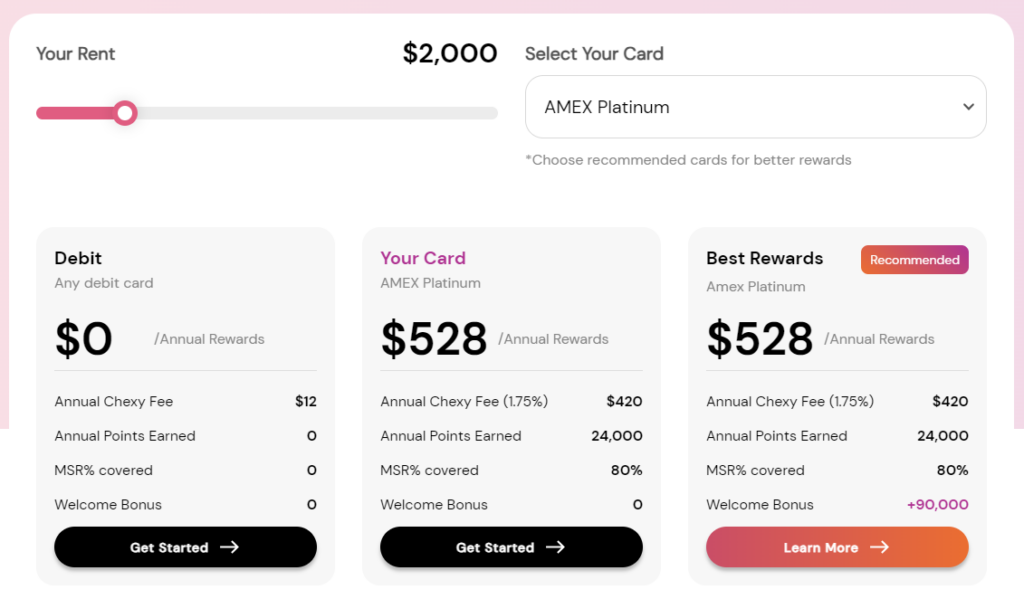 The Chexy site provides a super handy rewards calculator to help you determine if paying rent with your credit card is worth it. Enter the monthly cost of rent and select your preferred credit card from the drop-down menu. You'll see the estimated annual value of your rewards, along with the total annual cost of Chexy fees. Subtract the fees from the rewards value to see if you come out ahead or not.

I absolutely love this feature because it lets you test-drive Chexy before committing to a transaction. If your credit card rewards suck, this feature lets you play around with different cards to see which ones give you the best bang for your buck.
If you find one or a few that appeal to you, come back to Hardbacon to read reviews and apply through our site. Some credit cards offer exclusive sign-up perks for Hardbacon readers. You're welcome!
If Chexy isn't a good fit right now, you can still find the best card for your needs and preferences with our comparison tool. You're welcome again!
Weighing Chexy: Pros & Cons To Consider
Chexy presents a cool and convenient way for you to convert rent into rewards. But as with all financial platforms, there are two sides to the coin. Before you pivot to plastic, consider these advantages and drawbacks to help you make an informed decision:
Pros:
? Earn Rewards with Significant Payments: Rent is probably your biggest substantial monthly expense. Chexy lets you earn credit card rewards on this significant cost, turning a necessary payment into potentially free money, flights, merchandise, and more.
? Low Debit Fees: Chexy's $1 debit fee is highly competitive, especially when compared to other payment platforms that often charge a percentage of the transaction. But keep in mind that most debit cards don't earn any points at all.
? No Landlord Involvement Needed: One of Chexy's unique features is the ability to pay your rent without needing your landlord to sign up for the service. This removes a significant potential barrier for many renters.
? Rent Cashback Program: Beyond regular credit card rewards, Chexy's Rent Cashback program offers a way to earn extra cash that can be directed towards rent payments, just by shopping with partners on their portal.
? Referral Program: The ability to earn up to $2,000 by referring friends and family adds an attractive dimension to the platform, making it not just a payment tool but also a potential earnings source. Enough successful referrals could earn you a month of no rent!
? Credit Builder Feature: Chexy's Credit Builder subscription can help you build or repair your credit, turning on-time rent payments into credit score boosters.
Cons
? Transaction Fees: At 1.75%, the fee for using a credit card can diminish the value of rewards earned. Unless you're using a card with a high reward rate or are achieving a substantial bonus, the math might not add up in your favour.
? Limited to Rent: While other payment platforms cater to a variety of bills, Chexy is solely focused on rent. This specialization could be seen as a limitation, especially for those looking to centralize all their bill payments.
? Lack of PayPal Support: In a world increasingly moving to digital wallets and online payment solutions, the absence of PayPal support is a major drawback if you don't feel comfortable sharing your card details with a new start-up platform.
? No Mobile App: Given the move towards mobile banking and payment solutions, the lack of a dedicated mobile app might be off-putting for some users who prefer handling their finances on the go.
? Potential Credit Card Interest: If users don't pay off their credit card balance in full each month, the interest fees can quickly offset any rewards earned, leading to a net financial loss.
? Credit Builder Cost: While the Credit Builder feature is a potential boon, its associated $9.99 monthly fee is steep compared to similar programs from Borrowell.
Chexy: Who It's Best For & Who Should Think Twice
With its unique proposition of blending rent payments with credit card rewards, Chexy certainly has our attention. But who exactly stands to benefit most from it? And who should steer clear of paying rent with a credit card?
Chexy is obviously best suited for rewards enthusiasts, particularly credit card churners. If you're someone who is always on the hunt for the next big opportunity to earn credit card rewards, Chexy can turn your biggest monthly expense into a points goldmine.
Then there are the people looking to hack their credit score. With the Chexy Credit Builder feature, those with damaged credit, new to credit, or new to Canada can use their regular rent payments as a strategic credit-boosting tool.
Finally, if you already have a premium rewards card that earns killer cash back, points, or miles that outweigh Chexy's fee, this platform can take your return on spending to the next level.
[Offer productType="OtherProduct" api_id="651675efb5d3ec71388a7920″]
Stay Away From Chexy If…
You don't (or can't) pay off your balance in full each month. The interest will quickly offset any rewards, effectively wasting your hard-earned money.
If your card offers minimal rewards, the fees associated with Chexy might negate any points, miles, or cash back you earn, resulting in a net loss. For this to work, you need a robust rewards card.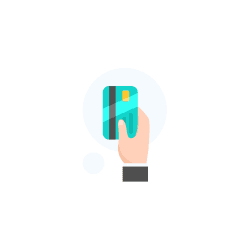 Find the best credit card for your needs