KOHO Mastercard® Vs. STACK Prepaid Mastercard: Which Card is Right for You?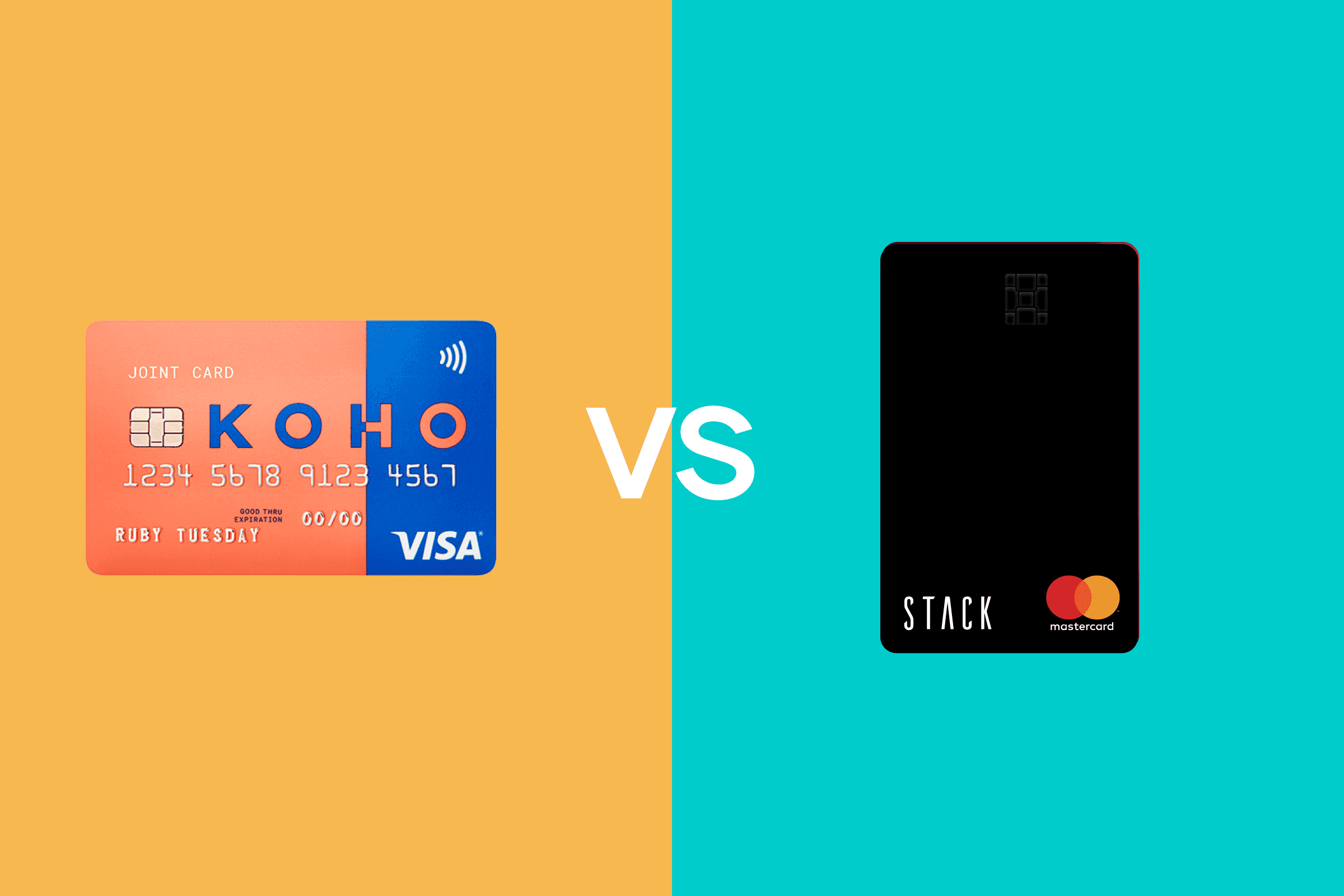 Please Note: The STACK Prepaid Mastercard has been discontinued and is no longer available. While the KOHO Prepaid Mastercard is an excellent alternative, check out our list of the best prepaid cards in Canada to find the right fit for you.
KOHO and Stack are two very popular names offering prepaid cards in Canada. Hence, it's natural that consumers compare the two and often get confused between them. They both offer prepaid cards that work in a similar fashion but differ in terms of features and pros and cons.
It can be very difficult to pick the right prepaid card since they usually appear very similar. It can be hard to differentiate between the KOHO card and Stack card for someone who doesn't understand how prepaid cards work. In this KOHO versus Stack article, we'll highlight each card and help you pick the right one.
Exclusive offer: Use the HARDBACON promo code to get $20 when you open a

free KOHO account

and make a purchase.
Understanding prepaid cards
Prepaid cards are cards that come with a specific amount of money and can be used like traditional debit or credit cards but without some features. In fact, they work like gift cards and can be reloaded. They, however, look like credit cards and usually contain a 16-digit number, expiry, security code, and your name.
Still, they're not credit cards. You do not require a specific credit score to qualify for prepaid cards. Also, they will not impact your credit score as you will only use your own money and they don't offer loans. This is why they are known as 'prepaid' cards. Consider traditional credit cards in Canada if you need a card with a loan facility.
Most prepaid cards support both online and offline transactions; though, you may also find virtual prepaid cards in Canada that can only be used online. Users prefer prepaid cards as they're secure and easier to carry than cash. Plus, some might even offer rewards such as discounts.
Introduction to KOHO and Stack
KOHO and Stack are often pitched against each other as they're both Canadian Fintech businesses that offer a variety of financial products and services including prepaid cards. Both cards are reloadable and come with a mobile app that can be used to track your spending. This makes management a piece of cake.
Founded in 2017, Stack joined hands with People's Trust to introduce its prepaid card. Headquartered in Toronto, Stack is a reliable name with more than $6.9 billion in assets. It is known for offering excellent customer support and safe products.
On the other hand, KOHO has also joined hands with People's Trust for its prepaid card. Founded in the same year, the company has proven to be a major success and is headquartered in Vancouver. Many credit its CEO and founder, Daniel Eberhard, for the huge success of the company. Eberhard came up with the idea to establish the company after going through the accounts of some friends and family members. He realized that they were paying a lot to the bank and wanted to offer a more affordable option.
Both companies promote their services in a similar manner. They're considered an alternative to traditional banking and work like chequing accounts. All you have to do is open an account, add money to it, and start spending through your card. The process is simple and easy as both companies offer several methods to add money to your card.
While both companies offer financial services, they're not banks. They're able to issue prepaid cards thanks to their partnership with People's Trust, a CDIC-insured and federally regulated company. Moreover, both KOHO and Stack have joined forces with Mastercard to issue cards and process payments.
Read our in-depth reviews of these cards:
KOHO Mastercard® versus Stack Mastercard: a comparison
Both KOHO Mastercard® and Stack Mastercard work in a similar fashion. They can be used locally and internationally. You can use them to shop online or offline. Both KOHO and Stack are accepted at all stores that accept Mastercard. The two cards, however, differ in terms of fees, rewards, and limitations.
KOHO Mastercard® versus Stack Mastercard fees
Both KOHO and Stack are known as affordable prepaid cards as these companies charge no monthly or annual fees. There are also no low balance charges and you will even be able to check your balance for free. Here's a small breakdown for a full understanding:
| | | |
| --- | --- | --- |
| | KOHO | Stack |
| Monthly fees | $0 to $19 | $0 |
| Foreign exchange fees | 0% to 1.5% | 2.5% |
| Automated Teller Machine (ATM) Withdrawal Fees | $0 | $0 |
Until now, Stack had a major edge as the company did not charge a foreign transaction fee but from February 1, 2022, it has started to implement a 2.5% foreign exchange fee, which is the standard in the industry. It makes the card a little less favourable than the KOHO Mastercard® card as KOHO charges a 1.5% foreign exchange fee with the Easy plan (which is free) or the Essential. It makes it more affordable for people who want to shop internationally. If you subscribe to KOHO Extra or Everything, then you do not pay a foreign exchange fee at all.
Also, while both companies do not charge an ATM withdrawal fee, you will have to pay about $2 to $3 per transaction, based on the network. This fee is charged by the ATM provider and not by KOHO or Stack.
KOHO Mastercard® versus Stack Mastercard Rewards
The KOHO Mastercard® card offers between 0.25 and 2 % cash back on many purchases. However, there are also some partner brands where it goes up to 6 %. Some popular names include Attitude, Contiki and Booking.com.
Just like KOHO, Stack has partner retailers where you can win handsome discounts. The company has joined hands with more than 140 partners including ten gas stations and eighteen grocery stores. Some popular names include Lyft, Netflix, Spotify, DoorDash, Adidas, Amazon, and Michael Kors.
You will win instant cash back and the rate differs from company to company. For example, you can get up to $5 off at Indigo. This goes as high as 20% for Frank and Oak and up to 50% on Chef's Plate.
Stack clearly has the upper edge when it comes to discounts and rewards. It has partnered with more popular brands and can help you save a lot of money. Discounts from both companies, however, may come with some limitations such as a minimum order size. Also, you may have to use specific discount codes to be eligible for these rewards, so make sure to read the fine print.
KOHO Mastercard® versus Stack Mastercard limitations
Both KOHO and Stack put some limitations on how the card can be used. The chart below explains different limitations related to deposits, withdrawals, and use.
KOHO

Easy and Essential

KOHO Extra and Everything

Stack

Maximum balance

$20,000

$40,000

$20,000

Direct load fee

75¢ for transactions under $300

–

–

Maximum load per month

$40,000

$60,000

$8,000

Maximum load per day

10

40

4

Maximum load per week

–

–

20

Maximum load per month

60

150

–

Maximum ATM withdrawal per day

$600

$800

$500

Maximum ATM withdrawal per week

–

–

$1,000

Maximum ATM withdrawal per month

–

–

$2,000

Maximum ATM transactions per day

5

5

2

Maximum POS amount per day

$4,000

$4,000

$2,500

Maximum POS amount per week

–

–

$5,000

Maximum POS amount per month

–

–

$20,000

Maximum POS transactions per day

–

–

15
As evident, KOHO has fewer limitations than Stack. You will be able to carry more money on your KOHO card and even spend it more easily, making it a suitable option for larger purchases. On the other hand, Stack will only let you carry up to $20,000 at a time.
KOHO Versus Stack: comparing Canada's top prepaid cards
KOHO Versus Stack safety
We believe both KOHO and Stack stand neck to neck when it comes to safety. They both work with the same bank, hence offering the same level of security. Also, they're said to be secure and haven't been involved in data breaches.
The same goes for Stack since it also works with People's Trust, which is a member of the Canada Deposit Insurance Corporation (CDIC). In addition, both cards offer Zero Liability Purchase Protection Plan, provided by Mastercard. To sum it up, your money will be safe even if the business fails.
Signing up for a new account
A lot of people choose prepaid cards due to the ease they offer. Both KOHO and Stack are working to make it easy to sign up for a new card. There are no credit requirements and the application process only takes a few minutes. In both cases, you will be required to submit identity proof. Plus, address proof may also be required. There is no credit check and getting a card will not impact your credit score. These cards are only for residents and you must be of major age, according to your province, to qualify.
Your physical card will get mailed to you in about a week from signing up. However, since both companies also offer virtual cards, you will not have to wait to start shopping online. You can start using the virtual card right away. Just activate it by following the instructions provided to you.
Which mobile app is better?
This is the era of mobile devices and consumers like to use mobile apps over browsers. Fortunately, both KOHO and Stack appear to understand this as they have mobile apps for users available on both iOS and Android devices. While different, both apps do the same job.
With KOHO's app, you will be able to get access to financial coaching that can help you deal with debt and control your spending. Moreover, it has a neat tracking option that makes it easier to keep an eye on your spending habit. Thanks to graphs, you will have no difficulty understanding your finances. Moreover, the company even sends balance updates after each purchase.
Digital wallets supported by each company
Stack supports a large number of digital wallets including Apple Pay, Samsung Pay, Fitbit Pay, and Google Pay. With this feature, you will be able to make purchases in store just by using your mobile device. It can help save time and make shopping easier.
On the other hand, KOHO only supports three digital wallets including Apple Pay, Google Pay, and Samsung Pay. This is not a major drawback since not many people presently use Fitbit Pay. Plus, the company is rumoured to be working to incorporate more brands.
What about depositing money?
Both cards are reloadable. Stack supports a number of deposit options including direct deposits and e-transfers. You can use any Canada Post location to add money to your Stack account instantly. It supports both debit and cash. Moreover, users can choose from a network of more than 10,000 locations across Canada like Mobil and Hasty Market. All these options are fee-free.
KOHO isn't very different when it comes to deposits. You can transfer money from your existing bank account or Visa debit card. Also, e-transfer can also be an option. Some of these options offer instant deposits, so you will not have to wait for a lot of time for money to appear in your account.
Do they offer referral bonuses?
Both companies offer referral bonuses. With Stack, you can earn up to $15 per referral with no cap. Plus, your friends will also get a bonus of $5 when they join the platform using your referral link.
On the other hand, you will get $20 for referring users to KOHO. As a token of appreciation, your friend will also earn $20 for joining the platform. This is a nice way to encourage more people to sign up. Unlike Stack, KOHO has a cap and you cannot refer more than 50 friends, which means the maximum referral bonus is capped at $1,000.
Customer support: KOHO versus Stack
We understand that you may face some issues when using your KOHO or Stack card. Fortunately, both companies are known for offering top customer support. You can reach the KOHO support team via email, live chat, or phone. They;'re available from Monday to Friday from 9 AM to 9 PM EST and from Saturday to Sunday from 9 AM to 5 PM EST.
The agents are friendly, well-informed, and quick to solve issues. Most emails are responded to within 48-hours and the staff is willing to go the extra mile to solve issues. However, since KOHO isn't a bank, you may have to wait longer for a solution in some cases.
The same goes for Stack, which is also not a bank. You can reach the Stack team via email, live chat, or phone. They're available from Monday to Saturday from 9 AM to 9 PM EST and on Sundays from 12 PM to 8 PM EST. We feel that both companies are on the same level when it comes to customer support and are doing their best to keep customers satisfied.
KOHO extra features
KOHO offers more than just the basic features that we discussed above. The company has some unique offerings that give KOHO an edge over competitors like Stack. Let's have a look at some such attributes:
RoundUp
KOHO's RoundUp is a powerful app that can help you save money. With this app, you will be able to stash your spare change away. Under this programme, all your purchases made with the KOHO card will be rounded to the nearest $1, $2, $5, or $10. You will get to choose the amount.
For example, if you spend $1.25 on a product, you are charged $2, $5, or $10 based on your preference. Only $1.25 goes to the purchase while the remaining amount is kept in your stash. You can cash out at a later date. It's a quick way to save some money that can be used in emergency situations.
Automated savings
Have financial goals to meet? KOHO's automated savings feature can help you reach it easily. It is a good way to stay motivated without having to put in a lot of effort. The RoundUp feature also helps automate savings as it allows users to continue to add money to the stash without much effort.
Earn interest
KOHO is one of the few companies that offer card owners a chance to earn interest on the money deposited. You will earn between 0.5% and 4.5% interest depending on your plan, which is pretty good, especially when compared to traditional banks. The money that you earn can be used to make purchases.
KOHO Early Payroll
With this feature, you will be able to receive $100 of your paycheque earlier than the due date. In most cases, you will receive money about 3 days before you usually do. Those who want it earlier can even request to receive $100 for a fee of $5.
The amount you borrow will be deducted from your next scheduled pay date. This feature is very easy to set up. You can do it from the web or through the web portal.
Different types of cards
KOHO offers both physical and virtual cards. A virtual card can be a great option for people who shop online. You cannot use it at physical stores but it can turn out to be a blessing for online shoppers. It's safer, easier to use, and with fewer limitations. You can set up your digital card by linking your KOHO Mastercard® card to Samsung Pay or Apple Pay. Unlike physical cards, there is no waiting time for digital cards.
You can start using your virtual card right after you purchase and activate it. On the other hand, the physical card has to be mailed to you. The process can take up to a week.
Stack Extra Feature
Just like KOHO, Stack also has some unique features. We have covered some below to give you a full understanding of what the Stack prepaid card has to offer.
Payroll Direct Load
Just like KOHO, Stack also has this feature. This will allow you to receive your paycheque up to 2 days before the due date. We think it is a highly valuable feature and can turn out to be very useful for people who need cash.
Setting up the Payroll Direct Load feature is quite easy. Submit an application through the mobile app. You will receive information that you must submit to your employer so they can deposit it directly to your Stack account.
Save receipt
Saving receipts can be very difficult. With Stack, you will have no trouble as the Stack app allows users to save receipts that can be easily accessed. With this feature, you will find it easier to reconcile statements and use receipts to avail discounts and special offers.
Split the Bill
With this feature, you will be able to send instant transfer requests for transactions paid through your card. You can send requests from the app. The process takes a few minutes and you will even have the option to add a personalized message with your request. It can be great when dining out with friends.
Stack Travel
Stack cardholders get access to the Stack Travel platform that can be of value for people who travel regularly. Members get to enjoy 20 percent discounts when booking hotel rooms. Some very popular and international hotels are included in the list. Your card will typically get charged for the whole amount and you will receive 20 percent cashback within 3 months of booking.
Different types of cards
Just like KOHO, Stack also offers both virtual and physical cards too. The virtual card is only suitable for phone or online shopping, whereas the physical card works just like a traditional card. Just like KOHO, you will be able to use your virtual card right away, whereas the physical card can take up to a week to arrive.
So, which Is the better option?
KOHO and Stack are among the best prepaid cards in Canada and it can be hard to pick one. They're very similar and the right option depends on what you need. What works for one person might not work for another. We should also mention that KOHO offers more choices as the company has a variety of prepaid cards that offer similar features but come with a different fee structure.
You can go for the standard KOHO Mastercard® Prepaid Card or the Premium KOHO Mastercard® Prepaid Card. The premium will cost you $84 per year but offer better rewards including 2 percent cash back on some purchases and 0% foreign transaction fee, whereas, the standard will cost you $0 but 1.5 percent foreign transaction fee and fewer rewards.
Conversely, the Stack Mastercard card gives you fewer choices but more rewards including no limits on referral bonuses.
KOHO versus Stack prepaid cards: frequently asked questions
Here are some of the most commonly asked questions about KOHO and Stack prepaid cards:
What is a prepaid card?
It is a type of card that comes preloaded with a specific amount of money, just like a gift card. It can be physical or virtual. Most prepaid cards work at both online and offline stores. Both Mastercard and Visa work with partners to issue prepaid cards that are both reloadable and non-reloadable. Most prepaid cards can be used at ATMs and international stores; however, there may be some additional charges for add-on services.
Can I get both KOHO and Stack prepaid cards?
Yes, you can get both KOHO and Stack prepaid cards. In fact, it might be a good idea to do so since it will allow you to enjoy the benefits of both these cards. You will not even be asked to submit a list of prepaid cards that you own when you apply for one.
What are the pros of having a KOHO Mastercard® prepaid card?
The main benefit of a KOHO card over a Stack card is the ability to store and spend more. KOHO has fewer limitations, which allows the cardholder to easily make larger purchases.
What are the pros of having a Stack card?
The Stack prepaid card has an edge over KOHO in some departments. For example, it supports a larger number of digital wallets.
What happens if I lose my card?
KOHO gives users the option to lock their card anytime in the app. You should do it immediately if you lose or misplace your card. Next, get in touch with the team to request a replacement card. Any balance on your previous card will automatically get transferred to your new card.
Which card can help build my credit?
You cannot use prepaid cards to build your credit. This is because prepaid cards, unlike secured cards, do not come with a credit or loan facility and providers will not even run a credit search when issuing prepaid cards. They neither improve nor affect one's credit score. However, KOHO offers a paid credit building service.
Compare the different prepaid credit cards and choose the one that suits your needs!
---
Frequently Asked Questions
What are the advantages of a reloadable prepaid card?
A reloadable prepaid card is often a more convenient way to spend money. It's like a debit card but without the associated bank account. You can combine the benefits of today's most popular payment options – credit cards, debit cards and cash – into one easy-to-use card that lets you reload as often as you like.
Where can I buy prepaid credit cards?
There are a variety of places to buy prepaid credit cards. The best place to get the right card is online. Check out our list of the best prepaid credit cards.
How do Visa Prepaid cards work?
Visa Prepaid cards are an easy, convenient and affordable way to pay. You can use them anywhere credit cards are accepted, without needing a bank account or credit card.
Can I withdraw money from a Visa Prepaid card?
Prepaid cards can be used to withdraw money from certain ATMs. They are subject to a network fee.
How does a prepaid travel card work?
Prepaid travel cards are a great way to save money on airline tickets and other travel expenses. They are accepted worldwide depending on the network used, for example Visa, Mastercard or Amex.
Can I use a prepaid card on Amazon?
Yes, you can use a prepaid card on Amazon and most merchants accept Visa or Mastercard.
Does Uber accept prepaid credit cards?
Yes, Uber accepts prepaid credit/debit cards.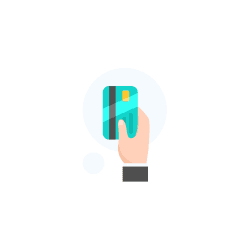 Find the best credit card for your needs