Localcoin ATM Review 2023: Buy & Sell Bitcoin For Cash Instantly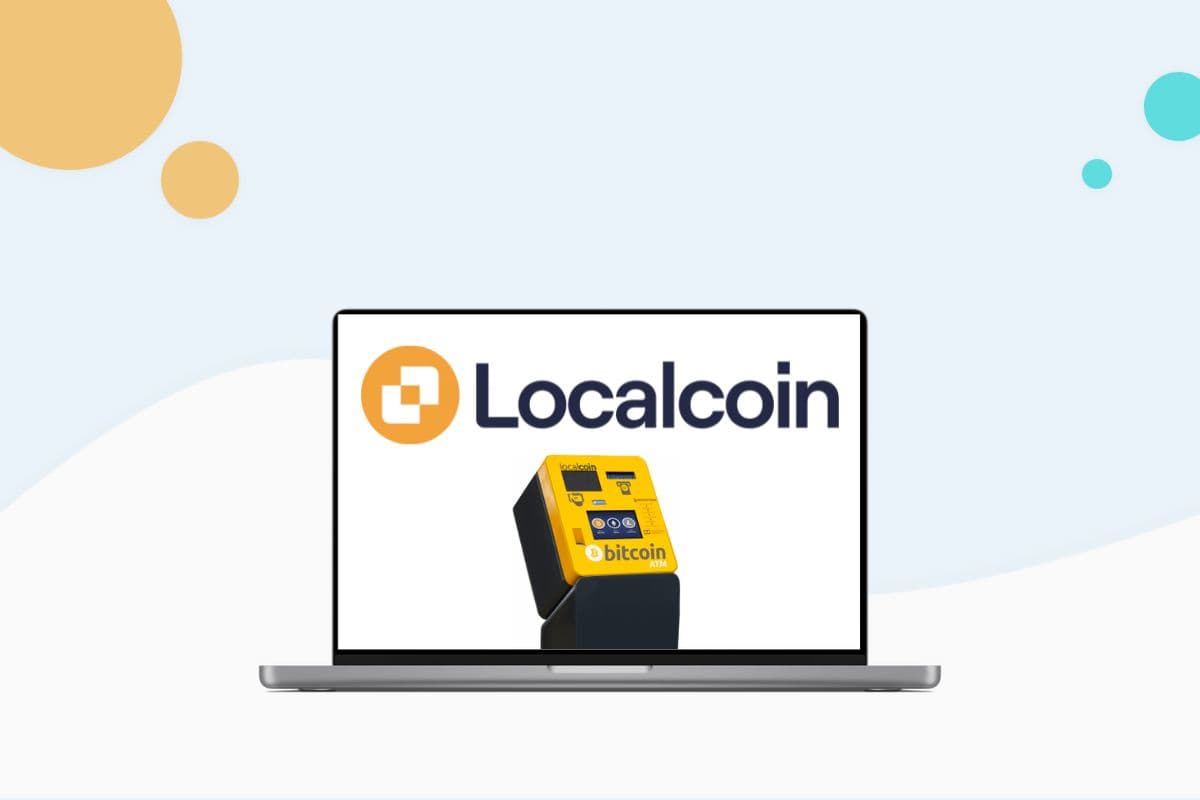 You never know where you'll find a cryptocurrency automated teller machine (ATM). Luckily, Localcoin is a cash-only ATM dedicated solely to buying and selling crypto. You can quickly and easily buy Bitcoin, Ethereum, Litecoin, and Dogecoin. You can also sell Bitcoin and Litecoin for cash just as easily as you can buy it. Looking for a beginner-friendly way to engage with crypto? Here's where to find a Localcoin ATM near you and how to use it.
What is Localcoin?
Localcoin is a cryptocurrency exchange platform that allows you to buy and sell specific cryptocurrencies through physical ATMs. Founded in Toronto, Localcoin has established itself as a trusted and user-friendly platform, emphasizing secure transactions and a seamless experience for its users.
Over the years, the company has expanded its services to include prepaid credit cards, over-the-counter trading services, transfer payments, and an online retail platform. Recently, the company launched a crypto instant selling feature.
Localcoin now has over 900 crypto ATMs across Canada (excluding Newfoundland & Labrador and Northern Canada) and 48 ATMs in four states in the United States of America. The Localcoin website lists availability in five states, however, California has zero Localcoin ATMs despite the state being listed on the Localcoin website.
What Coins Are Supported By Localcoin ATMs?
The coin offerings are extremely limited and depend on whether you are buying or selling. If you're buying crypto, you can choose from Bitcoin (BTC), Ethereum (ETH), Litecoin (LTC), and Dogecoin (DOGE).
If you're selling crypto, right now your only options are BTC and LTC. Not every Localcoin ATM supports the selling feature. You'll need to use the map in the app or on the website to find an ATM near you that supports selling crypto.
For example, there are 16 Localcoin ATMs in Winnipeg, but only one allows me to sell my Bitcoin.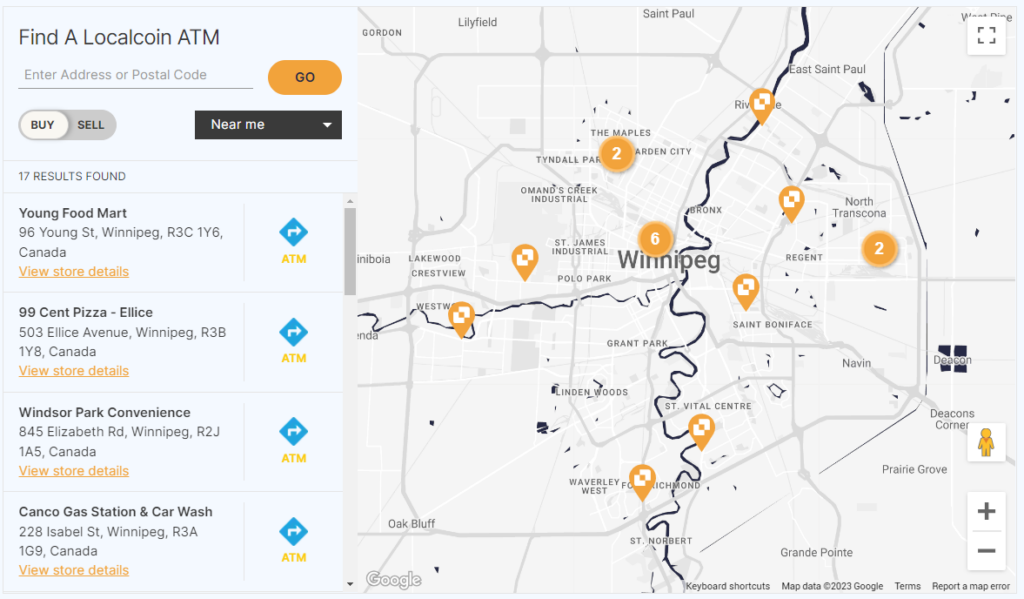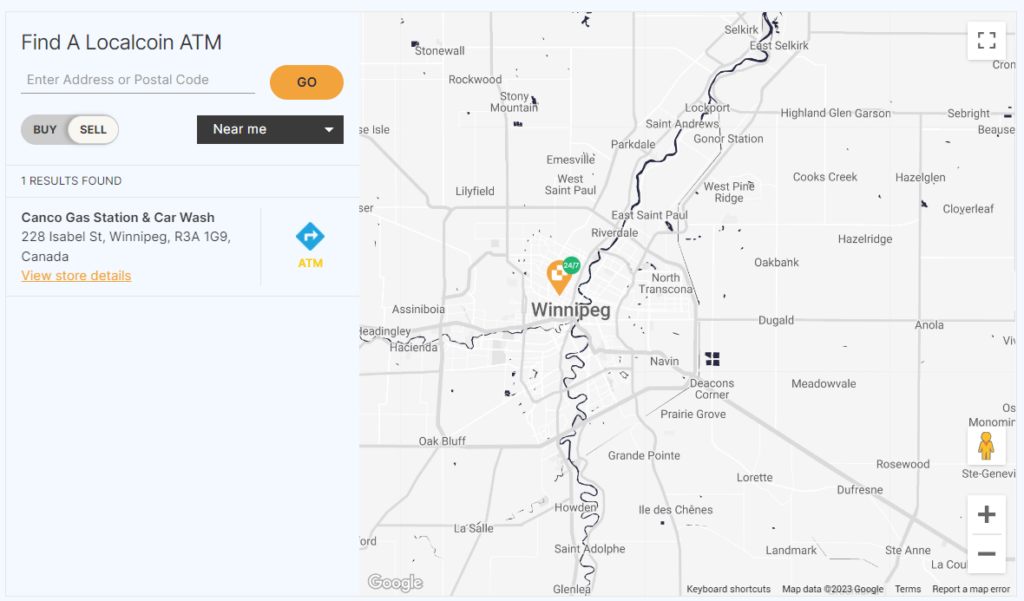 What Are The Transaction Fees & Limits?
When using Localcoin ATMs, the fees and limits depend on whether you are buying or selling crypto. Here's a breakdown of each:
Supported Coins
Minimum Transaction
Maximum Transaction
Fee
Buy
* Bitcoin (BTC)
* Ethereum (ETH)
* Litecoin (LTC)
* Dogecoin (DOGE)
$20.00
* $995.00/transaction
* $4,975.00/per day
4-10%
Sell
* Bitcoin (BTC)
* Litecoin (LTC)
$50.00
* $900.00/transaction
* $4,975.00/per day
6%
How Do I Pay For My Crypto Purchase Through a Localcoin ATM?
At the time of writing, Localcoin ATMs only accept Canadian cash. Credit cards, debit cards, and other payment methods are not currently accepted. To pay by cash, only the following cash denominations are accepted:
The Localcoin ATM Interface: What to Expect
The QR scanning camera is above and to the left of the touch screen, while the bill acceptor is above and to the right of the screen. Bitcoin is the dominant cryptocurrency of Localcoin ATMs, as featured at the top of the ATM's casing, and the touchscreen welcome page simply states "BUY BITCOIN". Touch the screen to start! Localcoin's current trading prices are posted on the touchscreen's welcome page and rotate through Localcoin's cryptocurrency options.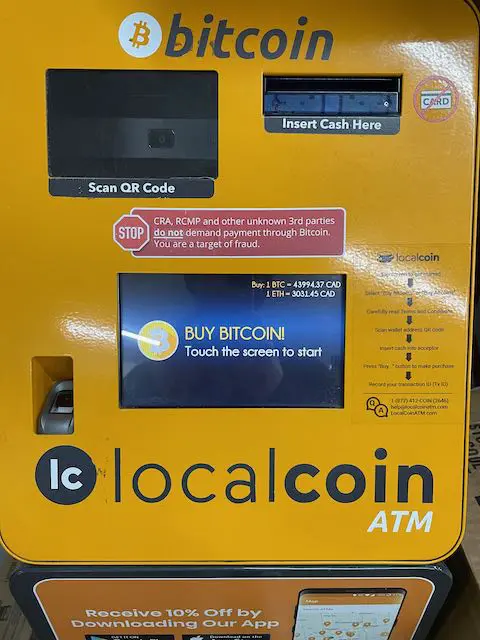 Warnings & Resources
There are three other aspects of the ATM to highlight before getting into processing a transaction: a warning, a guide through the process, and Localcoin's online platforms. Localcoin provides the requisite social media icons, their user tag, and an official website for users if they need or want to engage with the company in the virtual space. The warning is an important anti-fraud message, informing users to "stop" if they are being demanded or requested by the CRA, RCMP, or other 3rd parties for payment in cryptocurrency.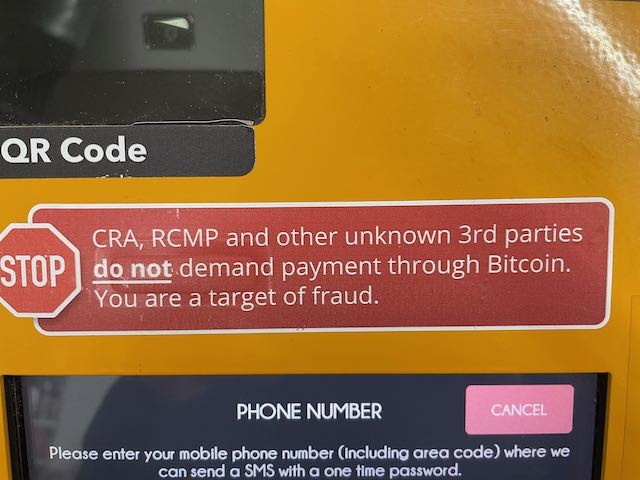 Discounted Fees If You Transact Through The App
If you are sure of where or who the cryptocurrency you are buying is going, then there is somewhat important information in the app advertising Localcoin's online connection options. The Localcoin app advertisement informs users of a 10% discount using the app.
If you want to get the best value possible from your transaction or you envision yourself using a Localcoin ATM frequently, it is probably advisable to download the app. However, you will have to search Apple and Google's app marketplaces for the Localcoin app. The company has not provided a QR code to download the app on the ATM or throughout the transaction process.
A Step By Step Transaction Guide
The third thing to note is the diagram detailing each step of the transaction. This is beneficial for first-time users enabling them to familiarize themselves with how to process a transaction before making their first purchase. Localcoin also included a toll-free number, their website, and an email address for users to get help with the process, if necessary.
How To Buy Crypto Through a Localcoin ATM
After pressing the screen to start the transaction, you will open a screen that provides language options and the current trading rates for Localcoin's cryptocurrency options: Bitcoin, Ethereum, Litecoin, and Dogecoin. The language options are limited to the two official languages in Canada: a shortcoming of Localcoin's ATMs for people that English or French is not their mother tongue. Localcoin provides the same helpful information that is on the ATM casing on the crypto selection screen. To move to the next phase, simply touch the icon of the cryptocurrency you'd like to purchase.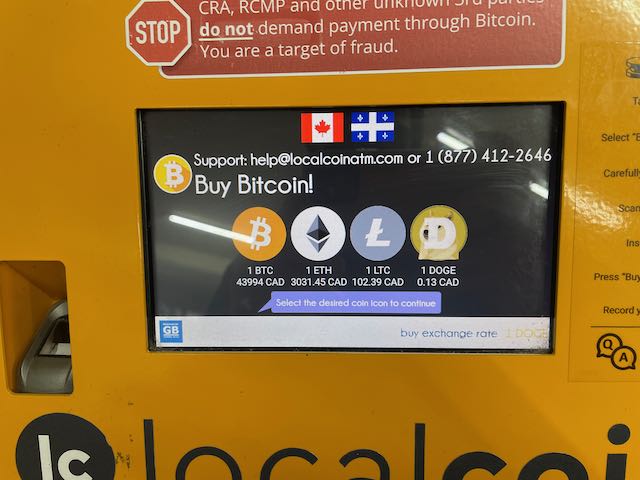 Agree To Localcoins's Terms & Conditions
For this review, we have chosen Bitcoin as our cryptocurrency. After pressing the Bitcoin icon, users will be presented with Localcoin's Terms and Conditions. This information is available on the Localcoin website and should be consulted before making your first transaction. Notably, transactions are "automatically executed upon inserting cash into [their] machines" and are irreversible. If you are happy with the terms and conditions, scroll to the bottom and press "I Agree."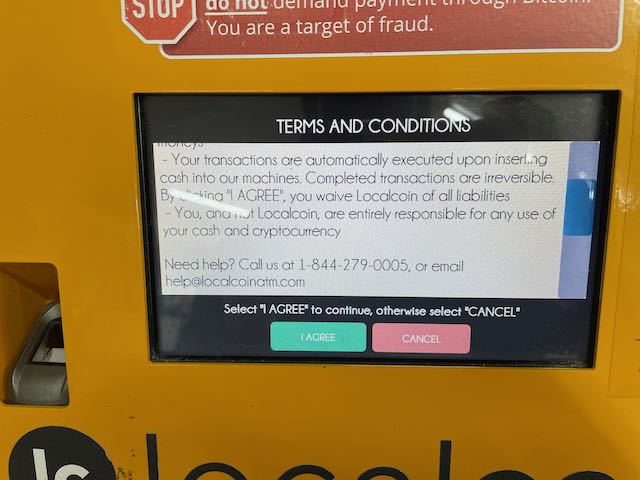 Verify Your Phone Number
The next step is reminiscent of the now-standard two-factor authentication. You need to provide the Localcoin ATM with your mobile number. This is anti-money laundering prevention. As long as you are not planning on laundering money and want to continue with the transaction, you'll agree and provide your phone number. You'll receive a text message with a password instantly after agreeing and providing your phone number. Seriously, the text password arrived surprisingly quickly. Input the password and proceed with the transaction.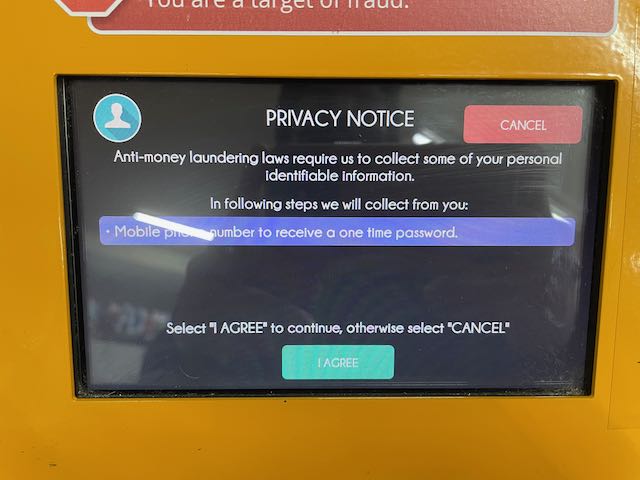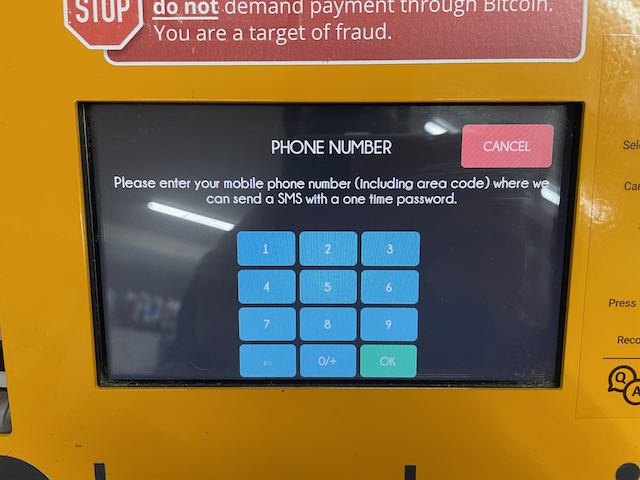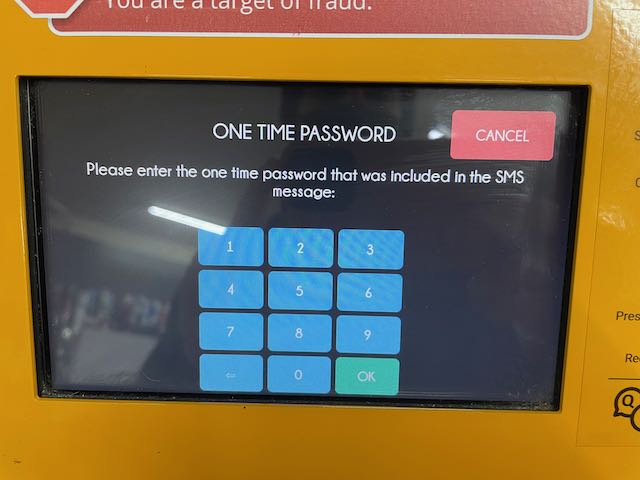 Scan The QR Code
After confirming your mobile number, you will now need to provide the crypto QR code for the transaction. The screen appears really busy and full at first glance, especially considering you are only scanning the cryptocurrency QR code you are using. Again, Localcoin's ATM's are forthright with instructions and information, which helps with the appearance of a cluttered screen.
In reality, the screen has simplified directions, a chance to cancel, and a "Don't Have a Wallet" option, guiding users through the process of getting a cryptocurrency wallet. This option was not explored; it is advisable to have a cryptocurrency wallet loaded on your phone and prepared prior to conducting any transactions.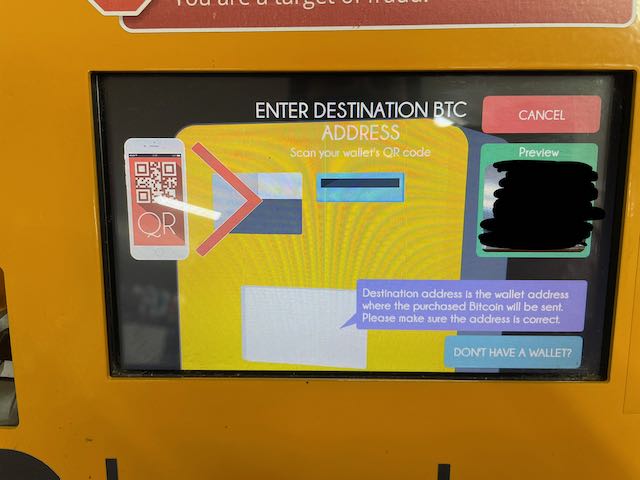 On the right side of the screen there is a preview pane. In this image, the preview pane has been obscured for privacy purposes. Smile for the camera as you will see yourself in the preview pane until your phone and QR code fill it. The QR code scans quickly and suddenly moves to the next screen, which is the second-last screen of the transaction.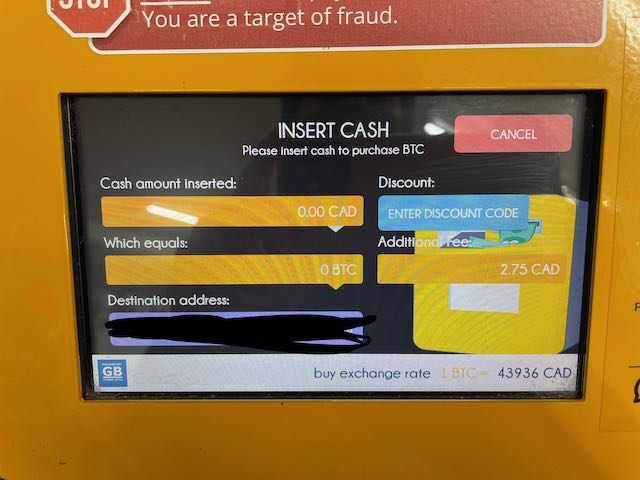 Crypto Exchange Rate & Transaction Fee
On the final screen of the transaction, you will again be provided with the current exchange rate for your cryptocurrency. In this case, Bitcoin was trading at $43,936 on this Localcoin ATM. The last time Bitcoin was trading at this level was four days prior and was significantly down, valued at around $38,000 upon interaction with the ATM.
Don't Forget Your Discount Code (If You Have One)
The $2.75 service fee is reasonable and less than some cash ATMs charge to withdraw cash from your bank account. There is a spot for a discount code. Along with using the app for a discount on the transaction, having a discount code will be beneficial for getting the most value from each transaction.
Verify The Crypto Deposit Address Is Correct
The destination address on the screen should match the QR code you provided on the previous screen. The crypto wallet address has been obscured for privacy reasons, but if there is any doubt about the crypto address you are sending this money to, this is the last chance to verify you have chosen the correct destination for your money.
Insert Cash Into The Bill Accepter
As you insert cash, you will be provided with a running tally of cash inserted and what quantity of cryptocurrency you will be receiving in return. Insert cash into the bill validator. Once done, close the transaction. You will be quickly moved to the final screen that serves as your receipt for the transaction and prompted to take a picture for your records.
How To Sell Crypto Through a Localcoin ATM
Remember, you can only sell Bitcoin and Litecoin at select Localcoin ATMs. You'll need to use the app or visit the Localcoin website to find an ATM near you that supports selling. Luckily, the steps to sell are just as quick and easy. Here's what to do:
Equip Yourself with a Digital Wallet
Before heading over to the Localcoin ATM, make sure you've got a crypto wallet. If you're scratching your head and wondering which one to choose, some compatible favourites are Trust, Bitpay, Bitcoin for Android, and BRD.
Just a quick heads up: ensure the wallet supports Bitcoin or Litecoin, as these are the only two crypto coins the selling ATMs accept for now.
Locate the Nearest Localcoin ATM
Now that you've got your mobile wallet and some BTC or LTC to sell, it's time to find the nearest Localcoin ATM that supports selling. Spoiler alert: even though they have over 900 ATMs nationwide, not all of them support selling. So make sure you confirm the ATM accepts selling before you head all the way down there. For example, there are 16 Localcoin ATMs in Winnipeg, but only 1 allows you to sell and it's located all the way downtown.
Navigate the Touchscreen Menu
Here's where the magic happens. Tap that screen, confirm the Terms & Conditions, and follow the prompts. Choose Bitcoin or Litecoin, and select the "Sell" option. A quick phone number entry and maybe an ID verification (only for the big sales), and you're good to go.
Choose the Amount You Want to Cash Out
You can pick intervals of $50 CAD or $100 CAD. Simply tap '+' or '-' to decide the amount of Bitcoin or Litecoin you're ready to part with. A small service fee of 6% will apply, but hey, convenience has its perks!
Time to Transfer!
The Localcoin ATM will flash a QR code on the screen. Whip out your mobile, scan that code, and voila! The exact BTC or LTC value will populate. Hit send, and wait for a text confirmation. Once you get the green light, you're all set for the final step.
The Best Part: Collecting Your Cash!
Once you get that sweet text confirmation, head down to your pre-selected Localcoin ATM, tap "Withdraw Cash", enter your phone number and a one-time passcode, and there you have it—cold, hard cash in exchange for your crypto!
In A Hurry? Pre-Sell Online
Want a fast and hassle-free way to turn your Bitcoin into cash? Pre-sell it online with Localcoin and just pick it up in-store when you're set. It's the quickest way to convert your Bitcoin to cash, letting you sell ahead and withdraw when convenient. You can Pre-sell Bitcoin in your comfy chair at home, then head down to your pre-selected Localcoin ATM when your cash is ready for pick-up. Here's how:
Location, Location: Head online and choose your preferred Localcoin ATM for cash withdrawal. Remember, your Redeem Ticket is specific to that exact machine.
Dollar Decisions: Decide how much Bitcoin you're selling and enter the amount in either $50 or $100 increments.
Quick Verification: Confirm the Terms of Service, punch in your mobile number, and wait for an instant security code via text. Key in this PIN.
Bitcoin Transfer: Scan and send your Bitcoin to the provided QR code within 30 minutes. Personal, self-custody wallets are recommended over crypto exchanges to avoid delays. After you've sent it, an SMS will inform you when your cash is ready—this could range from a few minutes to, occasionally, an hour.
Cash Collection: With SMS in hand, head to your chosen Localcoin ATM, tap 'Withdrawal Cash', and follow the prompts to get your cash. And just like that, you've smoothly converted Bitcoin into cash.
Localcoin ATM: Our Rating
Whether you are new to cryptocurrencies or are very experienced, Localcoin ATMs are an excellent choice. The major negative of Localcoin is the trading value of the cryptocurrency options. Everything about the user experience, the selection of cryptocurrencies, and the potential for increased value with further integration into the Localcoin ecosystem makes Localcoin a highly recommended cryptocurrency ATM.
Fees: 6% per transaction (separate from the exchange rate).
5/5
Crypto available for purchase: BTC, ETH, LTC, DOGE
4/5
Crypto available to sell: BTC, LTC
Pre-sell online: BTC
User experience: easy-to-use interface, upfront warnings and terms of conditions, low-cost fees, and potential increased value are all positives. Cryptocurrency value needs more regular updating to be a more viable option for purchasing tokens.
4/5
ATMs Locations: 950 across Canada
5/5
Total
4.5/5