Totaled car: A Step By Step Guide to Deal With Your Insurance in Canada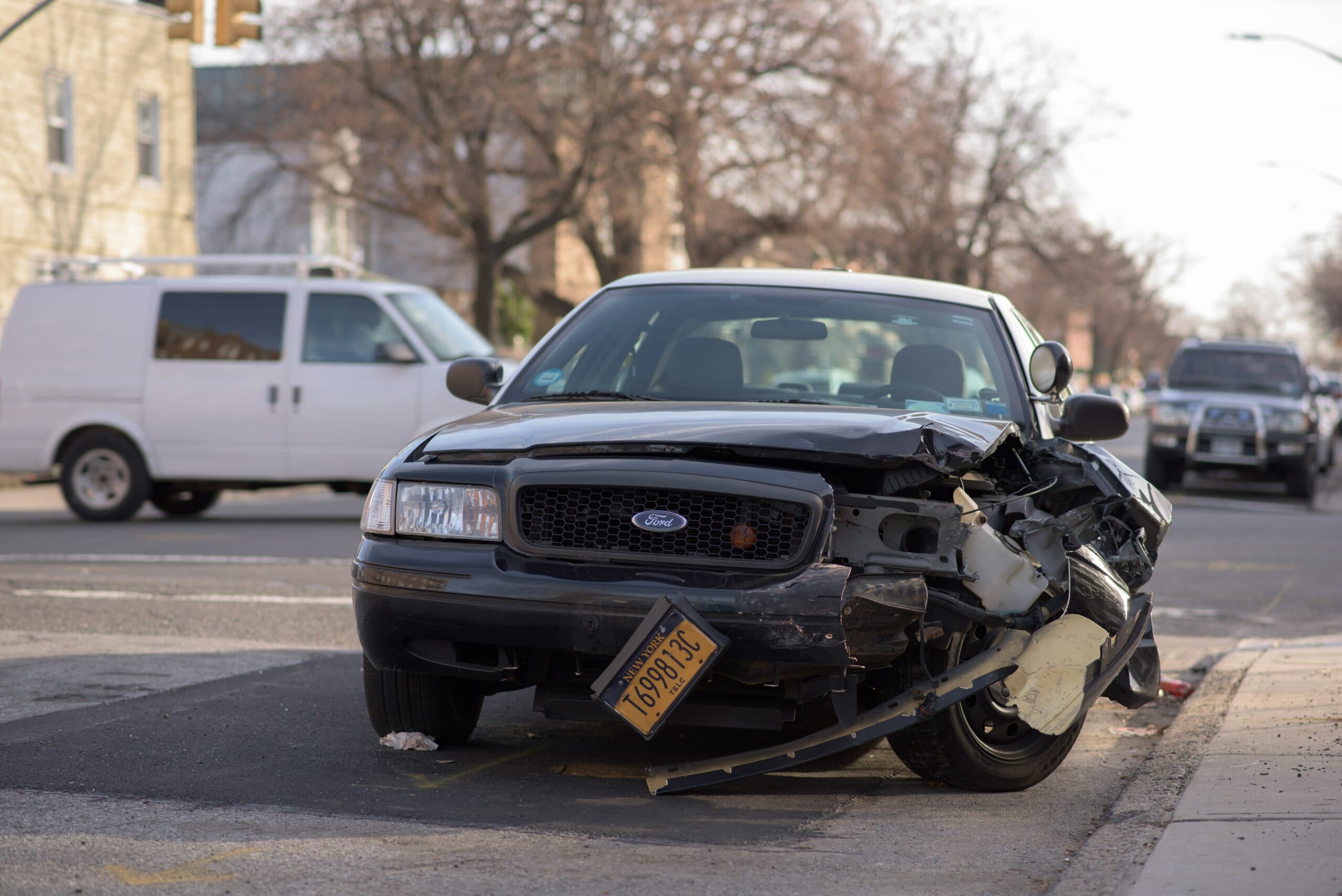 He walked away without a scratch. But our totaled car wasn't so lucky. I paced the floor, bouncing a fussy newborn, annoyed that my husband wasn't home from work yet. I was sleep-deprived and completely unaware that my husband was involved in a potentially fatal car collision. A transport truck was merging onto the highway and cut my husband off. The truck pushed him into the centre barricade and he spun out of control. The front end was crushed and the cement barricade scraped all the paint off the driver's side panels. There was over $10,000 worth of damage. Once the shock wore off, the next step was to make an insurance claim. Here's what to expect from your insurance company if you total your car.
Totaled car: what does that mean?
In the insurance industry, the terms "totaled" and "write-off" are interchangeable; they mean the same thing. If you are involved in a collision, your car is considered "totaled" if the cost to repair the damage is more than the value of your car.
Cars can be replaced, people cannot. If you're stressing about your claim, it means you're alive! If your vehicle is considered a write-off by your insurance provider, you have a few options to consider. But first, let's take a walk through the claims process.
Totaled car: how to start your claim
Exchange insurance information
The first thing you're going to do is get the insurance and registration information from the other driver. It helps to keep a pen in your vehicle, but taking pictures on your phone works too. The other driver will also get your insurance information. If there were other drivers involved, you'll need to get their information too. Talk to witnesses, ask for their information to submit with your claim.
Report the collision
Insurance companies and headaches go together like tacos and Tuesdays. If you picked the right provider and policy for your needs, then you've won half the battle. Bust the claim process stresses by reporting the collision to your insurance provider immediately and not leaving the scene. Do it at the side of the road if you need.
If it wasn't your fault, you'll contact the other driver's insurance company too. Do not assume they will do it; unless you want to upgrade your tension headache to a blinding ocular migraine. When reporting the collision, you'll need to provide the following information:
Vehicle registration
Driver's license of the person who was driving your car
The other driver's insurance, registration and license information
The other vehicle's license plate number and issuing province
A detailed account of how the accident occurred
Account of when, where, time and weather conditions at the time of the accident
Contact information of any witnesses
Call a tow truck if your car is undrivable
You're shaken up and want to get home asap, but make sure your car is safely moved to a repair shop first. If your car is undrivable, you'll need to call a tow truck. If you have Canadian Automobile Association (CAA) membership, this service is likely to be free. If you purchased your car new, you may have promotional emergency roadside assistance. In most cases, though, be prepared to pay a hefty towing invoice. Have your credit card or prepaid card ready, along with your driver's license.
Organize your documents
When you get home, you'll need to gather up all necessary documents relating to your car. If your vehicle is financed, you need those financial documents too. It helps to get a file folder just for your claim to keep everything organized and in one convenient spot. Some of what you will need includes, but is not limited to:
Proof of ownership
Bill of sale
Safety certification
Car loan/leasing documents
Receipts for repairs/maintenance
Totaled car: an adjuster vs. an appraiser
Call your insurance company to file your claim. You'll be assigned a caseworker. In the insurance world, this person is called an adjuster. Your adjuster will investigate your claim to determine:
How the accident happened
Who is at fault
If you are properly insured
If you are in compliance or in violation of your policy
An appraiser will assess the total cost of damage, and how much your vehicle is worth based on the condition immediately before the accident happened. They'll compare the value of the car against the cost of repairs. If your vehicle is worth less than it would cost to repair the damage, it will be considered a write-off. The appraiser submits their assessment to your adjustor.
An adjuster is there to help you navigate the claims process and will explain how your vehicle is assessed. This person is responsible for investigating you, the nature of the accident, evaluating the case, and will ultimately deny or approve your claim. If your claim is approved, your adjustor will offer you a settlement.
Here is an easy way to differentiate between the two: the appraiser holds the checklist, the adjuster holds the chequebook.
Totaled car: how do they determine a write-off?
If your car is worth less than the cost to repair it, the insurance company will write it off. The value of your car is determined by the appraiser. So how does an appraiser determine how much your car is worth? They take the following things into consideration:
Year
Make
Model
Features
Kilometres
Type of engine
Aftermarket upgrades
Condition of the car before the collision
Any pre-accident damage
Once your car has been fully inspected, the appraiser will compare it to several vehicles of the same model in your area to determine the average selling price. If your fully loaded 2008 4WD Lincoln MKZ was totaled, the appraiser will compare your car to several other Lincoln MKZ's. The appraiser will compare the features and overall condition of your car to those models on the market to determine the average selling price. The average selling price of those models will tell the appraiser the actual cash value of your car; how much it is worth based on the overall condition just before the accident occurred.
Totaled car: what are your options?
The insurance company says your car is a write-off, so now what? If your totaled car is a total loss, you have some options available to you. Before you make a decision, make sure you're informed. If you know how much your vehicle was worth just before the accident, you'll be able to make the right decision based on your situation, for example:
If you believe your car is worth more than the settlement offer, you can negotiate the pay-out amount. You need to present strong evidence, so do your research by looking at the selling price of other same or similar model vehicles in your area, compare your vehicle to the Blackbook value, and leverage any upgrades, luxury features, aftermarket modifications, etc.
If your vehicle is classified as "irreparable," you legally won't be able to fix it yourself or drive it again. But you could sell it for parts.
If your vehicle is classified as "salvage" and there is no structural damage, you may be able to negotiate keeping it as part of the settlement agreement. If you plan to drive it again, the vehicle must be repaired at your own expense and it must pass a full safety inspection.
In most cases, it does not make financial sense to keep a car that is worth less than the cost to repair it. You're better off letting it go and using the payout to replace your car with another one. Pro tip: always try to negotiate a better payout. Naturally, insurance companies want to protect their bottom line. Why shouldn't you do the same? Treat the first offer as a starting point to a negotiation.
Totaled car: how much is the payout?
Your payout amount depends on the type of coverage you opted for in your policy. If all you have is collision insurance, you won't get a payout from your insurer. If you have comprehensive insurance, new car replacement coverage is usually a policy add-on. It allows you to replace a recently purchased vehicle without losing money on the depreciation from when you bought it. That means the insurance company will cover you for the purchase price. Because new car replacement coverage is typically an add-on, it can be quite expensive and make your monthly premiums higher. Most people opt for actual cash value coverage.
Actual cash value coverage compensates for the current value of the car immediately before the collision occurred. That value is calculated by subtracting how much your car has depreciated from its original purchase price. Factors that determine how much your vehicle has depreciated include age, kilometres, and pre-existing damage, to name a few. Actual cash value coverage is less expensive than new car replacement coverage, which makes it the more popular type of coverage.
Your insurance adjuster will use the appraiser's assessment of your car's damage, along with the price of comparable vehicles in your area, and the information they gathered while investigating your claim. Then the adjuster will offer you a settlement amount. You can accept the settlement offer or choose to negotiate. Once you and the adjuster have agreed on a settlement amount, your insurance company will issue you a cheque, minus your deductible.
If you owe money on your vehicle through a car loan or lease agreement, for example, those creditors will be paid first. If there is a positive balance, your vehicle's actual cash value is more than what you owe on it, you will be issued a cheque for the remaining settlement amount. If there is a negative balance, your vehicle's actual cash value is less than what you owe on it, you are responsible to settle up the remaining balance with your creditor. If that happens, you'll need to pay out of pocket, unless you have gap insurance.
Totaled car: when you owe more than what it's worth
This is a common scenario. A car starts to depreciate in value the moment you drive it off the lot. Some makes and models hold their value better than others, but as a rule, cars are depreciating assets that continue to lose value over time. So what happens when you owe more on your car loan or lease agreement than what the car was worth immediately before the collision?
Gap insurance does just what the name suggests. It fills the gap between the value of the car and how much you owe. But you need to obtain gap insurance at the time of purchase in order to realize this benefit. Leased cars typically require gap insurance as part of the lease agreement. Many, if not most, car insurance companies offer gap insurance. You should consider gap insurance if any of the following scenarios apply to you:
Your vehicle is a lease
You made a small down payment
You did not make a downpayment at all
Your vehicle is known to lose value quicker than most
Your car loan term is longer than 5 years
Your car loan has a high interest rate
You drive more than 15,000 km a year
Your car was used to secure a personal loan
If you rolled over a balance owing from a previous car into a new loan for a newer car
Totaled car: other considerations
Above is a basic skeleton outline of what to expect if your car is totaled in an accident. The actual nuts and bolts of the claims process will differ greatly depending on what province you live in and who your insurance provider is. How settlements are calculated and paid out will also vary across providers depending on the type of coverage you have.
But there is one more major point to consider, which may or may not be applicable in your province: you may need to report the accident to your local police. I live in Manitoba where our car insurance is provided by the province rather than privately owned insurance companies. Where I live, I need to report a collision with another vehicle to my local police. Depending on where you live, you may need to report the accident to your local police too if:
There was a fatality
Serious injury requiring hospitalization
The other driver(s) were unlicensed
The other vehicle was not registered
It was a hit and run accident
You were not able to get the other driver's details
The other driver may have been under the influence of drugs or alcohol
You insurance provider requires it
If you are unsure of the reporting or claims process following a collision, contact your provider. Your reporting responsibilities following an accident will differ from province to province and provider to provider. When I was in my first fender-bender, I was required to report the accident to the police. Nine years later, a simple fender-bender no longer needs to be reported. But if I am in an accident that involves anything from the above list, I have seven days to report it to the police.