Democratizing Wealth: The Incredible Impact of ETFs on Everyday People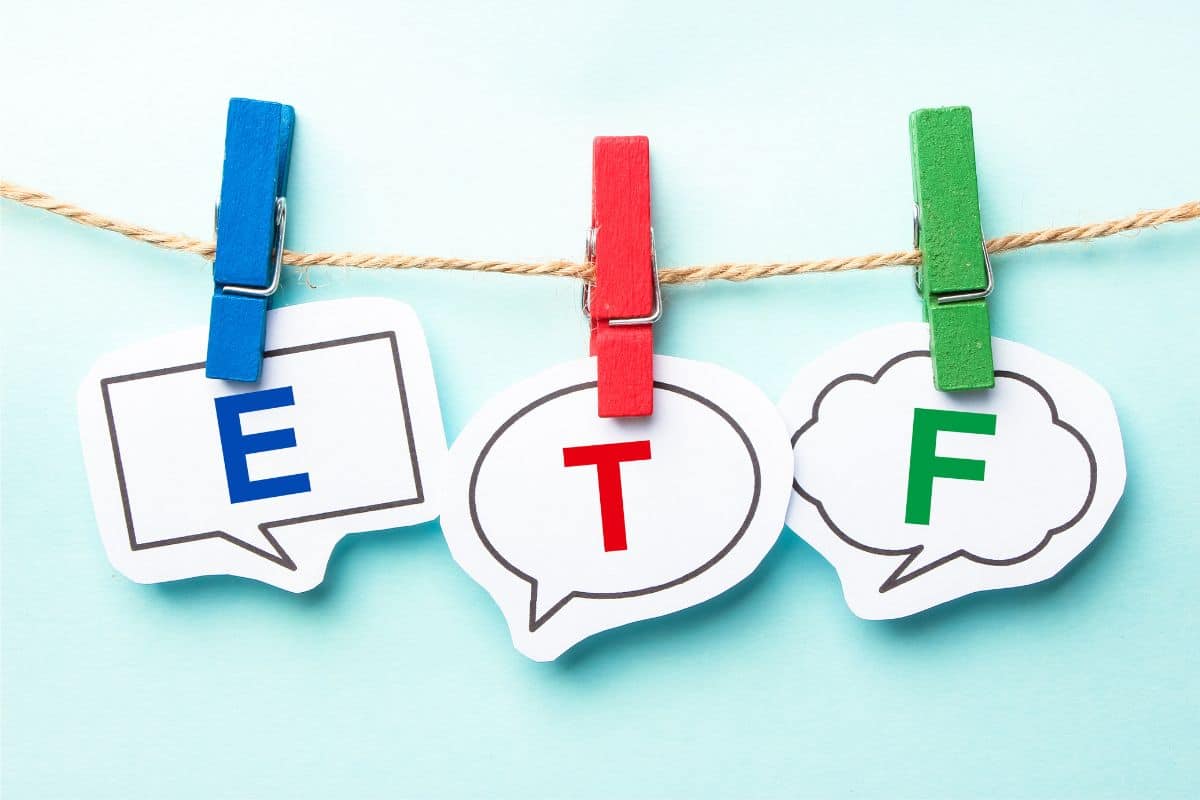 In Collaboration with BMO Global Asset Management
Do you feel like you just can't get ahead? You're not alone. Most suits on Bay Street like to believe they're doing important work for the greater good, but one man actually is. Alain is the Director of ETF Distribution, BMO ETFs at BMO Global Asset Management, passionately working to give us regular folk our financial power back.
He's been a tour de force behind one of the most disruptive financial innovations in Canadian history: Exchange Traded Funds (ETFs). He sat down with me to talk about the evolution of ETFs in Canada, how they've democratized wealth, and their under-rated impact on people like us.
Bringing Wall Street to Main Street
Meet Alain Desbiens, your friendly neighbourhood wealth distributor. With over 25 years of experience in finance, Alain's depth of knowledge is unrivalled. He's been helping both retail and institutional clients reap the benefits of ETFs, taking home top honours for his efforts at the Canadian Wealth Professional Awards in 2015, 2020, and 2021, as well as being a finalist in 2016 and 2017. In 2010, BMO welcomed him as their first-ever ETF specialist, at a time when BMO offered just 28 ETF products with $500M worth of assets under management (AUM).
Today, BMO provides 175 ETFs and has $90B AUM1, a stellar achievement that can be traced back to his formative years. The son of two finance professionals, there was no shortage of financial education at home. Alain's father was head of the Ontario Desjardins Credit Union, where he excelled in his role. Resisting the call of nepotism, Alain was quite sure he did not want to follow in his father's footsteps. But some things are just coded into your DNA.
Alain kicked off his career in the insurance industry almost 30 years ago. In that time he cultivated invaluable experience across countless fields ranging from Sales Manager at CIBC Financial Planning to the VP of Sales for Institutional Asset Management at Fiera Capital, and almost everything in between. This financial sensei sat down with me to discuss all-things-ETF, and his passion for no-Canadian-left-behind was palpable. Here's what he had to tell me about the evolution of Exchange Traded Funds:
Spill the tea on how ETFs came to be
In 1989, long before ETFs entered the chat, there was an attempt to list a passive S&P 500 index fund on the Philadelphia stock exchange. The goal was to make Wall Street's playbook accessible to Main Street investors. Unfortunately, the product failed to launch when it couldn't pass the muster. A Chicago court ruled that it behaved too much like a futures contract so it could only be traded on a futures exchange.
But then in 1990, Canada struck gold with the world's first successful ETF. It was called "TIP" because it tracked the Toronto 35 Index Participation Fund. This one passed the regulatory vibe check and made its debut on the Toronto Stock Exchange (TSX). Now mom and pop could invest in a passive index fund that was previously reserved for institutional and professional investors.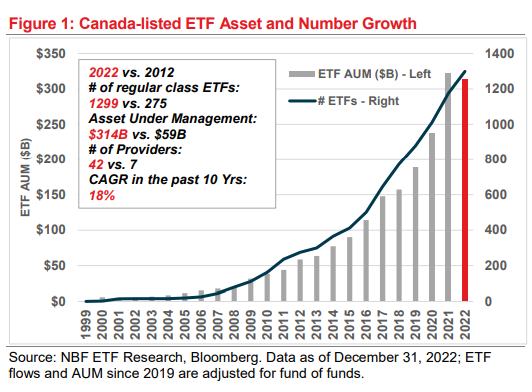 Fast forward to 2022, and ETFs have evolved through several iterations into the easy-breezy products we know and love. Now the total ETF market in Canada holds over $300B in assets under management.1
What's behind the growth & development of ETFs in Canada?
In a word, education! The Canadian ETF story is remarkable – growing from just seven ETF providers in 2012 to over 42 today, and from 275 products to over 1300! So what's been the driving force behind this explosive growth?
There are significantly more providers offering tailored solutions for our diverse needs thanks to better, more accessible information. BMO is particularly committed to ETF literacy across the board. For investors like you and I, there are powerful tools and resources on BMO's ETF Market Insights website and its sister YouTube channel. They also have a passionate team of people dedicated to educating institutional clients, investment managers, and professional investors.
Put them together and it's no surprise that Canada's ETF market has grown an amazing 18% each year on average over 10 years!2 Both supply and demand are expanding as more people understand the features and benefits of ETF investing.
"BMO has been number one in net new flows for the past 12 years," explained Alain. "We've done better in Canada than some American firms. This is the only country in the world with a national ETF provider that beats the US in terms of net new flows year after year1. I think it's because ETFs are in the DNA of Canadians. I'm really proud of our team and what we've accomplished."
What does that mean for people like us?
Freedom of choice and the power that comes with it. As Alain puts it, " ETFs have been a huge disruption to the financial landscape, providing better solutions in the lives of Canadians." Of Canada's growing ETF market, most of it is in the hands of regular people like us, known as retail investors.
"30% of the assets are institutional, and 70% is retail," he explains. And of that 70% retail, almost half are held through discount brokerages where you control your own investing journey. The reason for that is twofold: transparency and affordability.
The introduction of ETFs has had a profound impact on individual Canadians by demystifying the previously overcomplicated and, therefore, intimidating world of investing. Not only are there thousands of options to choose from, but ETFs offer a level of transparency that empowers Canadians like never before.
With the click of a button, you can see everything from the asset mix, fees, sector location, risk rating, performance, and more. Now anyone can take control of their wealth, build a customized portfolio, and maximize returns with lower fees.
"It's never been so inexpensive to invest," says Alain. "More and more brokerages offer zero-commission ETF purchases." As a result, Alain is starting to see mutual funds lower their fees too. That's a big deal for lower-income Canadians trying to get ahead.
Until now, high fees have been cost-prohibitive for people who don't have a lot of money to invest, creating a barrier to financial independence. "50% of Canadians have less than $10,000 to invest. I think ETFs are really an investment of choice for them."
Are you new to ETFs? Alain has a message for you
"EDUCATION! EDUCATION! EDUCATION!" he exclaimed, directing me to the BMO ETF Market Insights website, "and consider starting with an Asset Allocation ETF as your core." These ETFs hold specific amounts of different stocks, bonds and other investments to create a portfolio that meets your goals based on the level of risk you're comfortable with. It's like having a smart financial advisor in your pocket, managing your wealth for you.
Asset Allocation ETFs are managed by industry pros, giving new investors easy diversification and peace of mind. They also provide awesome benefits like automatic rebalancing to keep your portfolio on track, full transparency so you know exactly what's in there, and are super liquid so you can buy or sell whenever you like.
Most importantly, they're cost effective. This type of ETF investing can offer lower fees than some other diversified investments, making it a great way to grow your wealth and keep more of it.
Not only does BMO provide diverse ETF solutions to suit multiple investors, but they're doing so alongside an aggressive education strategy. The BMO ETF Market Insights website is the DIY investor's Swiss-army knife. There, you'll find everything you need from educational resources to specific ETF metrics, market trends, screening tools, and more. You can even build your own mock ETF portfolio to test your skills without risking your bacon.
Alain, how are BMO ETFs keeping up with the needs of Canadians?
"I'm a boomer, you're probably a millennial, right?" he says, chuckling. There's a generational shift happening, and BMO is getting ahead of it to provide the right solution, for the right person, at the right time.
"As boomers retire, they need a steady flow of income," he explains. "BMO is bringing more innovative solutions, like dividend and covered call funds, that can generate income in a taxable account specifically for the boomer and interwar generation."
For the pro-tech millennials with a higher risk tolerance, BMO has partnered with Cathie Wood and Ark Invest. "We're distributing her Innovation Fund (ARKK), her Genomic Revolution Fund (ARKG), and her Next Generation Internet Fund (ARKW) which appeals a lot to the millennial crowd."
Together, Gen Z and millennials are the most climate-conscious and values-driven demographic. "So we've partnered with Brookfield Asset Management to deliver tailor-made ESG solutions in clean and renewable energy, for both equity and fixed income," says Alain.
Environmental, Social, and Governance (ESG) investing is a form of responsible investing that looks for ethical climate, social and corporate governance factors when selecting investments. This type of investing aligns with Gen Z's particular focus on positive change.
Alain, If you had unlimited resources and could solve any problem in the world, what would you tackle first and why?
Without hesitation, he replied, "one in three people struggle to meet their financial obligations, and one in four don't have enough savings to cover a $500 surprise expense." In a country as rich as Canada, that's unacceptable.
"This is something I want to change," he explains, "along with the environment. Because in 30-40 years, if the planet is not doing well, we will not be able to help each other."
That passion for people is evident in the work Alain has done to make investing accessible for everyone. He understands the financial literacy crisis holding Canadians back from living full lives. As a finance professional, he feels a moral responsibility to give us the tools we need to thrive and teach us how to use them.
Thanks to his invaluable contribution to the ETF market in Canada, it's never been easier and more affordable to invest. Millions of people just like you have already taken their financial power back.
Are you next?
Footnotes
1 Bloomberg Mar 2023
2NBF ETF Research, Bloomberg. Data as of December 31, 2022
Disclaimer
Any statement that necessarily depends on future events may be a forward-looking statement. Forward-looking statements are not guarantees of performance. They involve risks, uncertainties and assumptions. Although such statements are based on assumptions that are believed to be reasonable, there can be no assurance that actual results will not differ materially from expectations. Investors are cautioned not to rely unduly on any forward-looking statements. In connection with any forward-looking statements, investors should carefully consider the areas of risk described in the most recent prospectus.
This communication is intended for information purposes only and is subject to change without notice. This article has been prepared by Heidi Unrau and represents their assessment at the time of publication. The comments contained do not necessarily represent the views of BMO Global Asset Management. This video should not be construed as investment advice nor a recommendation to buy or sell any particular ETF or security. ETFs are not guaranteed, their values change frequently and past performance may not be repeated.
Commissions, management fees and expenses (if applicable) all may be associated with investments in mutual funds. Trailing commissions may be associated with investments in certain series of securities of mutual funds. Please read the fund facts, ETF facts or prospectus of the relevant mutual fund before investing. Mutual funds are not guaranteed, their values change frequently and past performance may not be repeated. Distributions are not guaranteed and are subject to change and/or elimination.
For a summary of the risks of an investment in the BMO Mutual Funds, please see the specific risks set out in the prospectus. ETF Series of the BMO Mutual Funds trade like stocks, fluctuate in market value and may trade at a discount to their net asset value, which may increase the risk of loss. Distributions are not guaranteed and are subject to change and/or elimination.
BMO Mutual Funds are managed by BMO Investments Inc., which is an investment fund manager and a separate legal entity from Bank of Montreal.
®/™Registered trademarks/trademark of Bank of Montreal, used under licence.