Moomoo Review 2023: Is It Right For You?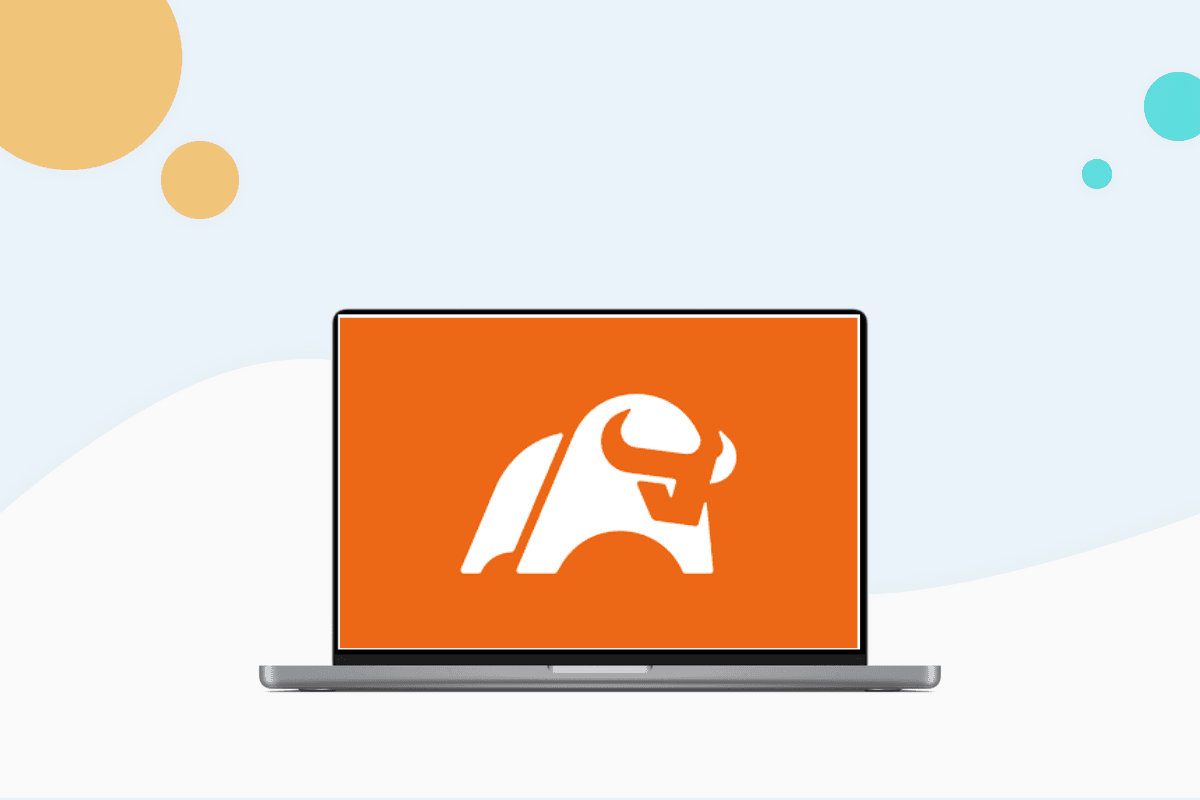 Moomoo is a low-fee trading platform for stocks and Exchange-Traded Funds (ETFs). If you're an active day trader or new to self-directed investing, you'll find this digital broker particularly appealing.
Moomoo
offers extended trading hours, access to foreign markets, free market data, professional tools, practice accounts, and more. With no account fees, no minimum balance requirements, and no inactivity fees – there's a lot to love. But there are a few hang-ups to consider, like limited securities and account options to choose from. Here's what to know about Moomoo and how to decide if it's right for you.
Moomoo at a Glance:
🟢 Pros
✅ $30 Welcome Offer ✅ Extended Trading Hours ✅Quick & Easy Signup ✅Low Trading Fees ✅Access to US & Foreign Markets ✅ Free Practice Account ✅Free Professional Tools ✅Custom Charts ✅Multi-Monitor Setup ✅Extensive Educational Material & Free Courses ✅Regulated By
Canadian Investment Regulatory Organization (CIRO)
🔴Cons
❌ Only Available in ON & BC ❌ Only Non-Registered Personal Accounts Available (Registered Accounts to Launch by End of 2023). ❌ Only Stocks & ETFs Available ❌ Pay-Per-Trade ❌ 3-Day Hold On Deposits
The Moomoo Welcome Offer
Right now, you'll get $30 Welcome Bonus when you
open an account
and deposit $500. There's no locking period and you don't even have to make a trade. Just fund your account and voila – free money. [Offer productType="BrokerageAccount" api_id="65490e3e5095a94f68b0f80e"]
How Does Moomoo Work?
Available only in Ontario and BC, Moomoo is an online
trading platform
designed for active day traders. While we generally don't recommend day trading as an investment strategy, we do love how beginner-friendly this platform is. Moomoo has designed a simple, easy-to-use interface packed with hundreds of free tools and resources you'd normally have to pay for. Plus, it's available as both a mobile and desktop app.
Products & Markets:
With Moomoo, you can only trade stocks and
ETFs
. If you want to trade mutual funds, options, crypto, etc., you're out of luck. On the upside, this platform gives you full access to US and foreign markets, such as:
Accounts:
Right now, you can only open a personal non-registered account. If you were hoping to trade within an
RRSP or TFSA
, for example, you'll have to wait until the end of 2023 when they'll launch registered accounts. So sit tight, RRSPs and TFSAs are coming soon!
Deposits:
Funding your account is free and can be done via wire transfer or as a bill payment through your online banking. Once the funds are deposited, they'll be held for 3 business days before you can start trading.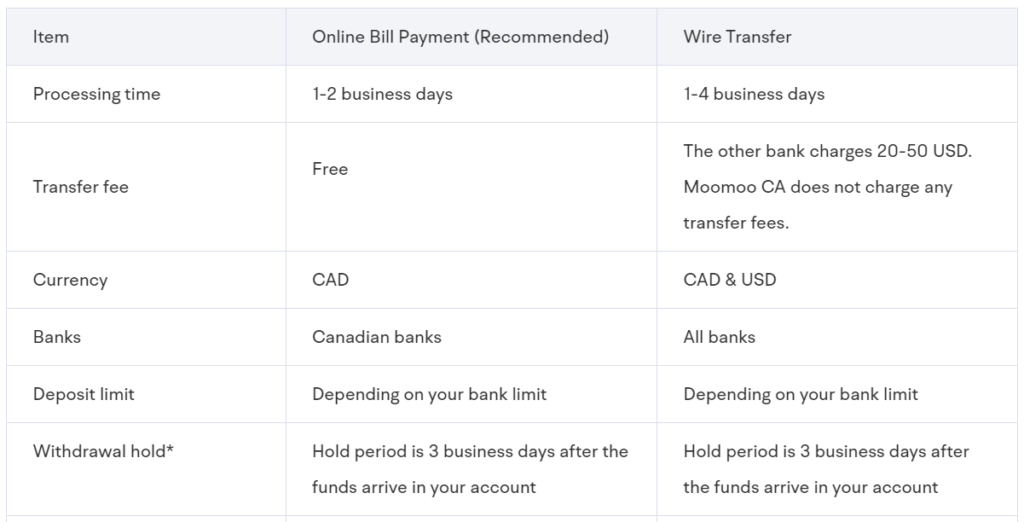 Withdrawals:
You get one free withdrawal each month, which can be done via Electronic Funds Transfer (ETF) or wire transfer. After that, the fees are as follows: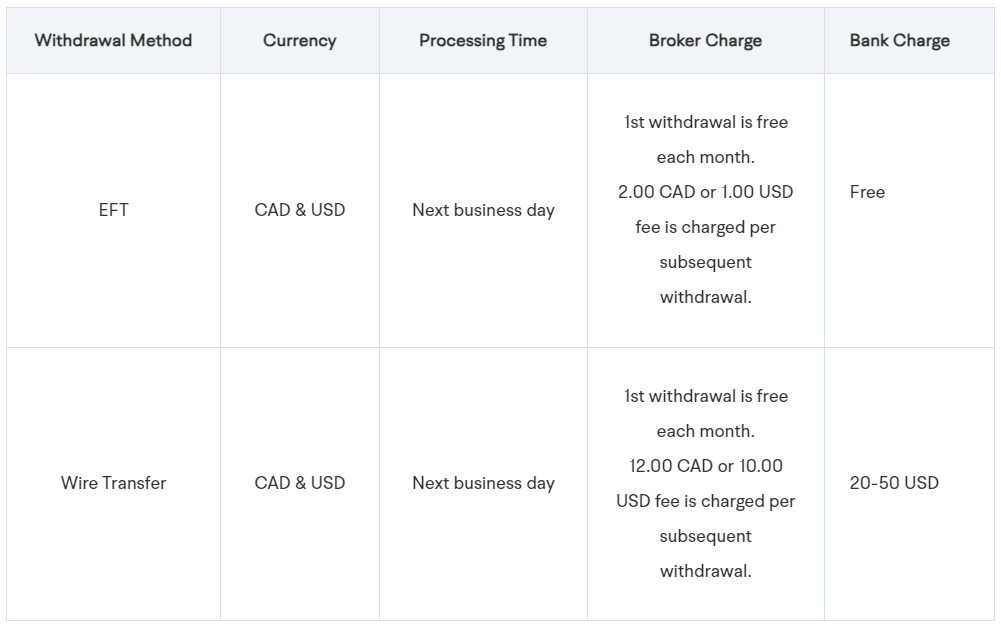 Fees: Trading & Transactions
One major downside is that Moomoo does not offer
zero-commission trading
, unlike major competitors like Wealthsimple. However, the fees you pay are quite competitive:
US stocks & ETFs:
US$0.0099 per share, with a minimum of $1.99 per order.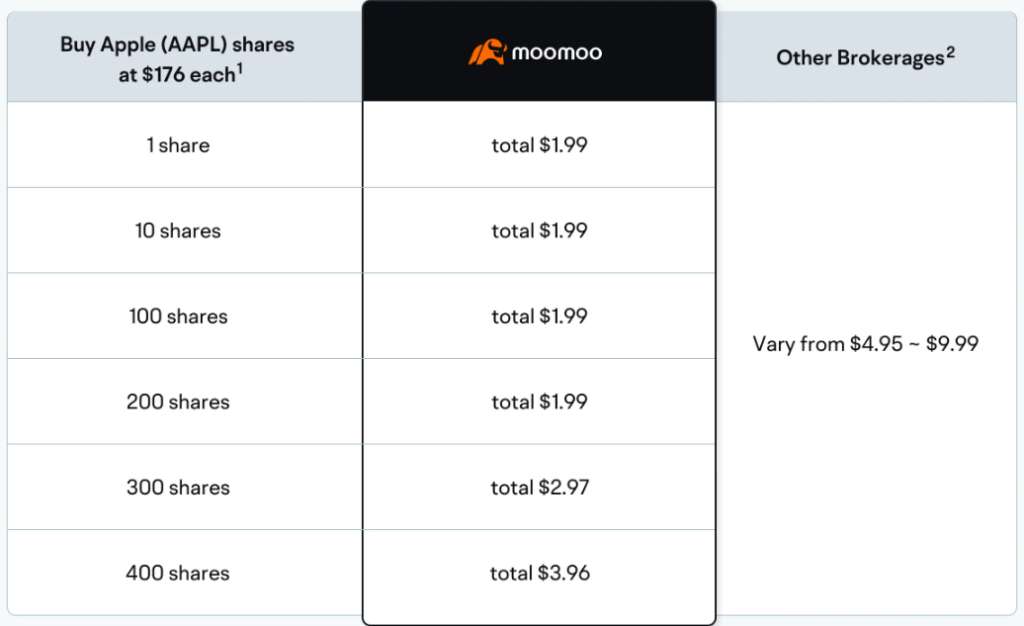 Margin Rate:
Varies between 7.83% and 8.83%, depending on how much you borrow. If you're new here,
margin trading
is when you borrow money from the broker in order to invest more money than you currently have. The interest you pay is called the margin rate. It's like a financial booster. But with great power comes great responsibility – margin trading increases both potential gains and potential losses. It is a high-risk strategy not suitable for new investors.
Currency Exchange:
For those wanting to trade US stocks but have Canadian dollars (CAD), you can exchange CAD for USD for just 0.09%, with a minimum of $2 per transaction.

Transparency:
While we don't love fees of any kind, we get it – Moomoo has to make money. But they go a step further than other platforms by disclosing exactly why the fees are priced that way. Where does that money go? Well, here's who takes a cut from Moomoo's trading fee: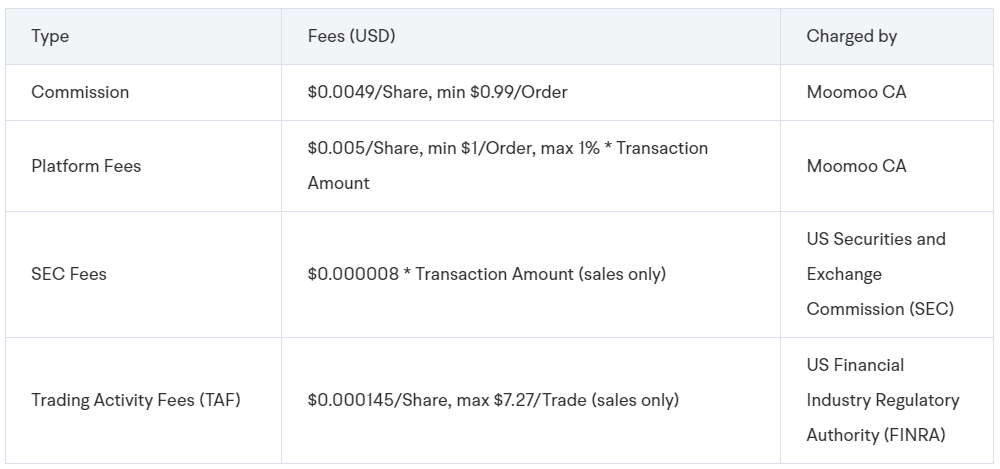 Moomoo Features & Tools We Love
From real-time data and personalized analysis to a wealth of learning resources, this platform is purpose-built for beginners and pro traders alike. Here are just some of the features and tools that make
Moomoo
stand out:
Extended trading hours
Gone are the days of being confined to the standard market hours. With Moomoo, you can trade on your terms from as early as 4 AM to as late as 8 PM Eastern Time. What does this mean for you? Two words: flexibility and opportunity. Active traders will love the ability to react swiftly to market news and events as they unfold, not missing a beat or a profit-making move. If you're a
new investor
, you get the convenience of trading when it suits your schedule, allowing you to ease into the trading world without the pressure of the regular market rush. Whether you're looking to capitalize on earnings announcements before the opening bell or need to digest late-breaking news after the market closes, extended hours keep you a step ahead in the fast-paced world of stocks and ETFs.
A practice account

One of my favourite features is the free practice account, known in the industry as
"Paper Trading."
The name harks back to the days when folks would track their pretend trades on paper. But nowadays, it's mostly done on software or online platforms like Moomoo. You'll find this practice account under the tab labelled "Paper Trade" at the top of your dashboard. With $1,000,000 in pretend money, you can dive into paper trading to get a feel for the market, test out strategies, and familiarize yourself with Moomoo's various trading tools. It's the perfect gaming console to learn and play before putting your own skin in the game.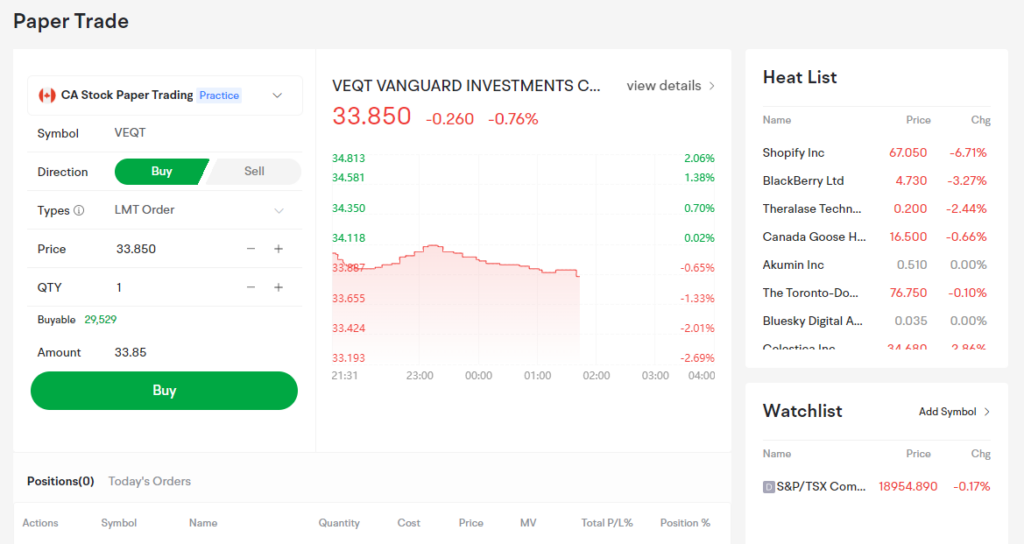 Free real-time data
This gives you a real-time snapshot of the availability and demand for a stock, showing not just the best bid and ask prices, but also the quantities on offer. This deeper market insight reveals the intensity behind price movements, which can help you spot buy and sell opportunities with better accuracy. And the best part? Moomoo offers an exclusive glimpse into 60 levels of bid and ask prices for free. You get a comprehensive view to make well-informed decisions and enhance your trading acumen without having to pay extra.
Analysis features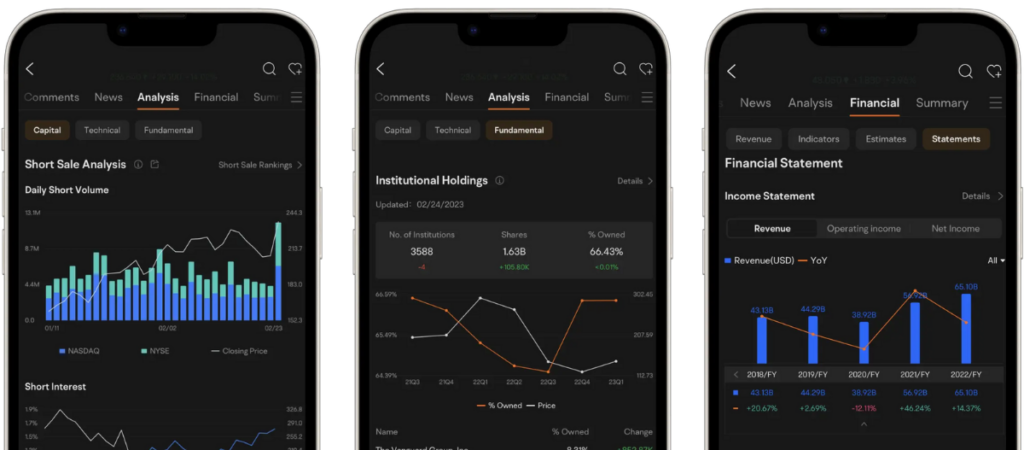 Moomoo offers a buffet of tools to help you assess companies and make informed trading decisions. Budding investors and pro-day traders alike will benefit from tools like, but not limited to:
Daily Short Sale Analysis
: Short selling is when you bet on a stock's price dropping. With Moomoo, you get the daily scoop on short-volume data from big players like the New York Stock Exchange (NYSE) and NASDAQ. This helps you spot signals, see daily rankings, and get insights into potential opportunities. But tread carefully, short selling can be a wild ride with risks like skyrocketing stock prices and dividend or margin risks. It's not for everyone, so be sure you understand and manage your risk exposure accordingly.
Institutional Holdings:
Curious about the big fish in the market? Moomoo lets you peek into ownership activities with visual summaries of institutional holdings. It's like getting a bird's eye view of what the major players are doing.
Insightful Company Valuation:
Ever wonder if a stock is priced fairly? Dive into stock valuation like a seasoned investor using Price-to-Book (PB), Price-to-Earnings (PE), and Price-to-Sales (PS) models. Compare current prices to historical data and see how a company stands in its industry with easy-to-read charts.
Financial Reports:
Equip yourself with detailed financial reports and clear visualizations. Compare vital indicators like revenue, Return on Equity (ROE), and business growth rates. Plus, get insights from independent analysts' estimates.
Custom charts & powerful tools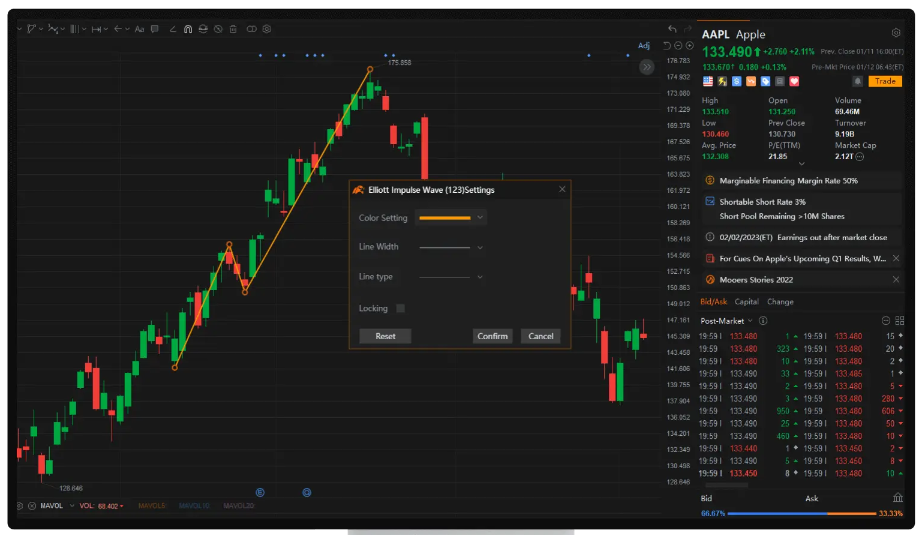 Want to feel like a trading wizard with screens, charts, and tools galore? Moomoo gives you the power to choose your own trading adventure. Here are some features we love:
Multi-monitor setup:
You can set up to 6 multi-monitors, tailored just for you. Chart multiple stocks, analyze different time frames, and use various screeners—all at once, and all with real-time data refreshing 0.03 seconds so you don't miss a beat.
Over 63 technical indicators:
If you're new to this, technical indicators are tools that help predict where the stock price might go next. With Moomoo, you get access to data from 63+ indicators so that you have the right instruments to match your trading strategy.
38 drawing tools:
Whether you're a chartist looking for patterns or just trying to spot the next big trade signal, these tools help you visualize and analyze market moves with ease.
Custom indicators
: Are you are a perfectionist? With over 190+ pre-set functions, Moomoo lets you easily build your own technical indicators to perfectly suit your trading style. You can even synchronize them across all your devices so that your personalized toolkit is always at your fingertips, no matter where you are.
Track position changes
Moomoo lets you keep tabs on the position changes of over 20,000 institutions and funds, spanning from industry giants to niche players. Why's this a great feature? For starters, new investors can learn by observing the big players to gain insights into market trends and strategies. Meanwhile, the moves of smaller funds can hint at emerging opportunities, potentially giving savvy traders an edge.
Investing courses & library
My second favourite thing about Moomoo is that it's not just a trading platform, it's also your personal investment library and classroom. They offer tons of free educational resources that will take you from a complete beginner to a confident trader in no time.

The Library:
This is a treasure trove of knowledge, breaking down complex concepts into bite-sized, easy-to-understand pieces. Perfect for new investors eager to learn the ropes! Whether you're curious about stocks, options, or funds, or want to dive deep into fundamentals, technical analysis, and the big picture of macro-finance and economic topics, the Moomoo Library has it all.

Free Courses:
Think of Moomoo as your personal investment university, but without the crushing studen debt. From the nitty-gritty of stocks to strategic insights and perspectives on investment opportunities, there's a huge roster of courses just waiting for you. And for those visual learners, Moomoo's exclusive video tutorials offer step-by-step guidance to ensure you're confidently making moves like a pro.
Is Moomoo Legit?
Moomoo
is brand new to Canada, launching in August 2023. So, there's not much user feedback to go one. But here's what we do know: Moomoo is regulated by the
Canadian Investment Regulatory Organization (CIRO)
, and they are proud members of the
Canadian Investor Protection Fund (CIPF)
, which means they've got a safety net in place to protect each client for up to $1 million in a general account. Pretty reassuring, right? They're also a specialized Order-Execution Only securities broker and are registered with regulators in Ontario, Quebec, and British Columbia. How did they get here? Moomoo kicked off its journey in the tech haven of Palo Alto, California, back in 2018. They weren't just there for the sunny weather, they were on a mission to solve investors' pain points by making pro-level trading data more accessible. Fast forward to 2021, they hit the ground running in Singapore, skyrocketing to the top 3 in the financial app list. That's right, 1 in every 4 Singaporeans said, "Yep, Moomoo's the one for me!" But they didn't stop there. In 2022, Moomoo made waves in Australia as the first digital broker to bring intelligent-assisted technology to investment analysis. Oh, and did we mention they bagged four investment platform awards from Wemoney? Meanwhile in Japan, as soon as Moomoo's app went live, locals were all over it, loving the one-stop market information, educational tools, and community interaction. Zooming into 2023, Moomoo has its eyes on Malaysia and Canada, determined to empower investors with all the tools and knowledge they need to understand trends and seize investment opportunities. Plus, they've got some pretty solid partnerships with the bigwigs like NASDAQ, NYSE, and SGX Group – to name a few. And for the grand finale: Moomoo has amassed over 20 million users worldwide. So, in a nutshell, is Moomoo legit? So far, all signs point to yes. They're not just playing the part, they're armed with regulations, a global presence, and a whole lot of satisfied investors.
Who is Moomoo Best Suited For (And Who Should Avoid It)?
Moomoo
is best suited for active day traders and self-directed investors. It caters to traders who are looking for a low-fee stock trading platform with extended trading hours and access to foreign markets. Brand new to trading? The platform is particularly great for beginners and anyone who values free market data, professional tools, and practice accounts. Plus, we love that there's a $30 Welcome Bonus with no account fees or minimum balance requirements – perfect for traders who don't have a lot of cash on hand. However, Moomoo is not for you if you're a more passive buy-and-hold type of investor or if you're looking for a wide variety of securities and account options. Right now, Moomoo only offers stocks, ETFs, and
non-registered personal accounts
. Also, Moomoo charges per trade and does not offer zero-commission trading in Canada, like competitors such as
Wealthsimple
and TD Easy Trade. While I don't think day trading is appropriate for most people, especially new investors, Moomoo is a great starting point if you're hell-bent on that strategy. Once you're experienced and feel confident in your abilities, you may want to consider a platform like
Interactive Brokers (IBKR)
which offers lower fees, diverse securities to choose from, and more account types including RRSPs and TFSAs.