How to Leverage Expedia's Last-Minute Deals to Travel on the Cheap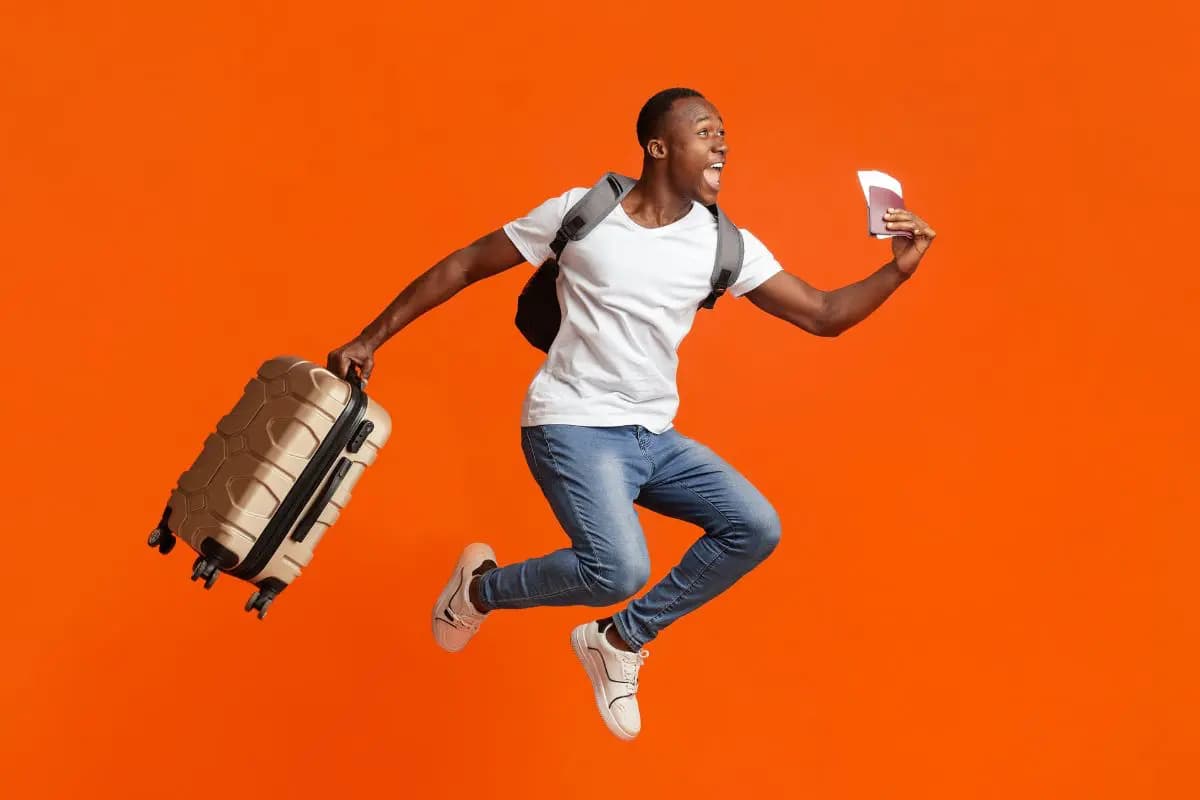 Expedia's Last-Minute Deals are here to bust your budget blues. Expedia is one of the world's leading travel websites used by millions of people to find cheap hotels, flights, car rentals, cruises, and more. The site has many great features, and its "Last-Minute Deals" section is one of the most useful features of all.
As the name implies, Expedia's Last-Minute Deals page is where the money-saving magic happens. That's where you can find some of the best travel deals to book at the last minute. So, if you're in desperate need of an impromptu break or want to take a quick vacation on short notice, you can head to this section and see what offers are available.
Let's take a look at how Expedia's Last-Minute Deals work and how you can use it to get the best deals on your spontaneous travel plans.
An overview of Expedia's Last-Minute Deals page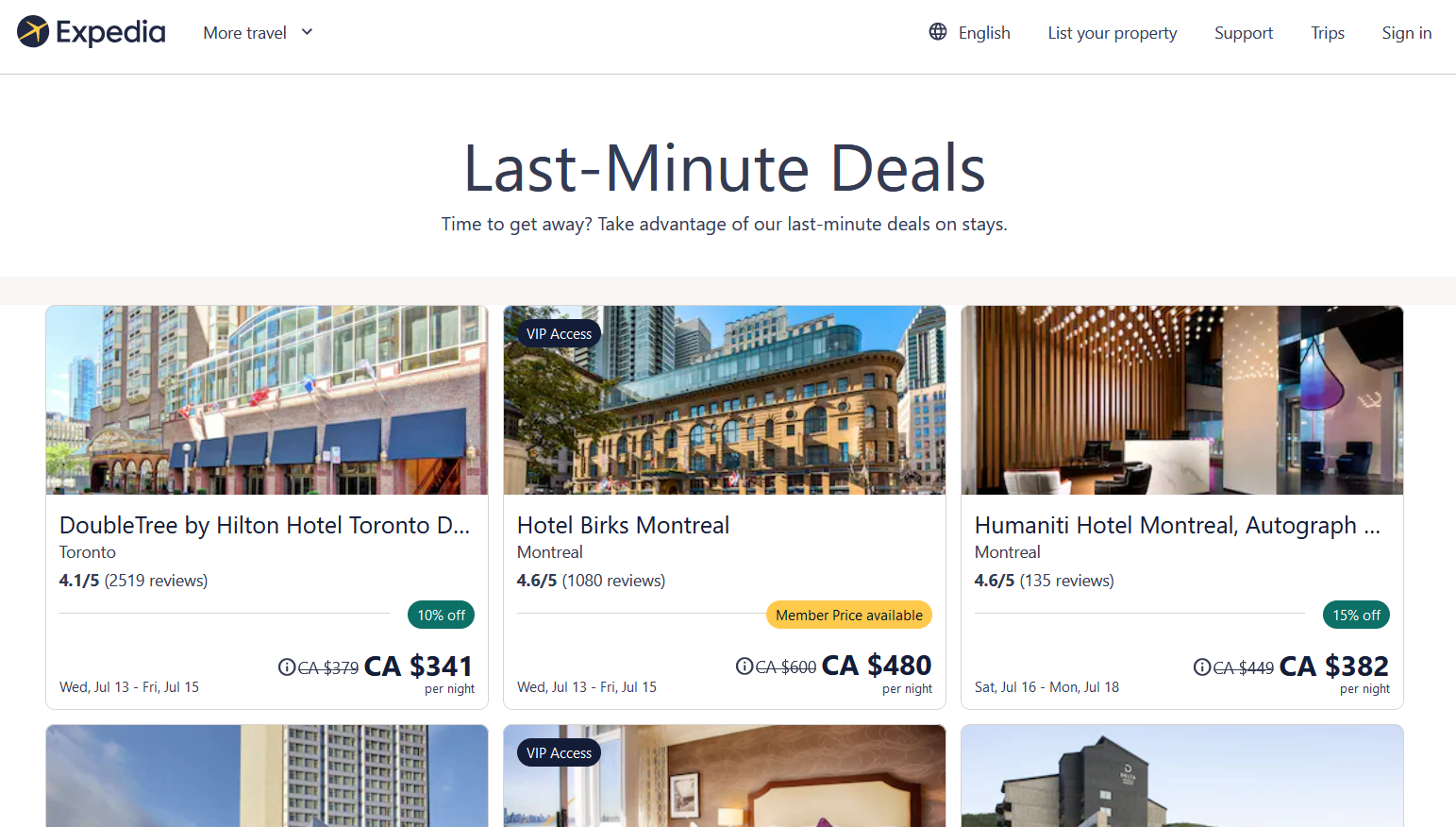 Let's begin with a quick look at what the Last-Minute Deals page on Expedia looks like and how it works. When you arrive on this page, you'll be greeted with the headline "Last-Minute Deals" and a series of the latest deals that might interest you, based on your current location.
As we visited the Canadian version of Expedia, the site automatically provided us with some of the best Canada-based last-minute deals to consider, including a two-night stay in a Toronto Hilton hotel and other short stays in cities like Montreal, Vancouver, and Québec City.
Read More: The 20 Best Places to Visit in Canada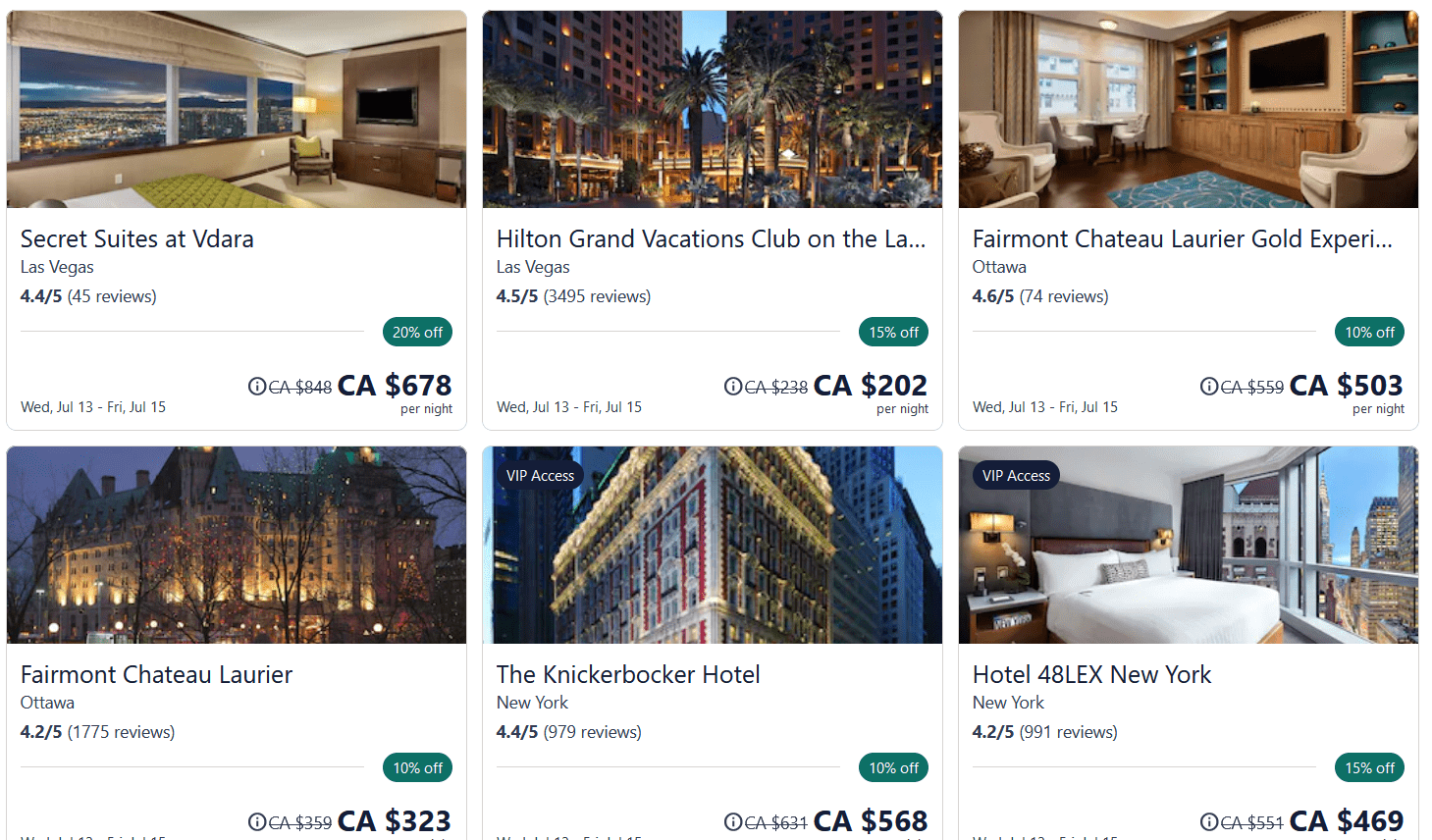 As you scroll further down the page, you'll be able to see more and more options, with a wider range of locations. Here, we can see that Expedia is now offering some last-minute deals in US cities like New York and Las Vegas, for example.
As you can see, this section of the Expedia site focuses on deals that are very close to the date of your search, usually covering the next 1-3 days, so these really are "last-minute" deals. 
If you book one, you'll need to be ready to set off the very next day or a day or two afterwards, so make sure you've already got everything else ready to go, like the best travel credit cards and your luggage ready to pack. If you like to travel to the US a lot, consider getting a NEXUS card to get through customs faster, and with less stress.
How to use Last-Minute Deals on Expedia
So, how can you use Expedia's Last-Minute Deals to get amazing travel discounts and fly all over the world at a fraction of the usual price? Let's take a look at some simple steps of how to use this system.
The first step of the process is to head to the Last-Minute Deals page.

Once there, you can take a look at the latest featured deals on the main page. As shown in the screenshots above, Expedia will offer you a range of great deals including both hotels and flight, and hotel travel packages for the next few days. So, just like comparing travel credit cards, you'll be able to compare hotels and flight prices to find one that's best for you.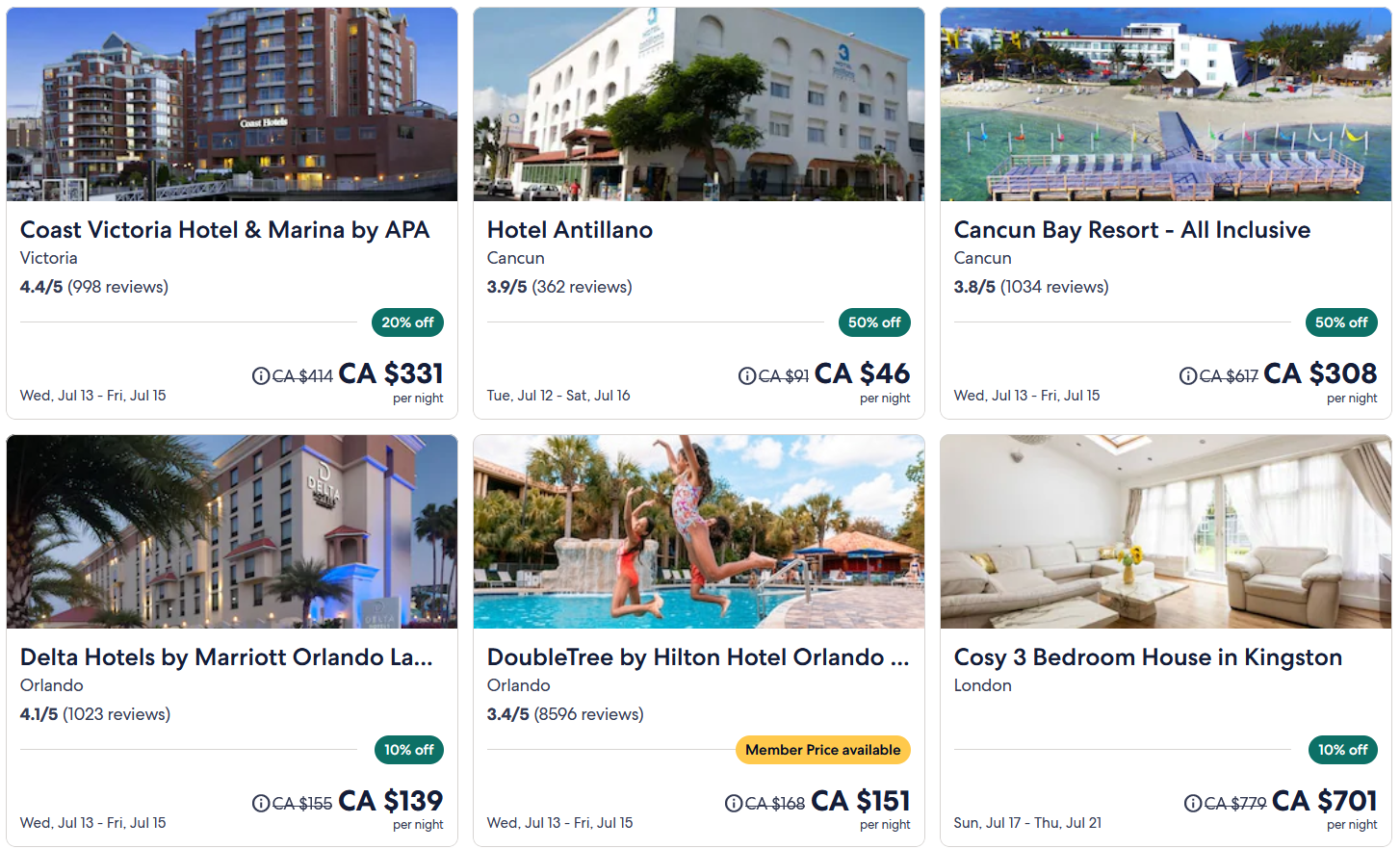 You can keep scrolling down to see the various options, and each one clearly shows the name of the hotel, the city you'll be travelling to, the dates of travel, and the cost per night. It also shows you how much of a discount you'll be getting compared to the standard price.
[Offer productType="CreditCard" api_id="5f6238369021382b35bb250e" id="134502″]
Look for the biggest discounts
One of the ways to get a really great deal on Expedia's Last-Minute Deals is to scroll through the selection and focus on the prices. Try to find a hotel or package deal that offers the biggest discount. It's possible to find discounts of 30, 40, or even 50% off the standard price.
Read More: 10 Best Money-Saving Travel Apps for Canadians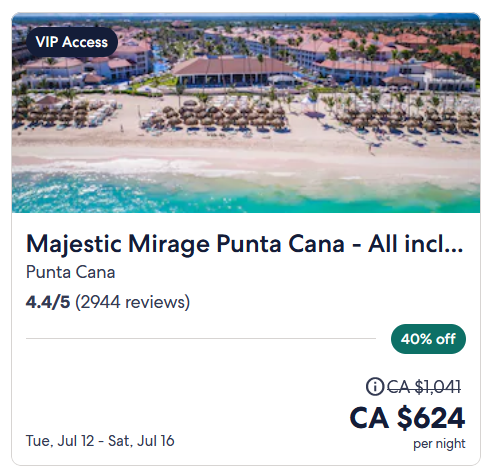 In the deal above, for example, you can stay at the Majestic Mirage in Punta Cana for four nights, with a whopping 40% off the standard nightly rate. This is a saving of over $400 per night, adding up to a huge discount for the total stay.
Read More: How to Start Travel Hacking in Canada
Click to see more
Another option you have to find deep discounts through Expedia's Last-Minute Deals is to click on any of the featured packages or hotels listed on the main page. Let's click on the DoubleTree by Hilton in Toronto, as an example.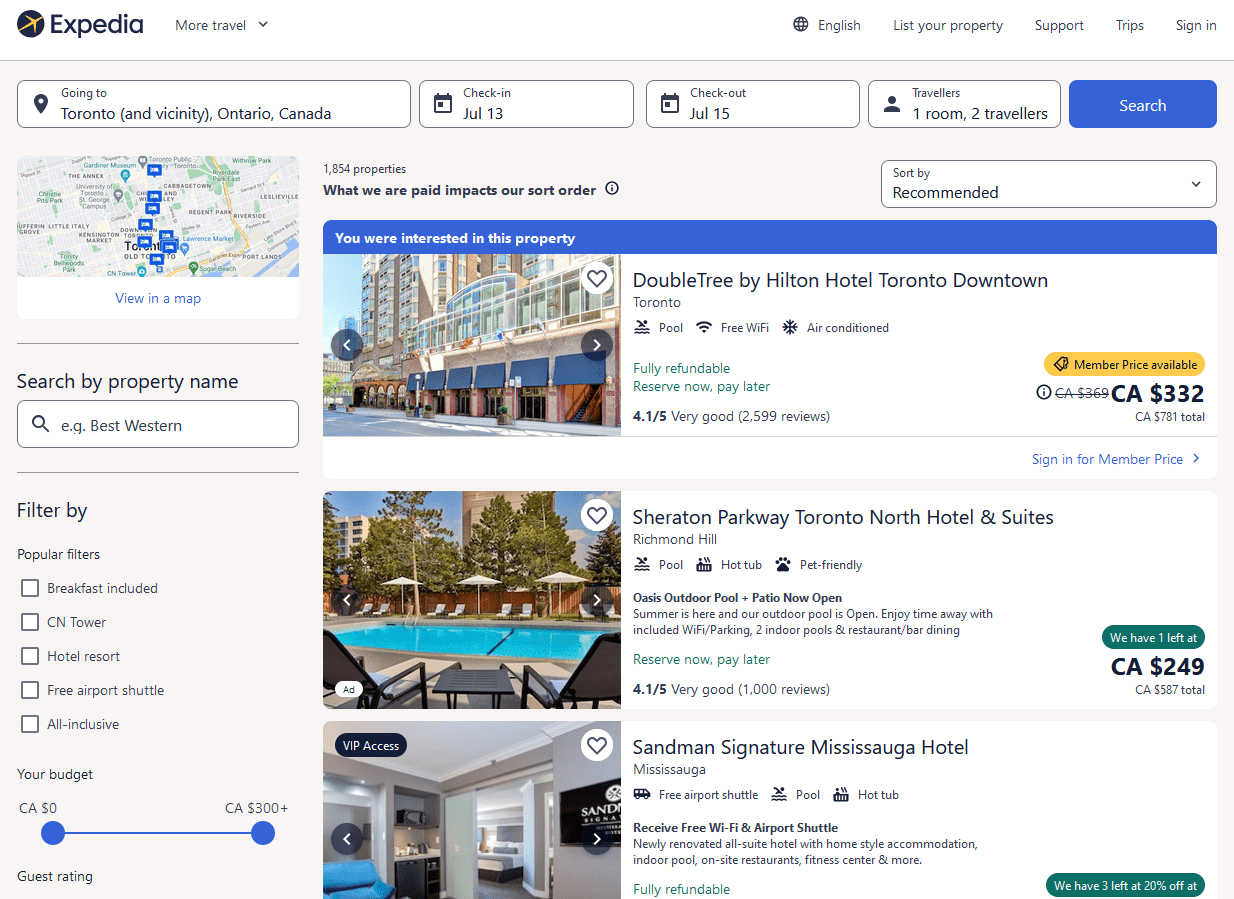 Once you click on a hotel, you'll be taken to a typical Expedia search page, with all of the necessary information already filled in for you. Here, we can see that the dates have been entered, Toronto has been chosen as the destination, and we're searching for one room for two travellers.
You can then either scroll down to see similar last-minute deals that meet these same criteria, which could help you find an even better deal than the DoubleTree that was featured on the original page, or you can adjust the dates, number of guests, and other filters on the left side.
To find the best deal on hotels, compare hotel prices with the Hardbacon Hotel Comparison Tool too!
Customize your search to find the best Expedia Last-Minute Deals
One final option you have to use Expedia's Last-Minute Deals page is to carry out a custom search to try and find a specific discounted deal that meets your needs. To do this, simply go to the main Last-Minute Deals page and scroll down to the bottom.
Once you reach the end of the featured list of hotels and packages, you should see the search bar at the bottom of the image above. There, you can enter your chosen destination, some dates you'd like to travel, the number of rooms you need, and the number of guests. Then hit Search.

Here's an example of a search for a weekend getaway to Victoria, BC for a family of four, and the results that Expedia populated.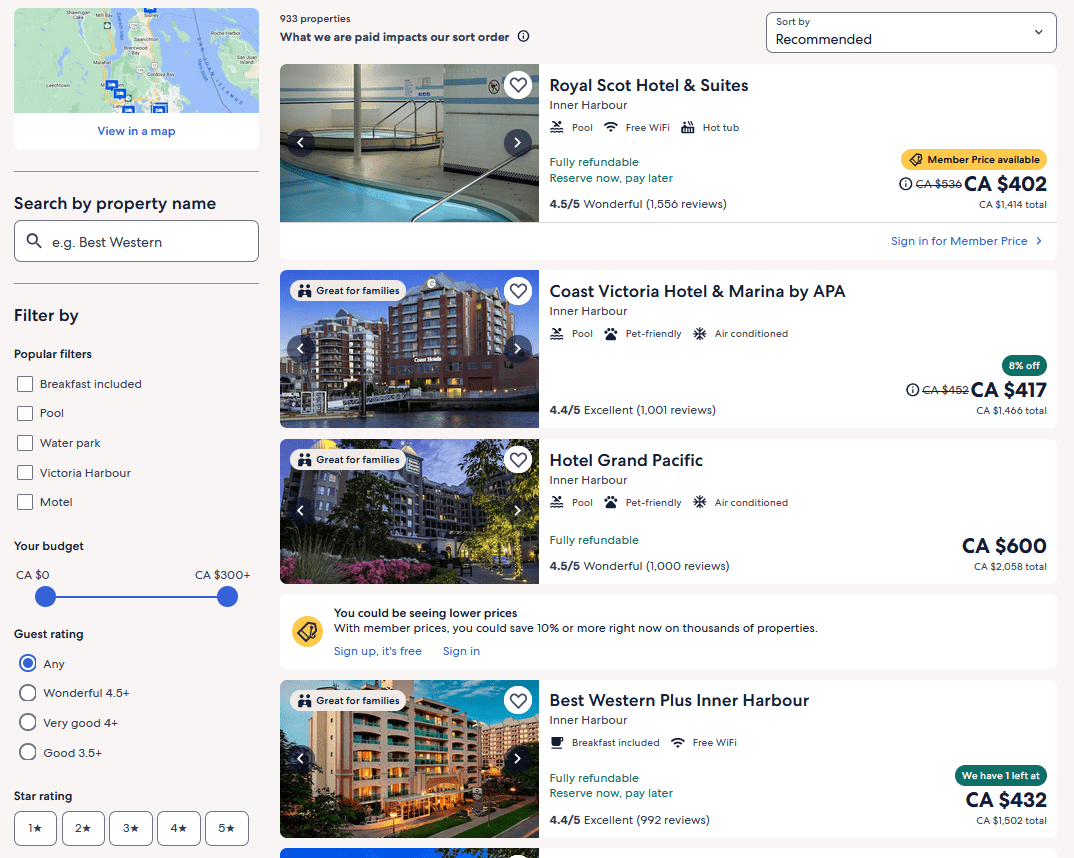 As you can see here, Expedia proposes a range of possible hotels for this trip, including some with last-minute discounts applied. You can use the filters on the left to specify your budget and fine-tune your search, helping you find a hotel that fits your needs and gives you a great price.
Become a member of the Expedia Rewards program
One final way to save even more money with Expedia's Last-Minute Deals is to consider becoming a member of the Expedia Rewards program.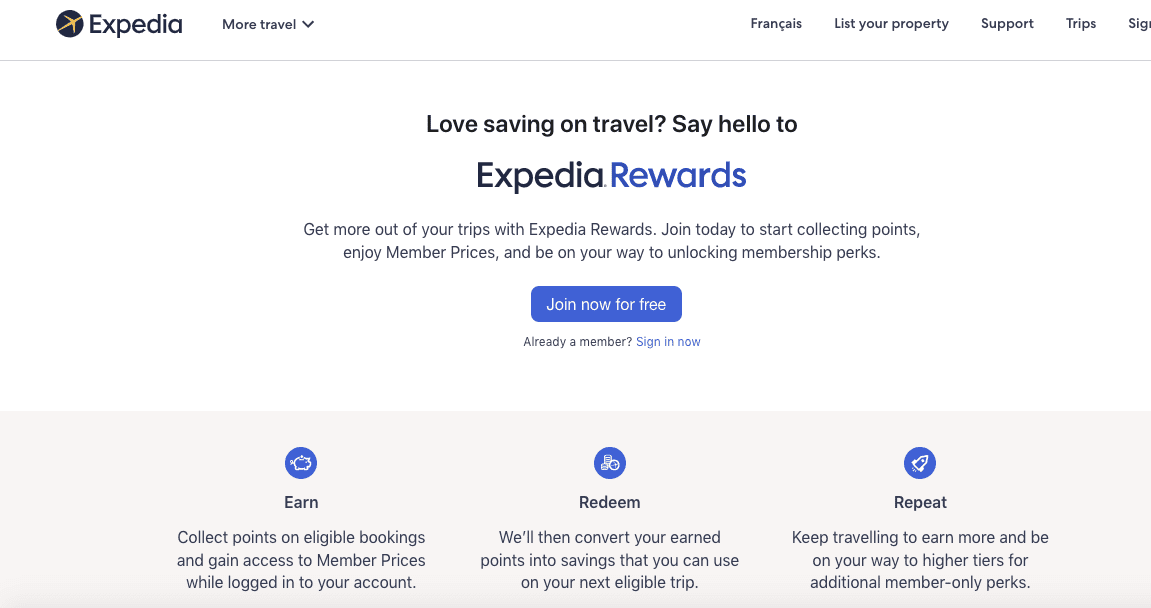 It's free to join Expedia Rewards, and this allows you to access exclusive Memer Prices, which may cut down even more on the cost of your last-minute journies now, and in the future. You'll also be able to earn points on your bookings and redeem them for savings on future travel experiences.
Read More: The Best Rewards Credit Cards in Canada
The takeaway
So, if you're looking for a cheap trip and don't mind being flexible in terms of your dates and destination, Expedia's Last-Minute Deals page is a great option to choose. Remember to use the tips and methods in this guide and compare your options before you book, in order to get the very best deal.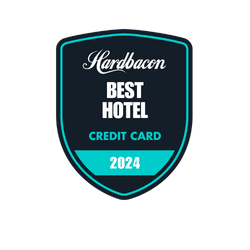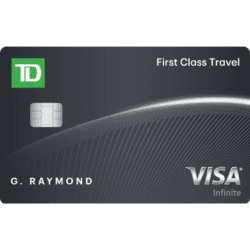 TD First Class Travel® Visa Infinite* Card
22.99% (20.99% for Quebec Residents)
22.99% (20.99% for Quebec Residents)
Special Offer: Earn up to $1,000 in value†, including up to 115,000 TD Rewards Points† and no Annual Fee for the first year†. Conditions Apply. Account must be approved by January 3, 2024.
†Terms and conditions apply.
The Toronto-Dominion Bank (TD) is not responsible for the contents of this site including any editorials or reviews that may appear on this site.
For complete and current information on any TD product, please click the Apply now button..