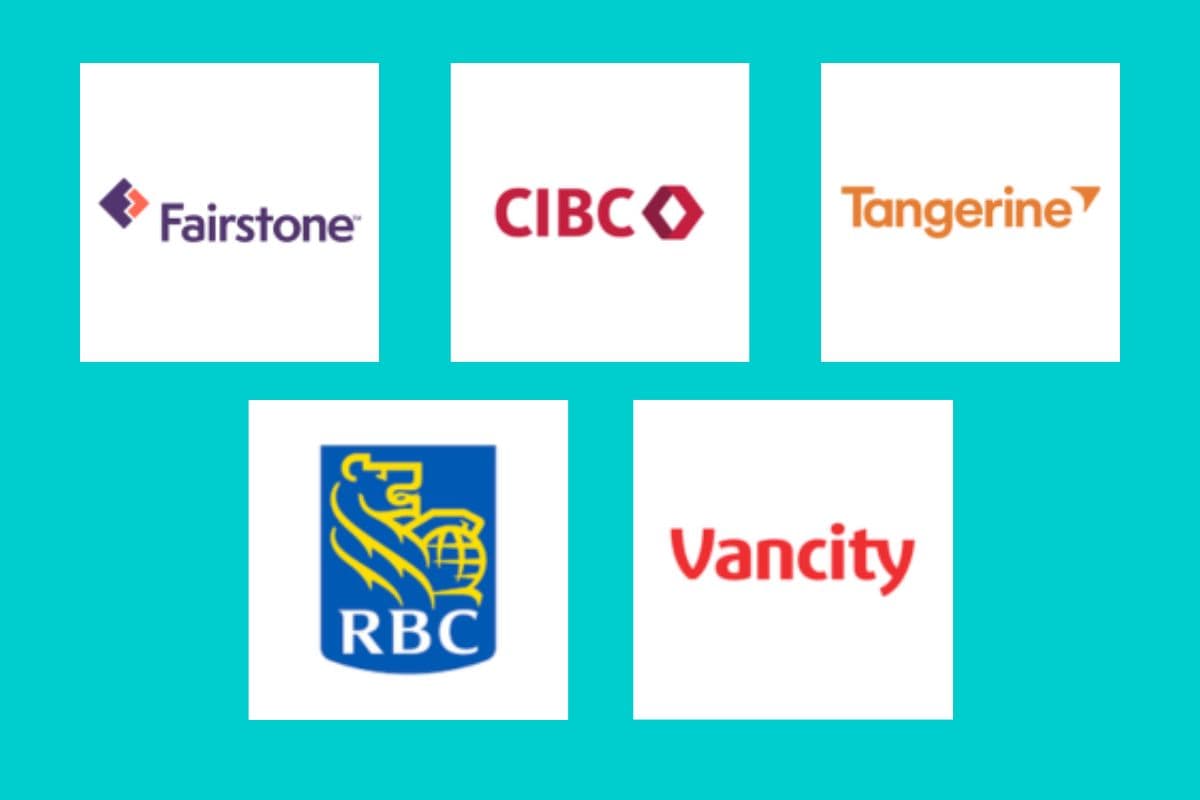 If you have ever found yourself in need of a personal loan, you probably found that different banks have different criteria for being approved. When you are in a financial pinch, you want to know exactly which institution will approve you in the shortest amount of time. This is why it is critical to know the easiest bank to get a loan in Canada, so you don't have to resort to riskier options like private lenders or payday loans.
While your first instinct might be to go to one of the big banks in Canada, there are plenty of regional banks and credit unions that provide loans as well. The key is to know which ones are the easiest to get approved from. This article will provide you with our picks for the 5 easiest banks to get a loan from in Canada in 2023.
What Criteria Are Used to Approve You For a Loan?
Although every institution has different thresholds and requirements, the criteria they all use are mostly the same. This applies to nearly all loans that banks and credit unions offer: personal loans, mortgages, and auto loans as well. The most important thing these institutions are looking for is that you will be able to pay the loan back. Here are some things you will need to provide before being approved for a loan in Canada:
A Good Credit Score
This is one of the most important factors that banks take into consideration. Why? Your credit score presents a history of how consistently you can pay off debts like credit card bills. To qualify for loans in Canada, you will usually need what is considered a good credit rating. This means a credit score of about 660 or higher.
Steady Income or Employment
Having a regular paying job or source of income is another critical component for getting approved for a loan. Most banks will have an annual income figure they are looking for, as well as a minimum number of years of employment. Part of your loan application process may include submitting a Record of Employment letter and pay cheque statements.
Current Debt Situation
Another factor that the bank will take into consideration is how much other debt you are currently carrying. Do you have a mortgage? An auto loan? Student loans? Credit card debt? If your debt burden is already too large, the bank may not want to add another loan to your load.
Do You Have Collateral?
If you find yourself on the cusp of getting approved, you might need to show the bank you have some collateral to contribute to your application. There are some risks involved here as the bank can come after your assets if you ever default on your loan. Likewise, if you get someone to co-sign for your loan, you need to understand that the bank can go after your co-signer's assets as well. Putting up collateral for a loan should be viewed as a last resort.
Fairstone Bank: Easiest Bank in Canada for Personal Loans
For many Canadians, Fairstone Bank might not be a familiar name. This is because, in 2021, Fairstone Financial was acquired by Duo Bank of Canada, leading to its rebranding as Fairstone Bank of Canada. Fairstone distinguishes itself with a dynamic online platform and also has a presence in over 240 locations across the country, offering a blend of digital and in-person services.
While Fairstone is officially a bank, its loan offerings bear resemblance to other online lenders, which are characterized by higher interest rates and more lenient eligibility criteria. This makes securing a loan from Fairstone substantially easier compared to other banks or credit unions in our ranking. However, prospective borrowers should tread cautiously, particularly when considering a high-interest loan, due to the potential financial ramifications.
Applying for a loan at Fairstone is an efficient and user-friendly experience. Prospective borrowers can receive a free, no-obligation online quote within minutes, coupled with the opportunity to craft a customized repayment plan that aligns with their financial needs.
Fairstone's portfolio encompasses a variety of loan types including personal loans, home equity loans, and auto loans. Additionally, the bank provides a convenient online loan service that assures quick approval and deposits funds into your account within 24 hours. Fairstone's loans range from $5,000 to $50,000, with repayment terms of up to 120 months.
Loan Term
Up to 120 months
Current Interest Rates
19.99 to 24.49%
Eligibility
– Be a Canadian resident
– The age of majority in your Province
– Submit the specified documentation during the application process
Online Applications
Yes
[Offer productType="Loan" api_id="643f2d0f9e59a1414b06e31c"]
CIBC: Easiest Bank for Student Lines of Credit in Canada
CIBC is one of the big five banks in Canada and is the fifth-largest by market capitalization. Why do we say that CIBC is the easiest bank to get a loan from for students? CIBC has a generous Student Line of Credit system that offers more than any other big bank in Canada if you apply for the Professional Edge program. This program is specifically for Canadian students enrolled in professional programs like medical school or law school.
These student lines of credit start at $5,000 and offer a low-interest rate of prime plus 1.0%. CIBC also offers flexibility with no penalties for early re-payment and minimal eligibility requirements making it one of the easiest banks in Canada to get a student loan from.
Here are the key facts about CIBC's Education Line of Credit:
Loan Term
Complete your degree within 10 years and repayment within 2 years after graduation or convert it to a CIBC Personal loan or Line of Credit.
Current Interest Rates
Prime + 1.0%
Eligibility
– Be a Canadian citizen
– The age of majority in your Province
– Not have been rejected by CIBC for credit in the past six months
– Not declared bankruptcy in the previous seven years
– Be a student at a certified Canadian educational institution
Online Applications
Yes
Tangerine: Easiest Bank for Lines of Credit
Tangerine, now owned by Scotiabank, was one of the pioneers of online banking and financial services in Canada. Formerly known as INGDirect, this online bank is well-known for lower fees and higher rates due to not having to pay for brick-and-mortar outlets. This also applies to Tangerine's personal loans and lines of credit.
Why is it easier to get a line of credit from Tangerine? Like with any of Tangerine's other products and services, you can apply online in just a few minutes. On top of that, you can access your line of credit online or on your mobile phone 24/7/365. Tangerine provides competitive rates, flexible repayment systems, and no annual fees. Although you will need a relatively strong credit history, it helps if you do have some other Tangerine products like a credit card or mortgage. It is also important to note that Tangerine's other products like mortgages are not quite as easy to be approved for as its lines of credit. This is why we specifically chose Tangerine as the easiest bank to get a line of credit from in Canada.
Here are the key facts about Tangerine's Line of Credit:
Loan Term
N/A for Line of Credit
Current Interest Rates
Depends on Bank of Canada Prime Rate
Eligibility
– Be a Canadian citizen or a permanent resident
– Be the age of majority in your Province
– Agree to a credit score check
– Be willing to provide proof of income
Online Applications
Yes
RBC: Easiest Bank for Auto Loans
RBC is Canada's largest bank by total assets and market capitalization. It is also an incredibly easy bank to get an auto loan from. With an RBC auto loan, you get full customization over how you want to pay the loan back as well as the bank's industry-leading customer service. RBC also offers plenty of tools to help you make sure you can afford the car you want. On top of all that, there is no credit history check required for cards younger than 10 years old.
Compared to other auto loan programs, RBC's is also quite expansive. RBC has a broad partner network across the country and even offers newcomers to Canada a special introductory auto loan program. Whether you are buying a second-hand car or a brand-new one from a dealership, you can be sure that an RBC auto loan will help you secure the car of your dreams.
| | |
| --- | --- |
| Loan Term | Take up to 96 months to pay off your loan |
| Current Interest Rates | Depends on criteria like your credit history, the length of the term, and how much you are borrowing. |
| Eligibility | – You will need to provide information like your income, current debt obligations, and potentially, your credit history. |
| Online Applications | Yes |
[Offer productType="CreditCard" api_id="5f3558577096af4588b011e1″]
Vancity: Easiest Bank to Get a Home Renovation Loan
Vancity isn't exactly a bank, but it is Canada's largest credit union. This West Coast financial establishment offers a number of environmentally friendly products and services for its clients in BC. Not only is Vancity great for approving loans, but it offers a unique home renovation loan that you should consider. Vancity offers excellent customer service and additional perks for being a Vancity member.
Those who are familiar with Vancity know that it is all about the environment. Well, if you are looking for a home renovation loan, look no further than Vancity's Planet-Wise Home Renovation Loan. This loan comes with flexible repayment and competitive interest rates for those who are making environmentally friendly renovations to their home. These can include installing solar panels, installing new windows, using heat pumps, and installing new Energy Star appliances.
Loan Term
Up to 15 years
Current Interest Rates
Prime +0.4% to Prime +3.0%
Eligibility
– Be a Canadian resident
– The age of majority in your Province
– Pass the approval process from Vancity
Online Applications
No
[Offer productType="CreditCard" api_id="64a83c39b7345f4322629de4″]
FAQs About The Easiest Banks to Get a Loan From in Canada
What credit union is the easiest to get a loan from in Canada?
Vancity is one credit union that attempts to help its clients by providing them with loans and credit. While Vancity does still have eligibility requirements, the approval process is certainly not as restrictive as with the big banks. 

What bank is easiest to get a loan from in Canada? 
The general consensus across Canada is that the easiest bank to get a loan from is the National Bank. It offers the security of being a large bank with excellent customer service and eligibility requirements that are not too restrictive. 
What are the easiest loans to get approved for in Canada?
Generally, personal loans are the easiest to get approved for in Canada. There are ways to get personal loans at banks even if you have a poor credit history. There are usually fewer eligibility requirements than with mortgages or lines of credit. 

What are the easiest loans to get with bad credit in Canada?
In Canada, micro-loans and payday loans are your best bet if you have a bad credit history. Microloans are small loans that help you rebuild your credit. Payday loans are extremely risky and should only ever be used as a last resort. 

What is the easiest loan to get online in Canada?
There are plenty of loans you can get online in Canada, especially at online-only banks. Personal loans and lines of credit are often approved online by banks once they have run a credit check against you. Some neobanks are even offering mortgage approvals online. 

What is the easiest small business loan to get in Canada? 
Big banks like TD and RBC offer great small business financing programs with competitive rates and flexible repayments. You can also consider looking at peer-to-peer lending sites or crowdfunding sites to raise money for your small business.