Save Money on Holiday Gifts With These Simple Hacks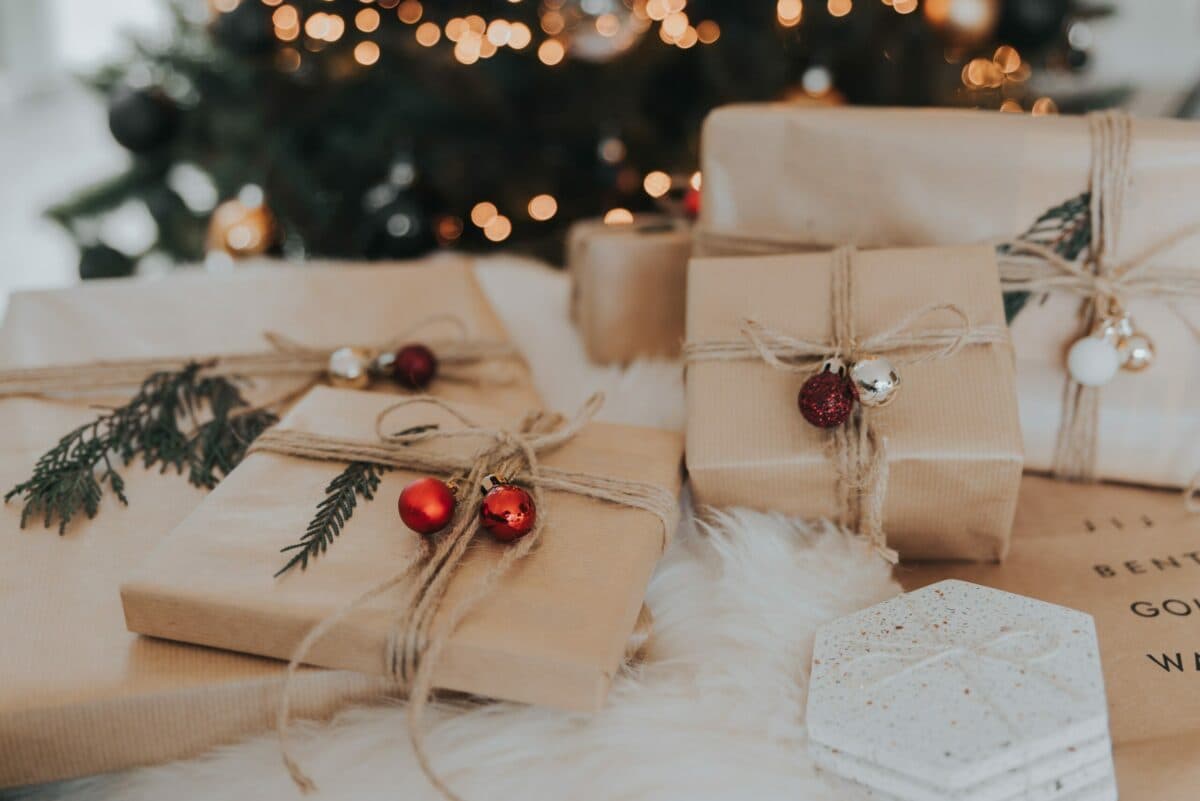 Save money when you shop for the holidays. Easier said than done, right? Thanks to inflation, this season is poised to be the priciest yet. But it doesn't have to be. With a little preparation and ingenuity, you can gamify any holiday gift list. From promo codes to cash back apps, we'll help you save without skimping. Don't let inflation take a bite out of your budget. Hack your holiday shopping list with these super easy money-saving tips.
Save money and pay with plastic
No matter how good the deal is, unless it's free, you have to pay. Cash transactions can help you save money by staying on budget and out of debt. Ironically, that method leaves a lot of cash on the table. The very best way to save money at the checkout counter is with a cash back card.
That's why I'm a huge believer in using plastic for all my purchases; every single one. With a cash back credit card or prepaid card, you'll get a small refund every time you buy something without ever clipping a coupon. What's in my wallet? Below are my three favourite cash back cards I use to save money and stay on budget:
KOHO Prepaid Mastercard®
KOHO Mastercard® Prepaid Card (formerly KOHO Prepaid Visa) is not a credit card, so you don't need good credit, or any credit, to get it. Simply load the card with the money you already have in your bank account. You can set yourself a spending budget to stay on track and out of debt. Every time you use your KOHO Prepaid Mastercard® to make a purchase, you'll get 0.5% cash back on all your purchases and up to 5% cash back when you use your card at their select partner merchants.
Wealthsimple Cash Prepaid Visa
Wealthsimple Cash App Prepaid Visa is my favourite card for dining out. Again, it's not a credit card so anyone can get it without impacting their credit score or going into debt. You'll get 1% on all purchases made with your card. But you'll get 5% cash back on the weekends from Friday to Sunday when you use your Wealthsimple Prepaid Visa to dine out or order in. Got a foodie on your gift list? You'll also get 5% cash back when you buy restaurant gift cards on the
weekends.
Tangerine World Mastercard
Tangerine World Mastercard offers one of the most flexible cash back programs available. You'll get 2% cash back on purchases from two spending categories of your choice. But if you open a Tangerine Savings Account you'll get access to a third spending category. There are six categories to choose from so you have the flexibility to earn cash back in the areas you spend the most. There is no cap on the amount of cash back you can earn, and Tangerine deposits your cash back balance into your Tangerine account every month.
The best cash back credit card to save money is the one that fits your spending habits and financial goals. Check out our list of the best cash back credit cards in Canada as well as our credit card comparison tool to find the right card for you.
Save money with Google Shopping
Google has miraculously turned us all into armchair experts. Now it's time to get your Google Ph.D. in bargain hunting too. Under your Google Search Engine, you'll see a list of options like All, Images, News, Maps, etc. Well, there's an option called Shopping I didn't know existed nestled inside the tab labelled More, along with a ton of other neat Google features.
Click on Shopping, then simply search for the specific items on your gift list in the Google search bar. Google will display all the retailers that sell that thing you want. In one convenient spot, you can compare prices from tons of different retailers. You can filter by location to see which retailer is closest to you. Or by sale price to see who is offering the best deal in town. If you want to save money this holiday season, Google Shopping is a total game-changer. I wish I had known about it sooner. I could have saved over $300 when I replaced my computer a month ago. Oh well, live and learn.
Money saving browser extensions
More retailers are encouraging their clientele to shop online. That's actually good news for us penny pinchers who want to save money. Right now, some of the best deals are offered exclusively through merchant websites. A browser extension can help you find coupons and discount codes you wouldn't otherwise have found on your own. Currently, I am in love with Honey and Amazon Assistant.
Honey
Honey will automatically find and apply discount codes during checkout when you shop online. You can also add items you are interested on to your Droplist. Honey will send you a push notification when the price drops. You'll snag a better price before it sells out of stock. That's great news for scooping early Black Friday sales before anyone else. Unsure about downloading a browser extension? Honey is owned by Paypal, and you can check out our complete Honey review before you hit that download button.
Amazon Assistant
Amazon Assistant helps you compare prices no matter where you shop. Couple that with your Amazon Prime perks, and you're saving money at expert level. Simply turn on the extension when you shop online and Amazon Assistant will display similar products on Amazon marketplace along with reviews and ratings. You can save all your favourite items in one spot, no matter what site they're from, so you can keep track of price movements. And you'll get push notifications for things like Amazon daily deals.
Save money with cash back apps
Cash back apps are extreme couponing for the digital age. They have partnerships with hundreds, if not thousands, of merchants that offer exclusive deals to users. It's the fastest, easiest way to save money without spending hours flipping through flyers. Simply download a cash back app to your phone, add it to your internet browser as an extension, or shop through the cash back official website. Press a button, save money. It's that easy.
Every time you use the app to make a purchase, you'll get rewarded. Some reward you with actual money you can cash out to your bank or PayPal account. Others let you redeem points for gift cards, prepaid cards, or merchandise. Some of the best cash back apps in Canada include, but are not limited to:
Rakuten
Rakuten is Canada's original rebate site that offers cold hard cash rewards when you purchase from one of their affiliate retailers. They are partnered with over 750 Canadian stores, and over 2,500 American stores. Cash back rates vary from 1% to 30%, and they offer incredible Black Friday deals too. When you're ready to cash out your rewards, they'll either deposit them to your Paypal account or send a check in the mail. You can earn cash back shopping through the Rakuten website, using the browser extension, or through the mobile app. 
Drop
Drop app is one of the newer rewards apps to hit the market, and it's already got over 3 million users. Download the Drop app to your phone, link your debit or credit card, and shop through the app. They are partnered with major retailers like Old Navy, Amazon, and Walmart, to name a few. When you shop through the app you get rewarded with points you can use to purchase gift cards or prepaid credit cards. Or you can redeem your points on things like your Netflix subscription, Amazon purchases, and even Starbucks. You don't even have to spend money to make money. You can earn points by taking surveys or playing games on your phone.
Swagbucks
Swagbucks is very similar to Drop in that you earn points every time you shop through the app, play games, watch videos, and more. They've partnered with over 1,500 retailers and have paid out $170 million in rewards. Once you sign up, you'll earn points on every dollar you spend when you shop your favourite stores through the Swagbucks app. You can redeem your Swagbucks points for prepaid cards, gift cards, or a cash payout to your PayPal account.
Loyalty programs that help you save money
I know it's super annoying when every retailer and their grandmother wants you to sign-up for their loyalty program. But come the holiday season, those loyalty programs can really help you save money. Many retailers will offer additional discounts to members on top of holiday sales and even Black Friday deals. At Mark's Work Wearhouse, I used a $30 off in-store coupon in addition to my Triangle Rewards balance and only paid $4 for a $75 Bench sweater. Some of the best loyalty programs in Canada to save money on holiday shopping include, but are not limited to:
PC Optimum
PC Optimum is one of my all time favourite loyalty programs in Canada. When you sign up for the PC Optimum points program, you earn points on purchases at Loblaw's banner stores, Shoppers Drug Mart, and Esso or Mobil gas stations. If you have the PC Financial Mastercard or prepaid card, you'll earn points on all your card purchases no matter where you shop. Then you can redeem your points for groceries and other free stuff.

Personally, I like to hoard my points and use them to buy stocking stuffers at Shoppers Drug Mart during their Redemption Days. Superstore is so much more than a grocery store, I often use my points for holiday gifts like toys, home goods, and clothes from Joe Fresh. If you're like me, you can save even more money by redeeming your points on those insane Black Friday deals.
Triangle Rewards
Triangle Rewards is Canadian Tire's own loyalty program. With a Triangle rewards card you'll earn Triangle Rewards, previously known as Canadian Tire money, at Canadian Tire and other partner stores like Sport Chek, Mark's Work Wearhouse, Atmosphere, and others. Then, you can save money when you redeem your points at Canadian Tire and partner stores. When events like Black Friday offer deep discounts, you save even more by redeeming your Triangle rewards. If you have a Canadian Tire Mastercard, you'll earn rewards on all your card purchases no matter where you shop.
Air Miles
Air Miles are so much more than travel rewards. In fact, you can redeem your Air Miles for pretty much anything through their website. And since Air Miles is such a long standing program with massive brand recognition, you can earn miles pretty much anywhere on almost any purchase. The right Air Miles credit card will help you earn more miles even faster. Even if you're not big into travel, you'll still save money from this program, especially during the holidays. You can use cash rewards for in-store purchases from affiliate retailers, and dream rewards for purchases through the Air Miles website. You can use them for goods, events, attractions, and as always, travel. I'm not a huge traveller myself, so I prefer to collect cash rewards and use them to save money on in-store purchases during sales.
How I saved money with Honey, Plum Rewards, and KOHO
If a store asks you to join their loyalty program, just say yes. You never know when their program will turn into one of your proudest money-saving moments all year. So here is a personal anecdote to get you in the holiday hacking spirit.
When my first son was born, I bought him a small espresso mug monogrammed with his first initial. It's perfect for tiny hands and he has enjoyed many-a-hot-cocoa on a cold winter's day. After my second was born, I wanted to buy him his own monogrammed mug too. But two kids are hella expensive. When I went to buy this mini-mug from Chapter's Indigo, it was priced out of my budget.
Fast forward to now. Researching for this very article, I decided to try out the Honey browser extension for myself to see if it really could help me save money. Honey asked me to select some of my favourite stores to receive push notifications on sales and special offers. I chose Indigo, my favourite place for boutique baby items. Immediately I was notified that mugs were 40% off on the Indigo website. So I hop on over. Low and behold the espresso mug I wanted for my son was on sale for $6.00! Much cheaper than the price I saw last spring. Add to cart!
With those savings, I take a look at what else is on sale. And I found the most adorable reindeer mug with a pocket in the bottom to hold cookies. Add to cart! Upon checkout, I see that Plum Rewards members, the Chapter's Indigo loyalty program, can get an additional 30% off on top of the 40% discount already offered.
I vaguely remembered giving my email address to a Chapter's cashier many moons ago. So I open my desk drawer, and I kid you not, there is the purple Plum Rewards card sitting right there on top. I type in my membership number and watch my checkout total drop. My son's monogrammed espresso mug came to a grand total of $4.00. And that adorable reindeer cookie-holding mug? Originally priced at $32 before discounts, it came to a whopping $10.00.
But here's the kicker. I used my KOHO Mastercard® Prepaid Card for the purchase. I like to use KOHO for budgeting and spending limits for specific things, like holiday shopping for the kids. Indigo is a KOHO partner merchant, so I got another 1% cash back on my purchase. I spent $13 on roughly $50 worth of merchandise. Insert mind-blown emoji here. Bless you store loyalty card! And Honey! and KOHO! These are a few of my favourite things.
EQ Bank Card
Benefit from 0.5% cash back on purchases
This 100% free prepaid Mastercard also offers free ATM withdrawals in Canada, no FX fees, and up to 3% interest on deposits.
Get 3.00%* on everyday banking with EQ Bank