15 Ways for Canadians to Put Money in the Pockets of Ordinary Ukrainians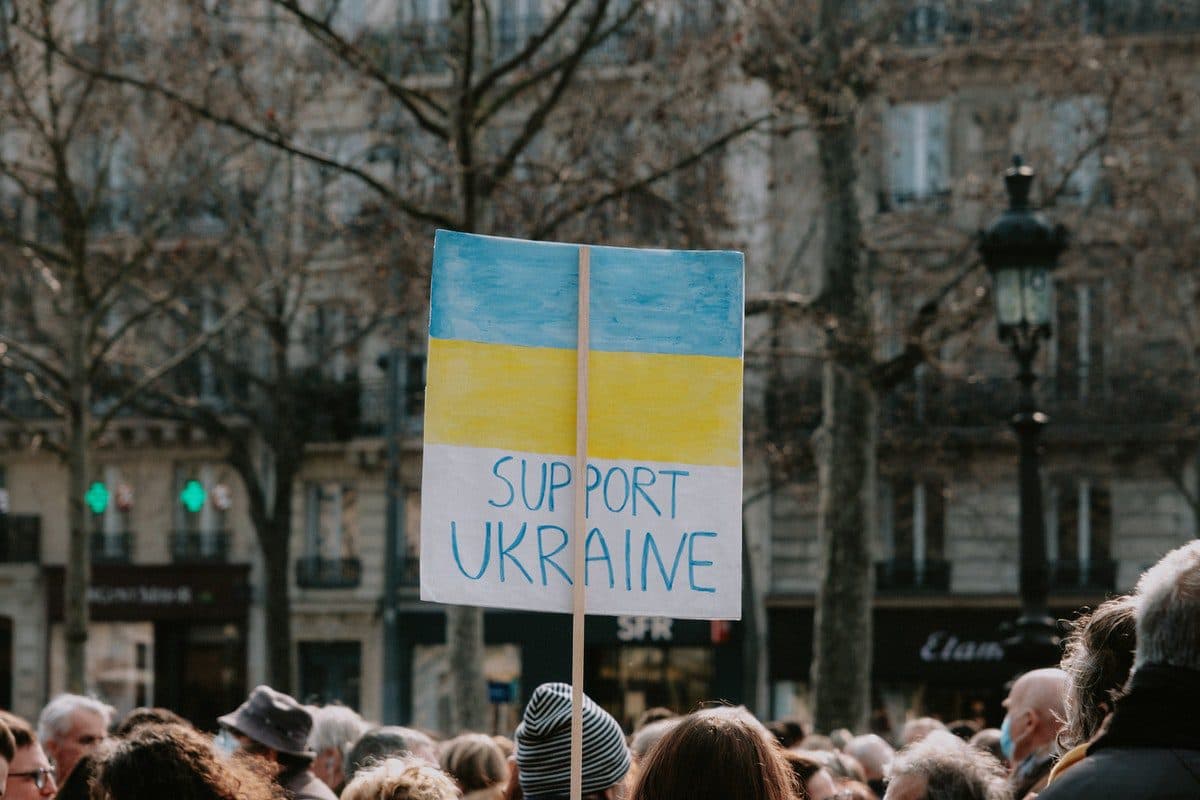 People from all over the world are helping Ukrainians caught in the violence in the region. There is an outpouring of help from companies, governments and individuals from around the world since the first days of the war. We explored the ways for Canadians to get money to people in Ukraine. There are direct ways like sending money as well as indirect ways like hiring freelancers, streaming and ecommerce. Everything helps. We list some easy ways for Canadians to get money to Ukrainians in need.
Send them cryptocurrencies
You can send cryptocurrencies to Ukrainians and they will get it quickly. According to the global IT service company Triple-A, Ukraine ranks first in the ranking of countries with the largest number of cryptocurrency holders with the total population. In Ukraine, 12.7% of the population has cryptocurrency – 5.6 million people.
There are thousands of cryptocurrency platforms in the world, but the most convenient way for Canadians would be to pick one of Canada's best cryptocurrency exchanges. While the most popular cryptocurrency platform in Ukraine is Binance, you can send cryptocurrencies to anyone in the word, no matter what exchange they use, as long as you have their wallet address. If you do not have Ukrainian acquaintances, you can always find them on Facebook or LinkedIn and ask them for their wallet address.
Send them money through Wise
Wise is the transfer money online service, where you can send money between different countries and currencies. You can easily transfer money online from Canada to Ukraine.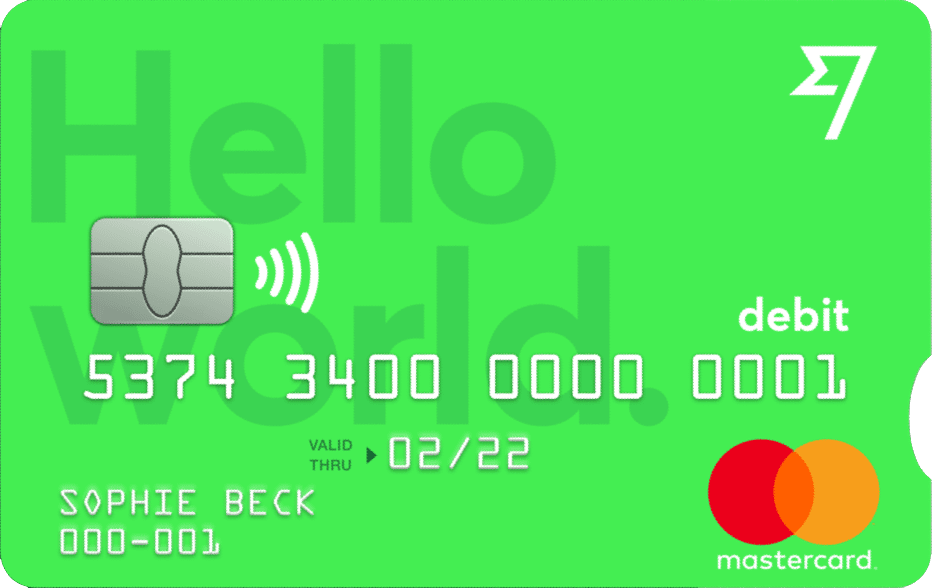 To do a payment, you should sign up and choose the write payment method. Here are the best ways to transfer money to Ukraine with Wise: bank transfer, debit card, credit card, PISP, Swift. The cheapest way is a bank transfer, the fastest is paying on debit or credit card.
If you have the bank details of the recipient, add them in and Wise sends money to that account. If you don't have bank details, just enter the recipient's email address. You can find detailed instructions is here.
If you haven't the e-mail address of Ukrainians, you can find and message them DM via LinkedIn or Facebook.To send money to Ukraine, you pay a flat fee of 0.16 GBP + 1.63% of the amount that's converted. There's a sending limit of 10,000 GBP or equivalent per transfer.
Book their Airbnb or host them
Airbnb has canceled all fees from guests and homeowners for Ukraine, so the Ukrainians will receive all of the money. This is a way that you directly help the diplaced and those who made a living renting out their properties on Airbnb. There are two ways to help.
You can find Ukrainian apartments and their owners via Airbnb by yourself. By transferring funds in this way, you directly support homeowners who lost their earnings due to the war.
You can transfer funds to the charity AirBnb.org, which helps to find free housing for those in need in difficult times. PayPal will withhold a fee of 1.8% of your donation. Your name, transfer amount, and contact details are shared with airbnb.org.
Does this help? Yes. While it may not be obvious, you are helping Ukrainians who otherwise would need to apply to aid organizations for shelter and help. Another way to help is to offer shelter in new countries. If you are a homeowner in any other country and want to help refugees, then you can place your home for the needs of migrants for free.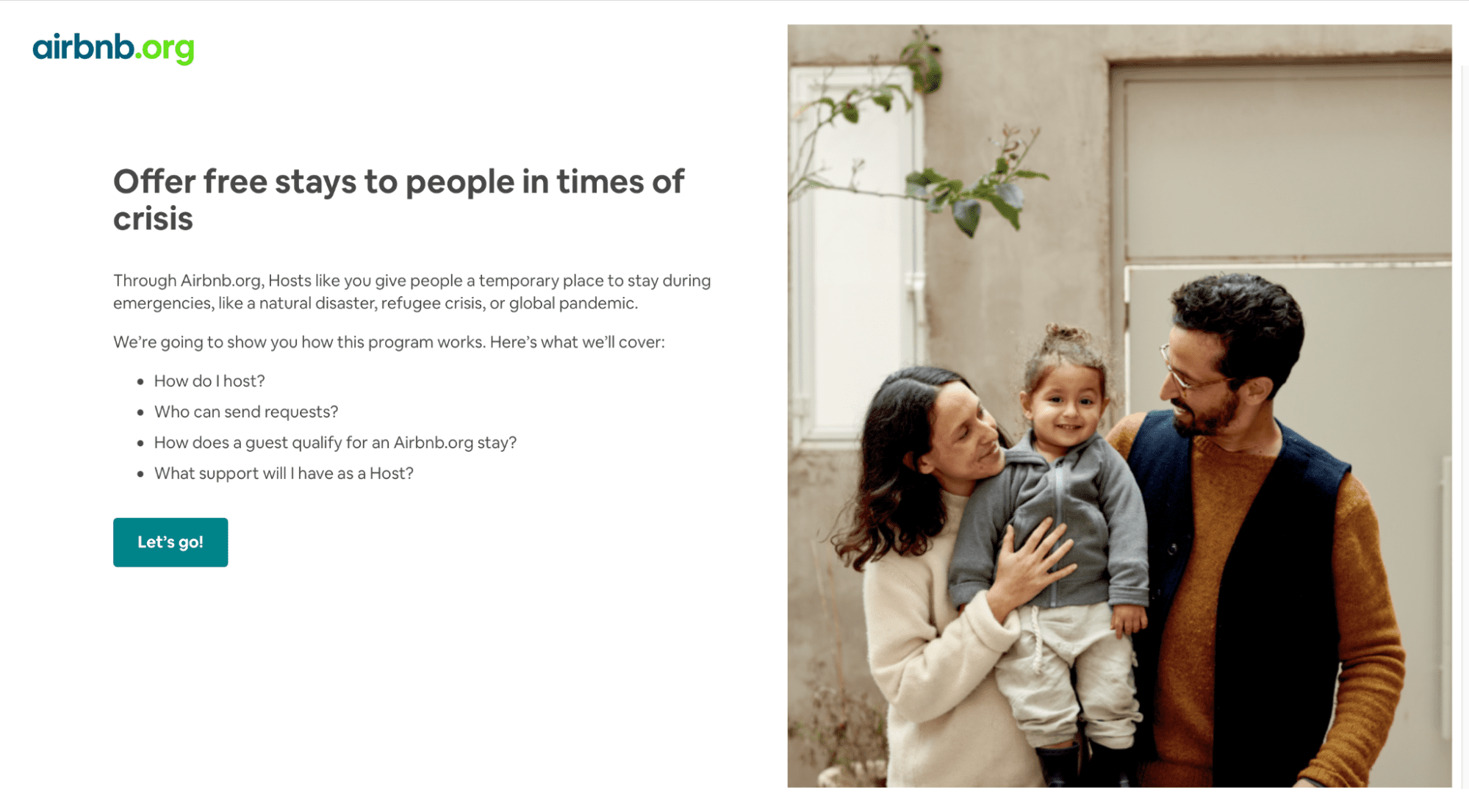 People will not be able to find it directly on the platform and a special organization will take care of the settlement.
Hire them on Upwork
More than 200,000 Ukrainians work on the freelance platform Upwork. You can easily register on the platform, create tasks and choose the person to whom you want to transfer funds. At the same time, keep in mind that the Upwork fee is 20% up to $500 and 10% for $500 to $10K. Also, Ukrainians pay a value added tax (VAT) of 4% , 2% bank commission, and 5% taxes. So, Ukrainians get $69 from every $100.
Enterprise clients can send Ukrainians bonus payments marked as a "donation". It will be exempt from the commission for freelancers. The platform has created an opportunity to support Ukrainian freelancers by turning your project purchase into a donation. Every project offered by Ukrainian freelancers includes the option to send funds directly to them without requiring any work. Click here and choose.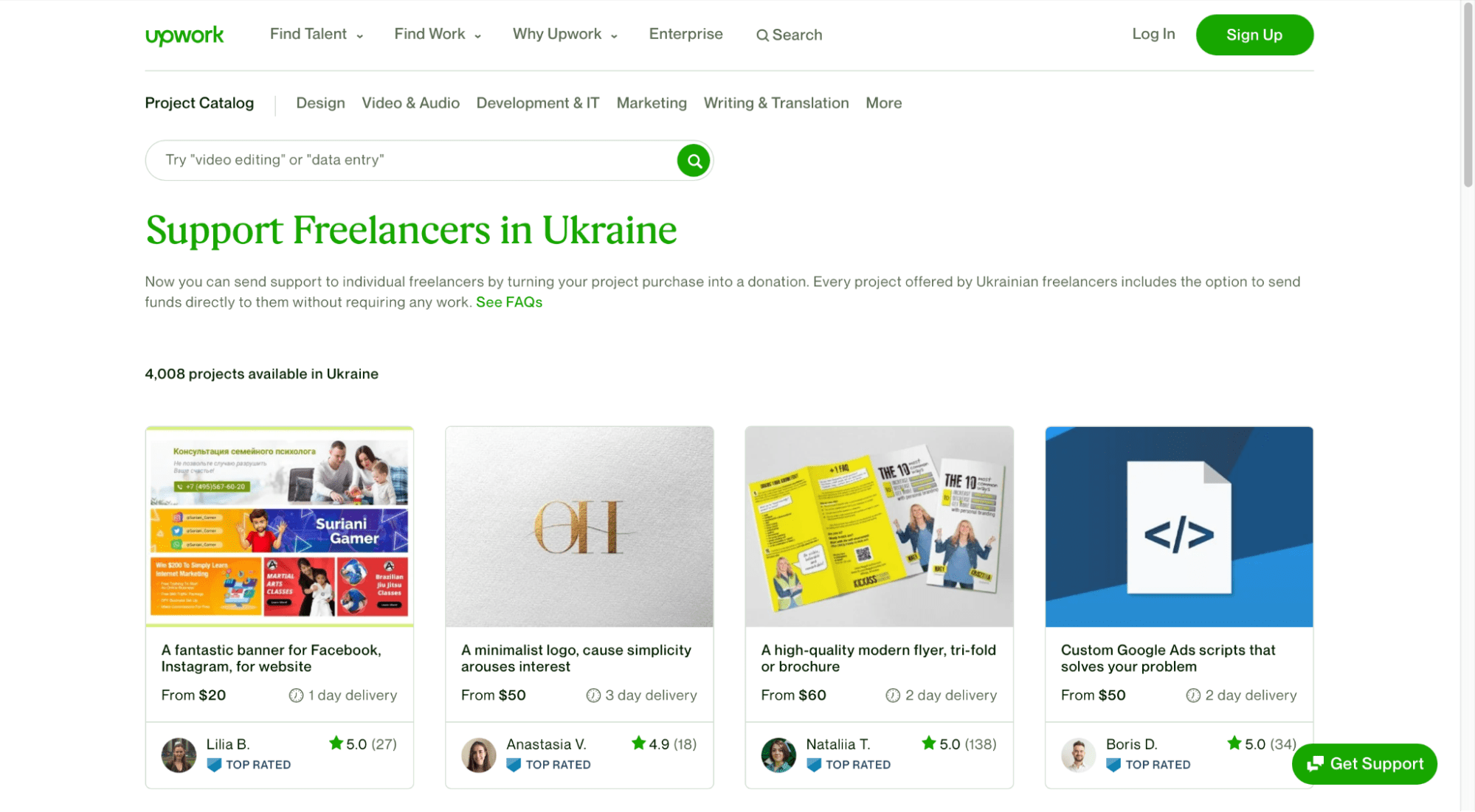 Hire them on Fiverr
Fiverr is a popular freelance platform that employs hundreds of thousands of freelancers, as well as from Ukraine.To hire Ukrainians on Fiverr, you need to choose the service that interests you. For example, I go to Writing and Translation and choose Articles & Blog Posts.
First, click on Seller Details and go down to the section called Seller Speaks. Choose Ukrainian. Select the Apply button and now you'll see all the Ukrainians providing this service. Also, you can find them for any other services and place an order.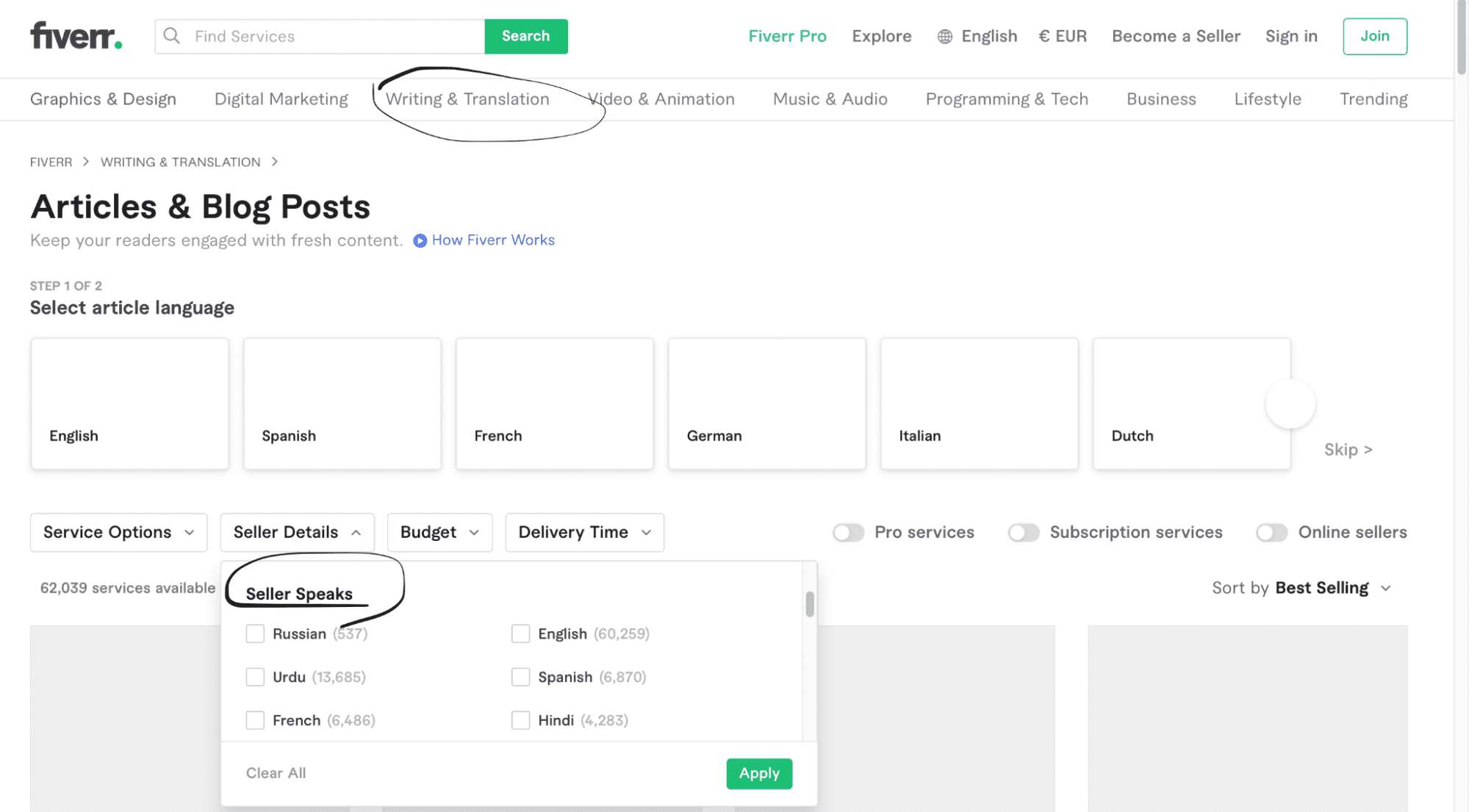 When an order is placed, buyers pay Fiverr the Gig price plus a 5% service fee with a minimum service fee of $2; upon successful completion of an order, Fiverr makes 80% of the price paid.
Buy their NFTs
People can buy and sell non-fungible tokens (NFTs) because they hold a value primarily set by the market and demand. NFTs' unique data makes it easy to verify and validate their ownership and the transfer of tokens between owners.
Over 500 Ukrainian artists have gathered to submit art to a new NFT collection sold via Holy Water (60% of the marketplace's team live in Kyiv). They raise money for the people of Ukraine. The artists represent some of the biggest galleries in Ukraine, including Port Agency, IZOLYATSIA, and Ugallery.
The blockchain is already helping people worldwide.You can buy NFT from Ukrainian authors and learn more about the initiative here. Ukrainian creators from the Ukrainian NFT-marketplace: https://nftartbay.io/creators
Enroll in a class on Udemy
Udemy is an online marketplace of online courses. There are 40 billion students and 180 thousand courses. All of Udemy's courses are created by third-party instructors. On Udemy taught by Ukrainian instructors. You can support them by purchasing their courses.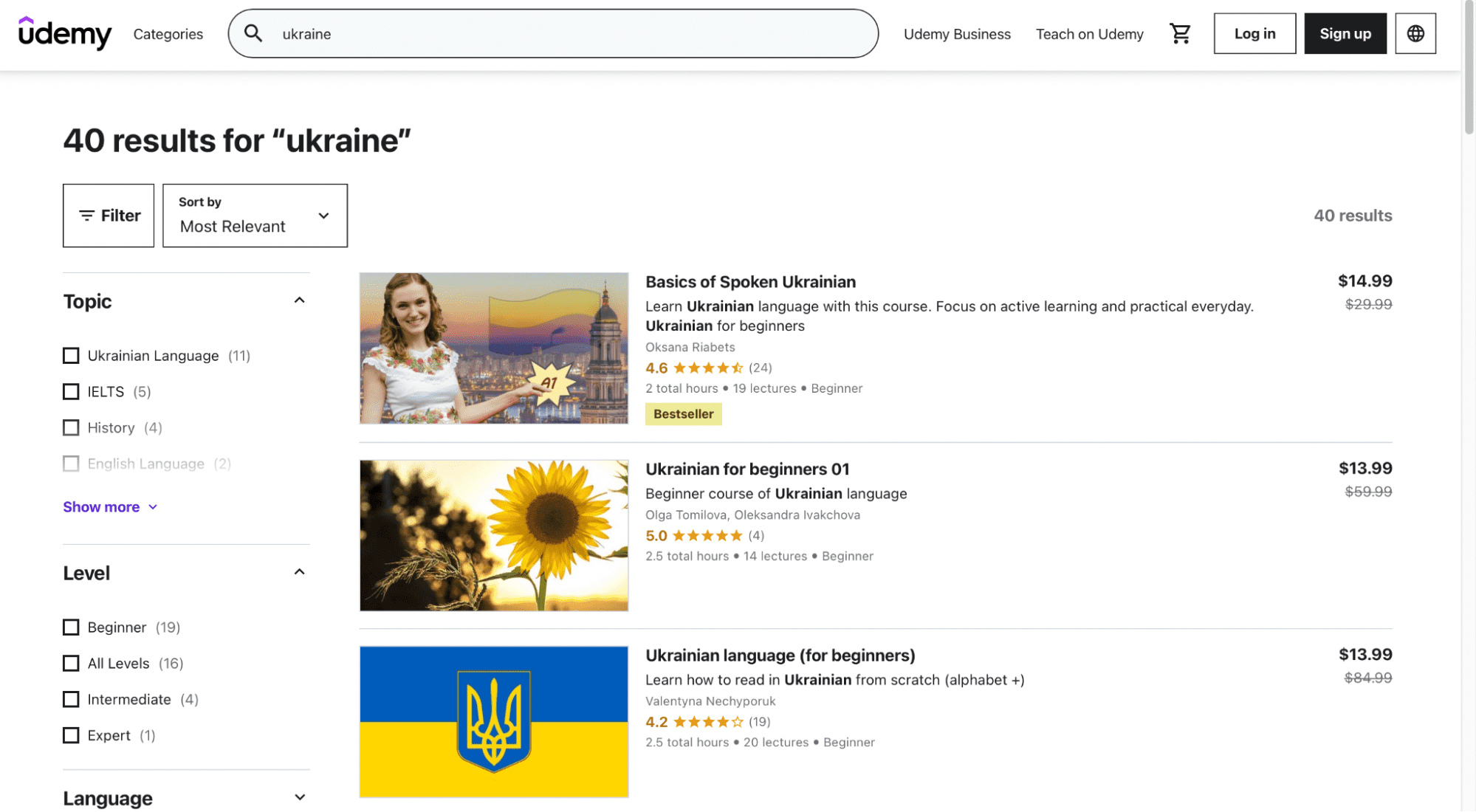 In this case, the instructor will receive half of the funds, as the commission of the Udemy platform is 50% of the cost of the course.
Subscribe to their Patreon
On Patreon, you can become active participants and support creators by accepting a monthly membership. Creators give you access to exclusive content, community, and insight into their creative process. Go to Patreon.com and type in the word Ukraine. Here are the results. Choose the subscription option you like. This is how you support Ukrainian creators.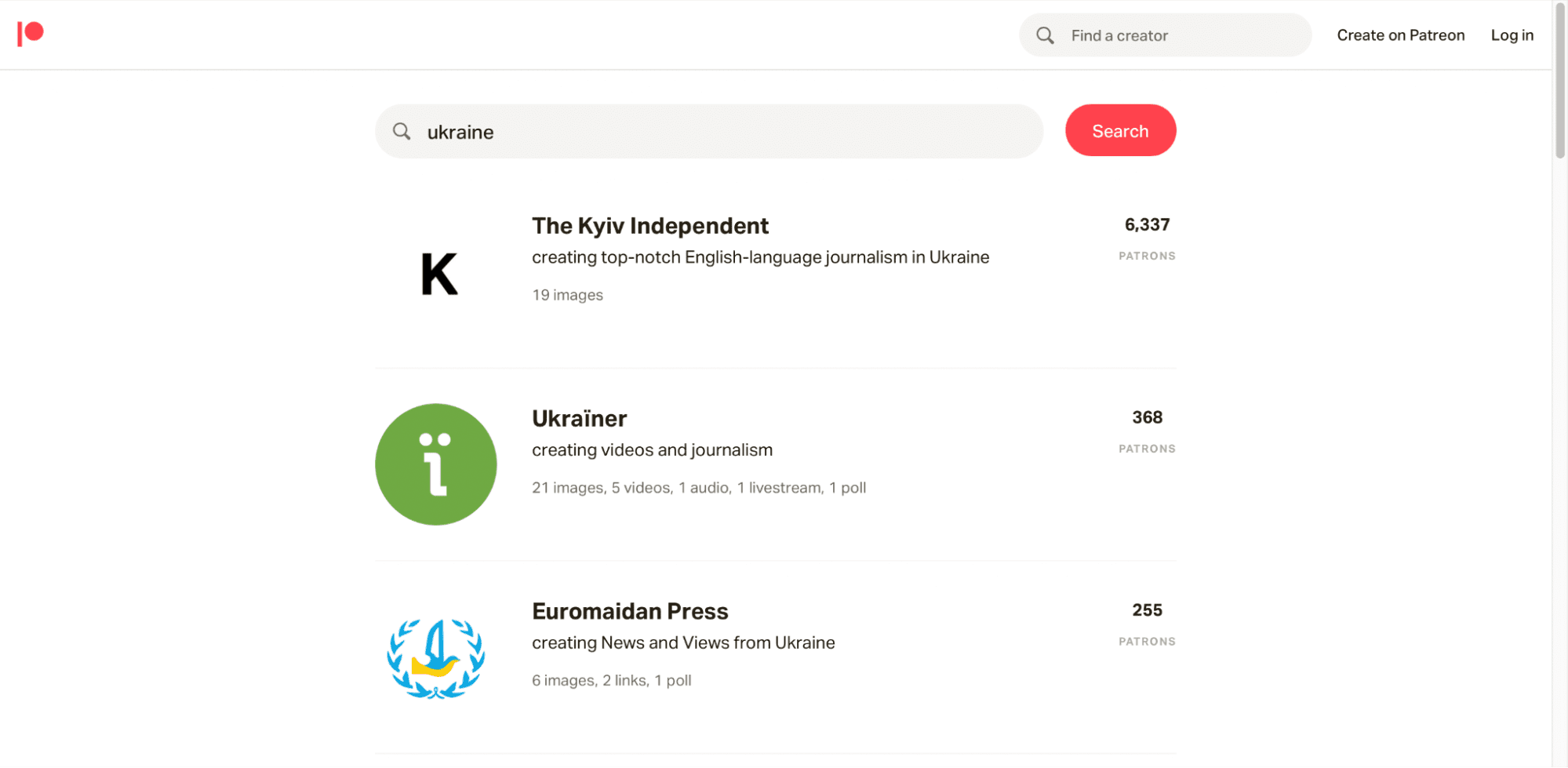 Contribute to their Kickstarter
You can support Ukrainian startups and entrepreneurs on Kickstater.com. Kickstarter is a crowdfunding platform specifically for creative projects in the following categories: Art, Comics, Crafts, Dance, Design, Fashion, Film & Video, Food, Games, Journalism, Music, Photography, Publishing, Technology, and Theater.
If you become a donor, you may be offered rewards such as mention on the album cover, event tickets, regular news updates, gifts, and more. Donors have a social or personal motivation to invest their money and expect nothing more than to feel good about helping the project. The platform charges a commission of 5% of all raised funds.
To support Ukrainian entrepreneurs on Kickstarter, enter Ukraine in the search field or set a project filter for "from Ukraine". You will see hundreds of Ukrainian projects that can be supported here.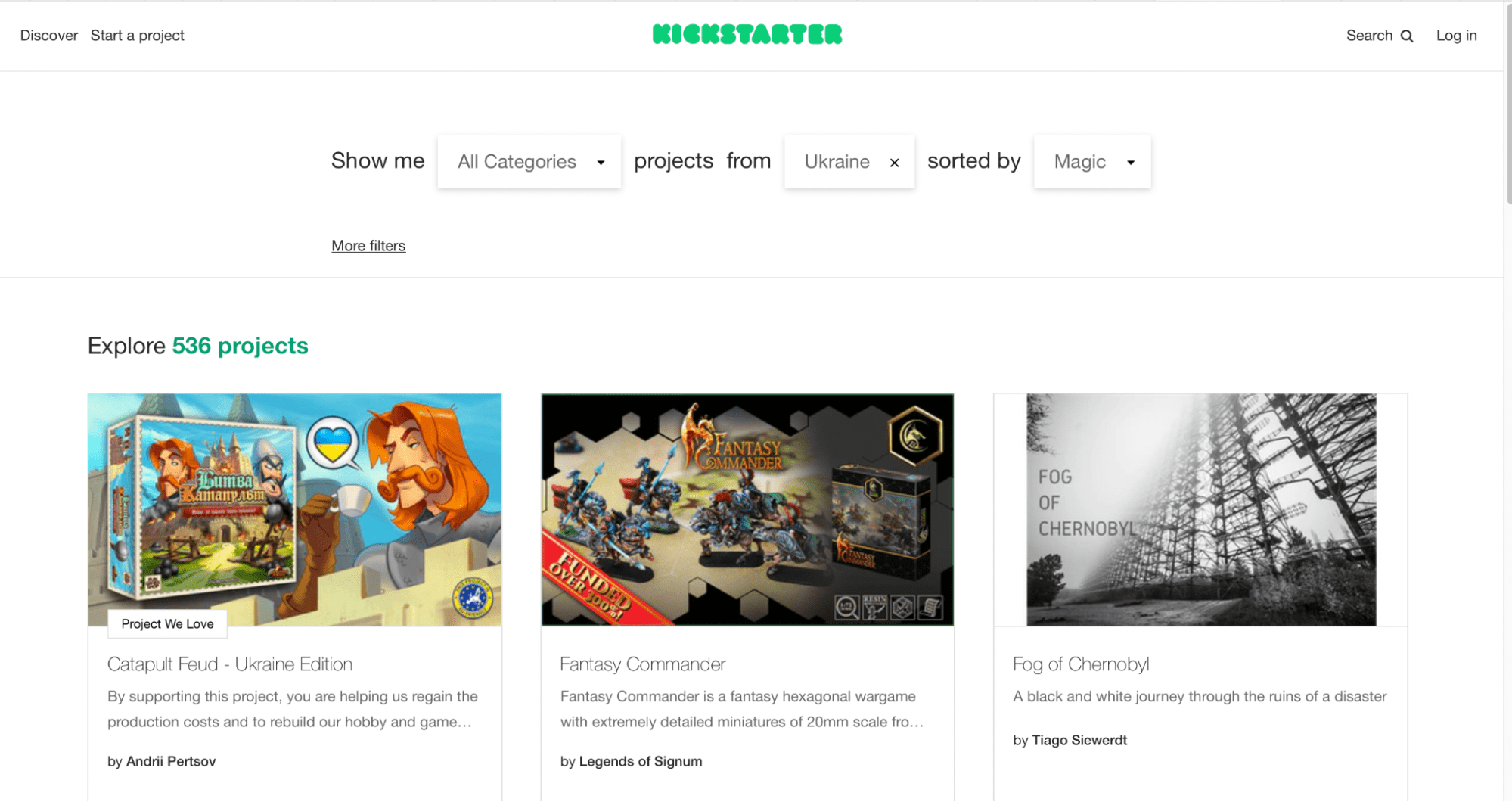 Subscribe to their Twitch channels
Twitch is a live streaming service that focuses on video game live streaming. In Twitch you can subscribe to Ukrainian streamers. They can be found in the Ukrainian community at the link. A subscription allows a viewer to pay a minimum of $4.99 per month. You can subscribe on a regular or one-time basis.
On the channel page, select Subscribe, located below the video player on the right side. Select Subscribe. The default monthly subscription fee is $4.99. Or, pick any of Paid Tiers: $9.99 or $24.99 payment option and see a list of perks for each subscription tier. Streamers get a 50% of the monthly cost. The other 50% is collected by Twitch itself.
Subscribe to their servers on Discord
On Discord, users talk, chat, hang out, and stay close with friends and communities. The communities on Discord are called "servers". You can join it and become a member.
If a member wants to show some monetary appreciation, they can just type "donate" into chat. After that, they are taken to a panel where they can choose the role they want and pay via PayPal. The list of Ukrainian servers you can see here. Or you can search for them via keywords "Ukraine", "Ukrainian", etc.
Buy their books on Amazon
There are a lot of Ukrainian sellers on Amazon. Here is the list of books and stuff from Ukrainians on Amazon with shipping to Canada. We highly recommend books by Serhii Plokhy. He is the Mykhailo Hrushevsky Professor of Ukrainian History at Harvard and the director of the university's Ukrainian Research Institute. The most popular books are: "The Gates of Europe" and "Chernobyl: The History of a Nuclear Catastrophe". Amazon's sellers pay per sale, as part of an individual selling plan, or a flat monthly fee as part of a professional selling plan. For books, the referral fee is 15% plus a $1.80 closing fee.
Buy their stuff on eBay
You can't select goods from Ukrainian sellers on eBay, but you still can type in the search bar the words Ukraine, Ukrainian and you'll get in the result mostly goods from Ukrainian sellers.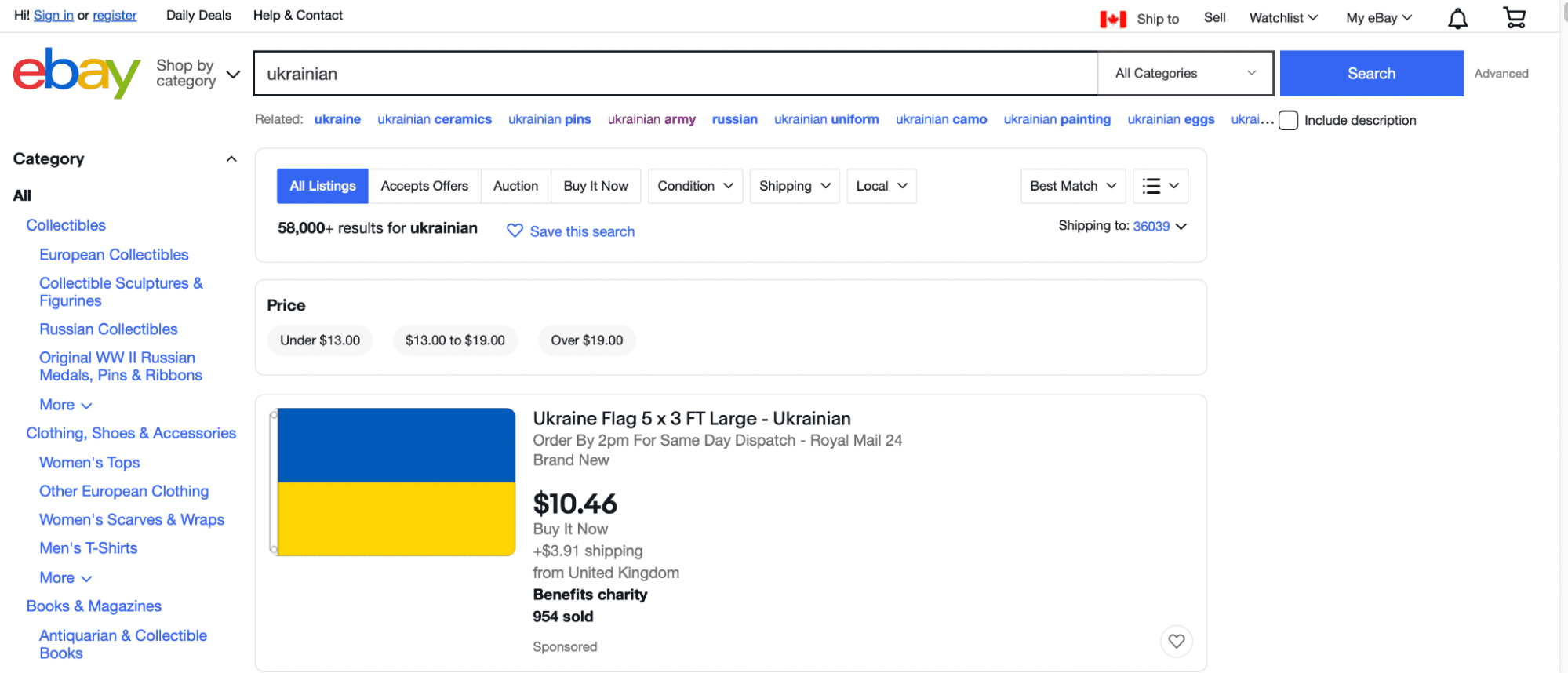 Sellers pay a fixed fee of $ 0.30 and% of sales. The percentage ranges from 3 to 15% depending on the product category. The exact amount of the commission for each category can be viewed here.
Listen to their music on Spotify
To find Ukrainian artists on Spotify, go to Search, type the word Ukraine and choose the Artists section in the results. You'll see the list of all Ukrainian artists and you can subscribe to what music you like the most.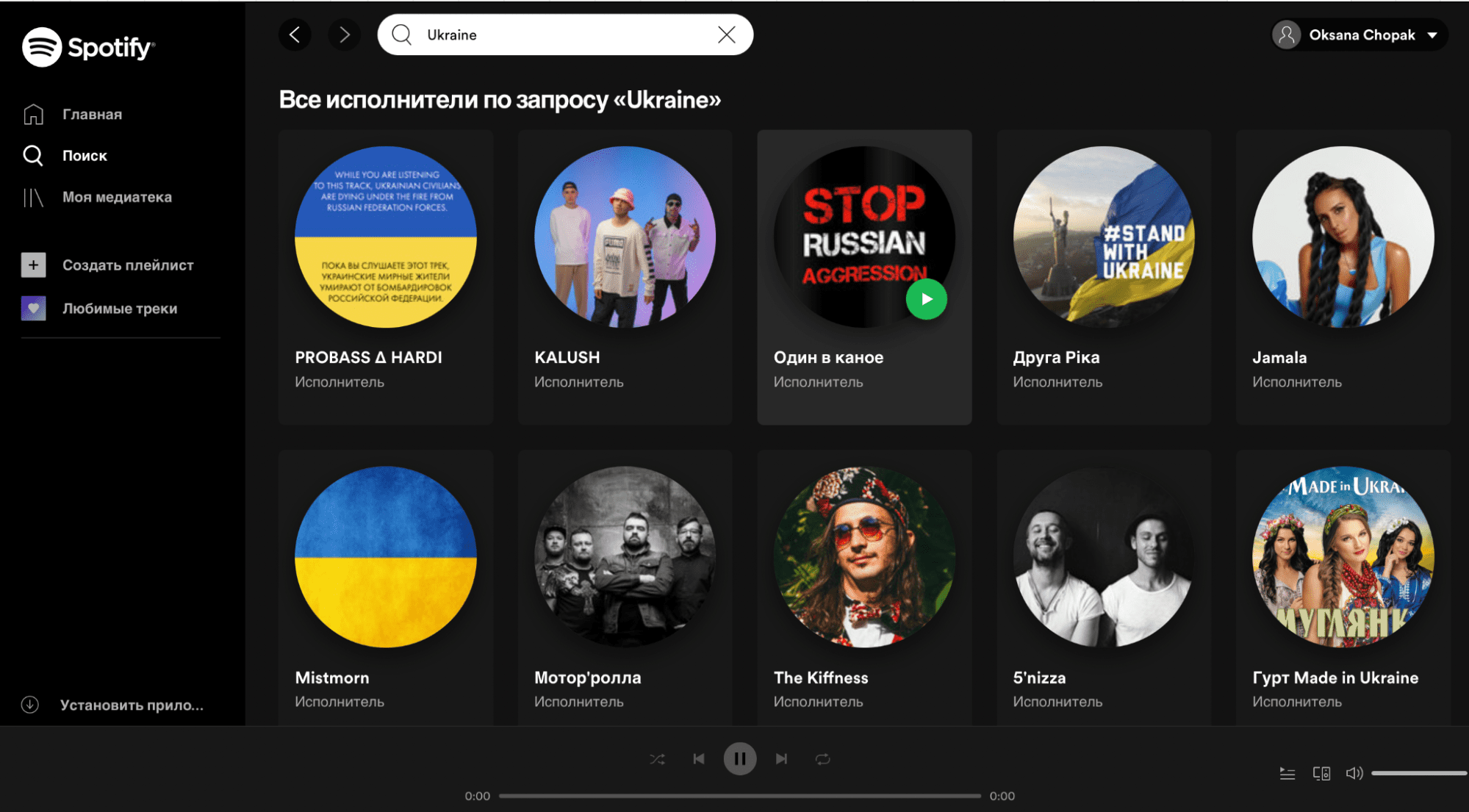 Spotify is a leader in the streaming audio services market, with 400 million users worldwide, of which 180 million are paid subscribers. Spotify pays each artist a reward for listening to his music by other users. The payout varies depending on the region where the music of this artist is listened to and the level of his popularity. After all, some performers have exclusive contracts with Spotify and correspondingly higher levels of remuneration. According to the music blog The Trichordist, artists receive an average of $ 3.48 per 1,000 streams.
Buy their stuff on Etsy
Etsy is the most popular global marketplace of unique and handmade items. A lot of Ukrainians have their shops here. Etsy rounded up digital downloads ,which of course do not require shipping, from sellers in Ukraine to help you directly support small business owners in the region.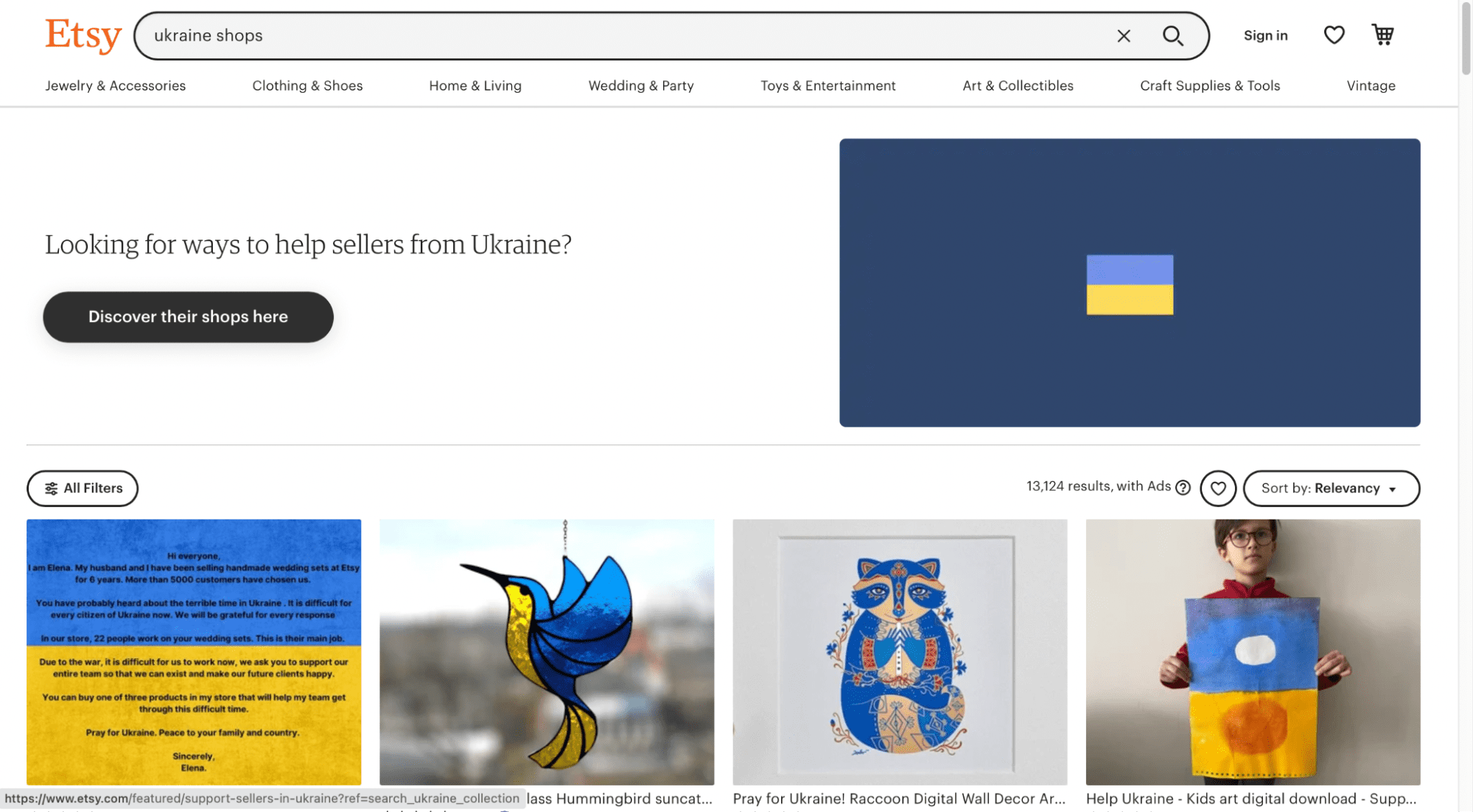 In addition, Josh Silverman, CEO at Etsy says: "So we've curated a selection of these digital listings, making it easy for shoppers to discover and purchase from these shops".Etsy canceled listing fees, transaction fees, advertising fees, and more. This will extend to Ukraine-based sellers, including Etsy.com, Depop, and Reverb.
EQ Bank Card
Benefit from 0.5% cash back on purchases
This 100% free prepaid Mastercard also offers free ATM withdrawals in Canada, no FX fees, and up to 3% interest on deposits.
Get 3.00%* on everyday banking with EQ Bank