How to Stick to a Wedding Budget in Canada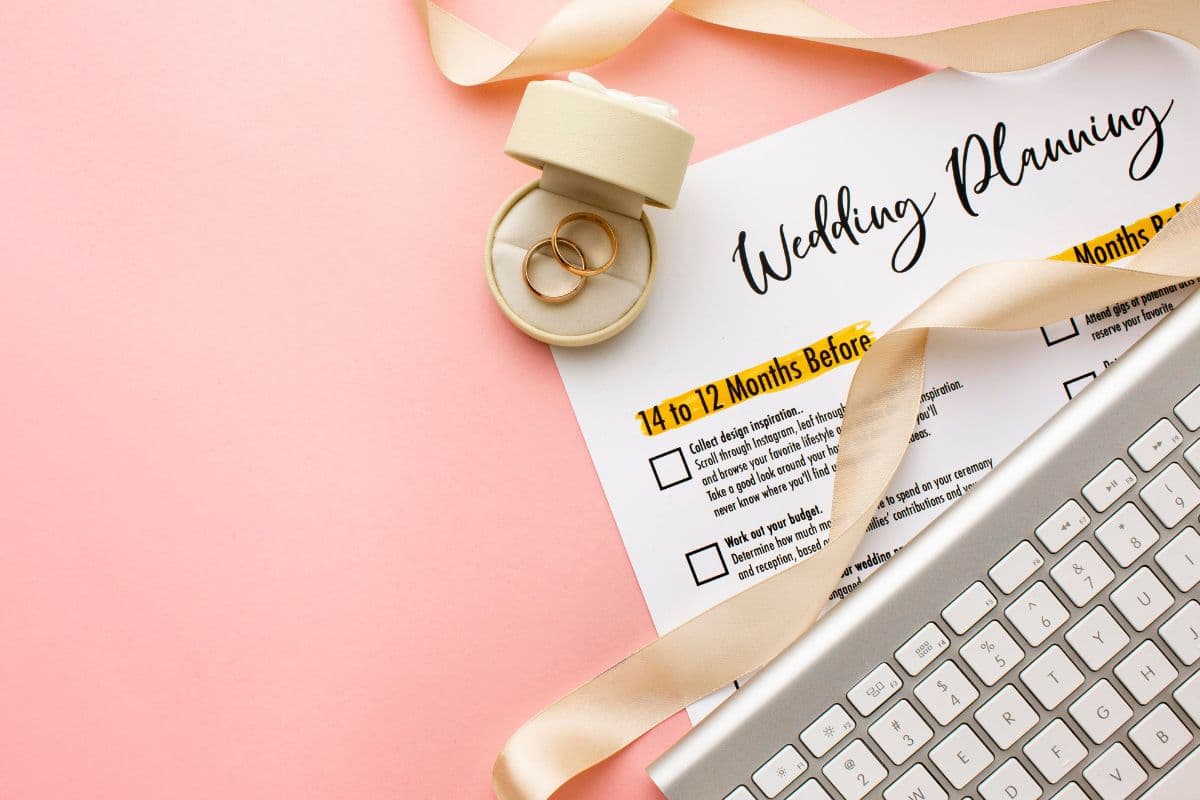 I hope you always dreamed about a wedding budget. Because "I Do's" are about to cost a lot more dough. According to Global news, the pandemic delayed so many weddings we are about to see a boom that will drive prices higher.
Before the pandemic, the average Canadian wedding cost about $30,000. The wedding industry was already notoriously expensive. Now factor in inflation and an impending tsunami of star-crossed-lovers taking the plunge, and that's a recipe for debt-do-us-part.
Couples who accumulate wedding debt are half as likely to divorce than those couples who stay in the green. So, what can you do to save a buck and ensure you and your ride-or-die Here's how to plan a wedding on a budget in Canada.
Why you need a wedding budget
Besides the aforementioned risk of divorce, the wedding industry is where money goes to die. Lots of factors go into the cost of a wedding. The venue, food, music, cake, the dress, maybe an ice sculpture or two – it all adds up. There are some areas where you don't want to skimp too much, like food and photography, and other areas where no one will know the difference!
Adjust your expectations
Over the years your vision has probably changed. I know mine did. But also, you most likely weren't thinking of the cost of everything in that childhood fantasy. Finances can be a rude awakening to every bride's dream and cause her to really rethink plans she once thought were non-negotiables on her wedding day.
Living in Canada is not cheap so when I got married a couple of years ago in British Columbia, Vancouver Island to be exact, cost was a huge factor. I was lucky it was pre-pandemic and I was able to secure my wedding for around $5,000. And yes, that included my dress.
Create a wedding budget
If you have no idea how to set up a budget, where to start or feel you aren't savvy enough to create one on excel yourself, I have good news! There are a ton of options for simple, easy-to-follow budgets that do the work for you.
I was lucky to have my sister-in-law create a timeline with a budget planner for me so I knew exactly what I need to have secured by a certain date. Having a budget planner for your wedding that is intuitive and easy to follow will not only make you more inclined to use it but also help you stick to it. You will feel a real sense of accomplishment seeing what you were able to make happen when you see it visually.
Read More: How to Make a Budget With Hardbacon
Guest List
The bigger the wedding, the bigger the price, and the bigger your wedding budget will need to be. It also limits your venue options because accommodating more people is much harder, especially post-pandemic. A good rule of thumb when figuring out your guest list is to ensure both sides are represented.
Start with family and your wedding party first. To plan a wedding on a budget, close and intimate is ideal. Weddings are expensive and your old best friend from grade 8 that you haven't spoken to in years will understand, I hope. Heck she might not even notice she wasn't invited.
That 4th cousin twice removed? Axe. Don't feel bad either. People may try to make it about them and their hurt feelings. But you need to keep your long term goal in your sights. Budget wedding, close and intimate.
I was confronted by an acquaintance that told me she was hurt that she and her husband were not invited since our wedding was going to be the "event of the summer". This girl is lovely. I still like her very much but we never spoke, I can't even remember the last time we hung out or reached out to each other for any reason. We simply were 'friends' by association. I explained to her that she was not the only one we did not invite because we had a strict budget. If people want to make it about them, let them and move on.
The Wedding Party
The same idea from the guest list applies here. Planning a wedding on a budget means keeping your wedding party small and personal. Two to three people on each side are plenty. Not to mention, it is custom to have a wedding party gift. This doesn't have to be extravagant and most will agree that something that is useful and can be used over again are the best gifts.
I've been in several weddings where the bridal party gifts were the jewelry we wore for the wedding. I gave my girls all matching silk robes from Etsy. They were $15-35 each, depending on size and style.
Our Groomsmen were gifted their shoes, which were simple sandals for an outdoor wedding. A bonus, they were on sale and were just $19 each.
The gifts for your wedding party do not need to be extravagant by any means. The meaning behind them also counts. Whether your gift was only $20 and handmade or $100 and store-bought, the sentiment is the same. You are simply extending your gratitude for sharing this special day with you.
The Invitations
Traditionally, you would send beautifully made invitations through the mail to all your guests. Some are even hand-printed. Many couples even send both Save The Dates followed by formal Invitations later on.
Invitations generally won't break the wedding budget, especially with online services like VistaPrint with premade designs you can customize. Just 10 invitations are $18.39.
With a guest list of say 80, your cost for invitations would be $147.12. There are more and more online print companies coming out as well, which is great! To be competitive, they will often have discount codes available online if you look them up. Moo.com is one that is fairly new with a Canadian website and pricing. Shutterfly was even more reasonable at a total cost of $120 for 80 invites and Zazzle $264.
An absolutely free way to do your invitations, though? Design them with a program like Canva (get ideas from Vista Print or Pinterest even) and do your own version for free. Download them and – gasp – email them out. No postage, no print fee. Just pure free creativity. Word of warning here, if you do choose this route, please make sure you follow up and ensure everyone received their digital invitation well in advance in case it gets sent to their spam folder.
Venue and Season
This is going to be hugely dependent on what time of year you get married and how far in advance you book. Weddings that take place during the summer months are always going to take a huge bite out of your wedding budget. It is peak wedding season, especially in Canada where our nice weather is so short-lived. If you want to save money and don't care about the time of year, venues will typically book a much lower rate in the months of October to March. And they can be just as beautiful too.
An outdoor wedding
If you have your heart set on outdoor summer weather, there are still ways to save. As we touched on previously, the size of the wedding will also play into the cost here. If you have a medium to smaller-sized wedding, 80 or so people, you will find better options for outdoor venues. Consider places like farms and wineries. Even Airbnbs will rent out at a nominal cost that is wedding budget friendly.
Heritage museums and personal residences also work. Maybe you have an aunt with an amazing acreage that would be willing to host your wedding. For example, we booked our wedding at a local heritage museum in Victoria, BC. We paid $800 for 48 hours and it had 30 acres of outdoor space, a lake and a beautiful outdoor kitchen; perfect for catering.
A family member or a friend's property for cheap, or even free, is the best option. Keep in mind when you are selecting your venue that there are places relatively close by for lodging for out-of-town guests.
It's worth mentioning that keeping your ceremony and reception at the same venue will save you transportation, time and money.
The Date
If you are willing to be flexible on this, you can really save hundreds here. Saturday weddings will be the most expensive and kill your wedding budget. Consider getting married on a Friday, holiday or even mid-week. Also, ask your venue if there are any available dates a week before or a week after peak season ends. You could luck out and get peak season weather at the off-season price. Score!
The Dress
A wedding budget and consignment are soulmates! Still go to the fancy dress shops, do the entire "say yes to the dress" experience, without actually getting the dress. Here me out: have whoever goes with you take photos of you in the ones you love and write down the designer and model of the dress. Then you can look for it second-hand.
There is an online dress boutique where brides post their gently worn dresses at sometimes half the price. It's like eBay for brides. Stillwhite.com and Poshmark are great places to look for beautiful dressed that are wedding budget friendly.
Another note to mention, and where I lucked out finding my custom dress, are local consignment shops. It was a custom-made dress, not a big designer name, and it only cost $1200! I turned around and sold it again for $900. My dress cost me a net $300! Cha-ching!
The Groom's attire, depending on the theme, can be quite affordable with a preowned suit. You can even rent a suit or borrow one. Keep in mind, it doesn't have to be a suit. At our wedding, the men all wore shorts and a white cotton button-down shirt, most of which they already owned.
Classy.ca is an online rental company that will rent a-la-cart by the piece or the entire look. This grey suit was $185 to rent and came with the complete look: bow tie, cuffs, jacket, suspenders and shoes! Not bad. The Dress Outlet has some beautiful dresses for rent for any size wedding budget. Prices range from $95 up to $1,600.
Food & catering
Sometimes venues insist on using their own kitchen staff and menu when booking, like a packaged deal, which can burn your wedding budget like a grease fire. I found that venues that insist on their in-house catering tend to generally charge more for everything. But honestly, I wouldn't skimp too much here.
Your guests will be there all day and you need to feed them, especially if alcohol is being served. Picking your menu with the catering company is important. Some items will be premium while others not. Also, ensure you think of your guest list for food sensitivities, allergies, gluten-free, etc.
We booked a buffet-style BBQ smokehouse and offered vegetarian options. They came onsite and set up, served and cleaned up too. I still get comments about how our food was the best wedding food people have ever had.
Buffet style will always save you a few bucks over a seated menu that is served. Wedding Wire goes into the details showing that most couples spend anywhere from $1,800 to $7,000 on catering alone! If you are looking at a cost per plate, a buffet-style meal will fall anywhere from $20-32 a plate.
When going through the menu, some items were far more expensive than others. So really try to design your menu with a balance of delicious options and wedding budget-friendly choices that are in season. Steer clear of expensive choices like shrimp, steaks and fancy hors d'oeuvres.
Decorations
This is where you want to utilize Facebook Marketplace to optimize your wedding budget. There are a ton of wedding buy-sell and trade groups for every city you can imagine. Some brides will sell their items before their wedding is even done, just to have it squared up after they tie the knot.
There are a ton of for-free groups where people just give stuff away too. Set up some search terms, set an alert early, and start collecting your decor and other items early. I started about a year prior and sold a lot of items within 2 weeks after my wedding.
Another great idea for decorations is to make them yourself. Search Pinterest for ideas, search Youtube for tutorials, and head out to the Dollar Store. Don't attempt to make all those yourself, get your wedding party, bridesmaid and family to all come-over and help. Heck, make a pizza and beer night out of it. Well worth it!
We made my bouquet, the men's boutineers, centerpieces and much more. This 700+ DIY ideas on a low budget is a great place to start. This Pinterest board has over 200 DIY ideas for centerpieces alone.
Flowers
This is another one that can be quite personal, especially if you are a flower/greenery lover. These fresh buds can add up fast! To curb our costs, we chose very specific greenery we wanted fresh; Eucalyptus and baby's breath. The rest? We did fake from Amazon and Michael's. Michaels's fake flowers have selections that smell like the real thing. No one knew the difference.
If you are insisting on fresh, you will find the best savings at Costco and even local farms that will sell in bulk. Facebook will sometimes have brides selling their fresh flowers immediately after for someone else to use within the next 48 hours. Talk about a wedding budget hack!
Want to really stretch that buck? Take your aisle markers and enlist a few helpers to move them to the reception area for centrepieces and additional decor.
Officiants and Marriage Commissioners
Before weddings became trendy with viral dances and speeches, couples would just pay the nominal fee to have a provincial officiant marry them. Nowadays, you have so many options and some creative Officiants can run a high cost because of their humour, originality and more. Trying to be too much on trend will kill your wedding budget. Save your money, reserve a provincial Officiant and write your vows to add some originality.
Marriage Commissioners in BC cost a total of $78 after taxes and fees. Expect add ons if they have to drive out of their way or are delayed.
In Alberta, marriage commissioners seem to set their own rates. The government of Alberta does not list those rates up front for each commissioner so you would need to search ones in your area and visit their website for their rates. They seem to range from $180 to $400.
Saskatchewan operates similarly to BC, with a minimum charge of $75 and no max, it can be up to the individual Officiant to set their rates on different criteria.
Manitoba is a self set rate by the Officiant themselves as well. Reaching out to them individually or finding their websites is the best step for finding their full rates.
Ontario is vastly set with Officiants also setting their own rates, the lowest I came across was $220 to a high of $1100.
In Quebec, rates start at a steep $350 and go up from there.
PEI, Nova Scotia, New Brunswick, Newfoundland and Labrador fees are all set by the marriage Commissioners and Officiants themselves.
You can find registered Officiants for each province on their government website. It would seem that the criteria for who can perform a ceremony and their costs fluctuate greatly across the provinces.
Wedding Registry, or lack thereof
A lot of couples will kindly ask that instead of gifts to congratulate them on their nuptials, they would appreciate money towards either paying for the wedding or a honeymoon. There are many ways to politely ask this in a fun way in your invitations or the save-the-dates.
Think about it: If you have 80 people attend your wedding, and they each gift you $50 to $75 each, that's $4,000-6,000 dollars right there. That could be your wedding paid off with a little left over if you are creative enough.
Wedding Music
At the end of the day, guests just want to party. They want good music they can dance to. This is where variety is key. You'll want some oldies for Grandma and Aunties and Uncles and more recent trendy beats for the rest of the group. A live band will always cost you more. More people to feed (yes you should expect to feed your band/DJ, officiant, wedding planner etc) and more access needed to outlets and set up.
You also want to think about your music selection for when you walk down the aisle. If you want to save additional money, using a DJ for both the ceremony and reception will be a lot cheaper than hiring a pianist, harp, or any other instrument. Seeking out recommendations with your wedding budget in mind is the best way to start.
Reaching out to other brides in a Facebook Wedding group is a great way to get a collection of recommendations that will be similar budget-wise with first-hand recommendations. Or not. Depending on the skill level and again, time of year expect to pay at least $300 for a DJ. The Wedding Wire has a directory of every vendor you could possibly think of.
However the ones that may be wedding budget-friendly won't be on your top page, so stick with the local recommendations rather than weed out options not even in your wheelhouse for pricing.
Do you really want to get down to DIY savings? Make your own playlist and use your own device to play for both ceremony and reception. A cool idea that others have done: ask guests to put their song requests on their RSVP to incorporate in a wedding playlist for the event. Not too shabby and then everyone feels like they contributed.
Wedding Seating Chart
This is probably one of those small details that get forgotten about most often. Again, stationary and individual placards for each table can add up. If you can make or find your table numbers to display second-hand, for free, or cheap, do it! You will be able to turn around and sell these immediately after your wedding.
You don't need individual cards for each person. Simply log onto Canva and search 'seating chart' and you will come up with dozens of beautiful premade designs that you simply just fill out. I sent ours to Staples to print on cardstock and got a cheap Walmart frame. Easy peasy lemon squeezy, or however the saying goes. It really was that simple and costs maybe $10 after print and frame was done.
Wedding Photographer or Videographer
This is a hard one, and one I would tell you to not skimp on too much either. Photography and food: those are the big ticket items and are worth every penny if you ask me. Here is what you do to secure a talented photographer that will document your day beautifully:
Ask around
Ask for recommendations from friends, especially newlyweds. Specify that you are on a tight wedding budget. For those that fit in your budget, start looking at their Instagram and online portfolio. Once you narrow down a few with styles you like, look at the cost for their time to be there and their print cost. You also need to feed them!
Custom pricing
Some will only give digitals, others will give options for both prints and digitals. I promise you will never regret spending money on beautiful photos that capture your day perfectly. You will regret an amateur photographer with zero editing skills. There are budget finds out there, you just have to get on it early and ask around. Also, it never hurts to let them know that you are on a budget and would they be able to offer some alternatives in packaging/pricing to fit your needs.
Where to look
Again, going off recommendations and first-hand experience has always been fail-safe. Putting out an ISO (In Search Of) on your local Facebook Wedding group will give you a great starting point. An example could be "Hey, I am looking for a local photographer for our wedding. We have a tight wedding budget and are looking for someone that would be willing to work with us within our means."
Budget hacks
Some photographers will rely on referrals as a way to offer a discount to the bride as well in exchange for the exposure. A budget photographer that includes prints/USB with one shooter would expect to charge around $500. A second photographer will always cost you more, plus the addition of food for that photographer. A simple, no "thank you" to a second shooter is all you need. There will be hourly costs if you need to extend the time as well.
The right location
Pick a venue where you can stay on location for photos as well. No need to pay for a limo or transportation for the wedding party. We got married on 29 acres at a heritage museum. It had faux heritage buildings, which were amazingly cute for photos. There was also a pond, lush forest and a train that ran the perimeter of the property.
Golf courses and farms are great options for scenic photos too. If your venue is less than exciting for photos, get creative. Get on Pinterest and see what shabby chic, plain ballroom or hall photos can look like. Get those ideas delivered to your photographer, and if possible, ask if they can do a walk-through of the venue prior to the wedding. That way you aren't wasting time searching for areas that work for photos the day of.
Hair and Makeup Artist
If you or a friend have the skills, I say you can follow some Youtube tutorials and do the makeup part yourself. Just start practicing early and you will be a professional in no time. The Bridal party can do their own makeup too.
If you are not feeling the DIY makeup vibe, then call around to local cosmetic/beauty schools. There are often students who need experience for their graduating portfolio. Some are extremely talented even before they attend school, and well worth the call. Most you will find will also do hair at the same time.
The hair is something I wouldn't attempt DIY unless you know what you are doing. But again, there are students who would jump at the chance for the experience for either an exchange of time for service or print (photos for their portfolio) or a reduced service fee than is typical.
Wedding Cake
If you have started planning your wedding, you will most likely notice that the traditional wedding cakes have been replaced with very trendy non-tiered cakes or even just cupcakes. We actually didn't even do a cake-cutting ceremony. We had some beautiful cupcakes made locally that were decorated with the colours we chose and that was it. Super simple and super affordable on a tight wedding budget
Added bonus: Bride and Groom avoided getting cake in the face! Win for all. We paid $3 per cupcake, which was just over 200 but the real kicker was the delivery charge of $45. Another example of saving is simply by assigning someone to pick up.
If you have your heart set on a cake still, expect to dish out $500 at least. Get creative, look and ask around for bakers that may be just starting out. or someone that does it as a hobby rather than a business. Again, always ask for a referral discount, if it's available.
Rehearsal Dinner
Family and friends that attend the rehearsal and set up any possible decorations and such, will tell you it doesn't have to be fancy. We had the wedding party and family help set up the outdoor wedding while we did a quick ceremony run-through. Then we fed everyone pizza and beer, it was perfect and all that was needed. Find a 2-for-1 pizza place and your wedding budget will thank you
Liquor
Two words: Toonie bar! It's completely reasonable and you'll earn some money back from your booze purchase if you keep it simple. Buy in bulk at the Costco liquor store, if you have one. You may even make some money.
Offer red and white wine and a keg with one type of beer. That's it. No hard liquor, no mixes. Flat $2 for each drink. We did have the wine free with dinner though. Of course, champagne for toasting for the wedding party, if you wish.
Tables and Chairs
If the venue you've chosen does not come with its own tables and chairs you can use, you will need to rent them. The first thought typically is to look at party rental companies. Don't do this as your first step, as they can charge $1.50 per chair. It might sound good, but when you start adding that up it get really expensive. And you still have to rent linens which are about $2 or so, depending on the size.
Check out local halls, churches and other organizations first that may be willing to loan you their equipment on a deposit or small fee. Beware of delivery and set up fees as well, and budget accordingly. $50 was what I was quoted recently to set up. If you have family and the wedding party, then put them to use!
Finally, the rings
Did you know that diamonds are becoming less and less rare? There are so many alternatives to mined diamonds that cost half of the price of the real thing. If you are planning your wedding, chances are you already have your engagement ring. But there are beautiful Moissanite or cubic zirconia options which are lab-made diamonds and look just as real. You'd never know the difference. I was able to get the out-of-budget ring I wanted by going this route.
Our bands on the other hand, well we really took the cheap route. Talk to your partner as well. Depending on what they do for a living, they may not be able to even wear a real gold band, such as an electrician, for example.
I was able to find a beautiful matching band with solid small diamonds around the perimeter on Amazon for $6. Sure it's costume jewelry, but it matches my engagement ring and says what it needs to say without busting your wedding budget. It's been 3 years and I have yet to need a replacement, although I am fully aware I will.
My husband on the other hand, bought these flexible rubber bands that came in various colours that he could wear safely. Also off Amazon.
Additional ways to earn money back from your wedding
Get a credit card that is solely for wedding purchases that has a great rewards program. You preferably want some kind of cash back on all this spending or travel points towards a honeymoon. Compare credit cards and read reviews to find one that fits your needs and goals.
Read More: The 11 Best Cash Back Credit Cards in Canada
Read More: The Best Rewards Credit Cards in Canada
Get creative with your wedding budget
One bride and her fiance put a notice out to all their Facebook friends that said they would come and clean up/collect all the bottles and cans from any party, event or wedding. They took those collected to the bottle depot and put any money towards their wedding fund. Over a period of 1.5 years, they had saved up a huge chunk towards their wedding. She did mention it is not nice work and very sticky. Wear gloves!
Sell your time and energy
You can take that idea and expand it more. Do friends need help babysitting? Some yard work? Offer your services and let them know you are saving for your wedding. You'll find people are more willing to help out when they get something in exchange.
Read More: 20 Weird Side Hustles to Make Money
Don't rush
If you aren't in a huge rush to the altar, a longer engagement is a no-brainer to help give you time to save for more. Accumulating decor items and putting away every penny over a longer period of time is something to consider.
Build passive income streams
Depending on your venue, location and possible activities, you might be looking at rental costs for chairs, tables, tablecloths, and outdoor tents. You may wish to rent or purchase lawn games for outdoor casual-themed weddings. A great idea that many have done is to pay for and purchase certain items themselves and rent them out after your wedding for a fee.
A large Jenga lawn game was renting for 48 hours for $50. Tents are anywhere from $150-200 dollars. So many couples planning a wedding want an easy and fast clean up, without having to deal with storage of these items. The rental fees for various items can add up quick, and book up fast, especially in wedding season. You can even start a side gig every year doing this. You'd pay your original investment off and profit after just a handful of rentals.
Read More: 33 Passive Income Ideas for Canadians
Skip the extras
It's hard to not compare your friend's wedding to yours and get stuck in the thought that you need to do all the same things they did. You don't need half of what you see in weddings. You certainly don't need confetti or bubbles to walk down the aisle. You don't need fancy wedding favours, or favours at all really.
Cloth napkins, open bar or ambient lighting at each table. You don't need any of it and the moment you start to compare is when you will start to spiral and make exceptions that kill your wedding budget. Be firm, make a list and a budget, stick with that budget.
Read More: Budgeting 101 For Canadians
Ask for & accept help
Put your wedding party to work. Get family to pitch in where needed. If people offer, accept! If family offers to help financially, put the pride away and consider accepting. Or maybe you have a friend who is a baker who would be willing to give you a discount on a cake or cupcakes. Got a crafty friend who is great with DIYs? Entice her with some wine and a girl's night. Are you able to save money by picking items up rather than getting them delivered? Get your friend with the truck to pick up!
Read More: Money Saving Hacks That Are Good For You and the Planet
Focus on what's important
Planning a wedding is not cheap. If you are lucky enough, maybe you have parents or inlaws that are helping you out. If you are footing the bill yourself, these are some great cost-saving tips to consider to help start off newly wedded bliss in, well, bliss.
Don't forget the handy budget tool we mentioned earlier. It will help to track your spending, where you've placed deposits and what you still need to plan. Being organized will keep you sane and your wedding budget in check.
Don't stress about actioning each item on this list to save. This is a simple guide and some couples will use more than others and some will see value in most of the advice here. The point is to pick and choose what works for you, and what you can commit to. Having a wedding budget is great, but it usually requires more of the work yourself, which can be overwhelming enough on a stressed-out bride. Don't overthink it and you will no doubt have the most beautiful wedding. Budget where you can and you will do just fine.
EQ Bank Card
Benefit from 0.5% cash back on purchases
This 100% free prepaid Mastercard also offers free ATM withdrawals in Canada, no FX fees, and up to 3% interest on deposits.
Get 3.00%* on everyday banking with EQ Bank