Berrycast: A Screen Recorder Designed For Team Productivity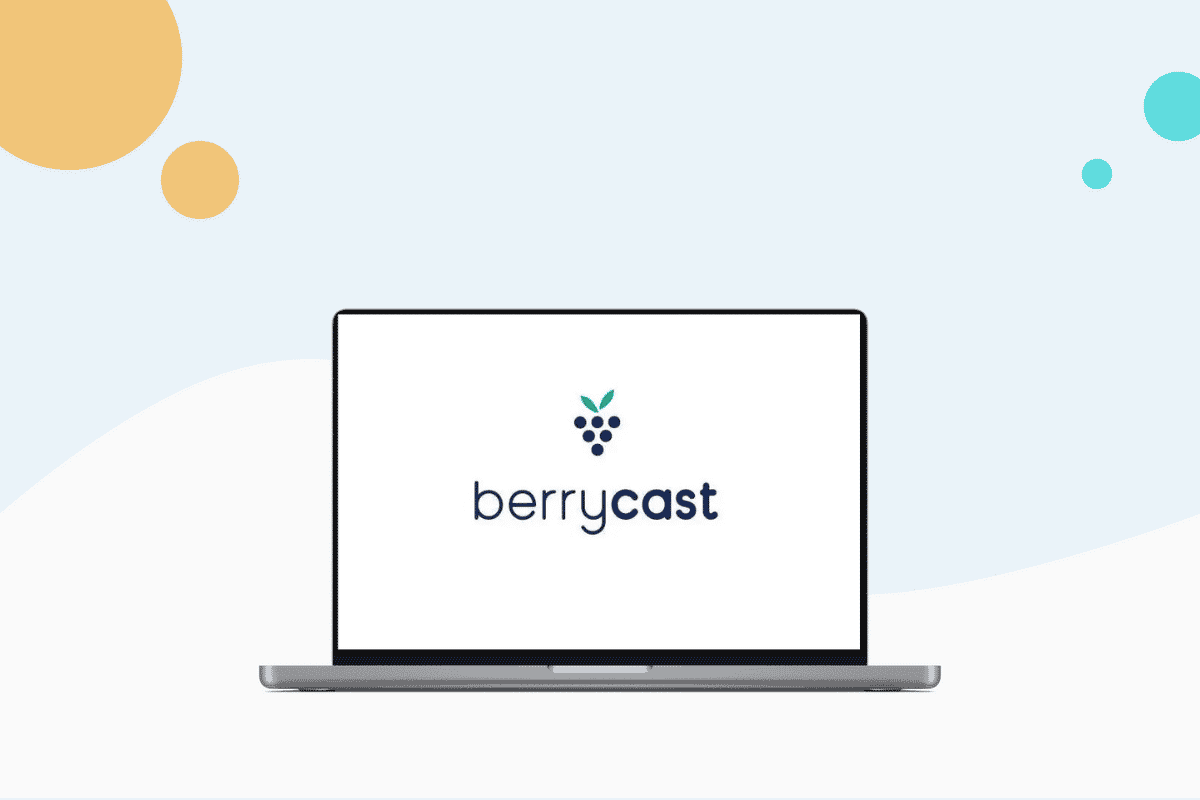 Berrycast is a Canadian screen recorder with 100,000 users spread across 127 countries around the globe. Available for both personal and professional use, Berrycast is designed to facilitate collaboration and effective communication.
In this article, we discuss the main features and integrations offered by Berrycast. As well as its pricing plans. We will also explore the pros and cons of using Berrycast, based on our own experience with it and how it compares to the market competitors like Loom. By the end of the article, you will be fully equipped with all the information that you need to decide if Berrycast is a good fit for you.
Berrycast vs. Loom
Loom is a USA-based company known for its screen recording software that has been on the market since 2016. It is widely used and loved by customers all around the world. Berrycast, on the other hand, hit the market two years later. However, it has earned its own reputation with the simplicity and ease of use it offers.
While Loom offers a free starter package, Berrycast, as of present, only offers a 14-day free trial after which you have to pay $99 dollars to continue using the tool. Although it does make Loom look better, there is a catch.
Loom's Starter Plan only allows you to make videos of up to five minutes long and there is also a limit on the number of videos a user can make. In Berrycast's Starter Plan, there is no such limit.
When it comes to support, both Loom and Berry cast offer chat support. However, Loom has a vast knowledge base which Berrycast lacks. When we contacted Berrycast for support, we got a reply back within twenty minutes, along with an option to book a one-on-one meeting with Berrycast's product expert via Hubspot Meetings.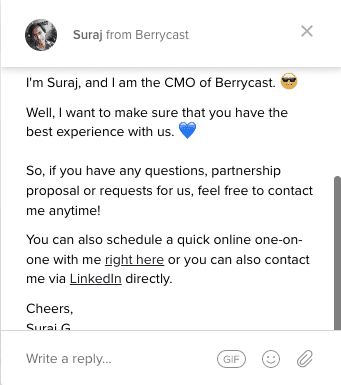 Along with creating documentation and training videos, you can also organize live training sessions with Berrycast. Loom, on the other hand, gives you the ability to conduct training through webinars. Both these solutions have competitive prices and good user ratings.
At the end of the day, it all comes down to the user experience and what suits your needs the best. The following are some main features offered by Berrycast that will give you a better understanding of what it's really like.
Easy to use recorder and editor
When you download the Berrycast application, you get a Berrycast widget with a record button on it. To start screen recording, all you have to do is to click on the widget and press the record button. Berrycast will start recording the screen after a countdown of three to give you a heads-up.
You can choose to use the webcam overlay to record yourself as you record your screen. Berrycast also gives you the option to record the whole screen or just a part of it. Once you are done recording, you can edit your video before sharing or embedding it.
The editing options include trimming the video, choosing the thumbnail, and adding a call-to-action button to the video. This last feature can be especially useful if you are creating marketing videos.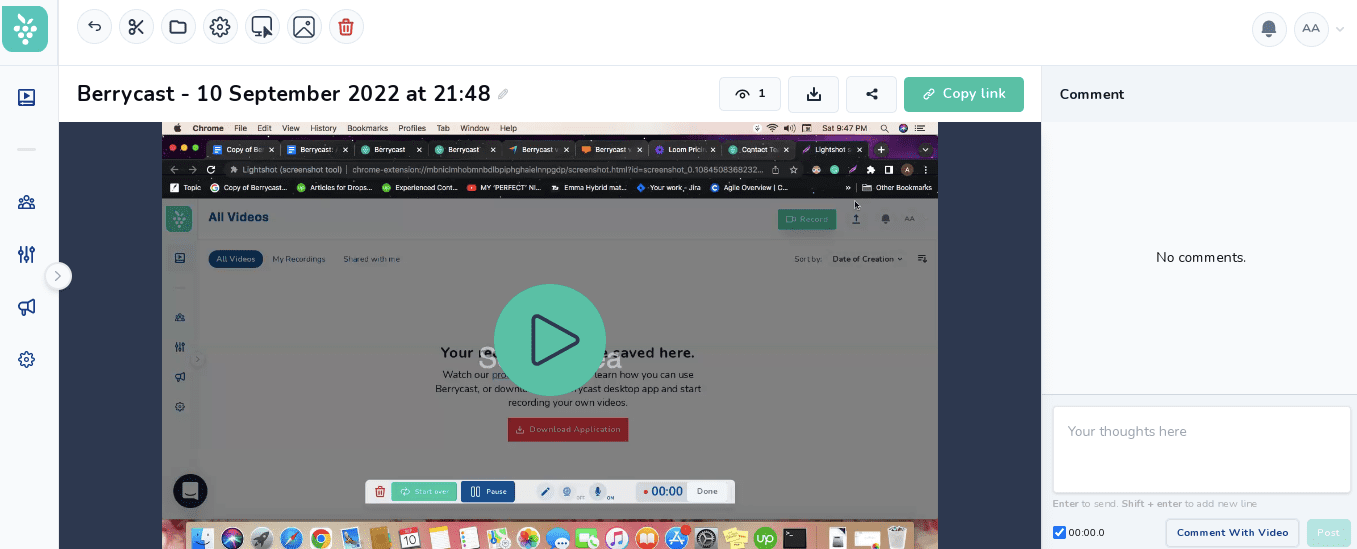 Berrycast offers easy organization
Berrycast has a very simple and easy-to-use organization system. There are three categories that are already present namely, "All Videos", "Shared With Me", and "My Recordings."
"All Videos" is the mega database where all of your videos will be stored no matter how you categorize them. You can choose the sorting options like "Date of Creation", "Last Activity" and the name of the video to find the video you are looking for. You can also create folders, give them a custom name, and move your videos into them for better organization.

Berrycast offers custom branding
You can disable Berrycast branding even in the Starter Plan. However, you will have to upgrade to the Pro plan if you want to add your custom branding to the videos. The process of adding your own branding to the videos is pretty simple.
All you have to do is select the custom branding option from the sidebar and upload your logo and icon. There are also some customization options that let you change the background colour of the page and the colour of the pointer. You can also connect a custom domain and use it to share videos.

Berrycast's team management
If you are a Pro or Enterprise Plan user, you can access the team management feature of Berrycast. All you need to do is enter the full name and email address of your team member and press the send invitation button. Berrycast will then send them an invitation on your behalf.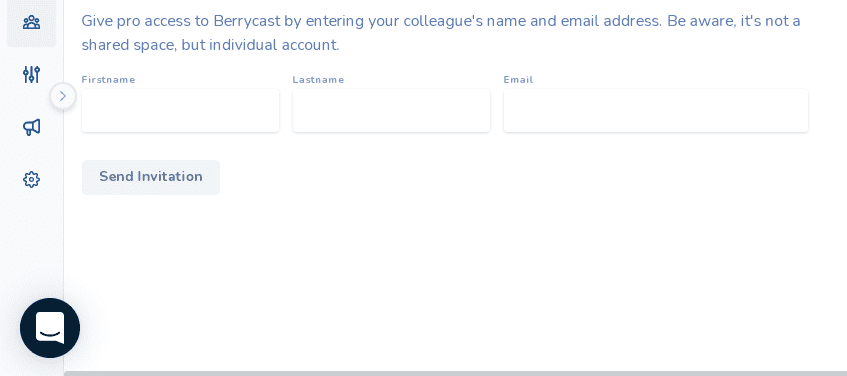 Settings and control
You can change what notifications to receive by clicking the gear icon in the sidebar of the web application. Berrycast gives you the option of receiving a notification whenever someone views your video or comments on it. You can choose to turn these notifications off.
There is also an option to allow viewers to leave comments on the video, download the video and see video analytics. You can choose to turn these permissions off using the toggle buttons under conversation settings.

Pricing plans offered by Berrycast
Berrycast offers three types of pricing plans. Each plan is designed to cater to specific needs. The Starter Plan is suitable for personal use, the Pro Plan is suitable for small and mid-sized businesses and the Enterprise Plan is best for large organizations. Read further to learn how much each plan costs and what it offers.
Starter: $99
The Starter Plan is suitable for personal use and is available at a one-time payment of $99. The key features of the plan include screen recording capability with webcam overlay, the ability to record and/or upload unlimited videos of any length, a powerful video editor and the ability to add a call-to-action button to any video. You also get unlimited cloud storage and there is no watermark on the videos.
Pro: $9.99
The Pro plan is available at $9.99 per user per month to be paid annually. This plan is suitable for businesses and teams and offers all the features available in the Starter Plan. In addition to those features, you get a custom domain that you can use to share videos.
You can also add your own branding to the videos. GSuite, Office365, Asana, Teams, and other integrations are available to help you achieve better collaboration and increase productivity. Berrycast is also preparing to add a Workspace feature in this plan for better collaboration among teams, but it is not available yet.
[Offer productType="CreditCard" api_id="60dd2ebd378dfd0f231527b3″ id="146155″]
Enterprise: Custom pricing
With the Berrycast Enterprise Plan, you get better support, better deliverability, and sophisticated video marketing features. You can contact the sales team of Berrycast to communicate your specific needs and they will give you a quote accordingly.
When spending for your business, it is best to use a business credit card. This will not only help with payment management but also may earn you rewards based on your purchases.
FAQs About Berrycast
Does Berrycast still offer a lifetime deal?
No, Berrycast's lifetime deal is currently unavailable. However, you can choose between pricing plans to get a plan with a one-time payment (suitable for personal use) or with a recurring annual payment. You will get a 14-day free trial in either case.
Is Berrycast still on AppSumo?
No, Berrycast is not available on AppSumo anymore. If you search for Berrycast on AppSumo, you will find it among the list of products but you cannot buy it from there as the deal is unavailable.
How to download Berrycast?
You can download Berrycast by simply following this link. Or you can go to Berrycast's website and sign up for a free account. As you finish the signup process, the website will prompt you to download the Berrycast application by showing a "Download Application" button on the screen. Click the button and your download will start automatically.
What is Berrycast pricing?
Berrycast offers its Starter plan at a one-time payment of $99, and charges a recurring $9.99 per month, to be paid annually, for its Pro plan. To get an enterprise plan, contact the sales team to see your options with regard to the features you want to have and they will give you a quote accordingly.