The 12 Best Website Builders in Canada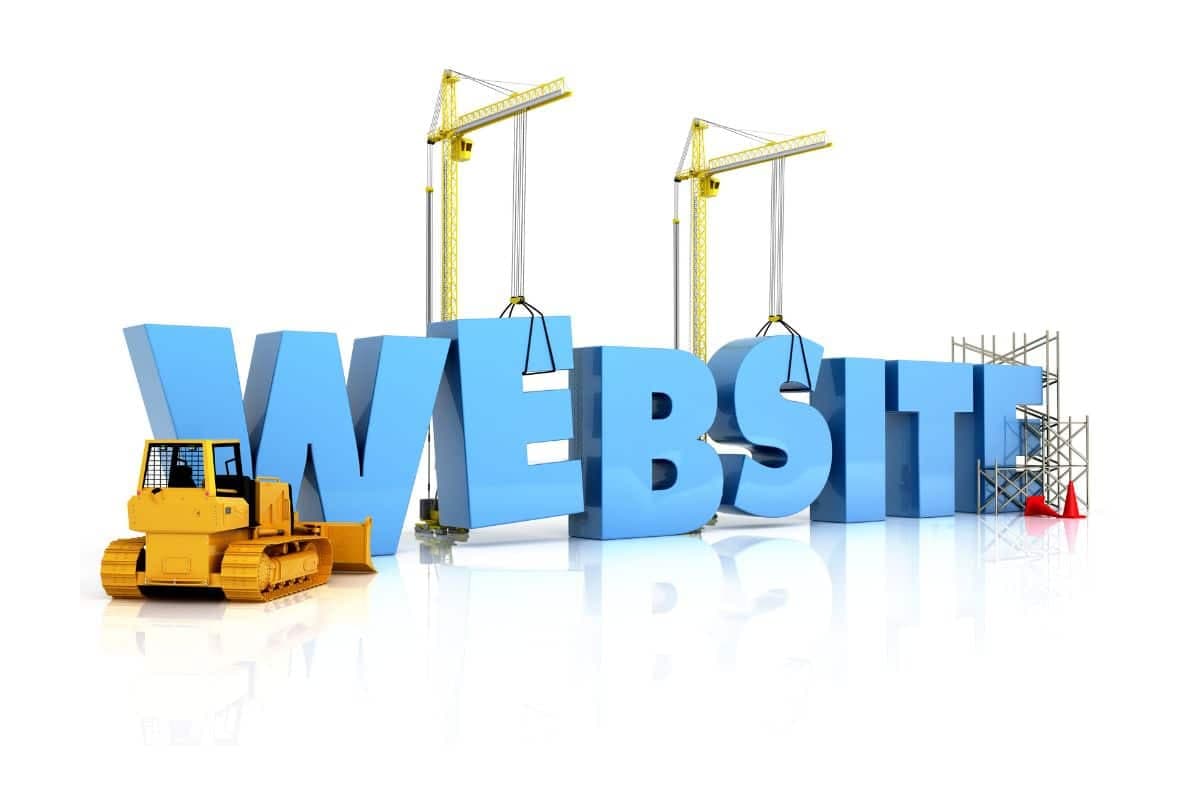 Website builders don't have to be expensive or complicated. Some companies have the means to spend thousands of dollars hiring designers and developers to create a website for them. Having an expert create your website for you is convenient but expensive.
A website builder allows you to do some of the work yourself using pre-designed templates and drag-drop features that an expert has already created. Many of these website builders can get you from start to finish in just a few hours, getting your new website up and running that same day.
[Offer productType="CreditCard" api_id="5f46c3834726ce7207266a78″]
What to Look for in a website builder
With a good understanding of why a website builder is important, you can start your search for the best website builder. There are many things to look for in a website builder, and some of it comes down to preference. Starting out with so many options to choose from can be overwhelming.
Start by narrowing down your choices and find the best website builder for you and your company. Here are some things to keep in mind before you commit to a website builder:
Price of the platform
Price is obviously an important factor when choosing any service or product. Decide how much you are willing to spend and stick to your budget. There are many free website builders out there, but be careful. Some truly are free, and some only offer a free trial period before they start to charge a monthly or yearly fee.
Free website builders work well for small businesses, but may not be enough for complex websites with a lot of traffic or need to keep information secure. You can earn rewards like cash back by paying for a website builder with a business credit card.
User Friendly
Just like your customers, you do not want to spend hours figuring out how to use a website builder or dealing with crashing websites and technical difficulties. Especially if you are new to website building, look for something relatively simple and user-friendly.
Customizable
While templates are a great guide and can get you started building your website, you also want it to be unique. Avoid boring websites or sites that look just like your competitors.
You want to have a unique look and be able to give your clients or customers exactly what they need through your website. Most website builders will allow you to browse through templates and try a few before committing to a subscription.
Customer Service
Look for a website builder with a good customer service record. Use google reviews or ask other business owners about how the company handles issues and complaints. Having 24/7 support and online chat options can help you solve problems quickly, saving you time, money, and frustration.
Look for builders with clear tutorials and helpful tips available for you to use. Another great feature to look for is a forum where other users discuss ideas, questions, and tips for website building.
Mobile capabilities
Research also shows that 57% of screen time for consumers comes from mobile phone use. People are more likely to find your website on their phone than on their computer. If your website builder cannot create a mobile-friendly site, you may want to consider using a different one.
Best website builders in Canada
1. Shopify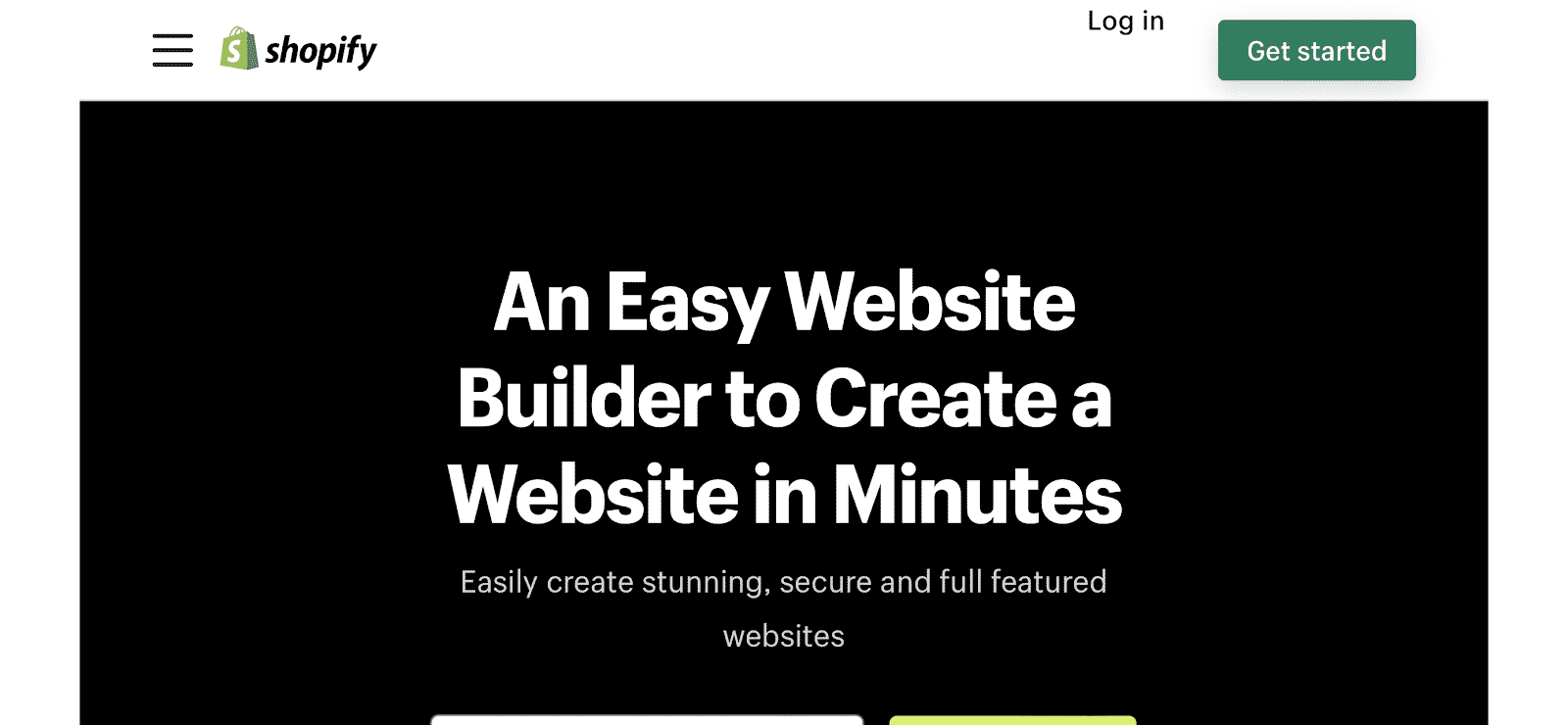 Shopify is a Canadian company that is great for eCommerce website building. It is easy to use and you can design your entire website without any knowledge of coding. There is a wide range of templates you can use, or you can pay for a customized website design.
Shopify allows you to provide your customers with a wide variety of payment options including paypal and stripe. They help you build a website that is both desktop and mobile-friendly, with a lot of customizable options.
They also provide you with great customer service, with 24/7 availability through chat, email or phone. A shopify subscription provides a lot of free marketing tools and helpful tips to strengthen your online presence.
Shopify is used primarily for online stores, and does not work well as a blog design.
Price
You can start with the 14-day free trial to see if you like the service before committing. Brand new or smaller companies can start with the basic version, and companies with two or more busy online shops should use Advanced Shopify.
| | | |
| --- | --- | --- |
| Basic | Standard | Advanced |
| $29 per month | $79 per month | $299 |
2. Squarespace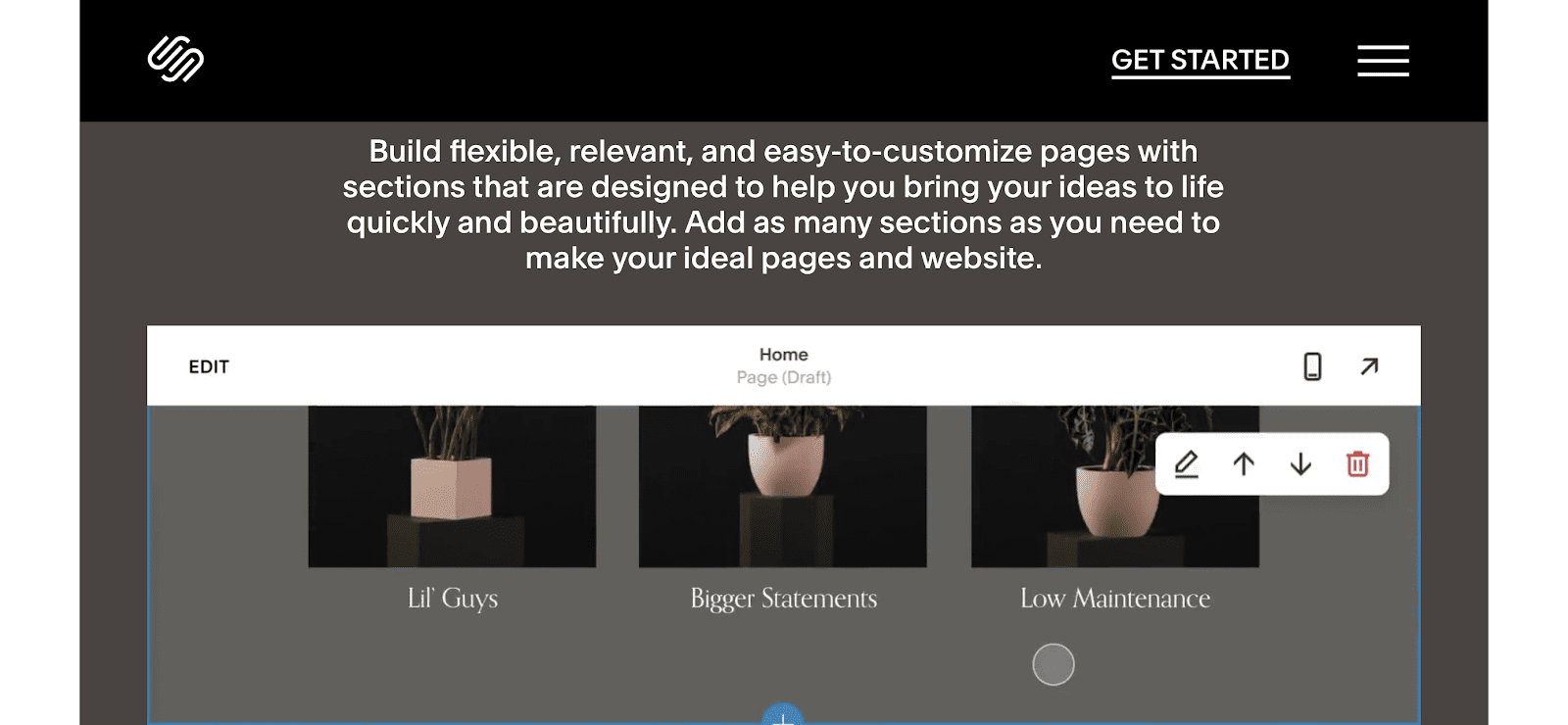 Squarespace is a website design company with headquarters in New York City, and offices in Portland, Oregon and Dublin, Ireland. Squarespace is a great option if you need a simple, professional website ready to go right away.
Squarespace does not offer as many customization options but is extremely easy to use. They allow custom domain names and you can have a website ending in .ca and you can customize your province to automatically calculate tax rates.
With your subscription, you'll have access to a community forum, webinars, and a help center. They also have options to automate marketing emails based on clicks and will send you low inventory notifications to keep you organized.
Price
Squarespace offers a 14-day free trial before you choose your subscription type. You can save 30% by purchasing annual subscriptions instead of using the month-to-month option.
| | | | |
| --- | --- | --- | --- |
| Personal | Business | Basic Commerce | Advanced Commerce |
| $19 per month | $33 per month | $65 per month | $65 per month |
3. Wix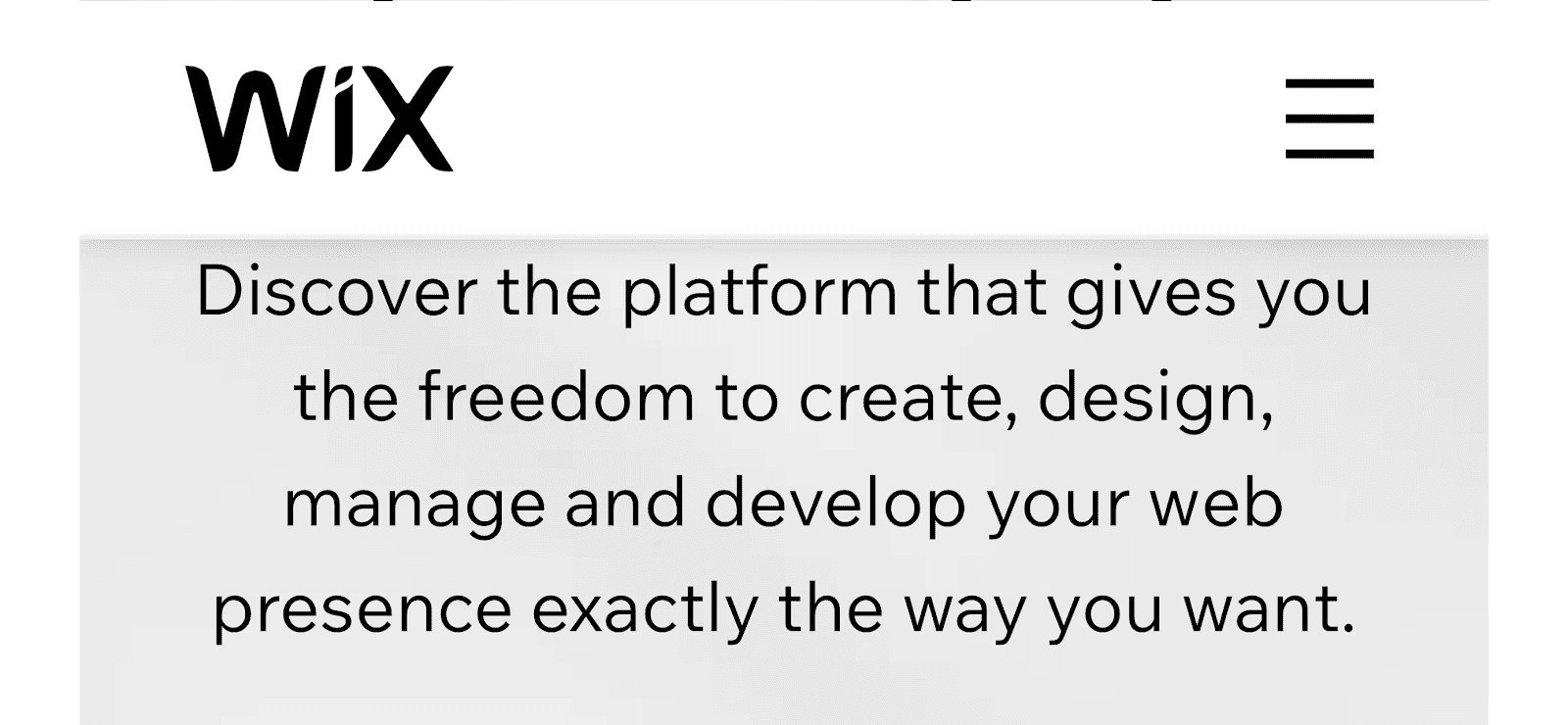 Wix is a website design company formed in 2006. They now have designers and employees from over 12 countries. They are one of the most popular and successful website design companies with over 200 million users worldwide.
Wix is easy to use with over 800 customizable templates and a drag-and-drop setup that makes it easy to create a website you love. Wix also offers logo design, SEO optimization, and mobile-friendly website designs.
The free website design option comes with unlimited bandwidth, 20GB of cloud storage, and an online storefront. Wix allows credit card, debit card, and paypal options, but does not provide any type of inventory tracking.
Price
Wix advertises that it will build you a business website for free. If you need anything complex or any type of e-commerce capabilities, you'll need a business account. If you are unhappy with your purchase, Wix will refund the cost of your premium plan as long as you cancel it within 14 days of upgrading.
| | | | |
| --- | --- | --- | --- |
| Website only | Business Basic | Business Unlimited | Business VIP |
| Free | $23 per month | $27 per month | $49.99 per month |
4. WordPress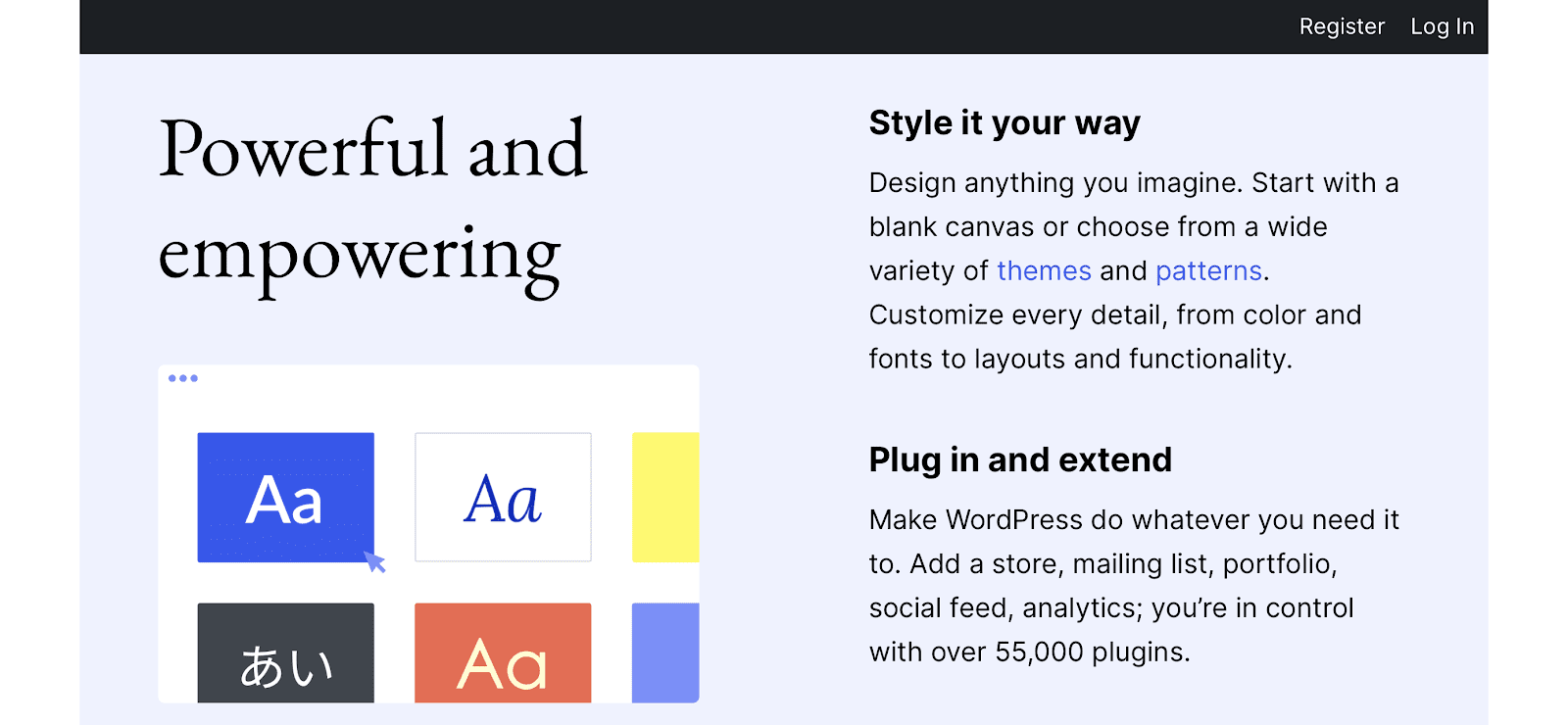 WordPress is a popular website builder where over 500 websites are built per day. WordPress is one of the most popular and well-known website builders, partly because it is user-friendly and customizable.
It is important to understand that there is a difference between WordPress.com and WordPress.org. WordPress.org is an open-source, self-hosted platform. It's software that you download on your own computer and you'll have your own domain and security. Most websites are hosted through WordPress.org.
WordPress.com is hosted on dedicated servers in Canada. It is easier to use for new users, but has obligatory advertisements, fewer customizations, and less control over plug-ins that you can install.
WordPress is the most customizable option, but it requires some knowledge of coding to get started. WordPress allows you to easily link to social media, collect statistics about your audience, and gives you guidance about SEO. There are hundreds of creative themes to choose from and these are updated frequently.
They also provide 24/7 customer support via email and their community website. You can use plug-ins to create an eCommerce site, or set it up through WordPress for a fee. WordPress makes it easy to create a mobile-friendly version of your site after you complete the design.
Price
WordPress is free to use if you are just building a website using their software. However, if you want eCommerce functionality you'll have to pay. You can get a small discount if you sign up for the entire year.
| | |
| --- | --- |
| Business plan | eCommerce Plan |
| $33 per month | $59 per month |
5. GoDaddy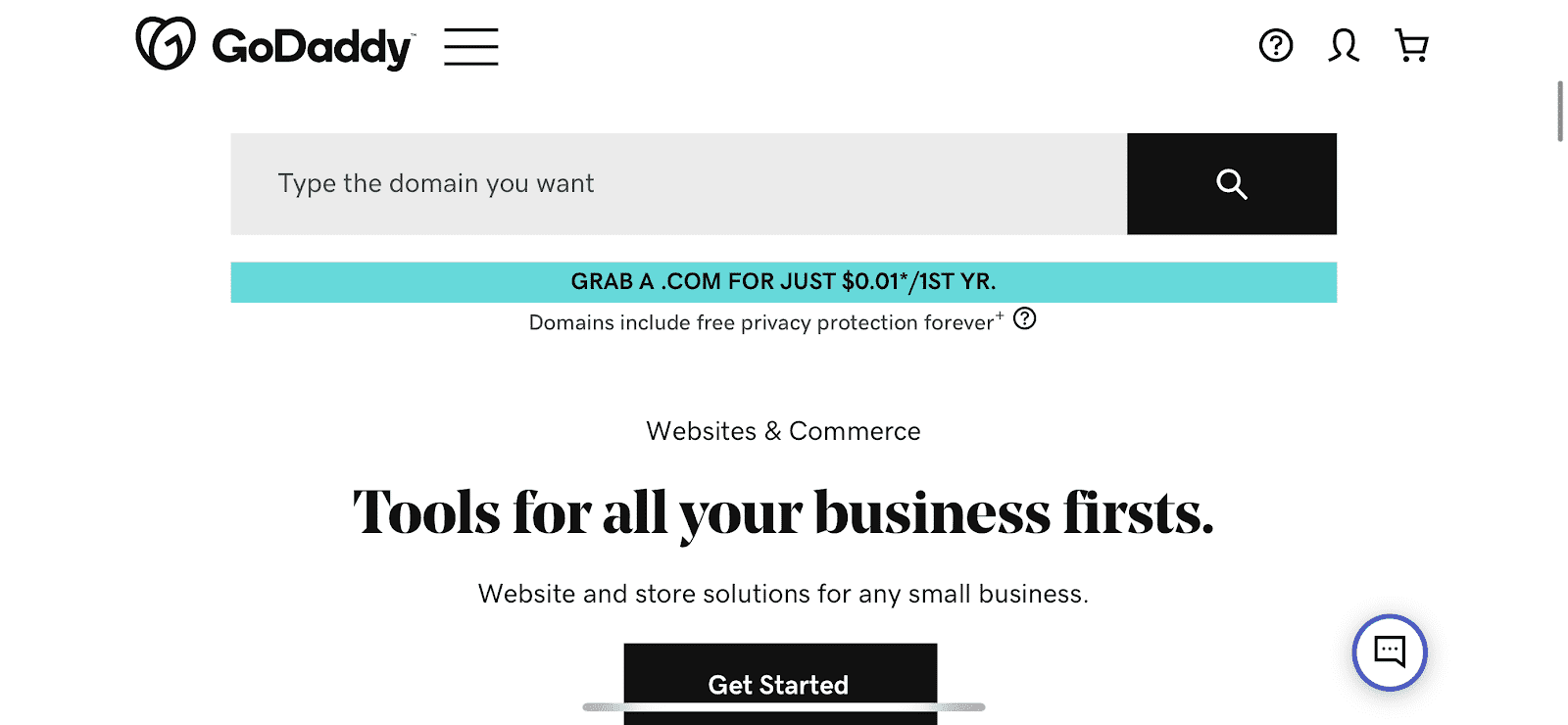 GoDaddy uses artificial intelligence to design a website just minutes after you input your information. GoDaddy is one of the easiest website creators to use and does not require any prior experience or coding knowledge. It can be used to set up a blog, eCommerce site, or service site.
The downside of GoDaddy is that it is less customizable than other website builders and you have to keep your site fairly simple when using GoDaddy.com. GoDaddy sites can handle scheduling one-time appointments, accepting credit card payments, and sending automated email and social media marketing.
Price
You can save up to 40% on your subscription if you choose to pay annually.
| | | | |
| --- | --- | --- | --- |
| Basic plan | Standard plan | Premium plan | eCommerce plan |
| $6.99 per month | $10.49 per month | $13.99 per month | $14.99 per month |
6. Lightspeed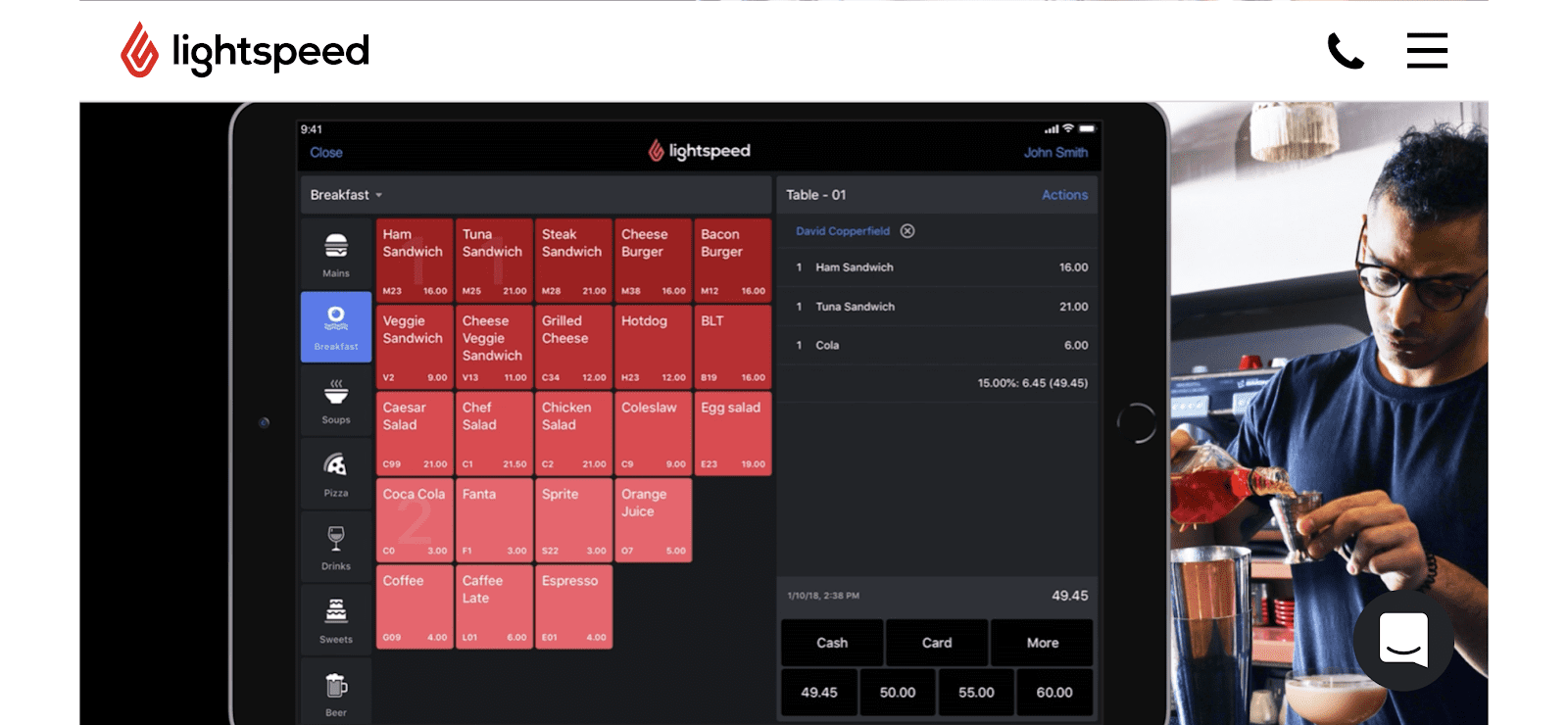 With a home base in Montreal, Canada, Lightspeed is more than a website builder. They help you build and organize your POS and provide you with the tools and software to manage your entire business. They specialize in eCommerce, restaurant, and golf course management.
Lightspeed can generate automated marketing emails, has SEO tools to direct traffic to your site, and can handle inventory management. If you already have a website but do not have eCommerce capabilities, you can connect a lightspeed eCommerce account to WordPress, Wix, or Weebly.
The basic plans help you set up and manage a basic eCommerce site and POS, and the most expensive provides automated bookkeeping and rewards plans.
Price
Lightspeed is the most expensive website builder, but it can automate a lot more work for your business than the other website building options. High-volume merchants (over $500k annual GTV) should contact Lightspeed for monthly pricing.
| | | |
| --- | --- | --- |
| Lightspeed Lean | Lightspeed Standard | Lightspeed Advanced |
| $69 per month | $119 per month | $199 per month |
7. Bookmark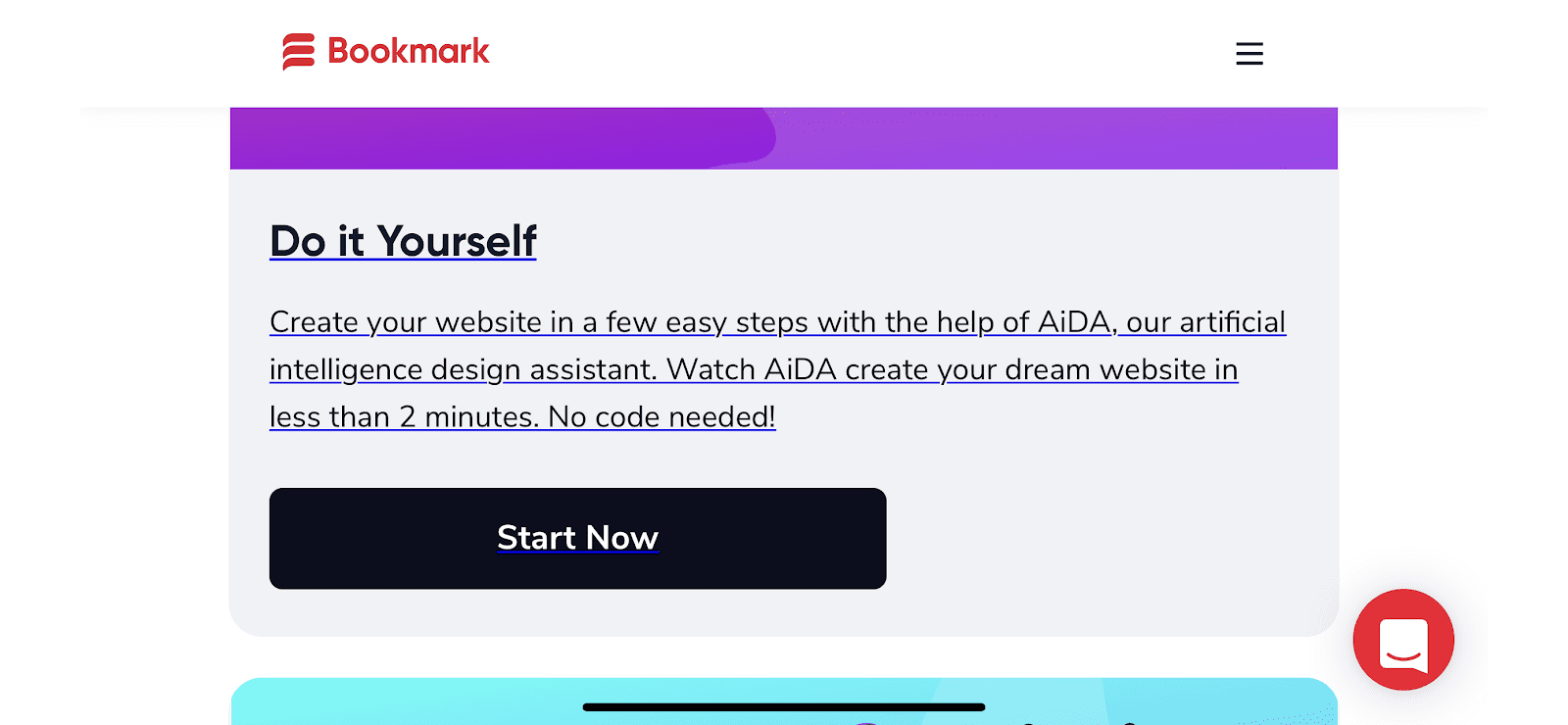 Bookmark is a Canadian website builder that is easy to use, even for people with no coding or website experience. To build a website, you simply choose your preferred style, answer a few questions about your business, and watch the AI creator design your website. As your business grows, Bookmark will send you suggestions for improvement based on data it collects from your site visitors.
This platform allows you to connect and sell on Google, Facebook, Instagram, Amazon, and eBay. They create mobile-friendly websites Bookmark includes a free personalized email address for your site, advanced SEO tools, 24/7 chat support, and e-learning courses to help you grow your business.
Price
Bookmark is one of the least expensive website builders. They also offer a free 14-day trial so you can try them out before you commit.
| | |
| --- | --- |
| Basic Setup | eCommerce Setup |
| $8.39 | $17.49 |
8. PageCloud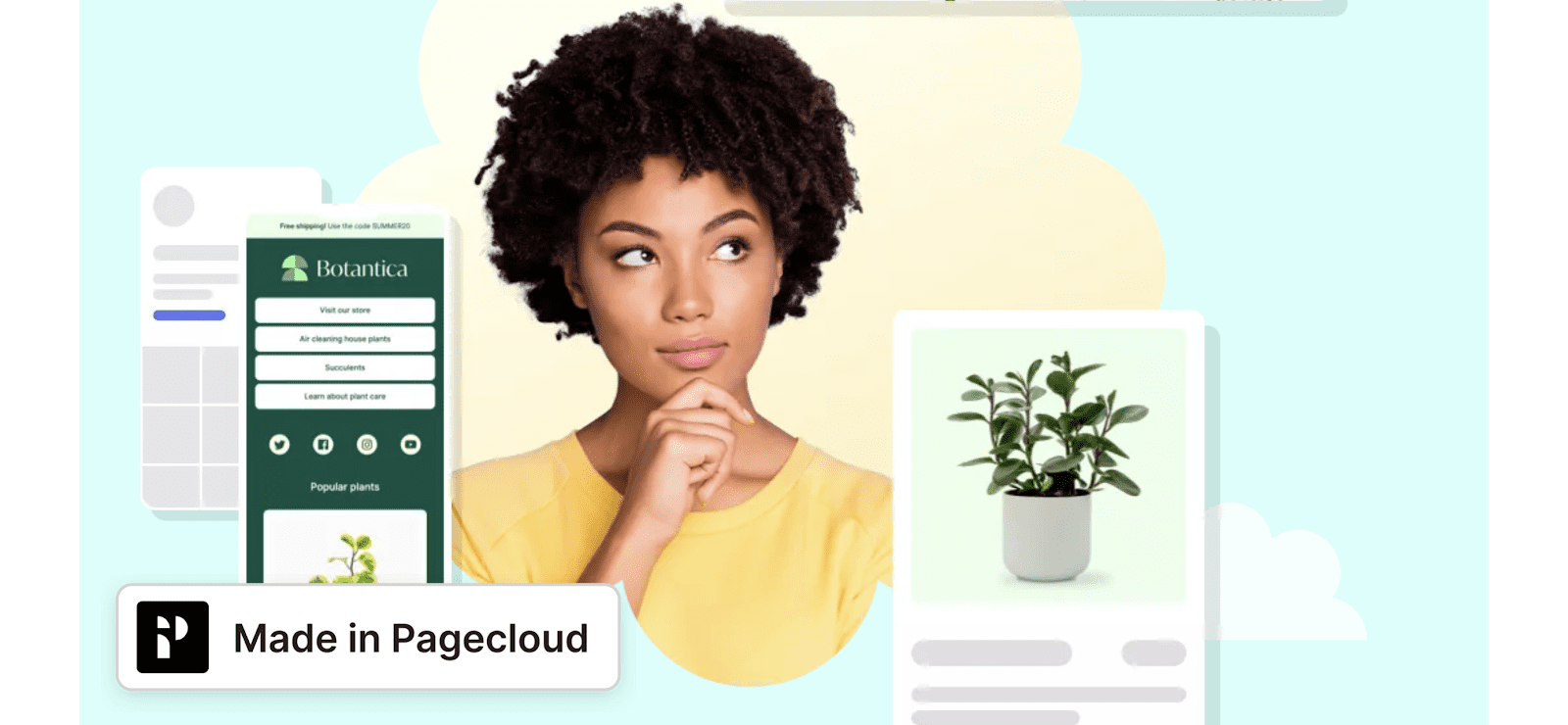 PageCloud is another Canadian website builder that is simple, effective, and highly customizable. Their landing page states that they can help you get an eCommerce site up and running in just a few minutes. They offer a unique feature that lets you share your website design with your team, allowing everyone to edit and input information before the page is published.
They provide SEO tools, 24/7 chat support, a community blog to help answer questions, and connectivity to social media sites. You can also hire a PageCloud Pro with marketing experience who will design and create your website for you.
Price
PageCloud offers informational and e-commerce website plans, with eCommerce being slightly more expensive. You can also hire a designer through PageCloud for a fee. PageCloud experts can be hired for anywhere from $25 per hour to $150 per hour depending on experience.
| | | | |
| --- | --- | --- | --- |
| Type | Basic/Starter | Business/Advanced | Pro/Unlimited |
| Informational webpage | $19 per month | $29 per month | $58 per month |
| eCommerce website | $29 per month | $49 per month | $89 per month |
9. World Lite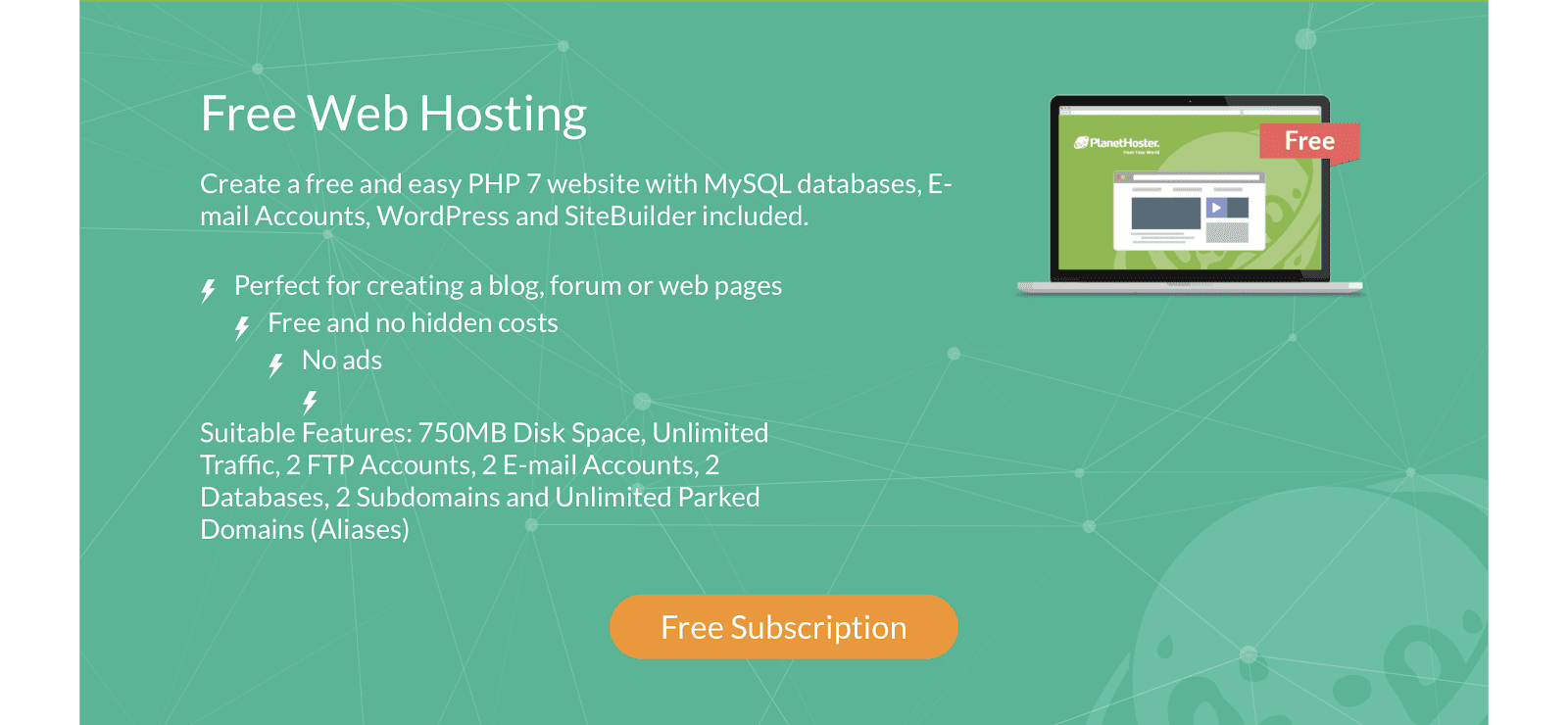 World Lite is a free website hosting site founded in 2007 in Quebec, Canada. World Lite can be used to create a blog, forum, or personal website. They offer Disk Space: 750MB, 2 Email Accounts, 2 Sub-Domains, Community Support (Forums), a Datacenter Choice or France + Swiss or Canada, and a SiteBuilder all with a free subscription plan.
This website builder is great for small businesses just looking to get information out to their customers. They do not have eCommerce capabilities and can not provide purchasing through a website they host. They offer 24/7 chat and phone support and a forum where you can discuss questions with other users. World Lite can help you build websites in English and French.
Price
Free
10. WebSelf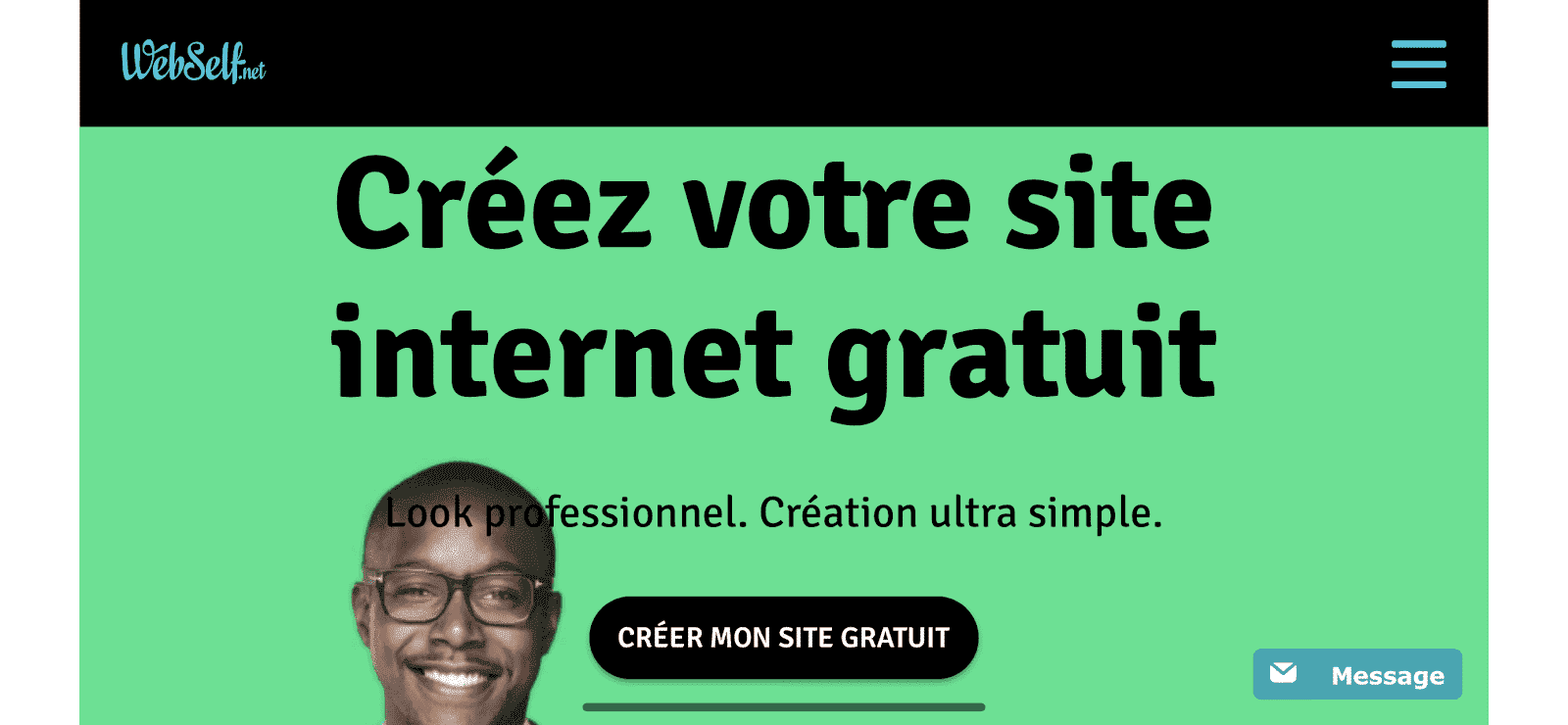 WebSelf is a website creator based out of Quebec, Canada. They have helped over 3 million customers design their own websites since 2009. Their drag-and-drop design capabilities are user-friendly, and easily customizable.
They have blog, forum, and eCommerce capabilities, as well as mobile-friendly designs. WebSelf offers free 24/7 customer service to help walk you through the process. They also offer a free training course called WebSelf academy where you can learn tips to help you build an effective website.
You can create a website for free with up to five pages and a webselfsite.net subdomain. The most expensive eCommerce plan includes translation with multilingual site capabilities into "almost any language" including English, Spanish, and French.
Price
| | | |
| --- | --- | --- |
| Basic package | Pro package | eCommerce package |
| $8.35 per month | $13.95 per month | $18.45 per month |
Webself also offers you a way to earn money using your website by advertising for them. You can earn almost $300 per website by joining their affiliate program.
11. Site123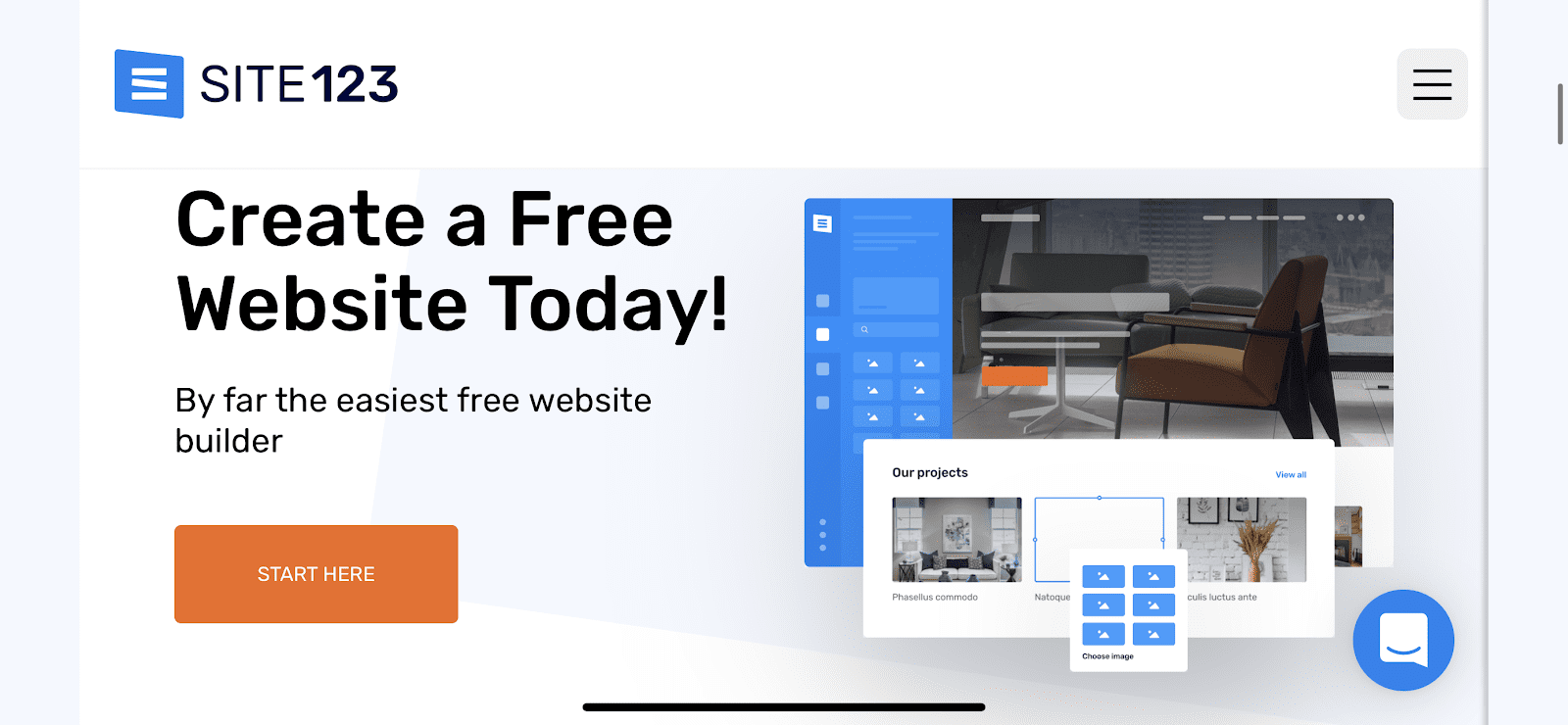 Site123 is a Canadian-based website builder great for people just starting out. They have easy-to-use templates and their service is very inexpensive. Using Site123, you can create a custom domain, an eCommerce store, and mobile-friendly web pages.
They have a good translation feature allowing you to easily change your website from English to French without errors. Site123 helps you create your website in just three steps. You choose a design, upload your content, and publish.
You can have a website completed in less than an hour. Site123 provides royalty-free images you can use for your site, and SEO suggestions to increase your traffic. They also offer free 24/7 chat support.
Price
$12.80 per month
Site123 only offers 2 options; the free version with the 123site domain and 250MB of storage, or the premium for $12.80 per month that includes store capabilities and lets you connect your own domain name.
12. Website.com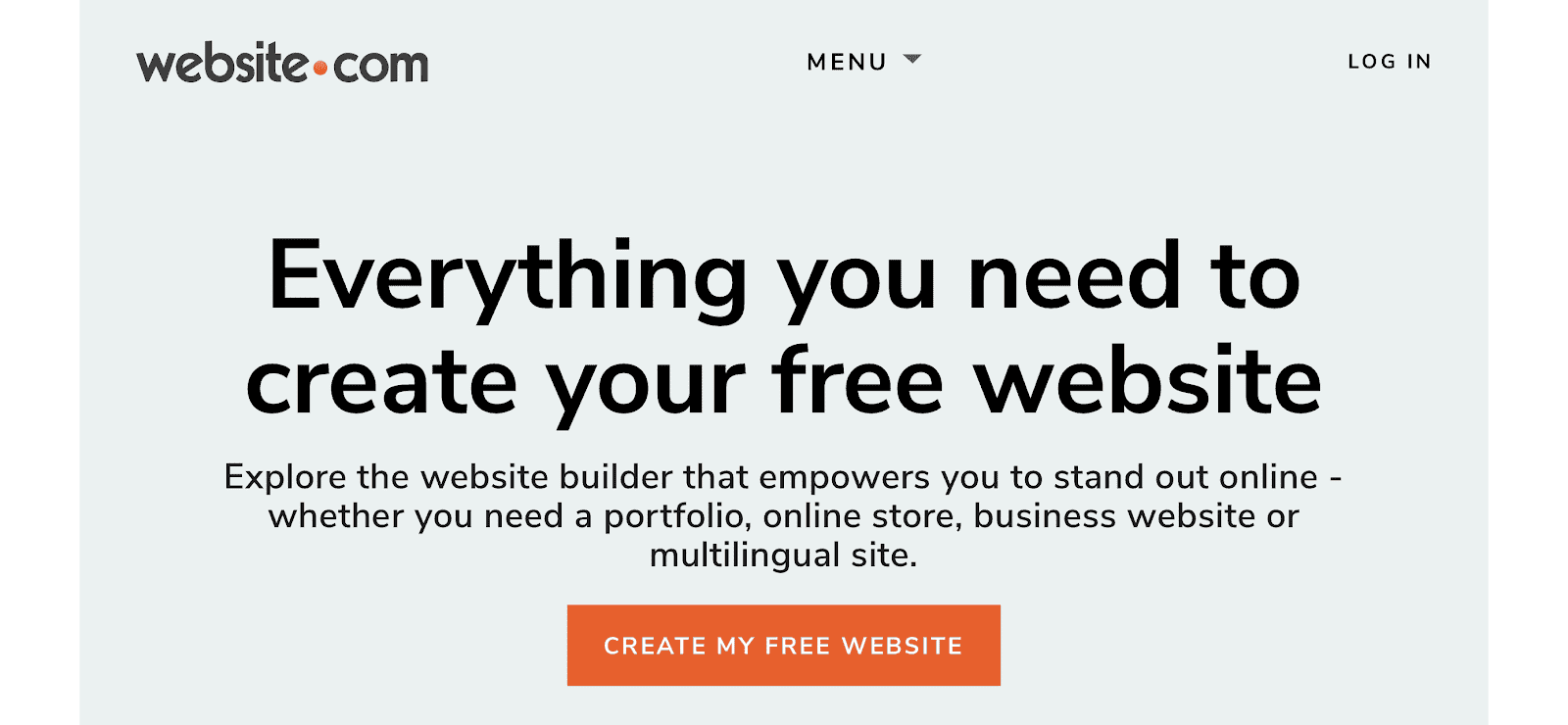 Website.com works well for small online stores, photographer portfolios, as well as restaurants, life coaches, and Real Estate websites. They provide professionally designed templates you can use and offer multilingual site capabilities.
They have over 83,000 reviews with a 4.8 out of five-star rating. Website.com uses google translate to help you create multilingual websites. This allows you to customize your website into almost any language, you might need to use a third-party website to make sure everything is grammatically correct.
Price
| | |
| --- | --- |
| Personal Plan | $3 per month |
| Elite Plan | $5 per month |
| Business Basic | $10 per month |
| Business Standard | $16 per month |
| Business Advanced | $22 per month |
Impact of a well-built website
Online presence is more important than ever, and this will not change any time soon. In 2021, the average Canadian spent 6.5 hours per day online. Most of this time was spent on social media and looking for information about businesses or shopping.
Even if your brand does not do online sales or have anything to do with the internet, chances are that you will be searched for online. Think about what you want your potential customers or clients to find when they type your company, name, or product into their search engine.
Website traffic & sales
There are two ways the internet can really help your customer base grow and your sales increase. You need to increase the amount of traffic to your website, and convert that traffic to sales. A well-designed website can help you do both.
Using search engine optimization (SEO) to bring your website closer to the top of a search list will get more clicks to your site. You can also bring more customers in with a strong social media presence and by offering useful and engaging information for your potential clients.
Once people are looking at your website, you need to keep them there and get them excited about your product or service. A beautiful home page that is easy to navigate and guides customers through the experience makes a big difference.
A professional website is like dressing well for an interview. Show customers that you have a good aesthetic, pay attention to details and consider their needs.
Technical difficulties
Research from Google shows that 53% of customers will leave a website if it takes longer than three seconds to load. If your website has frequent technical difficulties, you will lose clients. Customers, especially ones shopping online, want convenience and they don't want to wait.
It is well worth the investment to build a website that will not crash or fail to load. Unless you have an extremely sought-after and unique service or product, by the time you can correct a website issue, most of your clients will have made a purchase from your competitor.
Conclusion
Website builders are a great tool for all kinds of businesses and brands. A well-designed website will keep your clients engaged and your customers coming back. There are website-building options for every goal and budget, from small startups to huge online retailers.
Using tools like Cyberimpact email marketing or website builders can save you time and energy while providing you with a high-quality product or service.
FAQ About Website Builders
Are there any free website builders?
There are several free website builders you can choose from. These include; Wix, WordPress, GoDaddy, Bookmark, PageCloud, World Lite, website.com and site123. Although these sites allow you to build a website for free, many of them require you to pay for upgrades if you want to be able to use features necessary for eCommerce, scheduling appointments, or automated email marketing. Most free websites only allow you to build one-five pages before you have to pay a fee.
How do website builders work?
Website builders provide templates and guidance for you to create a website with a unique domain. Instead of paying high prices to hire someone to design and develop a website for you, these services provide an easy way for you to build and customize a website yourself. There are options for eCommerce stores and blog-type websites depending on your needs and customer base. Most website builders charge a monthly or yearly subscription fee, but offer customer service and help in case of problems. After you build your website, you can go in and make changes as needed.
Are website builders worth it?
A website is one of the most important tools you can use for your brand or business. Building a beautiful and user-friendly website is essential for any growing company. Online shopping and advertising continue to grow, and it is almost impossible to have any successful business without a good website. Building a website on your own requires advanced knowledge of website design and coding, and hiring an individual to create a website for you is expensive. 

Website builders are cost-effective ways to build a beautiful, customizable, well-designed website without spending hundreds or thousands of dollars hiring a designer. Many of them include 24 seven customer service representatives in case you run into any issues.
How long does it take to build a WordPress website?
If you already have a design in mind, you can get a basic WordPress website created and running in less than 24 hours. If you require multiple pages, links, and a lot of content, it could take a few weeks.
How long does it take to build an eCommerce website?
Building your own eCommerce website using a website builder can be completed in just a few hours if you need something very basic. Perfecting your eCommerce website or adding complex options can take several months. Many website builders allow you to get your eCommerce website started and then make changes as your business grows. That way, you can get your website going as quickly as possible while continuously editing and improving your website and content.