Loop Card Review: The Ultimate Finance Champion for Your Business?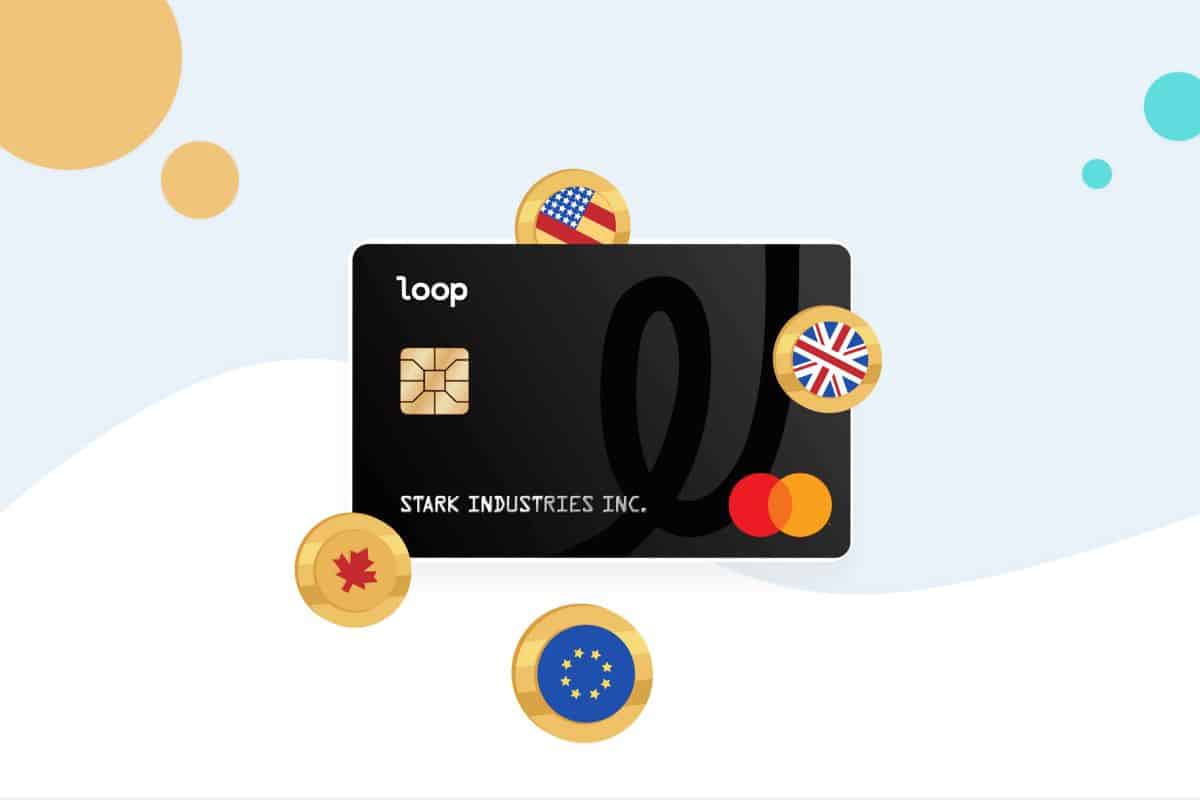 Table of Contents
[ Show ]
Does entrepreneurship feel more like a UFC fight? The Loop Card could be the personal trainer you need to hit above your weight class. Especially if you run an online business. The world of eCommerce can be an intense, full-contact sport. Each day presents a new round with heavy-weight opponents to overcome, like managing cross-border transactions and cash flow (to name a few!).
So you try to dodge high fees, duck under complicated exchange rates, and throw hands over outdated banking services. Scaling without working capital? That's just a financial TKO waiting to happen. Let's explore the Loop Card features and benefits that could help you ground and pound your small business woes.
What is Loop?
Loop is a Toronto-based fintech company focused on providing innovative financial solutions uniquely designed for small and medium-sized businesses, particularly eCommerce startups. The company originally started as Lending Loop, a peer-to-peer lending platform that allowed Canadians to invest in home-grown small businesses. And the concept was ahead of its time. 
Canadian small businesses are notoriously underserved, with most struggling to access the financing they need from traditional banks. That obstacle makes it unnecessarily difficult to grow and compete, especially in the fast-moving eCommerce industry.
Lending Loop was the first regulated platform in Canada that made it easy for small businesses to access loans by connecting them with individual investors looking for out-of-the-box investment opportunities with higher returns.
But in 2020, Lending Loop retired its peer-to-peer lending platform to launch a new, completely different one. Today, Loop is a new company that caters to the unique banking needs of small and medium eCommerce businesses. Now you can access innovative tools like a multi-currency business credit card, a business banking platform designed for cross-border transactions, foreign currency accounts, and financing solutions to help you compete.
Let's take a look at each product Loop has to offer:
Loop Card: a multi-currency corporate card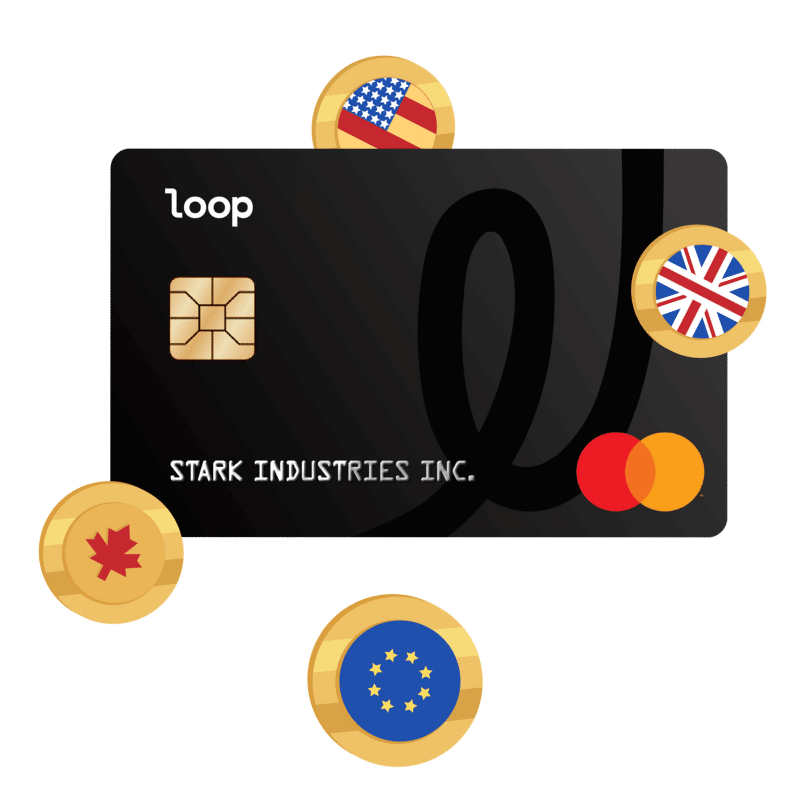 To thrive in the digital world, your business needs to be agile and adaptable. Successful Canadian entrepreneurs need the ability to switch between different currencies smoothly and efficiently. That's where the Loop Card really shines. It offers the flexibility businesses need to operate efficiently in the global market.
The Loop Card is a corporate Mastercard that allows businesses to seamlessly flip their spending between different currencies, such as USD, CAD, GBP, and EUR. This multi-currency agility eliminates profit-killing foreign transaction fees. It's like turning your business into a versatile MMA fighter skillfully switching between wrestling, boxing, and Brazilian jiu-jitsu without missing a beat. 
How it works
With one card, you basically have four different lines of credit, one for each of the four supported currencies. Then you pay back what you owe from your business bank account. If you happen to have a foreign currency account based in Canada, like a USD account at a Canadian bank, you can clear your outstanding balance for each currency straight from your bank account to your Loop Card.
But if you only have a CAD bank account, no worries. The Loop Card still allows you to make purchases in foreign currencies without charging foreign transaction fees, unlike many other business credit cards. At the end of the billing cycle, you can choose to convert money from your CAD account into the currencies you owe. In that case, Loop charges a small conversion fee of just 0.5%. That's way cheaper than the average 3-4% markup charged by traditional banks.
Plus, you have up to 55 days to pay your balance interest-free. When it comes to foreign currency transactions, the Loop Card is like giving your business Conor McGregor's striking power and Khabib Nurmagomedov's grappling skills. 
Rewards
As a bonus, the Loop Card rewards businesses with 1 point per $1 spent, including software and ads. In fact, the Loop Card can be used to pay for Google and Facebook Ads in either CAD or USD.  Points accumulate like UFC victories, propelling you closer to your business goals. Right now, you can redeem them for popular gift cards, with new redemption options rolling out in late 2023. 
Business banking platform: built for global transactions
In the hectic world of eCommerce, the ability to make instant payments and quick decisions is crucial. With the Loop Card, you automatically get access to the business banking platform which offers a suite of features like one-click transactions, real-time balances, and cash flow management tools.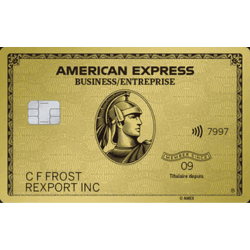 You can link your business bank accounts to your Loop account, connect directly to popular eCommerce sites, issue physical and virtual cards, access business financing, open foreign currency accounts, and more.
It's like giving your business the reaction speed of UFC legend Anderson Silva, allowing you to strike while the iron is hot – because time is money. Whether you're competing in a cage or in commerce, a delay could mean a missed opportunity. But a perfectly timed counter could knock out your competition. Every second counts.
Multi-currency bank accounts

Within minutes, you can open USD, GBP, and EUR bank accounts without ever leaving the house. USD accounts come with a local US account number and ABA routing numbers, while the GBP and EUR accounts come with their own local account and routing numbers.
That means you can receive frictionless payments from customers through major eCommerce platforms like Amazon and Shopify, for example. Plus, you get all the same features of a traditional currency account that you're accustomed to. For example, your funds can be used to pay foreign suppliers or converted into other currencies. 
Outgoing payments
For outgoing payments, Loop will automatically choose the best method based on where the money is going. So if you need to pay a US-based supplier, for example, Loop will send the money via ACH. Whereas a Canadian or UK-based supplier will automatically be paid via EFT.
Incoming payments
USD accounts can receive funds by EFT for transfers initiated in Canada, and by ACH for transfers initiated in the USA. However, a Canadian Loop account only can only receive funds by ETF from other Canadian-based CAD accounts. To fund your EUR and GBP accounts, you have to convert funds from one of your currency balances. 
Account fees
Loop's multi-currency accounts are completely free, there's no minimum deposit required to get started, and there are no limits on how much money you can receive into the account. If you need more advanced features and lower rates, you can upgrade your account for a monthly fee starting at just $49 a month.
Cross-border payments
With the Loop Card, cross-border payments become a game-changer for Canadian small businesses trying to compete in the eCommerce sphere. You can effortlessly remit payments to your global suppliers without any restrictions. The advanced payment system allows you to transact with suppliers and vendors across the world in over 37 currencies!
You can store your payees' details in Loop and make prompt payments with a single click. Loop employs the quickest and safest transfer methods to ensure your payments are sent as if locally. This makes it a total breeze to transact with your payees in their preferred currency – quickly and easily.
Loop smoothly executes payments in the required currency at highly competitive rates. You can send money anywhere – to yourself, another individual, or a business – in any supported country as long as they have a local bank account. Payees will receive their money within 1 business day. 
Access to working capital
Just as UFC champs need to train and prepare to go the five full rounds, businesses need a game plan to keep their cash flows healthy. Access to working capital could be the difference between a knock-out or a victory. With Loop's credit services, you can effectively manage business finances, accelerate growth, and compete more aggressively in the eCommerce market.
You can access credit in CAD or USD to expedite your growth, with limits based on your revenue. Enjoy transparency with zero dilution, no royalties, and no hidden fees. Interest rates are competitive, empowering you to grow without surrendering equity or repaying a portion of your sales. 
Loop Card's capital services can be used to fulfill purchase orders, launch in new markets, acquire inventory, advertise, and build your team. Once approved, you can access your capital from the Loop dashboard, then use it for things like payments to vendors, suppliers, or transfer it to a business bank account outside of Loop.
Credit line: Up to CAD $1,000,000
Get easy access to flexible, long-term financing to handle your working capital as sales accelerate. Repayment is flexible, and there's no fixed amount or percentage of your revenue required.
You can draw from and pay back your credit line anytime, ensuring you only pay interest on the funds you actually use. Loop will schedule a monthly payment equal to 6% of the outstanding credit line balance, but this amount can be adjusted if needed.
Purchase order financing: Up to 70% of the purchase order
Trouble keeping up with orders? Loop can help you manage the production expenses of your purchase orders, which enables you to take on more business and speed up growth. The repayment for PO and Invoice Financing is aligned with the payment due dates on your customer's invoices.
Invoice financing: Up to 90% of the invoice
Don't wait to get paid. Loop lets you bypass the 60 to 90-day wait for your customers to pay their invoices. Just submit your invoice to Loop and get the funds instantaneously. As with PO financing, repayment is based on your customer's payment due date. 
Borrowing costs
Loop's credit products are affordable and adjustable. The interest rates range from 1% – 2% per month on the outstanding balance. A fixed monthly access fee ranging from $99 to $499 is applied to maintain access to Loop's financing solutions. Interest is calculated monthly on the outstanding balance, which decreases as the balance is paid off.
How to apply for capital
The online application process is fairly straightforward. First, you need to join Loop and activate your account before you can apply for any credit products. This involves connecting Loop to your sales channels, providing basic details about your business, and obtaining consent from business owners (if applicable). For PO and Invoice Financing, copies of the purchase orders, invoices, and the master purchase contract with your customers are essential.
Pricing
Loop offers a free basic account with limited features. But if you need a little more muscle to crush your goals (and the competition) you can upgrade to a paid plan. There are 3 plans to choose from, depending on your needs: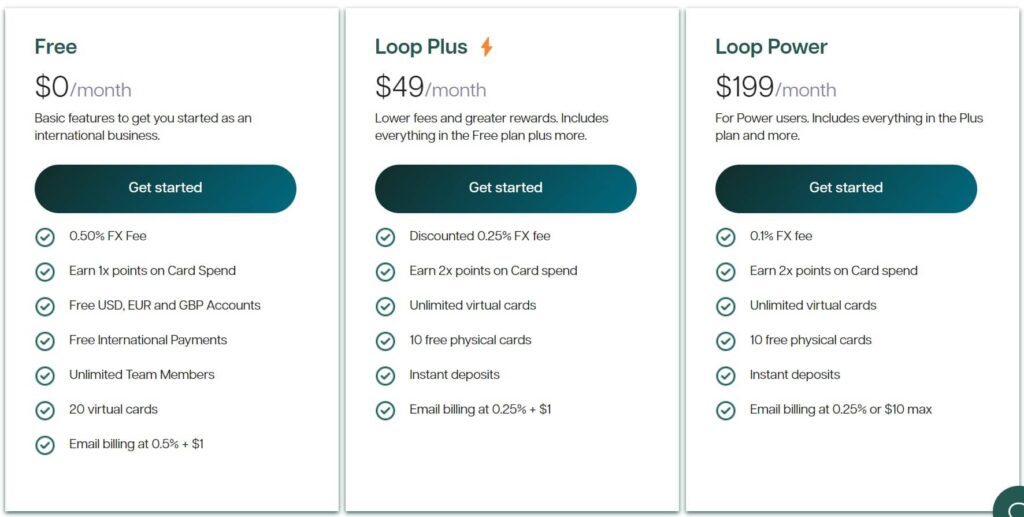 Who is the Loop Card best suited for?
The Loop Card is best suited for online and eCommerce startups that operate in multiple markets and regularly deal with various currencies. Whether you're a lightweight business trying to make your mark or an established heavyweight enterprise looking to streamline your operations, Loop Card's features can help you hit above your weight class.  
The pros include easy multi-currency transactions, flexible credit options, real-time transaction visibility, and the potential to earn rewards. These features make Loop an attractive choice for businesses operating in the eCommerce sphere. 
It's especially beneficial for businesses in high-transaction industries, where the rewards system can quickly add up to significant savings. And by connecting to the most popular eCommerce platforms, you have instant access to the financial solutions you need to float like a butterfly and sting like a bee. 
However, as with any financial tool, Loop Card may also have its cons. For example, some businesses might prefer a more hands-on approach to financial management and may not get the full value of Loop's automated features. And while Loop's multi-currency card provides a solution for dealing with different currencies, it doesn't completely eliminate currency risks associated with exchange rate fluctuations.
Is Loop Card worth it?
In the epic battle between small businesses and traditional banking systems, the Loop Card could be the Mickey Goldmill to your Rocky Balboa. This by-entrepreneurs-for-entrepreneurs platform gives you the tools, training, and techniques to take on the world and emerge victorious. If you're struggling to become the undisputed champion of your eCommerce journey, Loop Card could be the muscle you need to level up.
Compare Business Credit Cards