How to register a business in Canada for as little as $49 with Ownr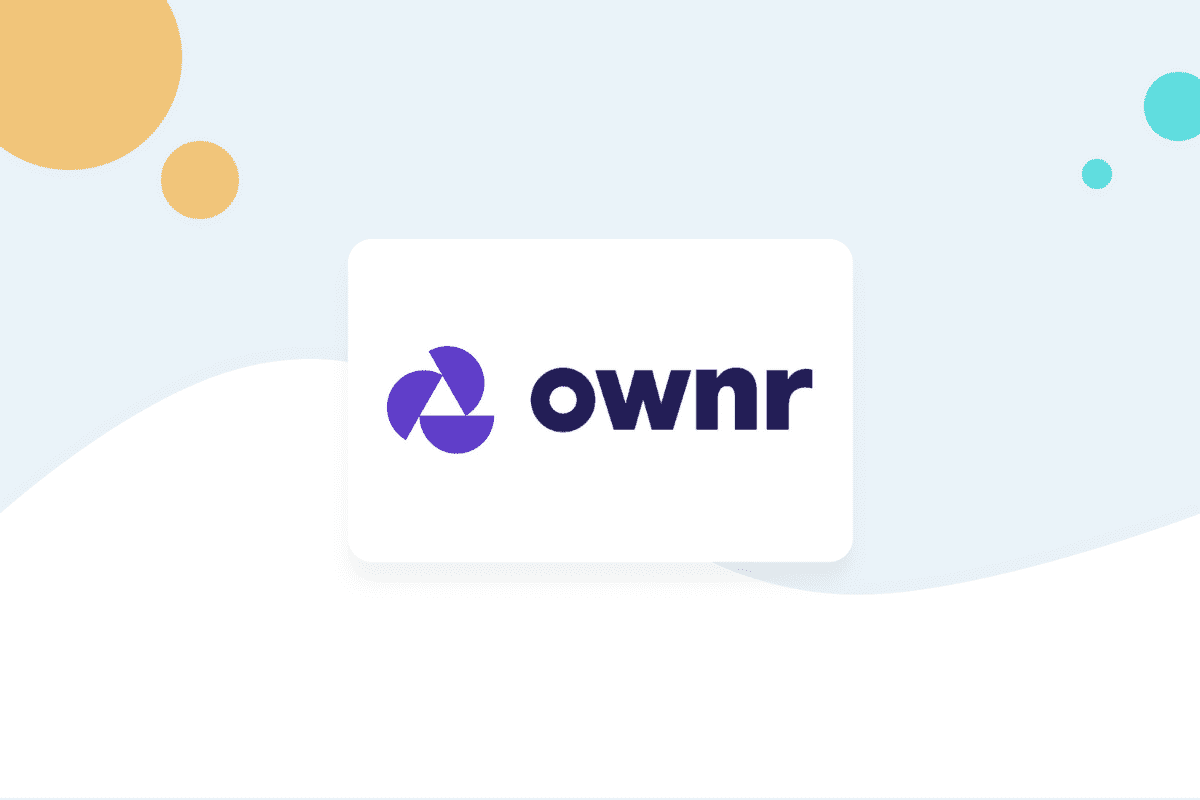 Registering a business in Canada can be a hassle. You not only have to figure out what business structure is best for you but also deal with a bunch of paperwork and red tape. Of course, you can always register a business yourself by following our business registration guides, but sometimes it's just easier (and cheaper) to let someone else do it for you.
There are a few online business registration services in Canada that can help you get your business registered quickly and easily without all the hassle. One of these services is Ownr, which provides a wide range of services, from business registration and legal support to employment and contractor tools, to help you get your business up and running.
Their services start at just $49 for sole proprietorship registration, and they offer a variety of packages to fit your needs. Ownr can help you with everything from choosing a business name to incorporating your company.
[Offer productType="CreditCard" api_id="637559a7985fbd4494bfcb32″ id="146139″]
The benefits of registering a business through Ownr
Ownr was founded in 2017 by a team of two lawyers and one software engineer who understand the challenges of starting a business, and their goal is to make the process as simple and stress-free as possible. By integrating with the government's business registration systems, Ownr can help you complete all the necessary paperwork and get your business registered as fast as possible.
There are a few reasons why you might want to consider using Ownr to register your business. First of all, it's a lot cheaper than hiring a lawyer or accountant to do it for you.
Secondly, Ownr makes the whole process a lot easier and faster – it can take as little as 10 minutes to register your business through their platform. Finally, Ownr offers ongoing support to help you grow your business, which can be incredibly valuable for new entrepreneurs.
This platform is becoming increasingly popular with Canadian entrepreneurs, and more than 50,000 businesses have been registered through Ownr so far. Ownr also offers a refund guarantee if you're not satisfied with their services.
Recently, Ownr has reduced its prices for sole proprietorship registration to $49, making it one of the most affordable business registration services in Canada.
A sole proprietorship is the most common type of business structure for small businesses and entrepreneurs in Canada, and small businesses generate more than 42% of Canada's GDP. Therefore, making it easier and more affordable to register a small business is a big step in promoting entrepreneurship in Canada.
Pros of registering a sole proprietorship in Canada
There are many advantages to registering a sole proprietorship in Canada. Some of these benefits include:
Sole proprietorships are easy and inexpensive to set up. There is no need to go through the complicated and expensive process of incorporating a business.
They offer flexibility in terms of how the business is run. The sole proprietor has complete control over all aspects of the business, including decision-making, product development, marketing, and pricing.
Sole proprietorships are not subject to the same level of government regulation as corporations. This can be an advantage for businesses that prefer to operate with less government interference.
The profits of a sole proprietorship are taxed at the personal income tax rate, which is often lower than the corporate tax rate. This can result in significant tax savings for the business owner.
Because the sole proprietor is personally liable for all debts and obligations of the business, he or she has a strong incentive to manage the business carefully and avoid taking on unnecessary risks.
Sole proprietorships offer entrepreneurs the opportunity to be their own bosses and build something from scratch. This can be a very rewarding experience for those who are willing to put in the hard work required to make the business a success.
Registering sole proprietorship with Ownr
To get started with Ownr, all you need to do is create an account and answer a few questions about your business. The process is quite convenient and fast, and you can do it all from the comfort of your own home.
Creating Ownr account
Let's assume you want to register a sole proprietorship in Ontario with Ownr. The first step is to press the "Register Your Business" button in the top right-hand corner of the Ownr website.

Once you've done that, you'll be taken to a page where you can choose whether you are registering a new business or have an existing business. Press the "New" button to proceed to the next step.
Select "Ontario" from the "Province" drop-down menu or another province, depending on where you want to register your business at. Once you've done that, move to the next step.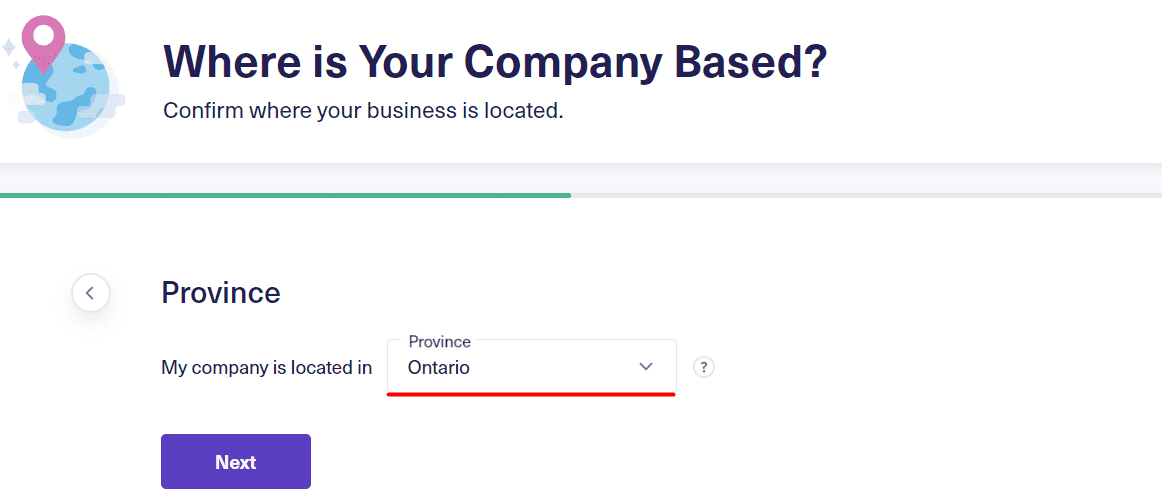 From there, you'll be able to choose the business structure that best suits your needs. You can find more information on the differences between incorporation and sole proprietorship by clicking the question marks next to them. The main difference between incorporation and sole proprietorship is that incorporation offers limited liability protection, which means that your personal assets are protected in the event that your business is sued.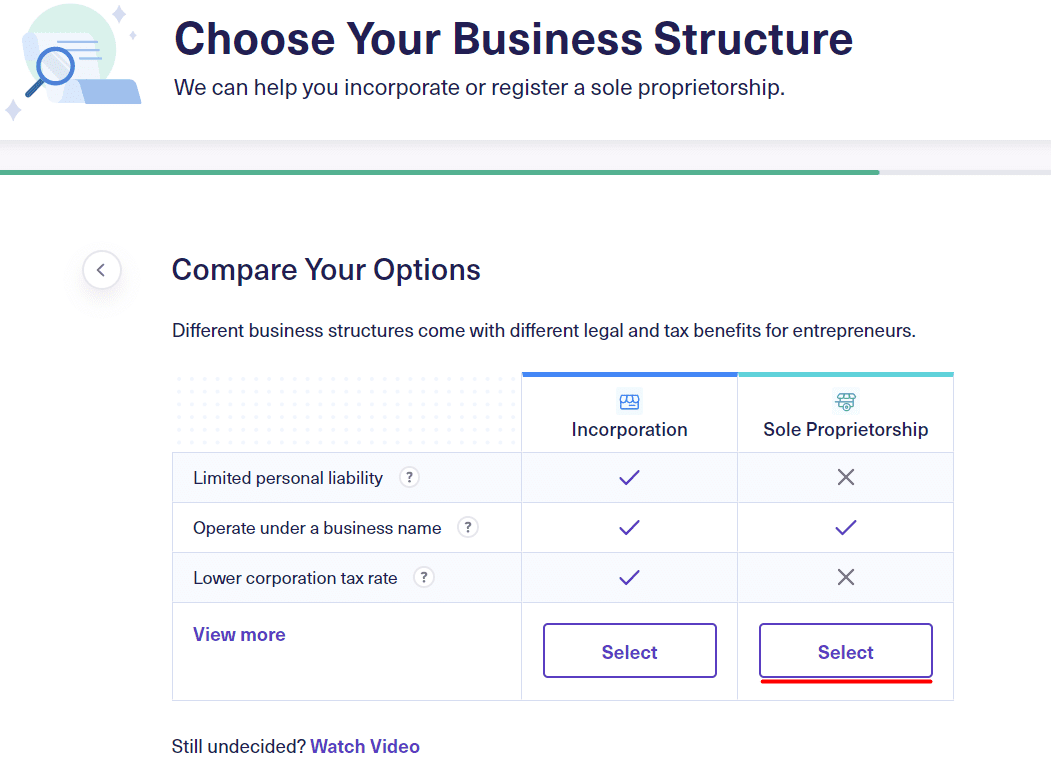 Now you should enter your company name. Remember, your company name is extremely important as it will become a part of your brand identity.
Choosing a business name
A business name usually consists of a distinctive and descriptive element. Many small businesses follow the trend of using the owner's first name and the nature of the business, such as "Dan's Catering" or "Mary's Sewing Shop". While you can use your personal name, you can also come up with something more creative.
Avoid using prohibited words and expressions, and make sure your business name is shorter than 200 characters. For more information, check the Ownr business name guide.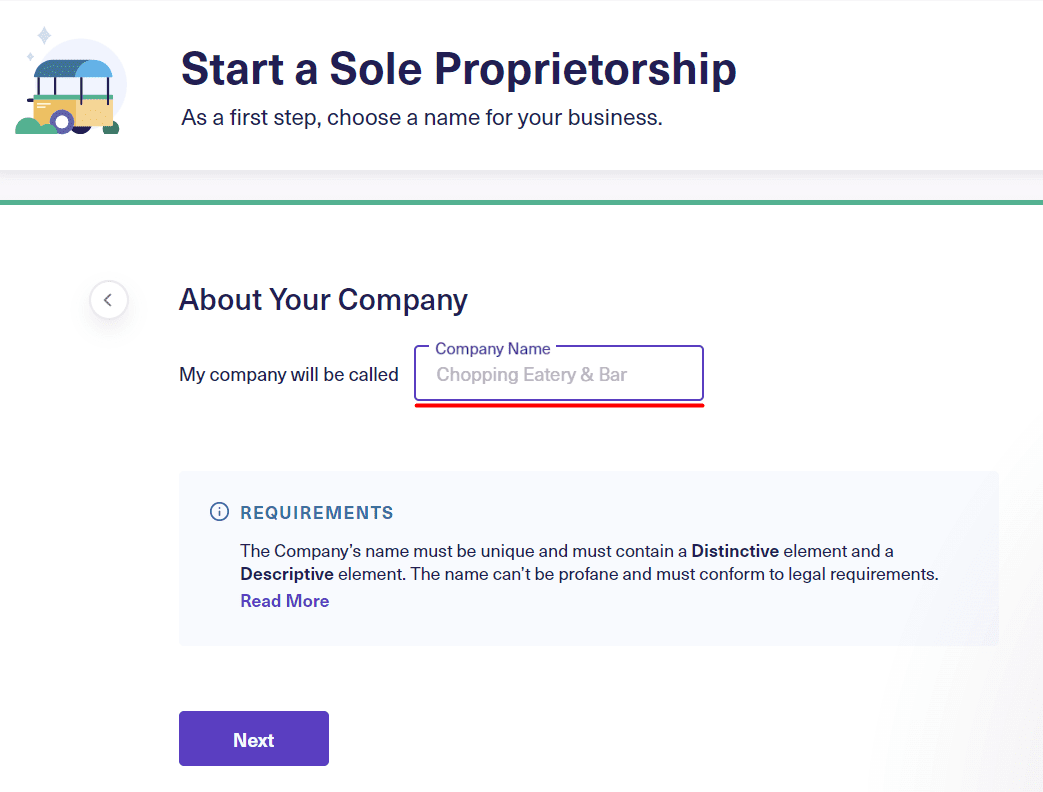 Fill out your first and last name, email, and password. Press the "Sign Up" button to create your Ownr account.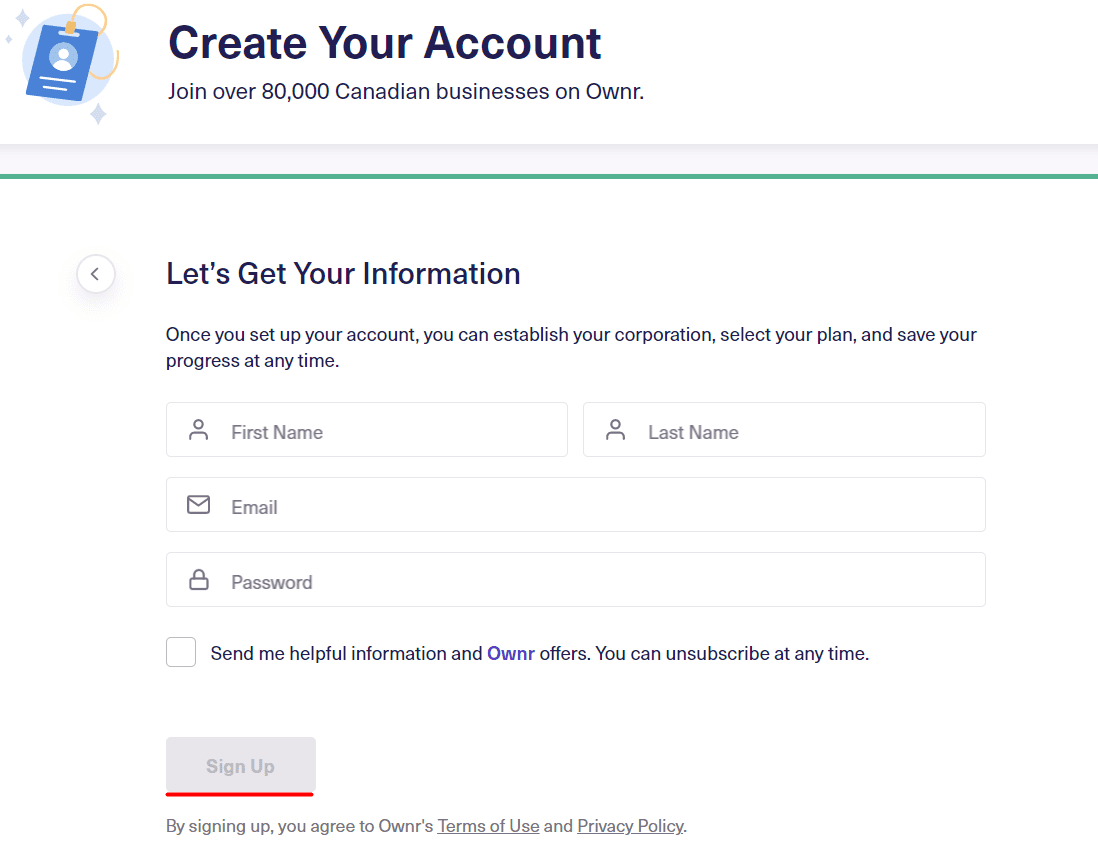 Account information
After signing up, Ownr will forward you to your personal business dashboard. Here you should provide your account information, business information, and payment information.
First, you should provide your phone number, street address, city, province, country, and postal code in the "Account Information" section. Press the "Next" button to proceed to the "Business Information" section.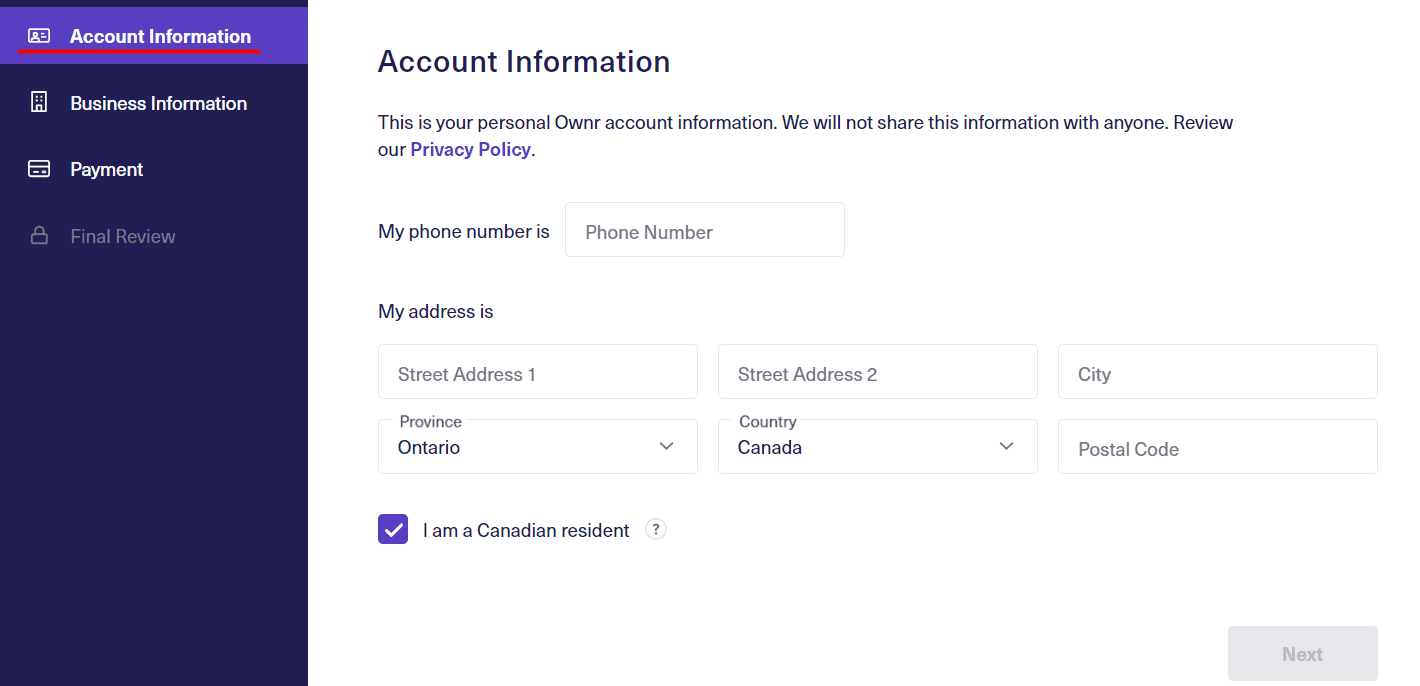 Business Information
Here you should provide your legal business structure, province, business name, and industry. Your business address is the physical location of your business. Select your industry from the "Industry" drop-down menu. The information about the industry where your business operates is collected by the Canadian government for statistical purposes.
While you can change your industry in the future, you should provide the most accurate information at the time of registration. After filling out the required information, press the "Next" button to be forwarded to the "Business Name" section.

The business name you've entered before should appear here. If your name fits the requirements, you will be forwarded to the "Payment" section after pressing the "Next" button.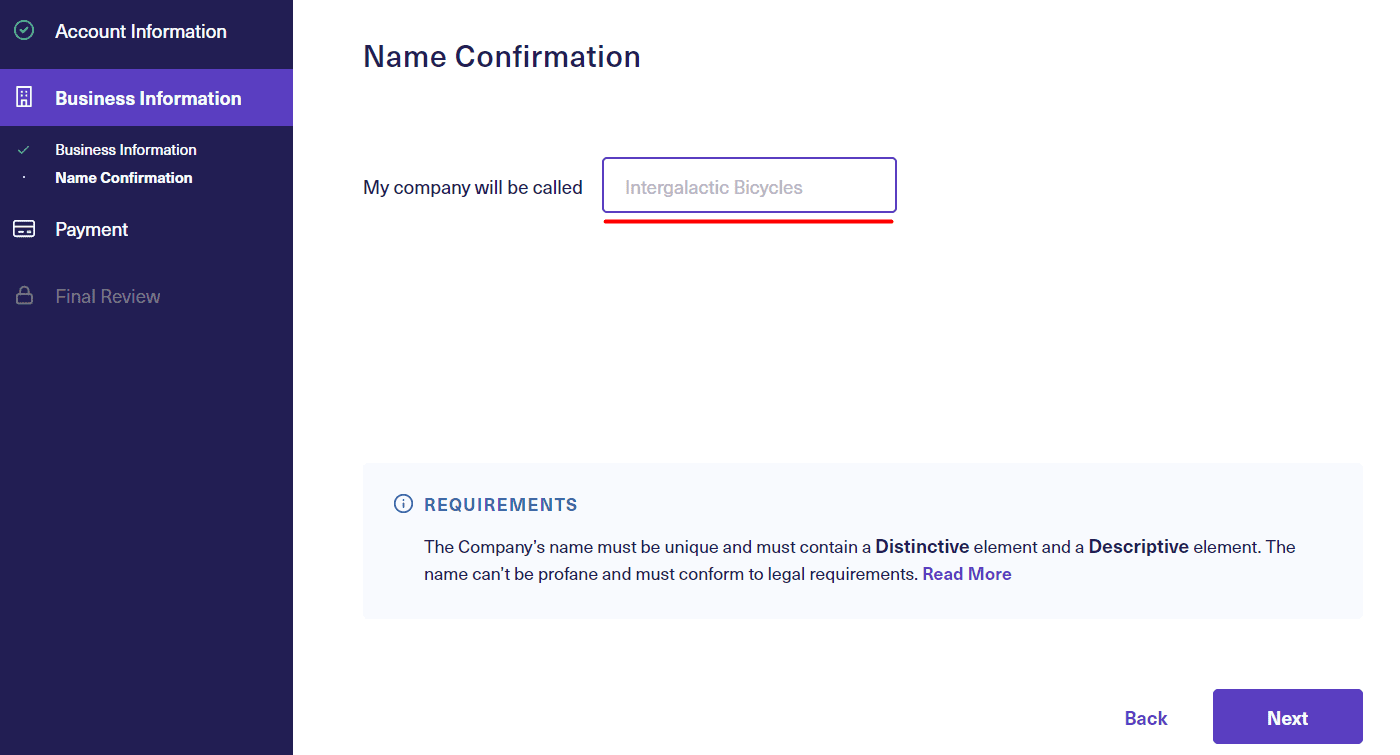 Payment information
The "Payment Information" section provides the sole proprietorship package overview. The "Sole Proprietorship" package comes with a number of benefits:
Unlimited business name searches – You can search for your business name as many times as you want for free.
Business registration number – You'll receive a business registration number (BN) after registering your business.
Business registration documents – You'll receive a PDF copy of your business registration documents.
Business document storage – Ownr provides secure online storage for your business documents.
Ownr Perks -This includes exclusive savings and discounts from top business service providers.
Chat support – You can get help from the Ownr support team immediately via chat.
You can also receive $100 if you open an RBC business bank within 60 days of registering your business. Press the "Next" button to proceed to the "Billing Information".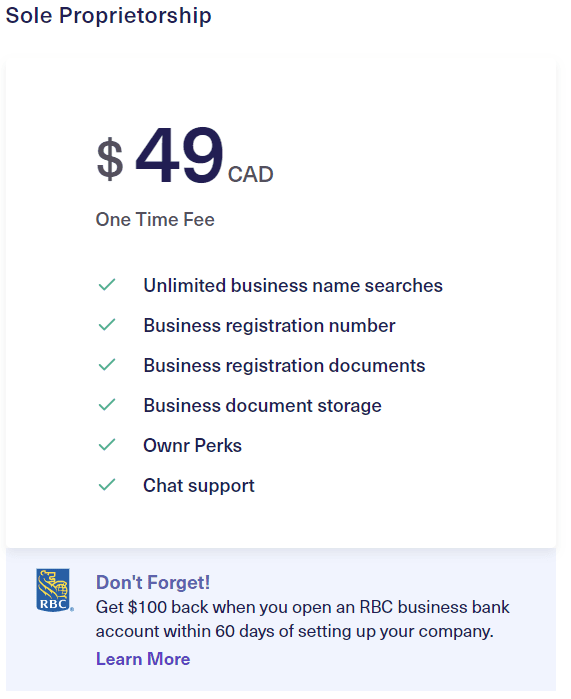 Provide your billing address, including your first and last name, street address, city, province, country, and postal code. The total payment is $55.37, which includes a $49.99 Ownr registration fee and $6.37 HST. Click "Next" to make the payment.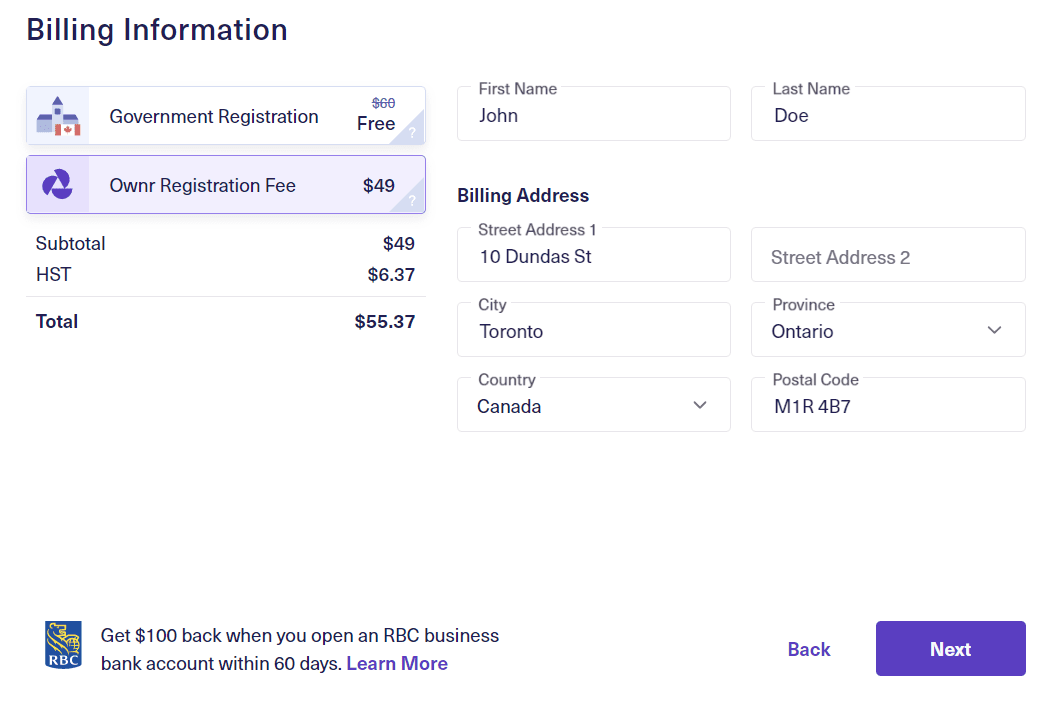 You can pay with any credit card, including Visa, MasterCard, and American Express. After you've provided your credit card information and pressed the "Pay Now" button, you will be forwarded to the "Final Review" page.

Ownr will now register your business with the provincial government. This process can take up to 5 business days. You will receive an email from Ownr when your business registration is complete. Congratulations! You've successfully registered your business with Ownr.
What to do after you've registered business with Ownr?
After you've registered your business, you can start working on building your business website, creating social media accounts, and developing marketing materials. From there you can start networking with other businesses and individuals in your industry to get started.
You may need to obtain a business license or permit from your municipality, depending on the type of business you're running. It is also time to start thinking about opening a business bank account and applying for business loans or lines of credit if you need financing for your business. This will allow you to receive a business credit card, which can be helpful for business expenses.
Lastly, you should start thinking about creating a business plan. This document will outline your business goals, strategies, and how you plan on achieving them. It's important to have a clear idea of what you want your business to achieve before moving forward.
Other Ownr benefits to boost your business
Ownr organizes different contests and events to help new businesses grow. You can find more information about these on Ownr linktr page. You can take part in free webinars and online courses on business planning, time management, social media marketing, and more.
Furthermore, Ownr provides numerous educational materials, such as blog posts, e-books, infographics, and videos on its website. These are designed to help you Start and grow your business successfully.
Alternatives to Ownr
For now, there are not many alternatives to Ownr in terms of business registration. However, there are a few companies that offer similar services for other aspects of starting a business. For example, Bizpal provides a service to help you find the permits and licenses you need from your municipality. You can also find more information on various aspects of business registration at provincial government websites, such as Service Ontario.
If you want to register a business without using Ownr, you can do it yourself or use a lawyer. Additional legal assistance with business registration can be useful for corporations, non-profits, and businesses with complex structures. However, for sole proprietorships, Ownr is currently the simplest and most affordable option.
Frequently asked questions about business registration with Ownr
What is Ownr?
Ownr is an online platform that makes it easy for entrepreneurs to start and register their businesses in Canada. Ownr helps users with the entire process of business registration, from start to finish. Ownr also provides users with valuable resources and advice on starting and running their businesses.
Is Ownr legit?
Yes, Ownr is a legit business registration platform. Ownr has helped over 50,000 businesses get registered.
Where does Ownr currently operate?
Ownr is currently available to entrepreneurs in BC, Alberta, Ontario, and Quebec. They are planning to expand their services to other provinces in the near future.

How does Ownr work?
Ownr business registration process is simple and straightforward. First, users select the business type they want to register. Ownr then asks for some basic information about the business, such as the business name, contact information, and address. Once this information is entered, Ownr takes care of the rest, including filing the required paperwork and paying the registration fees. Ownr services are fast, easy, and convenient.
Compare Business Credit Cards