How to Find the Best Freelancers on Upwork
Upwork is one of the largest freelancing platforms with millions of freelancers. Some of them have earned more than $100,000 in lifetime earnings. This gives you hundreds of options to choose from. However, with so many to choose from, it also makes it harder to find the best freelancers on Upwork.
Brands face a variety of challenges on Upwork. Some don't get enough proposals and some fail to attract the right talent. In this article, we'll tell you all you need to know about finding the best Upwork freelancer so you can have the best experience.
#1 Make Sure to Add a Payment Method
Upwork allows users to post a new job without adding a payment method. However, you may not be able to assign jobs if you do not have a valid payment method attached to your account.
The company accepts a variety of payment methods, including:
PayPal
Credit cards
Debit cards
The process only takes a few minutes so make sure to set it up before you start looking for an Upwork freelancer. It might be a good idea to get a business credit card for this purpose as these cards come with some great benefits.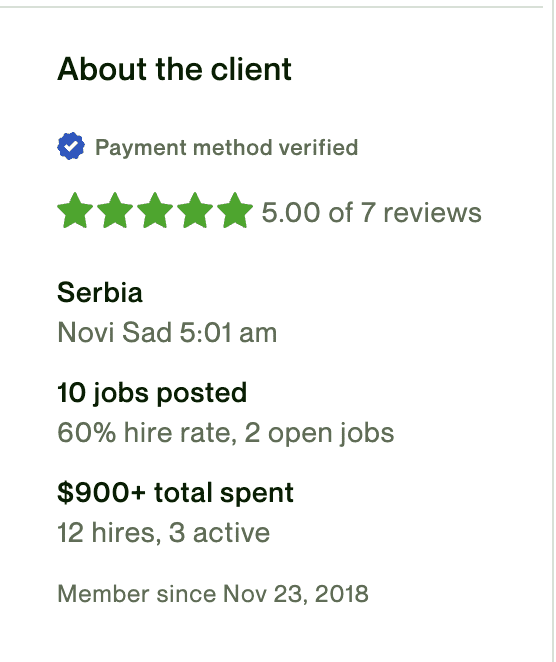 Freelancers can view information related to your profile including your job hire rate, total spent, etc. Most freelancers will not apply to a job that's posted by a new user or a user without an active payment method as it indicates a 'potential scam'. Upwork freelancers get a limited number of free Connects tokens needed to apply to a job and most don't like to waste them on jobs that do not look promising.  
Also, try to maintain a decent hire rate so you can attract more freelancers. It indicates that you're serious about hiring freelancers. Furthermore, ask clients to leave you feedback at the end of a contract. Freelancers look for clients with a good score and usually stay away from buyers with a bad history.
#2 Write a Detailed Job Description
This is a very important part of finding a freelancer on Upwork because it tells potential clients what you're looking for and the skills they need to make an impression. The description should be detailed and answer all questions an applicant may have about a job. Here's an example of a good description: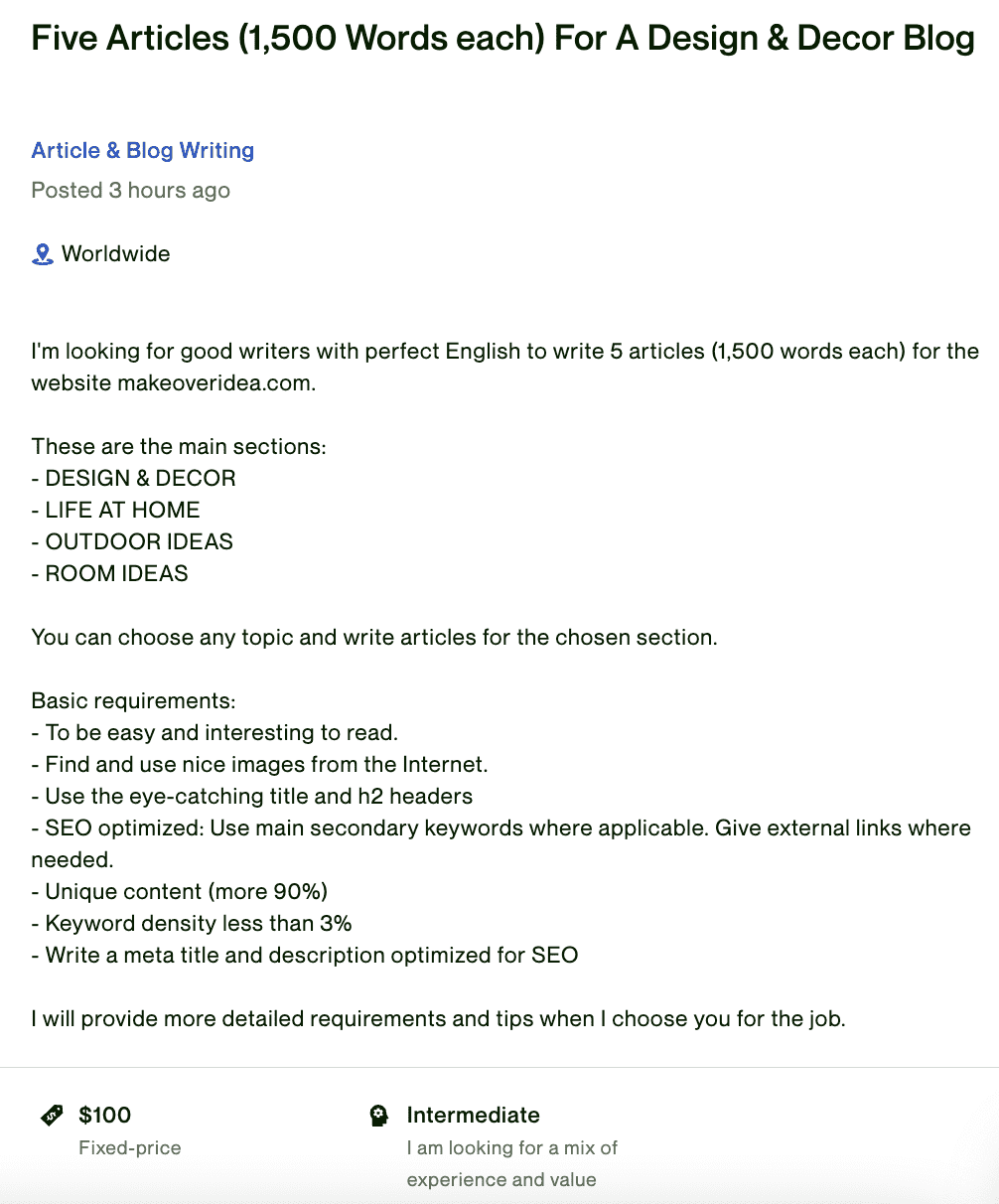 Look at the title, it clearly tells freelancers what the job is about. Furthermore, the description tells more about the niche and specific requirements related to uniqueness, keyword density, etc. Now, here's a bad example of a job description: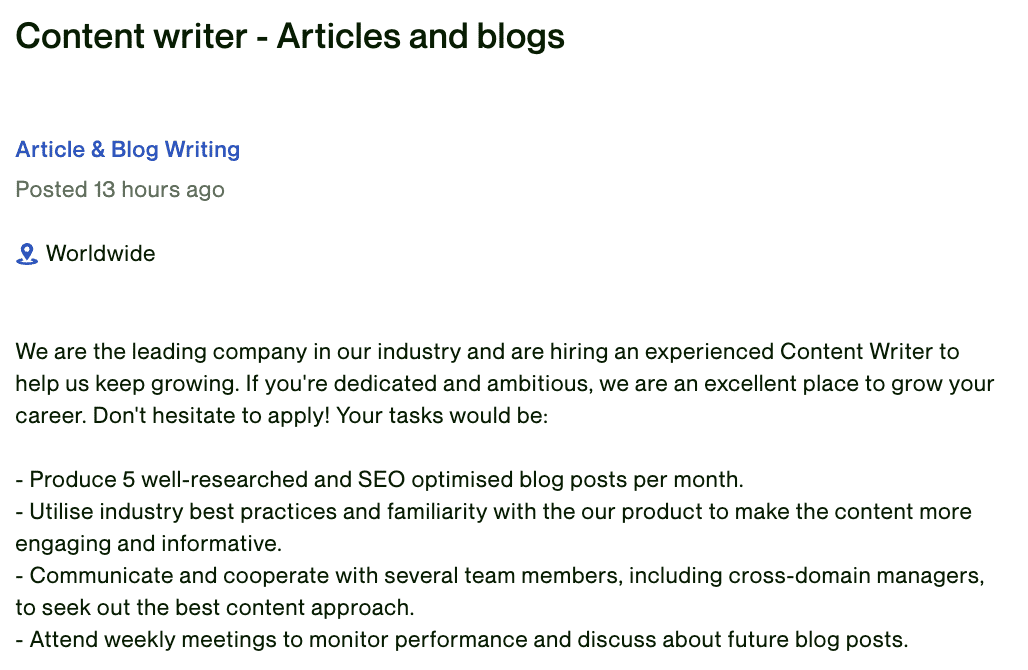 The description above tells nothing about the job. Information such as word count and niche is missing. As a result, the client may receive proposals from inexperienced freelancers or freelancers with no relevant experience.
#3 Be Clear About the Budget
Upwork allows users to choose their preferred budget. Clients can post an hourly job or a fixed-payment job. You will have to decide a rate based on your budget and expected level of expertise. Do some research and pay attention to factors such as the average hourly rate.
For example, writers usually charge between $20 and $35, programmers charge between $30 and $45, and lawyers charge between $35 and $70. Freelancers will typically not bid for a project if the budget is too low. If you want to hire highly-qualified individuals, you may have to increase your offer.
Alternatively, you can choose a fixed-payment job. These jobs can be broken into multiple milestones. For example, if the job is to design a site, you can post a gig for $1,000 to be delivered in three weeks. Also, it might be a good idea to show your willingness to increase your budget if you find a good freelancer. This can be a great way to find a reliable Upwork freelancer.
#4 Choose the Right Category and Keywords
Upwork gives clients the opportunity to choose categories and tags when they post a new job. Categories decide where your job will appear. For example, a job related to tax can appear in a number of categories, including admin support, accounting & consulting, and legal.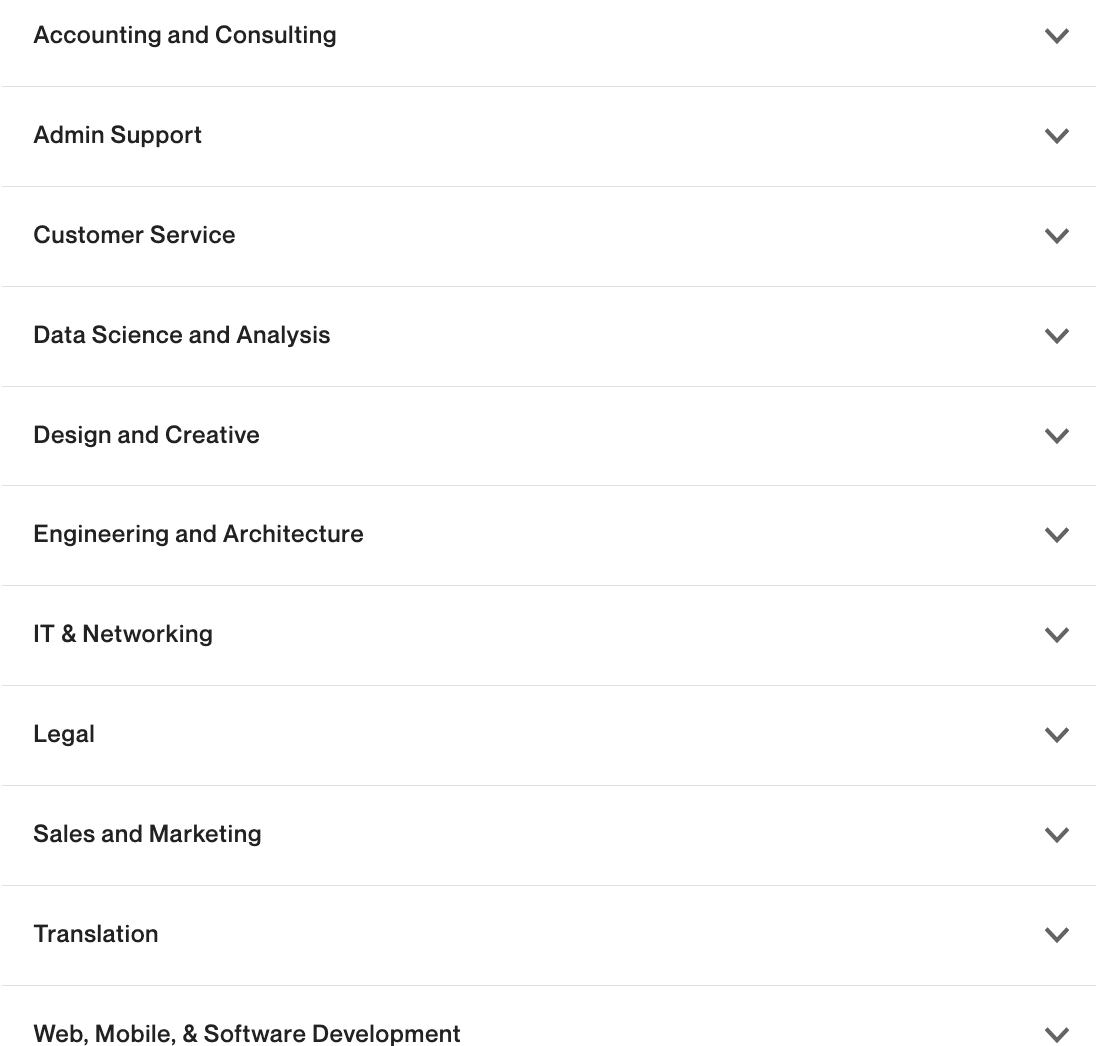 Decide the most suitable option so you can receive more eyeballs. For example, you will mostly find lawyers in the 'Legal' section. Similarly, you will typically find virtual assistants in the 'Admin Support' section, and accountants in the 'Accounting and Consulting' section. Choosing the wrong category could prevent you from reaching suitable candidates.
Similarly, Upwork will give you the option to choose tags. They work like keywords and are designed to allow clients to find individuals with specialized skills. For example, you can choose tax preparation, data entry, corporate law, and tax law.
Freelancers look for jobs using keywords and tags. Also, Upwork shows 'available freelancers' based on job descriptions, titles, categories, and tags. Your job will not appear if you do not choose relevant keywords. Similarly, you may not see good freelancers if you choose the wrong tags.
#5 Send Invites Carefully
Once you post the job, Upwork will give you the option to invite freelancers. This is a very crucial step because you will have the option to select freelancers you wish to hire. Don't just randomly choose from the talent the platform displays. Open profiles and pay attention to factors such as their hourly rate, expertise, availability, and niche.
Upwork's AI is good but it's not always reliable and it may show some irrelevant freelancers. You will get a limited number of free invites (15), so spend them wisely. Only invite freelancers who are more likely to accept an invite. For example, don't invite freelancers who charge $100 per hour if your budget is $20 per hour. They'll either reject the offer or bid too high.
#6 Consider Getting a Paid Membership
Upwork has a special plan for clients called the Upwork Plus Client account that costs $49.99 per month. In addition, clients pay processing and administration fees. It is not mandatory to have a paid account, however, it does offer some exciting benefits.
Upwork Plus clients get access to 24/7 chat support and 24/5 phone support. In addition, there are Talent Specialists assigned to help clients find top freelancers. The job of these specialists is to review posts and highlight available agencies and freelancers. Moreover, paid clients have the option to get in touch with an Account Manager who helps clients create strategies and goals to find the right candidate.
Furthermore, paid clients get additional invites (30) and more job filters that allow them to attract a higher number of freelancers and find suitable candidates. In addition to this, they get one free Featured Job upgrade. Additional upgrades cost $29.99 per month.
Featured jobs appear on the top and attract more eyeballs, as a result, they tend to receive 50% more proposals from Top Rated freelancers. The paid plan might be worth it if you intend to post multiple jobs and constantly hire through Upwork. An Upwork Plus badge appears next to the name of clients who pay for these parks and can help attract talent.
#7 Add Screening Questions
Screening questions are designed to eliminate applicants and help clients find the most suitable candidate. Clients cannot always control who bids for a job. You can write an impressive description stating your requirements but you may still receive applications from unqualified individuals. A great way to save time and eliminate such entries is to add screening questions.
Think of what matters to you and then add questions related to the job. For example, if you are looking for someone with experience working in Finland then clearly ask 'Have you lived and worked in Finland?'. Only respond to applicants who answer 'yes' to the question. You can also ask questions related to experience, education, and interests.
#8 Be Quick to Interview
This is not always mandatory but we suggest that you move quickly after posting a job if you are serious about finding qualified talent. According to Upwork, it takes clients about 48 hours to find a freelancer on the platform. Freelancers may get busy if you take too long to get in touch. Similarly, they may forget about the job or lose interest.
The key lies in being as quick as you can. It is common for clients to post a job and wait for a few days so that they've received a decent number of proposals. Ideally speaking, waiting for a day or two is okay but do not take a week or more to start a conversation.
It is common for clients to start the hiring process weeks before they actually intend to hire talent. If such is the case, contact freelancers and let them know you've shortlisted them so that they know they're in the race. Also, it will make them realize you're serious about business. Otherwise, they may withdraw the proposal and you may lose out on a good Upwork freelancer.
#9 Constantly Communicate with Applicants
It is very important to communicate with applicants. Answer their questions, let them know what you require, and when you intend to start a contract. It might be a good idea to book a call so you can know the person you're going to work with.
Freelancers are usually willing to have calls but most require prior appointment. Use a tool like Calendly to make things easier. Upwork gives users the option to make audio or video calls without using a third-party tool.
Also, respect the freelancer and don't ask for very long meetings, unless you have entered into a contract and it is a requirement to make calls. Freelancers do not enjoy working with clients who spend hours on the phone asking questions or showing how things work, without entering into a contract. Explain to the freelancer if it's a part of the job and consider paying a bonus to encourage them to give you their precious time. You cannot, however, pay a bonus without entering into a contract.
#10 Start with a Paid Trial
A great way to test freelancers is to request a paid trial. This only works when you have a long-term job. While a portfolio can be great, it may not always be relevant or helpful. A customized sample can tell you more about a freelancer and what they offer.
For example, you can ask the freelancer to illustrate a page so you can gauge their skills before you hire them to illustrate an entire book. Similarly, you can ask a freelancer to write a chapter of your next eBook before you hire them to write the remaining chapters. Many clients even hire multiple freelancers to do test projects so they can compare results and pick the best one.
Stop: Avoid These Freelancers
Want to have a pleasant Upwork experience? Make sure to only work with reliable freelancers. Pay attention to client feedback and work with freelancers who have a decent score. Also, only choose freelancers who are willing to answer questions. Moreover, pay attention to how quick they are to respond and if they meet deadlines. You will be able to gauge this by talking to them or going through their profile.
Warning: Do Not Look Like a Scam
This might sound like a strange warning but it is very important to not appear like a scam on Upwork. New clients often end up making mistakes that could cost them a lot. First thing first, do not ask freelancers to contact you outside of the platform as it is not only against Upwork's policy, but is also a sign of a scammer. Freelancers choose Upwork as it offers them security and most will not work with a client who wishes to work outside of the platform.
You will have the option to use a third-party platform for communication or other such purposes once you have entered into a contract. However, there are some exceptions. You can move to another platform if it's necessary for the execution of the job, even before you enter into a contract.
Next, do not ask for free samples. It is alright to request a portfolio to gauge a freelancer's skills and abilities, but do not request 'free' work. Freelancers are not required to perform any task before they win a contract. Again, it's against Upwork's Terms and Services to request freelancers to work for free and it could get your profile flagged.
You will have to hire a freelancer if you want specific samples. You will, however, always have the option to request a refund if the work is not up to the mark or as discussed. Upwork has a straightforward refund policy.
Next, do not ask for irrelevant or personal information. Some clients request personal data such as identity documents and educational certificates. Upwork does a good job of verifying identity and location. You will see a blue tick on verified profiles. In addition, Upwork also gives freelancers the opportunity to verify educational certificates.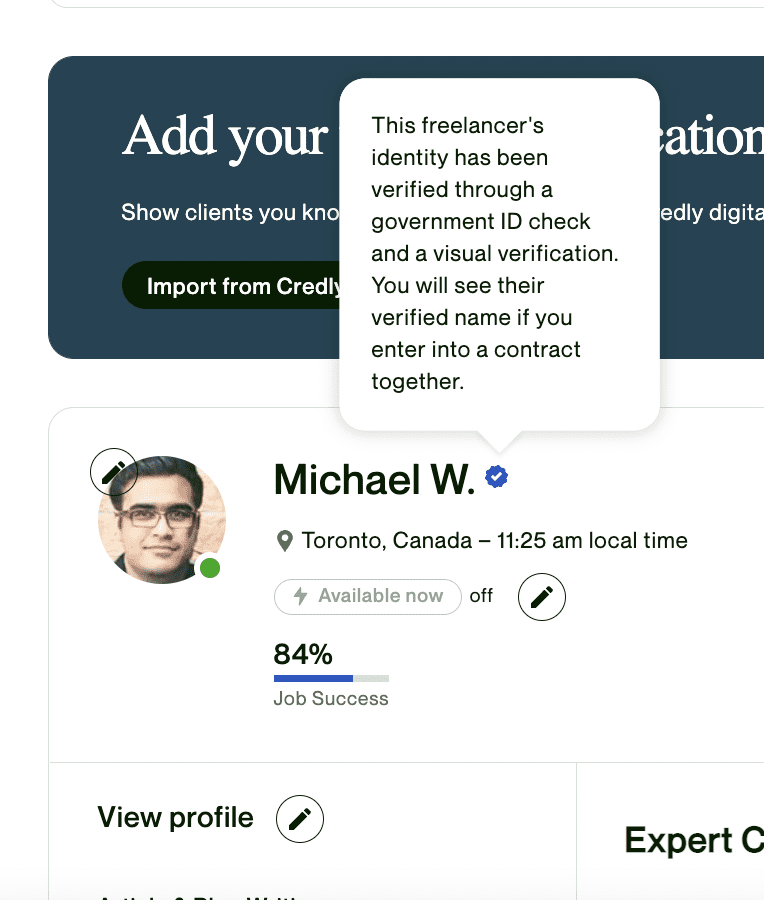 Clients do not need to ask for information such as a passport or Social Security Number (SSN). It's considered a red flag and could get you reported. In fact, you do not need such documents for any purposes. You will not make direct payments to the freelancer, they're routed through Upwork, which will take care of all terms and conditions. You can, however, have contractors sign an NDA but there is no need to sign a separate contract.
Finding the Best Freelancers on Upwork : Frequently Asked Questions
Is Upwork legit?
Upwork is a publicly traded company and is legit. It started in 2015 after the merger of two large freelancing platforms, Elance and oDesk. The company currently has more than 18 million freelancers and clients and offers services all around the globe.
How to delete my Upwork account?
Clients are required to close all existing contracts and clear all pending payments before they can delete an account. The process to permanently close an Upwork account depends on the account type. Also, closing a client account will cause your freelancer account to close as well if it's linked to the same profile.

Company owners can close an account by first deleting all team members and closing all associated contracts. Moreover, there should be no open jobs or outstanding bills. Also, for hourly jobs, you may have to wait for the billing cycle to complete before you can close your account. 

Once done, head to Settings, choose My Info, and click the Close Account option at the bottom of the page. The process slightly differs for agency members. You will have to first go to Settings, My Teams, Actions, and choose Leave Team. You will get the option to delete your Upwork account once you have left all teams.
Does Upwork charge fees?
Upwork charges fees from both clients and freelancers. Clients pay a marketplace fee of 5 percent on all payments (hourly, fixed-price, bonuses, etc.). However, there's a discounted rate of 3 percent for eligible clients. On the other hand, freelancers pay a 20 percent fee on all contracts, which goes down to 10 percent and eventually 5 percent based on the size of the contract.
How to contact Upwork?
Upwork offers excellent customer support including 24/7 chat, phone support, and email support. Tickets are usually responded to in 24 hours and the company is known for being customer-friendly. Moreover, there is an impressive FAQ section and forum to ask questions.
How do Upwork interviews work?
Clients get the option to shortlist candidates for an interview by sending a message. Interviews can be in the form of written communication or audio and video calls. Like traditional interviews, they're designed to help clients understand applicants and find the most suitable Upwork freelancer.
How does Upwork track hours?
Upwork uses Time Tracker, a desktop app, to track time. It logs hours and takes a snapshot six times per hour at random intervals to keep a record of tasks that are being completed. In addition, it notes scroll actions, keystrokes, and mouse clicks. Moreover, freelancers can add activity details to help clients understand tasks
How to contact freelancers on Upwork?
Clients can contact freelancers by posting a job, sending invites, and messaging freelancers that respond to the job. In addition, clients can go through available projects and contact freelancers for more information on a specific project. There is also the option to search through the database and contact freelancers by choosing the 'Hire Me' option.
Compare Business Credit Cards