The 10 Best All-Season Tires in Canada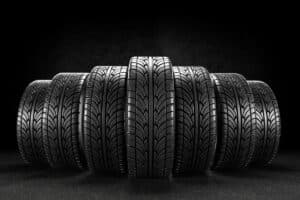 Canada's widely varying weather can be a slog for drivers because it forces them to keep changing tires. When summer ends, the winter tires (or at least some snow-ready chains) have to go on, only to be switched out again once the roads clear and the weather dries up.
It's a hassle.
And that hassle is likely part of the reason why you're considering all-season tires. The marketing behind these tires suggests you can use them throughout the year. That's not technically true (several provinces have restrictions in place), but the convenience promised has put you on the hunt for the best all-season tires Canada offers. This list gives you 10 of them.
When Can I Use All-Season Tires in Canada?
The term "all-season tires" is something of a misnomer in Canada because you aren't always legally able to use these tires for all 12 months of the year. Regulations vary – each province has different rules that are often dictated by the severity of the winters those provinces experience. So, before spending any more time looking for the best all-season tires Canada has, it's worth knowing when you can use them legally.
The following table breaks down the regulations by province:
| | |
| --- | --- |
| Province | Regulations |
| Alberta | Though the province of Alberta recommends winter tires during the colder months, it's not a legal requirement. So, you won't be punished for using all-season tires at any point. |
| British Columbia | British Columbia requires all vehicles to have either winter tires or snow chains equipped between October 1 and April 30. Furthermore, all-season tires must have a minimum tread depth of 3.5mm if you opt for the chain route. |
| Manitoba | All-season tires are fine to use at any point in Manitoba as long as they have 1.6mm of tread depth or more. However, the province recommends a tread depth of 4.8mm during winter. |
| New Brunswick | The province specifically tells you not to rely on all-season tires during winter and allows drivers to use studded tires between October 15 and May 1. So, it's best to replace your all-season tires with winter-ready ones during that period. |
| Newfoundland and Labrador | This province encourages, but doesn't legally enforce, the use of winter tires. So, you can use all-season tires year-round, though you're allowed to use studded tires between November 1 and April 30. |
| Nova Scotia | Nova Scotia doesn't make winter tires mandatory, so you can use all-season tires at any point. |
| Ontario | You're not legally required to use winter tires in Ontario, even in the colder northern regions, making all-season tires permissible for the full 12 months. Still, the province points out that these types of tires tend to start losing grip when the temperature drops to 7 degrees Celsius or below. |
| Prince Edward Island | You're not legally obligated to use winter tires in Prince Edward Island, so you can use all-season tires during the winter. However, the province allows (and recommends) the use of studded tires between October 1 and May 31. |
| Quebec | All-season tires are legal in Quebec as long as they're not used between December 1 and March 15. The province's harsh winters require the use of specialized winter tires, with all-season tires typically not providing the appropriate tread depth. |
| Saskatchewan | You can legally use all-season tires during winter in Saskatchewan as winter tires aren't legally required in the province. |
Beyond these provincial restrictions related to winter, there's one more thing to consider when using all-season tires – car insurance benefits. You'll often find that insurers ask if you use winter tires on your car, with many offering rate discounts if you do. So, you may want to switch out your all-season tires to winter ones, even in provinces that don't legally require them, to take advantage of lower premiums.
The Best All-Season Tires Canada Offers – 10 Excellent Choices
With potential restrictions accounted for, it's time to get down to the important business of finding the best all-season tires Canada has for your car. The following 10 options are divided into categories so you can make the right choice based on your circumstances.
Toyo Celsius CUV – Best All-Round All-Season Tires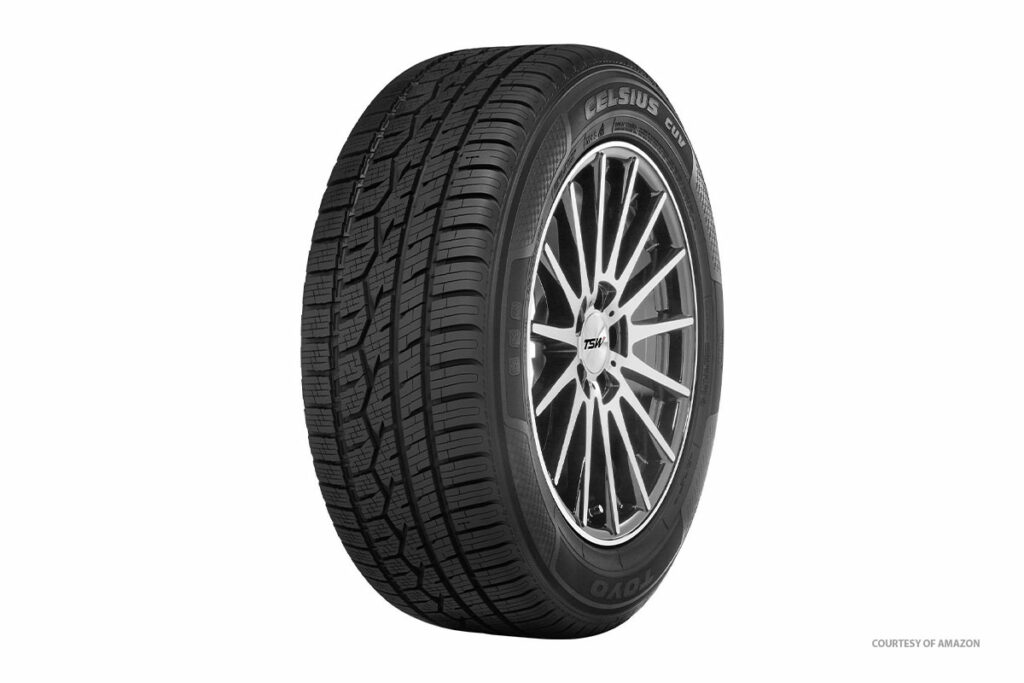 With a rim size of just over 43cm and solid tread depth, the Toyo Celsius CUV offers a good choice for Canadians operating on a budget who still want a decent performance tire. They come with a 60,000-mile warranty (approx. 96,560km), too, meaning Toyo has confidence enough to cover them for the generally accepted average life of an all-season tire.
The slush grooves are a highlight, as they increase traction in snowy conditions, and they provide a comfortable ride assuming the weather isn't too extreme.
Price: $279.14
Rating: 5/5
Firestone WeatherGrip – Best for Extreme Weather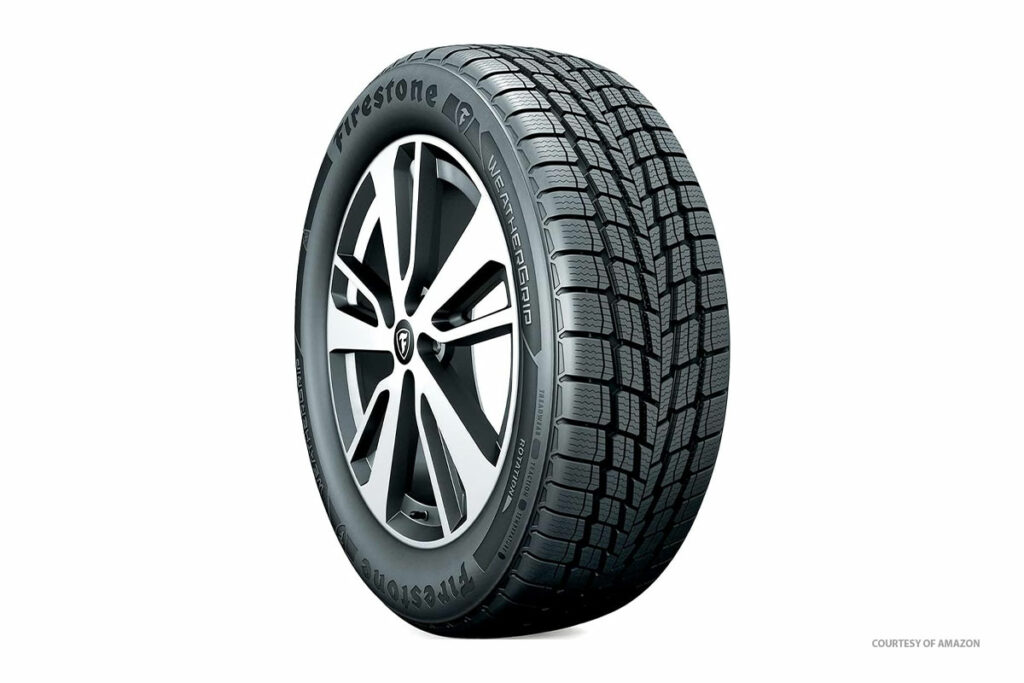 Technically, the Firestone WeatherGrips are all-weather tires, rather than all-season ones, but you'll appreciate them for their versatility. Equally capable of handling snow, rain, and extremely dry conditions, the tires come with a 65,000-mile limited warranty (almost 105,000km), so they're guaranteed to be a little longer lasting than most other all-season tires.
You may need that warranty, too, if you're one of the unfortunate customers who discover early wear in the tire. But, for the most part, these are the best choices for dealing with extremes in weather without resorting to full winter tires.
Price: $514.16
Rating: 4.6/5
Continental PureContact LS – Best All-Season Tire for Consistent Grip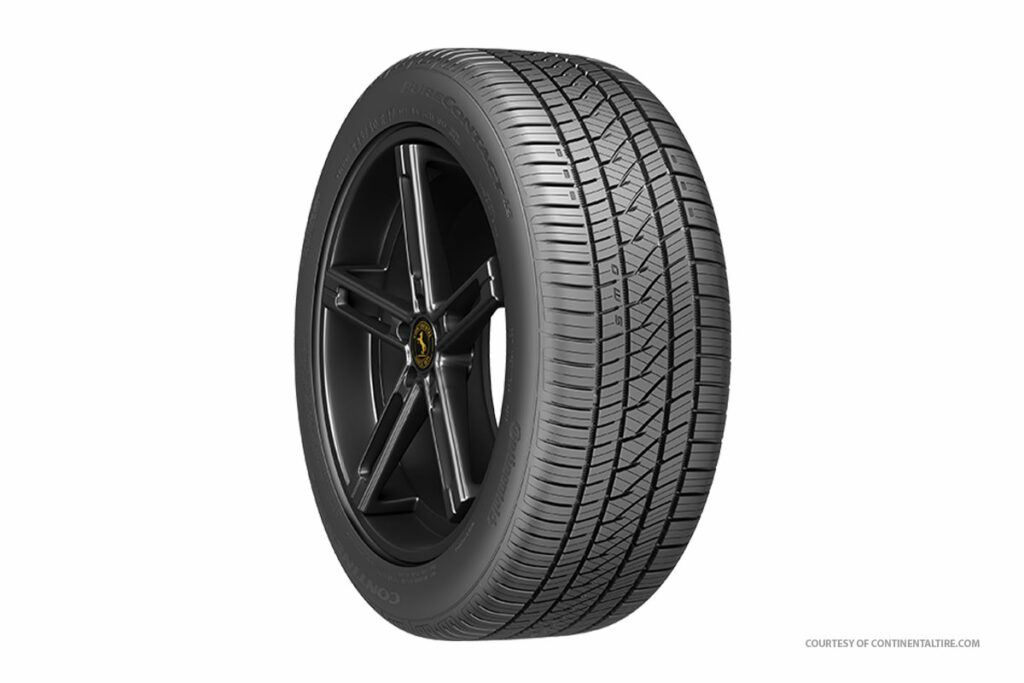 Smart design features are the hallmarks of the Continental PureContact LS. The traction grooves are designed to offer enhanced performance on snowy roads (though still not comparable to winter tires), and the EcoPlus system built into them provides traction when roads get wet.
They're surprisingly quiet, too, likely thanks to the work Continental put into reducing noise creation by 50% compared to the previous generation of the tires.
Price: $339.47
Rating: 4.8/5
Michelin Pilot Sport A/S – Best High-Performance All-Season Tire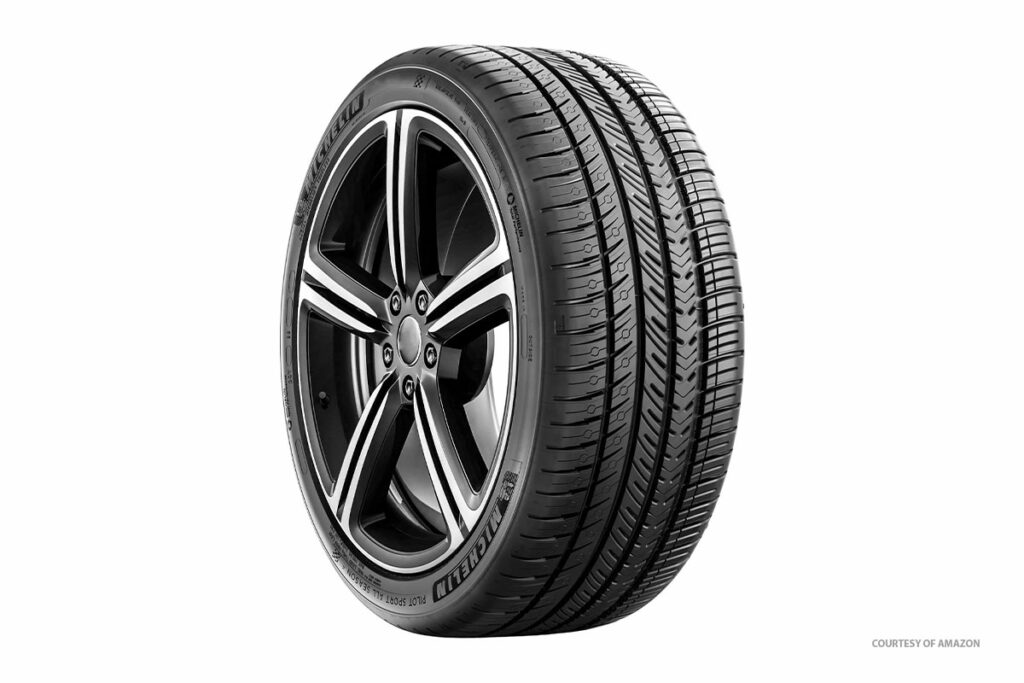 The use of the word "Sport" in the name should tell you that these all-season tires come closer to summer tires than winter ones. That's not to say they're useless in wet or cold weather – you just won't get the most out of them performance-wise.
They incorporate Michelin's "Dynamic Response Technology," which is a fancy way of saying they give you better control of your car. That comes into its own on dry roads when you're burning rubber.
Price: $360.19
Rating: 4.6/5
General Tire AltiMax RT43 – Best Budget All-Season Tires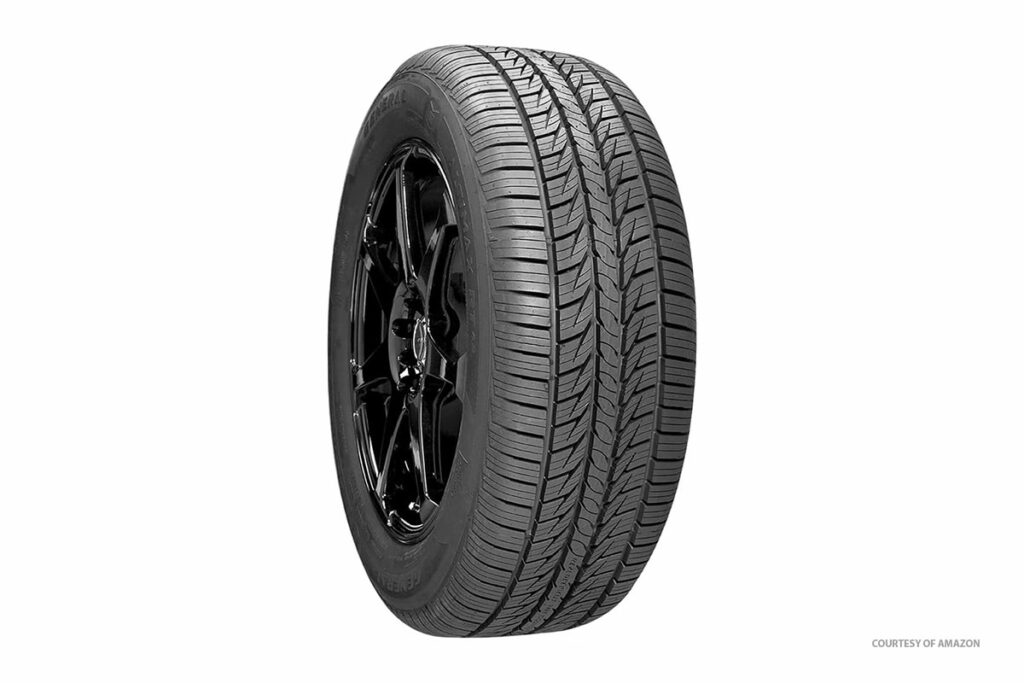 Cheap and cheerful are the operative words for the AltiMax RT43 all-season tires – they'll set you back less than $100 per tire in most cases. And despite this low cost, they're surprisingly high-quality. The anti-slip tread design gives you more traction when the roads get slippery, and they offer decent ride comfort.
Just be aware that they may not offer the level of traction needed to handle icy or snowy roads, putting them behind several of the options in this list in that respect.
Price: $95.71
Rating: 4.5/5
Goodyear Assurance ComfortDrive – Best All-Season Tires for Ride Comfort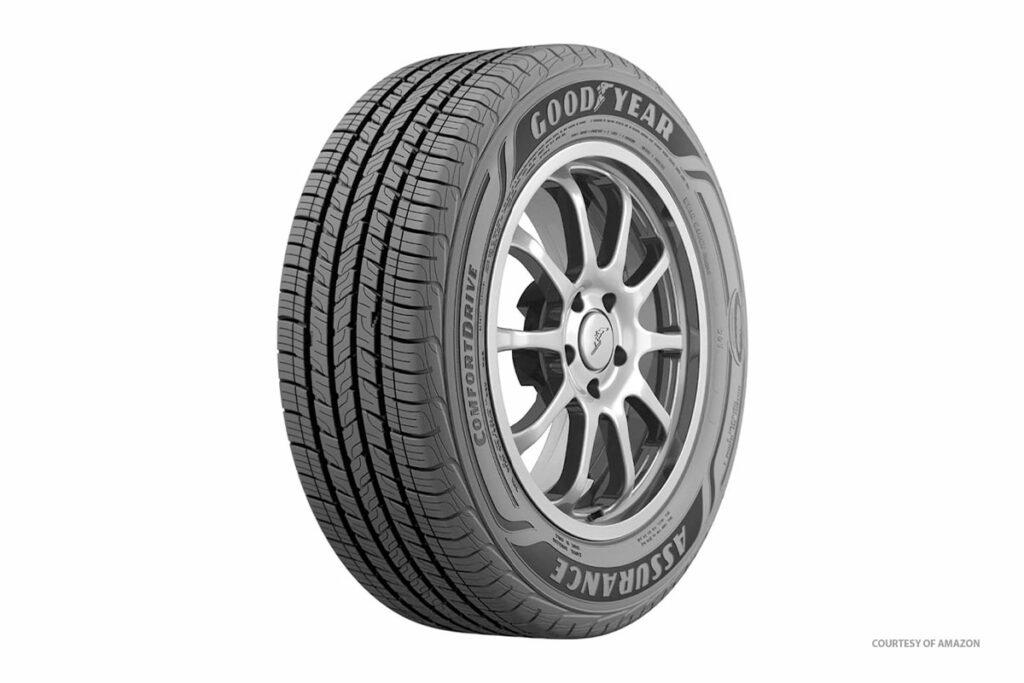 Comfort by name and comfort by nature is what you get with Goodyear tires, which are specially designed to offer a smooth ride. That design work starts with the ComfortFlex technology – a collection of smooth bumps built into the tires to minimize road vibrations.
Interlocking features strengthen the ribs to offer better response times, too, making these a good choice for conditions that make handling harder. But ironically, the comfort that gives them their name can also eliminate road vibrations to the point where you almost feel like you're floating over the road.
Price: $209.97
Rating: 4/5
Goodyear Assurance WeatherReady – Best All-Season Tires for Winter Driving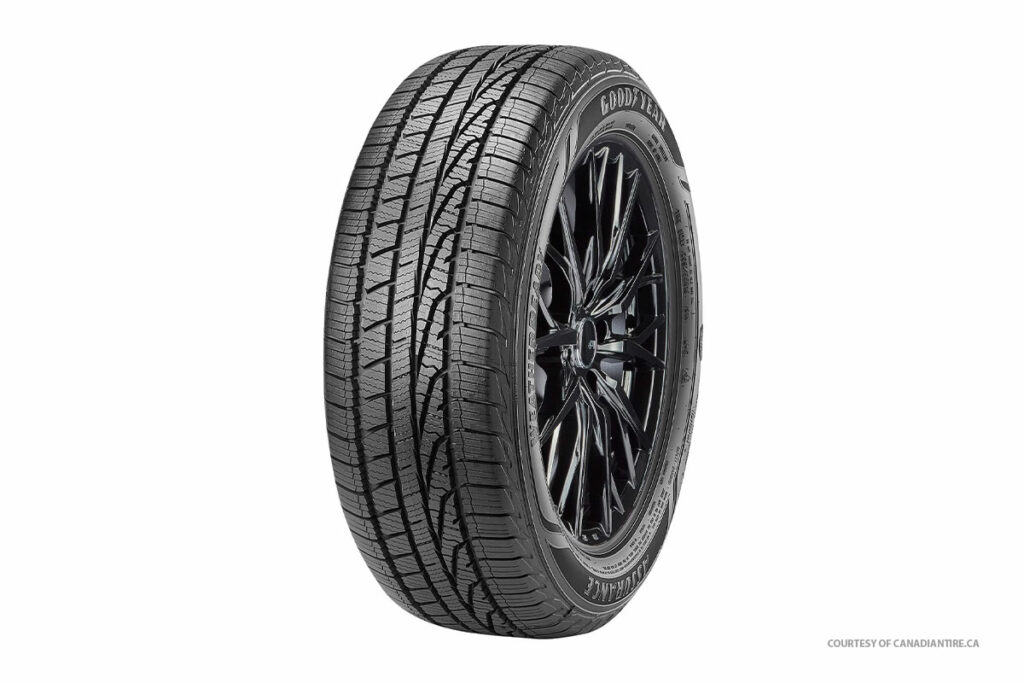 Goodyear's second entry into this list stands out because of its clever traction technology. That starts with the asymmetric tread designed to handle uneven road conditions (such as those caused by clumped snow) and continues with the Evolving Traction Groove tech. That feature essentially makes the tires malleable, simulating the creation of new tread as the old wears away.
Unfortunately, they're slightly prone to pressure issues – not ideal if you're intending to use them as replacement for your winter tires.
Price: $207.97
Rating: 4.7/5
Michelin LTX M/S 2 – Best All-Season Tires for Heavy Vehicles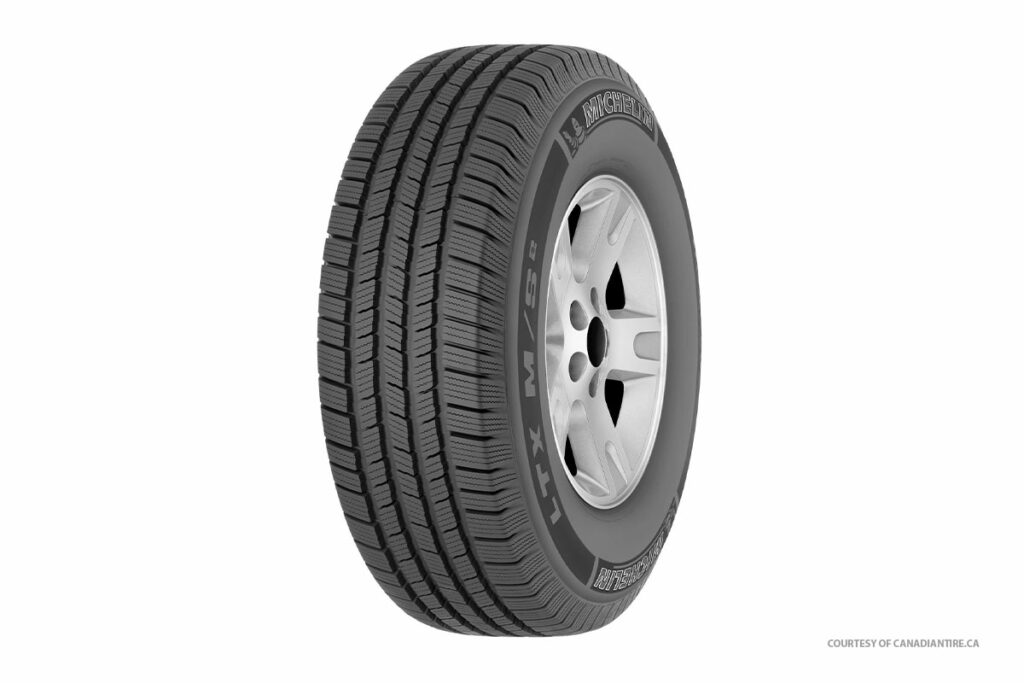 A bit of beefiness is what you need when searching for the best all-season tires Canada offers for heavier vehicles, like trucks and SUVs. Michelin's LTX M/S 2 range delivers with a tire that has a steel belt built into it to ensure it's capable of supporting the weight of larger vehicles as they traverse difficult conditions.
Grip is also a priority – the tires have deep grooves built in that channel water away so slickness is rarely a problem. And when combined with the sipes and micro-pumps built into the tire – all of which serve the same purpose of funnelling water away – you get all-season tires that excel in wet conditions.
Price: $293.49
Rating: 4.6/5
Michelin Defender 2 – Best for Longevity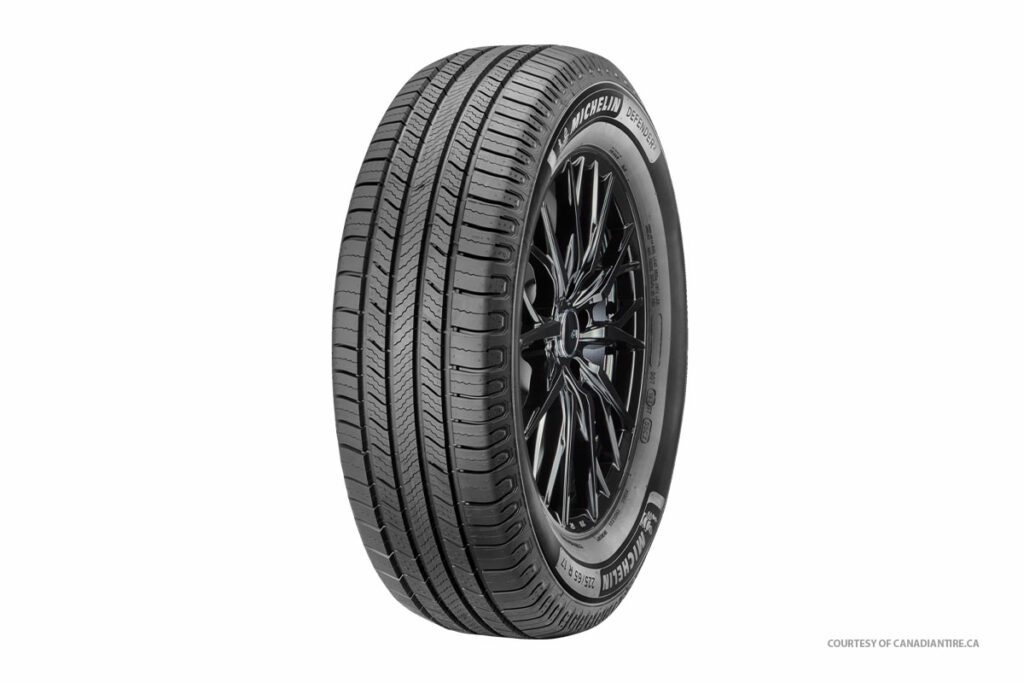 Michelin plants its flag early with the Defender 2 range by pointing out that they outlast three of its leading all-season tire competitors by an enormous 25,000 miles (approx. 40,233km) in special tread tests. The company says that gives you two years of extra tread life, though the reality is the exact number will vary depending on terrain and usage. Still, the tires have excellent longevity for a decent price, ideal for budget-conscious drivers.
Everything else about them is solid, though not spectacular, from their tread to ride comfort.
Price: $201.99
Rating: 4.6/5
Michelin Energy Saver A/S – Best for Fuel Efficiency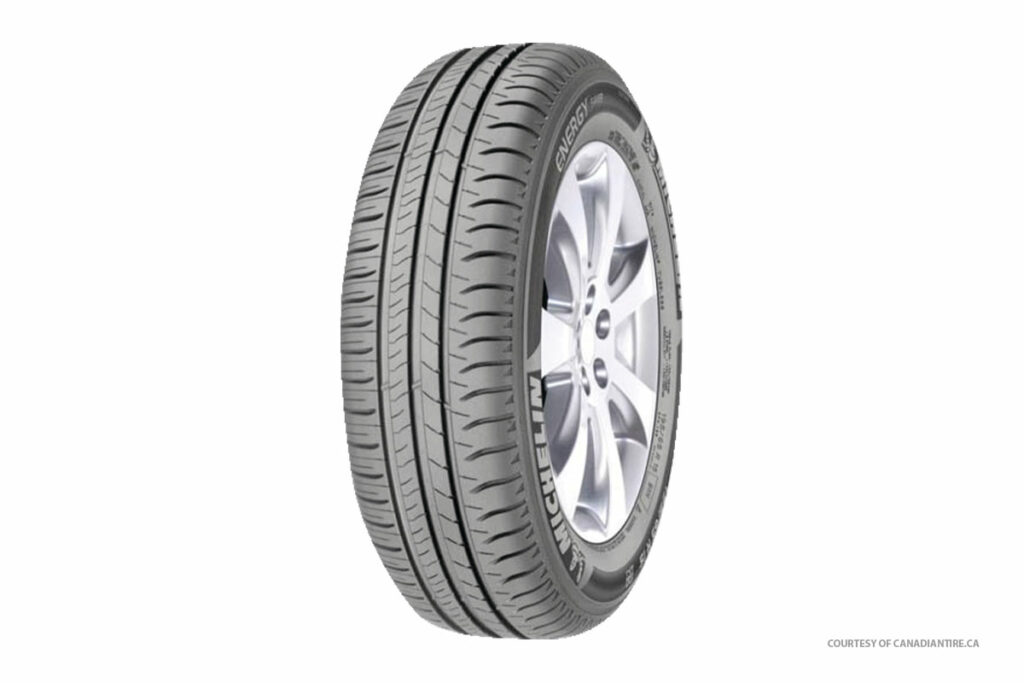 Another entry from Michelin (showcasing the tiremaker's status as the best in the business), the Energy Saver A/S focuses more on cutting your ongoing costs than it does on handling all types of weather. The manufacturer claims them to be up to 8% more fuel-efficient than its competitors – important given Canada's rising fuel prices – and comes with an assurance from Michelin that they'll go for about 25,000 more kilometres than other brands.
They are a touch noisy, despite Michelin claiming that they offer a quiet ride. And some users have found that they tend to wear out after about 30,000km, which puts the claims of being able to drive more than 25,000km above other brands into question.
Price: $198.49
Rating: 4.2/5
All-Season Tires – A Good Choice for Convenience
The main benefit of all-season tires is right in the name – they're meant to be used throughout the year, thus ensuring you don't have to change tires every few months. However, given that several provinces have strict rules in place for winter tire usage, even the best all-season tires Canada offers may not be able to deliver on that convenience factor for some people.
Still, they're solid choices if you're looking for good all-rounder tires and you live in an area that doesn't experience especially harsh winters. And with the 10 highlighted here, you have a solid range of tires (at varying prices) to choose between.
FAQs about the Best All-Season Tires in Canada
Are all-season tires worth it?
You're always making a compromise when you buy all-season tires. You lose out on some grip in summer, meaning you sacrifice some elements of performance when the roads are dry, and they're not quite as effective as snow or rain-specific tires in the winter.
But what you do get are all-rounders that usually see you through all four seasons without issues. Thus, they're worth it for people who don't want to spend time switching tires around every few months.
Are all-season tires good for winter in Canada?
The answer depends on two things – the tires you buy and the severity of the winter in your location. For instance, all-weather tires are okay for mild winters that don't reach sub-zero temperatures and deliver little, if any snow. But as soon as you get into the snowier provinces of Canada, most all-weather tires pale in comparison to snow tires. "Most" because there are a few all-season tires made to handle snow as well as they handle other extreme conditions. But ultimately, whether these types of tires work for you depends on how much snow falls in your location.
What is the difference between all-season and all-weather tires?
There's little to choose between the two terms, which is why they're often used synonymously. But you'll generally find that all-weather tires work better during winter than all-season tires, often sacrificing summertime performance in the process. They're also more specifically designed for extreme weather conditions and will have the "Alpine Snowflake" symbol, rather than the "M+S" symbol seen on all-season tires.
How long do all-season tires last?
According to Consumer Reports, the best all-season tires Canada offers should last for about 96,000 kilometres of driving. Assuming you drive around 16,000 kilometres per year, that gives you about six years before tread becomes an issue. Of course, the specific longevity is affected by the tire and the conditions it faces.
Are all-season tires legal in Quebec?
They're legal as long as you use them between March 16 and November 30. Quebec has a mandate that says that all vehicles need to have winter tires installed from December 1 through to the end of March 15.
Are all-season tires legal in BC?
British Colombia requires all vehicles to have either winter tires or chains between October 1 and April 30. So, all-season tires are legal as long as you chain them up during the winter months. But many will opt to use the tires during summer and switch out to winter-ready ones when the mercury drops.
How much do all-season tires usually cost in Canada?
Prices vary but expect to spend somewhere in the region of $200 to $400 per tire, though there are several budget options available that cost less and premium tires that exceed $500.
Are summer tires cheaper than all-season tires in Canada?
Not necessarily, as the tires serve different purposes. With summer tires, you're getting a more intense focus on performance on dry roads, as they improve speed, handling, and, in some cases fuel efficiency. You may have to pay a premium for that, though you'll often find that prices are comparable to all-season tires. After all, all-season tires are designed to handle the majority of conditions, which can lead to a premium being charged, too.
Can you mix snow tires with all-season tires?
No. Snow tires typically have deeper tread depths and are bulkier than all-season tires, leading to inconsistent handling and balance if you try to mix and match. Those are the last things you want to be dealing with when you already have difficult driving conditions.
Do all-season tires wear out faster than other types of tires?
Assuming equal distance usage, you'll often find that all-season tires actually last longer than all-weather or summer tires. In the case of summer tires, they have shallower treads than all-season tires, which obviously wear out faster. As for all-weather tires, they're made to deal with more extreme conditions than all-season tires, with those conditions creating more wear than the latter are likely to experience.
How can you tell if you have all-season tires?
You should see the "M+S" symbol somewhere on the tire, which certifies that the tire is approved for use in muddy and snowy conditions. In some areas, such as British Colombia, all-season tires also need to have a minimum tread depth of 3.5mm.