The 15 Best Cars to Buy in Canada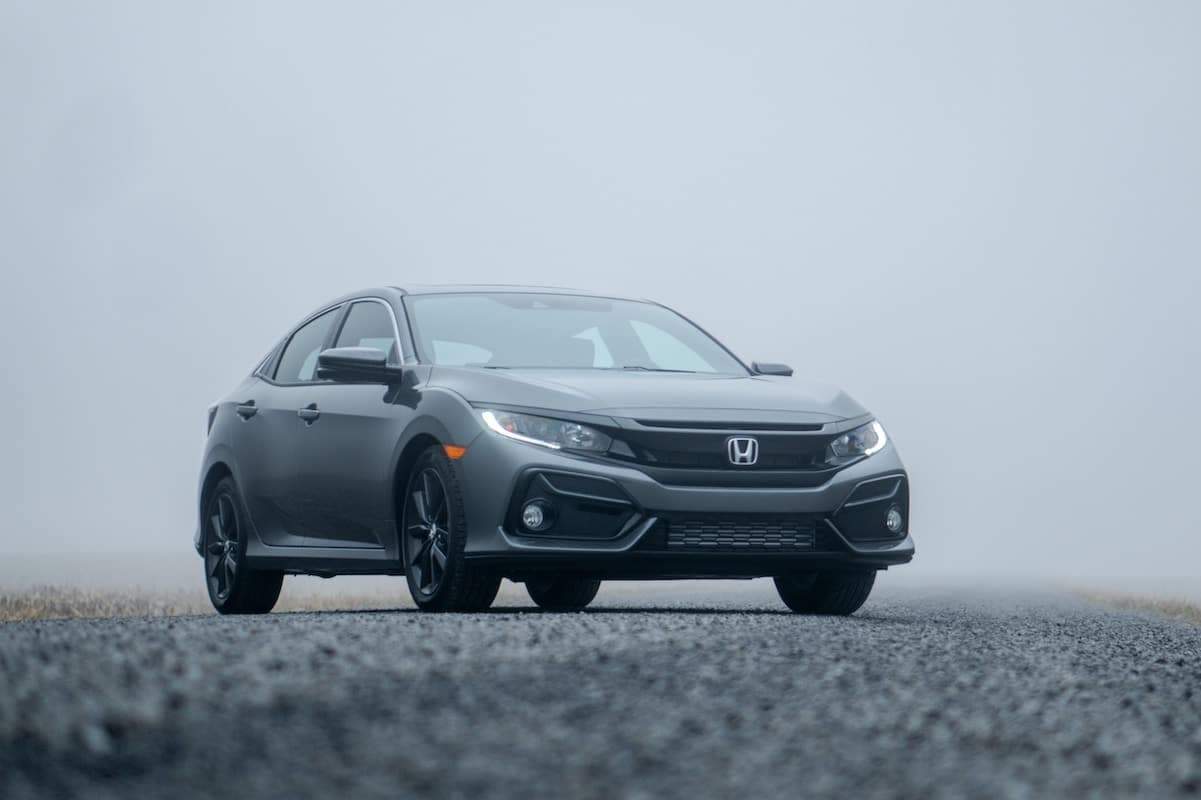 Table of Contents
[ Show ]
Finding the best car to buy in Canada isn't an easy task. You need to determine precisely what you're looking for, compare the features, and find the dealer who offers the best prices. If you already know which car you want, you're a great deal of the way there. But if you're at the beginning of the search, the process can be quite daunting.
To give you a jumpstart, this article will list the best cars that you can buy in Canada right now. Note that our list will include new vehicles rather than used ones. Also, all of the prices we list here are for Ontario and stem from the manufacturer's websites. If you're shopping for cars in another province or choose a specific car dealership, prices might differ from those in this article.
What to Consider When Buying a Car
As mentioned, knowing what you want before you begin your search is crucial when buying a car. You likely already have some idea of a vehicle that would fit your needs, but it's best to be as specific as possible. To that end, the first thing to consider is the purpose of the vehicle.
Do you want a car that can fit the entire family or one to carry a work crew and tools? Those models will, of course, be significantly different from each other or even from a vehicle meant simply to take you from point A to point B.
Next, safety will be paramount, and you might want your next vehicle to have some advanced tech features in that regard. We're talking passenger airbags, lane departure warnings, etc. While many manufacturers offer advanced versions of their models, some models will be more limited than others in that regard.
Finally, fuel efficiency is always an important factor. After all, in these days of high gas prices, who doesn't want a car that can get the most kilometres per litre? The less you need to refill the tank, the more your purchase will pay off in the long run – which brings us to other budgetary considerations.
Of course, the price of the car will be what you look at first. However, this shouldn't be the only financial matter worth your attention. Car Insurance premiums are another noteworthy factor, and they'll differ from one model to the next one.
The Top 15 Cars You Can Buy in Canada
To help you find the best car to buy in Canada, we've compiled a list of 15 top contenders according to performance, price, and reliability. Note that this isn't a list of the cheapest cars in Canada or vehicles in a particular class, i.e., sedan, coupe, or SUV. Instead, this list provides the best all-around new vehicles currently in the market.
For variety's sake, we've included gas and electric vehicles, as well as more spacious options like SUVs and minivans. Lastly, note that the vehicles are listed by price according to the manufacturer's website. Your results may vary depending on your dealership.
1. Hyundai Elantra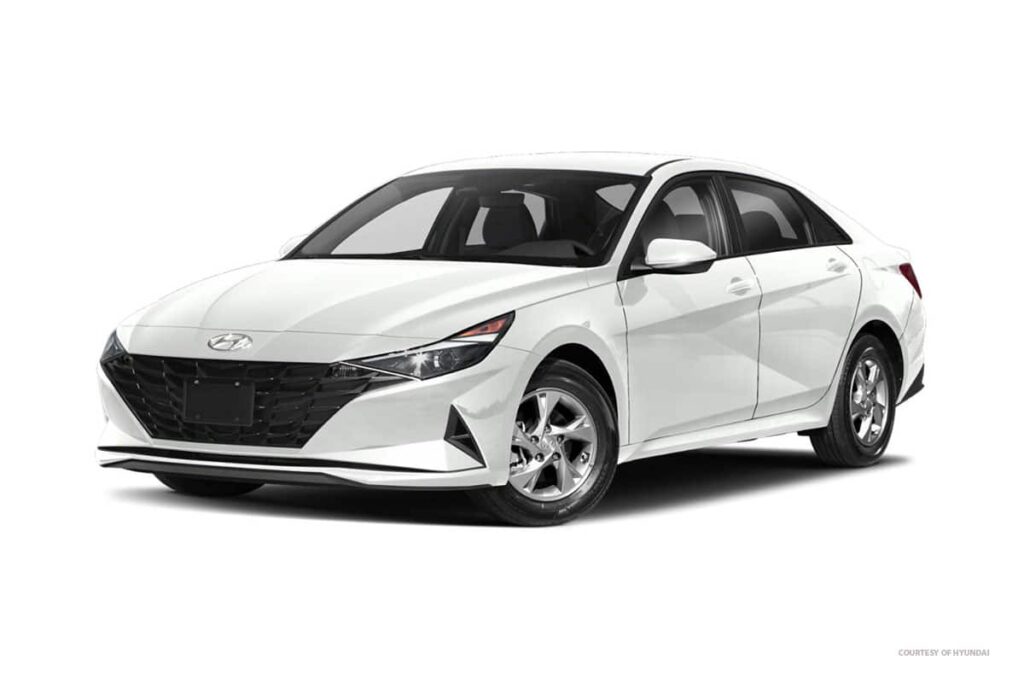 With a slew of safety features and a combined fuel consumption of 6.4 L/100 km, the Elantra is ideal for the start-stop, unpredictable conditions of congested city traffic. The standard 2.0L engine has 147 horsepower – quite sufficient for regular commuting. If you wish, the model also comes with engine upgrades, including the turbocharged 1.6L GDI (201 horsepower) and a hybrid variant (104 horsepower combined).
Everything about Hyundai Elantra is built for convenience. The driver's seat is highly adjustable and offers considerable lumbar support. Assistance technologies include blind-spot, lane departure, and driver attention warnings, to name a few.
Best for: People commuting daily in heavy traffic
2. Kia Forte LX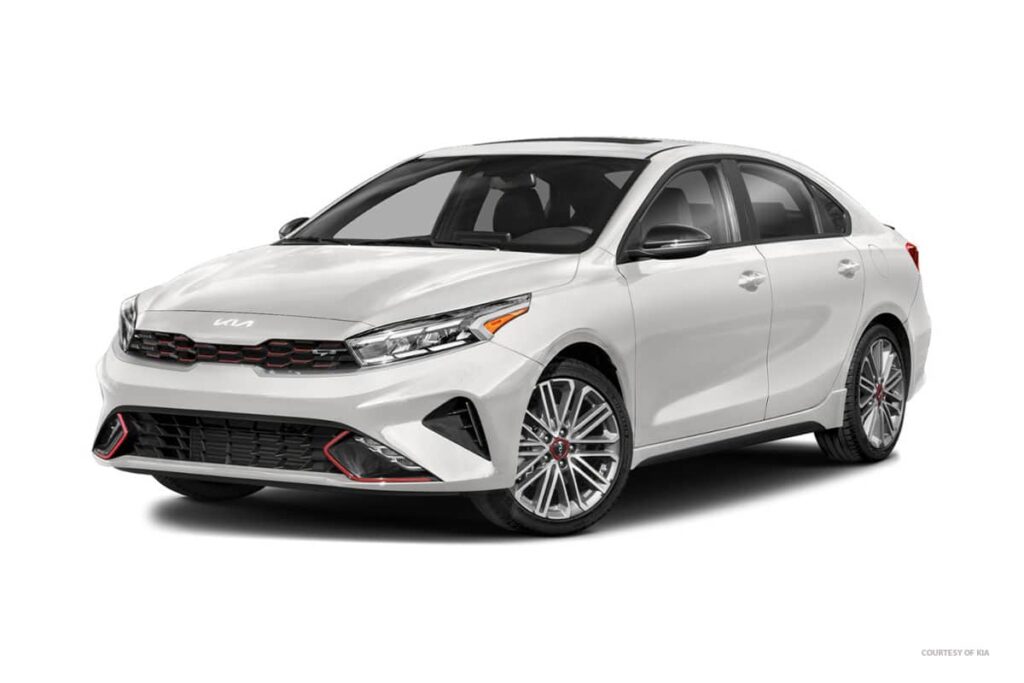 Even the basic model of the Forte LX is sportier than you would presume, especially when looking at its 2.0L, 147 horsepower, four-cylinder engine. Additionally, this car has a front-wheel drive and intelligent variable transmission. The exterior may not scream "sports car," but the Forte LX will be as responsive and lively as if it was built for the tracks.
To make the ride as enjoyable as possible, Kia Forte LX includes various tech features. Inside, there's the infotainment system with a massive display, six speakers, and audio controls on the steering wheel. In terms of safety, this model has electronic stability and hill assist control.
Best for: Joy rides
3. Nissan Sentra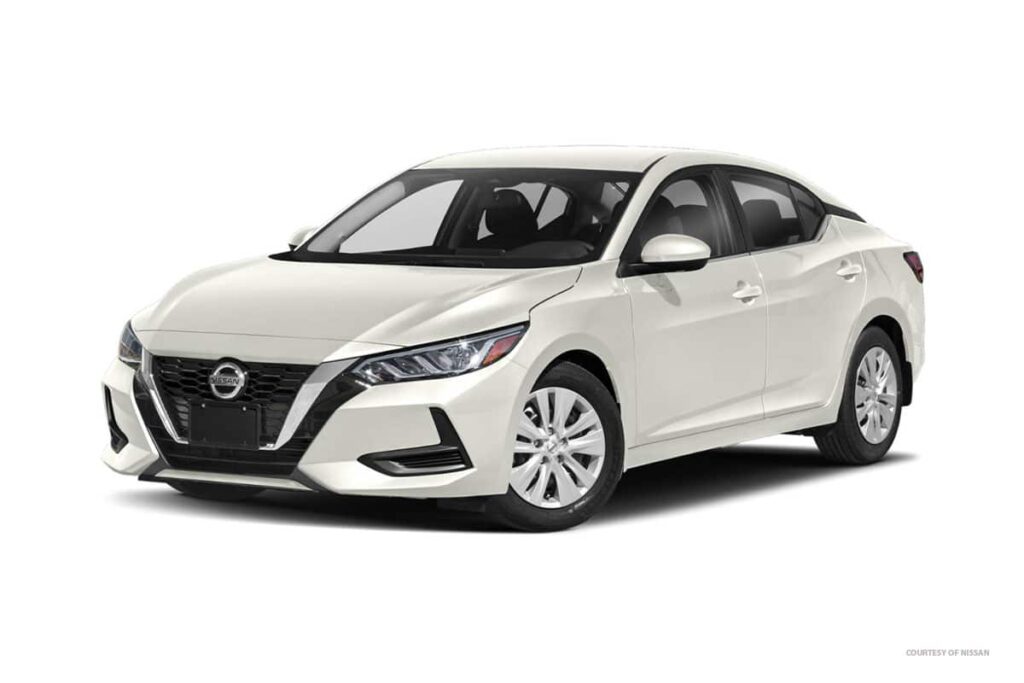 With reliable performance, excellent safety features, and great affordability, the Sentra might be the very best car to buy in Canada for families. However, that doesn't mean this car lacks the power – it's got a 2.0L four-cylinder engine with 149 horsepower, channelled to its front-wheel drive via a six-speed manual transmission box.
The car has plenty of room for everyday family use, including a cargo capacity of 405 litres when the rear seats are folded down. It's also equipped with modern safety features, making every ride that much more secure. Some of the features included are anti-collision, lane departure, hill holder, blind spot warning, low tire pressure, and rear alert.
Best for: Families
4. Mazda 3 GX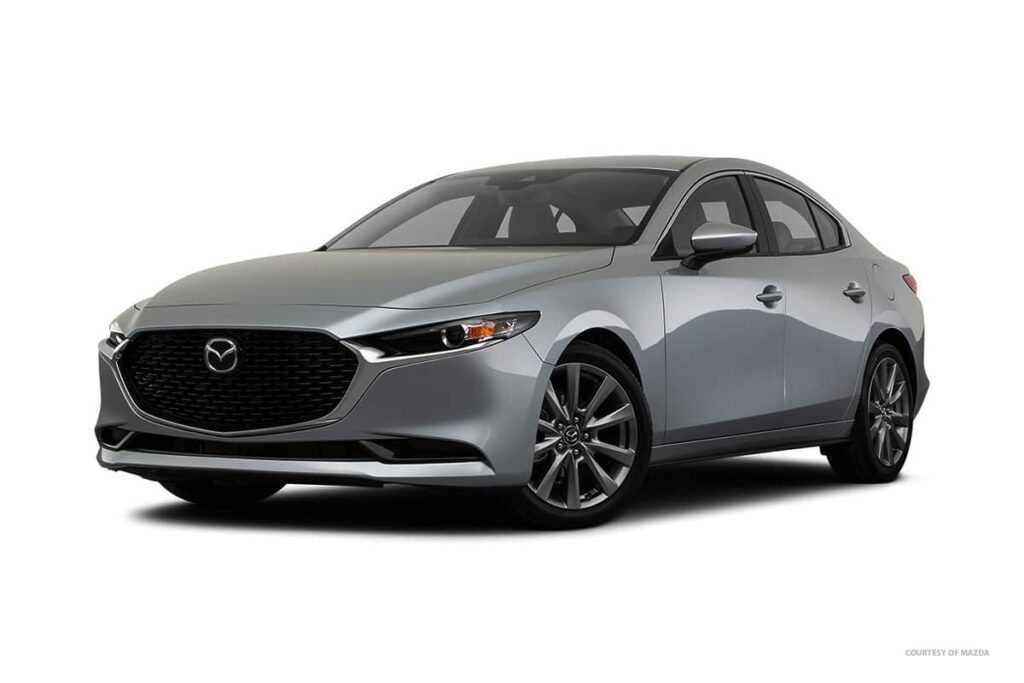 If you're looking for a dependable vehicle at a relatively low price, the Mazda 3 GX will be an excellent choice. The 2.0L, four-cylinder engine can put out 155 horsepower, giving the car plenty to work with on open roads and in city driving.
Despite FWD cars having supposedly lower fuel consumption, this model doesn't excel at fuel economy, spending up to 6.4L/100 km in the city and about 10.1L on open roads. Yet, its low starting price may make up for this relatively mild shortcoming.
Best for: Anyone looking for a reliable car on a budget
5. Volkswagen Jetta Trendline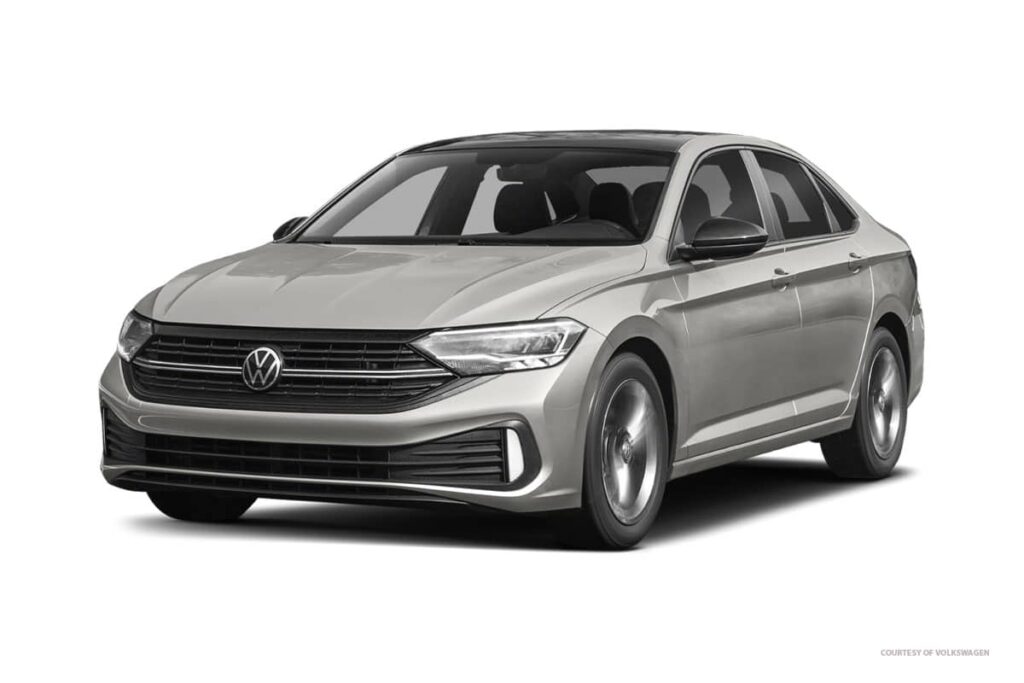 The Jetta Trendline boasts a 1.5L turbocharged TSI engine with 158 horsepower, making it a considerable, yet not overpowering, force on the road. The car has a manual transmission gearbox with six speeds, which may sound a bit old-timely compared to the automatic and CVT systems in many modern vehicles.
However, the equipment in the car is cutting-edge. The Jetta Trendline comes with a digital cockpit featuring an eight-inch display, heated front seats and steering wheel, front assist, and numerous other tech improvements. You can choose between different driving modes, including Normal, Eco, Sport, and Custom.
Best for: Versatility
6. Toyota Corolla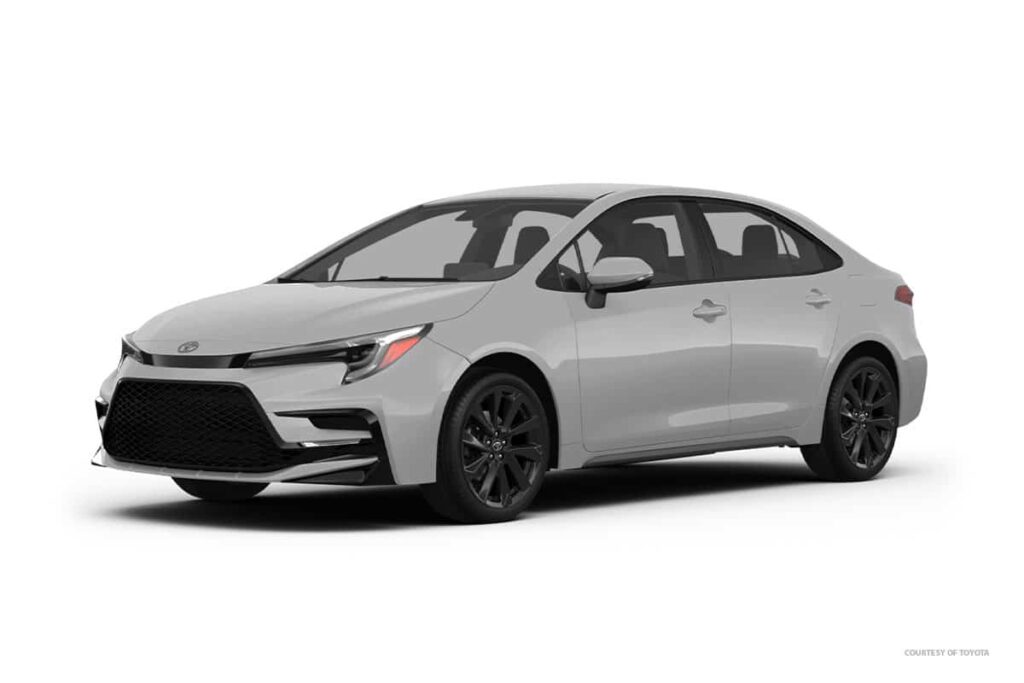 With this compact car, the manufacturer focused on overall comfort as well as performance and safety. The latest iteration of the Corolla has a multimedia system with six speakers and numerous connectivity options. Meanwhile, under the hood, the Corolla comes with a 2.0L engine with four cylinders and 169 horsepower.
That combination of style and performance is what makes this model one of the favourite cars for students. Meanwhile, the expansive safety systems in the Corolla include vehicle stability, traction control, smart stop, brake assist, and brake force distribution. Additionally, the car has automatic high beams, cruise control, and lane departure warning to add to the robust package.
Best for: Safety and comfort
7. Honda Civic LX-B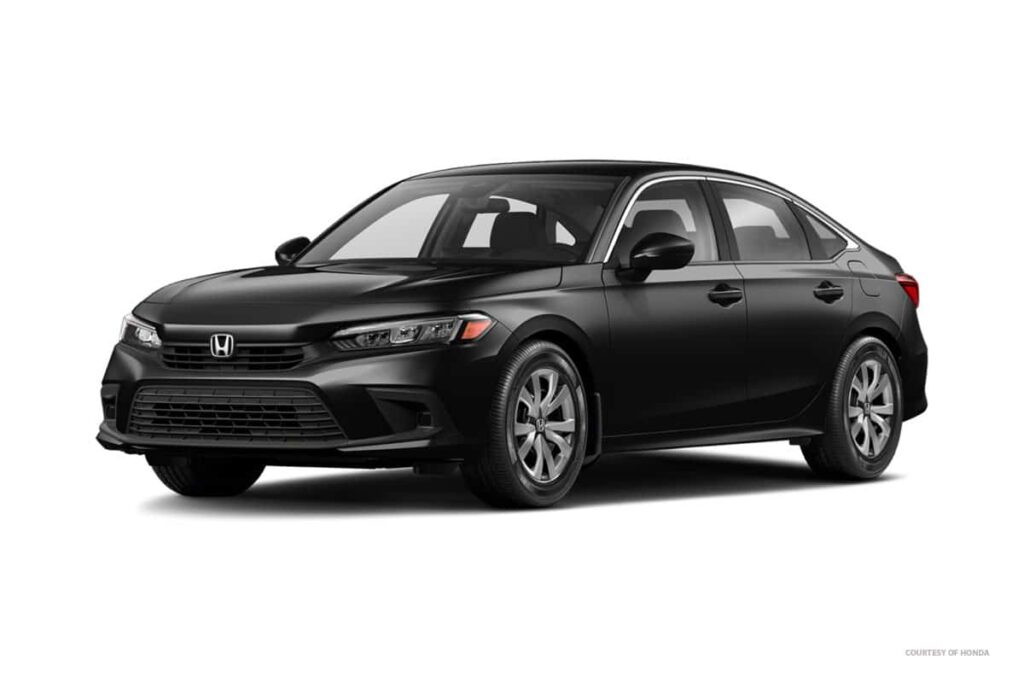 The Civic LX-B represents an affordable solution if you're shopping for a reliable car with power at a reasonable price. With a 2.0L four-cylinder engine and 158 horsepower, the sedan will have plenty of power to get you wherever you want to go quickly and efficiently.
Adding to its budget-friendly nature, this model is relatively fuel-efficient. It will consume an estimated 7.7L (city) or 6.0L (highway) per 100 km, respectively. Equipped with a front-wheel drive, continuously variable transmission, stabilizer bars, and power-assisted brakes, the Civic LX-B offers a pleasant and safe driving experience.
Best for:  Great balance of price and performance
8. Ford Maverick XL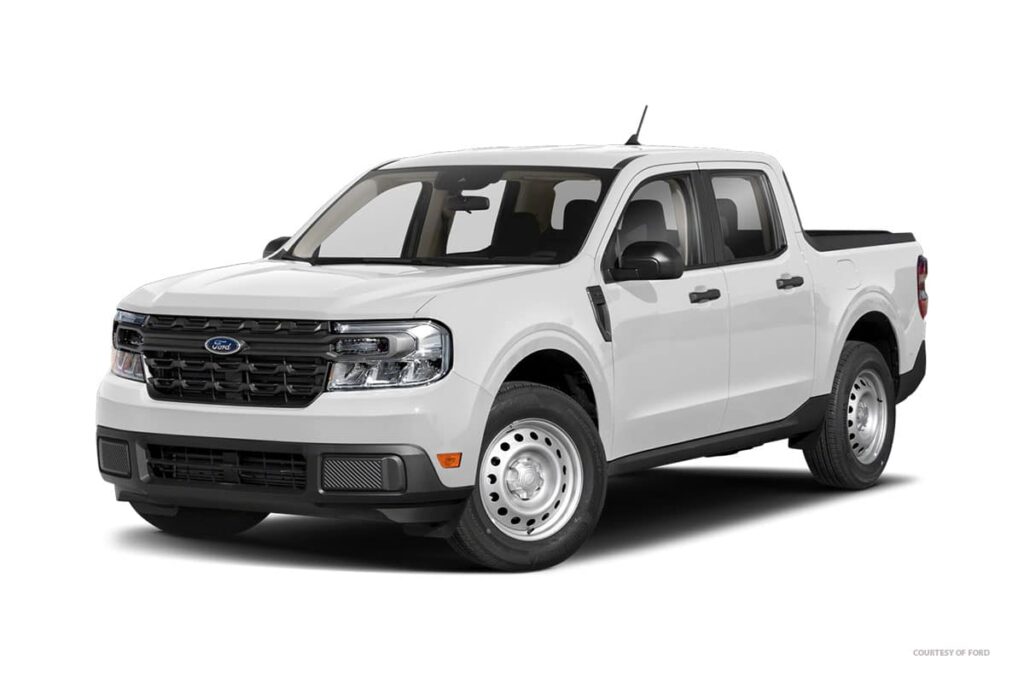 Able to carry just over 700 kg, Ford Maverick XL is perfect if you need to move heavy payloads regularly. Yet, this truck is more than your standard four-wheel workhorse. It's equipped with an eight-inch multimedia touchscreen centre, adjustable seats and steering wheel, cruise control, and other quality-of-life improvements.
The standard variant of the truck comes with a hybrid engine of 2.5L capacity. It's got a continuously variable transmission type, transferring the engine's 191 horsepower to the front-wheel drive system for a respectable performance even when fully loaded.
Best for: Transporting cargo
9. Subaru Forester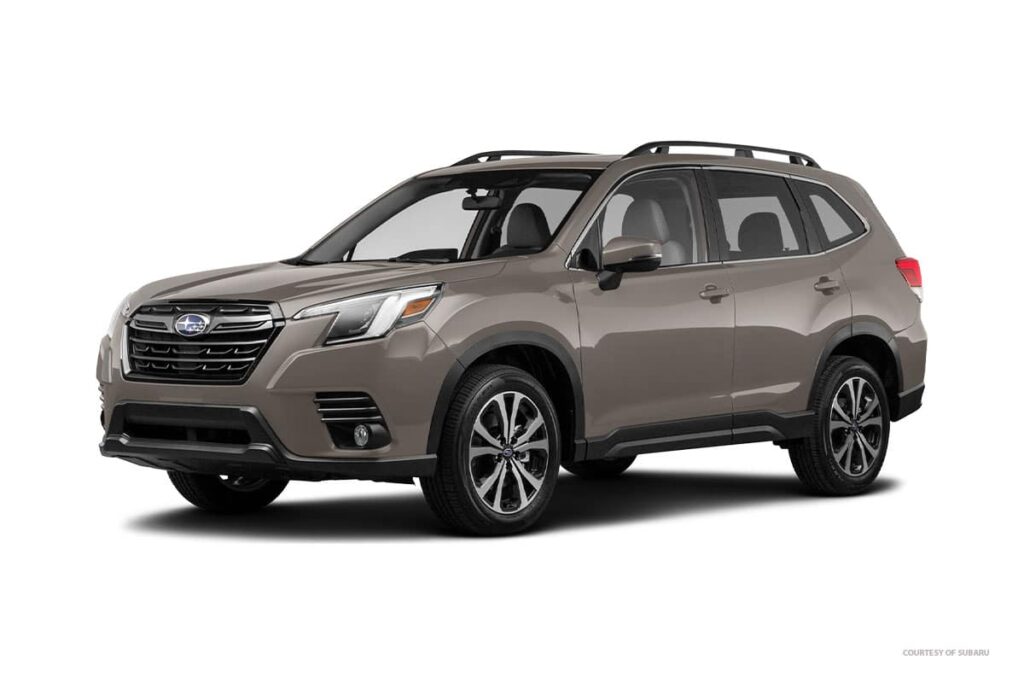 As a relatively affordable SUV, the Forester is spacious, powerful, and ready for long family journeys. The car features a 2.5L Subaru Boxer engine, producing 182 horsepower, although the continuously variable transmission system doesn't make it fit for particularly challenging terrains.
On the inside, the Forester has plenty of room for the entire family, baggage, and additional bits and pieces. The SUV is also equipped with amenities like an infotainment system, heated seats, and driver assistance tech. All this makes it ideal for family vacations.
Best for: Family trips and adventures
10. Honda Accord Sedan EX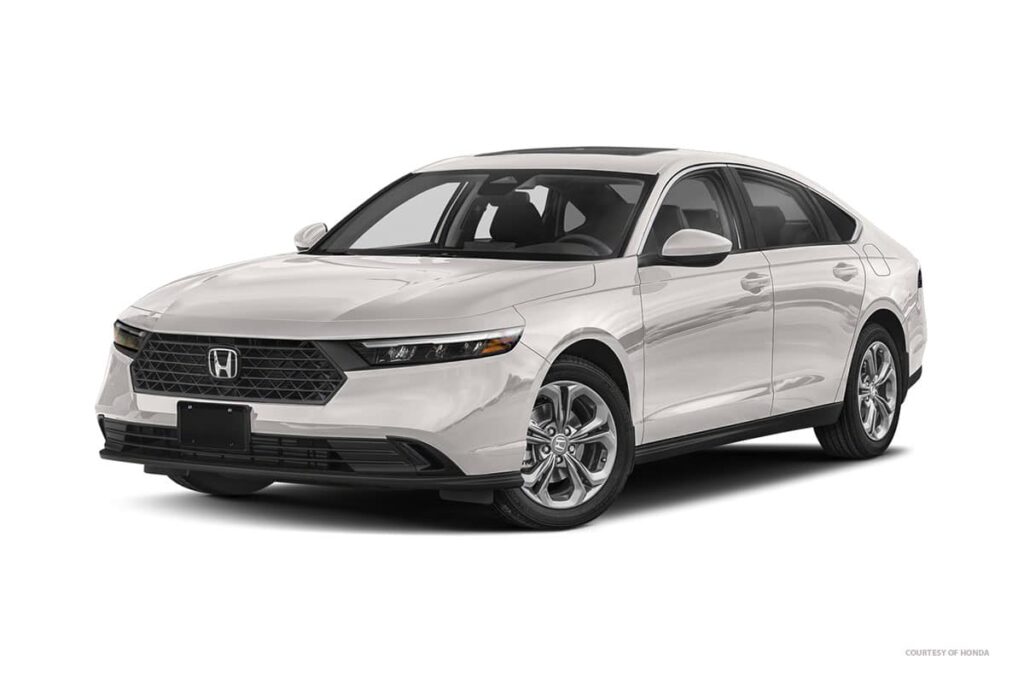 Even before its current redesign, Honda Accord was considered one of the most reliable cars, both worldwide and in Canada. Today, it regularly finds its place on the list of the most respected vehicles in its price range.
Its 1.5L four-cylinder engine can produce 192 horsepower, which is more than enough for reliable and impressive performance. At the same time, its fuel efficiency ensures economical driving, with the car getting 7.3L (city/highway combined) every 100 km. Finally, the Accord Sedan EX comes with three driving modes: Individual, Sport, and Normal.
Best for: Reliability and endurance
11. Toyota Prius XLE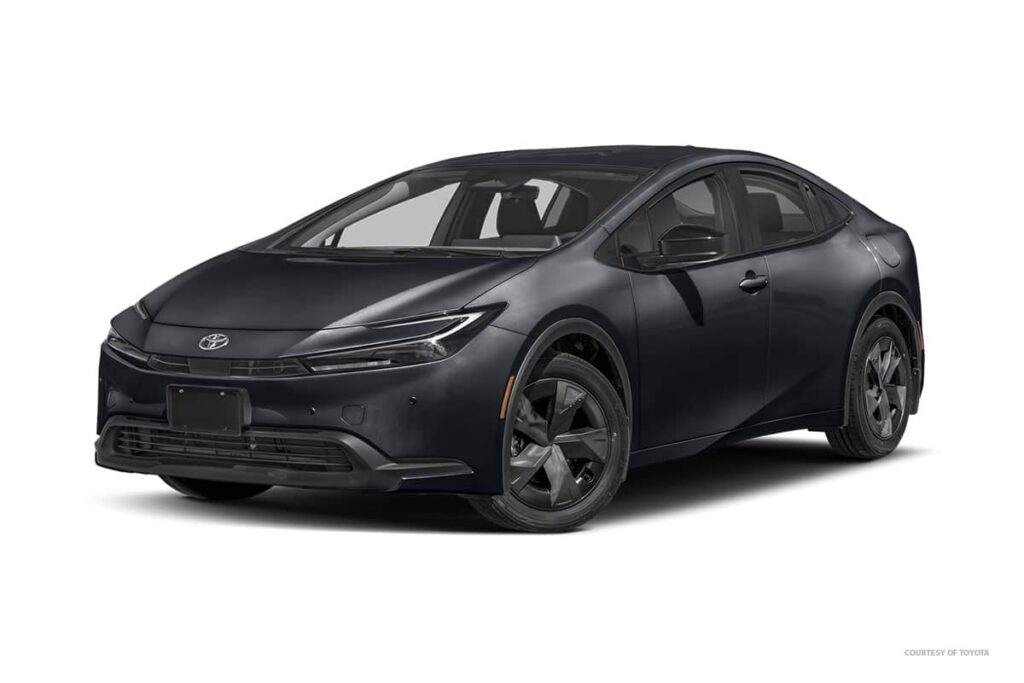 The 2023 Prius XLE is the result of a respectable tradition of more than 20 years. This fifth generation of Toyota's model shows how much progress the manufacturer has made with hybrid vehicles. The all-wheel drive, automatic transmission hatchback has a four-cylinder 2.0L engine and an output of 196 horsepower.
As a hybrid, the Prius is, of course, very economical regarding fuel. In addition, the car handles exceptionally well, owing to pinpoint steering and satisfying, if not top-notch, braking. All these traits combine into a vehicle best fitted for everyday city driving.
Best for: City commuting
12. Hyundai Santa Fe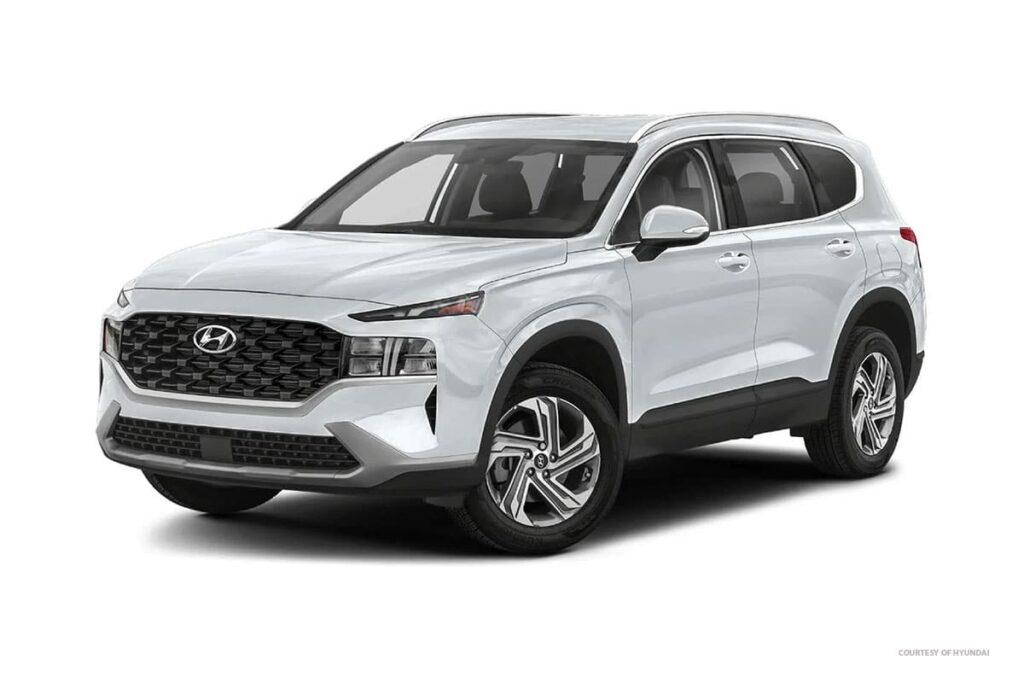 If you need a vehicle that will take care of your everyday needs and still be completely capable of taking you off the regular roads, Hyundai Santa Fe will be the ideal choice. The car has a 2.5L engine that can dish out 191 horsepower, making it fit for any challenge. On the other hand, that power does come at the expense of fuel efficiency, as the Santa Fe has a combined consumption of 10 L/100 km.
This model has an expansive cargo area of over 2,000 litres, which means you'll be able to pack it for long journeys with the whole family. Speaking of which, the Santa Fe is very family-friendly due to its safety features. The car has everything from blind spot detection through driver attention and cruise control to lane, high beam, and parking assist.
Best for: A combination of adventuring and everyday driving
13. Nissan Leaf SV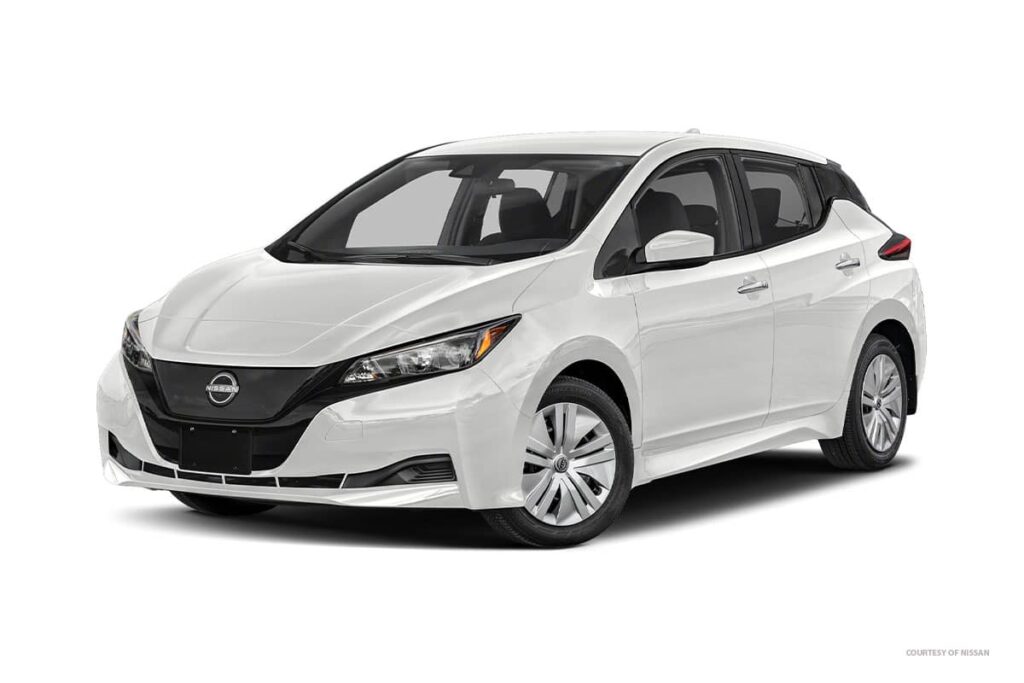 Nissan Leaf SV is a reliable electric car with respectable performance, but one that doesn't go overboard with its capabilities. The latest, refreshed iteration of the hatchback comes with a stock 40 kWh battery with a 240 km range and charges in 40 minutes.  The Leaf is driven by a front-wheel drive automatic transmission.
The Leaf SV's interior features make it an excellent choice for younger drivers. An eight-inch multi-touch colour display highlights the dashboard and lets drivers control the six-speaker audio system. Additionally, this model is equipped with regular safety features to boost security on the road.
Best for: Younger drivers
14. Tesla Model 3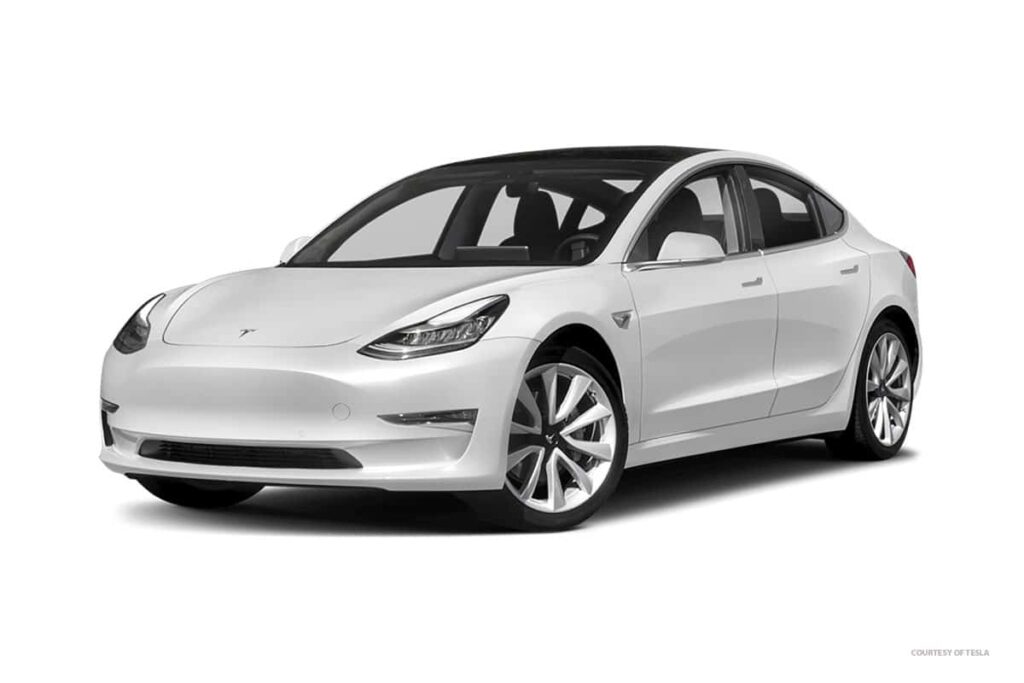 Although we've included several electric cars in this list, Tesla Model 3 is still the best car to buy in Canada in that category. After all, Tesla is a dedicated manufacturer of high-end EVs and, as such, displays the greatest understanding of the technology.
In fact, everything about the Model 3 is made to display the capabilities of electric cars. Its estimated battery range is just over 530 km, and the vehicle can reach 100 km/h in only 4.4 seconds. Furthermore, Tesla Model 3 can develop an impressive top speed of 233 km/h. These performance figures are indeed more fitting for a sports car than what you'd expect from an EV.
Best for: Electric car lovers
15. BMW M3 CS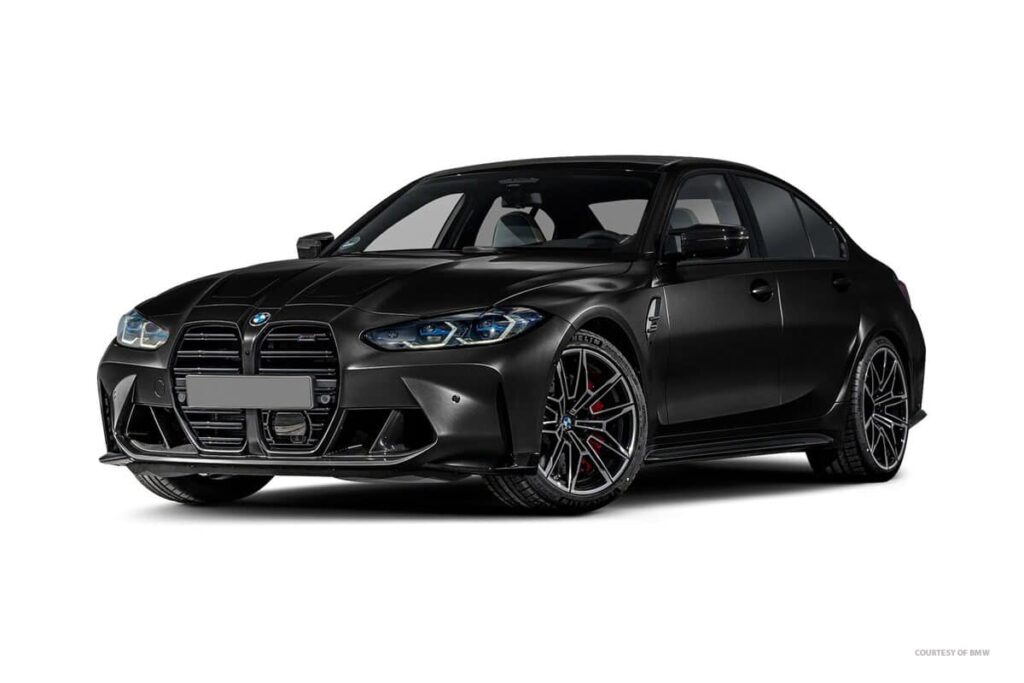 Not including a high-end powerhouse like the M3 CS on this list would be unfair, even though this model stands out in terms of price. With a six-cylinder TwinPower Turbo engine, this car can deliver a breathtaking performance like few models in the market. The astounding 543 horsepower makes the M3 CS a beast, reaching 100 km/h in only 3.4 seconds.
Inside, the car is the picture of sport elegance. It has carbon fibre bucket seats and an eye-catching centre console made to behave as it looks: flawless. The automatic transmission box has eight speeds and is powered by the Steptronic Sport system.
Best for: High-end users in search of top performance
Finding the Best Car to Buy in Canada
If you've set out to find the best car to buy in Canada, we hope this list was of help. We've presented various options, from very affordable everyday vehicles to SUVs and even luxury, high-performance cars.
If you've got a clear idea of how you'll primarily use your car, you'll likely have an easy time picking a favourite from our list. In conclusion, keep in mind that more high-tech cars will probably have specific maintenance needs. Also, keep in mind that particularly powerful vehicles may come with higher car insurance costs, something else to consider before you make the final decision.
FAQs About the Best Cars to Buy in Canada
Which car is the best to buy in Canada?
The choice of the best car to buy in Canada will depend on your needs. However, if we had to go with only one model from our list, we would likely pick either Hyundai Santa Fe or Honda Accord – the former for the exceptional power and performance in its price range and the latter for reliability.
What are the best used cars to buy in Canada?
Toyota and Hyundai have recently topped the lists of best used cars for sale in Canada. Toyota Corolla and Prius are often mentioned in the passenger category, while Hyundai's Palisade and Venue are notable among used SUVs. We should mention Honda Accord here, too, as the car has been famed for its reliability and safety.
What is the best electric car to buy in Canada?
Tesla Model 3 is the most common answer to the question of the best electric car in Canada. However, the famed EV manufacturer is far from the only player in the electric car field today. Other notable battery-powered cars today include Nissan Leaf, Kia EV6, and Hyundai Ioniq EV. If you're looking for higher-budget options, the list expands to heavy hitters like Tesla Model S, MBW i3, Mercedes EQC, and Jaguar I-Pace.
What is the best small car to buy in Canada?
Toyota Corolla, Honda Civic, and Hyundai Elantra. Scour the internet for lists of the best compact cars in Canada, and these three names will pop up constantly. It's worth mentioning that the same vehicles are often listed as the most reliable vehicles in the lower to mid-price range.