The 10 Best Car Snow Shovels Strong Enough for Canadian Winters
If only you lived in California, snow would never be a problem for you or your car.
But you don't get the year-round Cali sunshine. You're a Canadian, and snow is part of the territory no matter where you live in the country. Just look at Toronto: 44.6cm of snow in March 2023 alone!
It's a tale you see across almost all Canadian cities, and it means one thing for drivers – you need a good car snow shovel to dig your vehicle out so you can get on the road. That's where this article comes in. Read on to discover 10 of the best shovels you can find in Canada.
72 HRS Collapsible 3-in-1 Shovel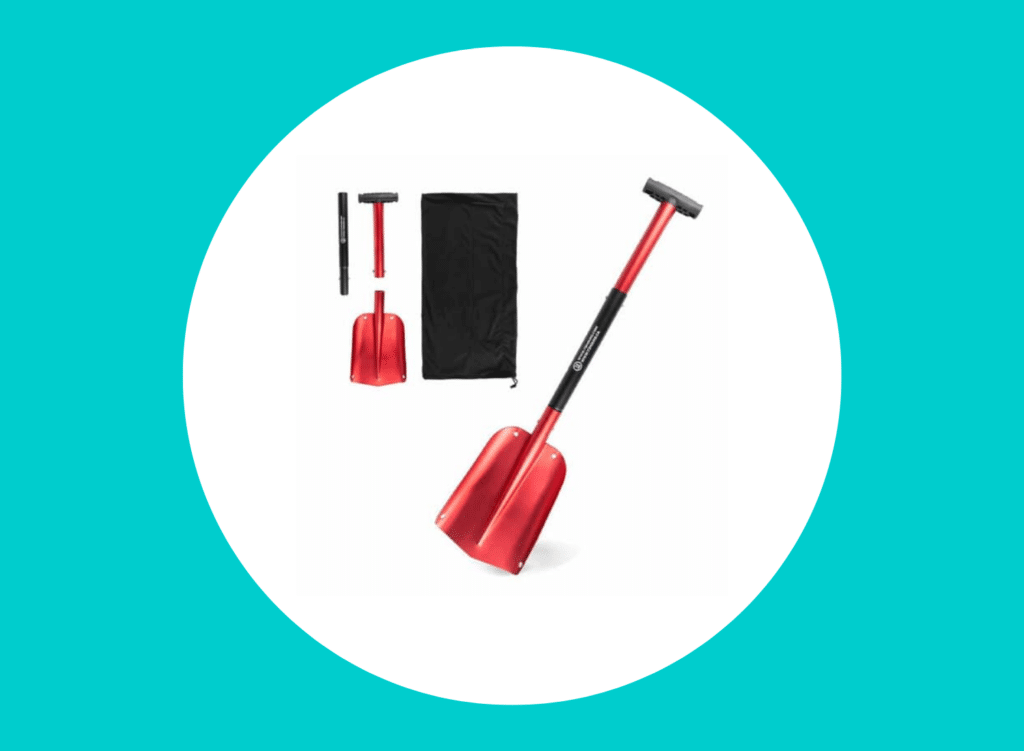 Portability is such a big concern when it comes to your car snow shovel. You want something that's tough enough for the job, but you don't want to sacrifice too much trunk space to keep it. With this 72 HRS shovel, you don't have to. Its collapsible construction means you can pull it down to just 53cm – an easy fit for most trunks.
Don't worry if you need some leverage to handle heavy snowfalls, though. The shovel extends to about 81cm thanks to a handy aluminum bar, making it easy for you to lever snow out. The drawstring bag for storage is the icing on the shovel cake. However, the collapsibility means some toughness is sacrificed, so the shovel may struggle if it hits dense snow or mud.
Amazon Rating: 4.5/5
Price: $44.99
ADTSADDTO Folding Survival Shovel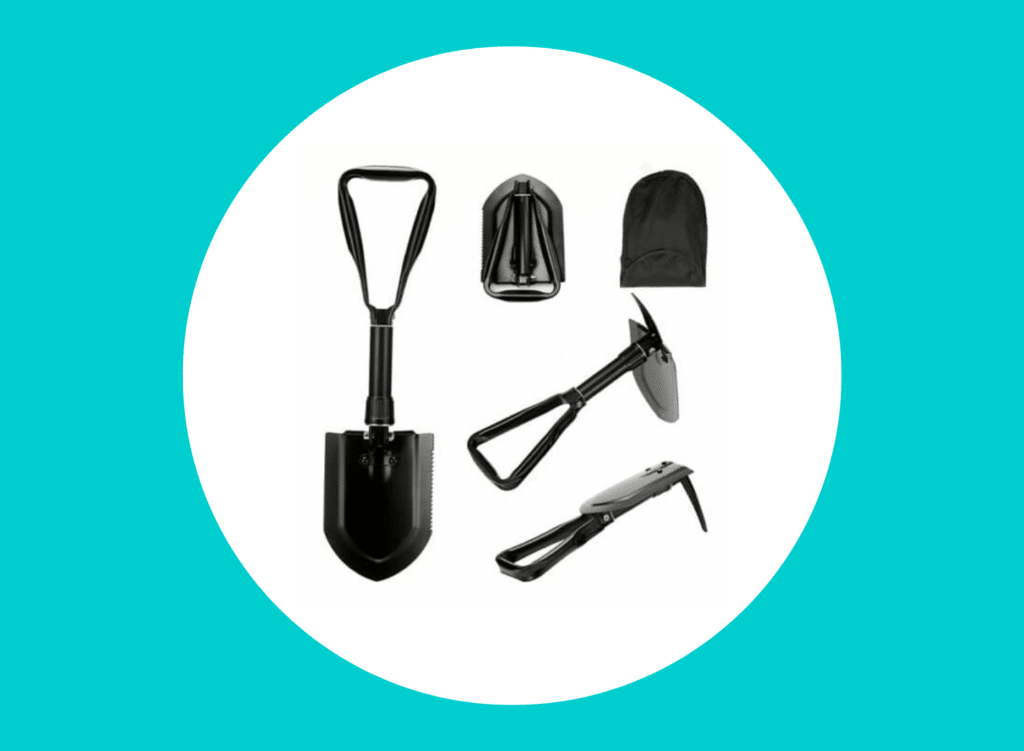 Compact and sturdy.
Those are the two adjectives best used to describe ADTSADDTO's folding shovel, which combines a short 25cm length with solid carbon-steel construction to tackle tough snow.
Take a look at the shovel head and you'll see it's more than initially meets the eye. A serrated edge on one side means you can use the shovel as a saw – ideal if you have to deal with tree branches or other winter hazards blocking the road. The slight flatness of the shovel means snow scooping isn't as easy as you may like, but other than that it's a great emergency option.
Amazon Rating: 4.5/5
Price: $22.99
Lifeline 4004 Aluminum Shovel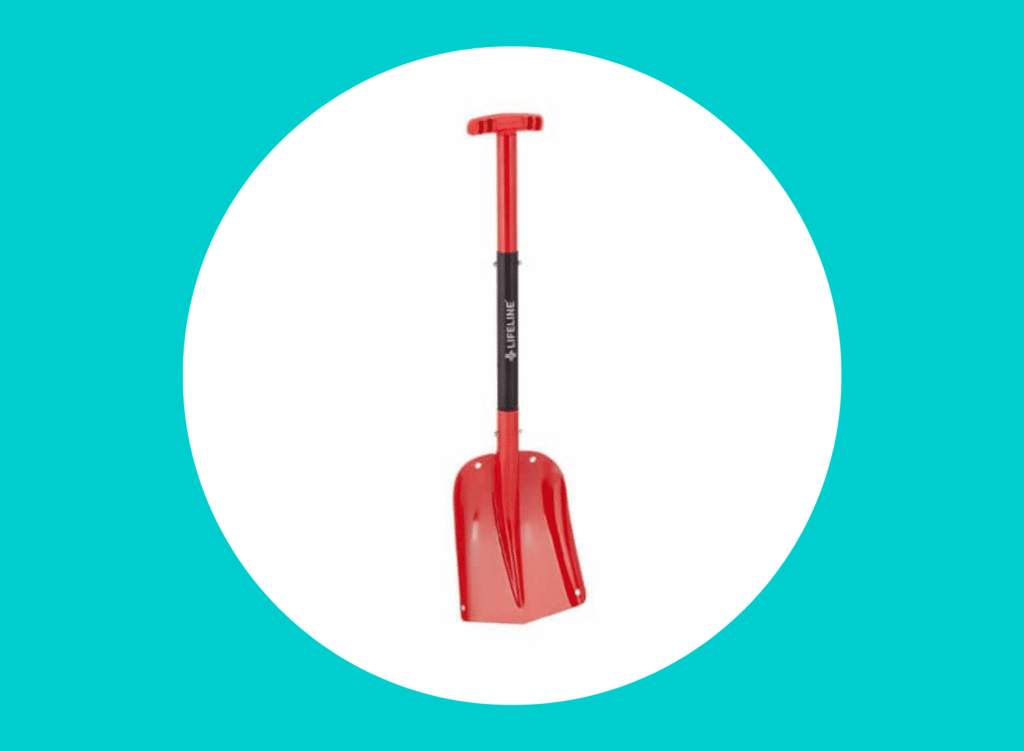 With its striking red colouring (don't worry – you can change it to one of seven colours if red isn't your thing), Lifeline's shovel certainly stands out. It's cleverly designed, too, with its three-piece construction allowing you to adjust the handle length up to 81cm, in addition to making storage simple.
Its lightweight design means it weighs just over a pound – perfect for keeping your arms from getting tired when you're shovelling. The slight rattle when in use can be a bit distracting, but this doesn't seem to affect the shovel's durability.
Amazon Rating: 4.5/5
Price: $60.75
FSDUALWIN Multifunctional Shovel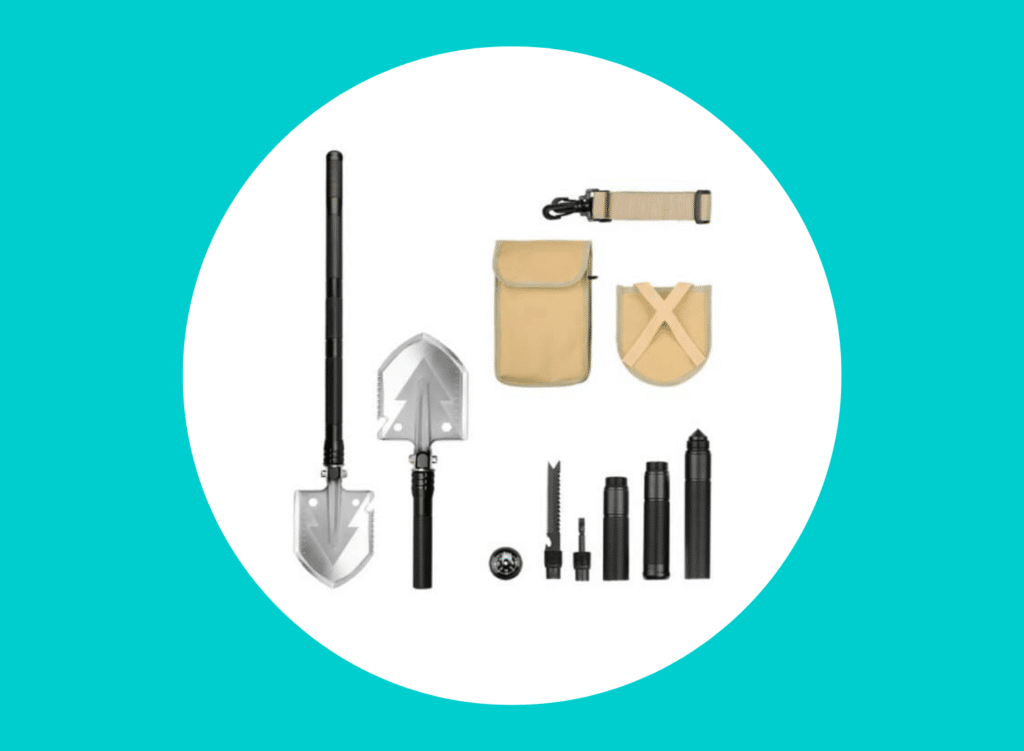 Sometimes, you need more than just a shovel to dig your car out of a winter jam. FSDUALWIN provides a shovel that is as much multitool as it is snow-scooper. Along with the extendable shovel, you get a hammer, screwdriver, and knife, all of which you can attach to the handle.
Special mention goes to the shovel head – it's shaped like an ancient halberd, giving it a cool factor you don't get with most car snow shovels. A mix of aluminum alloy and stainless steel keeps rust at bay, and the lifetime guarantee ups your confidence in its performance.
Amazon Rating: 4.2/5
Price: $42.99
ORIENTOOLS Folding Shovel with D-Grip Handle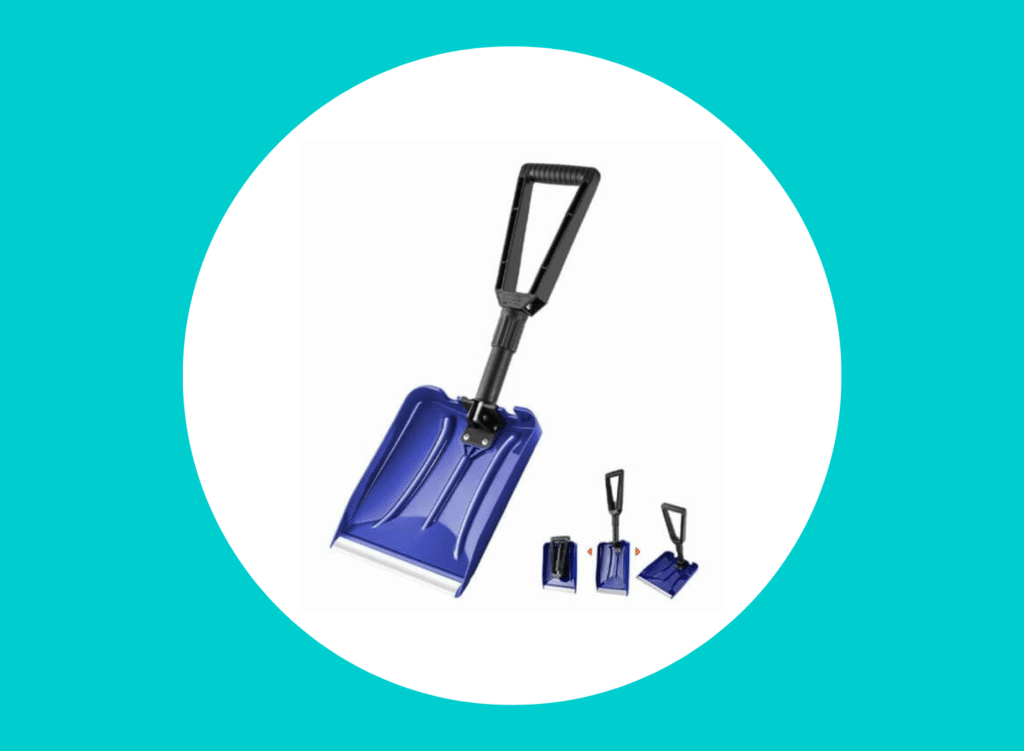 The D-Grip handle is the standout feature of the ORIENTOOLS car snow shovel. It's strong enough to help you get some real purchase when you're digging through compacted snow, as well as being wide enough for larger hands. And as a bonus, the D-Grip acts as an impromptu hook if you want to hang the shovel in your garage.
The aluminum edge on the shovelhead is a nice touch, too, as it provides clean "cuts" through snow as you shovel. Unfortunately, the handle does have the occasional habit of loosening during use.
Amazon Rating: 4.2/5
Price: $58.56
BOYISEN Portable Shovel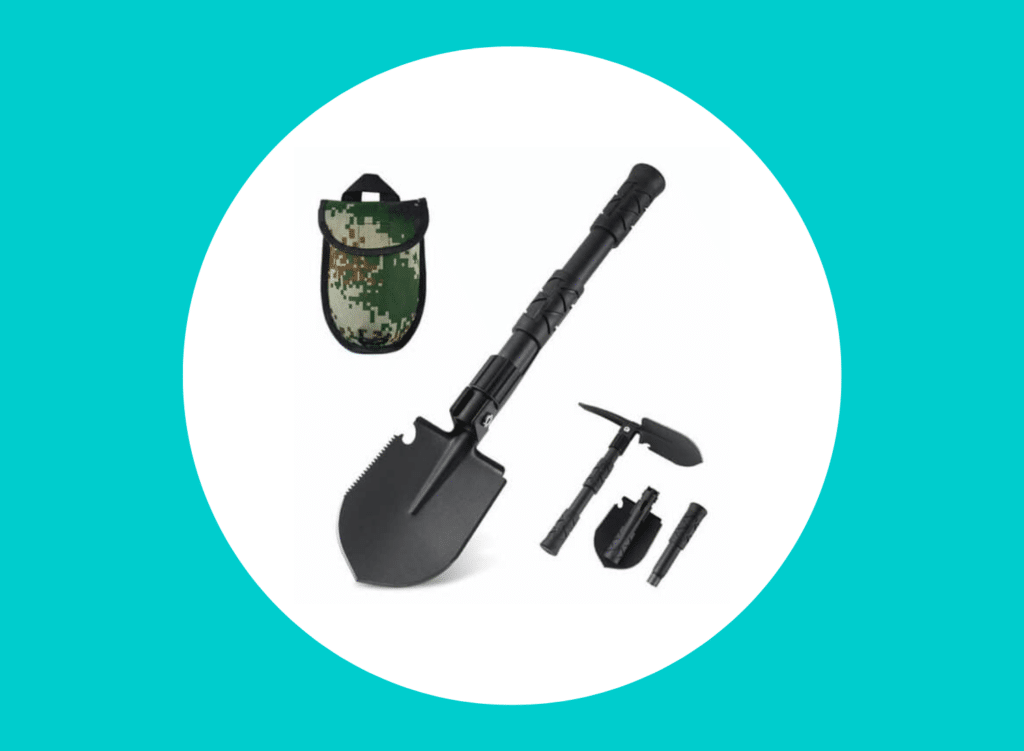 Marketed as a "survival shovel," BOYISEN's tool comes with a small shovelhead that's great for digging out small patches of snow if you're in a bind. But it's the array of other tools that come with it, namely a pickaxe and serrated edge that doubles as a saw, that stand out. Both can help if you're dealing with dense clumps of snow or other fallen objects, like tree branches.
The little carry case, combined with the shovel's small size, means you can fit it anywhere in your car. Of course, it's not great for huge swathes of snow – the shovel isn't quite big enough – but it'll work well as a quick and easy emergency option.
Amazon Rating: 4.1/5
Price: $23.99
VViVid 3-In-1 Snow Shovel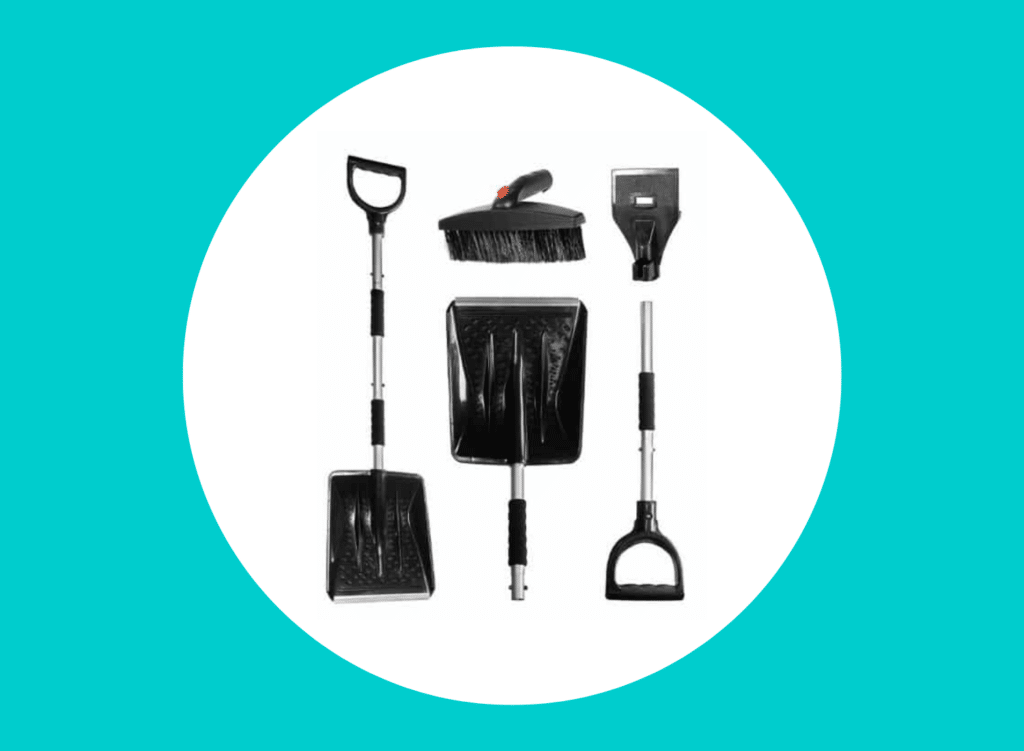 It's not just snow you have to worry about when it comes to your car. Ice can be a major problem, too, and it's in dealing with that problem that VViVid's multi-purpose car snow shovel makes the list.
Yes, you get a shovel, which is made using aluminum and has a wide enough shovelhead to scoop away huge amounts of snow per swing. But it's the attachments that make this one stand out. The ice scraper slots straight onto the shovel's handle – perfect for reaching the middle of your windscreen to get rid of all of the ice. Switch that scraper out for the brush and you can get rid of residue so you have a clear view of the road when driving in winter.
Amazon Rating: 4.0/5
Price: $19.99
Greenworks PRO Cordless Snow Shovel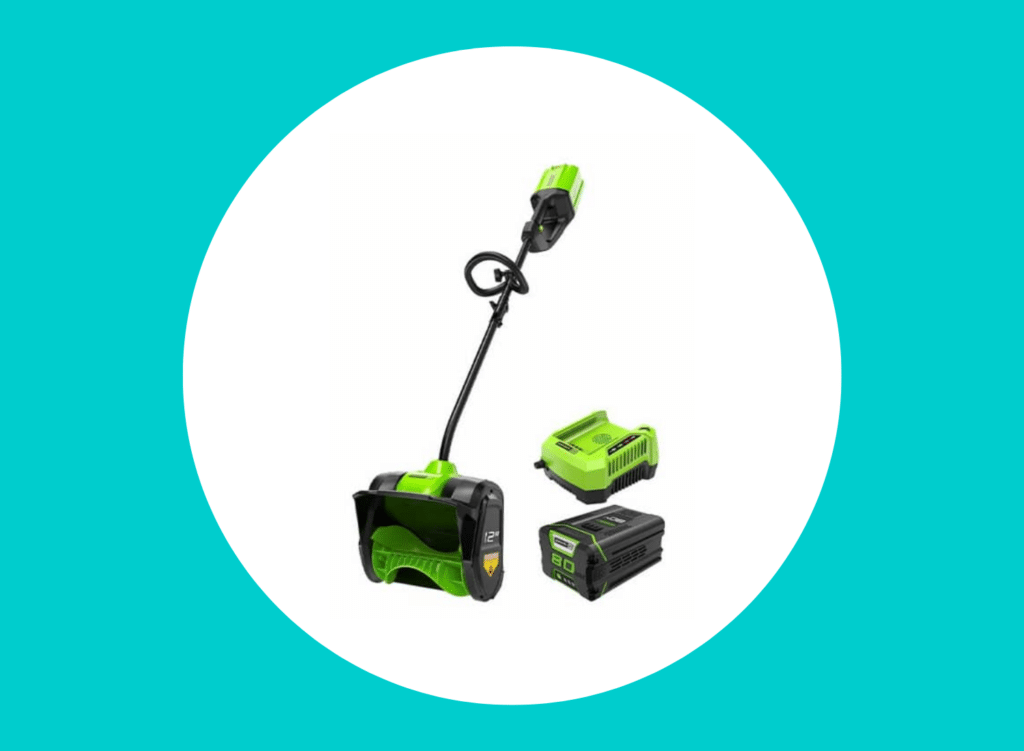 Let's make one thing clear immediately – this isn't the car snow shovel for you if you just need something quick and easy to dig out a little snow.
Greenworks PRO cordless shovel is an electrifying shovel that's designed to get rid of a lot of snow fast. It can handle up to 15cm of snow, clearing a 30 cm-wide path in the process, and all it needs is a little push from you.
The price is obviously an issue. At nearly $500, this is as expensive as car snow shovels get. But if you're clearing a lot of snow every day, this 80-volt shovelling machine saves tons of time and can handle dense snow.
Amazon Rating: 4.0/5
Price: $499.99
Yukon Charlies Collapsible Shovel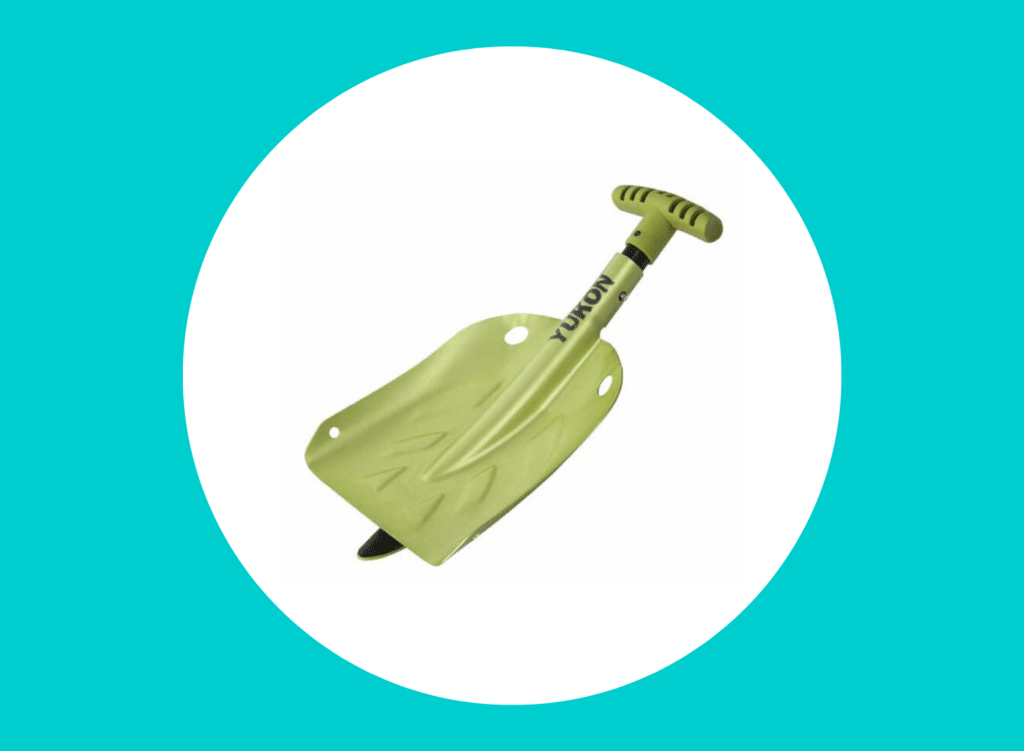 There are collapsible shovels and then there's the Yukon Charlie. Its clever design means the entire handle collapses in on itself, allowing you to shorten it right to the base of the shovelhead without removing any parts. The upside of that feature – there's no chance of losing a handle extender, as you might with other collapsible shovels.
It collapses to 33cm at its smallest (short enough to fit in any trunk), with the full handle extension making it a touch over 75cm. We particularly like the ABS handle, which prevents slick hands from slipping if you end up shovelling for a long time.
Amazon Rating: 4.0/5
Price: $98.55
NOSTIFY Emergency Snow Shovel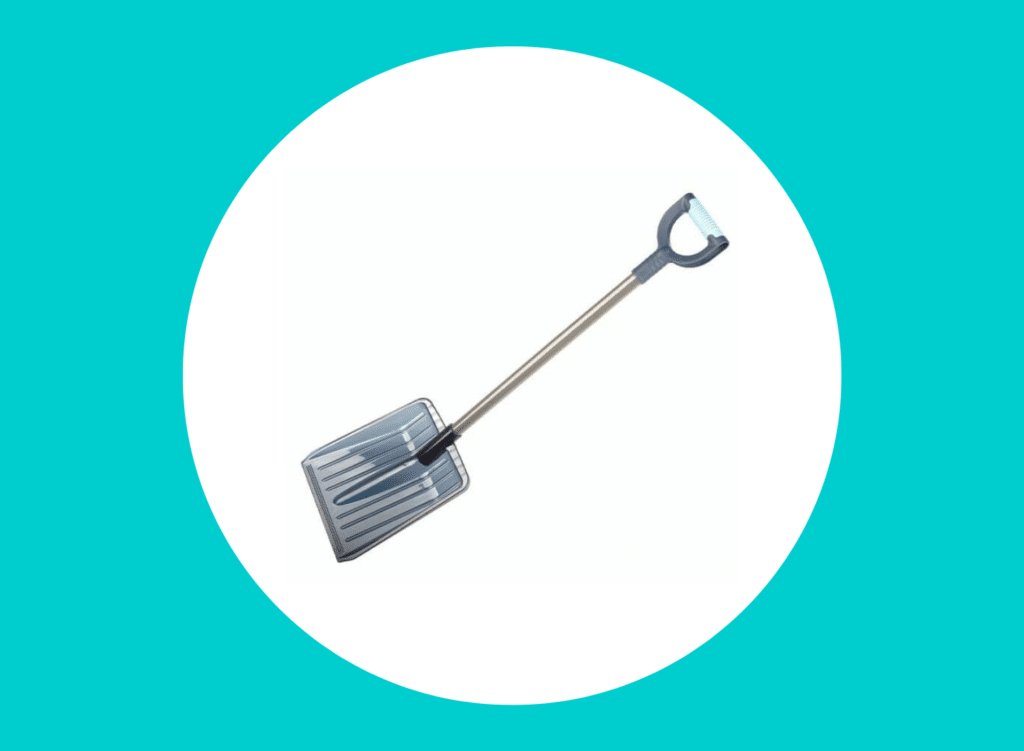 Size is the big draw that NOSTIFY's car snow shovel brings to the table. The 115cm handle gives you plenty of leverage, which when combined with the wide shovelhead means you can push under and then lever out huge chunks of snow at once.
Granted, that massive handle means it's not the most portable of snow shovels. You may even have trouble fitting it into your trunk. But as a shovel to keep at home so you can dig yourself out of the snow before you head to work, it's a solid option.
Amazon Rating: 3.9/5
Price: $29.99
Shovel the Snow in Style
Nobody enjoys shovelling snow.
But with one of the 10 shovels you've discovered here, you can at least make the task a little easier. And who knows? Perhaps the multitool variations some of these shovels offer will make your winter journeys even safer.
As always, think about your own needs (and the volume of snowfall you experience) when making your choice.