The 13 Cheapest Cars in Canada for 2023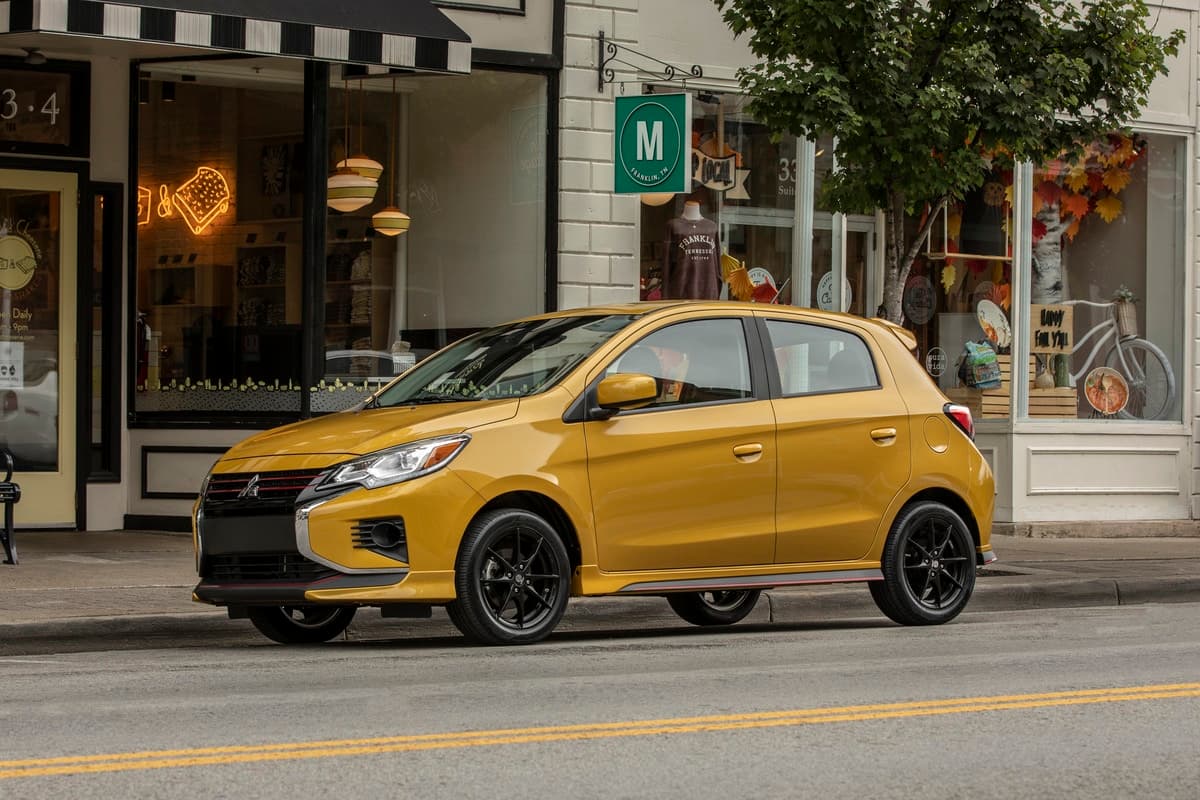 Buying a new car is often a tough financial decision. Opting for a luxury vehicle with all the features you've dreamt of is, unfortunately, not viable for some without overburdening a tight budget. But being too restrictive about how much you can spend can make the choices too narrow.
The good news is that you don't have to sacrifice comfort, space, features, or the joy of the ride while also minding your budget. In fact, some of the cheapest cars in Canada also offer excellent quality in terms of design and performance.
Choosing a more affordable car comes with several advantages. Saving money during the purchase is the first and most obvious, but this benefit also extends to your car insurance. You may be able to get a cheaper policy for a car with a lower market value, which will reflect favourably on your weekly and monthly budget.
To check out whether and how much you can save while getting decent coverage, go through our list, then try comparing car insurance prices in your area for the specific car model you have in mind. You may find some enticing offers that will make the vehicle purchase even more worthwhile.
But before you go shopping for policies, let's look at the cheapest cars in Canada for 2023.
The Cheapest Cars in Canada
When we considered cars for this list, price wasn't the only criterion, although we were guided by budgetary concerns. We also looked for vehicles that provide the most comfort and the best possible performance. And, of course, all the prices listed here are for new cars – we didn't include used vehicles.
You should also note that the listed car costs are for the province of Ontario. Prices in your local dealership area may vary, although we're certain the values provided in our list will serve as a reliable guideline.
1. Mitsubishi Mirage – Starting at $14,298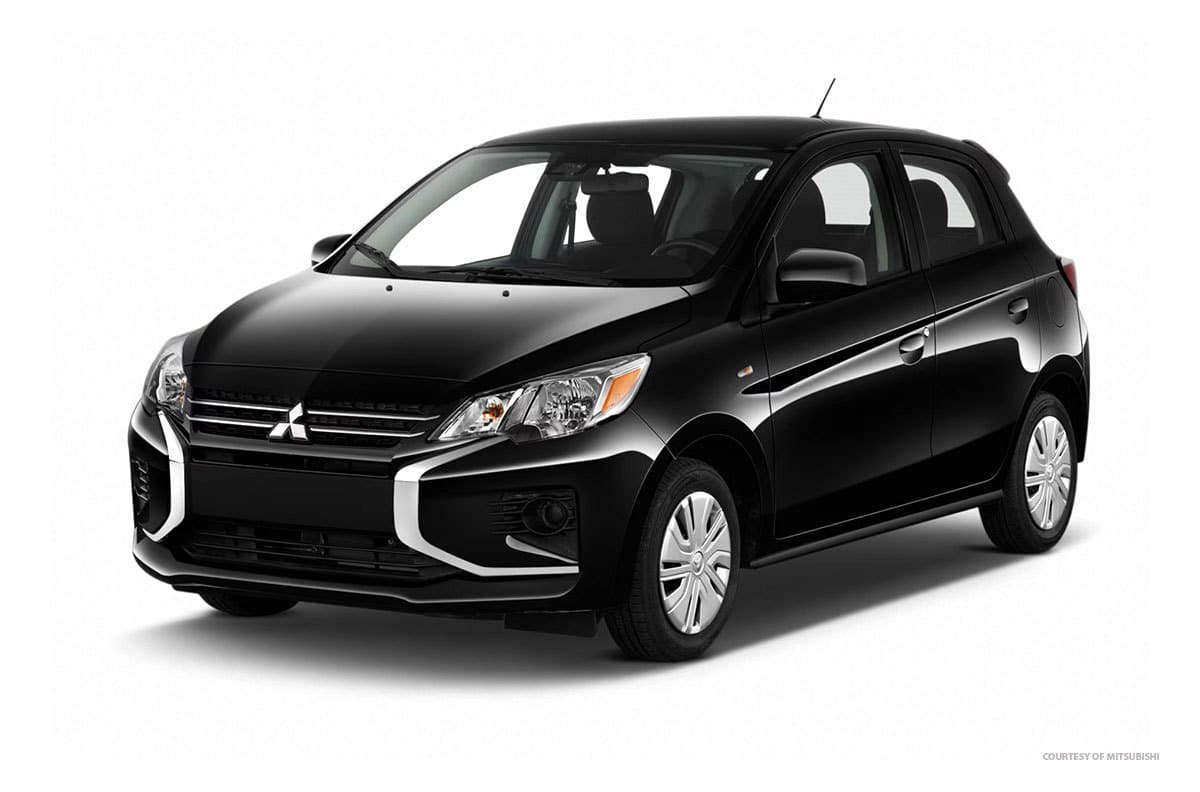 Search any list of the most economical cars in Canada, and Mitsubishi Mirage will probably be there. One look at this car's specifications, and it will become clear that a low price isn't its only redeeming quality. In fact, the Mirage is much more than just cheap – it's a genuinely decent car.
The first thing that high-octane lovers might notice is the Mirage's small engine. With three cylinders, a 1.2L capacity, and a total of 78 horsepower, this car may seem more like a toy than an actual vehicle. However, that's only what the numbers tell you. In practice, Mitsubishi Mirage is very agile and can be a lot of fun. You can feel the control and manoeuvrability that the car partially owes to the front-wheel drive.
The base model comes with a manual transmission with five speeds. Included in this variant are Bluetooth, hill-start assistance, automatic air conditioning and headlamps, and more. Of course, additional equipment is available, and you could pay extra to get a model with a continuously variable transmission.
2. Kia Rio – Starting at $19,933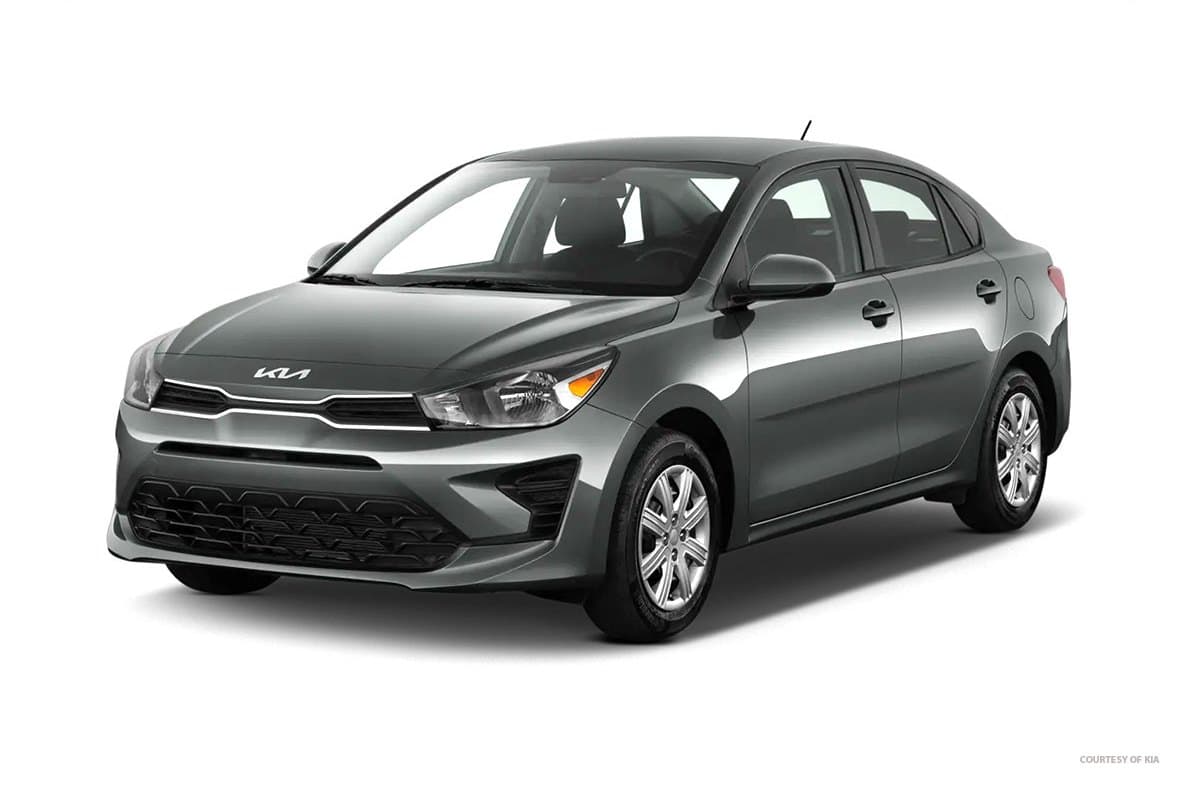 No 2023 list of the cheapest cars in Canada could get by without including Kia Rio. The front-wheel drive vehicle is designed for people who want a reliable ride that won't cost them a fortune. And with an I4 1.6L engine producing 120 horsepower, the Rio will deliver better-than-expected results.
The list of features that come with the standard trim is considerable. The basic steering wheel is wrapped in leather and the front seats are heated. Better yet, Kia Rio has several wireless built-in technologies, including Android Auto, Apple CarPlay, and Bluetooth. And if you're a music lover, you'll be delighted to hear the car's six-speaker system in action.
The Rio is a manual transmission vehicle with six speeds. The transmission system alongside the 113-pound-feet torque makes the car handle very well. If this sounds like your kind of ride, the price of $19,933 for a new 2023 model might sound like a bargain.
3. Nissan Versa – Starting at $22,353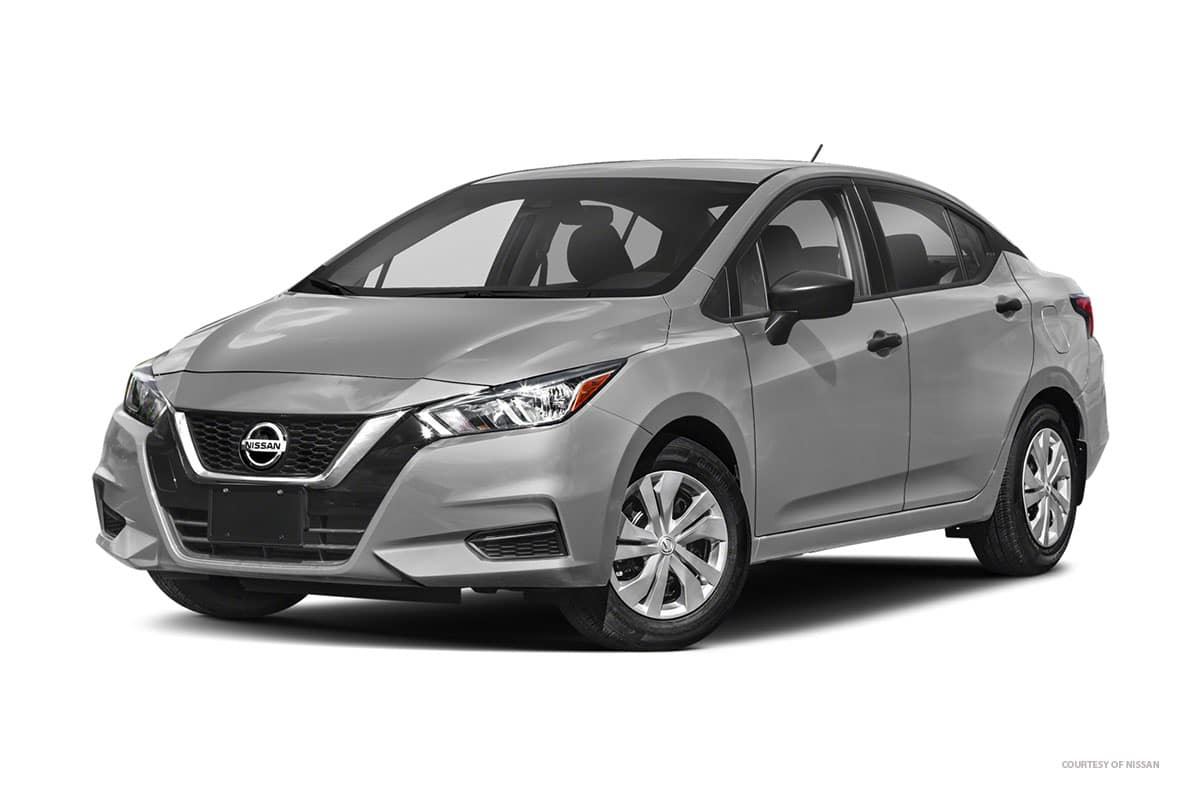 With the Nissan Versa, we have a strong contender in the cheapest cars in Canada category. And as is the case with all entries on our list, the Versa has more going for it than a low price. The list of advantages starts with the engine, built with four cylinders and a 1.6L capacity. It produces 122 horsepower – more than enough to handle all your needs.
The five-speed transmission is of the manual type, at least in base trims. The standard build also lacks features like Android Auto and Apple CarPlay. However, what you get with the basic build is quite valuable. Some of the safety features in the Versa are auto rear brakes, high-beam assistance, collision warning, rear camera, and lane warning.
In addition to superior safety, Nissan Versa boasts a neat infotainment setup. It consists of an AM/FM system with four speakers and a seven-inch touchscreen. The best part is that all this equipment, packaged in a reliable sedan shell, can be bought for a little more than $20k.
4. Hyundai Elantra – Starting at $22,955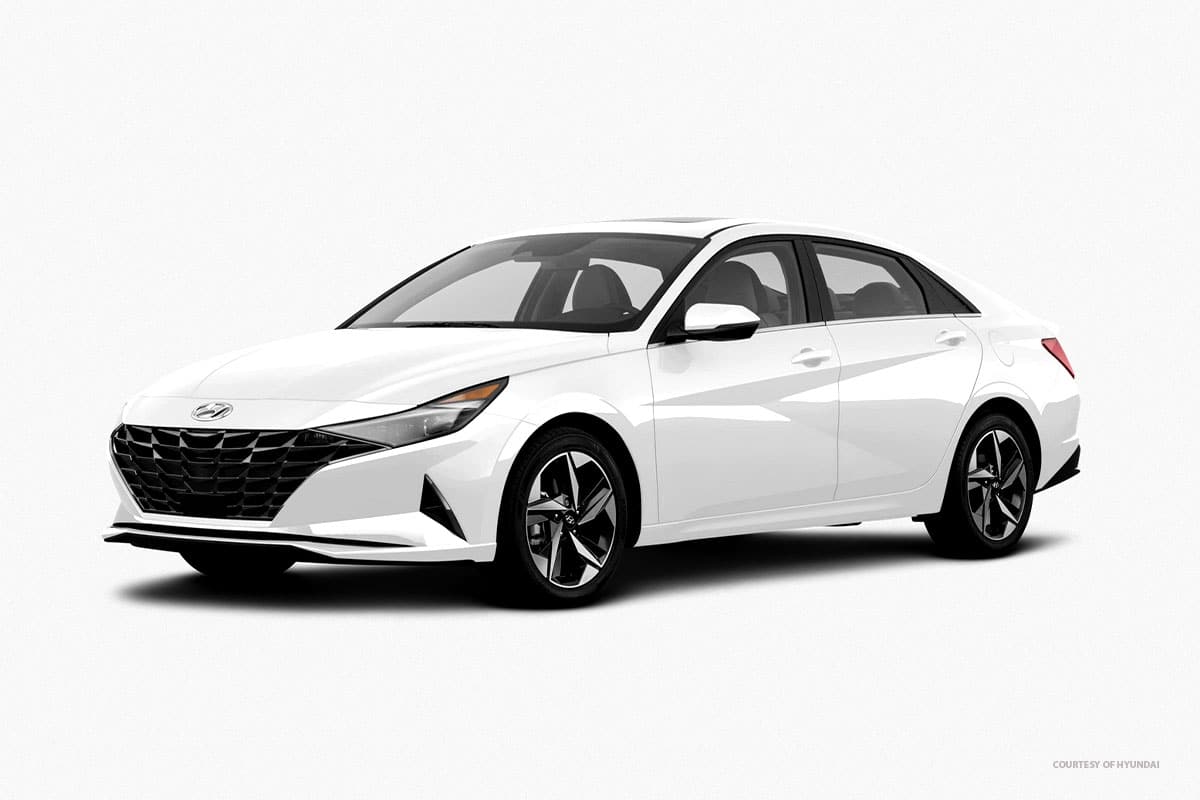 Do you enjoy the idea of an affordable vehicle that's also a sports car at its core? If the answer is yes, you shouldn't miss checking out Hyundai Elantra. This is a sedan that only barely resembles your standard family car. Under the hood, the Elantra hides a 2.0L engine, providing an enviable output of 147 horsepower.
But with this model, it's not all about how much power it can produce. The sedan also provides plenty of quality-of-life improvements. Inside the cabin, you'll find a multimedia system including Bluetooth, Android Auto, Apple CarPlay, an eight-inch touchscreen, and an audio setup with six speakers.
In terms of performance and safety additions, the basic Elantra trim has continuously variable transmission, emergency braking, lane assist, pedestrian detection, and driver attention assistance. Best of all, you can get your hands on a 2023 Hyundai Elantra with all the mentioned features for only $22,955.
5. Nissan Sentra – Starting at $23,103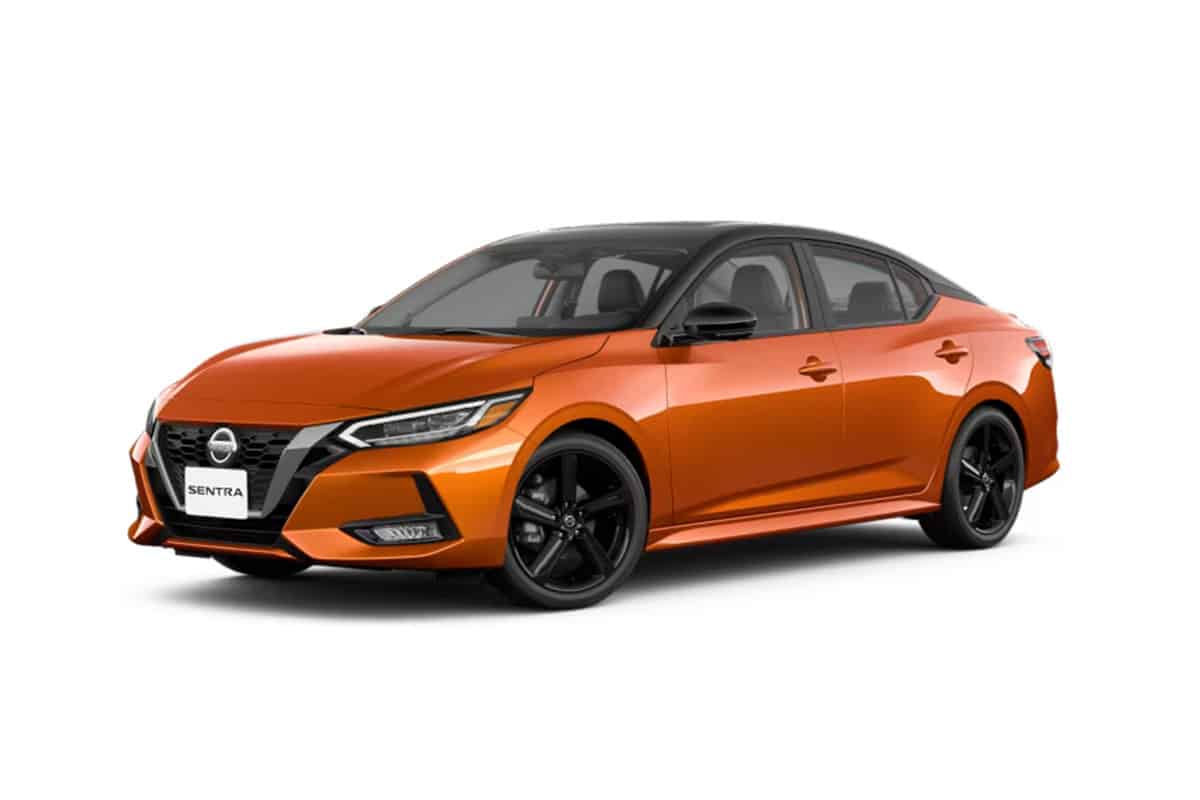 A compact sedan, the Nissan Sentra represents a good balance between reasonable pricing and comfort. The four-door Sentra may be an ideal choice for families as well as those who want a slick solo ride. Simply put, versatility is the name of the game for this sedan.
When it comes to performance, Nissan Sentra is quite formidable. Its 2.0L engine produces 149 horsepower via its four cylinders. The transmission is manual with six speeds. Inside the cabin, the infotainment system consisting of Android Auto, Apple CarPlay, and Bluetooth, will keep you entertained while cruising.
Extra amenities include keyless entry, front seat heating, a seven-inch touchscreen, and a push-button starting function. In addition, the Sentra boasts certain safety improvements rarely seen in its price range. For instance, the car has front and rear emergency braking, cross-traffic rear alert, and a blind-spot monitor.
6. Kia Forte – Starting at $23,183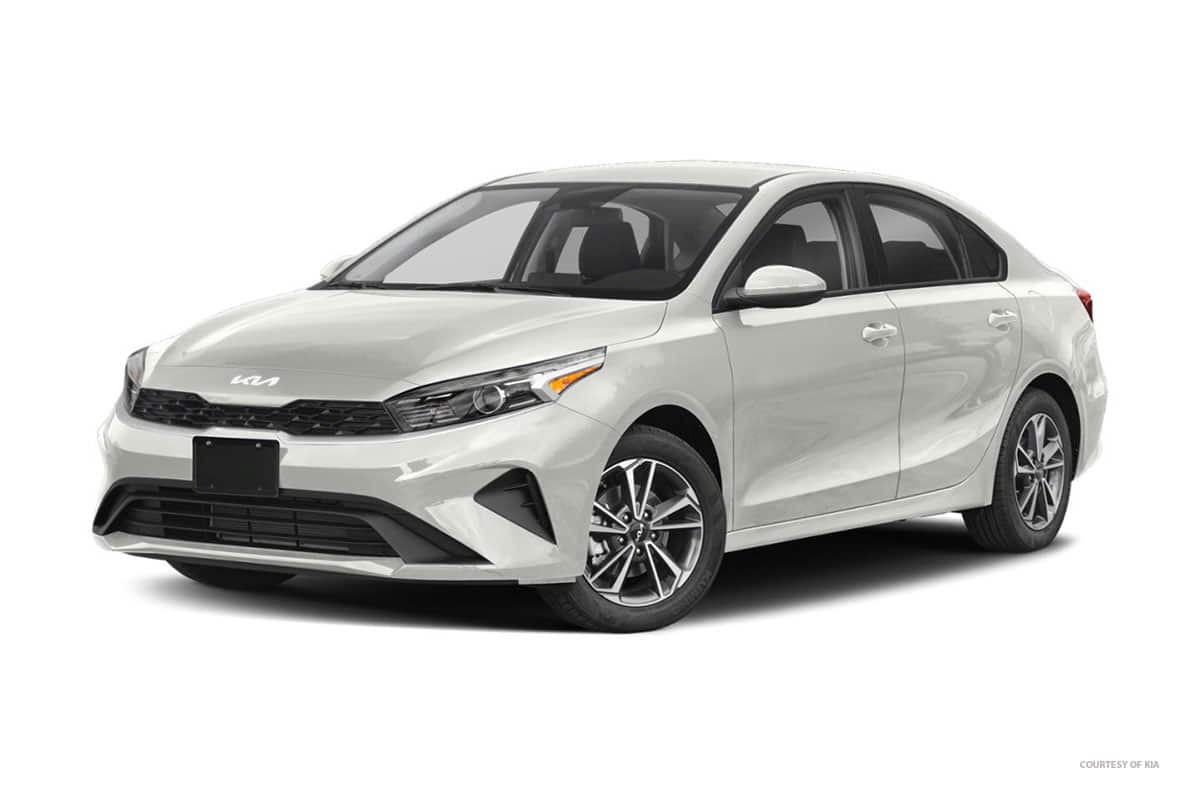 The Kia Forte is most comparable to a previous entry, Hyundai Elantra. The two cars have plenty in common, including some of their main features and, of course, the price range. The two main reasons why we're including the Forte LX in this list are for variety's sake, and because Kia managed to roll out this model with a slightly higher price tag compared to the Elantra.
With an I4 2L engine producing 147 horsepower, Kia Forte has more than enough power to handle what and whoever you pack inside. And with the front-wheel drive and continuously variable transmission, this model will traverse most terrains with relative ease.
You won't lack in the infotainment sector, either. The Forte comes with all the bells and whistles that customers have come to expect from decent sedans in this category. Safety features are also present, including lane and blind-spot assistance, to mention a few.
7. Hyundai Venue – Starting at $23,305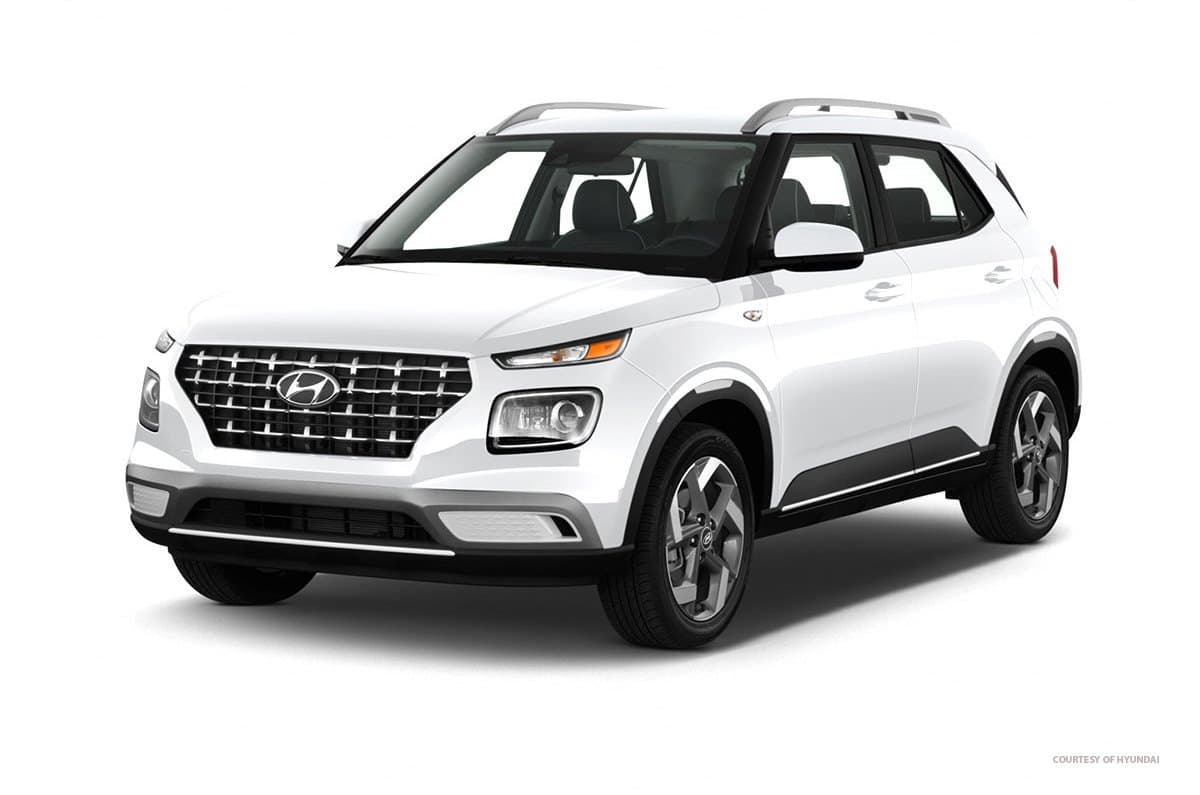 Now we want to show you that a full SUV can be a viable, reliable, and affordable option. And you'd be hard-pressed to find a better example of these claims than Hyundai Venue.
This SUV features a compact design combined with a 121-horsepower, 1.6L engine. The smaller dimensions of the vehicle provide an agile performance and reliable control. If you love manual transmission, though, you'll be a bit disappointed, at least initially. The 2023 model of the Venue comes exclusively with a continuously variable transmission.
Seeing what's inside the cabin will seal the deal for many. Hyundai Venue standard models come with front seat heating, Bluetooth, Android Auto, Apple CarPlay, a quality audio system, and a control console touchscreen with an eight-inch diagonal. Plus, your rides will be safer with gear like lane assist, emergency auto brakes, a rear camera, and auto high-beam lights, to name a few.
8. Mazda Mazda3 – Starting at $23,350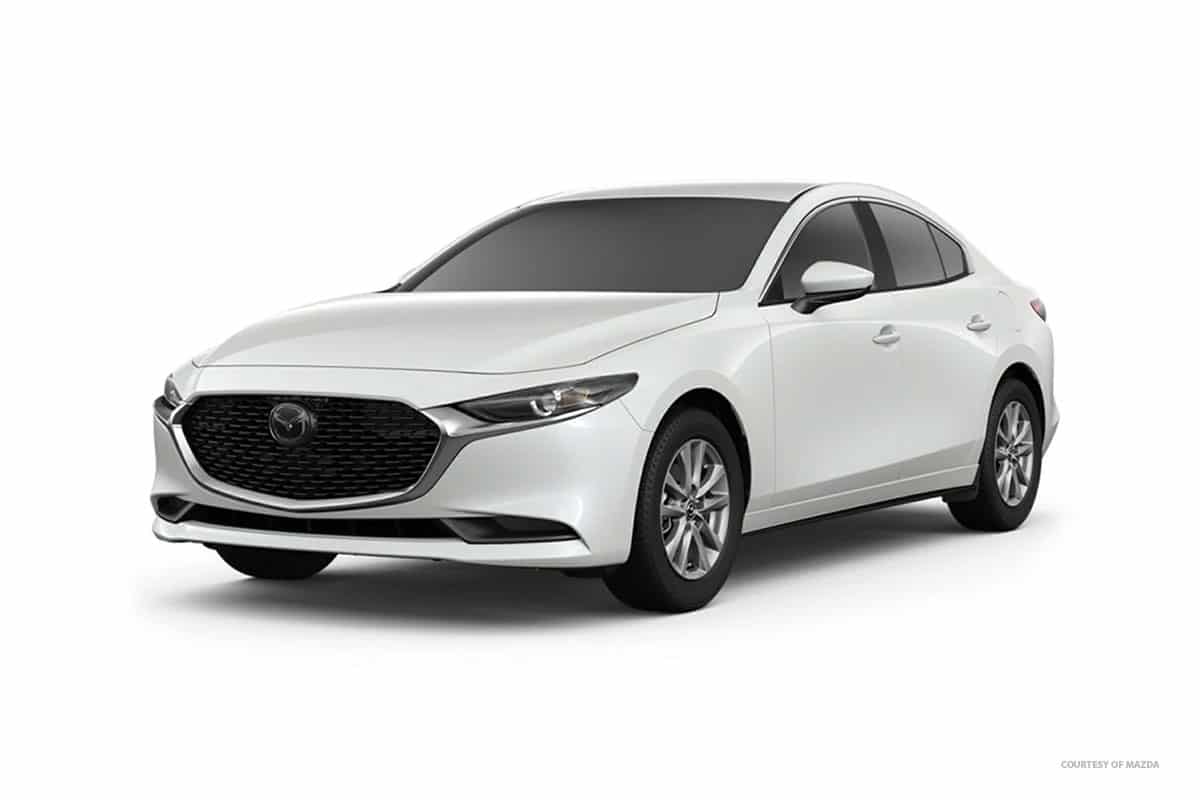 If you're wondering whether the cheapest cars in Canada can also be stylish and filled with advanced features, the Mazda3 is a resounding yes. This affordable sedan boasts a look that visually distinguishes it from most options in the same price range. It's minimalist and clean, leaving the impression that every edge and curve was placed with purpose.
The Mazda Mazda3 includes high-end features like keyless entry, blind-spot assistance, LCD meters, power windows, a cross-traffic alert system, and a push-button start. Of course, this isn't all – there are also eight speakers inside, hooked to a roaring audio system, as well as an 8.8-inch touchscreen.
With 155 horsepower, courtesy of a four-cylinder 2.0L engine, the Mazda3 also doesn't lack power. You can drive it using the basic manual six-speed shifter, or upgrade to automatic. Either way, the control and agility will always be on par.
9. Subaru Impreza – Starting at $23,295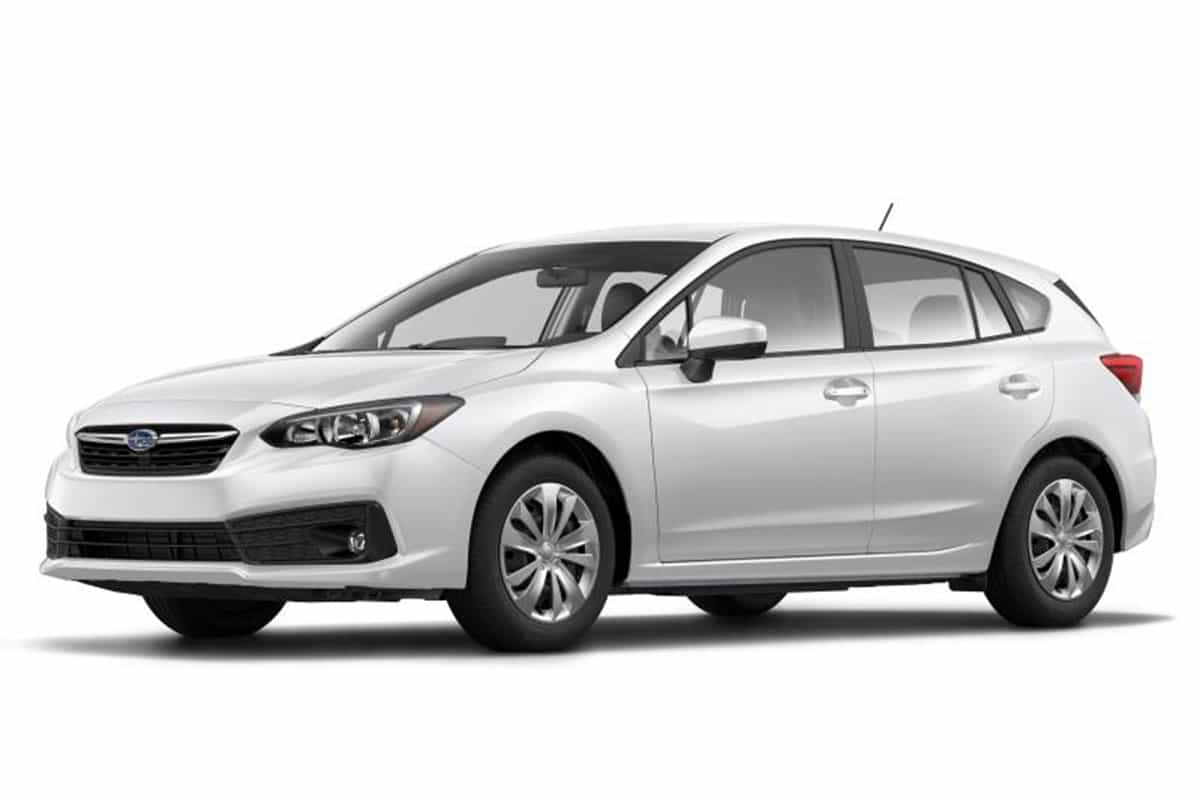 When you want style and elegance paired with respectable performance, Subaru Impreza will be an excellent choice. The car performs great in all weather and is known as a manoeuvrable vehicle, powered by a 152 horsepower, 2.0L engine.
It's worth mentioning that the sedan model is discontinued and the new Impreza will be available as a hatchback. The transmission is continuously variable, making the driving experience even more comfortable. Adding to the comfort is the relatively spacious cabin with cozy seats.
In terms of extra features, the Impreza has a multimedia system with a massive, 11.6-inch touchscreen, Android Auto, and Apple CarPlay. However, more impressive is the Subaru's EyeSight, an advanced driver aid suite that the manufacturer includes even in the basic model of the Impreza.
10. Nissan Kicks – Starting at $24,378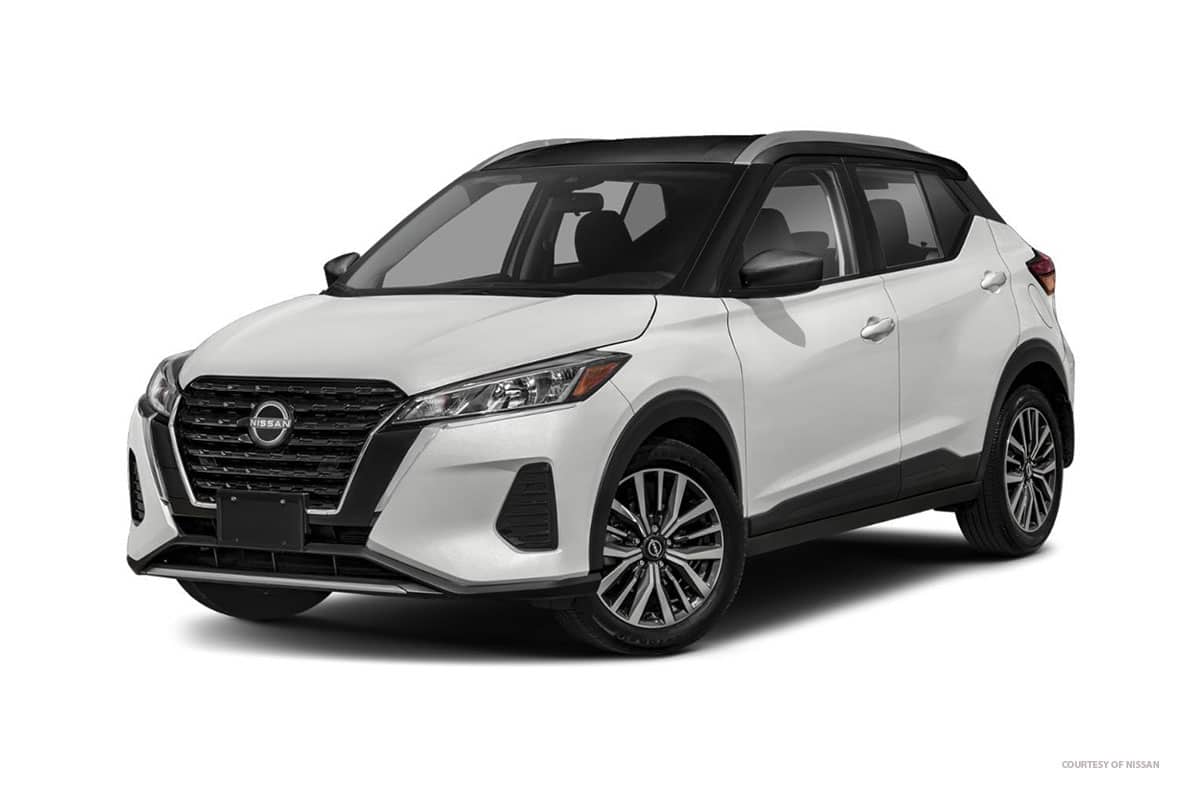 We're including the first subcompact crossover in this list just to prove a point: An affordable car can come packed with advanced features and doesn't have to be your run-of-the-mill sedan. This is the Nissan Kicks, and it represents a more affordable model in the SUV neighbourhood.
With an I4 1.6L engine, the Kicks boasts a respectable 122 horsepower output, channelled to a continuously variable transmission. The cabin includes a steering wheel with telescoping and tilt functions, as well as a full infotainment setup.
Better yet, Nissan Kicks is packed with safety options. The basic variant gives you a lane warning system, cross-traffic alert, auto brakes, parking sensors, and blind-spot assistance. And with a price of just under $21,200 for a brand-new 2023 model, this vehicle is truly a bargain.
11. Toyota Corolla – Starting at $25,804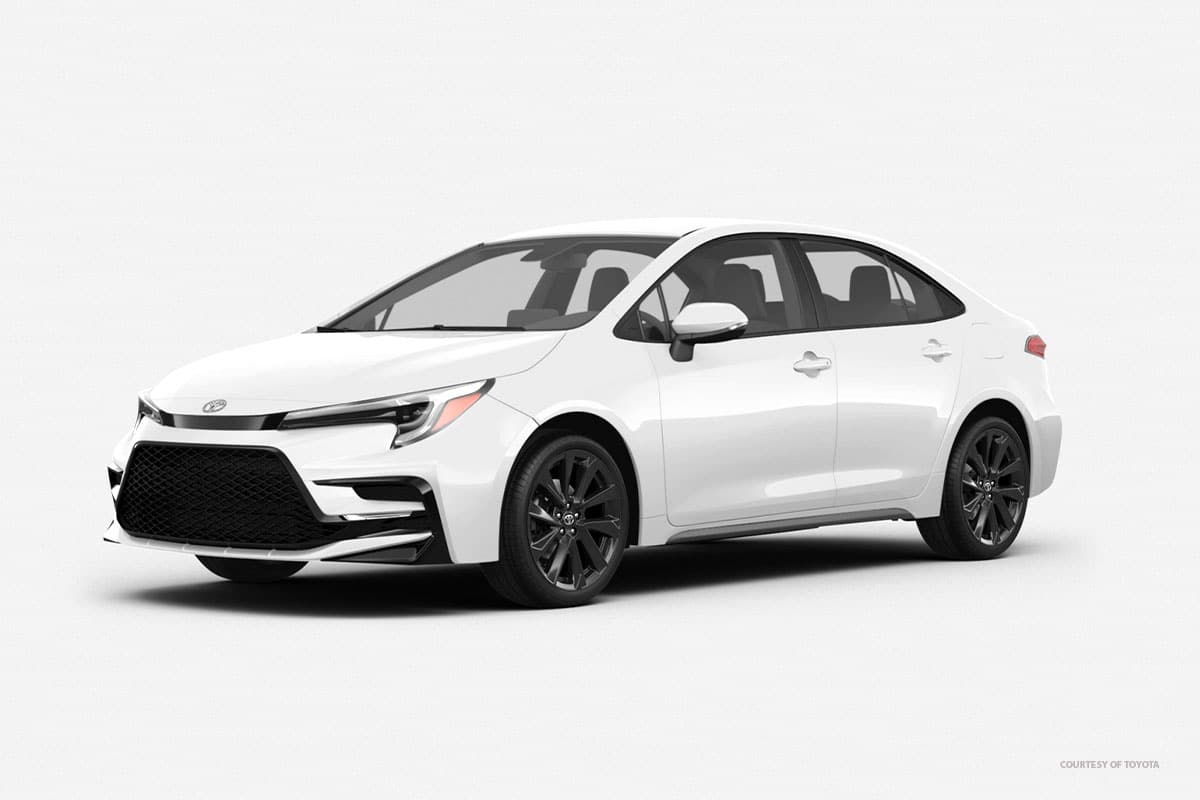 Getting to the absolute classics, you'll hardly find a more proven and reliable sedan than Toyota Corolla, at least in its price range. With a 50L tank and 7.1L combined mileage, the Corolla is designed to take you on long journeys. And its four-cylinder 1.8L engine with 139 horsepower will make the travel time fly by.
For this list, we've considered the 2021 model of Toyota Corolla since you can still find them new in Canada. The main difference between this and the 2023 model is in the transmission system. The 2021 Corolla has the standard automatic, while its newer sibling rocks the continuously variable transmission type.
Toyota Corolla comes packed with comfort and safety features. From wireless connectivity and LED headlights to auto brakes, cruise control, and lane assistance, this sedan has it all. The best thing about it is that the 2021 Corolla can be bought for under $22,000. The latest model will cost about $4,000 more.
12. Volkswagen Jetta – Starting at $25,833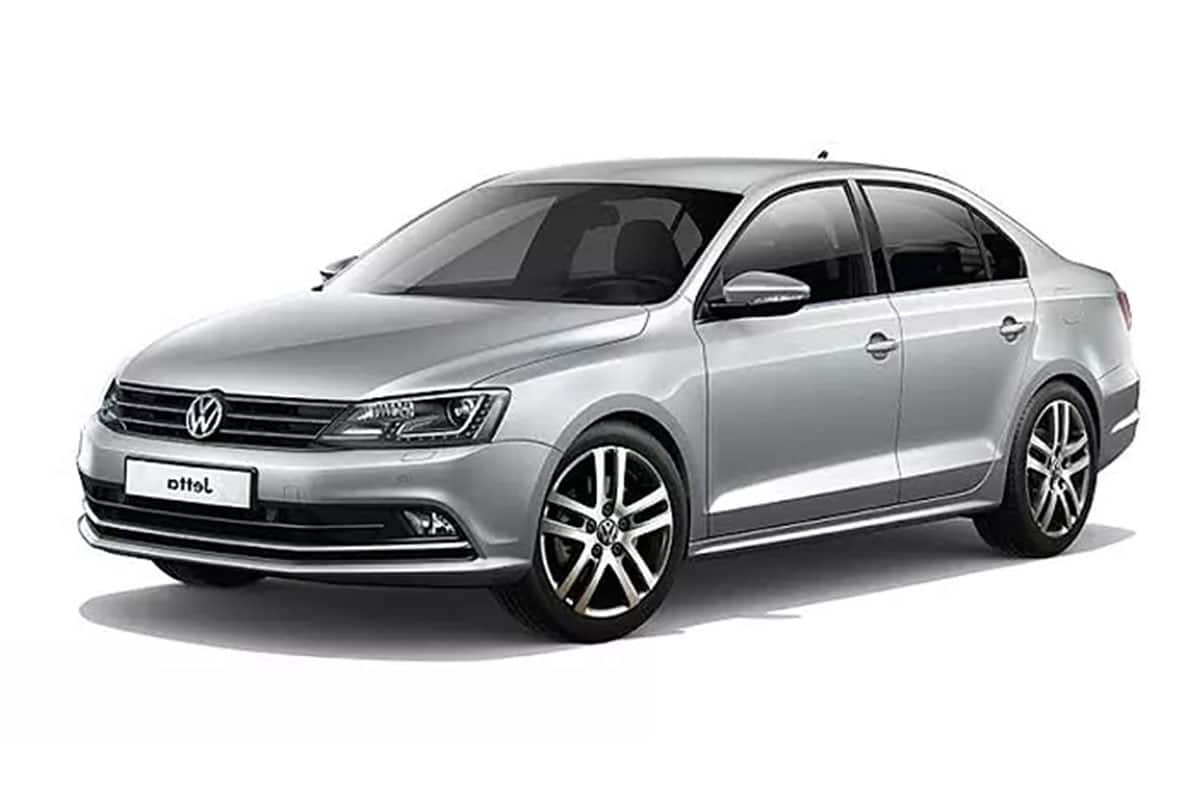 If you're a lover of all things classical, Volkswagen Jetta will be immediately appealing. It features a straightforward design that presents the car precisely as what it is – a comfortable, stylish, yet streamlined sedan.
Behind its sleek appearance, the Jetta has a 1.5L engine dishing out a cool 158 horsepower. In other words, this car may look like a tame family sedan but can provide quite a performance if you need it. The Jetta has a six-speed manual transmission, routing the engine power to a front-wheel drive. And keeping that power in check, as well as controlling the car's functions, is made easier with the simplified controls in the cabin.
As is the standard with modern sedans, Volkswagen Jetta comes with Android Auto and Apple CarPlay, as well as a touchscreen system. In addition, each model of this car features a mobile hotspot. Finally, the Jetta has emergency braking, blind-spot monitoring, cruise control, and lane assistance.
13. Honda Civic – Starting at $28,249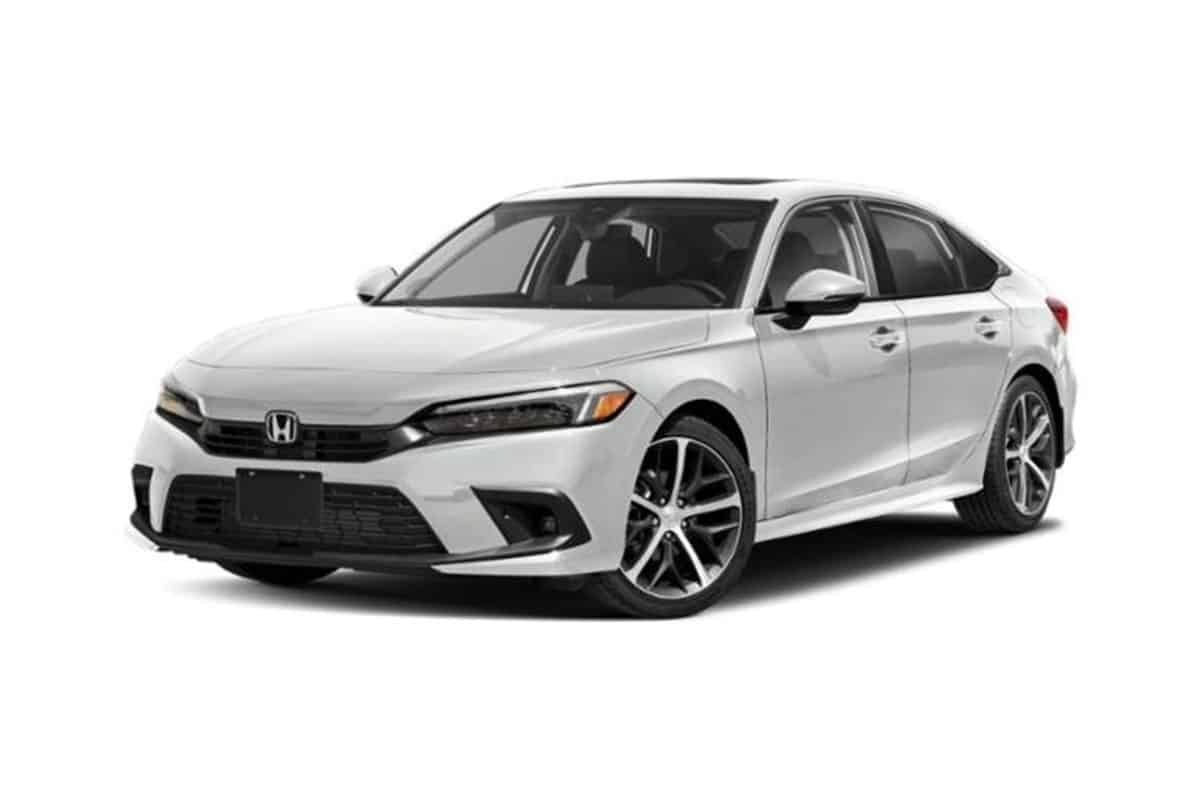 Honda Civic is somewhat pricier than the rest of the entries on this list, but it makes up for the price difference with great fuel economy and various tech features. It's a stable, comfortable sedan that's also capable of great performance feats.
With a 2.0L engine putting out 158 horsepower and a variable-speed automatic transmission, the Civic offers a steady power output. At the same time, the car controls very well, staying responsive and agile even at top speeds.
Lastly, there are the standard Android Auto and Apple CarPlay media options, along with wireless functionality and a seven-inch touchscreen. You can opt for various other upgrades of these functions, like larger screens, a wireless charger for smartphones, and in-dash navigation.
Find Your Ideal Ride Among the Cheapest Cars in Canada
If our list of the cheapest cars in Canada proves anything, it's that quality vehicles don't have to come at a massive price. You've seen regular sedans, SUVs, minivans, and pickups in this article. Each of the entries is more than reasonably priced and, most importantly, sold new – no used cars found their way to our list.
One category that we didn't include is the cheapest electric cars, but that subject would double this article in size. Luckily, there are plenty of affordable vehicles with traditional engines here. If the list piques your interest, we're certain you've already found your favourite.