The 12 Cheapest Sports Cars in Canada for 2023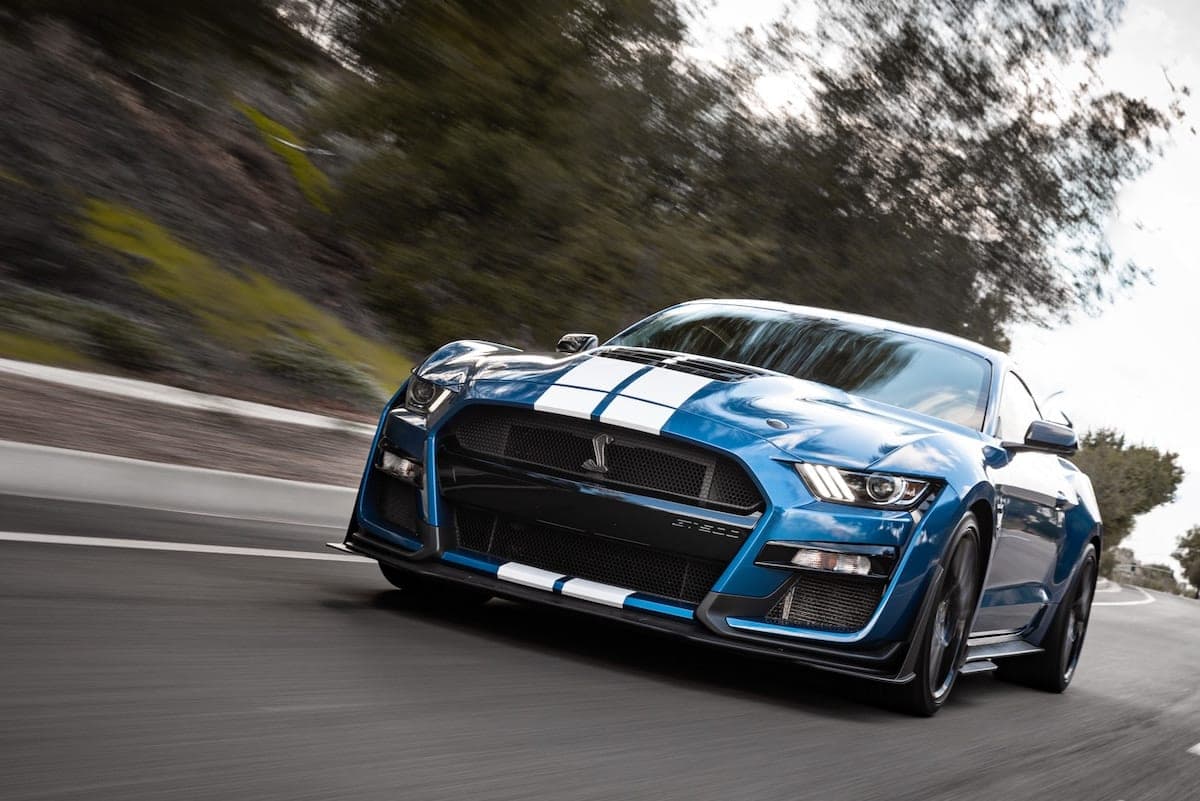 If you love powerful machines and hitting the road in style, getting a sports car is the best way to treat yourself. However, it's no secret that these cars often come with a considerable price tag. And those higher prices often deter potential buyers. But getting a sports car doesn't always have to break the bank.
We've prepared a comprehensive list of the 12 cheapest sports cars in Canada most likely to fit your budget and, more importantly, your need for speed. But before we get to the list, there's another subject worth mentioning: insurance.
Limiting Sports Car Insurance Costs in Canada
Insurance premiums for sports cars tend to be higher due to their increased cost, premium parts, and propensity for higher speeds. These cars also typically require specialized maintenance and are more attractive targets for theft, which adds to their overall cost.
However, there are strategies for managing and potentially reducing insurance premiums for sports cars. One approach is to raise the deductible, which means paying more out-of-pocket during a claim but potentially lowering the monthly premium. Paying the yearly insurance cost in one lump sum instead of monthly can also result in savings.
Limited use policies, such as collector car insurance, can be an option for cars not used daily, as this can reduce rates due to decreased risk of accidents. Installing anti-theft devices can make the vehicle less appealing to thieves and potentially lower premiums.
Lastly, maintaining a clean driving record and shopping around to compare car insurance rates can also contribute to securing the best possible premium.
The Cheapest Sports Cars in Canada
With the essential insurance details out of the way, let's move on to our list of the 12 cheapest sports cars in Canada. While the following list contains relatively affordable entries, we've made sure that the vehicles also stand out in terms of quality, performance, and comfort.
1. Hyundai Elantra – Starting at $22,955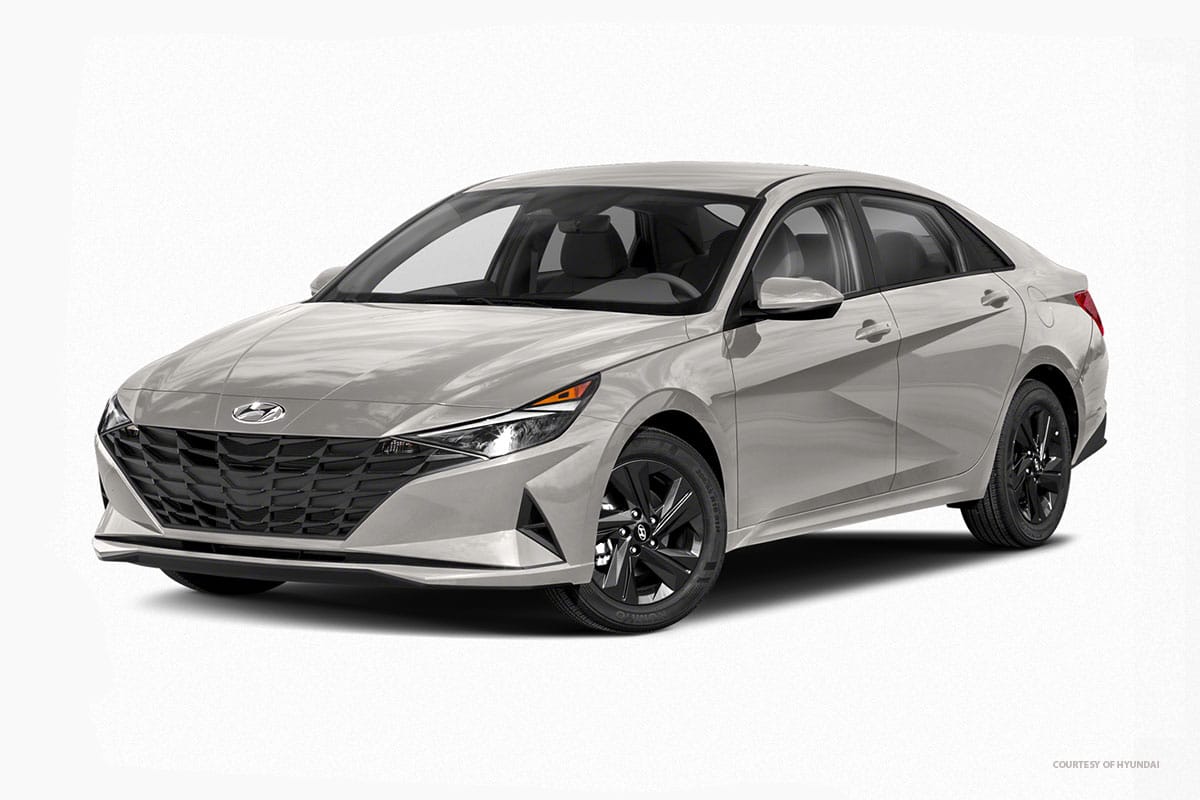 A four-door sedan might not be the first thing you associate with a sports car. However, the 2023 Hyundai Elantra is anything but a common sedan. Its aggressive design and general sharp looks indicate that this car is built for sports driving. And the engine specifications only confirm this fact.
The Elantra features a four-cylinder, 2.0L engine, dishing out 147 horsepower and a torque of 132 pound-feet. The car comes with a manual six-speed transmission and will immediately reveal its sporty nature.
2. Subaru BRZ Premium – Starting at $30,495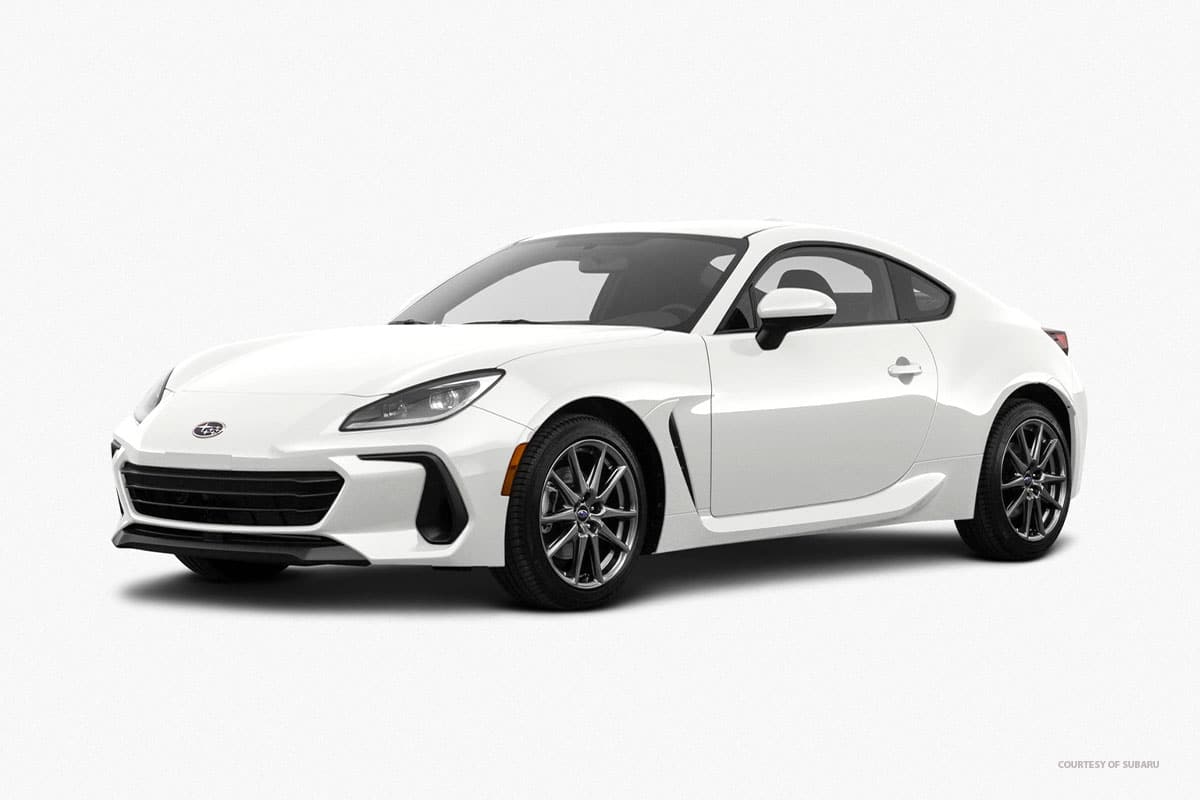 Ask most people to imagine a sports car, and they'll probably describe the Subaru BRZ Premium. The two-door coupe has an elegant, beautiful line that makes it stand out on the highway and the busy city streets. Furthermore, the model is just as impressive under the hood.
The BRZ Premium features a 2.4L H4 engine with 228 horsepower plus 184 pound-feet of torque, reaching 0-100km/h in 6.1 seconds. The standard model comes with a manual transmission, although you could upgrade to an automatic. In either case, you'll have six speeds to play with while enjoying this small but impressive speedster.
3. Subaru WRX – Starting at $32,495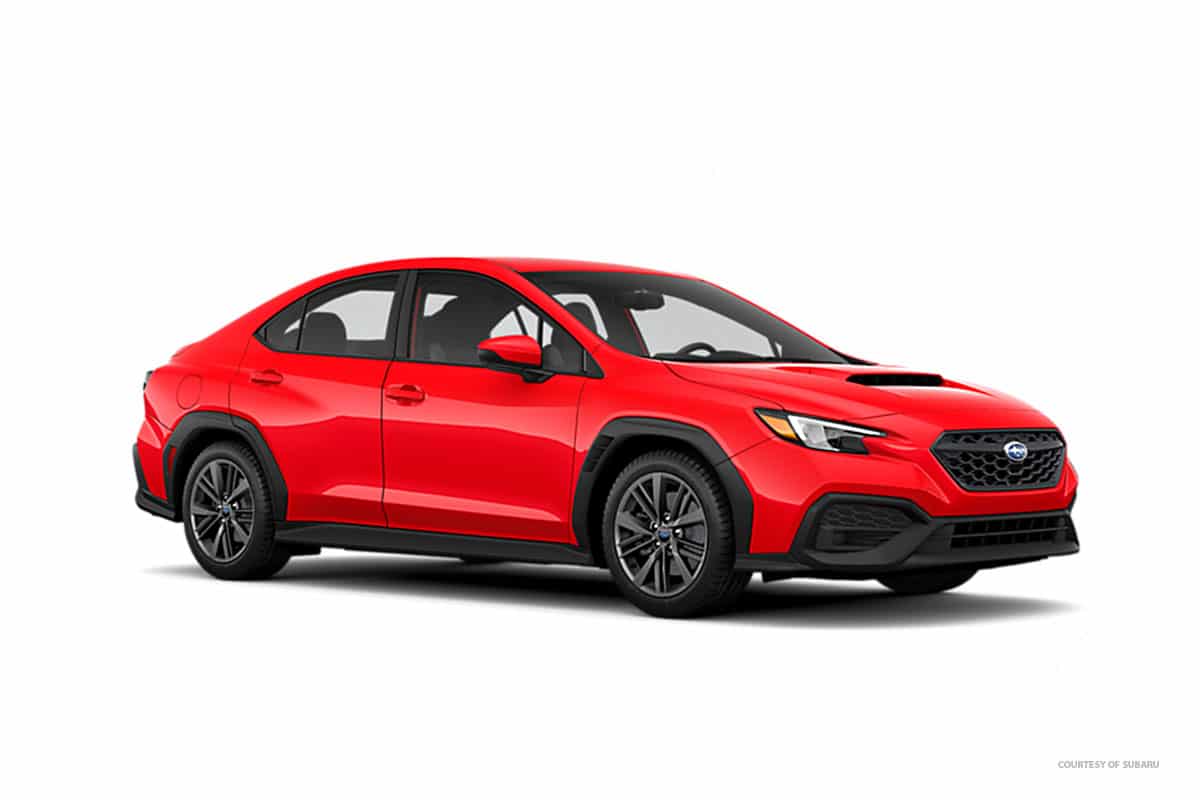 Subaru WRX is surprisingly versatile and robust. With a 2.4L engine boasting 271 horsepower, this is a powerful machine, able of providing top performance with 0-100km/h in 6.0 seconds. The WRX runs on gasoline and has a 63L tank, more than enough to accommodate its mileage, which can vary from 9L on the highway to almost 12.5L in the city.
However, this sports car is built for more than speed. With all-wheel drive, Subaru WRX is capable of traversing snowy terrain, making it extremely reliable wherever the wheels carry you. Best of all, the car is available at a more-than-attractive price, with new 2023 models costing only a bit more than $32,400.
4. Ford Mustang EcoBoost Fastback – Starting at $33,160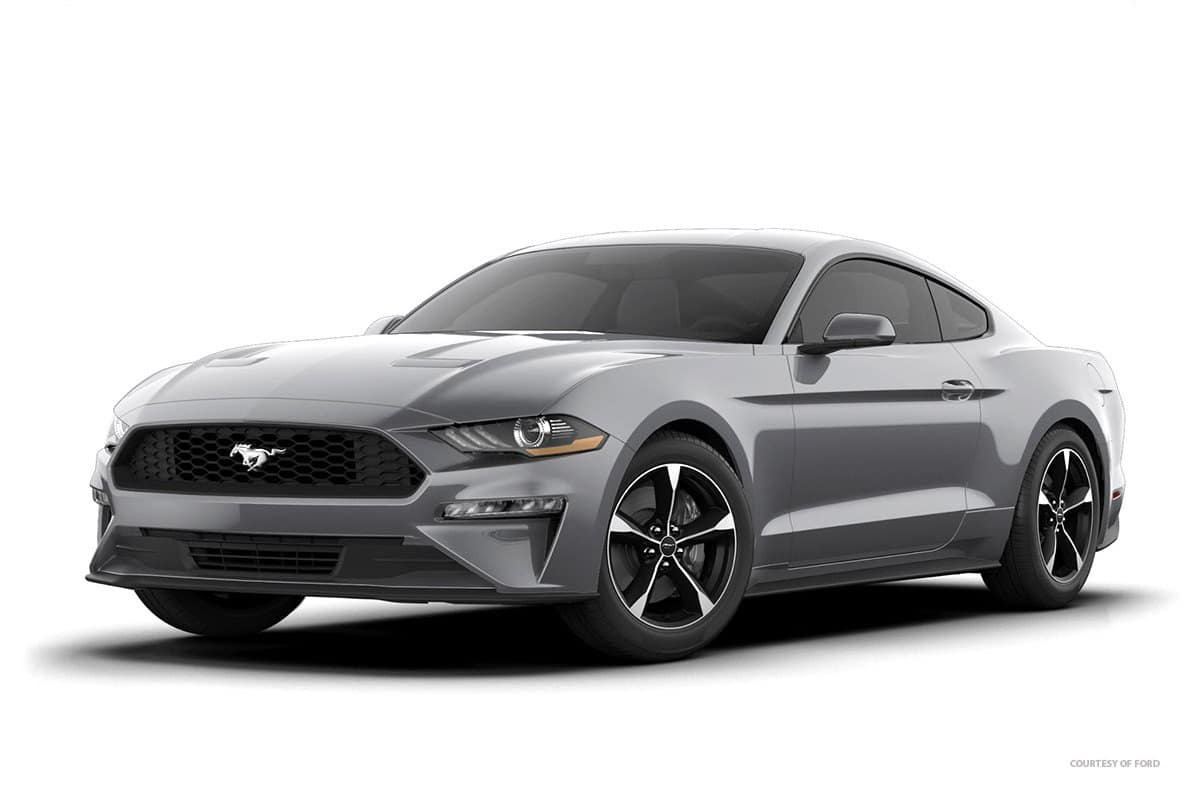 If you're a sports car fanatic, you've probably seen the Mustang coming. After all, a list of high-performance cars wouldn't be complete without including this all-time great. And there are plenty of reasons to feature the Ford Mustang here.
The classic, now featuring the EcoBoost design, is instantly recognizable. Its iconic look is complemented by a formidable 2.3L I4 engine, producing an impressive 310 horsepower and reaching 100km/h in an astounding 5.3 seconds. The torque is out of this world as well: 350 pound-feet. Best of all, you can get a Ford Mustang for as low as $35,000, which places it as one of the best and cheapest sports cars in Canada.
5. Chevrolet Camaro 1LS – Starting at $33,342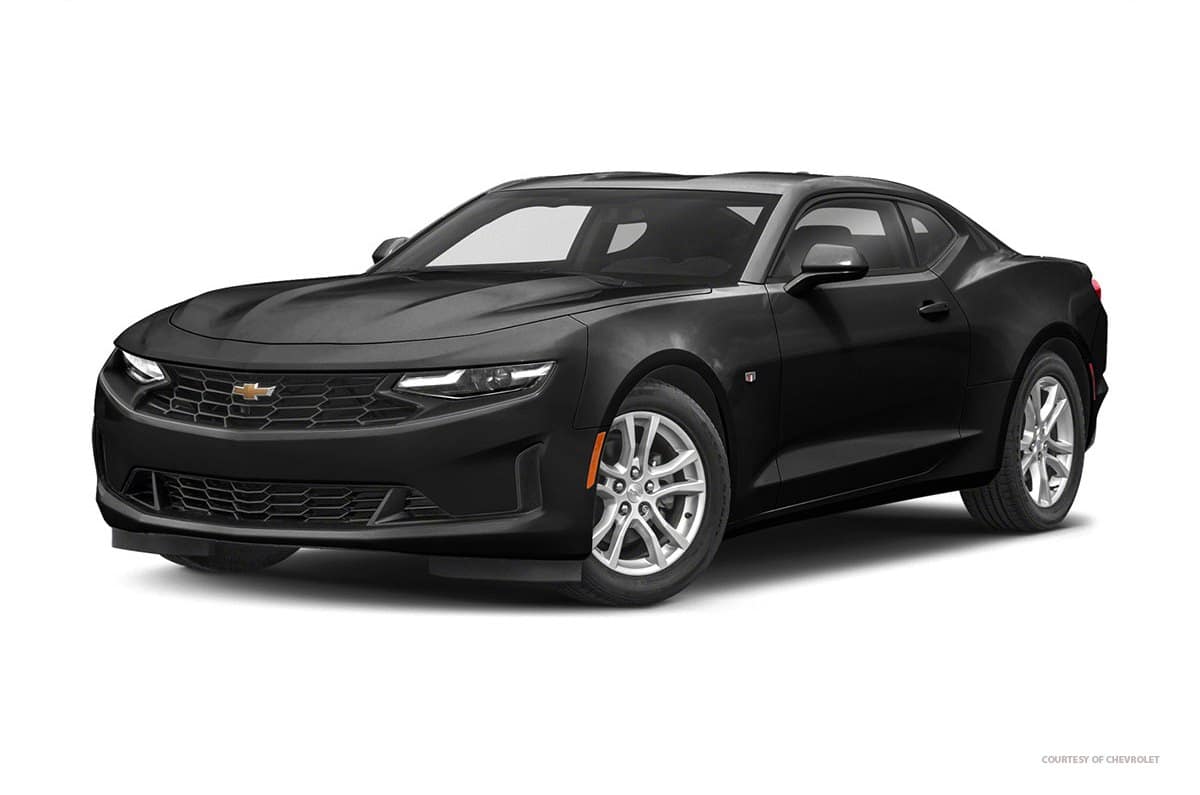 We continue our list with a classic – the beloved Chevy Camaro. With a legendary line that gives the Camaro its recognizable, evergreen looks, this is an option every sports car enthusiast should check out. This is especially true when you consider that the Camaro can reach 0-100km/h in just 5.6 seconds.
Of course, Chevrolet Camaro 1LS is about more than just great styling. It features a 2L I4 engine with a 275-horsepower output. The stylish coupe has an eight-speed automatic transmission. With a 72L tank and a combined mileage of 9.4L, the Camaro 1LS can take you a long way. Yet, it would be best not to test it on heavily snow-packed Canadian roads, since this model comes with a rear-wheel drive.
6. Toyota GR86 – Starting at $34,700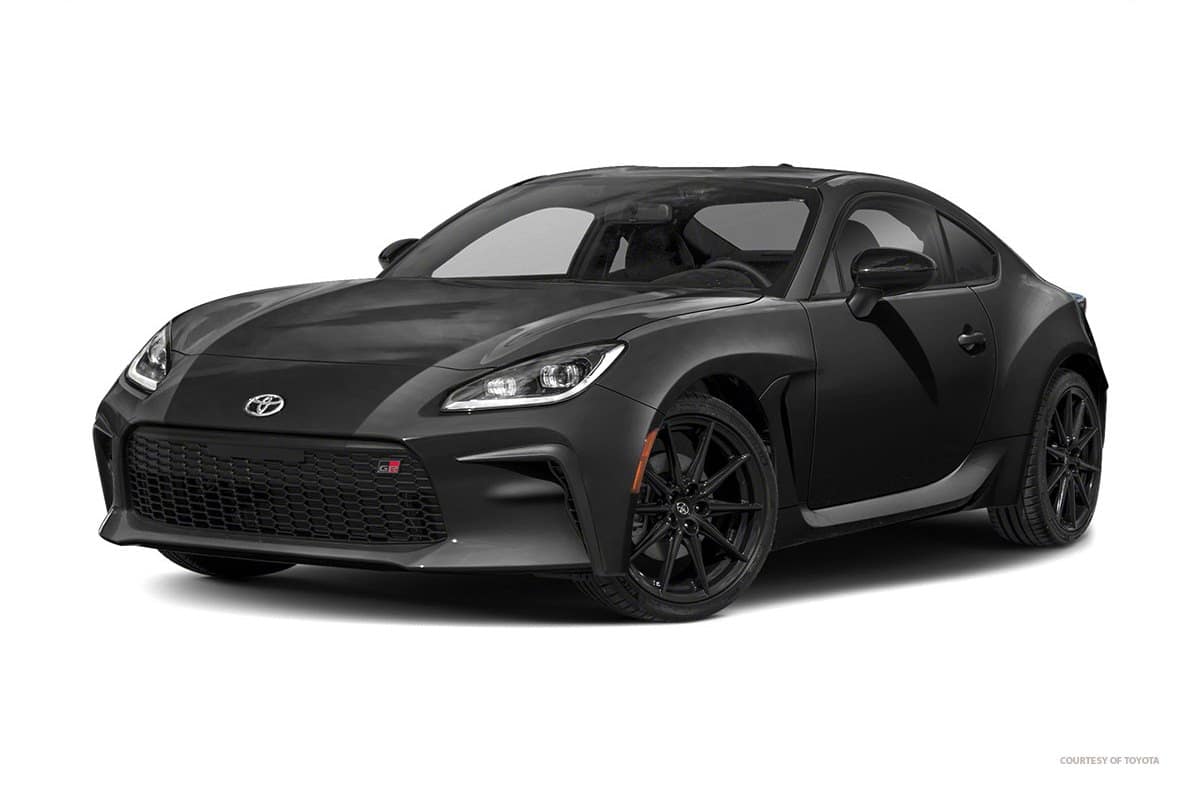 Sleek, classy, but undeniably sports-like, the Toyota G86 counts among the better models in terms of price-to-quality ratio. This two-door sports car has 228 horsepower, courtesy of its 2.4L H4 engine. It's an update of the original model 86, and the performance differences are decisively in favour of the GR86.
The gearbox is manual with six speeds. The rear-wheel drive all but guarantees agile, fun rides, although you shouldn't push it too hard across a snowy landscape. Still, the GR86 is far from being suitable only for city rides. Practice safe driving, and you can easily traverse more than 500km of highway on a single tank, with the car reaching 100km/h in only 6.3 seconds.
7. Volkswagen Golf GTI – Starting at $35,083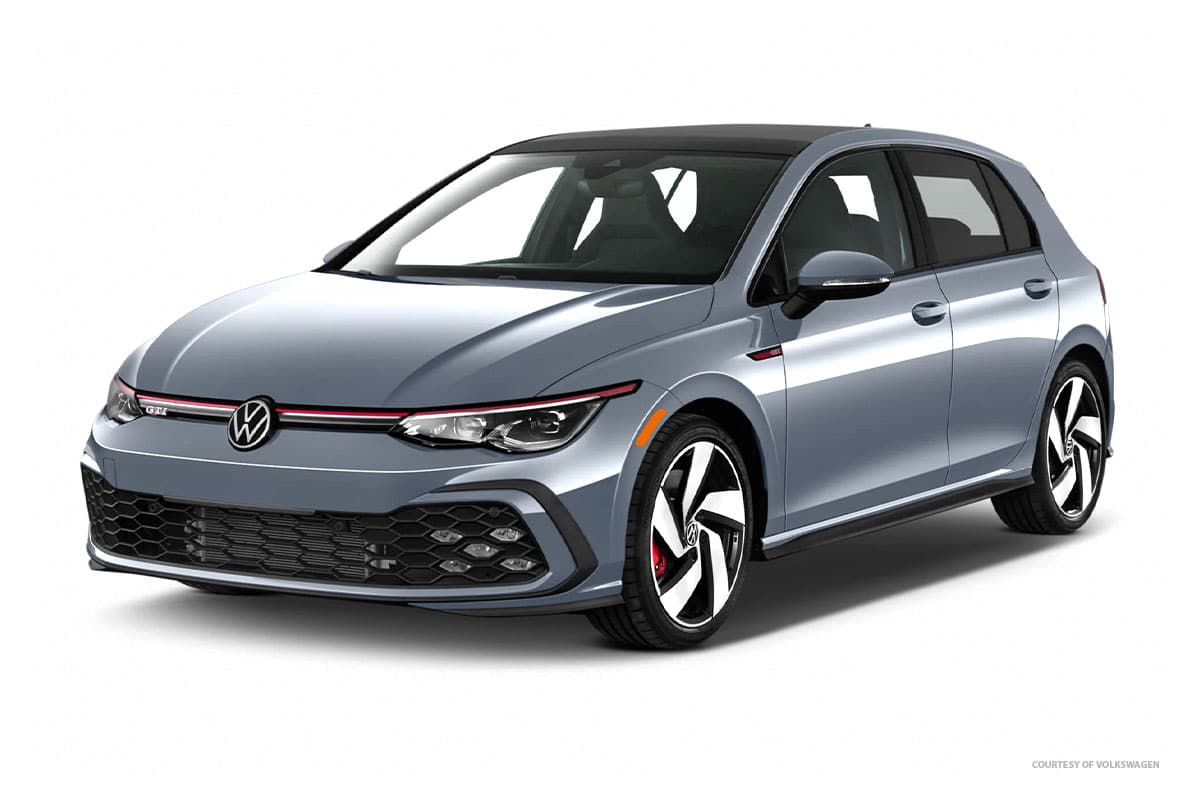 If you're looking for a timeless design and quality that you can rely on always, the Golf GTI will fit the bill. This four-door hatchback doesn't sacrifice space for performance, comfortably fitting five passengers with room to spare. Still, it can whiz around on the highway with exhilarating speed.
The Volkswagen Golf GTI comes with six-speed manual transmission. Its four-cylinder 2.0L turbo injection engine is responsible for the 241-horsepower output that comes combined with a torque of 273 pound-feet. All this power allows the Golf GTI to accelerate from 0-100km/h in 6.2 seconds.
8. Honda Civic Si – Starting at $37,093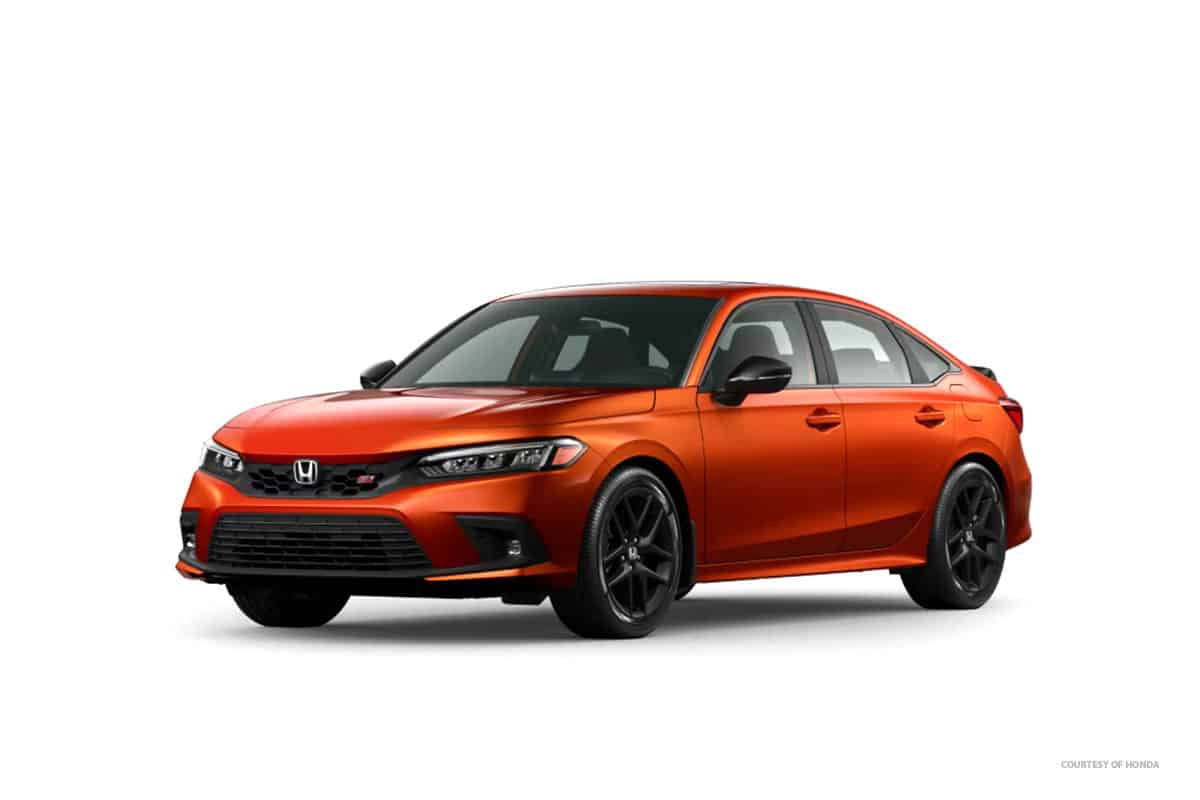 The latest model of the Honda Civic Si represents a reliable machine with impressive performance and looks to match. The engine is nothing to scoff at, with 200 horsepower and a respectable torque of over 190 pound-feet.
Honda Civic Si is a manual transmission sports car with six speeds and front-wheel drive. It's a powerful vehicle that will stay reliable at higher speeds while being able to handle different terrain types. You'll be driving at 100km/h in 7.3 seconds with this model.
9. Mini Cooper S – Starting at $38,890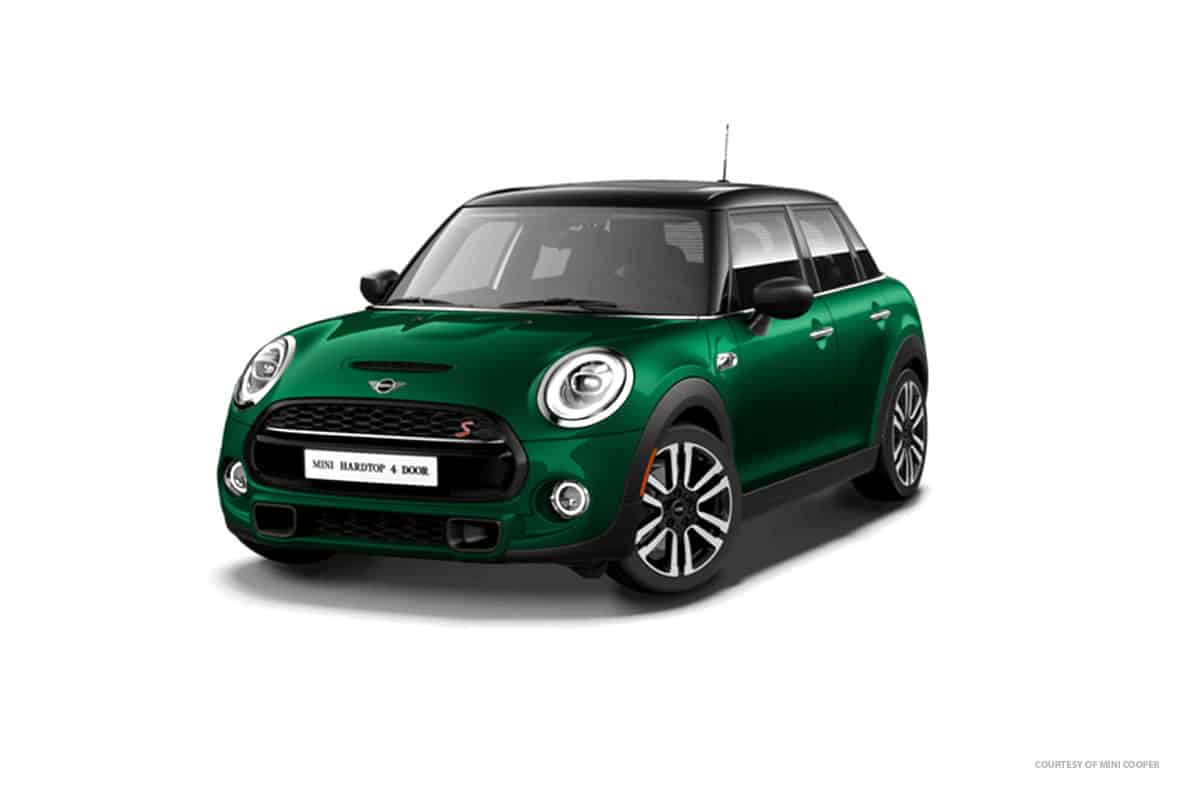 While it might sound odd as an entry on this list, Mini Cooper S earns its place among the cheapest sports cars in Canada not only by its price but the performance as well. This is a two-door vehicle with front-wheel drive, which already makes it a suitable candidate for the category. And when you add a 2.0L engine with four cylinders, the package is complete.
Mini Cooper S packs a serious punch. It has 189 horsepower and 207 pound-feet of torque. As a result, the tiny giant can speed up from 0-100km/h in only 6.5 seconds. Meanwhile, handling is made even easier thanks to exquisite suspension and an electrically supported steering system.
10. Mazda MX-5 Miata – Starting at $40,900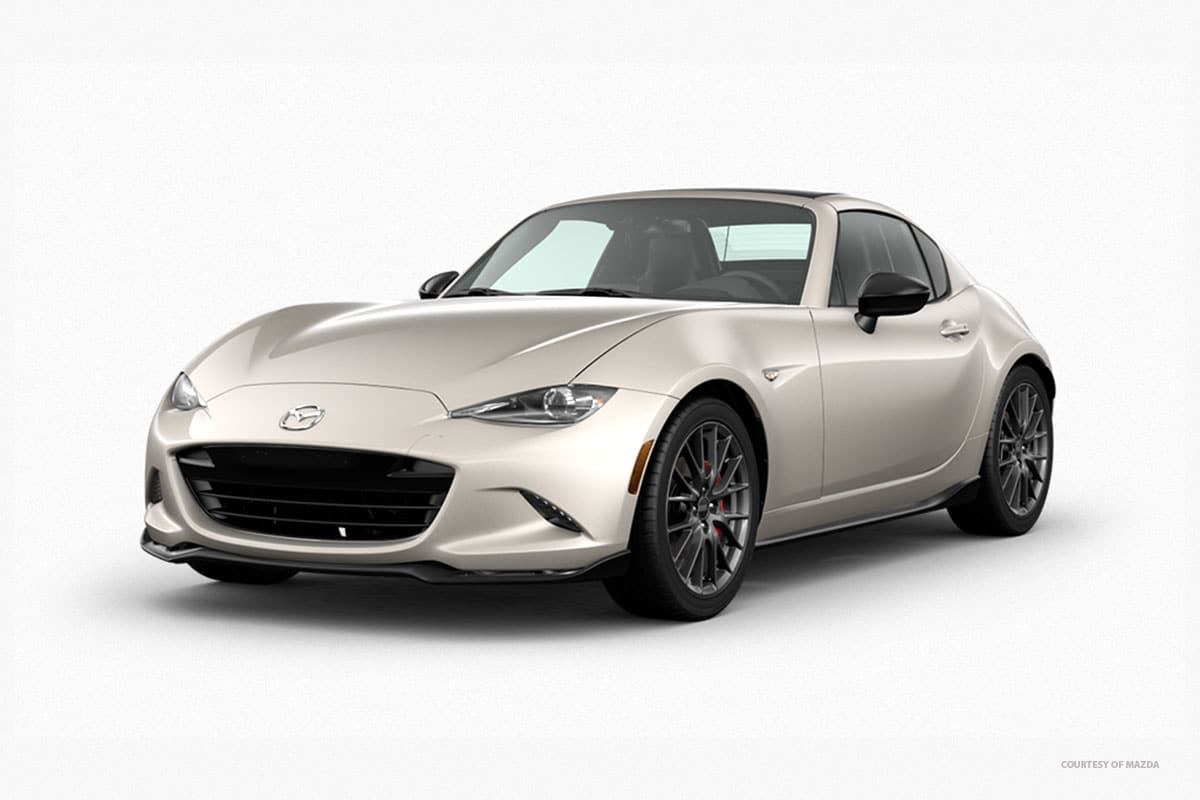 The two-seater MX-5 Miata is a convertible obviously not built for family duties and utility. This is a sports car through and through. The car has a 2L I4 engine that can push out 181 horsepower. The torque is a respectable 151 pound-feet. Combined with the rear-wheel drive, the engine power provides exciting rides you won't want to end. It reaches 0-100km/h in 6.3 seconds.
The Mazda MX-5 Miata also distinguishes itself with excellent fuel consumption. Despite all its muscle, this sports car will use about 6.7L on the highway and up to 9L in city driving. The Miata comes with a standard manual six-speed transmission box. While it may count among the cheapest sports cars in Canada, it definitely isn't THE cheapest – nor the most expensive – on this list, costing around $41,000.
11. Dodge Challenger SXT – Starting at $42,490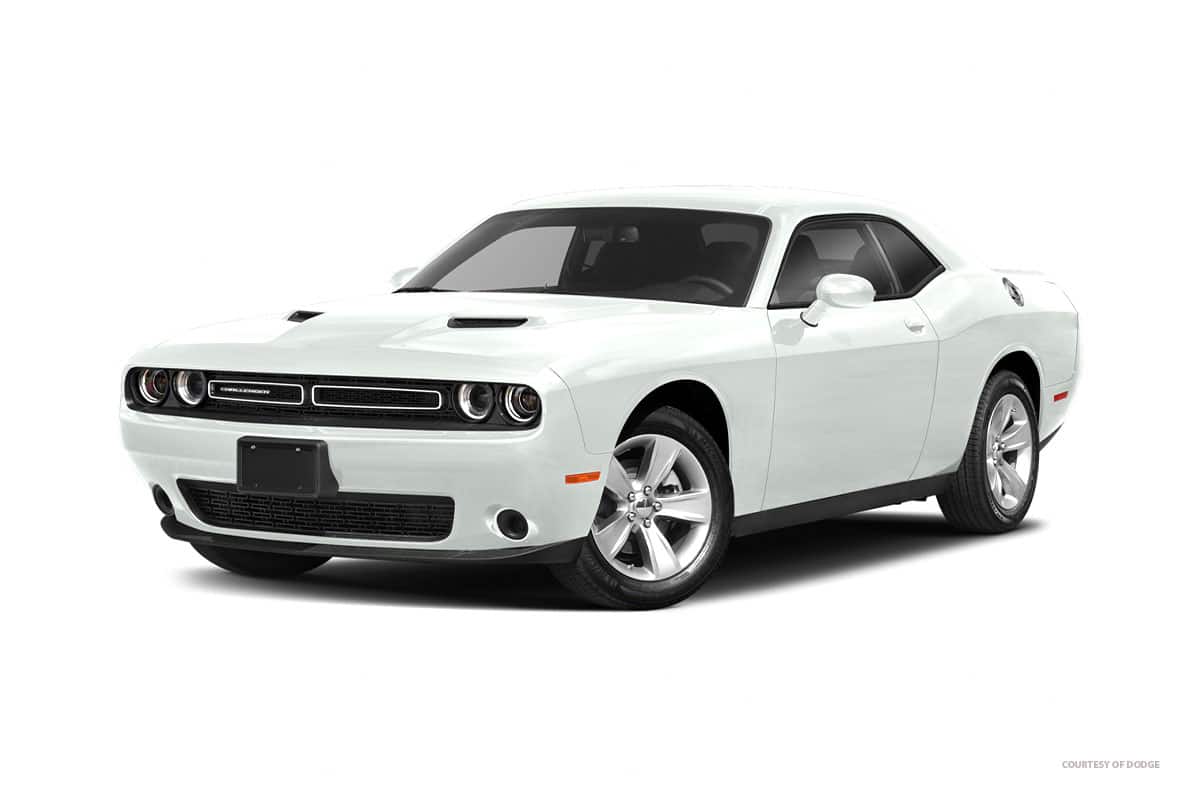 Another classic among sports and muscle cars alike, Dodge Challenger SXT brings together all the qualities you might be looking for in a powerful, road-ready vehicle. Its retro exterior hides a V-6 engine with a capacity of 3.6L. As a result, the Challenger SXT produces a staggering 303 horsepower, alongside the torque of 268 pound-feet.
The transmission is automatic and features eight speeds. One possible downside to the Challenger is its rear-wheel drive, which might make it less than ideal for snowy Canadian roads. However, you could go for an all-wheel drive variant to make the vehicle completely fit for the Great White North. And if you find yourself on a nice, long stretch of the road, the Challenger will reach 100km/h in 6.6 seconds.
12. Tesla Model 3 – Starting at $54,990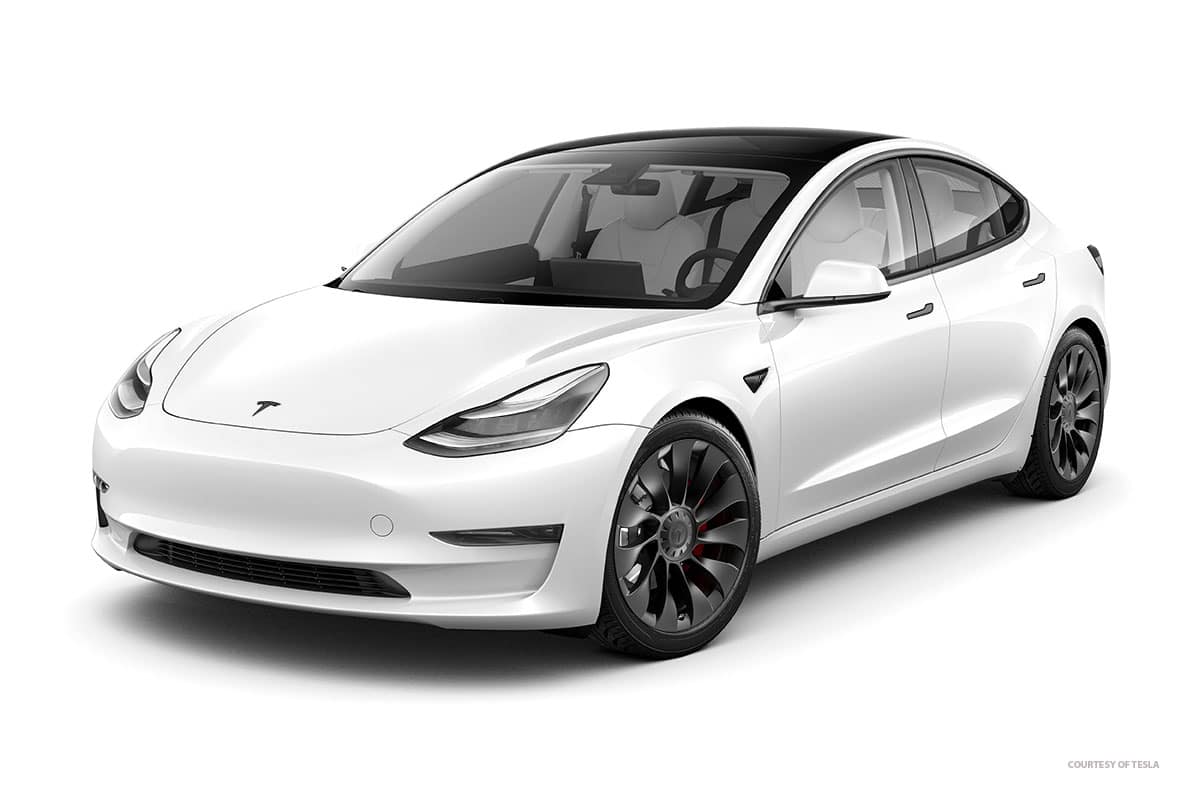 Unlike most of the previous entries, Teslas definitely aren't the cheapest sports cars in Canada. However, they've got so much to recommend them that the Model 3 had to find its place on our list. This eco-friendly smart vehicle is equipped with cutting-edge technology and boasts features you won't find on traditional models.
The Tesla Model 3 has a powerful battery that can easily take you on a 438km trip after a 10-hour charging session. It will also reach 100km/h in only 6.1 seconds. In line with the car's modern design, the transmission is automatic. Plus, the Model 3 can endure trips in the Canadian winter due to the all-wheel drive. Fuel consumption is also something to consider: Using only 1.9L every 100km might offset the price difference between the Model 3 and other sports cars on this list, especially in the long run. And speaking of pricing, a Tesla Model 3 can be found for just below $55,000.
Take Your Pick From the Cheapest Sports Cars in Canada
The vehicles that we included on our list are powerful, reliable, great-looking, and, in some cases, surprisingly low-priced. If a sports car is what you're looking for, choosing one from our list of entries will be a good decision. You'll get all the style and performance without straining your budget too much.
FAQs About Sports Cars in Canada
Are sports cars worth it?
The answer to this question will depend on whether you truly want a sports car or not. If you love the unique style, customization possibilities, and raw horsepower under the hood, then the investment will be more than worth it. Plus, our list of the cheapest sports cars in Canada gives you plenty of affordable options, so pricing shouldn't be too much of a concern.
Are sports cars more expensive to insure in Canada?
On average, sports cars cost more to insure than regular cars: up to $250 more monthly or $3,000-plus annually. However, some of the entries we listed as the cheapest sports cars in Canada actually cost less to insure. For instance, the average monthly rate for a Ford Mustang is $237, while for Mazda MX-5, it's $136. Given the wide range of coverage options and pricing available, it's crucial to compare car insurance policies from different providers.
Do sports cars use more gas?
Sports cars tend to use more gas, primarily due to their powerful engines. However, gas consumption will also depend on how you use the car. Driving at reasonable speeds will use less gas than pushing the machine to its limits.
How fast can a sports car go?
Sports cars can reach considerable speeds, with many models easily getting up to 240 kilometres per hour. At the extreme, supercars may go twice as fast, although you won't find those vehicles on any list of affordable sports cars.