AMEX SimplyCash® Preferred Credit Card Review for 2023
Is the American Express (AMEX) SimplyCash Preferred Credit Card a good cash back credit card? Yes it is! If you want unlimited cash back potential, $1,500 cash back in referral bonuses, travel insurance, and access to great experiences, then look at this credit card.
[Offer productType="CreditCard" api_id="5f46bb4a3a11ef174fd0ee65″ id="145845″]
The AMEX SimplyCash® Preferred Credit Card Welcome Offer
To claim the AMEX SimpleCash® Preferred Credit Card Welcome Offer is pretty good, but not generous. The standard card benefits, though, are amazing.
Welcome offers end. What you want are quality standard benefits. Something you can enjoy year-round.This card has them.
Maximize your cash back and cancel-out the annual fee
First, do some math. The card has a $119.88 annual fee for the primary cardholder but all 9 potential supplementary cards are free. Plus those cards earn cash back for the primary account holder.
But wait! You get 4% back for groceries and gas, up to $1,200 in cash back in a year. That means spending $18,000 in gas and groceries. Given the price of both (thanks, inflation), that number is not as far-fetched as it once seemed.
In any case, that $119.88 is just shy of 10% of the potential $1,200 cash back. You definitely got your money back and then some.
Given that you earn at least 2% cash back on every other type of purchase, how fast will you get that $119.88 back if you remove gas and groceries? Well, the $119.88 is 2% of approximately $6,000.
Unfortunately, it does not take much effort to spend $6,000 in a year.
How to earn cash back with the AMEX SimplyCash® Preferred Credit Card
First, it is an AMEX card, so the cash back is easy and has very few gimmicks or hassles. You earn 4% on gas and groceries, up to a maximum of $1,200 cash back annually. The earning rate with this card is a step up from the 2% you get from the regular SimplyCash card.
You earn 2% back on all other purchases.
The one thing to remember is that your cash back is applied as a statement credit once a year. There is no cheque or quarterly cash back applied to your account. This applies to all cash back including the $1,500 referral reward, which we mention below. The following transactions are excluded from earning cash back:
Funds advances
Interest
Fees
Balance transfers
AMEX cheques and charges for travellers cheques and foreign currencies
Earn $1,500 when you refer friend, family or colleagues
First, this is a game-changer. If someone you refer eventually submits an application and gets approved, you earn cash back. You can earn up to $1,500 in a year. There are certain rules you need to follow. You have to use the approved text that AMEX provides and you actually have to know the people you refer to the card. You should stick to friends and family. If you refer business colleagues, you have to know them as well. I guess there is a way to verify this.
Supplementary cards and cash back
As mentioned above, you can add 9 supplementary cards to your account. There are two requirements. First, your account has to be in good standing. You need that to get any of the benefits of this credit card. Second, the minimum age requirement for a supplementary card holder is 13 years of age.
Why mention the possibility of supplementary cardholders? It is because purchases made by supplementary cardholders earn 2% as well. The cash back goes to the primary cardholder. Therefore, these free supplementary AMEX SimplyCash® Preferred Credit Cards are quick and easy ways to earn more cash back. This is part of the reason the card's cash back is so strong.
AMEX SimplyCash® Preferred Credit Card insurances
If you read Hardbacon's credit card reviews, you know that we take insurance seriously. The reason is that it is a protection that really differentiates one credit card from another. Plus, it makes for responsible travel planning.
Travel insurance
Most, but not all, credit cards come with some form of travel insurance. The AMEX SimplyCash Preferred card has some of the hallmarks of American Express's legendary travel insurance coverage. The only thing to remember is that you are covered if you book your travel with your AMEX SimplyCash Preferred Credit Card.
Chubb Life Insurance Company of Canada is the underwriter. If you use your AMEX SimplyCash Preferred card to book tickets for your spouse, dependent children under 23 years-old, they are also insured. The same goes for the spouse and children of the supplementary cardholder; the children need to be under 23 years-old as well.
When you book your travel with your SimplyCash® Preferred Card from American Express, you get out of province or country emergency medical coverage. That means that you are covered anywhere in Canada outside your home province or territory as well as when you leave Canada. Coverage is for a maximum of $5,000,000 CAN for eligible expenses. However, there are limitations for people over 65 years of age. Also, your trip cannot exceed 15 consecutive days.
That said, always read the fine print of your credit card insurance documents. If you are not comfortable with the coverage or are excluded, you can get your own travel insurance. Insurance is important!
Flight delay and baggage delay insurances
There is always a flight delay horror story in the news. It is nice to have some protections to reimburse you for unplanned meal expenses or hotel stays. The SimplyCash® Preferred Card from American Express has protections. You can get up to $500 for things you buy because of delays or if you are denied boarding for more than 4 hours. If your bags are missing for more than 6 hours, you can claim some expenses as well. You are also covered for lost or stolen checked baggage.
However, you have to be reasonable about it. If the airline offers you an alternate flight or another way to your destination, take it. The insurance might not pay if you refused the workaround. Plus your expenses have to be reasonable.
Travel accident insurance
You are potentially covered for up to $100,000 of Accidental Death and Dismemberment Insurance if there is an accident because of a common carrier. A common carrier is mass transit like a plane, train, ship or bus. Of course, you have to first buy those common carrier tickets with your AMEX SimplyCash Preferred Credit Card.
Hotel burglary insurance
Let's say you made it to your hotel. If you charge your room or rooms to your AMEX SimplyCash Preferred Credit Card, you are covered if you are robbed. Of course, the limit is $500 and you cannot claim any stolen cash. Not every credit card has this type of protection, so score another point for this card.
Car rental theft and damage insurance
Now, a lot of credit cards have car rental insurance. Usually it is for a car whose maximum manufacturer's suggested retail price (MSRP) is $65,000. That means that if you are shopping for a new car, the sticker price would be $65,000.
American Express knows that you like privileges. That is why any rental car you pay for with your AMEX SimplyCash Preferred Credit Card can have a maximum MSRP of $85,000. Rentals need to be for 48 days or less. You also need to decline the rental provider'sCollision Damage Waiver (CDW), Loss Damage Waiver (LDW) or similar offer.
Other AMEX SimplyCash® Preferred insurances
I alluded to this before. A lot of credit cards offer purchase protection and extended product warranty insurance for items you buy with the card. The SimplyCash® Preferred Card from American Expressis no exception. AMEX also gives you fraud protection. If unauthorized charges appear on your card, and you took measures to protect your personal identification number (PIN), you are not liable for those purchases.
The standard benefits of American Express cards
American Express is about luxury, perks, and benefits that are not tied to any loyalty specific loyalty program. Why? The reason is that AMEX developed its own benefits programs that include American Express Experiences. You get all of them with the AMEX SimplyCash® Preferred Credit Card. The Experiences lineup includes:
Front of the Line Presales for events
Front of the Line Reserved tickets
Entertainment with American Express Experiences
Dining with American Express Experiences
Retail with American Express Experiences
Wellness with American Express Experiences
Onsite benefits with American Express Experiences like lounges, priority bars, etc.
The Plan It American Express Installment Program
The AMEX SimplyCash® Preferred Credit Card is eligible for the Plan It American Express Installment Program. This is a buy now, pay later (BNPL) program and all of the major credit cards are moving to offering this payment flexibility. It is a payment management program for those purchases that you know will take longer to pay off.
First, you repay balances over time, in equal installments, subject to the conditions. There is a fee to pay on every installment payment. However, the total monthly installment fees payable over the repayment period are less than the interest you would have paid if it took you the same amount of time to pay off the debt outside the Plan It Program. The company does a good job explaining the math and the benefits.
Should you get the SimplyCash® Preferred Card from American Express?
Overall, the AMEX SimplyCash® Preferred Credit Card is a very good card. It is exceptionally easy to understand. It has a referral system that lets you earn cash back when you refer a friend.
However, there are only two things that you need to remember about this cash back credit card. First, cash back is not sent in the form of a cheque. It is deposited on your credit card account once a year.
Think of it the same way you think of your tax refund if you are lucky enough to get one. It comes once a year and you still like it.
Second, American Express cards are not accepted everywhere. Most merchants worldwide accept AMEX cards so this is more of a potential inconvenience. A simple solution is to have a great VISA or Mastercard credit card in case the merchant doesn't accept AMEX.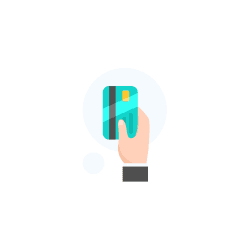 Find the best credit card for your needs