How to Get the Apple Card in Canada: What Canadians Need to Know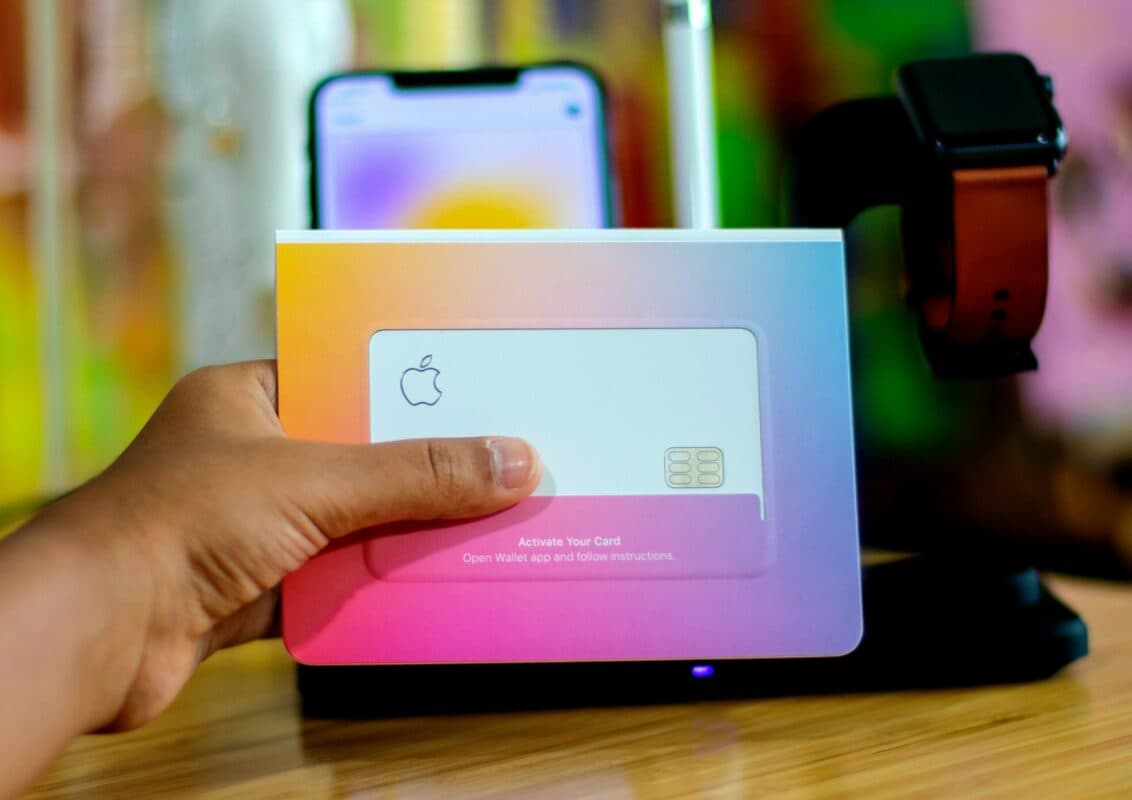 Table of Contents
[ Show ]
Whether it is the beauty of the new iPhone or the optimized performance of the next Mac, Apple knows how to attract and retain customers. With a relentless focus on innovation and design, Apple cemented its place not only as a forward-thinking brand and trillion-dollar company, but its products serve as status symbols. Among its latest achievements is the Apple Card. 
For most Canadians, the Apple Card, currently available only in the United States, is a big mystery. We took a look at the different features of the card to see if it really stands out from the competition. Let's look around and see if you can get the Apple Card.
What is the Apple Card?
The Apple Card was introduced in March 2019 and launched on August 20th that same year in the United States. With this new product, Apple promises that it has completely reinvented the traditional credit card. All cardholder information is available on their Apple devices and is easy to understand. Our American neighbours can apply for approval in less than two minutes without affecting their credit rating. 
Apple Card and privacy
And with Face ID, Touch ID and Apple Pay, the level of privacy and security is unmatched by the competition. The Apple Card is used directly in the Wallet application, but holders also have a physical card in their hands. This is a Mastercard credit card with the major American bank Goldman Sachs. Your card number does not appear on the physical Apple Card, which makes it harder for thieves.
Apple Card fees and interest rates
What is very special about this card is that there are no fees! That is, no annual fees, no over-limit fees, no late payment fees or foreign transaction fees. That is cool but not necessarily a new thing to Canada.
In addition, interest rates have been completely redesigned. Traditional credit cards require cardholders to make a minimum payment every month with fixed interest. So it's easy to get into debt by paying exorbitant fees over time. With Apple Card, it's totally different because interest rates are constantly changing based on a variety of factors. They range from 15.74% to 26.74%. In fact, when cardholders are ready to make a payment on their Apple credit, the fees are calculated in real-time according to the balance of the card and the payment made.
With this system, the American giant wants to enable its customers to make more informed financial decisions. Psychology comes into play here. If consumers know that their purchase will cost them more if they make more spaced-out payments, they are likely to make a larger payment in the immediate future.
Apple Card is gorgeous
The physical credit card is gorgeous. While most credit cards are made of plastic, the Apple Card is made of titanium and has a very clean aesthetic. There is no cryptogram on the card, only the customer's name and the logo of Apple. If the cardholder wants to make a transaction that requires data such as the card's expiration date or the encryption code, all the information is available in Apple's Wallet app.
Apple Family
A unique feature is Apple Family, and the cardholder gets to decide what constitutes a family! The account can have two co-owners and add up to four others, called Participants, to the same account. Each of the co-owners is responsible for the payments. Account members then receive cash backs based on their personal spending.
With this option, members that merge their accounts benefit from a higher credit limit while enjoying the lower interest rate of both accounts. Co-owners are completely equal and enjoy the same benefits. Participants who are over 18 years old can choose to start building their credit history and learn to manage their finances. Otherwise, people as young as 13 can be a Participant. Of course, parental controls can be placed on their account.
Easy-to-understand daily cash backs
Many credit cards allow you to earn rewards based on your spending, and the Apple Card is no exception. Apple Card's reward system is very simple! Each time they spend, cardholders receive instant cash back. These are deposited in your Savings account, a new feature launched in 2023.
You can use remittances to pay for expenses or to transfer funds to a bank account. It is also possible to transfer money from the Daily Cash app to a friend simply by using the Message app. Another option is to leave the money in there and watch it grow.
For all purchases at Apple, which also includes the App Store, iTunes and others, holders get a 3% cash back. If you're a big fan of Apple products, you'll understand that savings add up very quickly. Apple products are expensive so 3% is a nice chunk of change. For all other purchases that are paid with the virtual card, that is, with the Apple Pay account on your iPhone or Apple watch, the discount is 2%. However, it is possible to get 3% back at some participants like Nike and Uber. 
Finally, for all purchases made with the physical card, the discount is 1%. In short, no matter what the purchase, there is a discount! There is nothing more pleasant than watching your balance grow while still enjoying life.
High-interest Savings account
From now on, your cash rewards will be deposited in your savings account, which pays out 4.15% annually. This high-interest account comes with no fees, no minimum deposits and no minimum balance requirements. Just like the Apple card, this feature is also only available in the United States. You can also add additional cash to the account.
The tricky part is when you want to withdraw your money. It cannot be withdrawn directly from the high-interest account. Instead, you should transfer it to a linked chequing account. If you prefer to pick an account that is available in Canada, compare Canadian savings accounts to find the one that suits your needs.
Purchasing Apple products with interest-free monthly payments
Apple cardholders can use their card to pay for Apple products and simultaneously pay in monthly installments interest-free. When paying for the device, simply select the installment option and you're done. After that, the monthly payment is added as a minimum payment on your account. If there are multiple Apple products purchased with this payment option, the monthly payments will be adjusted. This way, there is always only one balance to track.
How to get the Apple Card in Canada?
Unfortunately, Apple Card is not yet available in Canada. If you live in Canada, you cannot get this card for the moment. In fact, at the time of writing, it is only available in the United States. However, CEO Tim Cook indicated in 2019 the company's intention to expand the availability of the Apple Card to other countries. In addition, in January 2021, the Apple Card's trademark application was approved by the Canadian government. So there is some hope that Apple Card will one day be available in Canada. In the meantime, there are several alternatives in the country that compete heavily with this new option. Some of Canada's Apple Card alternatives were developed in Canada and by Canadians!
The best alternatives to the Apple Card in Canada
You may be disappointed that you cannot get the Apple Card in Canada. The Apple Card may not be available for you at the moment but that doesn't mean you have to wait for the same benefits. There are alternatives available in the Canadian market right now. We list them below.
If you are not convinced that these options are right for you, we recommend that you use a credit card comparison tool. It's completely free and it allows you to get credit card suggestions that fit your needs and spending habits.
KOHO Mastercard® Prepaid Card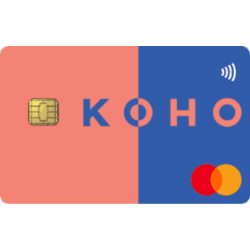 KOHO Prepaid Mastercard Easy
Get $20 when you sign up for a free KOHO account with code HARDBACON and enjoy 3 months of KOHO Extra to unlock up to 4.5% savings interest!* Conditions apply.
Get $20 with the promocode HARDBACON
KOHO currently offers one of the best prepaid credit cards you can find on the market. It offers all the benefits of a traditional credit card, but with no fees, no interest and no impact on your credit score. You can use your KOHO Mastercard® Prepaid card anywhere Mastercard is accepted. Simply add funds to your card. Using the KOHO application, you can make electronic transfers. So it's fast, easy and you have complete control over your spending. KOHO offers four different subscription plans.
Like with the Apple Card, there is no annual fee or account fee with the Easy KOHO plan. Cash back are 1% on groceries and transportation, and you get 0.5% interest on your entire balance. There are also some retailers that offer additional discounts. The Essential plan costs 4$/month but your get a slightly higher cash back and more interest on your balance.
The KOHO Extra account includes a $9 per month fee. You can also choose to pay the fee in one annual payment. This way, the cost is $84, which is a savings of $24. You get 2% cash back on groceries, transportation, eating & drinking, and 0.5% cash back on all other purchases. You also earn 4.5% interest on the first $1,000 of your balance and 3% on anything after that. The Extra gives you 1 free international withdrawal per month and no foreign exchange fees. For $19/month, you get the Everything plan, which is great if you plan on saving because you get a 4.5% interest rate on your entire balance, plus all the Extra perks. Those two plans are great for travelling! They also give you access to the support of a financial coach who provides you with personalized advice based on your consumption habits.
The KOHO Prepaid Mastercard® Card also allows you to earn more money and save money! It rounds up your purchases and puts the difference into an automated savings account. The KOHO app also has a budgeting tool that allows you to easily track your income and expenses. 
While prepaid cards has no hard check on your credit file, KOHO offers a tool to rebuild your credit score. By paying a $5 to $10 monthly fee, the Credit Enhancement program reports your progress to the credit bureaus. So, within six months, you can begin to raise your score. All you have to do is make sure you always have the funds in your KOHO account. The $5 to $10 fee will be raised automatically each month and you'll be able to see your score progress directly in the app.
Neo Mastercard Credit Card
Neo Secured Credit
None with Neo Standard plan
No annual fee
Guaranteed approval
No credit check
Get up to 15% cash back on your first purchase at a Neo partner, plus a $25 Welcome Bonus when you apply through Hardbacon.
The Neo Mastercard credit card is another really interesting option. With no annual fee, it offers, like the Apple Card, impressive cash back of up to 5% at thousands of participating partners. This includes gas stations, restaurants, clothing stores, and more. Plus, if at the end of the month your overall rebates equal less than 0.5% of your total purchases, Neo will match that percentage up to $5,000 spent. Finally, as a welcome gift, you'll receive a 15% discount on your first purchase at most partners. And there's no minimum to cash in your rebates!
Neo Mastercard claims to approve a variety of credit scores. If your score is a bit low, you might still get this card. The application process for the credit card takes only three minutes. For a limited time, you also earn $25 upon approval.
EQ Bank Prepaid Mastercard
EQ Bank Card
Benefit from 0.5% cash back on purchases
This 100% free prepaid Mastercard also offers free ATM withdrawals in Canada, no FX fees, and up to 3% interest on deposits.
Get 3.00%* on everyday banking with EQ Bank
EQ Bank is growing and now offers both the advantages of a chequing and savings account. Every purchase you make with your EQ Bank card earns 0.5% cash back on everything you spend. Every dollar loaded onto your card gets a 2.5% interest rate.
With the EQ Bank Card, there are no minimum balance requirements which means you never have to worry about fees busting your budget. You get a high-interest rate on your deposits and cash back on all card purchases, plus free withdrawals from any ATM in Canada and freedom from surcharges.
Stack Prepaid Mastercard
Fee: $7.99/month, reimbursed when you spend at least $350 per month
Spending Limit: $5,000 in purchases per day
Finally, we have the STACK Prepaid Mastercard credit card. It doesn't offer discounts. However, it does promise you exclusive promotional offers at over 140 participating merchants. 
Like the Apple Card, the STACK card is also available in digital form that you can add to your digital wallet. Supported digital wallets include Apple Pay, Samsung Pay, Fitbit Pay and Google Pay. No need to take your card out of your wallet every time you want to pay. Using STACK's mobile app, it takes about two minutes to complete a card application. All you have to do is actually answer a few questions. Since there is no credit check, virtually everyone is eligible.
Wealthsimple Cash Mastercard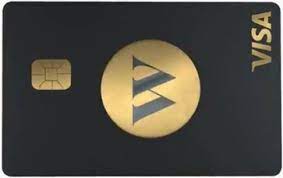 Fee: None
Interest rate: 1% to 3%, also available in stock or crypto
The Wealthsimple Cash Prepaid card is the payment method associated with Wealthsimple Cash. Just like the Apple Card, it has no fees and is a virtual card. It works with Apple Pay or Google Pay. Of course, it also exists in physical form. To use the card, you need to add funds to your Wealthsimple Cash account. This works as both a chequing and savings account, with high interest rates allowing you to make your money go further.
The Wealthsimple Cash card also gives you 1% cash back on all your purchases. If you want, you can even get that cash back in the form of stock or cryptocurrencies in your Wealthsimple Trade and Wealthsimple Crypto accounts. You also get 3% interest you direct deposit over $500 per paycheque. Those who can deposit $100,000 across Wealthsimple get a higher rate, at 4%.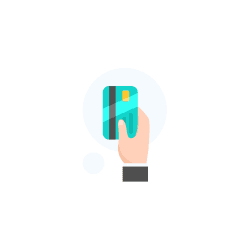 Find the best credit card for your needs