BMO Air Miles Mastercard Review for 2022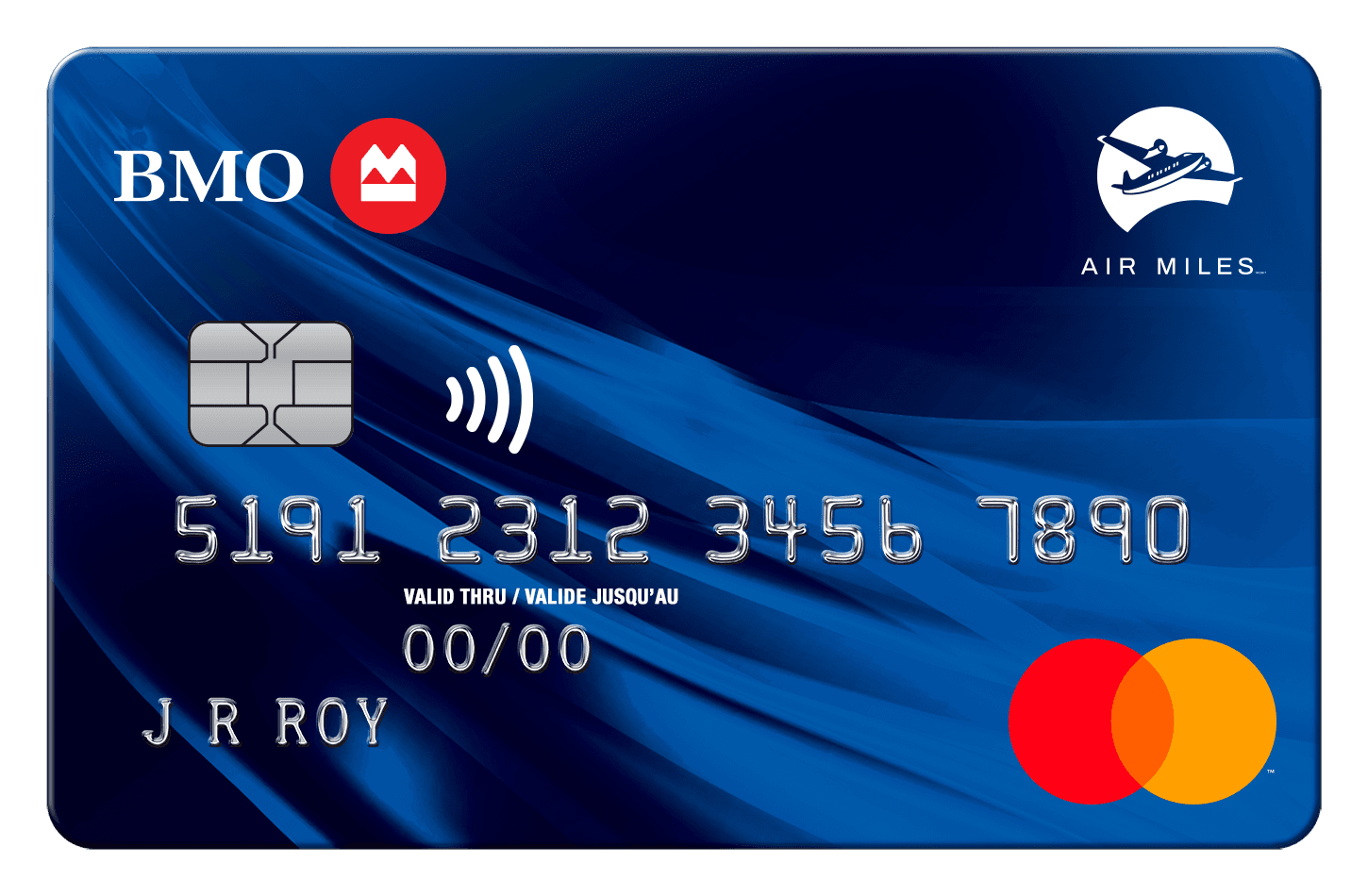 It's no secret that Canadian air travelers want a card that offers impressive Air Miles earning potential. But with so many options out there, it can be hard to choose the right card for your needs. With the BMO Air Miles Mastercard, you'll earn extra Miles at participating Air Miles partners while getting additional perks you want from a credit card, with no annual fee. Something for nothing? Yes please!
The BMO Air Miles Mastercard is a solid choice if you love to travel on the cheap. While the base earn rate for the BMO Air Miles Mastercard is not as generous as other cards, it's a great start for those new to credit, new to Canada, or who just want a rewards card without a hefty annual fee.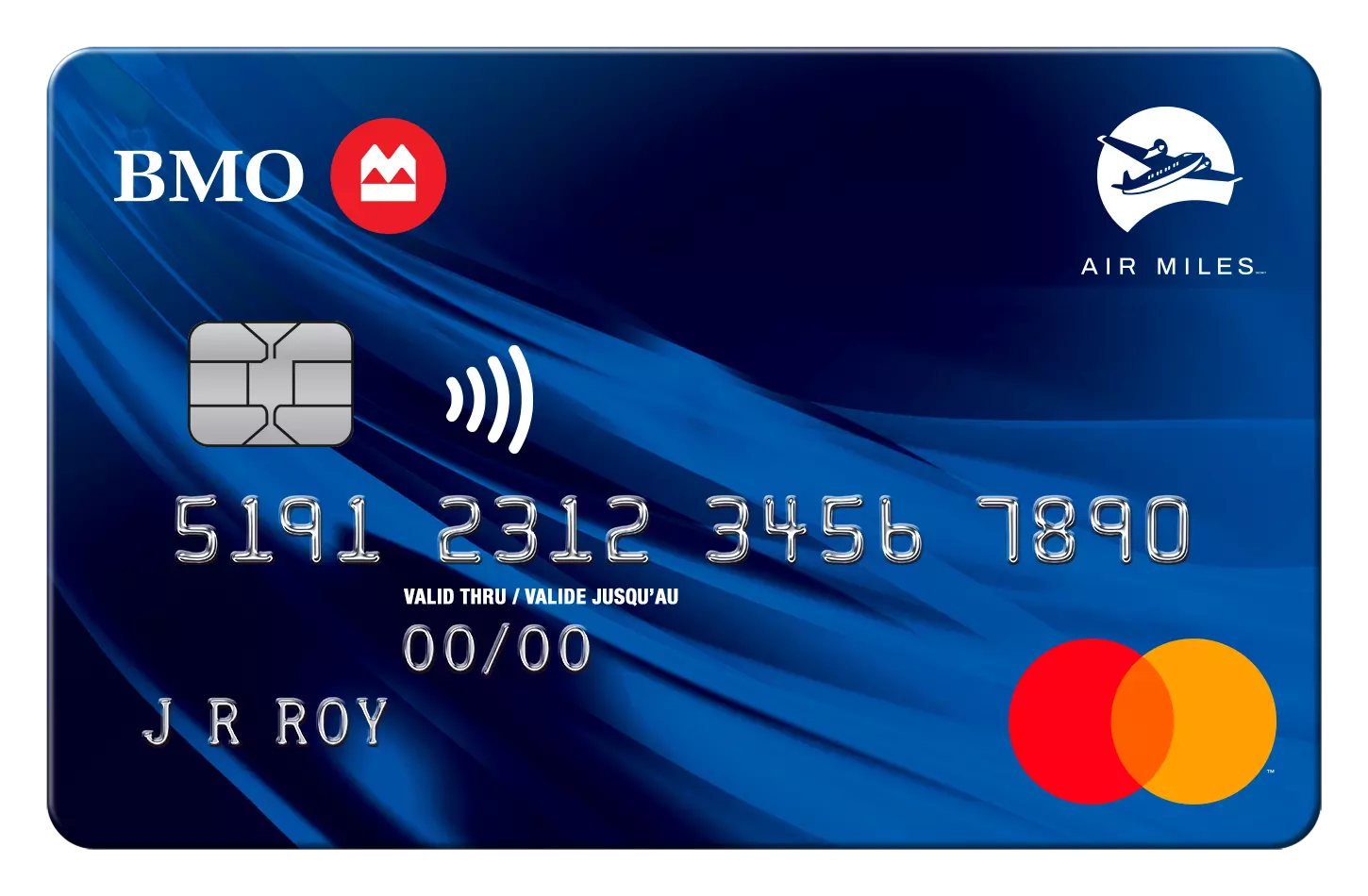 Annual fee: $0
Interest rate: 19.99%, cash advances 22.99% (Quebec residents 21.99%)
Rewards earn rate: 3x the Miles for every $25 spent at participating Air Miles partners. 1 mile for every $25 spent on all other purchases.
Balance transfer offer: 0.99% for the first 9 months + 1% transfer fee
Additional card fee: $0
Minimum income: $15,000 annual personal income
BMO Air Miles Mastercard sign-up offer
New cardmembers get up to 800 Air Miles Bonus Miles when they sign up and spend $1,000 on the card in the first 3 months. Once you reach the qualifying spend amount within the timeframe, your Bonus Miles will be credited to your account within 90 days. You'll also get a  1.99% introductory interest rate on balance transfers for 9 months, subject to a 1% transfer fee on the balance. 
Who is eligible for this card?
The BMO Air Miles Mastercard is not particularly difficult to qualify for. Average credit scores and lower incomes are welcome. As long as you're the age of majority in your province, have a minimum income of at least $15,000 a year, and have an average credit score with no bankruptcies in the last 7 years you shouldn't have too much trouble. That's good news for those of us not on the Hardbacon's richest list. Of course, nothing is guaranteed and you are required to submit to a credit check.  
Earning Air Miles
BMO Air Miles Mastercard holders earn 3X the Miles per $25 spent at Air Miles partners, and 1 Mile per $25 spent everywhere else. You can also double dip Air Miles when you use your BMO Air Miles Mastercard with the Air Miles Collector Card at Air Miles partner retailers. You'll also earn even more bonus Miles when you shop at partner retailers during Mega Miles promotional events. You can add additional cardholders to earn Miles faster, and there is no fee for a supplementary card. If you open a BMO Air Miles banking plan, you'll also earn Air Miles on your debit card purchases too.
Redeeming your Air Miles
Not only is the BMO Air Miles Mastercard a great no-fee reward card for travel lovers, but it's a great rewards card for homebodies too. The Air Miles program is flexible to suit whatever collectors value most which includes discounts and free stuff, not just travel perks. You can earn Air Miles in two ways: Cash Miles or Dream Miles. You can choose which ones you earn, or a combination of both. Dream Miles can be used for your classic travel expenses like flights and other travel needs, while Cash Miles can only be used in-store for discounts and free stuff. 
Extended warranty
The BMO Air Miles Mastercard comes with complimentary extended warranty protection on card purchases. Items purchased in full with this card automatically have the manufacturer's warranty period doubled up to a maximum of one additional year. That could save you hundreds of dollars on pricey additional warranty protection add-ons from the retail when you buy things like big ticket items or expensive electronics.
Purchase protection
BMO Air Miles Mastercard holders also get complimentary purchase protection insurance. Items purchased in full with this card receive automatic protection against damage or theft 90 days from date of purchase. If your kids drop and break their brand new Nintendo Switch, you can breathe easy if you bought it with this card. Or maybe you stopped for lunch while holiday shopping and the gifts you just bought were stolen right out of your car. No sweat. 
Travel insurance
So here's the bad news, there isn't any travel insurance with the BMO Air Miles Mastercard. Bummer, I know. That's the trade-off for a no-fee Air Miles card. Having said that, it's still a worthwhile card for earning flexible Miles in one of Canada's largest and most well known loyalty programs. You'll just need to obtain your own travel insurance before you hightail it out of Canada. Use the Hardbacon Travel Insurance Comparison Tool to find the right travel insurance for your needs at the best price. Crisis averted! Whether its emergency medical coverage or trip cancellation protection, you'll have peace of mind knowing your bases are covered. 
Who is the BMO Air Miles Mastercard for?
The BMO Air Miles Mastercard doesn't have the same bells and whistles as some other travel rewards cards. But that's not to say it isn't a great Air Miles card, because it is. This is one of the best no-fee Air Miles rewards cards out there. Think of it as the younger sibling to the BMO Air Miles World Elite Mastercard. Its an easy to get Air Miles credit card for those with lower incomes, newer to credit, or not crazy about fees. It just means the earn rate is lower and there are fewer perks. The BMO Air Miles Mastercard offers a fair trade with plenty of opportunity to earn more rewards, faster.
Even if you already have another credit card, with the sign-up bonus of 800 Air Miles points, no annual fee, easy eligibility qualification, and one of the best travel rewards programs in Canada, the BMO Air Miles Mastercard offers a solid travel credit card with virtually zero expense to new cardmembers. To get the most out of your BMO Air Miles Mastercard, you'll want to shop at Air Miles partners as much as possible and really take advantage of those Mega Miles days. Consider adding an authorized user with a supplementary card to earn even more Miles. Despite the lower Air Miles earn rate, you can extract even more value when you use your Miles for last minute short-haul flights. After that, the best bang for your buck is to redeem your Miles for flights and concerts.
BMO Air Miles Mastercard Rating
| | |
| --- | --- |
| Introductory Offer: | 3.5/5 |
| Rewards | 4/5 |
| Rates & Fees: | 5/5 |
| Perks & Features: | 4.5/5 |
| Total | 4.25/5 |
Perks & Benefits
The BMO Air Miles MasterCard offers some good perks on top of the excellent air miles and bonus points. Some other benefits include:
Earn rewards with no annual fee, ever

Discounts on National Car Rental and Alamo Rent A Car

Low 1.99% interest rate on balance transfers for the first 9 months

No maximum on the number of free additional cards

Opportunity to earn double the Air Miles with eligible purchases

Extended warranty up 1 additional year and purchase protection insurance against theft or damage for 90 days from purchase

Use your Air Miles to pay down your statement, travel, gasoline, merchandise, or instant cash

Save big with millions of Canadian Air Miles partners

Canada's largest loyalty program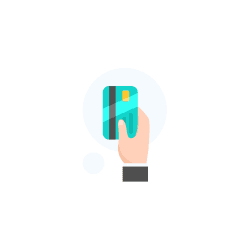 Find the best credit card for your needs