The BMO Ascend World Elite Mastercard, formerly the BMO World Elite Mastercard, has the potential to be an outstanding credit card. It is a travel card with some points conversion features that makes it good to have for inflation and if you are building an investment portfolio. Is that enough to make you want to pay more for the card? Let's see.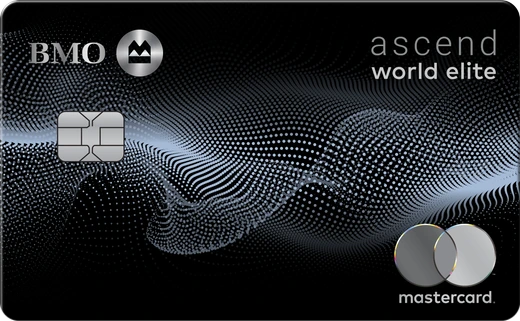 Annual fee: $150, waived the first year
Welcome Offer: 60,000 BMO Rewards points
Interest rate: 20.99%, 23.99% cash advance
(21.99% in Quebec for cash advances)
The Welcome Offer
In terms of impact, the BMO Acend World Elite Mastercard Welcome Offer packs a heavy punch. You get 60,000 BMO Rewards points and they waive the $150 annual fee for the first year. The details are in the fine print.
The 60,000 points are tiered. You earn the first 30,000 points once you spend $3,000 CAN in the first 3 months of having the Mastercard. Your next 30,000 points depend on your spending habits between month 4 and month 15 of your card membership. You need to spend $2,000 net each month to get 2,500 points each time.
Spending $2,000 is easy when you use your card for groceries and fuel alone. Add in your streaming services, bills, and occasional fun? You reach the minimum threshold fast.
A card that lets you earn points quickly
You have unlimited opportunity to earn points with this card. It lets you earn 3x the points for every $1 spent on travel. You earn 2x the points for $1 spent on everything else. That is a step up from a basic credit card.
What do the points actually mean?
That is the beauty of BMO Mastercards. With the BMO Ascend World Elite Mastercard, the points redemption value is simple and straightforward. Your 60,000 points can mean $600.
We put in a monthly spend of $2,000 in the BMO site's points estimator and it seems that a net $24,000 in a year, that is $2,000 x 12, lets you walk away with 105,300 points. The dollar value is $1,053.
BMO Ascend World Elite Mastercard and travel
As we wrote, the BMO Ascend World Elite Mastercard is a travel card. When you travel, you get access to airport lounges. Not only that, you also get access to over 1 million Wi-Fi hotspots around the world at no added cost, and no added fees or roaming charges.
Let's get back to the potential 105,300 points we earned in the first year. According to BMO's calculations, that is a free ticket from Halifax to Paris, France. An extra 6,700 points is a ticket from Toronto to Istanbul, Turkey. Those are very good rewards for using your BMO Ascend World Elite Mastercard daily food, gas, and entertainment.
BMO Ascend World Elite Mastercard and travel insurance
Here is where the BMO Ascend World Elite Mastercard shines compared to the BMO Rewards Mastercard. You get travel emergency medical coverage plus a host of other insurances.You are covered for up to $2,000,000 in eligible medical expenses. You are covered for 21 consecutive days.
Eligibility criteria with credit cards is always limited.You have options if the credit card does not cover you for travel emergency medical insurance because of a pre-existing condition or you are over age 65. You can always take out your own travel insurance.
Redeem your points for products, experiences and more
Your points work like regular currency. Why not exchange them for travel or goods? You can use your points to pay off your credit card balance.
Turning your BMO points into an investment
There are two really great perks that you get when you get the card. Your points can convert to dollars to pay off your credit card balance or to invest in a BMO Investment account. It really stretches your spending power.
You earn points by spending real dollars. Those dollars are gone. However, because you used your World Elite Mastercard, the investment power of those funds remains with you. You can turn the points into a deposit in your BMO Investment account.
Is the BMO Ascend World Elite Mastercard worth it?
The BMO Ascend World Elite Mastercard is a nice choice for Canadian travelers seeking a good rewards rate and Elite travel perks. If you invest with BMO, the card adds money to your portfolio. OK, it adds money if you exchange your points for a deposit to a BMO Investment account. Still, that is a smart money move and a clear benefit to having the card. If you travel, it is a good card. Just be aware that you are paying an annual fee and a higher interest rate than with other cards.
BMO Ascend World Elite Mastercard Rating
| | |
| --- | --- |
| Introductory Offer: | 4/5 |
| Rewards | 4/5 |
| Rates & Fees: | 4/5 |
| Perks & Features: | 4.5/5 |
| Total | 4.13/5 |
Benefits and perks of the BMO Ascend World Elite Mastercard
3x points per $1 spent on travel
2x the points per $1 spent on everything else
No caps or limits on Rewards earning
Pay your card balance with points
Invest your points' cash value in a BMO Investment account
Emergency Travel Insurance
Purchase Protection
Rental Car Collision Coverage
BMO Concierge Service
Rental Car Collision/Damage Insurance
Personal Effects Theft/Damage Protection
VIP Mastercard Airport Experiences
Mastercard cashback Travel Rewards Program
Find the best credit card for your needs