Ultimate Guide to Brim Financial Mastercards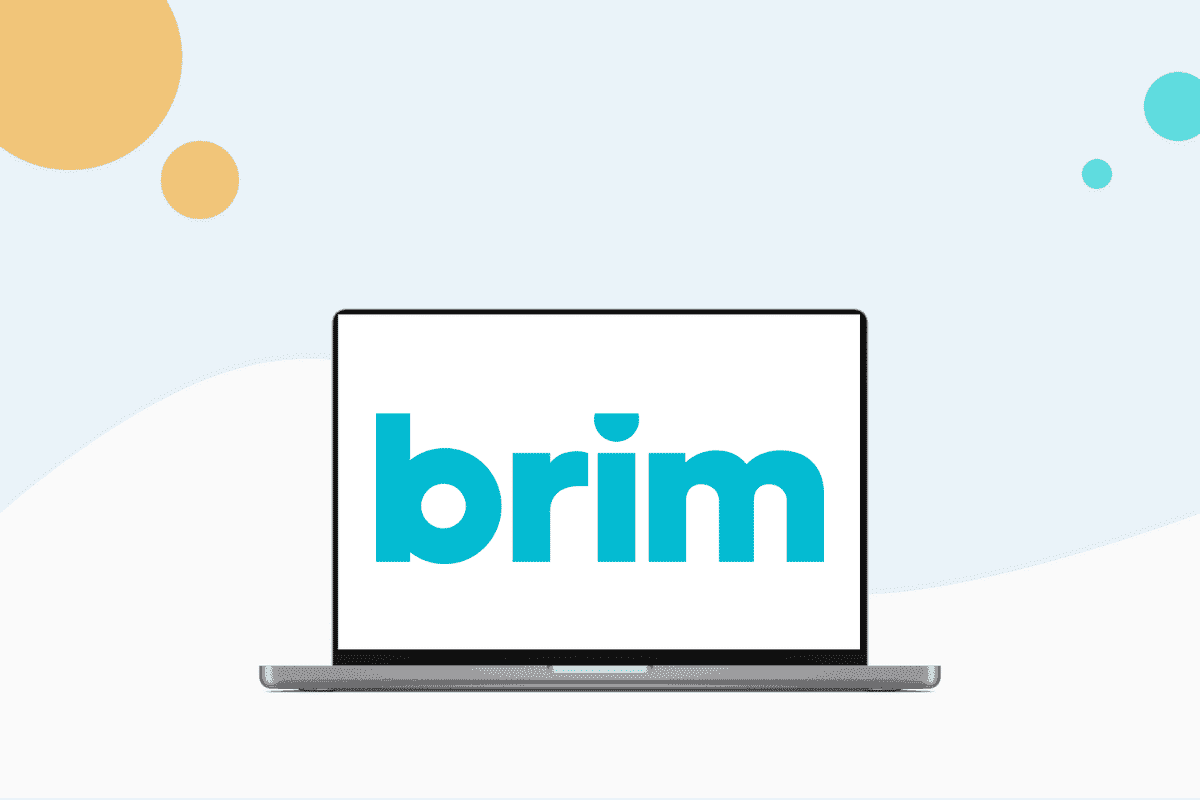 Brim Financial might not be a well-known name in Canada, but it's definitely very reliable and enjoys a positive image. The company offers a variety of credit cards that we will dissect in this review. Let's get started:
Introduction to Brim Financial
Co-founded by Rasha Katabi in 2015, Brim Financial is a fintech company offering credit cards. Brim was recently in the news for entering into a partnership with Laurentian Bank to revamp its Visa credit card offering. Headquartered in Toronto, the business is known for using innovative technology to bridge the gap between merchants and consumers.
Brim Financial Mastercards
Let's now have a look at the cards Brim presently offers. The company currently has three cards:
Brim Mastercard
Brim World Elite Mastercard
Air France KLM World Elite Mastercard (newly launched )
Brim Mastercard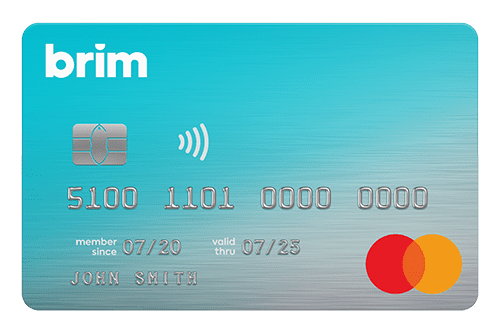 Annual Fee: $0 per year
Minimum Income: $60,000 personal or $100,000 household
Additional Cards: Yes ($0 per card)
Brim Mastercard is a highly affordable credit card with no annual fee but still offers some interesting rewards. Card owners earn 1 point for every $1 spent with no limits on rewards. Each point is worth 1 cent and the minimum redemption value is 100 points.
The card is easy to get due to a low annual income requirement. Also, the company is known for approving applicants with a lower income if they have a good credit score of roughly 700 or more. Moreover, additional cards can be requested for free.
The card is free to use abroad with 0% currency conversion fees and comes with the option to pay in instalments. We feel this is a great perk but make sure to read the fine print because the instalment option comes with additional charges despite a 'no interest' policy. Moreover, all cardholders enjoy free global WiFi through Boingo.
Since it is a basic card, it doesn't come with exclusive features but card owners will enjoy peace of mind thanks to perks such as:
Zero liability insurance
Common carrier accident insurance
Mobile device insurance worth $500 for loss, theft, or damage
Event ticket protector insurance worth $1,000.
The Brim Mastercard does a good job of protecting the buyer. In fact, buyers even get to enjoy 12 months of additional warranty on purchases – up to $25,000 per cardholder.
On the downside, the card does not offer travel-related perks, but purchase security insurance is included. It covers the first 90 days of purchases – up to $1,000 per occurrence against theft, damage, and loss.
Brim World Elite Mastercard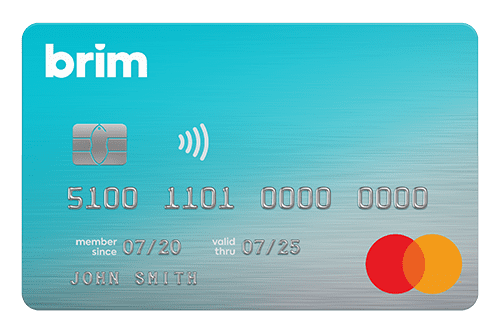 Annual Fee: $199 per year (first year free)
Minimum Income: $80,000 personal or $150,000 household
Additional Cards: Yes ($50 per card)
Brim World Elite comes with more benefits than the basic card, including 2 points for every $1 spent for the first $25,000. It goes down to 1 point for every $1 spent thereafter. There are no limits on rewards and the user will continue to earn points no matter where they use the card. Each point is worth 1 cent and the minimum redemption value is only 100 points.
The card usually costs $199 per year; however, the company is currently running a "$0 annual charges" offer for the first year. This makes the card 'free' to get, but we mention that this is a temporary offer and the company may revoke it without a warning. Also, card owners can choose to get additional cards for $50 per card.
Other perks include common carrier accident insurance worth $150,000 per accident, mobile device insurance worth $1,500 for theft, damage, or loss, and event ticket protector insurance worth $1,000. The card also offers zero liability insurance and protects the user against mishaps.
In addition, buyers enjoy 12 months of the extended warranty covering a maximum of $25,000 per cardholder. This is a great perk as this feature protects cardholders when the original warranty fails. It can be an excellent motivator to use the Brim World Elite Mastercard to make purchases. Also, the company covers new purchases for up to 90 days if a newly bought item gets stolen, damaged, or lost.
Individuals dealing with health issues can benefit from the company's out-of-province emergency travel medical insurance going as high as $5 million. Furthermore, the card can be an exciting pick for people who travel regularly. Cardholders enjoy flight delay insurance up to $500 per day, baggage delay insurance up to $500 per occurrence, lost or stolen baggage insurance up to $1,000 per insured, hotel burglary insurance up to $2,500 per occurrence, and car rental collision or loss damage insurance up to $85,000.
Even trip cancellations and interruptions are covered going up to $2,000 for interruptions and $5,000 for cancellations per trip. But, what truly makes this card special is Lounge Key Membership which gives cardholders access to hundreds of global lounges for $32 per visit. Unfortunately, no free visits are included.
Air France KLM World Elite Mastercard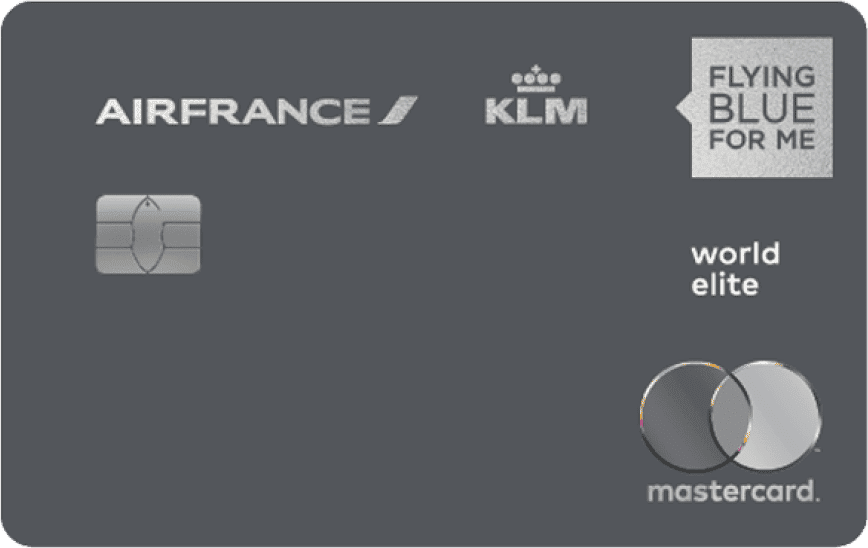 Annual Fee: $132 per year
Minimum Income: $80,000 personal or $150,000 household
Additional Cards: No
New to the market, the Air France KLM World Elite Mastercard is a result of a partnership between Air France, KLM, and Brim Financial. Issued and managed by Brim, the card comes with some great perks and rewards and can be an excellent pick for frequent flyers.
It costs $132 per year. Cardholders enjoy a bonus of 60 Experience Points (XPs), equating to 60% of the points required to qualify for the Silver status. Plus, cardholders earn 30 XPs per year when they renew the card.
The Air France and KLM launch Air France KLM World Elite Mastercard offers up to 30 miles per $1 when shopping at select stores. A full list of partner sites is not available. It goes down to 2 miles per $1 on restaurants and bars and 1 mile per $1 on everything else.
Moreover, Flying Blue members get to enjoy additional perks in the form of higher rewards. The company offers 5 miles per euro spent when buying Air France and KLM tickets, in addition to regular miles earned according to status. Don't worry about spending in Canadian dollars, as the company automatically converts the amount to euros, which will be used to determine the miles earned.
We must mention that partner airlines qualify as well. However, the best thing about the offer is the ability to extend the validity of miles by 2 years every time a purchase is made. This reduces the risk of losing earned miles.
The card comes with all the perks Brim Financial is known for, including free global WiFi access, instant approvals, additional cards, virtual cards, spend monitoring, instalments, and full mobile wallet compatibility.
However, since it's a new card we don't know yet about the limitations and requirements of using this card. Also, the company promotes travel insurance but we couldn't verify the details. But, expect to enjoy advantages such as common carrier accident insurance, mobile device insurance, event ticket protector insurance, extended warranty, flight delay insurance, baggage delay insurance, lost or stolen baggage insurance, hotel burglary insurance, car rental collision or loss damage insurance, trip cancellation insurance, and trip interruption insurance.
Brim Mastercard Features
Here are some of the main features of Brim Financial Mastercards.
Instalment Pay
Brim Financial is known for offering great flexibility in the form of instalment payments. With this option, cardholders get to choose their own terms and set up smaller monthly payments. This option is available on all purchases above $500, including international and online purchases.
Instalment options include 12 months, 16 months, 20 months, and 24 months. The best thing about this option is that the company offers 0% interest on all instalment purchases, but buyers will still have to pay more than the tag price.
The company charges a one-time commission of 7% that has to be paid in the first month with the first instalment. In addition, members have to pay a monthly processing fee of $4.75 per $1,000.
Still, we think this is a great feature as it can be used to make large purchases even when you're low on cash.
Foreign Exchange Fee
The company charges no currency conversion fees on all its cards making Brim one of the best options for people looking for credit cards without currency conversion fees. Consumers can use the card to shop abroad without having to worry about currency conversion charges, which are typically in the range of 2.5 to 3%. This makes Brim Financial an excellent choice for people who travel a lot or prefer shopping from international platforms, such as Amazon USA.
Free Global WiFi
Brim Financial gives users access to over 1 million Boingo WiFi hotspots in locations such as cafes, airports, planes, and hotels. Members can use their account details to use Boingo, without having to pay monthly charges of up to $14.99 per month. The service is useful and can be a great reason to use Brim Financial cards. Plus, all cards from the company come with this feature and there are no additional changes to access free internet.
Contactless Payments
Cardholders get the option to link their card to a number of mobile wallets and enjoy contactless payments. Supported wallets include Apple Pay, Google Pay, Samsung Pay, Fitbit Pay, and Garmin. We think this is a great feature as more and more people are now opting for digital wallets since they're more secure.
Additional Cards
All cardholders can request additional cards for family members. The process is straightforward and can be completed anytime, even at the approval stage. The main cardholder gets the option to set and adjust spending limits for other users and keep an eye on how they spend money. The system offers real-time updates and the option to set up notifications. Plus, it is also possible to lock cards or block specific transactions.
Budgeting & Tracking
All Brim cards come with the option to set up financial goals and keep an eye on spendings through transparent tracking tools. The system can be set up to send notifications when a user approaches or exceeds set limits. This can prove to be beneficial for users interested in budgeting.
Security
Brim Financial impresses when it comes to security. The company hasn't been a victim of breaches or hacks and is known for taking steps to protect its users. It uses state-of-the-art data encryption technologies such as 2048 bit SSL encryption and PCI-DSS compliance to protect user data.
Also, it is known for strict auditing and standards. But, what truly takes the cake is how the company gives power into the hands of users.
All cardholders get the option to lock cards, receive notifications in real-time, and block transactions such as online purchases and foreign purchases. This can be a great way to protect your card and reduce the risk of unauthorized access.
Brim Rewards eShop

One of our favourite features is the Brim Rewards eShop with more than 200 retail partners, including some popular names such as Indigo, Apple, Lululemon, and Disney. Using the eShop comes with some great advantages, including discounted rates and cash back offers that go as high as 30%. However, most retailers do not go above 10 percent. Rewards are given in the form of points and can be a great way to increase your savings.
The store can be accessed through the web or mobile app. It's found in the Rewards section. Users can scan the list of available retailers and see what they offer. Clicking on the 'Shop Now' button will take the user to the official site where they can make a purchase. These points can take up to 5 business days to show up in your account.
Mobile App
Brim offers a mobile app that can be used to perform a variety of tasks, such as managing existing cards, adding new cards, and requesting instalment payments. The app is available on both Android and iOS devices and works like a charm.
Brim Rewards & Points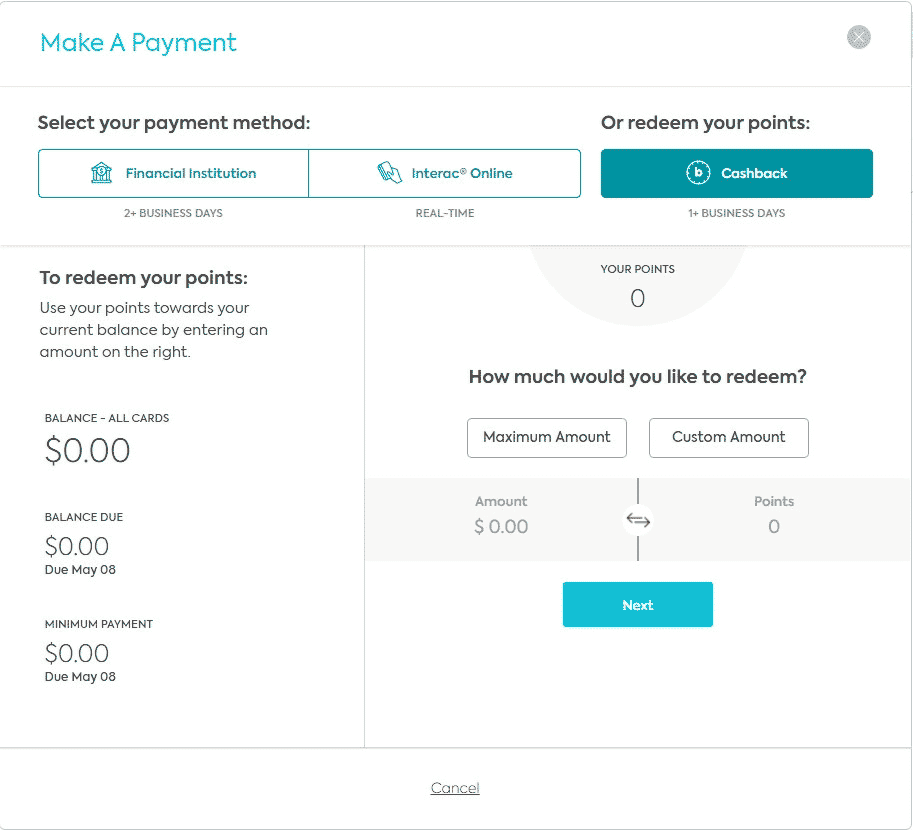 Brim makes it very easy to redeem points. Cardholders earn rewards automatically just for using the card. Each point is worth 1 cent and 100 points will give $1 in savings. Fortunately, the company has a very low threshold of $1 (100 points). Also, points will not expire for as long as your card remains active.
Points can be used to make in-store purchases. The process is straightforward. Open the Brim Financial app, choose the product that you wish to purchase, and choose to use your points. The system allows the user to select how many points they wish to redeem.
Those who do not wish to make purchases can use points against the total balance amount. This can be done through the online banking portal. Login to your account, go to the 'Make a Payment' option, click 'Cash Back', and choose how many points you wish to use. The process is easy but it can take up to 48 hours for points to transfer so make sure to apply a few days before your due date.
Brim Financial Mastercards: Frequently Asked Questions
What is Brim Financial?
Brim Financial is a financial organisation best known for being Canada's only fintech company with the licence to issue credit cards. 
Who owns Brim Financial?
Brim Financial is a privately held company; however, CEO Rasha Katabi, who is also the co-founder, is the main shareholder.
Is Brim Financial legit?
Yes, Brim Financial is a legit company headquartered in Toronto. It enjoys positive reviews on the internet and has been operational since 2015. The company was recently in the news for two successful funding rounds worth $25 million in 2021 backed by big names like GoEasy and Impression Ventures.
Is Brim Financial a bank?
Brim Financial is in the banking industry but it is not a chartered bank. The company markets itself as a fintech firm offering credit cards. Also, it doesn't offer services such as savings accounts or deposits.
How much is a Brim point worth?
1 Brim point is worth 1 cent.
Does Brim have any special offers?
Yes, Brim offers special rewards from time to time, including a chance to win more points. The company is currently offering 2x points on all Amazon.ca purchases (for the first $10,000 in a year). Check the official site for the latest offers and promotions.
How do I contact Brim?
There are several ways to contact the team, including phone support (1-866-305-2746), email (support@brimfinancial.com), online form, and social media. The team is known for being responsive and most queries are responded to within 24-48 hours. 
Will I earn points on grocery purchases?
Yes, Brim offers points on grocery purchases (1 point per $1 spent in most cases); however, it may not be the best card for groceries as some other credit cards in Canada are known to be more rewarding.
How do I pay Brim?
Payments can be made through the mobile app or online portal. Go to the 'Make a Payment' section and choose your desired method. Available options include online banking, cashback, Interac Online, and mail. However, some options are not instant, hence choose wisely.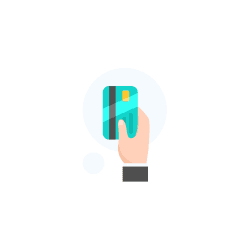 Find the best credit card for your needs