The Ultimate Guide to Charge Cards in Canada
If you have been looking into getting a new electronic payment card, you may have wondered about applying for a charge card. After all, they are a great alternative to a traditional credit card. Especially if you tend to spend a lot of money each month. But what exactly is a charge card, and when should you opt for one instead of a credit card? We will break down everything you need to know about the payment type below.
What is a charge card?
A charge card is similar to a credit card, but there are two big differences. First, you will need to pay back the balance in full every single month. If not, you will pay very steep fees, usually around a 30% interest rate.
While this can be a major drawback, charge cards do not have a credit limit. This can be a huge plus depending on your financial situation. As long as you have the money to pay the full balance once your statement arrives, you can theoretically shop without fear of the card declining.
There is a small caveat here. Most cards start you off with a reasonable spending limit, then adjust it based on your spending patterns, repayment history, and other personal finance factors.
Since charge cards are relatively high-risk loans, they almost always come with high annual fees. However, they also usually have impressive rewards. Depending on your spending habits, they may be worth the yearly splurge. That being said, credit card rewards are getting increasingly competitive, so don't be afraid to compare benefits before applying for a new card.
Why choose a charge card rather than a credit card?
A charge card's biggest perk is that you won't have to worry about a strict credit limit. This makes the card type ideal for big spenders (or anyone who's constantly maxing out their credit card). However, you do have to be aware of a spending limit, albeit one that responds to usage patterns.
Charge cards are known for their substantial rewards. You may be able to find credit cards with comparable rewards to their charge card counterparts. However, it is usually worth comparing several different payment cards to see which will fit best.
That being said, charge cards are not for everyone. For starters, the ability to carry a balance is part of what makes a credit card so flexible, especially in case of an emergency. If you think that you can't pay your charge card back in full every month, you would be better off getting a credit card. On the other hand, if you normally pay back your credit card in full every month and do not live beyond your means, you will not have to worry about excessive fees or high interest rates.
Canadian charge card options
Unfortunately, the choices are relatively slim if you would like to apply for a charge card in Canada. At the moment, there are only 5 charge cards available, and all of them are issued by American Express.
Although the financial company was once known for issuing charge cards, they have slowly been switching most of its traditional charge cards over to credit cards. In turn, providing customers with more flexibility when repaying their monthly statements.
Additionally, the American Express charge card webpage is looking a bit sparse at the moment. Though all of the cards below technically meet the criteria to classify as a charge card, only one card, the Aeroplan personal card, is included under "charge cards" on the website. As if that was not bad enough, only 2 of the 5 cards below are designated for personal use, while the other 3 are company cards. However, if you are a sole proprietor, you may still be able to qualify for the business charge cards.
American Express Aeroplan Card (Personal)
[Offer productType="CreditCard" api_id="60dd1b25125e5019eaa05c6c" id="146104″]
The American Express Aeroplan Card is the last card that American Express officially calls a charge card. The card has a relatively modest annual fee compared to standard American Express credit cards. However, it does not have a spending limit and comes with lots of perks.
Cardholders and up to 8 friends or family members may enjoy a free checked bag when flying with Air Canada. Plus, cardholders qualify for Aeroplan's Elite status more quickly. This gives them access to Air Canada's Maple Leaf airport lounges and makes it easier to get a flight upgrade.
The Aeroplan card also comes with several types of travel-related insurance coverage, minimizing the need to purchase third-party insurance when travelling out-of-province. There are tons of extra limited-time bonuses, too. The most recent offering? A free 6-month Uber Pass membership.
Read more about the 10 best Aeroplan credit cards.
American Express Platinum Card (Personal)
[Offer productType="CreditCard" api_id="5f46c3834726ce7207266a78″ id="145855″]
Although the American Express Platinum Card is officially a "card with no pre-set spending limit" rather than a charge card, it essentially comes with all of the features that you would associate with a charge card. There's no spending limit, there's a high annual fee, and you get to enjoy significant benefits. The only difference is the way that repayment is structured. American Express warns that some purchases will not go through based on your spending and repayment patterns.
The Platinum card has a 30% annual interest rate. Though you may get an offer to lock some of your balance into a 20.99%- 28.99% annual interest rate bracket. With such a high-interest rate, users are clearly intended to pay the card back in full each month. Otherwise, you would be better off shopping around for another high-rewards card.
However, the fact that American Express lists an annual interest rate similar to how they would if the card was a traditional credit card positions the Platinum Card as a middle-ground between a charge card and a credit card, even if you would have to be ridiculously rich to consider carrying a balance on it from month to month.
You can enjoy incredible perks if you want to use the card as a traditional charge card. For instance, you will have access to a 24/7 concierge service, numerous travel insurance perks – including emergency medical insurance – a NEXUS statement credit, upgraded hotel benefits, travel lounge access, and a $200 annual travel credit, among other benefits.
American Express Business Gold Rewards Card
[Offer productType="CreditCard" api_id="60dd257a125e5019eaa05c6e" id="146127″]
The American Express Business Gold Rewards Card strikes a great balance between traditional charge card and credit card. There is no automatic credit limit, so you do not have to worry about running up a large tab. You will have access to a limited amount of funds, but that amount grows as you establish a solid repayment history. You will also get to enjoy impressive perks. Including employee misuse protection which will refund you if staff members use a company card to make an unauthorized purchase. But the best part of all? The Business Gold Rewards Card comes with flexible payment options. This allows you to wait up to 55 days to repay your statement interest-free.
Unfortunately, though, the Business Gold Rewards Card is not a great pick if you plan to carry a balance for two months or more. Like the Platinum Card, it comes with a 30% annual interest rate.
American Express Business Platinum Card
[Offer productType="CreditCard" api_id="637559a7985fbd4494bfcb32″ id="146139″]
Looking to splurge? The American Express Business Platinum Card is a solid choice for business owners who want a charge card that has lots of benefits, and are willing to pay for them. Like all American Express business charge cards, the card comes with a flexible spending limit that reflects your payment and usage history, includes financial management software, and provides protection against employees using supplemental cards for unauthorized purchases.
The card also has a 30% annual interest rate on any unpaid balance. However you can request that some or all of your balance be moved to a special 20% – 28.99% interest rate bracket. However, as with the American Express personal Platinum Card, this charge card's benefits are where it truly shines.
As a Business Platinum cardholder, you automatically have access to extensive travel and purchase insurance. You can also access a wide variety of airport lounges, enjoy perks at thousands of hotels, and access premium perks at Toronto Pearson International Airport. As if that was not enough, you have a 24/7 concierge service at your fingertips. While the Business Platinum Card may have a steep price tag, it undoubtedly comes with a lot of benefits.
Read more about the 10 best business credit cards in Canada.
FAQs About Charge Cards in Canada
Still feeling a bit confused about charge cards? We can help! Take a look at our list of frequently asked questions for more information.
What is a charge card?
A charge card is a payment card that must be repaid in full every single month, but does not have a strict pre-set spending limit. Generally, charge cards also have extremely steep fees for unpaid balances, discouraging users from carrying a balance on a month-to-month basis in the same way that they might on a credit card. Like many high-end credit cards, charge cards are known for their high fees and significant rewards.
What is the difference between a charge card and a credit card?
The biggest difference between a charge card and a credit card is that credit cards have a static credit limit which prevents users from borrowing too much money, whereas charge cards have variable spending limits that reflect users' financial habits. Use your charge card responsibly for a long period of time, and you will be unlikely to reach its spending limit without drastically altering your habits.

Repayment tends to look a little different, too. Issuers generally expect charge cards to be paid off in full once each statement is issued, whereas users are allowed to carry a balance on their credit card from month to month. As a result, charge cards also tend to have steeper interest fees and penalties for unpaid balances than their credit card counterparts.

In terms of finer details, all of the charge cards currently available in Canada come with significant perks, but also require a substantial annual fee (ranging from $120-699). You can find credit cards that require little to no annual fee, but most of these cards do not have as many perks as a charge card. Similarly, you can also find status symbol credit cards such as the American Express Black Card with extremely high fees and perks that far surpass those of any charge cards available in Canada.
What are the available charge cards in Canada?
In Canada, there are currently very few charge cards available. If you would like a personal charge card, you can choose between the American Express Aeroplan Card and the American Express Platinum Card. If you would prefer a business charge card, you can select the American Express Air Miles for Business Card, the American Express Business Gold Rewards Card, or the American Express Business Platinum Card.
Disclaimer: American Express is not responsible for maintaining or monitoring the accuracy of information on this website. For full details and current product information, click the Apply Now link.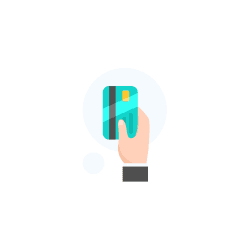 Find the best credit card for your needs