KOHO Review 2023: a prepaid card with unique benefits!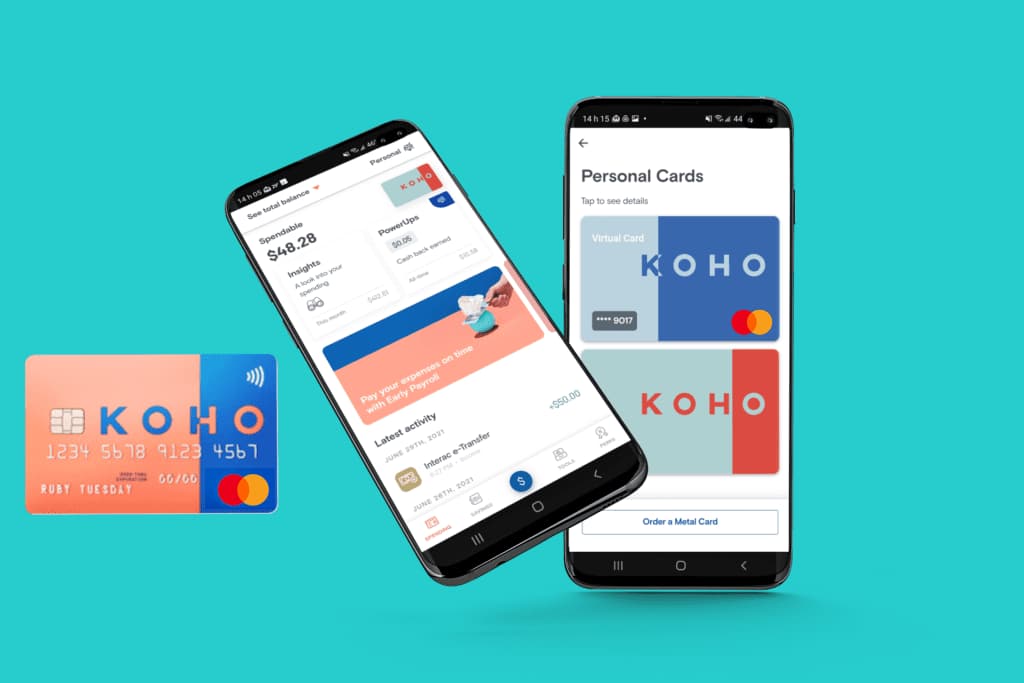 Get ready to expand your vocabulary, because very soon words like EQ and KOHO will be part of it. What are they? Prepaid credit cards! They offer rewards, like any other credit card, without jeopardizing your credit rating if your balance goes unpaid. Interested? Read the article to find out if KOHO prepaid cards are right for you.
What is KOHO?
Credit card companies can often offer us unbelievable credit limits, going far beyond our monthly income. To maintain a good credit rating, it's best not to fill them up. These high credit card limits more often than not push the average consumer to spend more. However, a debt ratio of 30% or less contributes to maintaining a good credit score. This means that you should not use more than $3,000 on your credit cards with a $10,000 limit. But how do you stop yourself before you go too far?
Prepaid cards are helpful for those who want to set a healthy spending limit. The KOHO Mastercard® card is accepted everywhere Mastercard is accepted. It's free and easy to reload.
Founded in 2017 in Vancouver, KOHO is a prepaid card service. Technically, KOHO is not a bank, but you can do all your spending and saving with its services. Its founder and CEO is Daniel Eberhard who had previously worked in the renewable energy sector.
He analyzed the accounts of several family members and friends. He realized that he wanted to help people save money on bank fees, which they often paid without even realizing it. KOHO describes itself as a fintech that offers Canadians an alternative to their traditional banking experience.
Let's break down the KOHO Mastercard® credit card
Any prepaid card is a sound alternative to credit cards.
KOHO prevents us from spending more money than we have in our account, while earning rewards. Like a debit card, the KOHO Mastercard® Prepaid Card allows you to spend only what you have in your account. Like a credit card, it offers you cash back rewards and helps you save when you travel.
Part debit card, part credit card, choose KOHO to :
Stay within your budget
Get cash back on all your purchases
Benefit from its low cost (it's free!)
Have no impact on your credit rating
How KOHO works
Where does the money you spend with KOHO come from? From your pocket! Or more precisely, from the account from which you loaded it. In short, it's your money, which you've already earned.
It's not an intangible debt against your future income, which changes your perspective and makes you more careful before you spend. On a day-to-day basis, it's just like using a credit card, but without the risk of adding 20% interest to your spending.
Plus, you don't have to maintain a minimum balance or make a certain number of transactions. If you try to make a payment and it runs out of funds, you will receive a notification. The money could then be withdrawn from your savings account.
KOHO may not be as well known as your typical big bank, but that doesn't stop it from being accepted worldwide, wherever Mastercard is accepted. Whether in Paris or online, you can pay for all your purchases with ease. In other words, the vast majority of your transactions are covered by KOHO.
KOHO Mastercard® Prepaid Card
[Offer productType="CreditCard" api_id="604aaa18e770040140f2203e" id="144191″]
The Easy plan gives you 1% cashback on groceries and transportation, as well as 0.5% interest on your entire balance. There is no annual fee, but it does charge a 1.5% conversion fee for foreign currency transactions.
The Essential plan lets you earn 1% cash back on groceries, transportation, eating & drinking and 0.25% back on all other purchases. You can also earn 4.5% interest on the first $500 of your balance, and 2% on the rest of your balance. The Essential costs $4/month.
For $9/month or $84/year, KOHO Extra gives you 2% cash back on groceries, transportation, eating & drinking, and 0.5% cash back on all other purchases, as well as 4.5% interest on the first $1,000 of your balance and 3% on the rest. You also get 1 free international withdrawal per month and no foreign exchange fees.
For $19/month, you get Everything, which is great if you plan on saving because you get a 4.5% interest rate on your entire balance. Everything also includes a 2% cash back on groceries, transportation, eating & drinking, and 0.5% on all other purchases.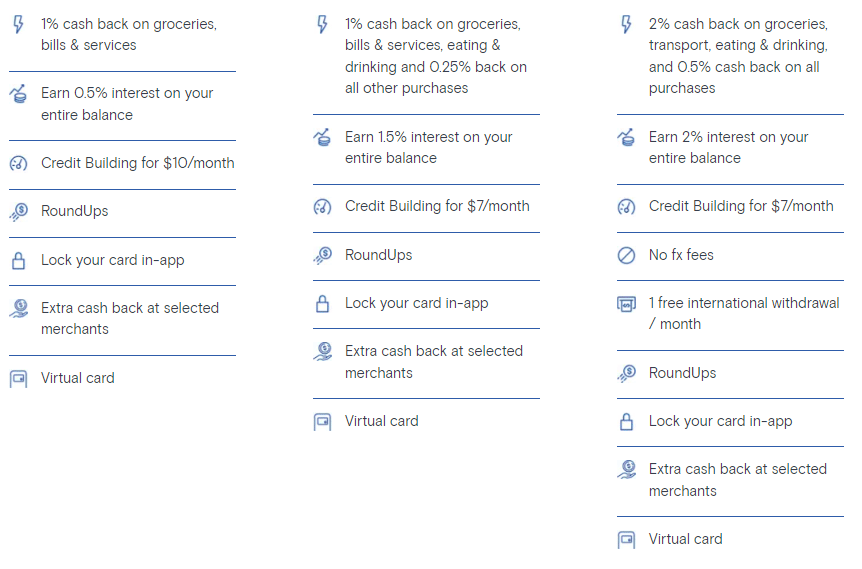 Both Extra and Everything plans offer financial advice. As long as you have your paycheque automatically deposited into it, a free financial coaching service is offered. For example, you'll receive notifications on the status of your savings and budget.
If you accidentally mismanage a few bills, the pay advance service allows you to receive $50. For $5 a month, Cover is KOHO's overdraft protection. Check out the full details in the table below and in your KOHO Agreement.
| | | |
| --- | --- | --- |
| KOHO CARD FEES | Easy & Essential | Extra & Everything |
| New KOHO Card | Free | Free |
| Maximum balance | $20,000 | $40,000 |
| Maximum number of Point of Sale transactions per day | 15 | 20 |
| Activation Fee | Free | Free |
| Electronic funds transfer from your bank account, Purchases, INTERAC e-Transfer, Payroll Direct Load, Direct Debit Payment | Free | Free |
| KOHO Card Cancellation Fee | Free | Free |
| Inactivity Fee (starting month 13 after activation, billed monthly if your card has not been used for 90 days) | $1.00 | $1.00 |
| Foreign Exchange Transaction Fee | 1.5% | Free |
| Monthly Subscription Fee | $0 or $4.00 | $9.00 or $19.00 |
| Credit Builder (optional) | $7-$10 | $5-$7 |
| Cover Me (optional) | $5 | $5 |
KOHO fees
Who is KOHO for?
KOHO is for people who want to manage their finances wisely. With this card, you only spend what you can afford so you'll be sure to stay within your budget.
Anthony, who has bad credit
Anthony doesn't have access to a credit card. In fact, he had to cut up his old card into tiny pieces because he couldn't stop overspending. He was only able to pay the minimum amount each month and his debt kept increasing. Because of his mismanagement, his credit rating dropped below 500 points.
Anthony likes to shop online regularly. He orders clothes from the U.S., China, sometimes books hostels for a weekend getaway and searches for bargains on eBay. Without a credit card, it's almost impossible. He needs a solution. The prepaid card is one of them, since it is accepted like any Mastercard card.
Anthony also has a bad habit of losing his keys and forgetting his wallet at his girlfriend's or friend's house. However, he always has his phone in his hand! Since his KOHO card is connected with Apple Pay, he was able to pay for his purchases in the store today even though his card was left at his girlfriend's house last night.
If you have bad credit and can't access a credit card with great cash back, KOHO is an option to consider. If you want to avoid credit and take control of your finances, prepaid cards are a great way to make your everyday purchases easier.
Mary, who wants to build her credit
Mary is just 19 years old and has always been on the lookout for start-up companies, so she learns about the benefits of various financial services before choosing a product.
She decided to try KOHO after her roommate told her about it. Every morning, she likes to grab a coffee on her way to work. She also likes to shop online. After all, more and more fashionable clothing companies are only available online.
With her roommate, she decided to open a joint account in addition to her personal account. This way, they share grocery spending and other expenses for their home.
Joint accounts are available to everyone, whether you're a spouse, friend, sibling, parent or child.
How does the KOHO Mastercard® Prepaid Card work?
The process of signing up for KOHO takes about ten minutes. You'll need to enter your email address and a password to create your account. A referral code could earn you a $20 bonus.
Next, you'll need to provide information about yourself, including your full name, occupation, address and phone number. Your identity will need to be confirmed before you get your KOHO card. This is similar to what a bank would ask you to do. Everything is done online.
Since it's a prepaid card, you'll start by adding money to your KOHO account, most likely by making a transfer from your regular bank account. From then on, you can use your KOHO card to make purchases in person or online. It works the same way as debit or credit.
Once you start spending, the KOHO app automatically categorizes your spending and lets you track your budget. When it's empty, you reload it.
If you're happy with your card, you may want to consider setting up your paycheque for direct deposit.
The KOHO mobile application
Designed to be user-friendly and with a clean design, the KOHO application is as beautiful as its card design. What are its main features? You can view a real-time overview of your spending.
The categorization of purchases also allows you to see which spending items you might be indulging in a little too much. Thus allowing you to learn from your mistakes and try to correct them!
But KOHO's main feature is not budgeting. While the KOHO app categorizes the spending done with the KOHO card, and offers some very useful budgeting features, other more specialized apps can assist you better for the full management of your money.
That being said, If you're a committed KOHO user for most or all of your transactions, you'll be more than satisfied with the app.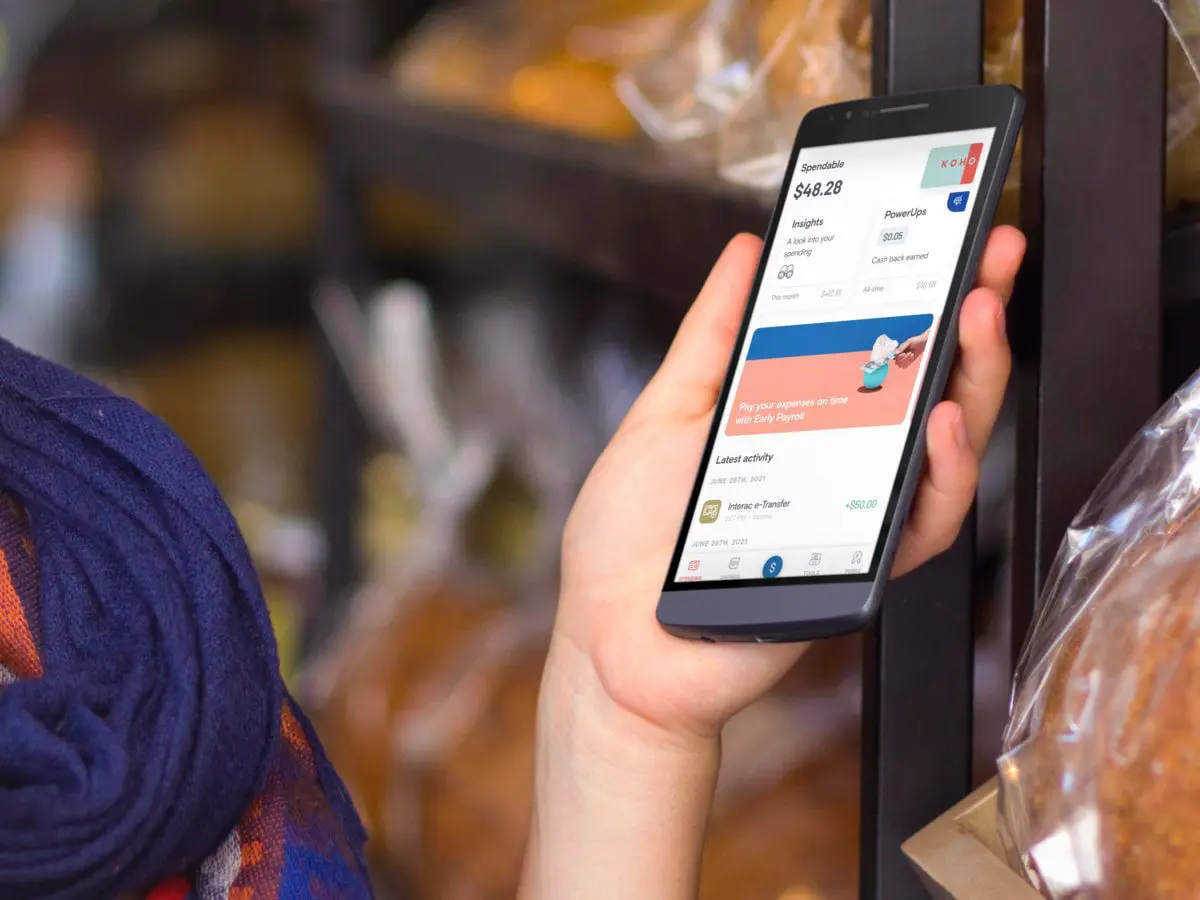 KOHO also values savings
Since the company helps you take back control of your finances, it makes sense to take the savings incentive a step further. The interest you earn depend on your plan. It goes from 0.5% to 4.5%.
In terms of interest rates for a chequing plus savings account, this is above average. If interest rates are important to you, you can always use a savings account comparing tool to check out what is available.
On top of the 1% or 2% cash back, KOHO also gives you access to additional rewards such as 5% cashback at selected partners. Many canadian merchants are partners with KOHO. These include Altitude Sports, Branch, Pizza Pizza and many others. Purchases from participating partners must be made directly through their store, website or app.
KOHO aims not only to become the perfect hybrid between a debit and a credit card, but also between a chequing and a savings account. Features such as RoundUp and the Vault help you save more. While the Vault prevents you from spending money you decided to set aside, RoundUp lets your round up your purchases so that KOHO can stash that money away for you.
KOHO Travel Perks
KOHO likes to keep things simple, and we love it! Focused on cash backs, KOHO Travel Prepaid Mastercard lets you earn 6% on Booking.com, as well as up to 2% cash back on dining and eating out abroad with KOHO Extra or Everything. While abroad, these plans do not charge any foreign exchange fees and you are still protected by Mastercard's Zero Liability Policy.
Need to start a budget to plan for travel? Use the KOHO app. The app can be set up to automatically contributing a fixed amount on a daily, weekly, or monthly basis.
No impact on your credit report, good or bad?
Prepaid cards do not affect your credit report. They generally don't report your account activity to Equifax and TransUnion.
If your credit score is struggling, you may not want to add a new inquiry, as it could have a negative impact. Turning to a prepaid card then makes perfect sense.
It's also a great thing if you've had credit problems in the past. You may not be psychologically ready to deal with credit right away. But if you ever want to regain a good credit rating, you need to take steps to improve your record. It's a must!
Getting a KOHO card will not affect your credit rating. But it won't help you improve it. To address this shortcoming, KOHO has developed a credit improvement option called Credit Building.
Build your credit with KOHO
In order to build your credit with KOHO, you can open a line of credit. With the Credit Builder program, you get to choose an amount to set aside from your line of credit. You can't spend it by accident! Then, KOHO will report that amount as an on-time payment to Equifax every month. You should see the impact on your credit score after 3 to 6 months.
There are two other ways to build your credit with KOHO. This feature is not yet accessible to everyone. You deposit your own money as a line of credit up to $500, and repay it on time. You can withdraw what you need and pay it back at the end of the month. Credit building costs between $5 and $10 per month depending on your plan.
Each month, KOHO recovers a portion of these dedicated funds and reports positive credit to the Canadian agencies. The process is done behind the scenes and the only difference you will see is the $10, $7 or $5 program subscription fee each month.
Is it safe?
Data is the lifeblood of any business! And as we know, even large banks and cooperatives are not safe from thieves!
It is therefore legitimate to ask what KOHO does with your data. Is it well protected? KOHO assures that it has adequate security measures in place to protect against unauthorized access, alteration, disclosure and destruction of user information.
This information is stored on their servers, those of their service providers. Only authorized employees, representatives and agents have access to it.
The money you deposit at KOHO is stored with Peoples Trust Company, a traditional bank, which means your money is insured by the Canada Deposit Insurance Corporation (CDIC) up to $100,000.
For example, if KOHO goes bankrupt, your money won't disappear into thin air! As a federally regulated financial institution, Peoples guarantees you access to your funds in all circumstances.
All the good reasons to join KOHO
If the 1% to 2% cash back (or more with retail partners!) doesn't convince you to order your KOHO Mastercard® Prepaid Card, maybe the potential 4.5% interest on your balance will?
Yes, KOHO is still new to the Canadian banking landscape. Since it's essentially a digital service, its operating costs are minimal and it can offer you rewards and interest (without charging you!).
It offers a range of convenient features to make your life easier, like Apple Pay compatibility and RoundUp savings. Students, new credit users, and people with bad credit can enjoy cash rewards without the high fees that typically come with regular credit cards.
Is KOHO for everyone?
Yes and no. Anyone can apply for a card. But if you already have bank accounts and credit cards with benefits, there may not be any added value to applying. Do you pay a lot of bank fees? Do you often have to pay interest on your credit card? Does your current card offer cash back or other rewards?
KOHO has its limits. Using KOHO doesn't mean you don't have to deal with a traditional financial institution. It's not the place to open and track a TFSA account or any registered savings plan. So it's not for investors, nor is it for retirement planning. But it's a great way to control your spending and give your savings a little boost!
Do you think KOHO isn't the right fit for you? See other alternatives with a credit card comparator!
FAQs about KOHO
Is KOHO a credit card?
No, KOHO is not a credit card. It is a prepaid card that operates on Mastercard's network. As a hybrid between a credit and a debit card, KOHO helps you earn cash backs.
Is KOHO safe?
Yes, KOHO is safe. KOHO stores your money in Peoples Trust, a federally regulated banking institution. Your deposits are also eligible for CDIC protection.
Can KOHO help me build my credit?
Yes, if you subscribe to their Credit Builder program. Depending on your plan, it costs between $5 ans $10 per month.
How long does it take for KOHO to accept an e-transfer?
E-transferts can take up to 30 minutes.
How does KOHO Credit builder work?
To build your credit with KOHO, you open a line of credit and you choose an amount to set aside from your line of credit. Then, KOHO will report that amount as an on-time payment to Equifax.
How does KOHO make money?
KOHO has three main source of income: interchange fees, affiliate marketing (through its offers) as well as subscriptions to its Essential, Extra and Everything plans.
Who owns KOHO?
The company provides banking services in partnership with Peoples Trust. Its founder and CEO is Daniel Eberhard.
How much is KOHO Premium?
KOHO Premium is now named KOHO Extra. Two other paid plans also exist. Depending on your plan, it costs $4 (Essential plan), $9 (Extra) and $19 per month (Everything).
How do I use the KOHO virtual card?
The easiest way to use your KOHO virtual card is to add it to Apple, Samsung, or Google Pay.
[Offer productType="CreditCard" api_id="604aaa18e770040140f2203e" id="144191″]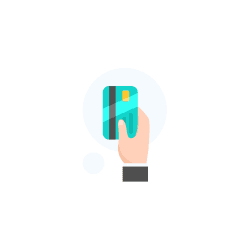 Find the best credit card for your needs