Travelling Hassle-Free: The Hidden Upside of a Prepaid Card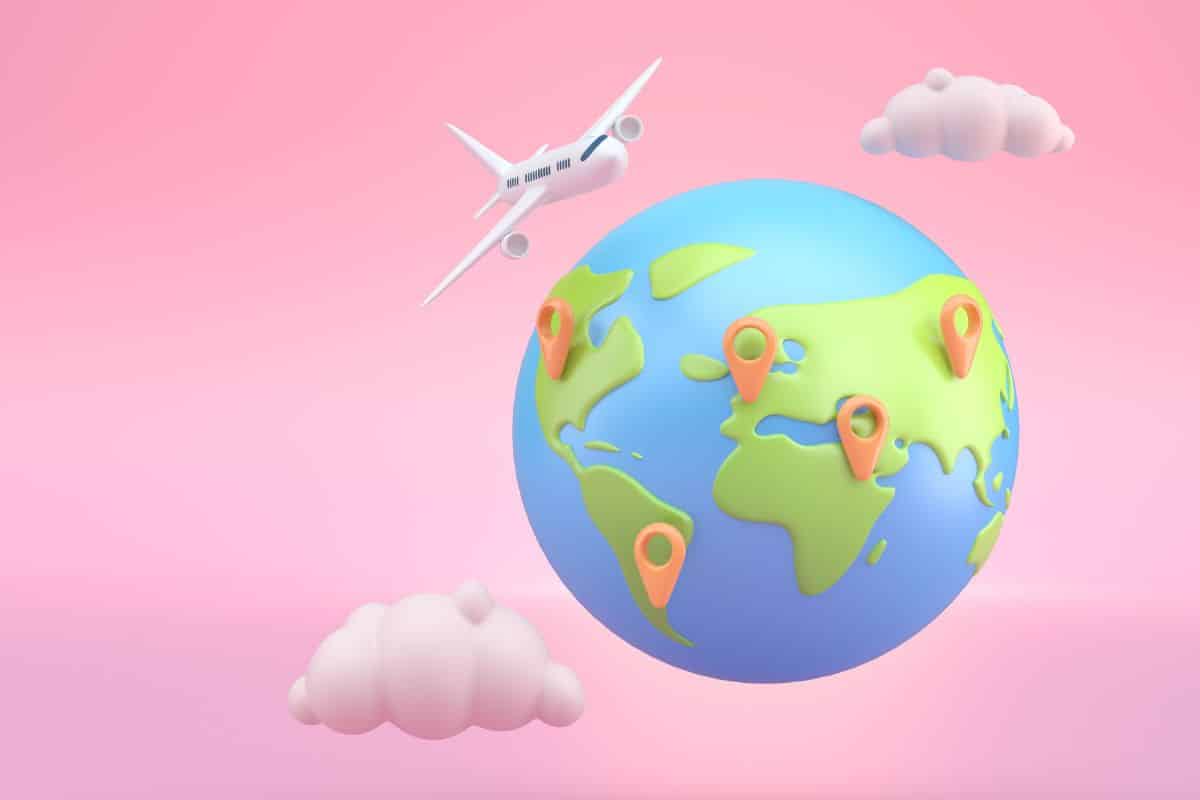 Table of Contents
[ Show ]
In collaboration with KOHO
I hate travelling with cash, and I despise using regular credit cards too. The risks are too high. The inconvenience is soul-crushing. Cash turns me into a target and don't even get me started on those gross foreign transaction fees. But wait, it gets worse. Fraudulent transactions could trash my credit score. So what's a girl to do? The KOHO Prepaid Mastercard is an ingenious middle ground – hear me out! 
This unlikely travel buddy bids farewell to the perils of cash and the pitfalls of traditional credit cards. Plus, it comes with great perks normally reserved for travel credit cards. Let's explore how KOHO can take the hassle out of globetrotting, safeguard your finances, and even line your pockets.
Travelling with cash
Imagine reaching for your Pesos to pay for that tasty late-night Tostada when – uh oh – they're gone! Tourists are prime targets for pickpockets, especially if they see you handling cash. Or worse, you could get mugged. Trauma is the worst souvenir ever. 
And I don't know about you, but I never actually make it to the bank to convert my foreign currency back into Canadian dollars. So I end up with a jar full of random coins I can't use. Not to mention, getting foreign currency before a trip is just super inconvenient from the get-go.
Travelling with a credit card
I know what you're thinking. A travel credit card is the obvious solution. And it is, for some people. But if you're new to credit or have a bad credit score, a traditional credit card is off the table. If you do qualify for a credit card, I'm happy for you. But when it comes to travelling, they leave a bad taste in my mouth where a Margherita should be. Here's why:
Foreign transaction fees
First, let's talk about those dreaded foreign transaction fees. Sure, there are some really good travel credit cards out there that don't charge this fee, but the reality is that most do. They delight in slapping on sky-high fees every time you make a purchase in a different currency.  And foreign ATM fees make me want to throw hands. It feels like I'm being punished for wanting to explore the world. No bueno! 
Your credit score is on the line
But the horror doesn't stop there. The very idea of my credit card information falling into the sticky fingers of fraudsters sends shivers down my spine. They could max out my card and wreak havoc on my credit score. Thanks to this thing called Credit Utilization Ratio, anytime you carry a balance that is more than 30% of your credit limit, it damages your score. Sorting out unauthorized use with your credit card company is not a quick process and your credit score can take a huge hit in the meantime. No thanks – I have cocktails and financial goals to crush. 
The debt trap is too close for comfort
And let's not forget the risk of overspending. I don't know about you, but my bank account balance has never been as high as my credit card limit, which feels deceptively like easy money. Well, it's not! 
Travelling opens up a world of temptations— indulging in a local delicacy, the perfect souvenir for that special someone, or an unexpected zip-line adventure through the jungle! But if I give in to those temptations and can't pay off my credit card balance in full, the interest charges pile up faster than a snowball rolling downhill. I'd rather come home with happy memories, not debt and regrets.  
Why I love travelling with a prepaid card
Personally, I find travelling with cash to be a huge pain in the ass. And based on my professional experience as a lender, traditional credit cards have lost their charm. Prepaid cards are the best of both worlds, but they don't get the love they deserve. Here's why the KOHO Prepaid Mastercard is an underrated travel companion. 
Peace of mind
It's like having the Three Musketeers in your pocket. With one piece of plastic, you can ditch cash, ward off thieves, and protect your credit score. Instead of wracking up credit card debt, you load it with money you already have – which also makes it a handy way to control your holiday spending. 
Safer & more convenient
You don't have to trek down to the bank to buy foreign currency. You can spend your Canadian bacon anywhere in the world that accepts Mastercard. Now that you're not flashing cash, you're less attractive to pickpockets and muggers. Plus, you don't have to worry about loose change living rent-free in a junk drawer when you get home.  
Better risk management 
It's true, prepaid cards can be stolen or skimmed just as easily as credit cards. But you have WAY more control over your own risk exposure. Since your KOHO prepaid card is not a credit card, unauthorized charges have absolutely no impact on your credit score.  
Nor can fraudsters drain your entire bank account like they could with debit-credit card. A KOHO prepaid card is a handy sidekick that can be used alongside your existing bank. You decide how much to load onto the card and keep the rest of your money safe in a separate account. 
If your card is stolen or skimmed, you can instantly lock it from your phone – then breathe a sigh of relief and carry on with your adventures. Better yet, keep it locked when you're not using it and only unlock it to make a transaction. That way if it falls into the wrong hands, they can't even use it – which saves you the headache of reporting fraudulent transactions. 
And the best part? You're covered by Mastercard's Zero Liability Protection. As long as you take reasonable care to safeguard your card and promptly report any loss or theft, you won't be held responsible for unauthorized use.
It saves money & your budget
The best part of globetrotting is spending on fun things, once-in-a-lifetime experiences, and snagging one-of-a-kind trinkets. Even small daily transactions for simple pleasures like Churros and Horchata are easier with a card. But those foreign transaction fees are a massive buzz-kill and hell on your travel budget. 
While KOHO does offer a free basic account, wanderlusters will benefit the most from two subscription plans in particular: The Extra Plan for $9 a month or the Everything Plan for $19 a month. 
Both plans unlock money-saving features like no foreign transaction fees and one free international ATM withdrawal per month. The ATM perk is especially handy because it's still a good idea to carry at least some cash on you for incidentals or if your card isn't accepted.

In fact, KOHO has the receipts to show just how much money their globetrotting users could save: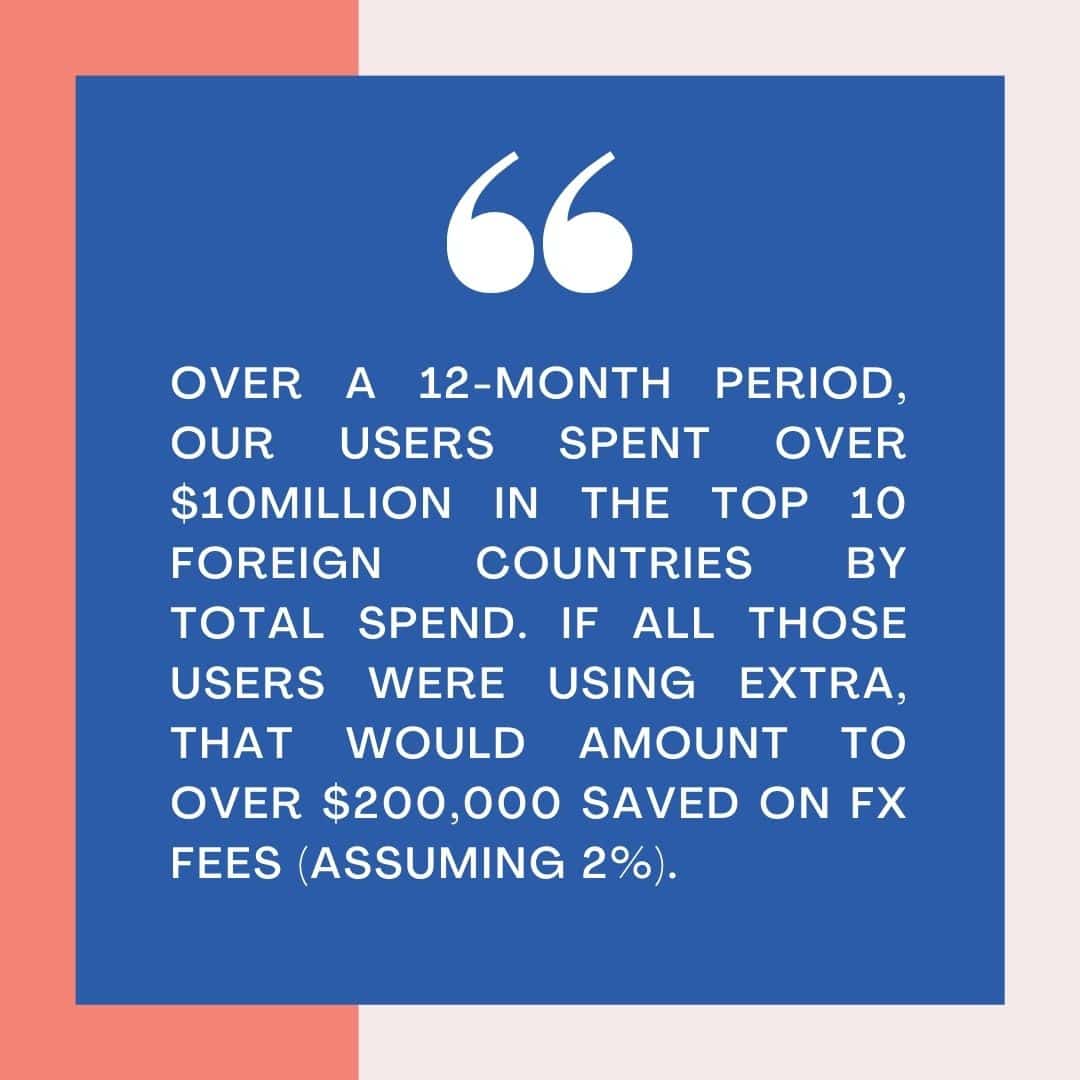 The Everything Plan is a bit more expensive, but it offers a unique feature you don't get with the less expensive plan. Instant eTransfers are an underappreciated perk that could bail you out of bad spot when you're miles from home – and your bank. 
When best-laid budgets go awry, you can instantly reload your KOHO card to cover the unexpected. So if your flight is cancelled or you forgot to budget for those hotel security deposits that tie up a portion of your balance, you can access your emergency stash at the tap of a button. And what if something really really bad happens? 
No one likes to think about medical emergencies on vacation, but we need to talk about it. Some medical care providers in other countries won't treat you unless you pay first, even when you have travel insurance. That's a not-so-fun-fact that a lot of people don't know. So if you twist your ankle or get bitten by a snake, you might have to pay something upfront until your claim is processed.

Instant eTransfers for the win.  
Make money while travelling
Just because you're on holiday doesn't mean your money should be. A paid plan turns every single KOHO card purchase into a money-making side hustle (minus the hustle). You can earn up to 2% cash back depending on the plan you choose.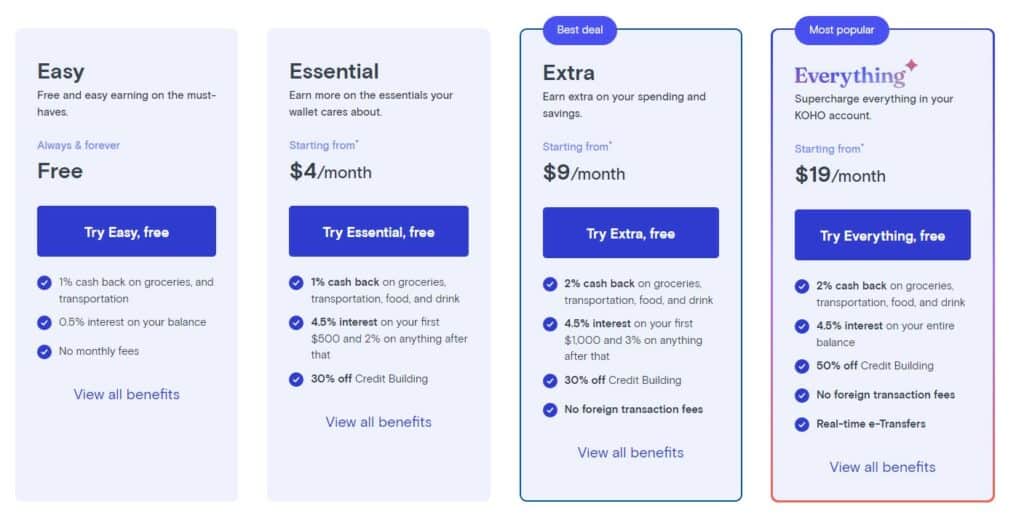 And since no adventure is complete without eating, drinking, and Vespa rides down cobblestone streets, Extra and Everything plan subscribers earn a whopping 2% cash back on eats and transportation. Plus, every dollar in your account earns up to 4.5% interest until the moment you spend it. 
Cool people, epic trips & extra cash back
Every KOHO user earns bonus cash back at partner merchants. And two of those partners happen to be Contiki and Booking.com. It literally pays to book travel with your KOHO card. 
Find new travel buddies on Contiki
Contiki is a unique travel site that can earn you an extra 5% cash back on your next adventure. If you love meeting new people, Contiki will match you with a group of like-minded globetrotters who share your joie de vivre.  
Just click on your dream destination, and Contiki takes care of all the nitty-gritty details so you don't have to. From transportation and accommodations to perfectly planned adventures, their itineraries cover it all like iconic landmarks, hidden gems, and immersive experiences. 
Plan your dream trip on Booking.com 
Booking.com is one of the most popular travel platforms in the world, and it gives KOHO users get up to 6% extra cash back. With just a few clicks you can find exclusive deals and discounts on everything from hotels and private rentals, to flights, cars, and more. Their Quick and Easy Trip Planner even lets you plan an entire adventure based on your mood.
Ready, set, KOHO!
I know you're ready to jet-set, but what about your money? Cash and credit are the go-to payment plans for most wanderlusts, but there's a third option with a hidden upside. Before you hop continents, make sure your wallet is travel-ready too. 
Discover stress-free globetrotting with a KOHO Prepaid Card.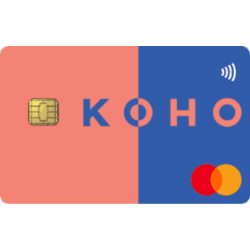 KOHO Prepaid Mastercard Easy
Get $20 when you sign up for a free KOHO account with code HARDBACON and enjoy 3 months of KOHO Extra to unlock up to 4.5% savings interest!* Conditions apply.
Get $20 with the promocode HARDBACON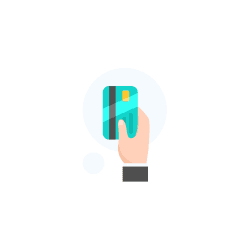 Find the best credit card for your needs