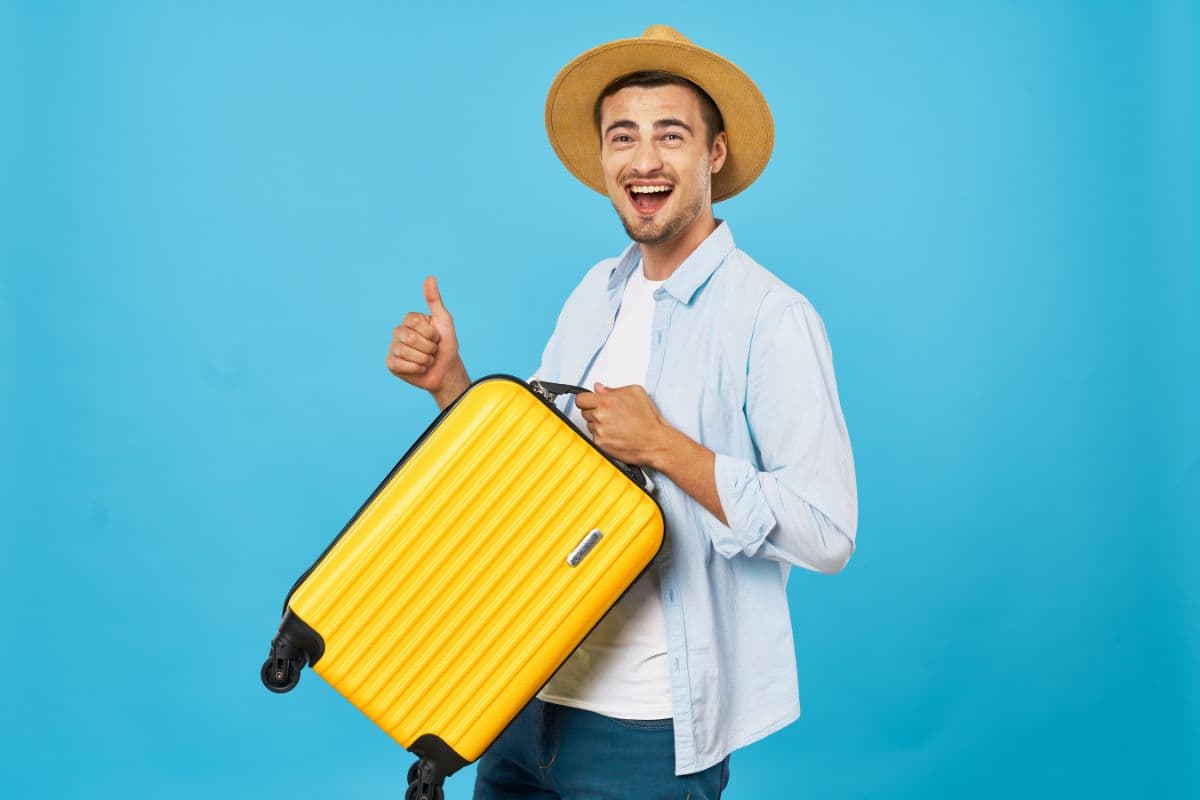 Before you jet off on your next adventure, don't forget to pack your prepaid travel card. Why? Because prepaid travel cards offer Canadians a safe way to spend money abroad. These cards provide the convenience of a credit card without high interest rates and the risk of racking up debt. Plus, you won't have to worry about your bank freezing your card if your overseas spending gets flagged, nor do you need to carry around foreign currency. Reloading your prepaid travel card is easy from anywhere in the world.
High income and good credit score requirements prevent many younger people from qualifying for some of the best travel credit cards. As a response, prepaid credit cards issued by fintech companies and big banks are rising in popularity, especially among wonderlusters. Many of these prepaid credit cards offer rewards and features that rival those of regular travel credit cards, including no foreign transaction fees!
With that in mind, let's take a look at the 7 best prepaid travel cards in Canada.
KOHO Prepaid Mastercard
[Offer productType="CreditCard" api_id="64eb78f661343a76edd3aad8″]
You can use the KOHO Prepaid Mastercard anywhere in the world that takes Mastercards, which makes it one of the most widely accepted and best prepaid credit cards in Canada. Your KOHO prepaid Mastercard is linked to your KOHO account so it's automatically loaded when you deposit money. Plus, your balance earns up to 4.5% interest until the moment you spend it.
While the free KOHO Easy plan is great for shopping at home, the Extra and Everything plans offer reward rates that are better suited to travelling. They earn 6% back for every dollar spent on Booking.com, 2% on groceries, dining out and transportation, plus 0.5% on everything else, which is deposited right back into your account.
If you subscribe to the Extra or Everything plan, KOHO waives the foreign transaction fee that most other cards charge for international transactions. There are also higher ATM withdrawal limits and you'll get one free international ATM withdrawal every month, meaning they won't charge you and will reimburse you for any ATM fees charged to your account.
You can load the card with an Interac e-transfer, or you can set up direct deposit from your employer. The direct deposit option is a very convenient feature for remote workers. KOHO also makes it easy to save and budget with their app and they're the only prepaid credit card that helps you build or rebuild your credit score.
Neo Money Card
[Offer productType="SavingsAccount" api_id="60fee79313fd2f260ff90749″]
The Neo Money Card is a unique prepaid card that comes free when you open a Neo Money Account. This card is accepted everywhere that takes Mastercard and earns at least 0.5% cash back on purchases with the potential to earn an average of 5% cash back when you shop among Neo's 10,000+ partner brands.
What makes Neo Money such a great prepaid travel card is that you can add a travel rewards bundle to your card for just $4.99 per month. There's no commitment for this subscription, you can cancel anytime and re-add it as needed for upcoming adventures. You'll enjoy 2% cash back on all your foreign transactions, 1.5x more cash back at all Neo partner hotels, access to over 1,300 airport lounges worldwide through Priority Pass, and free airport lounge access when an eligible flight is delayed by an hour or more.
The travel bundle also includes travel insurance, such as emergency medical, accidental death & dismemberment, trip cancellation & interruption, flight delay, baggage delay & loss, car rental protection, and hotel burglary.
Plus, every dollar in your Neo Money account earns 2.25% interest until the moment you spend it. And you can keep track of your spending from the Neo app.
EQ Bank Card
[Offer productType="CreditCard" api_id="63d2cb6a18196b6d2e1928c2″]
The EQ Bank Card works just like a debit card, but with the perks and convenience of a credit card. In order to apply for one, you have to open an EQ Bank Savings Plus account, which earns 2.5% interest on balances.
The card is free and earns 0.5% cash back on every dollar spent, which is deposited back into your savings account as a lump payment once per month. This is great prepaid travel card because there are no foreign transaction fees. Having said that, you will be charged the Mastercard exchange rate, but EQ won't charge the additional 2.5-3% that most credit cards charge.
Another thing that sets the EQ Bank Card apart from other prepaid travel cards is unlimited international ATM withdrawals for free (you'll just have to pay the fee charged by the ATM provider), so you never have to worry about where to get cash while abroad.
Wealthsimple Cash Card
[Offer productType="BrokerageAccount" api_id="5f53d2134d1911503113cafa"]
Wealthsimple recently revamped its Cash Account, which comes with a free prepaid Mastercard, known as the Wealthsimple Cash Card. To get it, you'll need to open an account with Wealthsimple and down the app. From the app, you can open a Cash Account and request your prepaid card.
The Wealthsimple Cash Card is another strong prepaid travel card because it comes with no foreign transaction fees and can be used everywhere that accepts Mastercard, worldwide. Every purchase earns you 1% cash back, which you can choose to receive as a cash deposit or invest in stocks or crypto. Also, Wealthsimple does not charge any ATM fees, but you are still subject to third-party fees charged by ATM providers.
The money in your account earns up to 5% interest, depending on how much you have across your Wealthsimple accounts. You can stay on top of your transactions from the app and instantly load your card with up to $5,000, giving you real-time access to your money when you need it regardless of geography.
CIBC AC Conversion Visa Prepaid Card
[Offer productType="CreditCard" api_id="61819e0b3775394336ca7113″]
The Air Canada Conversion Visa Prepaid Card from CIBC is available to anyone who wants it regardless of whether you have a CIBC account or not. The card is easy enough to sign up for online, but last-minute travellers can even get one from the CIBC Banking Centre at Pearson International Airport. And since it's a Visa, it's accepted globally wherever Visa is supported.
Once your account is registered you can easily load it from the AC Conversion App with up to 10 different currencies at once, making it one of the best prepaid travel cards to spend in foreign currencies. You also get 1 free foreign ATM withdrawal each month.
In the app, you can also exchange currencies that you've already loaded onto the card for another one that it supports. For example, if you are a Canadian in Mexico but only loaded the card with Great British pounds, you can exchange them for Pesos through the app without having to reload the card. You could also pay in pounds, but you'll be charged the 2.5% foreign transaction fee in that case.
This prepaid travel card also saves you money on exchange rates. Rather than paying a different exchange rate every time you use the card, one rate is locked in when you load it and you can spend at the same exchange rate until you reload.
BMO Prepaid Mastercard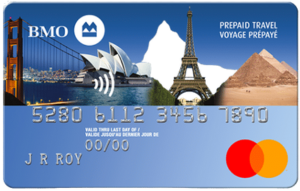 The BMO Prepaid Mastercard is not free, but it has some extra features that make it worth the cost. For an annual fee of $6.95, which is significantly cheaper than some of BMO's other travel credit cards, you'll get purchase insurance and an extended warranty, interest-free purchases and cash advances. A foreign transaction fee of 2.5% applies to all foreign transactions, making it one of our lesser favourite prepaid travel cards on the list.
Even though this card isn't free, it's one of the strongest prepaid credit cards on the market, backed by a globally recognized bank and Mastercard's massive network. Some folks might consider the annual fee a reasonable price to pay for the insurance and the added peace of mind of an internationally recognized card.
Canada Post Cash Passport Mastercard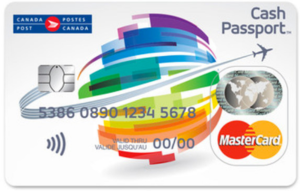 Not many travellers know that Canada Post can issue prepaid credit cards. It supports 7 currencies and is accepted internationally anywhere that takes Mastercard.
Unfortunately, this card is not free and there are a few fees associated with it. Many of the fees are easy to avoid, but some aren't. It's $15 to sign up for the card, plus a $3 reloading fee and a $3 ATM withdrawal fee. A foreign transaction fee of up to 3.25% applies to unsupported currencies only, meaning it won't cost you anything to pay in Pesos if you've loaded the card with pounds.
With this card, you have access to Mastercard's 24/7 Global Assistance. You also can get back up cards issued for free if you lose yours or it gets stolen, and state-of-the-art security can prevent anyone who finds your card from using it.
Benefits of prepaid travel cards over regular credit cards & cash
Itching to ditch Canada for a while? Prepaid travel cards offer several advantages, especially for international travellers. Here are some of the key benefits:
No Credit Check: Since you're loading the card with your own money and not borrowing, there's usually no credit check involved. This makes it accessible to more people, including those with less-than-perfect credit histories.
Savings & Deals: Certain prepaid travel cards come with perks like discounts or cash back on dining, shopping, or entertainment both at home and abroad.
Budgeting & Control: Since you load the card with a fixed amount of money, it can help you stick to your budget. You can only spend what's on the card, preventing you from overspending.
Currency Conversion: Some prepaid travel cards, like the CIBC AC Conversion Visa Prepaid Card and the Canada Post Cash Passport Mastercard, allow you to load multiple currencies, which can be beneficial if you're travelling to several countries. This can save you from currency conversion fees every time you make a transaction.
Lock-in Exchange Rates: Some cards, such as the CIBC AC Conversion Visa Prepaid Card, allow you to lock in an exchange rate when you load them, protecting you from fluctuating currency rates during your travels.
Avoid Foreign Transaction Fees: Some travel prepaid cards offer the benefit of no foreign transaction fees, which can save you money compared to using a regular credit card. These cards include the EQ Bank Card, and Wealthsimple Cash Card. KOHO and Neo offer no foreign transactions if you subscribe to an account plan or rewards bundle respectively.
Safety & Security: Prepaid cards are safer than carrying a lot of cash. If the card is lost or stolen, it can be blocked or replaced. And since these cards are not linked to your primary bank account, there's a limited risk of financial loss in case of fraudulent activities. In the case of regular credit cards, fraudsters can tank your credit score by racking up a balance – even when you're not on the hook for unauthorized charges.
Wide Acceptance: They are often branded with major card providers like Visa or MasterCard, ensuring acceptance at numerous outlets worldwide.
ATM Withdrawals: You can use prepaid travel cards to withdraw cash from ATMs abroad, although fees might apply.
Online Management: Most prepaid cards come with online platforms or mobile apps that allow you to check your balance, reload money, or view transactions. Our favourites include KOHO, NEO, EQ Bank, and Wealthsimple.
Backup Card: Some providers offer a backup card, such as a virtual card, when you get a prepaid travel card. If the primary card is lost or stolen, you can quickly activate the backup.
Limited Liability: Like many traditional credit cards, most prepaid travel cards offer limited liability protection, ensuring you won't be held responsible for unauthorized or fraudulent charges.
Prepaid travel cards have some downsides to consider
While there are numerous benefits, it's also important to consider potential downsides. Some prepaid travel cards come with various fees, including loading fees, inactivity fees, and ATM withdrawal fees. Here's what to consider before getting one:
Fees: Prepaid travel cards can have multiple fees associated with them, such as:
Activation or purchase fee: A one-time fee when you acquire the card.
Reload fee: Charged when adding money to the card.
Monthly maintenance or inactivity fee: Some cards charge if you don't use them for a certain period.
ATM withdrawal fee: Especially when withdrawing from international ATMs.
Foreign transaction fee: Though some cards waive this, others might charge for transactions in foreign currencies.
Balance inquiry fee: Some cards might charge for checking your balance at an ATM.
Exchange Rates: Even if a prepaid travel card doesn't charge a direct foreign transaction fee, it might offer less favourable exchange rates compared to other methods of currency conversion. This can make transactions more expensive than they appear.
Limited Reload Options: Depending on the card, there might be limitations on how and where you can reload money. Some might only allow bank transfers, while others might accept credit card reloads.
Expiration Dates: Prepaid travel cards can expire, meaning you could lose access to the remaining balance after a certain date.
No Credit Building: Unlike credit cards, using a prepaid card doesn't help build or improve your credit score, as you're not borrowing money.
Acceptance Issues: While most prepaid travel cards are widely accepted, there could be certain places or situations where they're not. For instance, some car rental agencies or hotels might prefer a traditional credit card for security reasons. For this reason, it is best to get a prepaid card from a financial institution like a bank, fintech, or credit union which verifies your identity and opens an account in your name.
Limited Protection: Prepaid cards might not offer the same level of protection as credit cards in terms of disputing charges, especially if the card is not linked to a major network like Visa or MasterCard.
No Rewards or Cashback: Unlike many credit cards, some prepaid cards don't offer points, miles, or cash back on purchases.
Balance Retrieval: If you have leftover funds on the card after your travels, retrieving that balance can sometimes be cumbersome or come with fees.
Lost Card Replacement: While many providers offer a backup card or emergency cash services, some might charge a fee for replacing a lost or stolen card.
Limited Fund Access: If you run out of funds on the card, you'll need to reload it, which might not always be convenient or immediate, especially if you're in a different time zone or have limited internet access.
Customer Service: Some prepaid card providers might not offer 24/7 customer service, making it challenging to resolve issues promptly.
FAQs about prepaid travel cards in Canada
What is a prepaid travel card?
A prepaid travel card works like a credit card, but instead of spending money and paying it back later, you load the card first and can only spend a predetermined amount. Once the card balance is at $0, you have to add more money in order to continue using it.
Are prepaid travel cards a good idea?
Prepaid travel cards are a safe and convenient way to spend money abroad. If it gets lost or stolen you don't need to worry about someone racking up thousands of dollars that you can't pay back, they're easy to load from anywhere in the world, and many prepaid travel cards now offer cashback rewards.
Where can I get a prepaid travel card?
You can get prepaid travel cards at many different locations around the world including grocery stores, drug stores, banks, credit unions, gas stations, or online. A bank or financial tech company is the best place to look for a prepaid travel card.
What is the best prepaid card for international travel?
Any prepaid travel card backed by the Mastercard or Visa network is the best way to go for international spending because both companies are widely accepted everywhere around the world. Each of the cards on this list comes with features and perks to make spending money abroad cheaper, safer and more convenient.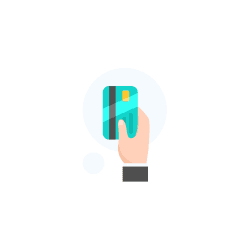 Find the best credit card for your needs