ClearScore Canada Review: How to get your free credit score in 2023?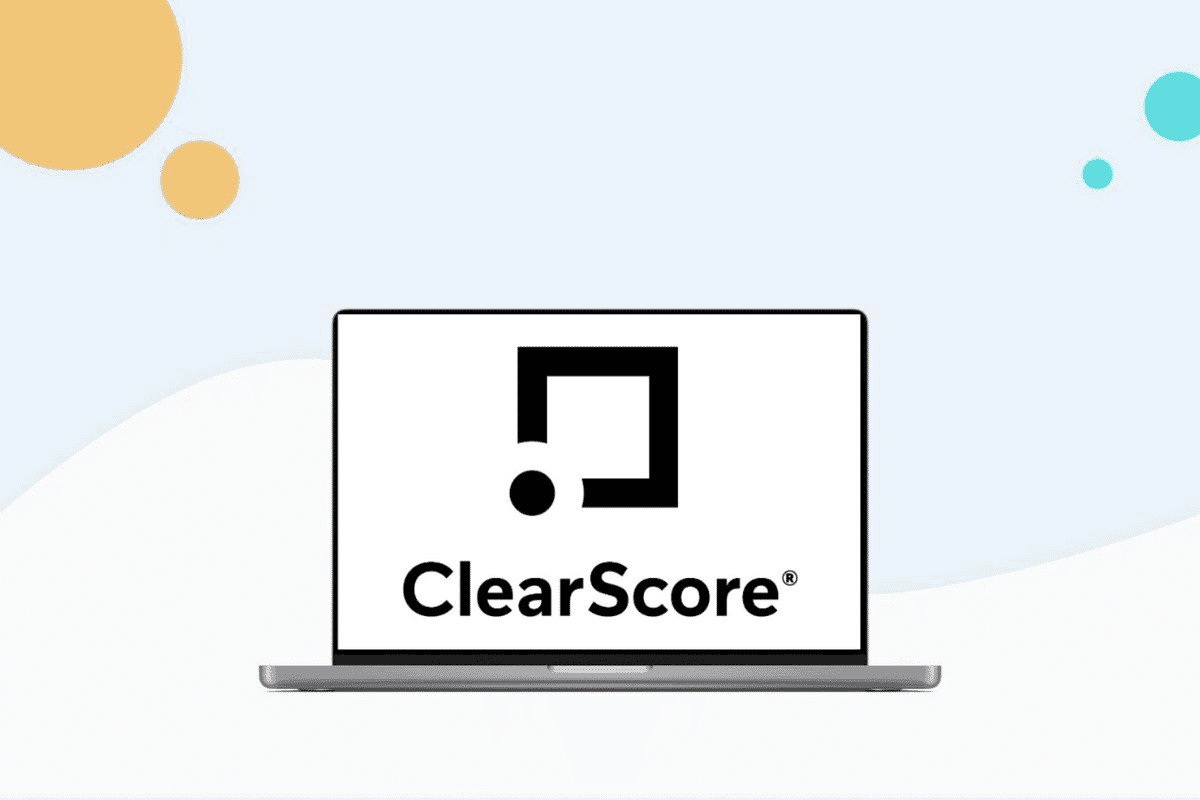 Your credit score affects the financial products that you are eligible for (and the interest rates that you will be charged), so it is important to keep it relatively high. Fortunately, many credit score checkers come with additional features that make it easier to understand and improve your score. One such example is ClearScore, a free British credit monitoring service that just expanded into Canada in fall 2022. The software explains the various elements that impact your credit profile, teaches you how to increase your score, and more.
But just how helpful is ClearScore — especially in comparison to other free credit monitoring software like Borrowell? Ultimately, Clearscore is a useful tool, but it has some downsides as well. We will be walking through the site to help you decide if ClearScore is a good fit for you.
Checking your credit score with a ClearScore Canada account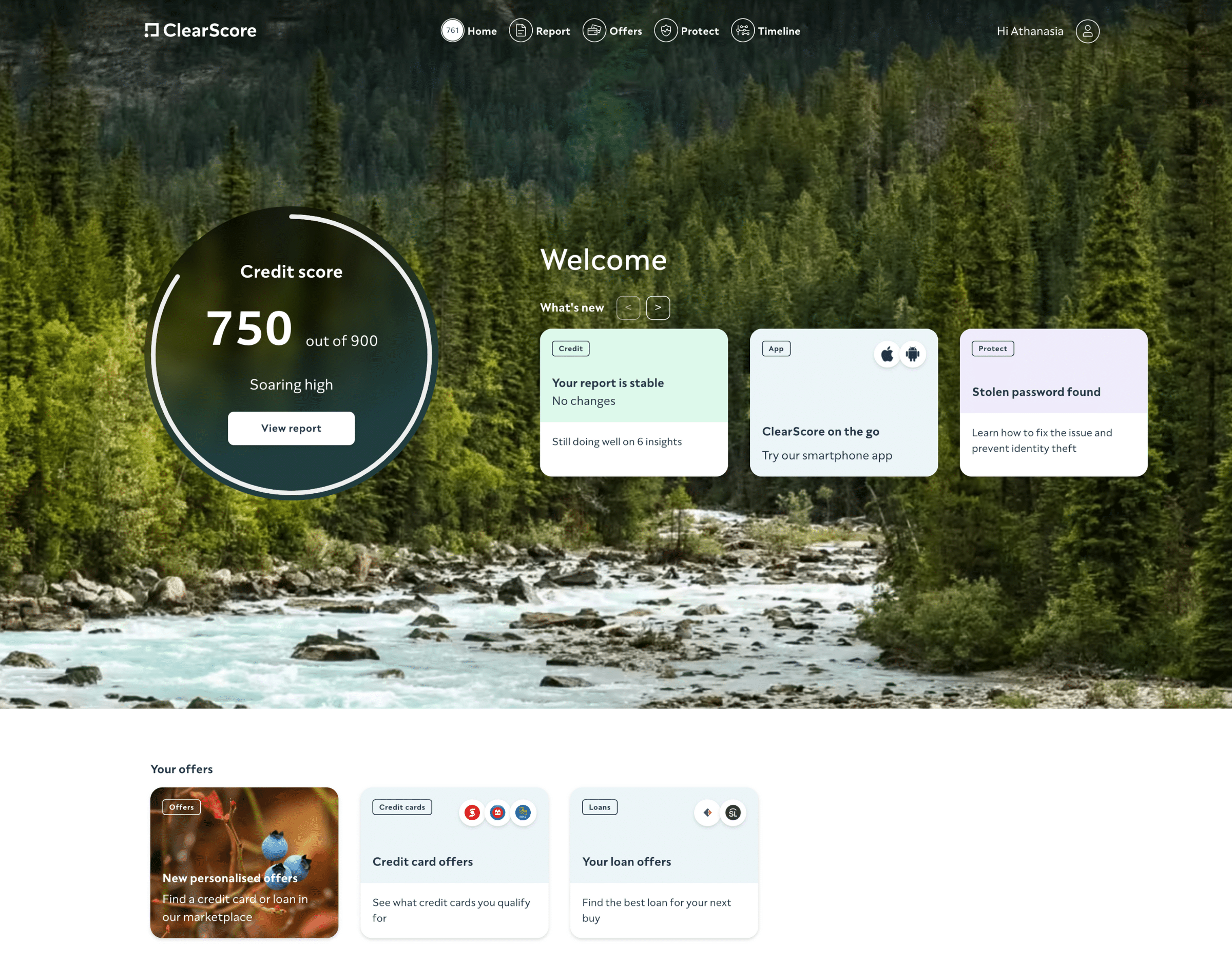 ClearScore makes it easy to sign up for an account and start monitoring your credit score. After providing basic personal information, you are asked multiple-choice questions about specific details in your credit history to verify your identity. Within a couple of minutes, you will gain access to the site and can begin looking through your credit profile.
ClearScore's home page essentially provides an overview of all of the site's features. You can check your credit score at a glance, view recommended financial products, see if you have any stolen passwords (more on that below), and more. A circular graph makes it easy to understand how strong your credit score is, especially if you are new to the world of credit score monitoring. If you want a more thorough explanation of your score, it is easy to navigate to ClearScore's breakdown of your credit profile — which is ultimately the most helpful part of the website.
Using ClearScore Canada to understand your credit history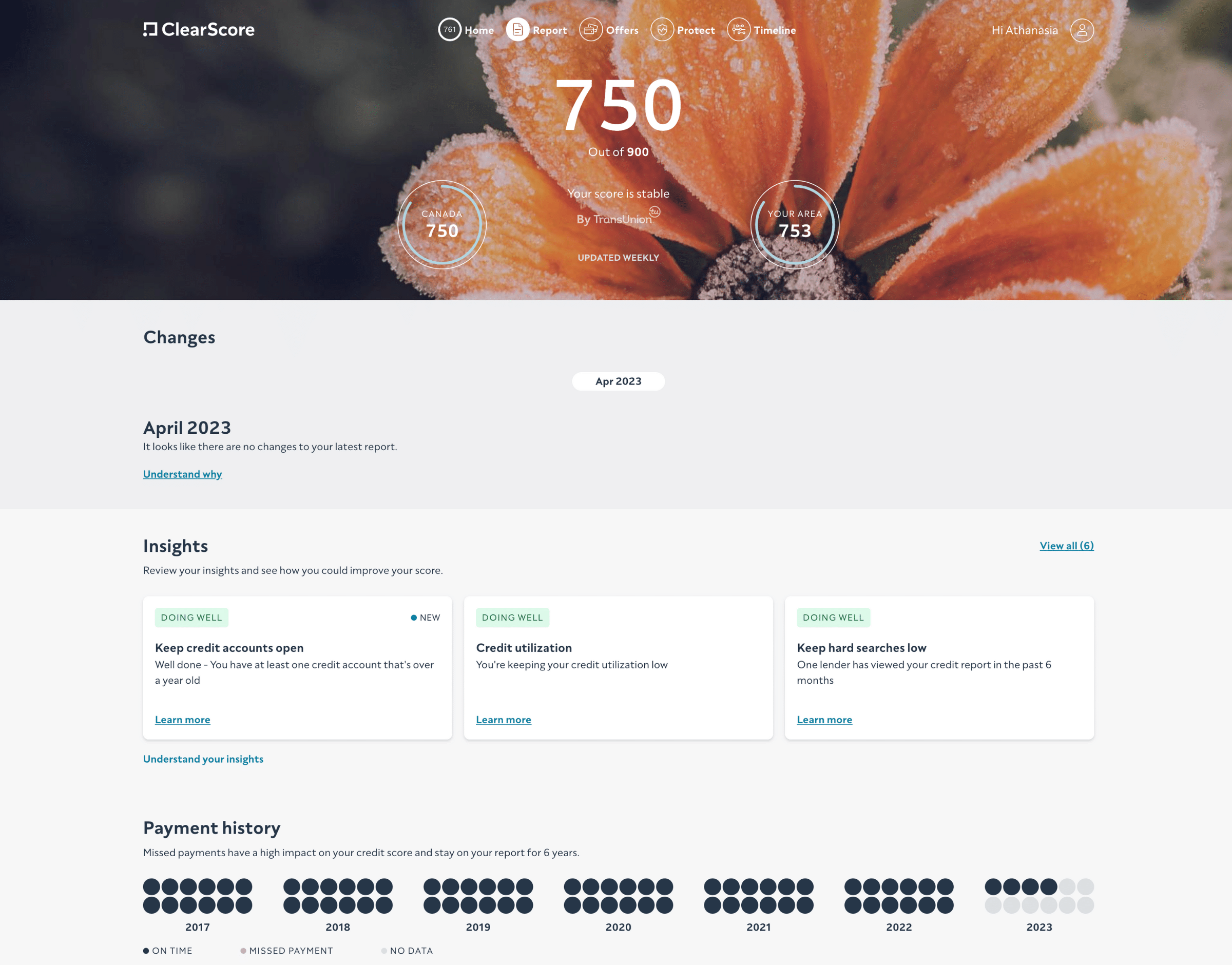 When you open the report tab, ClearScore provides an overview of your credit history that is thorough but not overwhelming. Your credit score will be displayed at the top of the page, followed by a variety of cards with tips on how to improve your credit score, a visual depiction of your payment history, a breakdown of your credit utilization, and a summary of your various credit accounts, plus their current balances and limits.
As trivial as it might seem, I really appreciate the ClearScore report tab's clean layout. I found myself almost excited to look through the different sections thanks to the beautiful graphic design. Reviewing your finances can be stressful, especially if you struggle with math. ClearScore's emphasis on simple visual depictions and a non-cluttered layout minimizes the potential stress of trying to piece together different calculations on your own. If you find personal finance overwhelming, this can be a great way to ease in.
That being said, there is something confusing about the report tab. Underneath the main credit score, there are two additional scores: the "your area" credit score and the "Canada" credit score (which, in my case, matches the overall score). This is not a common distinction and ClearScore does not clarify what the differences between the scores are. As someone based in Toronto, I do not even know if my "your area" score is impacted by Toronto- or Ontario-based metrics. Ultimately, I would personally ignore these metrics and focus on the main credit score. However, the lack of an explanation is still incredibly frustrating.
Reviewing your credit utilization history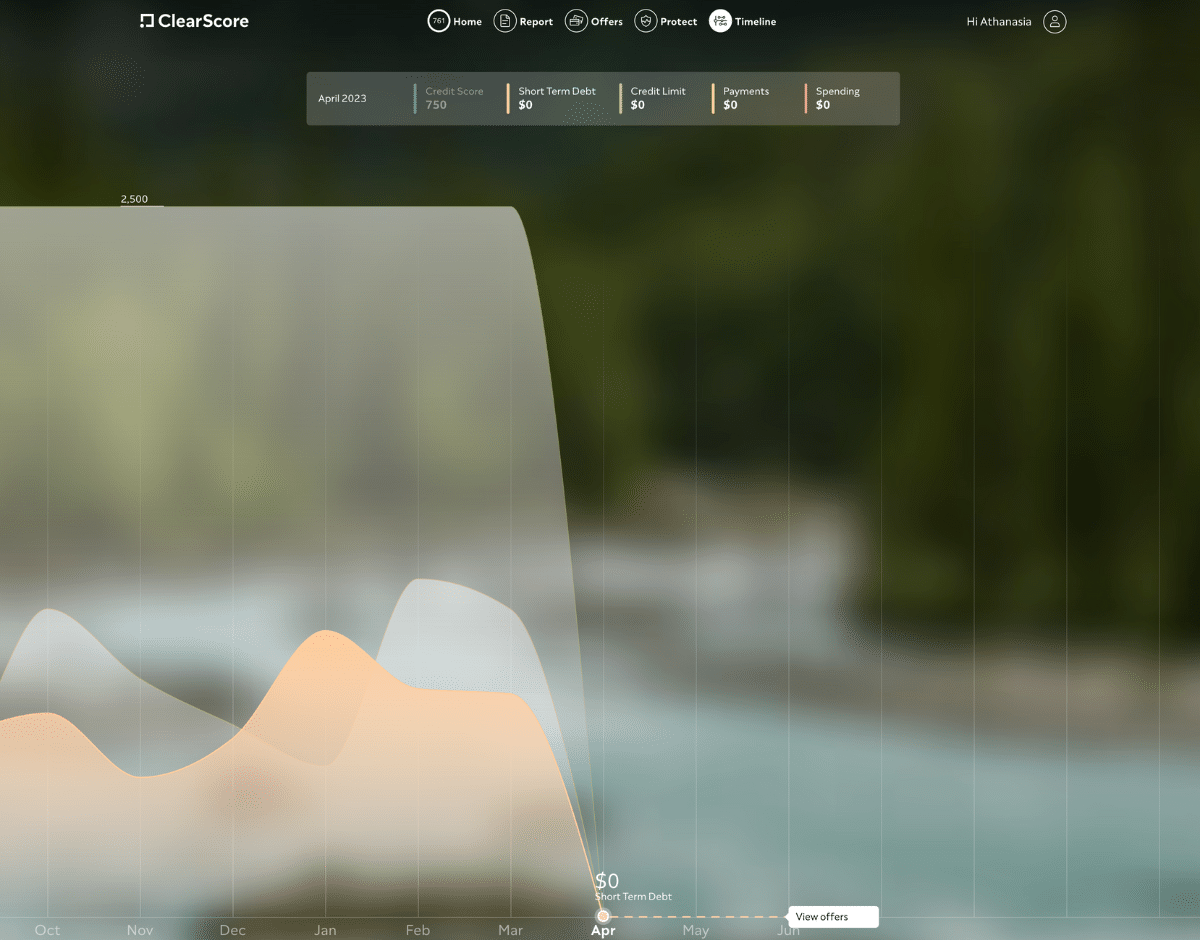 In addition to their credit profile report, ClearScore provides a graph of your aggregated purchases, payments, and credit limits on all short-term credit accounts (e.g. credit cards and lines of credit). In theory, this feature could be a great way to watch as you chip away at significant debt. Unfortunately though, the graph is not always user-friendly.
When you first load the graph, each metric is represented via a plain grey line — the only way to determine what each metric corresponds to is by clicking on it. Also, all metrics for April 2023 were erroneously reported as zero (at the time of finalizing this review, it is May 2nd, 2023). These are almost certainly placeholder values, but seeing as my profile was pulled recently, the lack of up-to-date information is frustrating.
Despite the graph's shortcomings, I do believe it has a lot of potential. Those who are prone to spending a lot of money may genuinely find that a visual depiction of their spending helps put things into perspective. If you are in the process of paying down significant short-term debt, it may also be motivating to watch the balance line lower each month. The monthly format may even help you identify spending patterns (for example, spending more around the holidays) and budget accordingly in the future. That being said, the layout's limitations make ClearScore's graph more frustrating to use than necessary.
Diversifying your credit accounts with ClearScore Canada's offers tab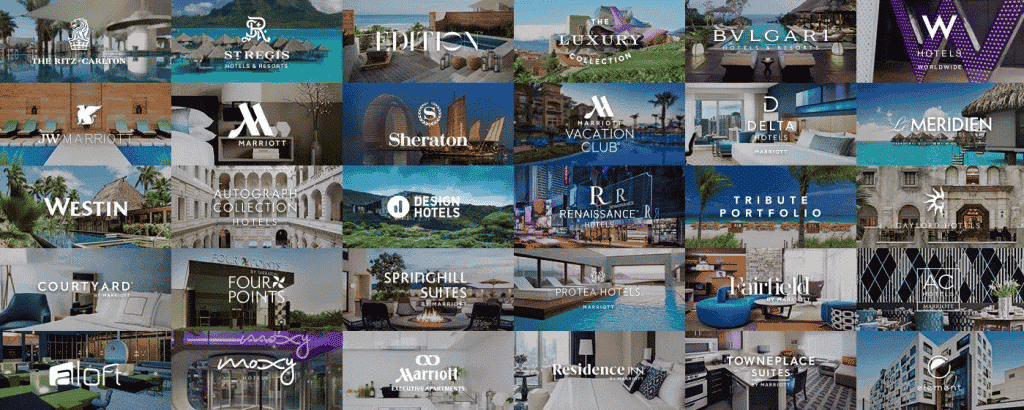 Having a diverse credit profile can improve your credit score. To that end, ClearScore automatically provides users with a list of credit cards and loans that they are likely to qualify for under the site's offers tab. Users may also request mortgage quotes.
ClearScore notes that some of their recommended financial products come with bonus offers only available to their users. Of course, offers will vary from account to account and change over time. However, it is worth noting that I only received offers on certain BMO credit cards. In the end, I was not overly impressed with ClearScore's recommendations. While it is helpful to see which products you have a good chance of being approved for at a glance, you can easily research the information on your own.
ClearScore's built-in privacy monitoring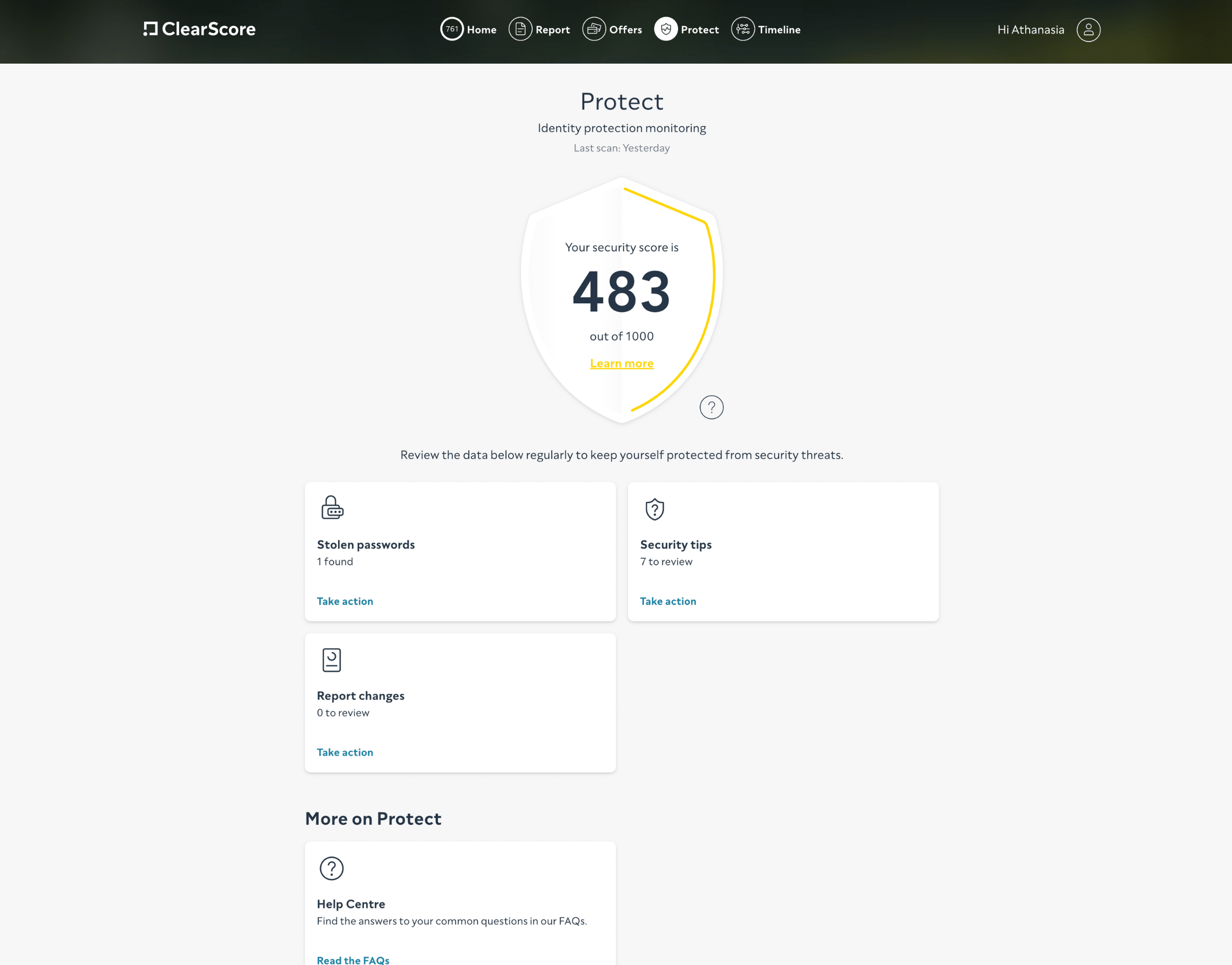 Beyond credit monitoring, ClearScore also provides privacy-related tools and advice. Each account is provided with a security score which can be increased by changing leaked passwords, promising to adhere to security best practices, and more. ClearScore also continually monitors for compromised accounts that match the email address you signed up with. In the event that ClearScore detects a compromised account, it will also notify you via a notification card on your dashboard.
Sadly though, while the promise of a compromised account monitor sounds helpful, I found the tool disappointing. As someone who used to be lax about digital security but now carefully checks for leaked passwords, I am positive that ClearScore only knew about a fraction of my previously compromised accounts. To be clear, there is no harm in using the site as a way to double-check for leaked passwords that similar services may have missed. However, based on the current state of ClearScore's compromised accounts database, I would strongly caution against solely relying upon it to check for any compromised accounts.
How does ClearScore Canada stack up against Borrowell?
ClearScore does a relatively good job at explaining your credit history, but it is far from the only free program to do so. Borrowell is another popular website that will show you your credit score. However, your credit score will almost certainly differ across each site.
At the moment, ClearScore obtains its information about your credit history from TransUnion, whereas Borrowell obtains its information from Equifax. TransUnion and Equifax are both credit bureaus that keep their own records of your credit profile. However, since the credit scores reflect similar information, any difference should be relatively minimal. In my own case, my Borrowell credit score was just 34 points lower than its ClearScore equivalent.
Ultimately, both ClearScore and Borrowell will help you monitor and understand your credit score. Since the sites work similarly, it may be best to look through their features and decide which would better suit your situation. To help out, we have provided a quick comparison chart below. For an in-depth breakdown of Borrowell, you can also consult our review.
| | | |
| --- | --- | --- |
| | ClearScore | Borrowell |
| Credit bureau used | TransUnion | Equifax |
| Updates credit profile | Weekly | Weekly |
| Credit report features | Payment historyCurrent credit utilizationCredit account balances and limitsCredit inquiry historyRelevant legal recordsList of everyone you have a joint loan withDocuments supporting disputes or consumer statements | Credit account balances and limitsCredit inquiry historyDetails regarding accounts that have gone to collectionsRelevant legal recordsBankruptcy history |
| Notable extra features | Free privacy tools | Optional credit builder service ($10-50/month deposit) |
FAQs about ClearScore Canada
If you have any questions or concerns about ClearScore, feel free to consult our list of frequently asked questions for help.
Is ClearScore safe?
Yes, ClearScore is safe to use. You can even add two-factor authentication to ensure that your account is secure.
Does getting my credit score from ClearScore affect my credit score?
No, using ClearScore Canada to view your credit history will not impact your credit score. However, ClearScore's offers tab will recommend different credit cards, loans, and mortgages that you may qualify for. Applying for these credit cards will affect your credit score.
Is ClearScore accurate?
Yes, the information on ClearScore is accurate. Clearscore obtains your credit profile from TransUnion, one of Canada's two personal credit bureaus. 
Individuals who use multiple services to monitor their credit score may notice slight variations across different platforms. This is likely due to the fact that some companies obtain their information from Equifax (Canada's other personal credit bureau). Equifax and TransUnion use different formulas to calculate credit scores, so a discrepancy is not cause for concern. 
How often does ClearScore update?
ClearScore updates its copy of your TransUnion credit profile on a weekly basis. However, TransUnion generally updates your score every 30 days. As a result, it may take longer than expected for payments to be reflected on your ClearScore account.
What credit agency does ClearScore use?
ClearScore Canada receives its information from TransUnion.