Break Up With Bad Credit – For Real This Time!
In Collaboration with KOHO
Does bad credit feel like a bad romance? We see your heartache. When you need a loan, a new apartment, or a better job, your application gets ghosted. So tragic! It's time to drop the drama like your toxic ex. KOHO has the tools you need to break up with your bad credit score – and never ever get back together!
What is KOHO?
KOHO is like the Bumble of the banking world, matching you with the right tools to crush your money goals. They're all about giving you the freedom and flexibility you don't get from the other guys – because they're not a bank. The Prepaid Mastercard and mobile app offer all the same functions of a bank account, but with more perks and less drama.
With KOHO, you get cash back, interest on your deposits, budgeting tools, and even a Vault to stash away money towards your goals. It's like having a personal finance coach without the betrayal of hidden fees. More than that, you get a game-changing way to build your credit without debt or interest.
Why is good credit important?
A good credit score is like having your bestie write your dating profile – it makes you super attractive to lenders. Sometimes you can slide by with a mediocre score, but you'll get mediocre terms and cringe interest rates.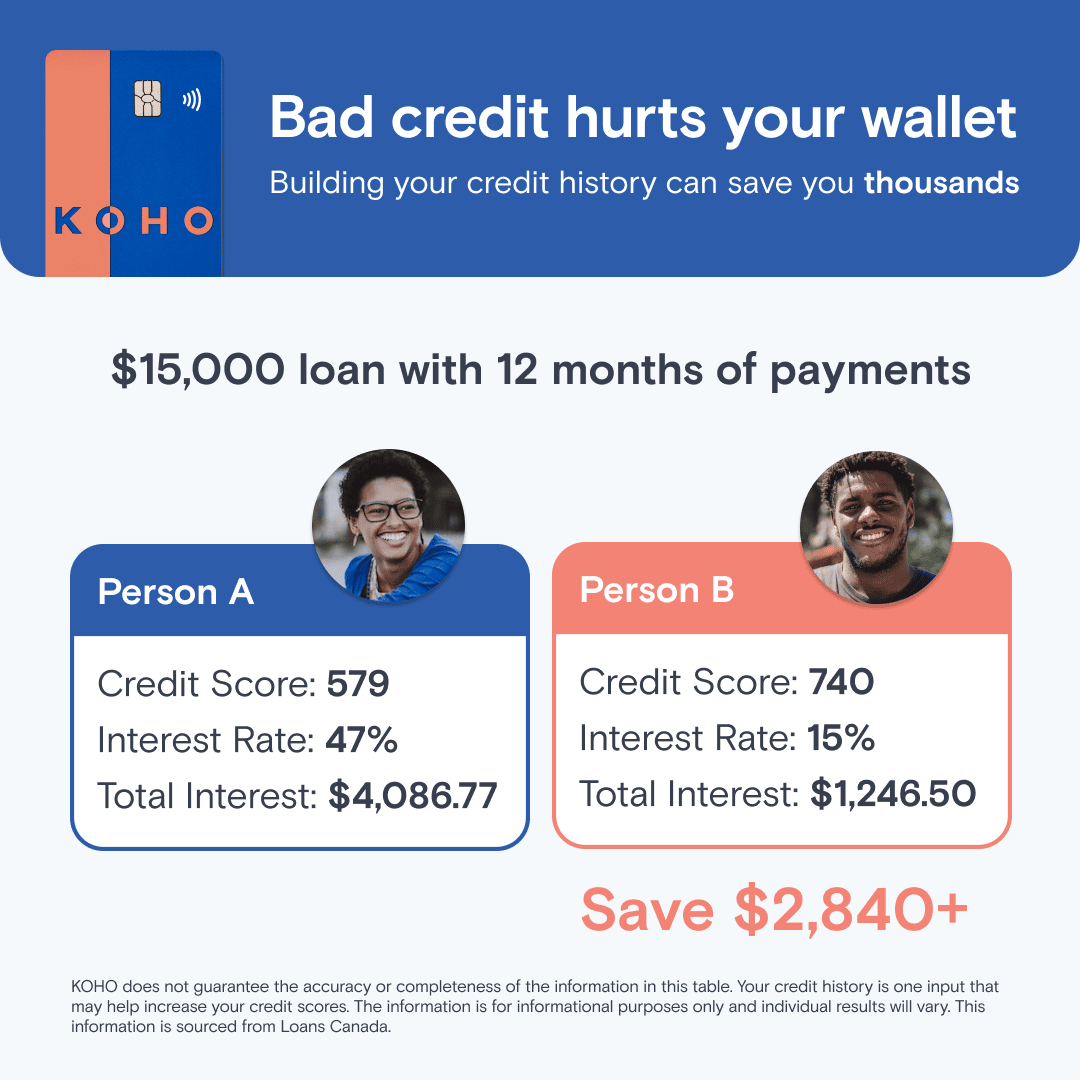 To be blunt, crappy credit is expensive. With a good credit score, you get all the matches, I mean loans and credit cards. And we're talking high-value products with better rewards, more flexibility, and lower rates.
More importantly, it's not just lenders and credit card companies creeping your credit profile either. Landlords, cell phone companies, and even employers use it to size you up. If your credit score is lower than our jeans in the 90s, it's ridiculously hard to access the stuff you need.
KOHO's Credit Building feature
In the past, building or rebuilding your credit score was the worst. There weren't many options, and the ones available made you jump through crazy hoops. Bad credit loans charged insane interest rates and tons of fees. Secured credit cards required hefty cash security deposits, annual fees, and didn't provide any perks or rewards.
KOHO doesn't do any of that. They offer a Credit Building plan that doesn't require a hard credit check, application, or fees on fees – and approval is guaranteed.
Instead of sky-high interest rates, you pay one low monthly subscription fee. And the best part? No strings attached. Your subscription can be cancelled faster than a tone-deaf celebrity.
Fixed Credit Building: $5-$10/month
This Credit Building feature is like a little black dress for your credit – it's the perfect fit and never gets old. When you subscribe, KOHO will open a tradeline on your credit file and report the monthly fee to the credit bureaus for 6 months. You can choose monthly recurring auto-payments from your account, or you can make a one-time payment and be done with it.
During your subscription, you get access to monthly credit score updates, tradeline reporting, and financial coaching. When the 6 months are up, you have the choice to renew your subscription if you want to keep building your credit history.
To get this feature, subscribe to Credit Building and choose how you want to pay. If you choose monthly auto-payments, make sure there's enough money in your account each month.
KOHO Easy offers Credit Building for $10/month, but you can get it for cheaper than that! You can bundle Credit Building with a KOHO subscription plan to get a discount. Plus, with a paid KOHO subscription plan, you can earn more cash back and higher interest on your dollar bills. Subscribe to KOHO Essential or Extra to get it for $7/month. The Essential will cost you $4/month and the Extra is at $9/month. With the Everything plan, which costs $19/month, you get a 50% discount on Credit Building.
Is Credit Building worth it?
With this program, you can take your relationship with creditors from a flirty DM to adopting a dog together. It saves time searching for the ones who might give you a chance and filling out all those pesky applications. And you're getting a quality partner who won't break your heart with insane interest, costly upfront deposits, and hidden fees.
Plus, the program is not only hella cheaper than most other credit rehab products on the market, it's cheaper than most streaming subscriptions. You can literally save money and your credit score while you Netflix and chill.
Swipe right for more perks
When you join KOHO, you get a free spending and savings account with a Prepaid Mastercard to match your style. The card is linked to your account and is accepted wherever Mastercard is accepted. You can use it to shop in-store, online, and abroad. But this time, you're skipping the loveless debt trap because you're spending your own money, not borrowing it.
There are no monthly account fees and you get free unlimited transactions like bill payments, e-Transfers, shopping, ATM withdrawals, funding external accounts, and more.
With the free Easy plan, you earn 1% unlimited instant cash back on groceries and transportation. Plus, earn up to 5% extra cash back when you shop at select KOHO partner merchants.
Every dollar in your KOHO account earns 0.5%-4.5% interest (depending on your plan) that's paid out to you every month, helping you crush your money goals even faster.
Other handy free features include:
The Vault: where you stash away money that you don't want to spend
RoundUp: a feature that rounds up the spare change from every transaction and saves it for you to put saving money on auto-pilot
Budgeting and Goal Planning: auto-savings tools, custom notifications, and real-time insights to keep you on track and hold you accountable

Is KOHO Credit Building right for you?
It is if you're tired of striking out in the credit game. The KOHO Credit Building program could be the perfect match if you're looking to improve your credit score without getting in over your head with interest and debt. Like a great first date, it's effortless and will leave a lasting impression on your credit report.
Stop swipe fatigue. Break up with bad credit and shoot your shot with KOHO Credit Building today!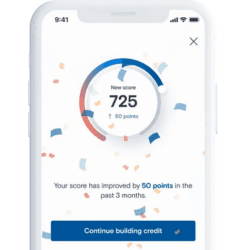 Credit Building by KOHO
Take out a line of credit, pay it off on time and build your credit history. We'll be with you every step of the way.
Only $10/month for 6 months